Photo Tag Flip Book By Serena Bee
Hello Lovelies! Serena Bee here with a Photo Tag Flip Book as my interpretation of our Tombow Spring moodboard created by Jennie.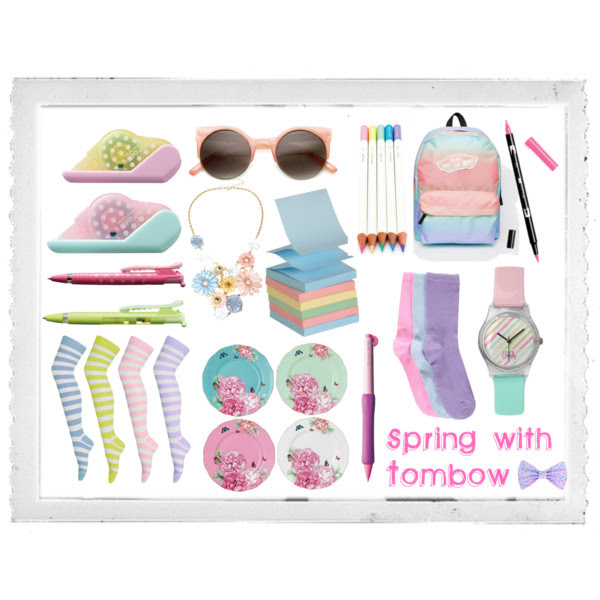 Lately, I really enjoy making happy/snail mail such as flip books and pocket letters. For my project today, I created a photo tag flip book.
Part of happy mail is asking/answering some questions you and your penpal choose. I decided to create a mini flip book with pictures of answers to some questions. I re-used an old Pop-tart box because I liked how it had folds already.
The Inspiration I took away from this picture was:
the soft pastel colors *love them*
the florals
the stripes
the polka dots
the pop of black from the pen barrel
and the bow
So let's get started!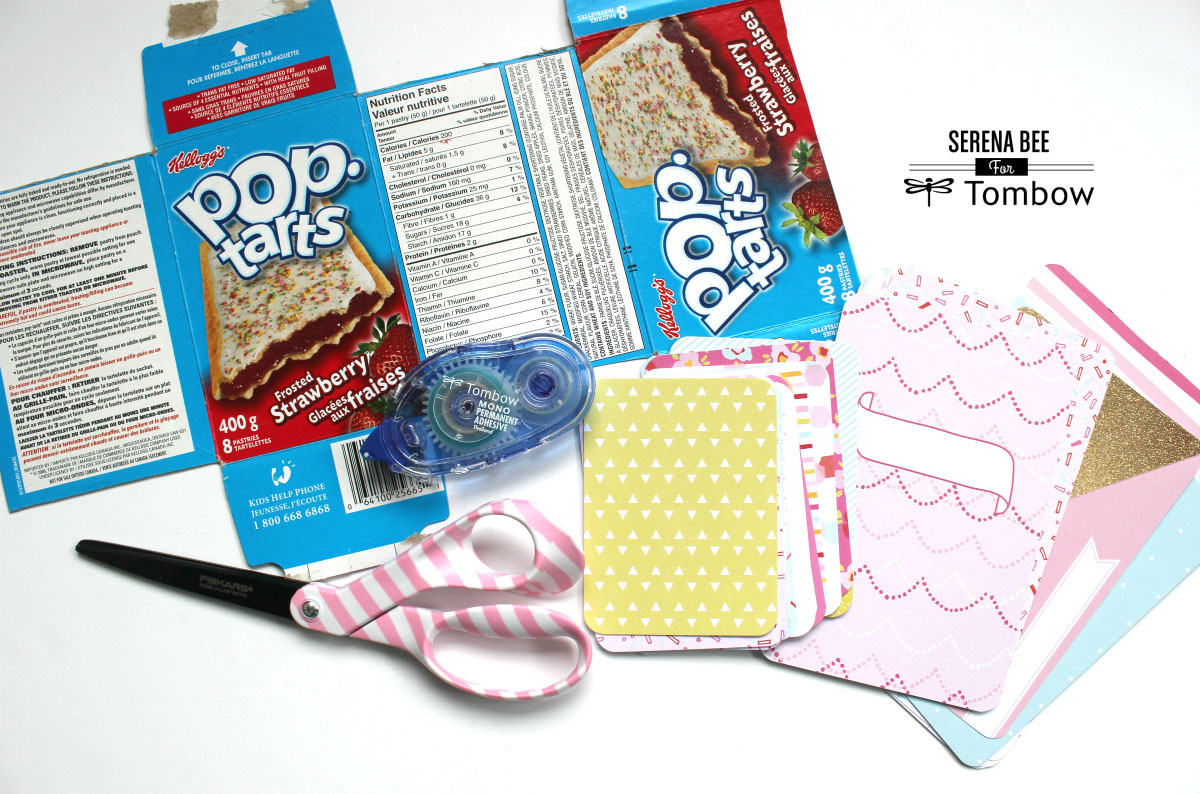 I used the Fine and Dandy Project Life kit from Dear Lizzy as my paper.
The adhesives I used for my photo tag flip book were:
Here's a look at my completed Photo Tag Flip Book!
Front Side: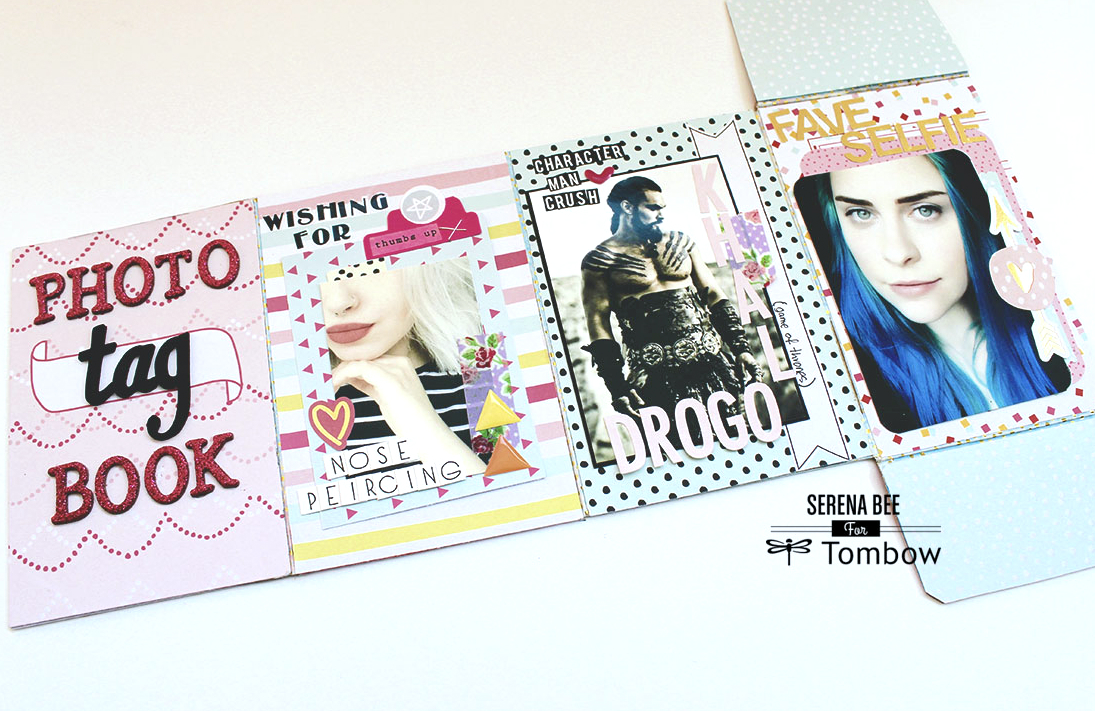 Back Side:

I used both the Tombow MONO Permanent Adhesive and the Tombow MONO Multi Liquid Glue to adhere the pattern cards down to the Pop-tart box.
TIP: When using the MONO Multi press the tip to the paper before squeezing to release the glue. This way you can control the placement and flow of the glue better to help prevent an overspill and wasted glue.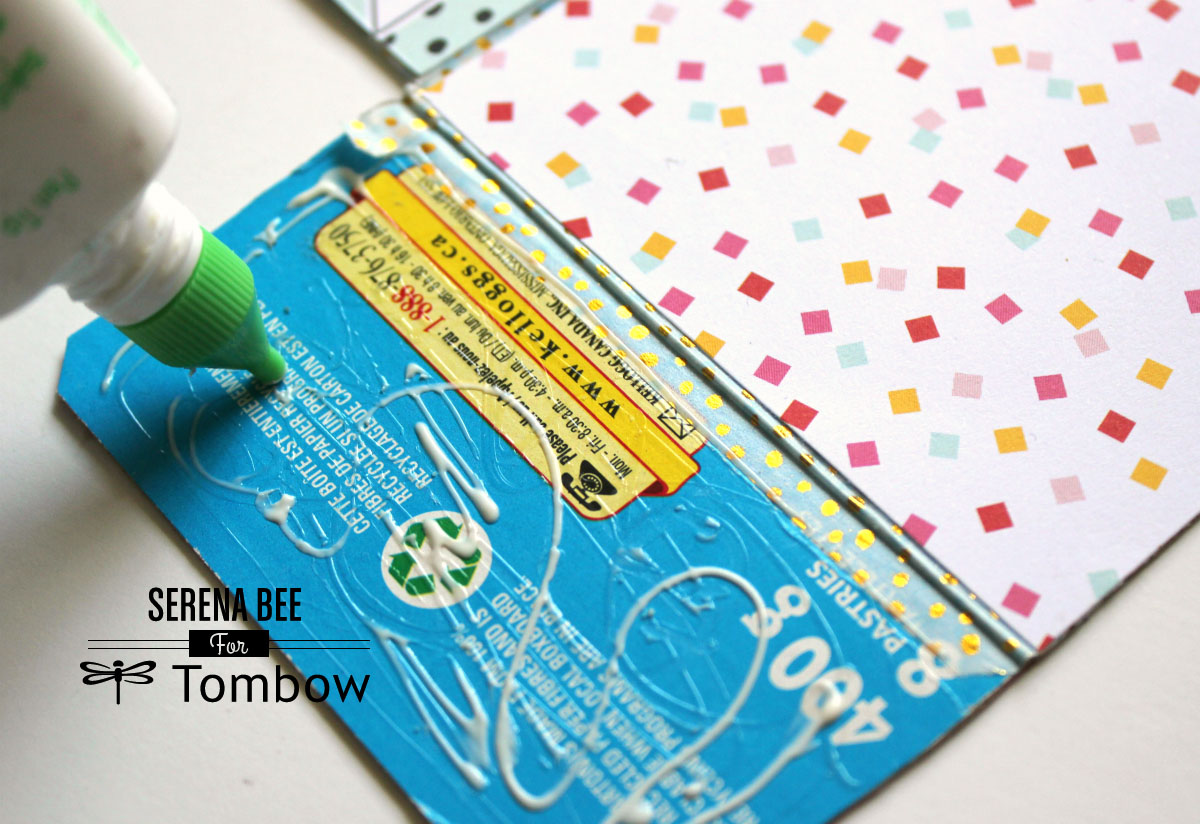 Once I had all the papers adhered down to my box, the next step was to think of some fun questions and prompts for my penpal. It's a tag book which means my penpal would have to make one for me, answering the same questions I put down. I decided to go with these questions:
Wishing For: I always wanted to get my nose pierced. I realized there was a typo in this picture. I fixed the spelling of piercing *face palm*
Character Man Crush: Currently mine is Khal Drogo from Game of Thrones  *heart eyes*
Favorite Selfie: Mine is from when I got new makeup from Sephora and my turquoise hair
Favorite Quote: I love this picture and quote I found on Pinterest: "Don't Be Normal"
Currently Card: I stamped out the topics with an icon stamp from Studio Calico
Guilty Pleasure: I just love watching goth youtubers lately, love the makeup!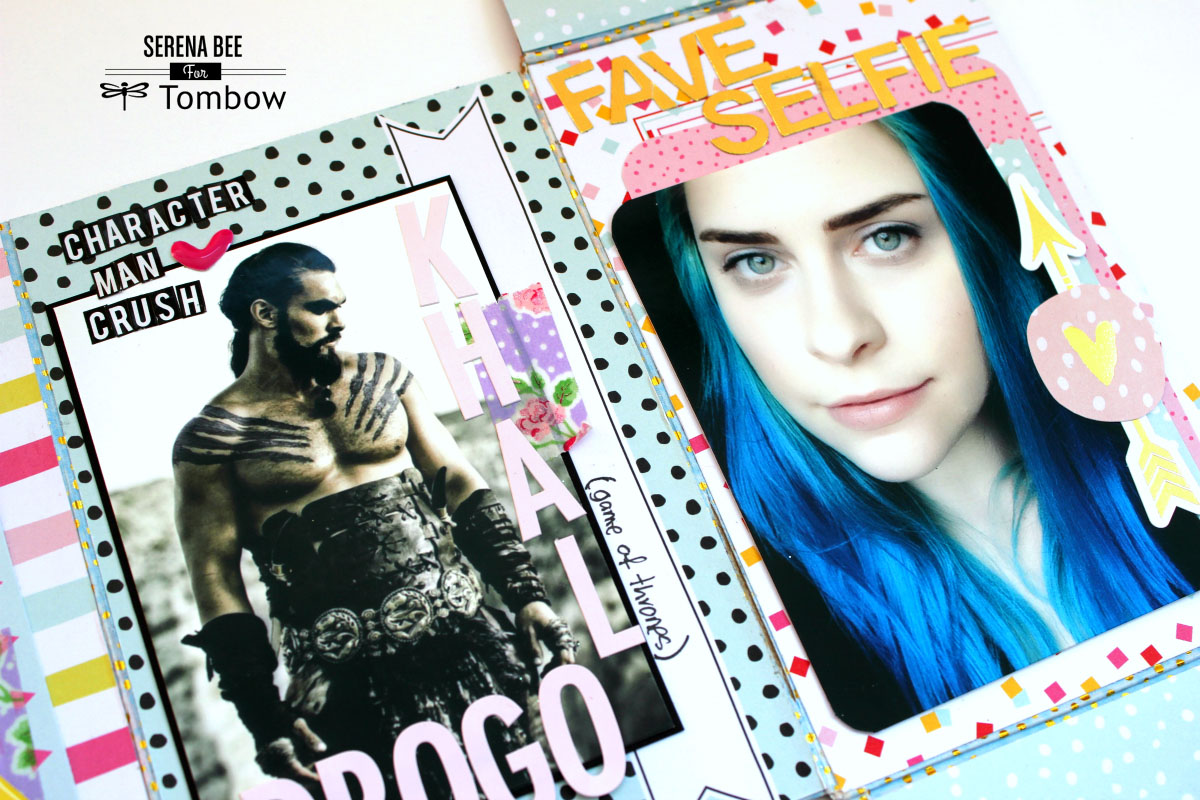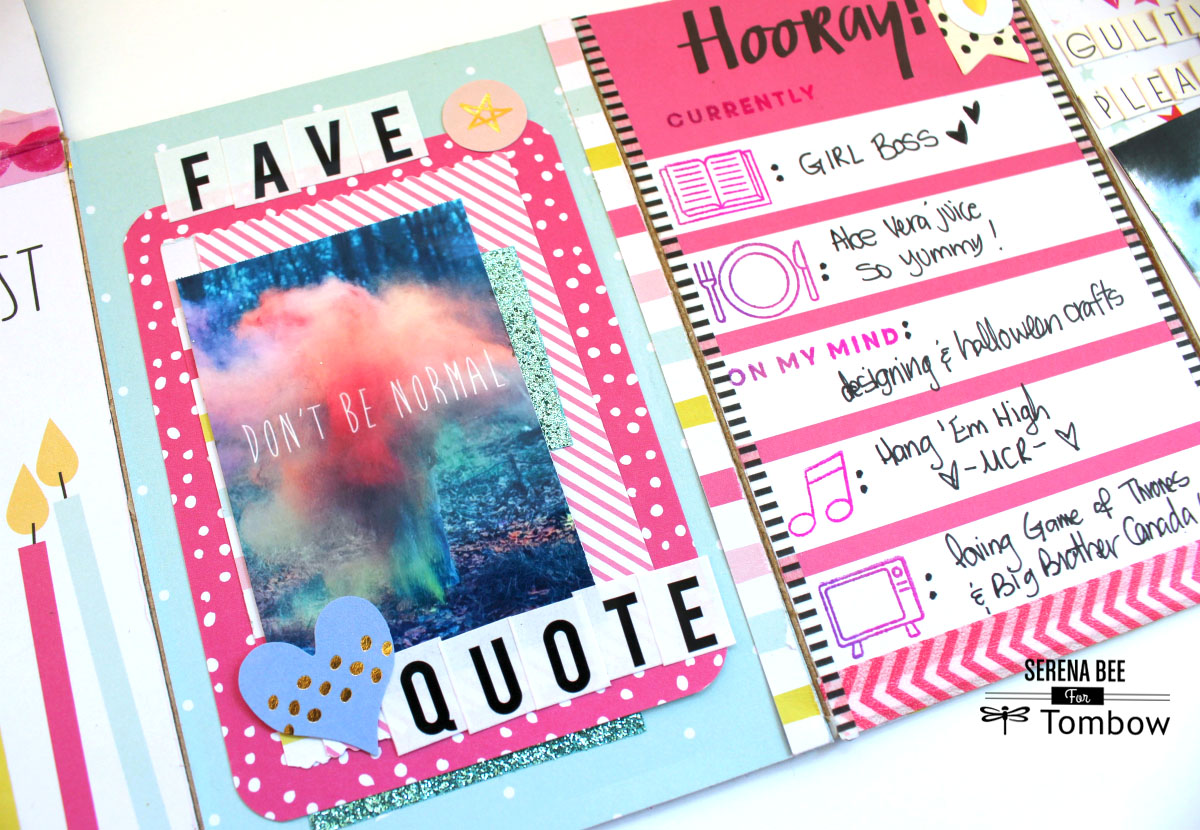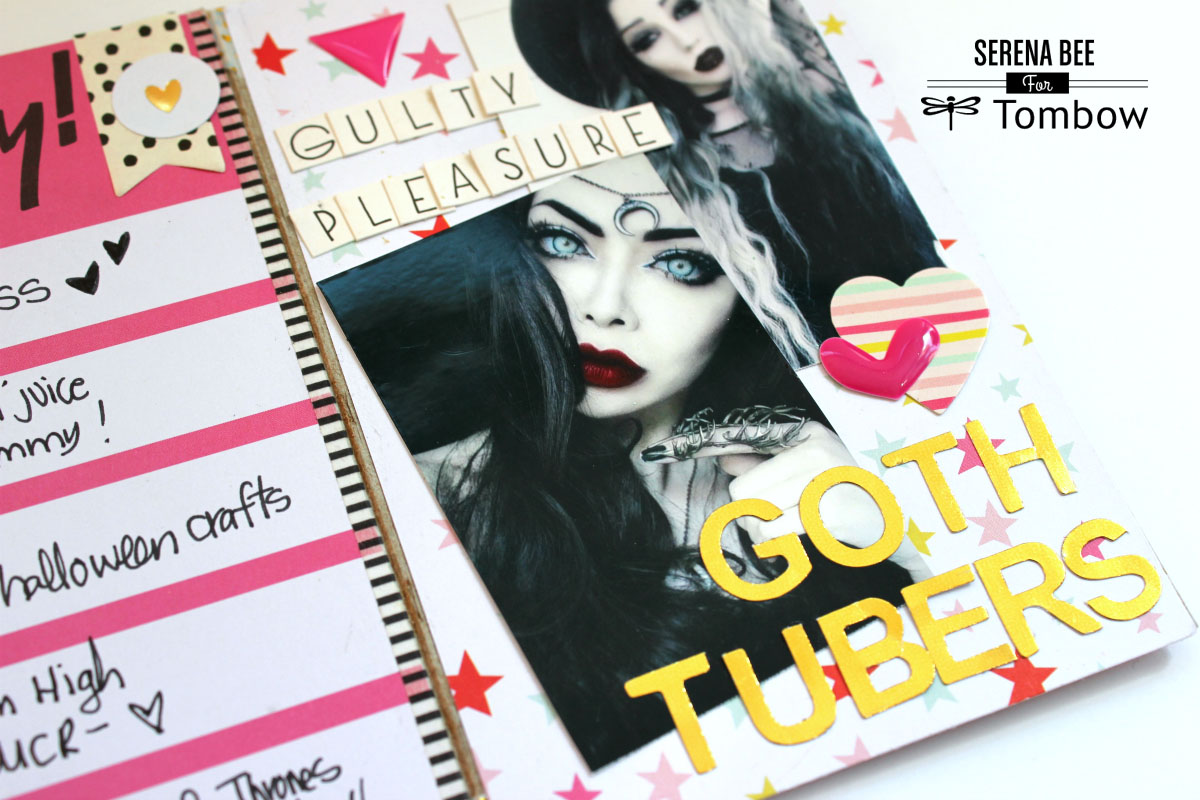 To finish off I sprayed perfume on some pastel polka dot yarn for an added touch and wrapped it several times around the closed photo tag book and tied a bow.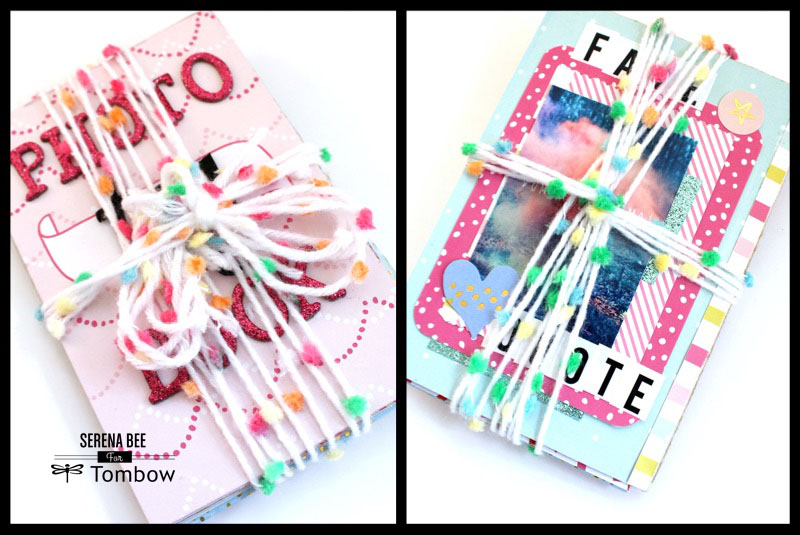 I hope you liked this tutorial. If you decide to give my Photo Tag Flip Book a try please tag me on Instagram @seresbee so I can see and use #inspiredbyserenabee
Thanks for stopping by and have fun crafting!