Good morning Tombow fans! Beth, here on the blog today to show you how to create fruit inspired mason jars for Summer parties, and just in time as Summer has already arrived in Florida!
Excited to show you what I will create from mason jars and tissue paper! I love to use Tombow's MONO Aqua Liquid Glue as a decoupage medium.  I wanted a transparent finish on glass jars, so tissue paper was the perfect solution!  Gather your supplies and let's get started!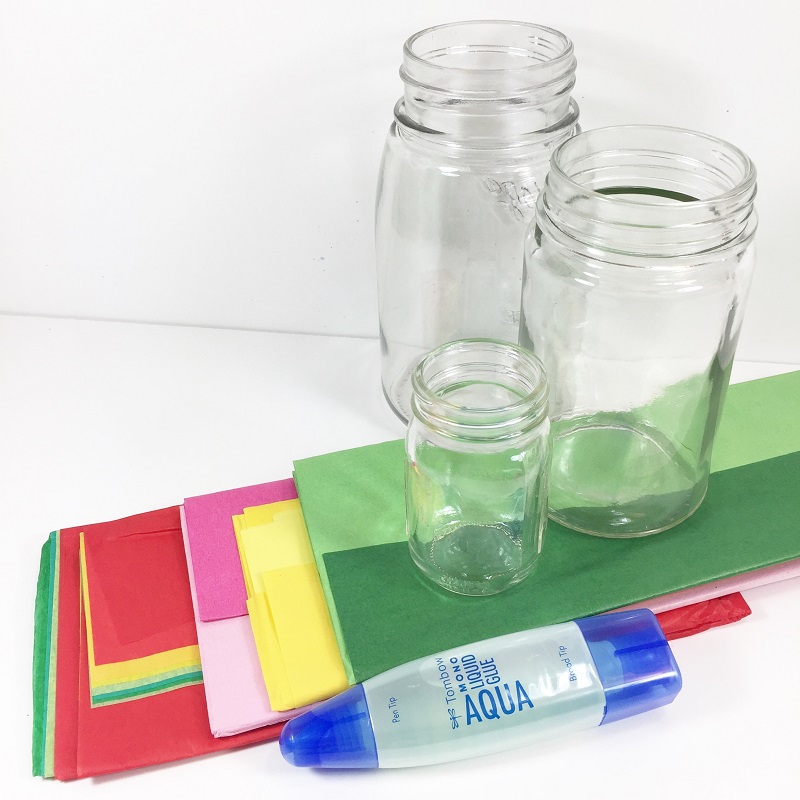 STEP ONE:
Place a dollop of Tombow MONO Aqua Liquid Glue on the Tombow Blending Palette. Grab an old paintbrush and coat the outside of a tiny mason jar.  Apply torn pieces of red tissue paper all over the jar, coating with additional MONO Aqua as you go.  No need to be accurate, just tear and apply!
NOTE:  Make sure that you are using color-fast tissue paper, since the MONO Aqua is a water based glue. This will prevent the colors of tissues smearing and mixing on your project. I used packages of two toned colored tissue that I found in the gift wrap section of the dollar store.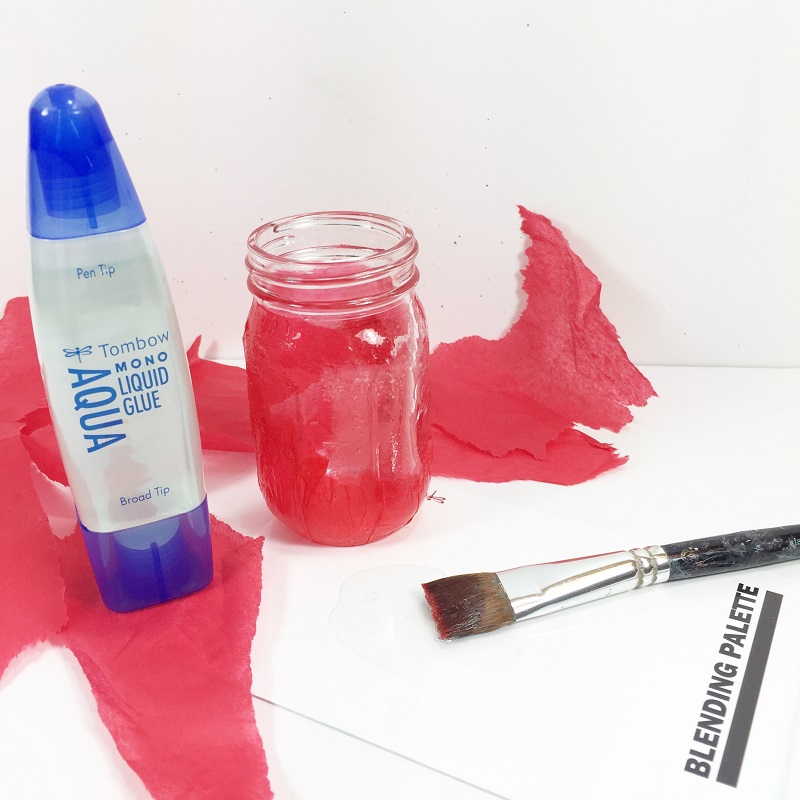 STEP TWO:
Repeat with medium mason jar, applying light green to bottom third of jar.  Dark green to bottom quarter of jar.  Attach random pieces of bright pink tissue to the top two-thirds of the jar. The largest mason jar is decoupaged with light and medium yellow tissue.  Then tear triangle shapes in a dark yellow tissue to give depth.  Let all three jars dry, which doesn't take long, as the MONO Aqua sets up quickly!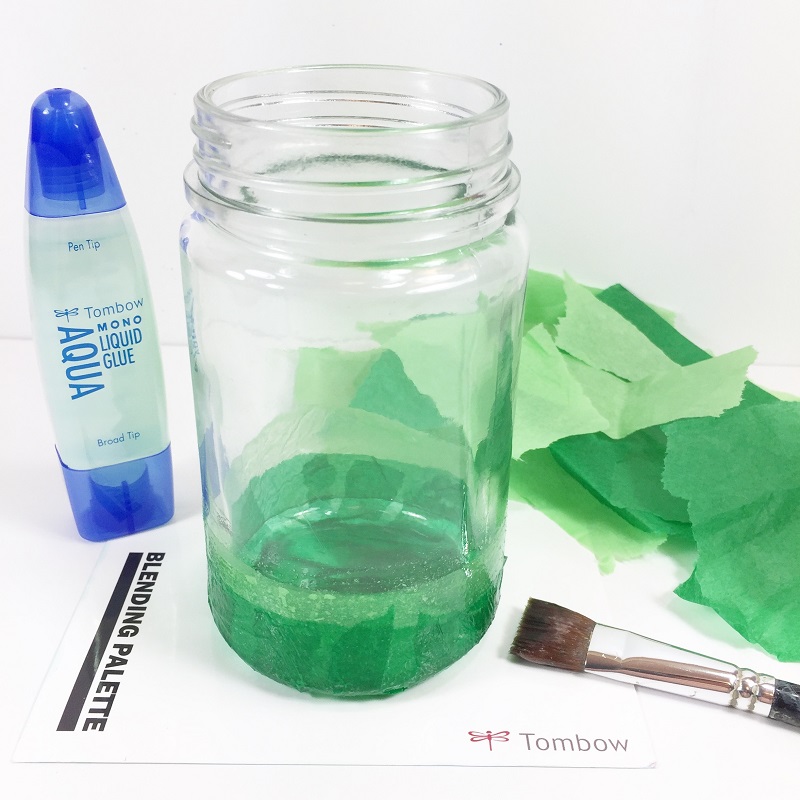 STEP THREE:
Apply dark green tissue around the neck of the yellow jar and green triangles around the neck of the tiny red jar.  Brush on a top coat of MONO Aqua to seal each jar.  Don't worry, the MONO Aqua goes on glossy but dries to a nice satin finish.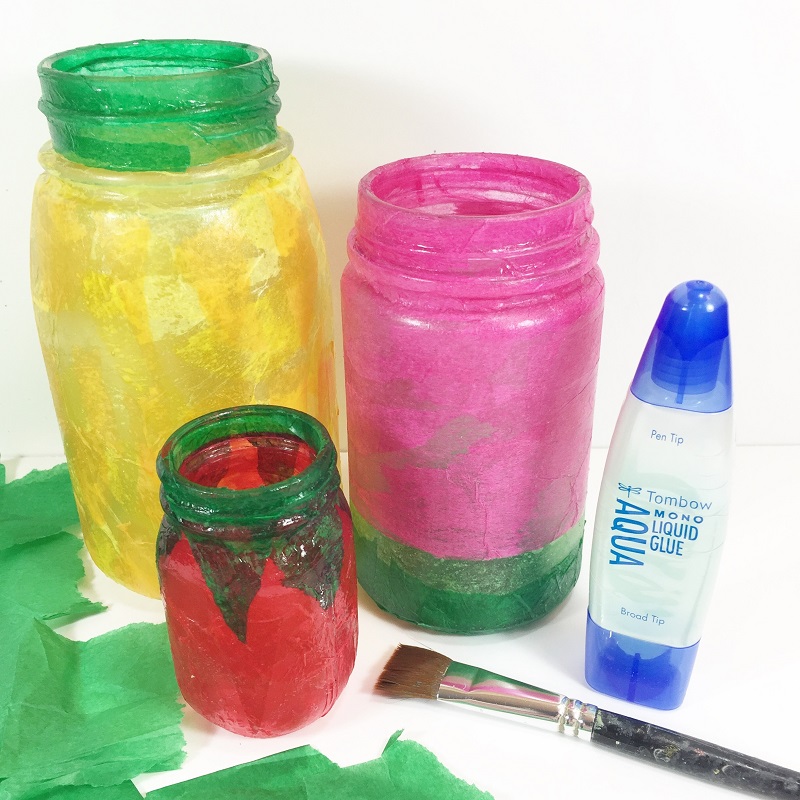 STEP FOUR:
Once dry, grab the Tombow MONO Twin Permanent Marker to add the details, with the fine tip draw a loose, shaky grid around the yellow jar and with the broad tip add tiny arrows in the center of each diamond.  Draw dots with the broad tip on the tiny red jar, and teardrop "seeds" on the bright pink jar.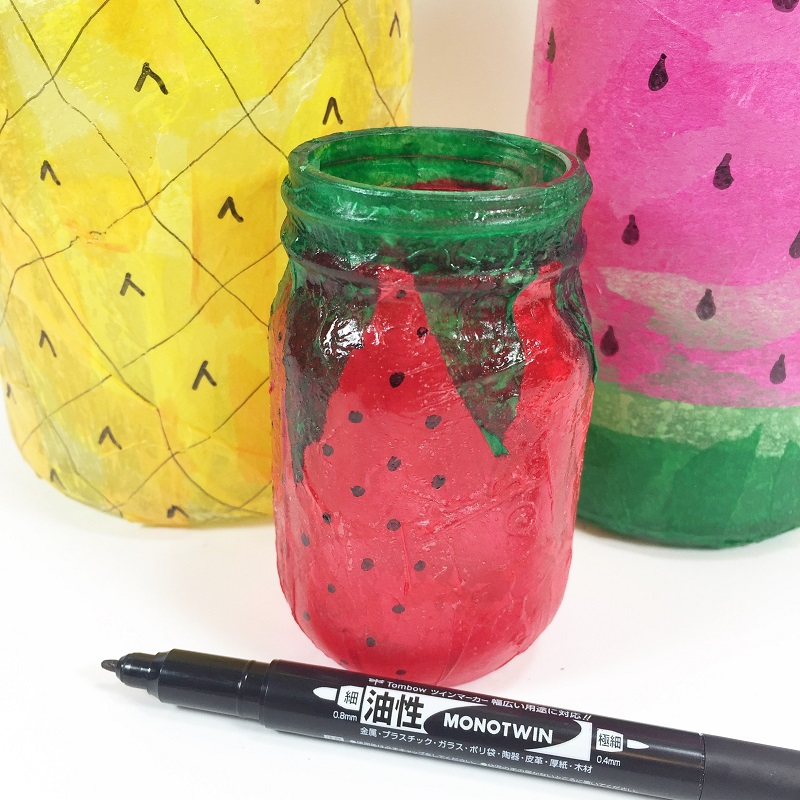 STEP FIVE:
To finish, wrap the neck of each jar with jute twine, tie in a knot and add a decorative button with Tombow Xtreme Tabs, which are perfect for attaching buttons because the tabs are clear (and super strong!)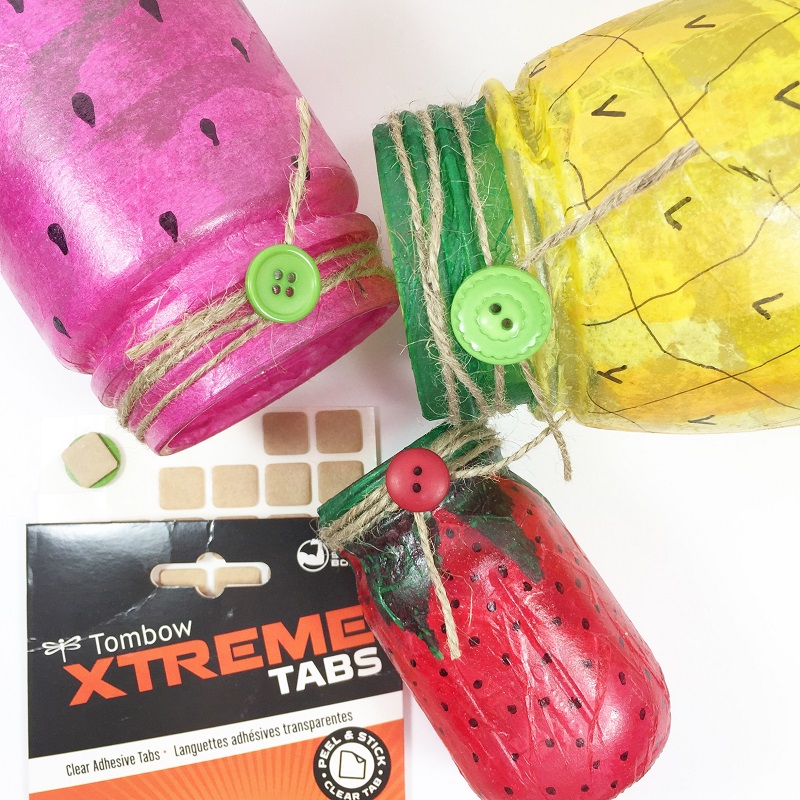 And now for the final and fruity reveal!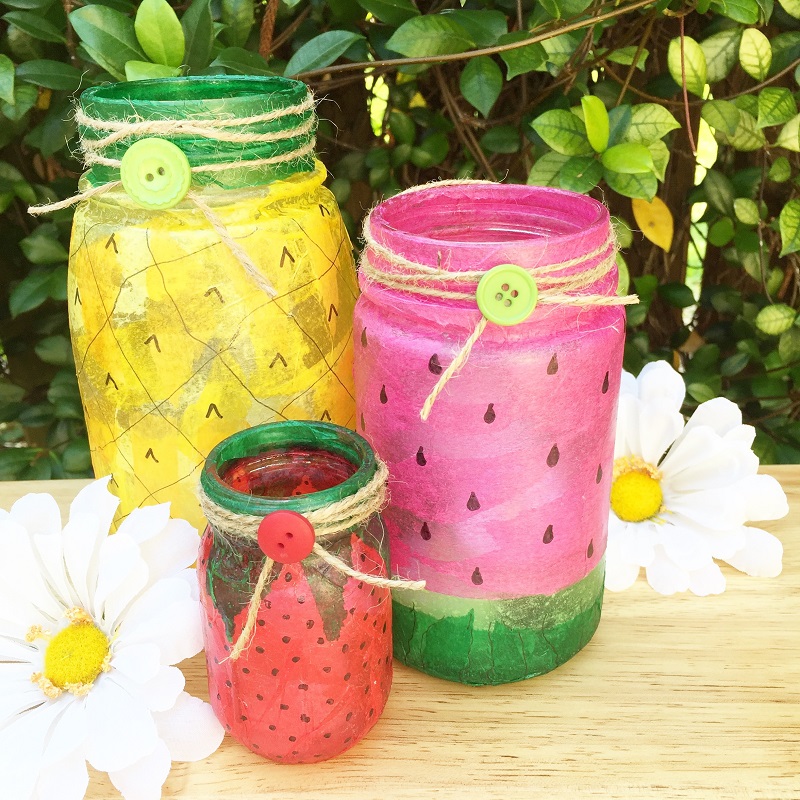 I just want to say that I have enjoyed sharing my fruit inspired mason jars for Summer parties with y'all today!  And also this (new to me) tissue paper decoupage technique with my favorite MONO Aqua Liquid Glue!  I just LOVE the way that these mason jars turned out.  Sweet summer fruits – a tiny Strawberry, a wedge of Watermelon and a regal Pineapple!
Fill these jars with tealights and watch them glow in the summer night on the patio; add spoons, forks and knives for a backyard barbecue or fill with nuts, candy and snack mix as the perfect Hostess gift!  They would even make a fun addition to your studio filled with Tombow Dual Brush Pens, Markers and MONO Drawing Pencils, the possibilities are endless!
Grab your Tombow supplies and CREATE something today!
If you liked my creatively fruity mason jar project today, then check out Personalized Notepads by Smitha Katti, my Mason Jar Organizing or Katie Smith's Dragonfly Mason Jars.  There is a ton of inspiration on the Tombow blog!
Thanks for stopping by!  -Beth