Hi Tombow friends! It's Dani from @popfizzpaper sharing a minimalist plan with me that's perfect for your busiest weeks! This two-page weekly spread only requires a few supplies, so grab your journal and let's get started!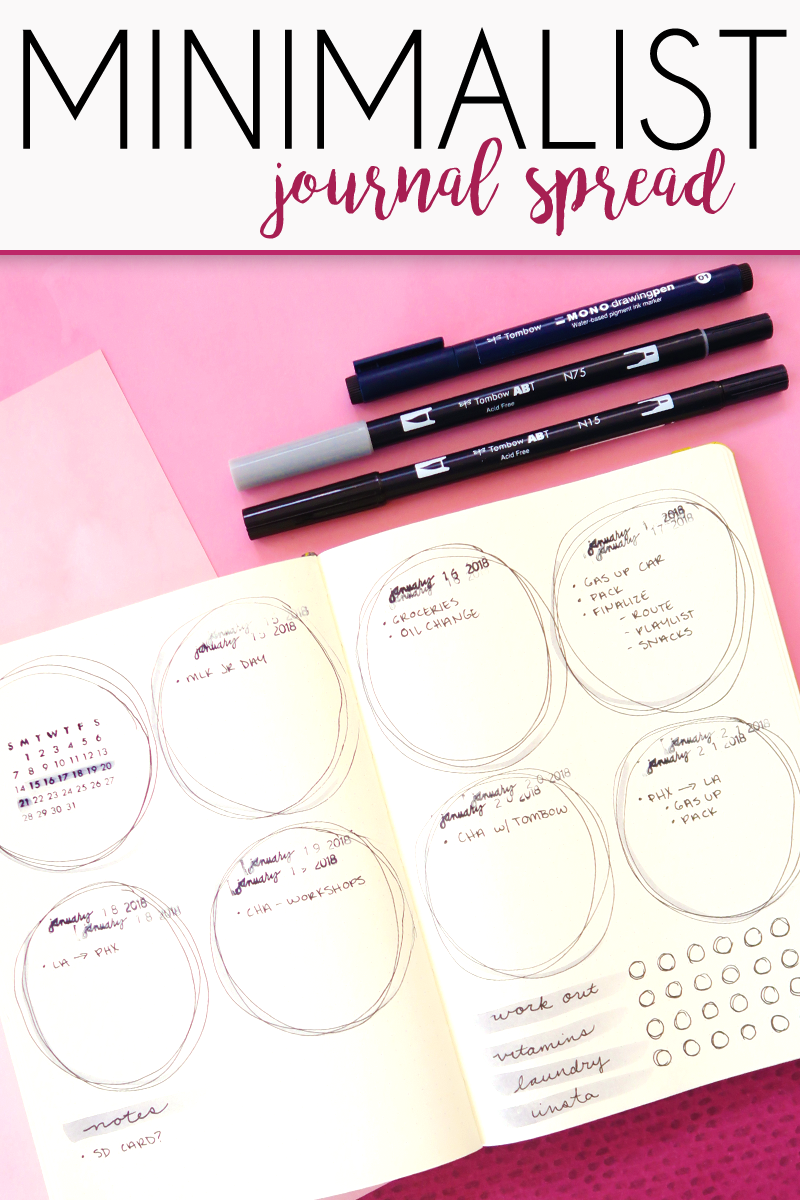 SUPPLIES:
Dotted journal
Monthly calendar stamp (mine is by StudioL2E)
Roller date stamp (mine is by Heidi Swapp)
Acrylic block (if using cling stamps)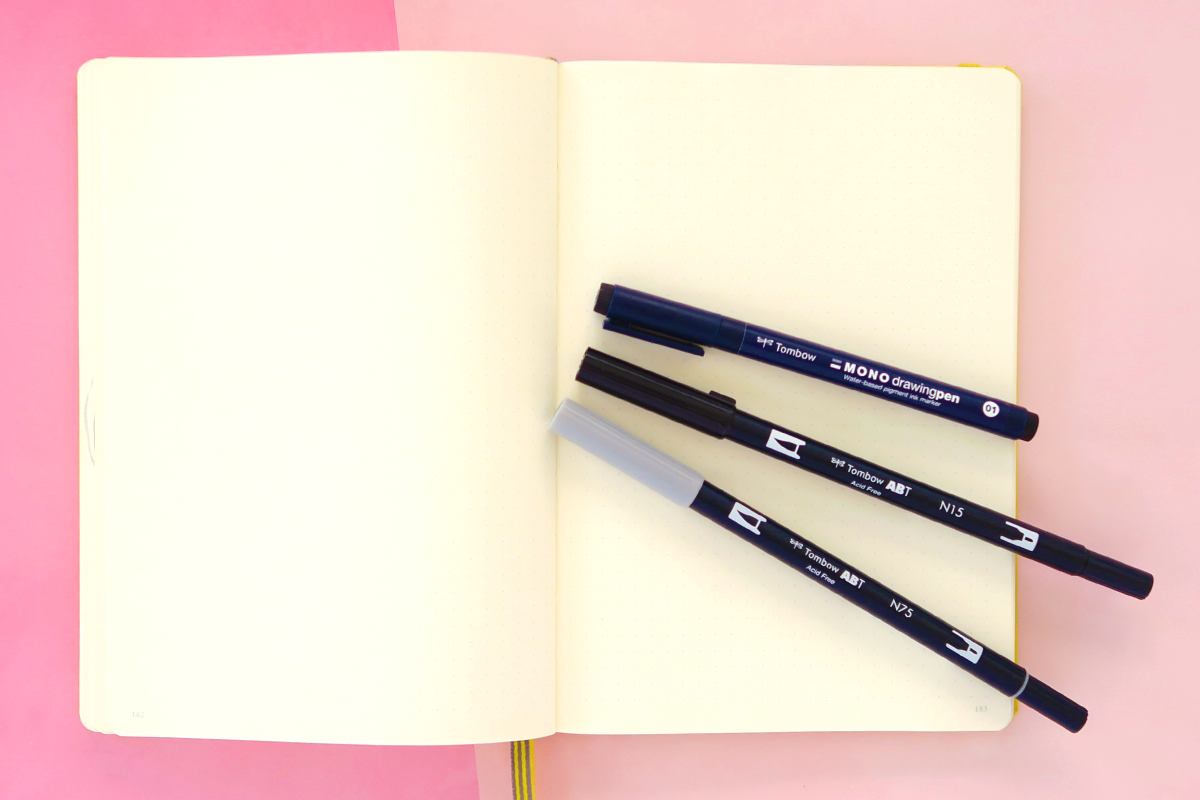 STEP 1: SET UP THE MINIMALIST SPREAD
First, draw eight messy circles with Tombow 01 MONO Drawing Pen. To do this, just draw a circle and, without picking up the pen, draw two more on top, varying the lines a little bit. This is the foundation of our spread.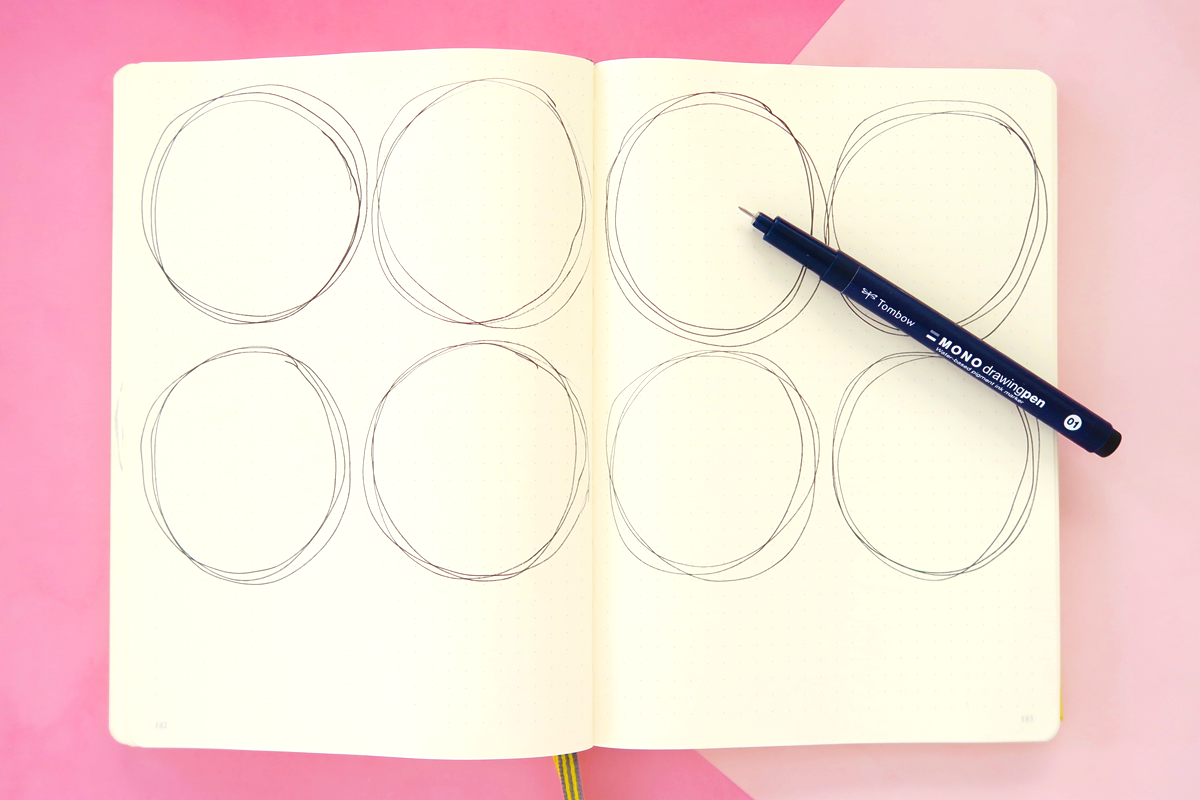 STEP 2: STAMP IT UP
Did you know you can stamp using Tombow Dual Brush Pens? You have to work a bit quickly but it's very easy to do! Get your calendar stamp and apply it to an acrylic block. Hold the brush end of the pen at an angle (almost sideways, really) and run it across your stamp. All that's left is to do the actual stamping. Make sure you have a nice, flat surface to stamp on for an even impression. I stamped the monthly calendar stamp in the top left circle.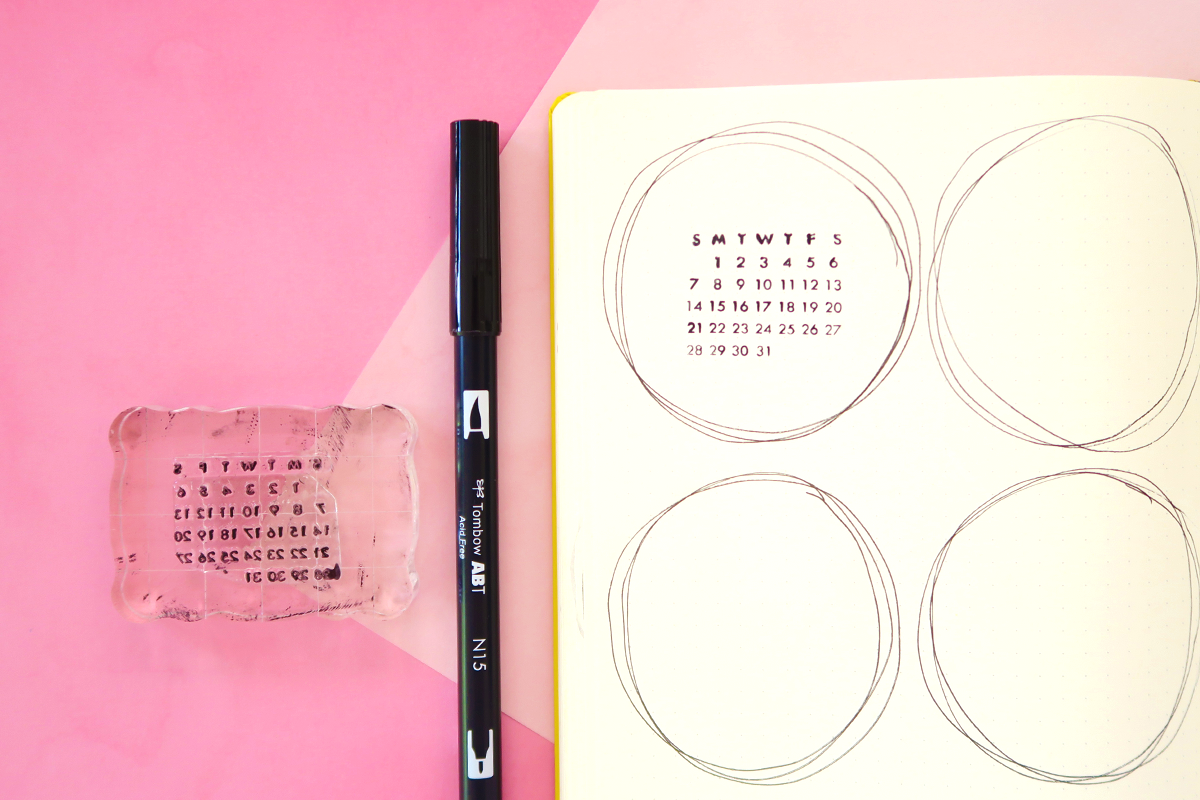 Next, repeat the stamping process for your date stamp! Here I'm using a roller stamp to get a consistent look. If you're a letterer, you could easily swap out the date stamp for a Tombow Fudenosuke Brush Pen and write in your own dates!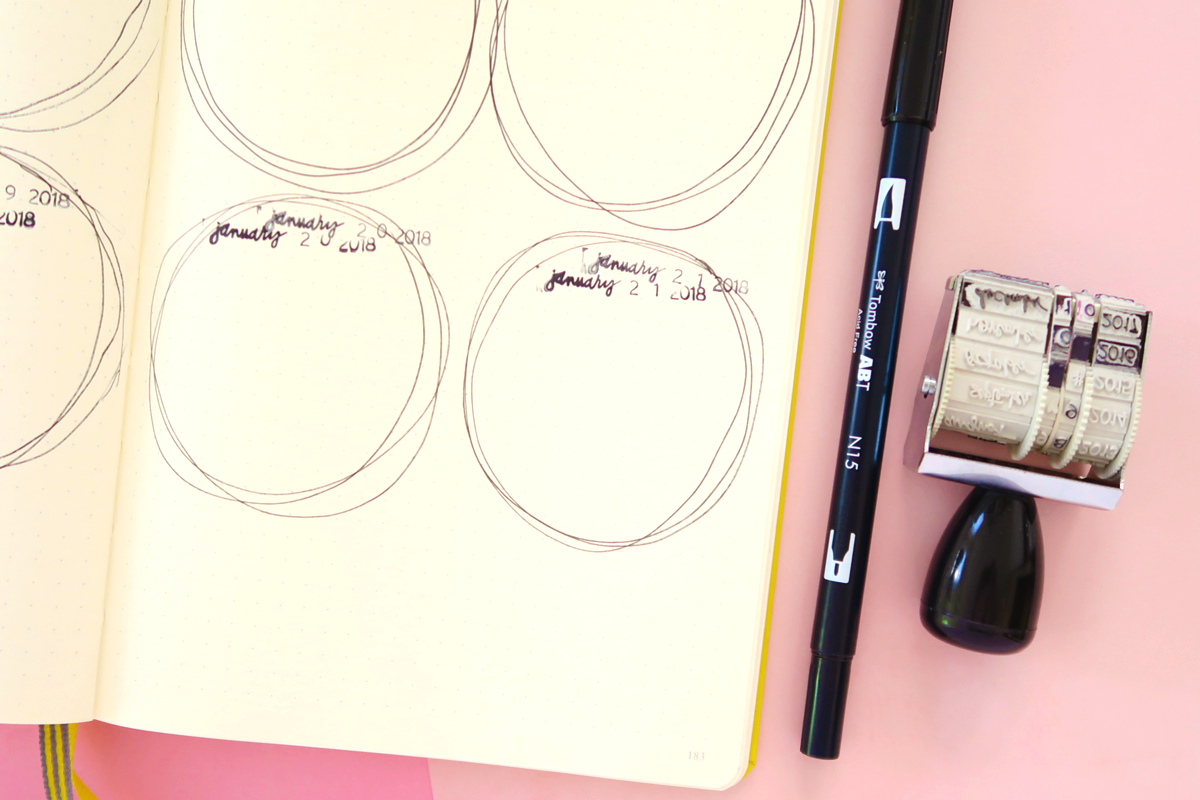 STEP 3: ADD SOME INTEREST
Now we're going to a few extra details to this spread. Use the Tombow Dual Brush Pen in N75 to highlight the current week on the calendar stamp and add a little bit of shading on the messy circles. Also use the brush tip to create a few swipes of color to the bottom of your pages. I used one swipe on the left and four on the right.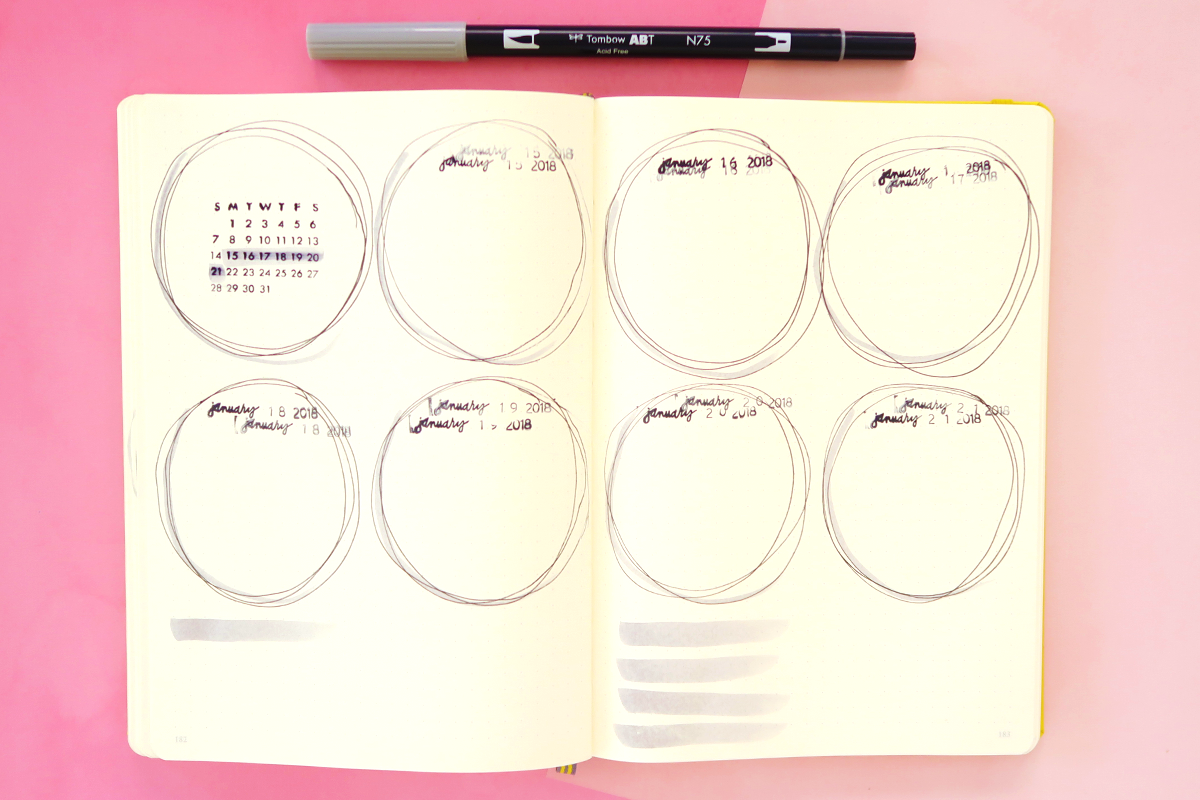 STEP 4: FILL IT IN
We're almost done! Fill in your dates with important events, to-do's, and appointments using the Tombow MONO Drawing Pen in 01. I really love the super fine point of this pen! Next, use the MONO Drawing Pen to fill in your habit tracker and create little messy circles for each day of the week, like I did below.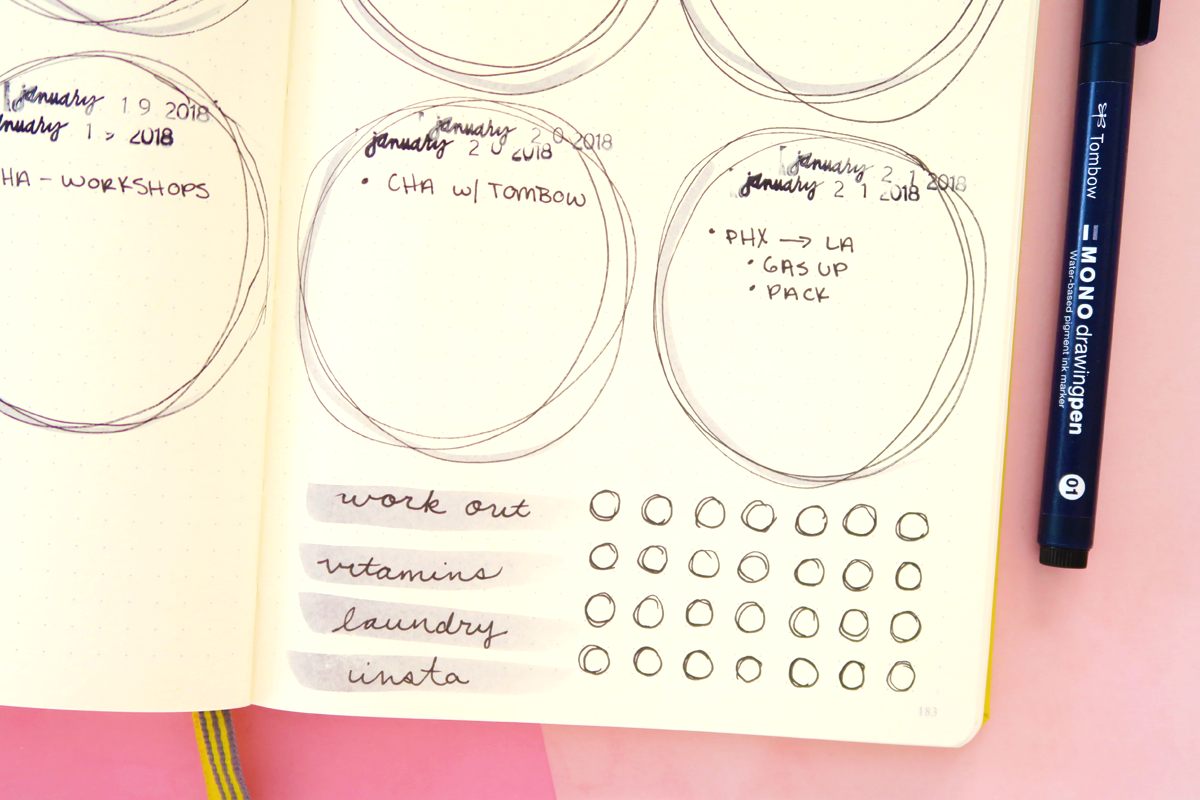 Finally, on the bottom left side of your page, write in "notes" over your gray marker swipe. All done!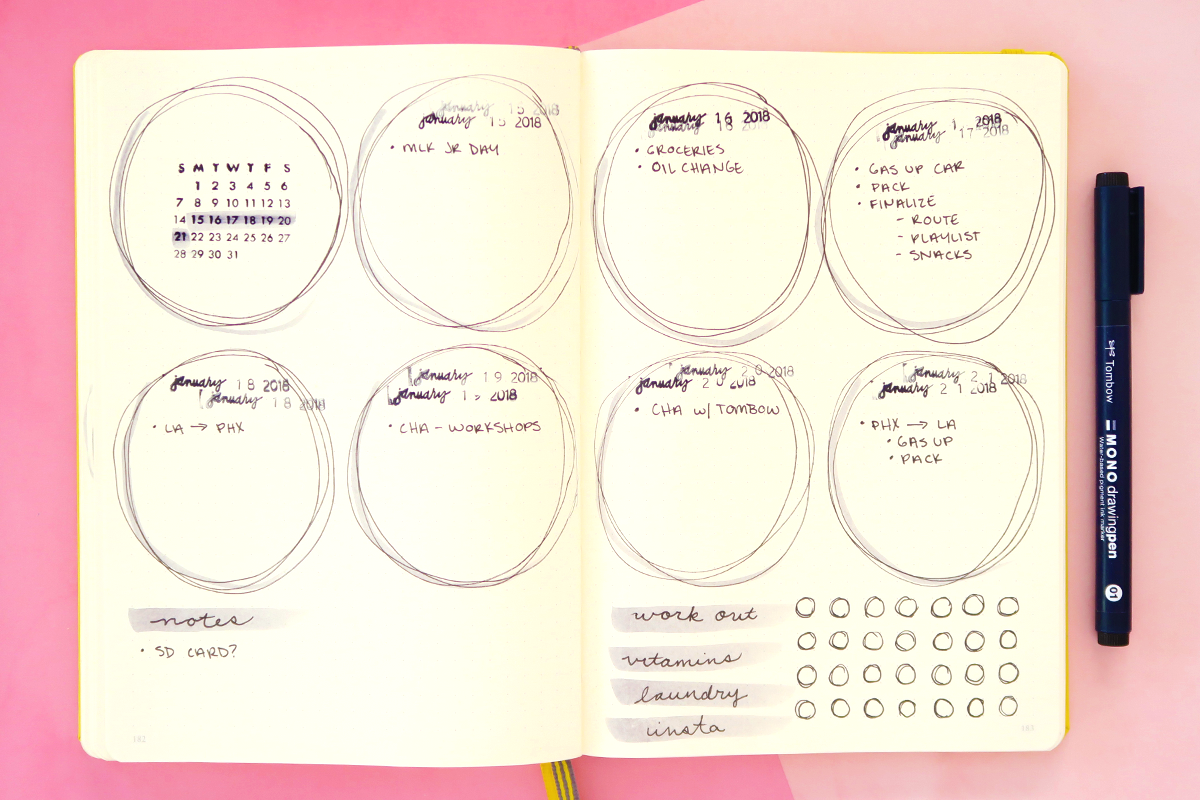 I hope you enjoyed this minimalist plan with me and will give it a try! I think it's perfect for those weeks where you need to plan in your journal but don't have a ton of time to set aside. Make sure to check out this post to learn about all of the amazing Tombow products that are perfect for your journal. Also, I know you don't want to miss this journal spread I created using the Tombow MONO Drawing Pen – it's great for the beginning of the year. And please tag me @popfizzpaper on Instagram if you create this minimalist spread – I would love to see!