Life can be super busy, so it's important to make sure that you take time to plan what you love. I love planners, but am not always successful in filling mine out. I think this is because I often get caught up in my mile-long to-do lists instead of focusing on fun things that I get to do every week. Bloom Daily Planners' products are bright and fun and the perfect match for Tombow products. Let's use our planner to focus on the fun and important things in our lives.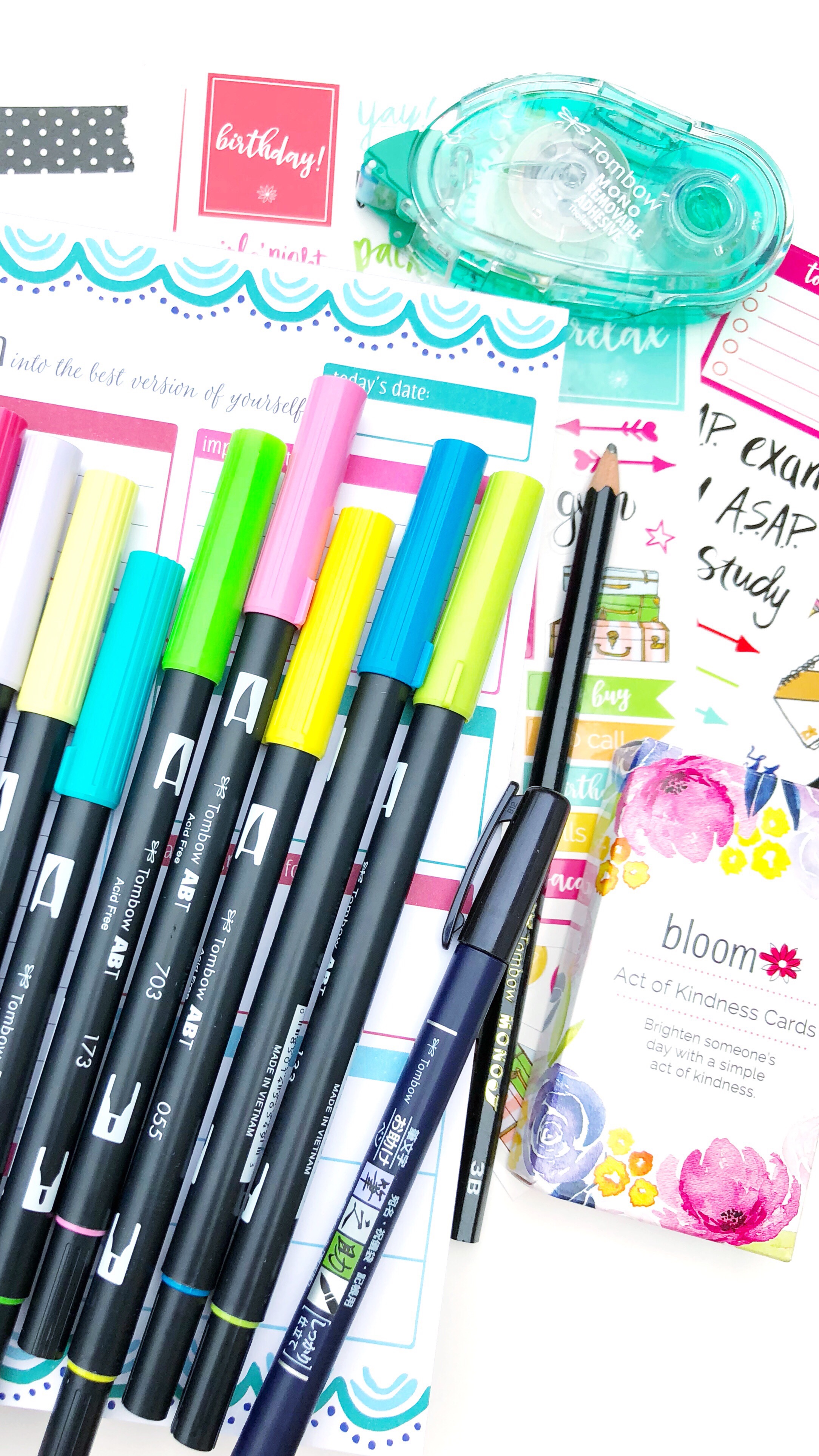 WHAT YOU'LL NEED
I don't know about you, but I'm more likely to use a planner when it's fun and bright.  When the planner itself makes me happy, I instantly am more motivated to use it.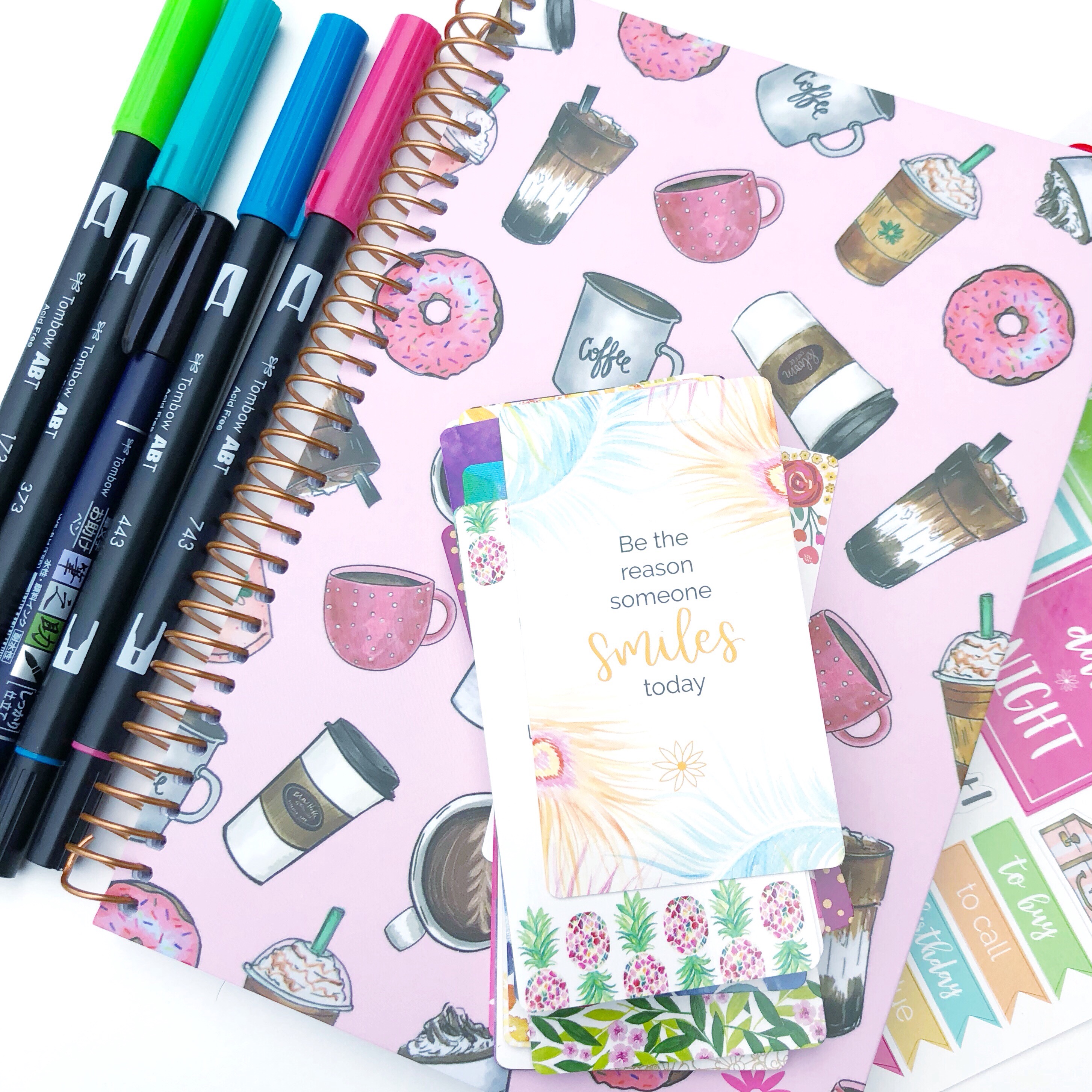 PRIORITIZE WHAT'S IMPORTANT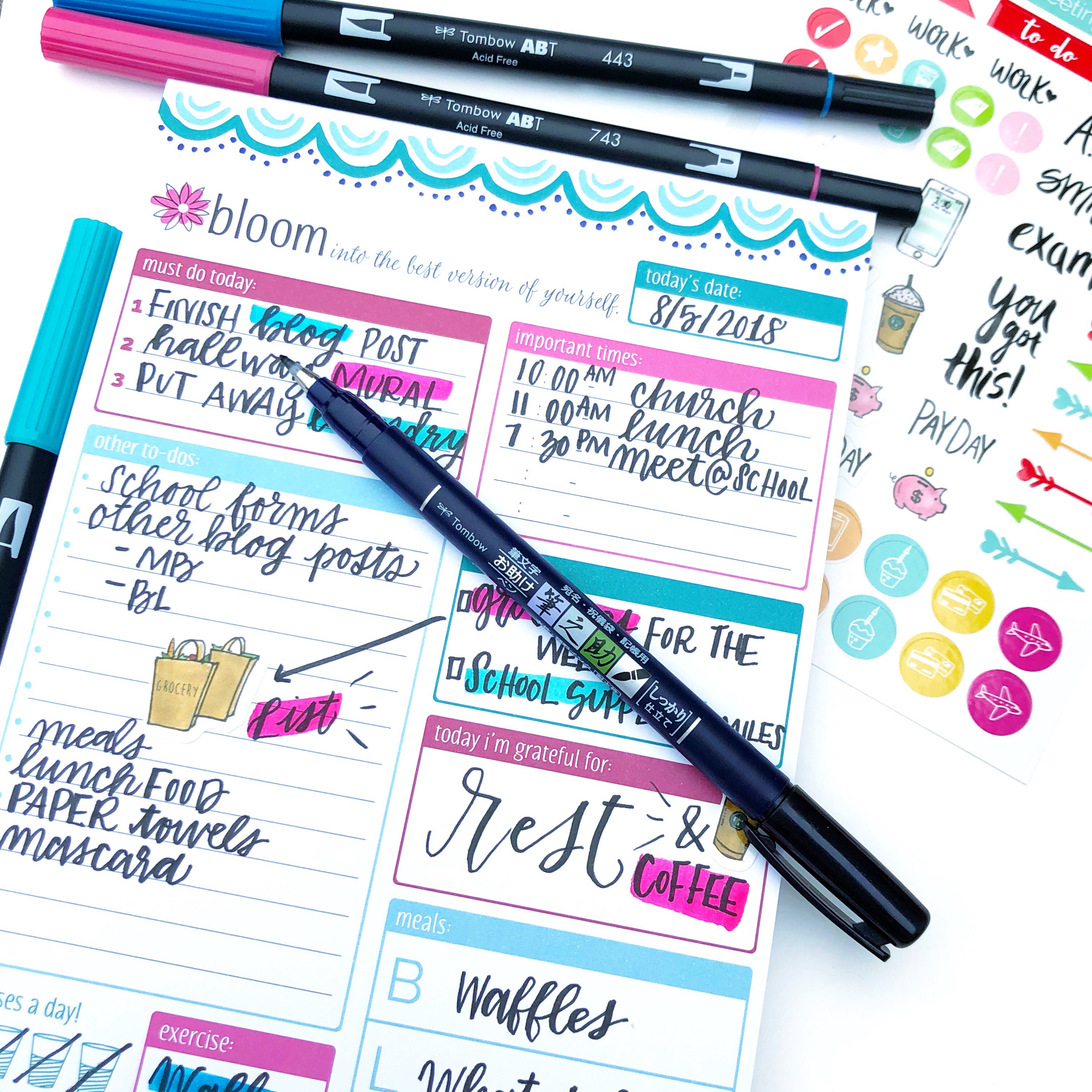 It's easy to get caught up in the big and demanding tasks that life brings. The Bloom Planning System To Do Pad is perfect for prioritizing the tasks that have to get done in a very manageable way.  Plan the big tasks to get done each day while also planning out meals, exercise, and important times. Prioritizing these to-do's helps to keep you accountable to get tasks done. I love to use the Tombow Fudenosuke Hard Tip Brush Pen to letter this colorful pad with all of my to-do's. The Tombow Custom 10 Pack of Dual Brush Pens from the July Tombow VIP Club matches the colors of the to-do list pad perfectly. Use the Dual Brush Pens to highlight important dates and tasks. When you prioritize the difficult tasks, it leaves time to do all of the fun things.
MAKE TIME FOR FUN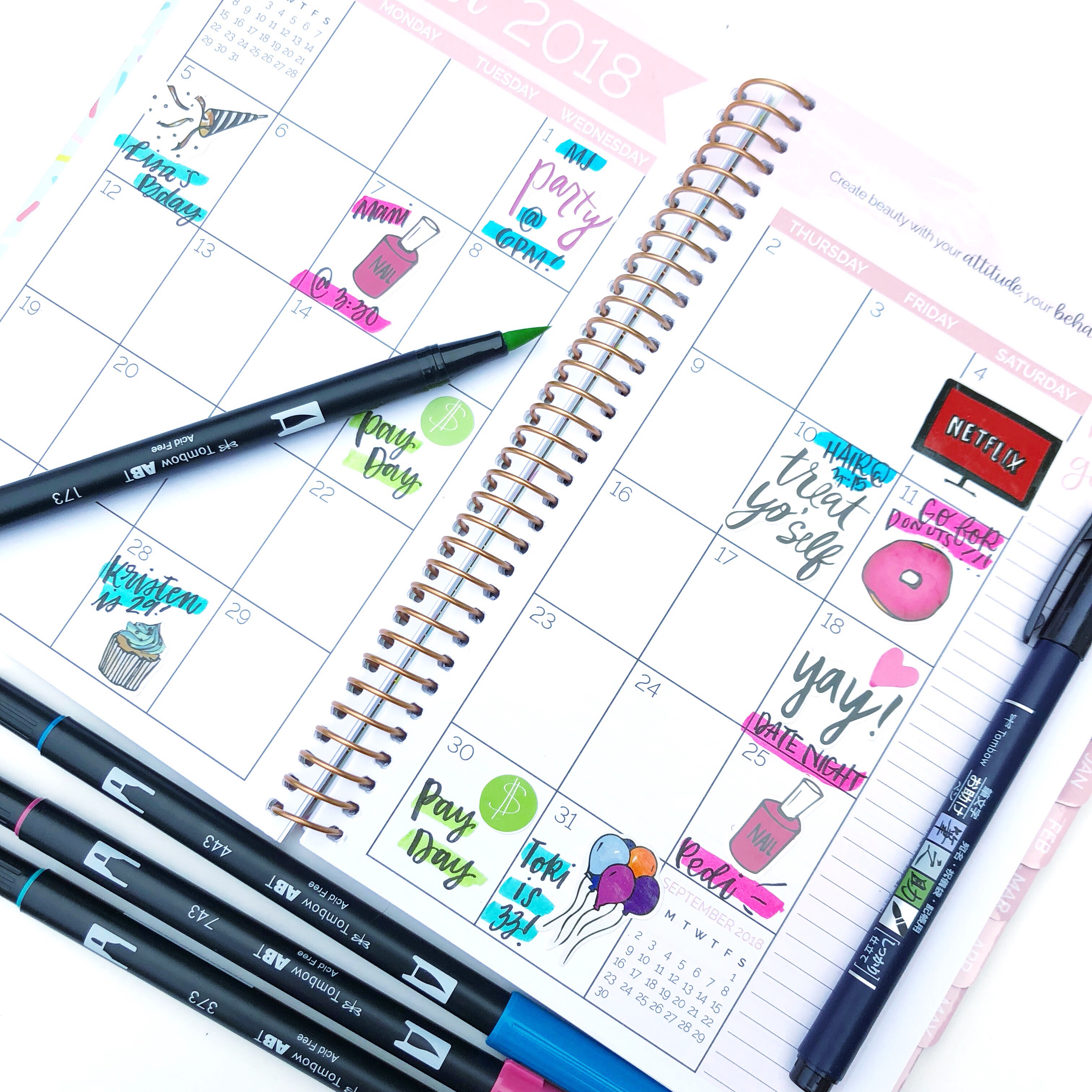 It's important to plan for the fun, not just the demanding. I love the calendar pages in the Bloom Daily Planners. Before filling the calendar up with obligations, use the Bloom Planner Stickers and Tombow Fudenosuke Hard Tip Brush Pen to document celebrations and fun events. Color code the fun using different coordinating Dual Brush Pens. Planning the fun whether it be a party or an unplanned, guilt free trip to the donut store, is a great way to balance out the craziness that life can throw at you.
PLAN TO BE KIND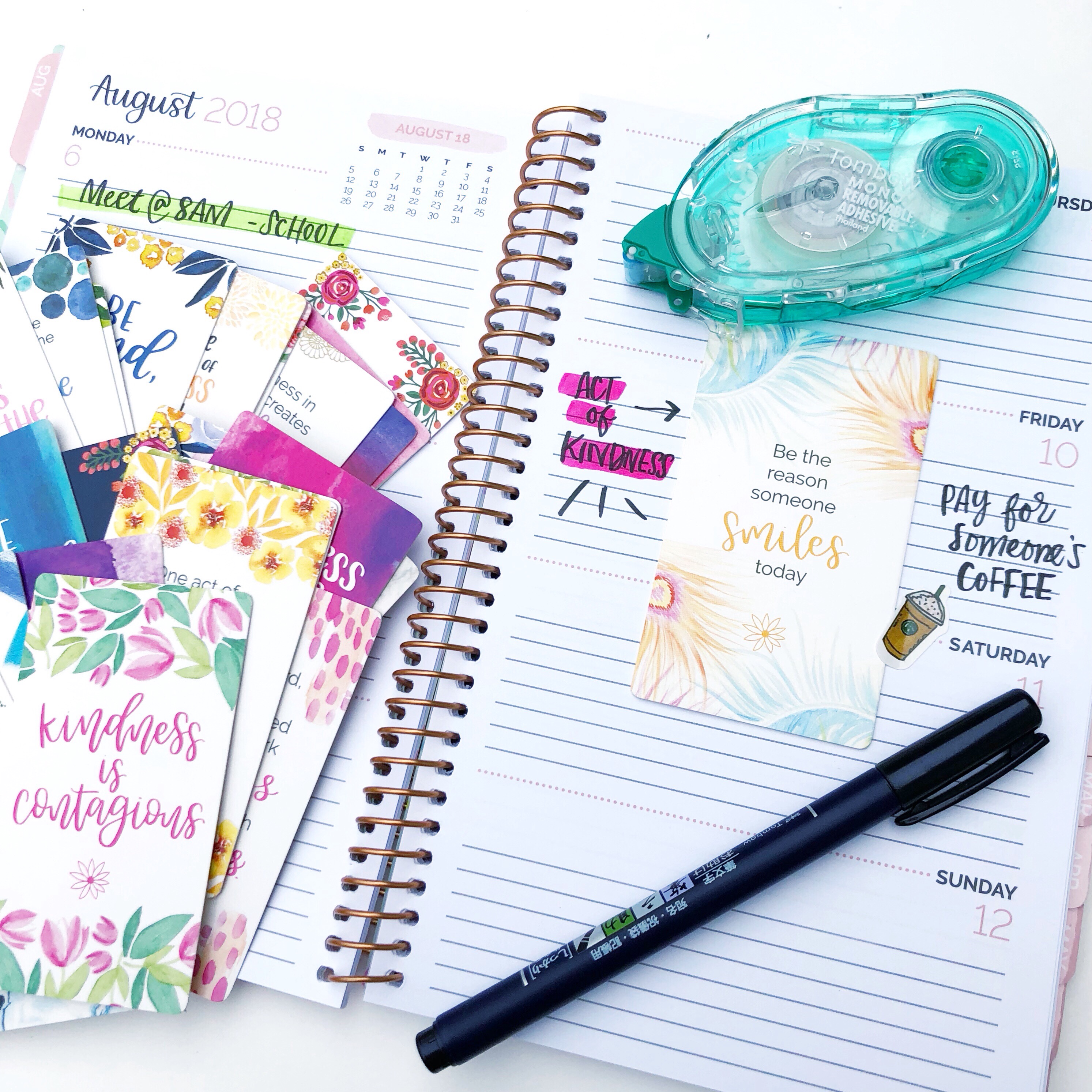 In addition to planning all of the important and fun things, it is also vital to plan to spread the happy to others through acts of kindness. Bloom Kindess Cards are so fun to use! Temporarily stick the kindness cards into the planning pages using the Tombow MONO Removable Adhesive. Write out ideas for how to be kind to others… like buying their coffee for the day. When you do the act of kindness, you can remove the card to gift to the person. When you plan to be kind, you not only will make someone else's day, but you'll also love the way you feel in return.
So when you plan what you love, not only will you be more productive, but you'll also love what your doing so much more. For more details about the products used in today's tutorial, check out Bloom Daily Planners and a Tombow USA.
Happy Lettering
Lauren Fitzmaurice