Hi Tombow fans! This is Jennie! We have a new member in the Tombow family! These Tombow TwinTone Dual Tip Markers Rainbow Set made their debut on the January 2019 Tombow VIP Club Box. I was beyond excited to see one of my favorite products in gorgeous new colors. These are a dream to the planner community. In this post I'll share with you 5 ways I used the Tombow TwinTones in my planner.
Supplies:
Planner (I'm using a Passion Planner)
Stickers, Stamps or Washi (Optional)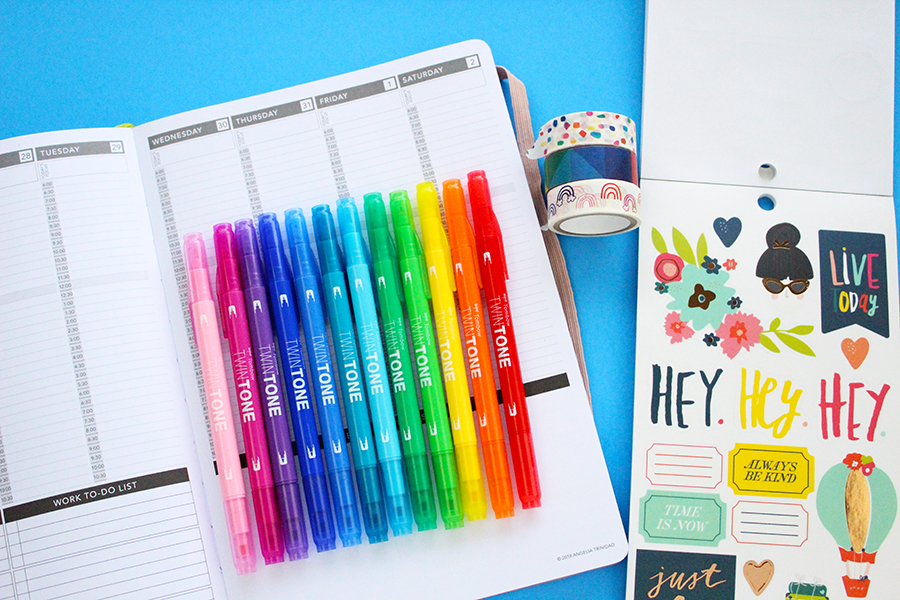 #1: Color Code:
I love the fact that the Tombow TwinTone Dual Tip Markers have two tips. The extra-fine tip is 0.3mm and the bullet tip is 0.8mm. The extra-fine tip is perfect for writing in small spaces. In total there are 36 Tombow TwinTone colors. You can use colors of the same family for things that are related but not the same. For example, I can use the pinks for my daughters school assignments but I can use the lightest for girl #1 and the darkest for girl #2. Blues could be used for bills and greens could work for appointments.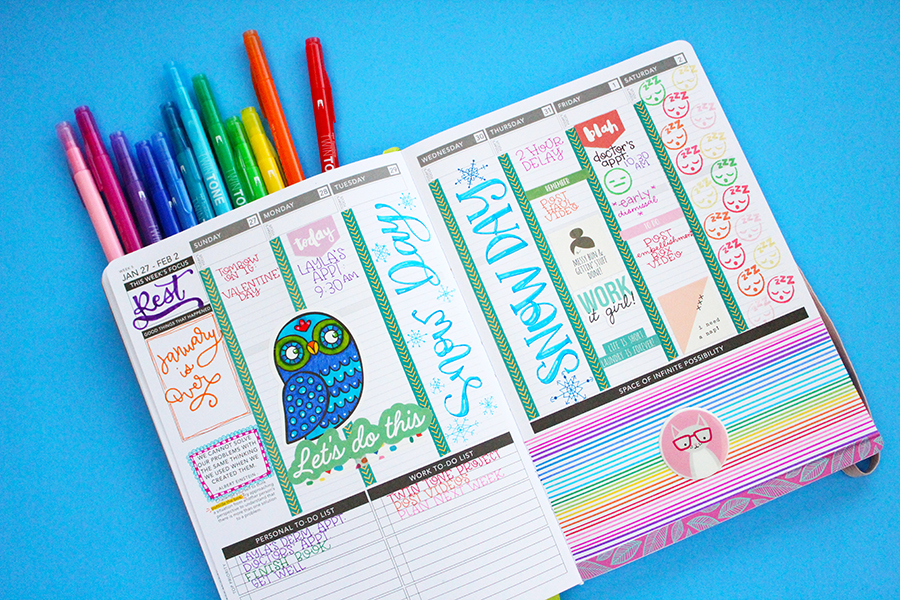 #2 Coloring
You can color stickers or even fussy cut pieces from adult coloring books and add them to your planner for extra color. This cute owl is from an Amy Tangerine Sticker Book.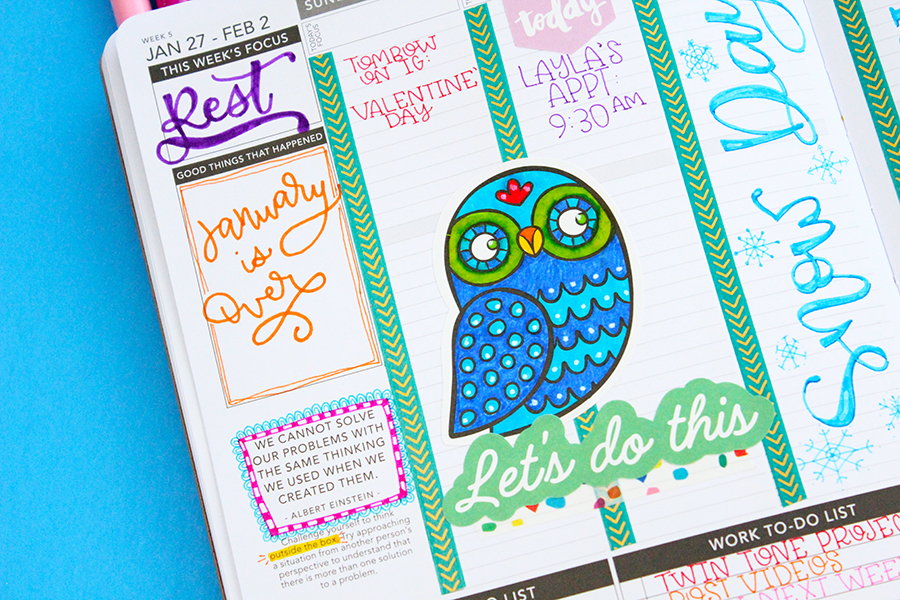 #3 Faux Calligraphy
If you received the January 2019 Tombow VIP Club Box, you have an easy faux calligraphy guide that you can keep inside your planner. It's really simple, just write your word and add weight to the downstrokes. Since my words were pretty big, I used the bullet tip of the Tombow TwinTone Dual Tip Markers. I also added a little bit of shadow to the letters with the extra-fine tip.
#4 Doodling
Using the extra-fine tip of the Tombow TwinTone Dual Tip Markers I drew a few snowflakes.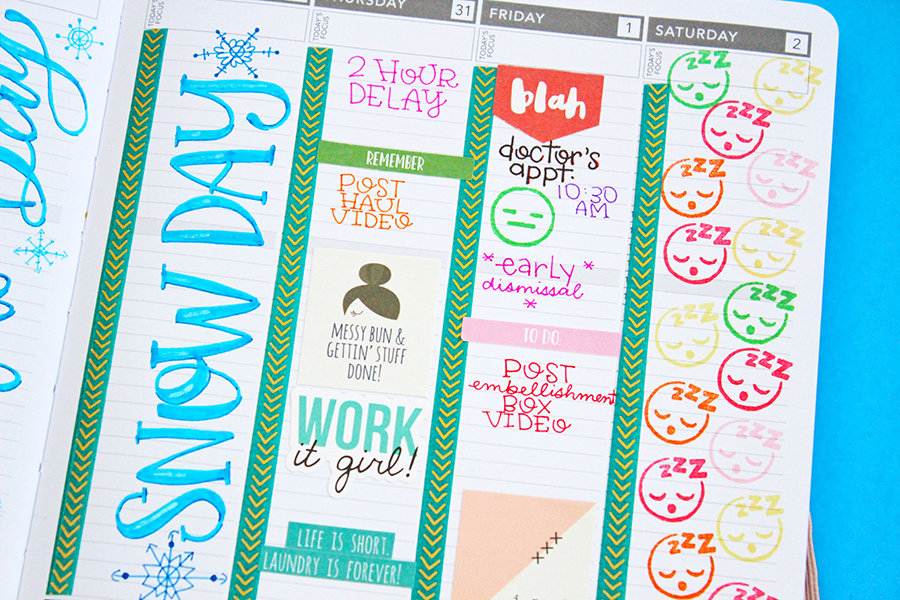 #5 Making backgrounds.
The Passion Planner has a very cool space in each weekly spread to add inspiration. Most of the time I add quotes, but this week this simple rainbow background with a sticker made me happy! I've also used a Spirograph to create a background.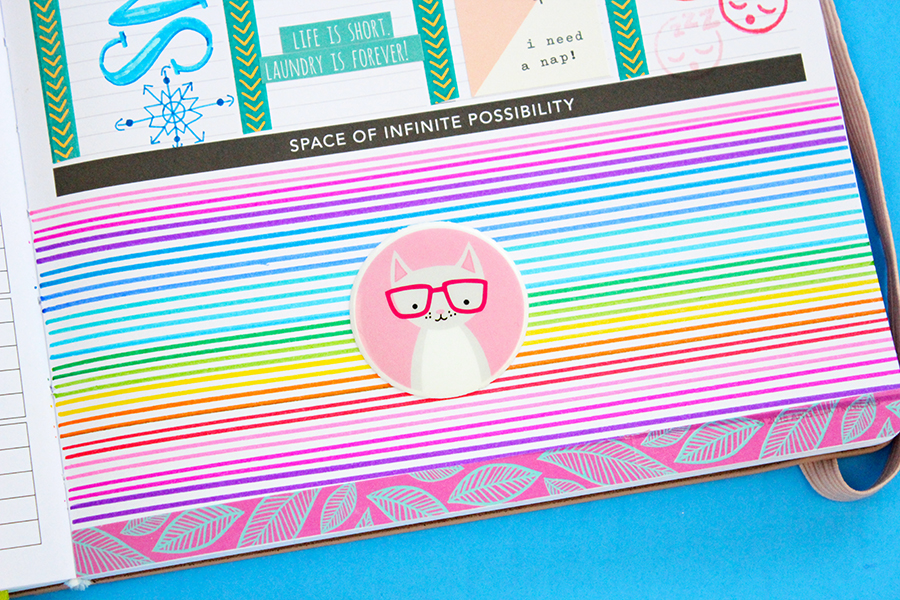 I hope you enjoyed these planner tips! Take care!