Hi crafty friends! It's Dani from @popfizzpaper sharing an easy Galentine's gift tutorial. We'll be creating a mini folio for your favorite gal pal that you can fill up with little self-care goodies like face mask samples and tea. For today's tutorial, I'll be using the new Papercakes by Serena Bee collection, Radical Love, being released later this week. I actually learned how to make this mini folio from Serena, too, and wanted to share it with you with my little tweaks! Let's get started!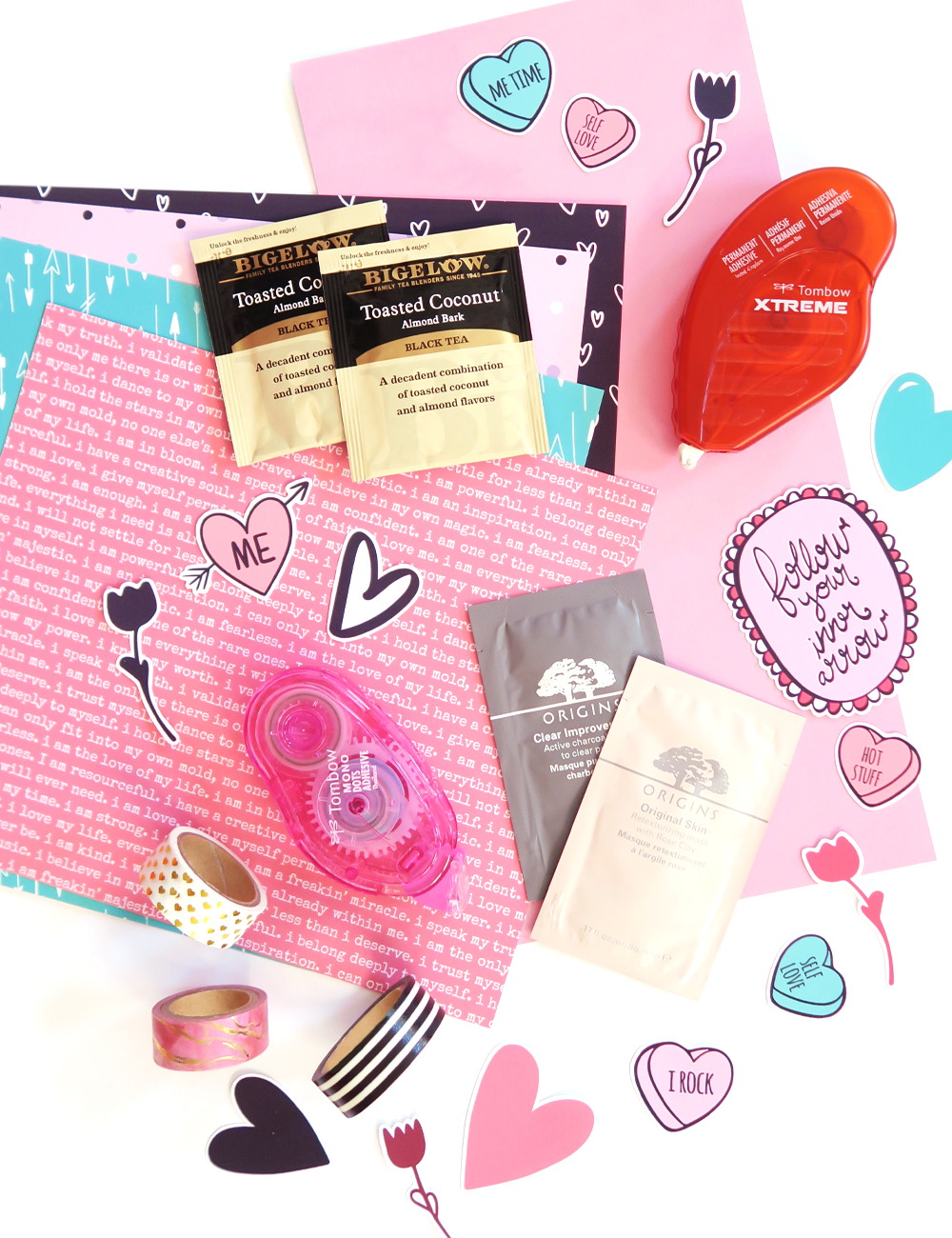 SUPPLIES: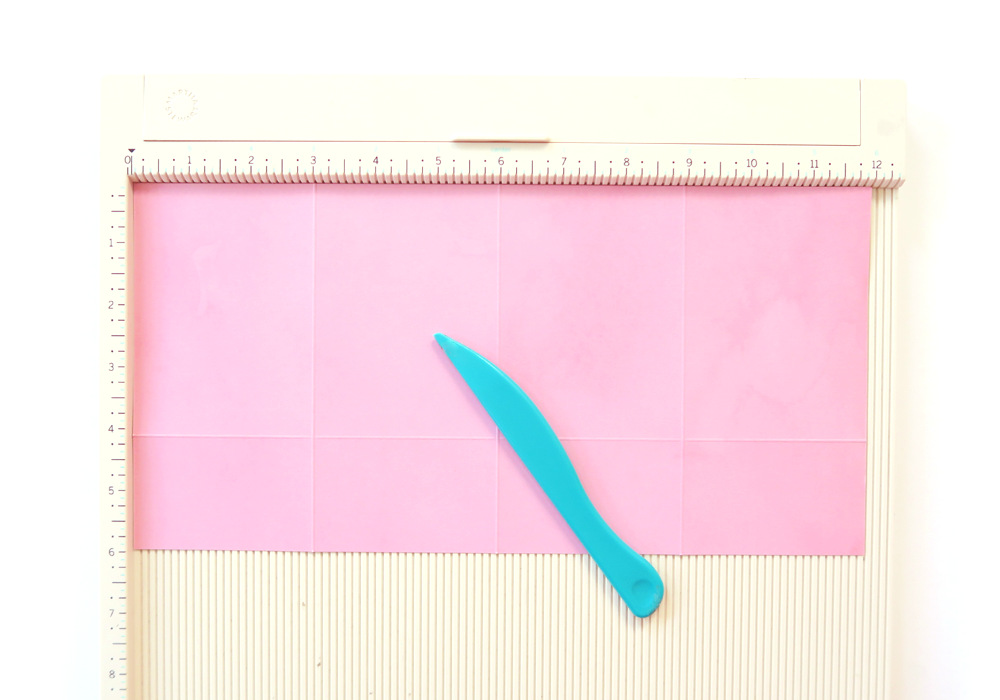 STEP 1
First, we'll create the base of our mini folio. Cut your 12″x12″ scrapbook paper to 6″x12″, then get your scoring board. Place the 6″x12″ paper in a portrait orientation on the board, then score at 1 7/8″ inches. Turn the paper 90 degrees to a landscape orientation and score at 3″, 6″, and 9″. Your scored paper should look like the one in the picture above. Fold along the score lines to create an accordion folded folio with a long pocket running the length, like in the picture below.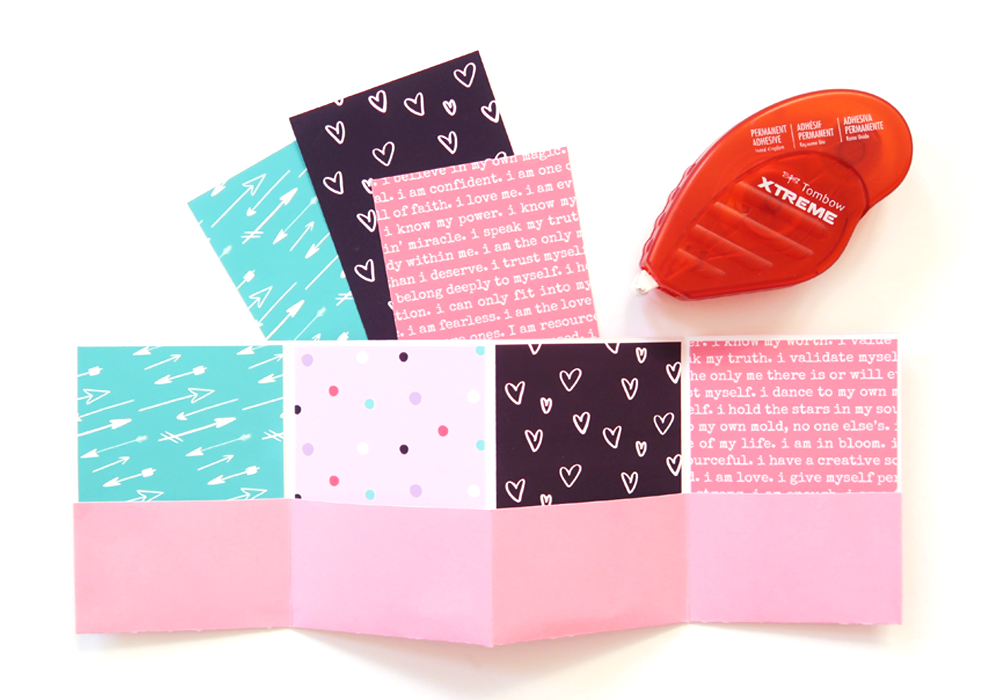 STEP 2
Next, cut down your favorite Radical Love papers or journal cards so they are 2 7/8″ x 3 7/8″. Use the Tombow Xtreme Adhesive to glue these panels into the different pockets of the folio. I used the arrows, dots, hearts, and word papers for mine. Once your decorative panels are in place, fold up the long pocket and glue down the two ends. You don't need to glue down each section of the pocket, just the ends furthest on the left and right. The Tombow Xtreme Adhesive is perfect for this step because it will stay in place and not budge, even when we add goodies to the pockets!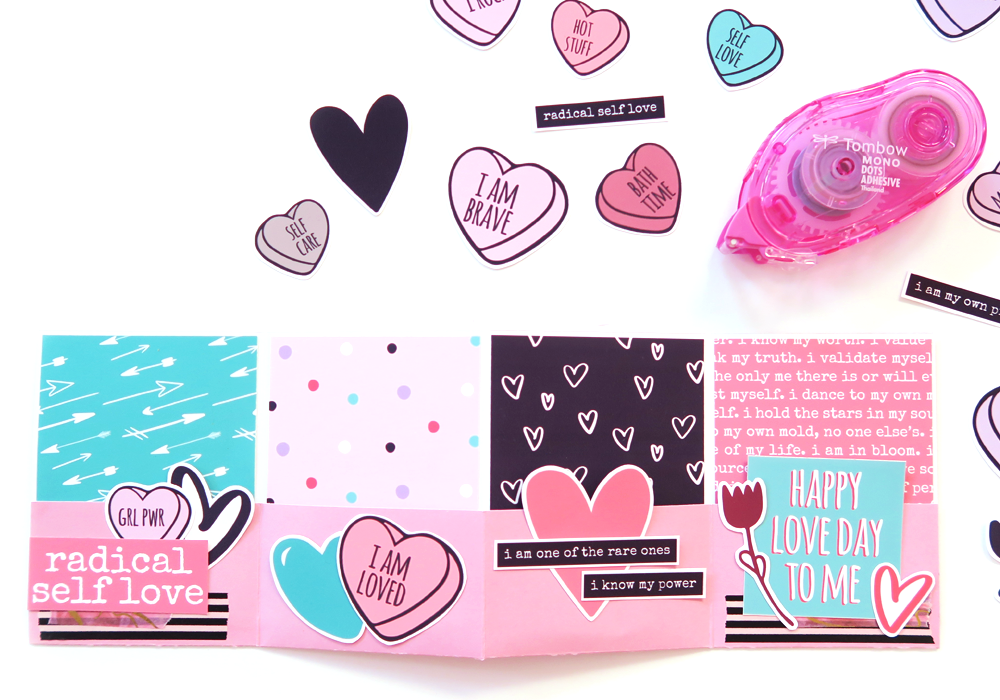 STEP 3
Now get to decorating! I layered washi tape and some of the cut aparts from the Radical Love collection on the front of the long pocket. I also added some of the diecuts and cut apart phrases from the collection, too. I used the Tombow MONO Adhesive Dots to glue everything down. This is one of my favorite Tombow adhesives because you have a little bit of time to adjust your decor pieces before the adhesive dries down permanently, allowing you to get the placement of everything just right!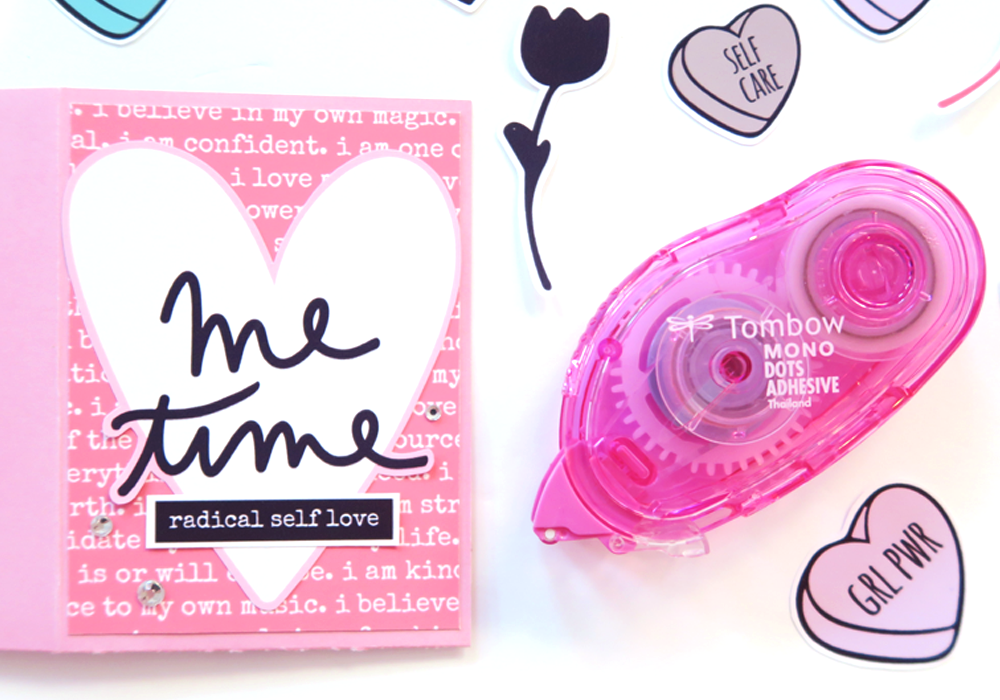 STEP 4
Almost done! Let's decorate a front panel to put on the outside of the mini Galentine's folio. I chose the pink typed paper and layered on a "me time" heart that I cut out of a journaling card. Then I layered a little phrase cut apart over top and some clear gem stickers. Use the MONO Adhesive Dots again to glue the panel on to the front of the mini folio. I also added some of the same gemmies to the interior of my mini folio for some extra sparkle!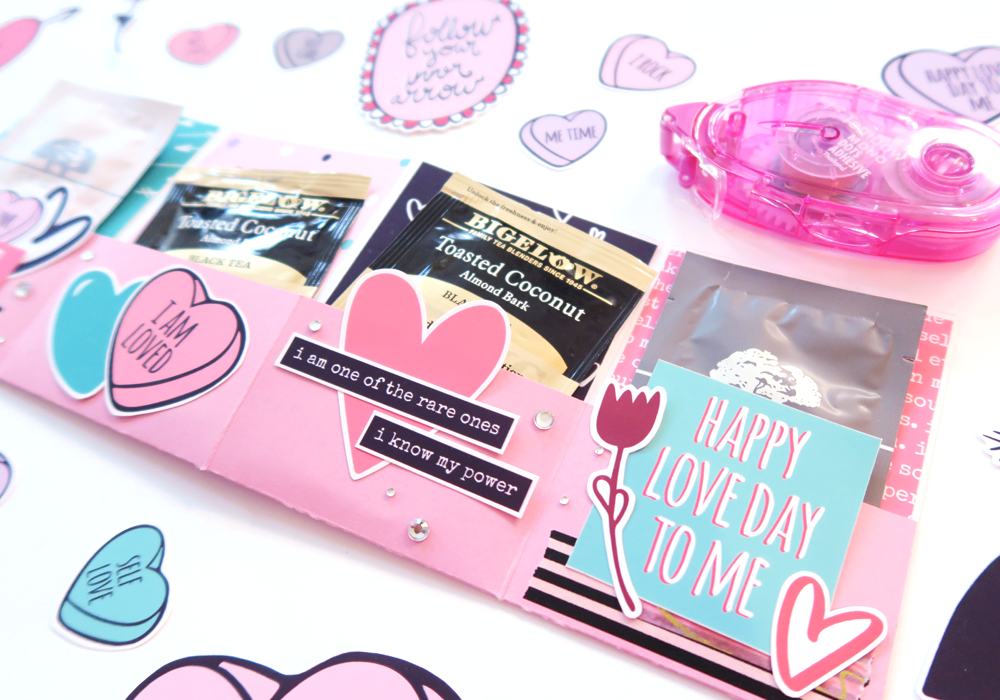 STEP 5
Last step! Now gather some fun little self-care goodies and tuck them into the pockets of the mini folio. I added in two face mask samples and a couple bags of tea, the idea being that my friend can have a tea while wearing one of the face masks! You could also include some self-care book suggestions she can read while she sips a tea or a playlist of relaxing songs to listen to while doing a mask. After you've slipped in the goodies, fold up the folio and tie it closed with some bakers twine or pretty ribbon, then gift it to your friend!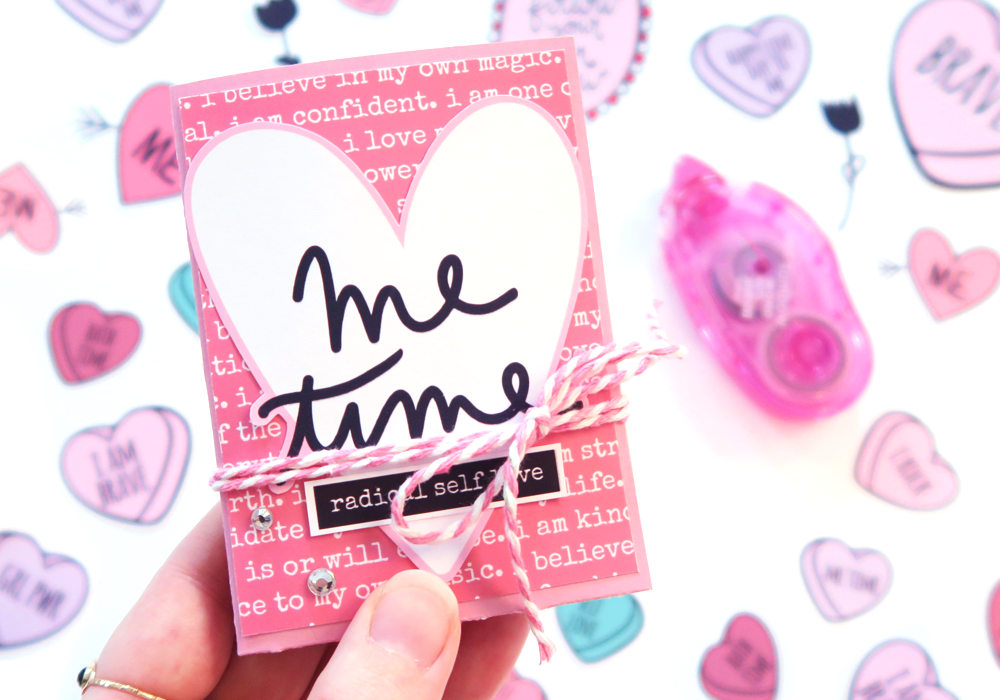 Thank you so much for following along with my mini Galentine's self-care folio tutorial today! For another easy Galentine's project, check out my Galentine's Tea for Two pocket tutorial. See you next time!