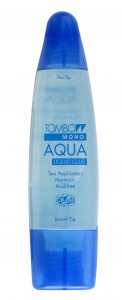 Homemade crafts always make the perfect gift for the holidays. Whether the present is homemade or it is just a personalized hang tag, a little creative, personalized flair will make it a memorable gift for a friend or family member of any age.
As something that will be heavily handled you want to make sure that all of the details are secure. Create professional and durable holiday gift tags using the MONO Aqua Liquid Glue Adhesive.
The MONO Aqua Liquid Adhesive has dual applicators in one ergonomic dispenser and a pen tip for small areas or a fine line of glue and a broad tip for large areas. The strong permanent bond goes on clear and dries clear, making it ideal for photos, cardstock, fibers or buttons. Acid-free and non-toxic, this adhesive is perfect for any project.