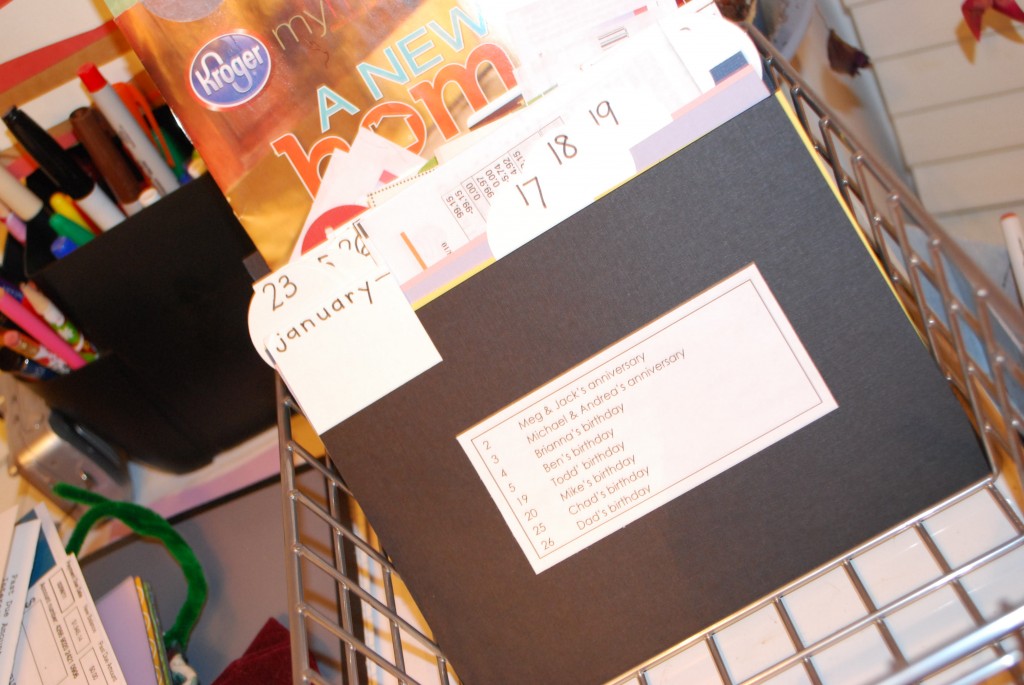 so we need a way to keep up with birthdays and anniversaries and holidays?
in this post here, i showed how i organized my bills and upcoming events. i even mentioned an idea about putting a list of events for the month on each tab.
well i did it! used microsoft word and text boxes to create a document that i can change as needed. printed and trimmed them up, and adhered it to the front of the card with Tombow MONO Dot Adhesive Runner. this way i can peel it off a little easier if i need to change something.  i can look to the month coming up, see what cards i need and then make them and stash them behind the "number" for the appropriate send off date. a quick help would be to keep envelopes and stamps in the front of the basket, or behind their own special divider. then come bill or card, you'll have all you need handy to send it off!
for years i have said i would love to have a stash of cards that i make ahead of time, so when the need arises, i can quickly grab one and i'd be done. but i have not accomplished that goal yet. i do have some cards that i go through, some store bought and some hand-made. but inevitably, i end up making one for the occasion. kind of a mood thing for me.
but here is what my file looks like. maybe it'll work for you…?
p.s. january is the busiest month! if i don't have it together, i'm behind before the year even gets going!