it is fact…i talk alot. i can get too wordy at times. but with all of that i am not an eloquent speaker.
which is why quotes are so wonderful…they say the words i wish i could say.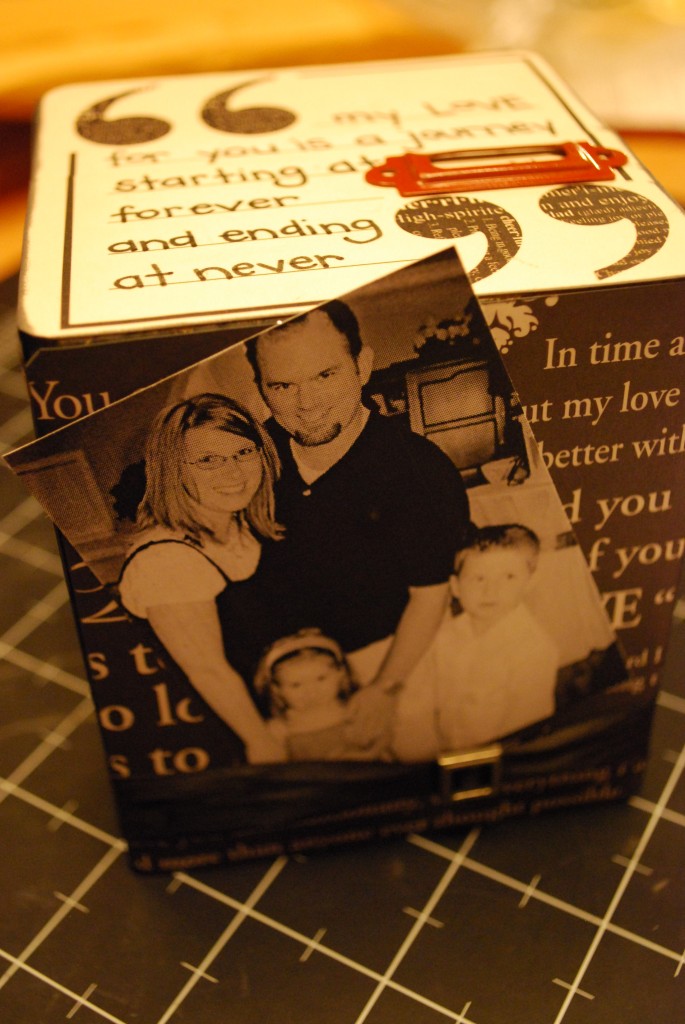 there is a pattern paper for just about everything we could possibly dream up. there are hundreds of papers with quotes and words already written on them.
this is where the inspiration for my quote project came from.i had paper from teresa collins that i have been holding onto for a couple of years. recently i had printed many family photos from the last year to display around the house and scrapbook with and i ended up with the mini index prints. i love pictures, so much so that i hold onto these itty bitty ones because i can't throw them away! well, i put them to good use on this project.
this decorative "box" is a 4×4 block of wood, covered with paper and dressed up with embellishments and pictures.
i used two adhesives on this project… for all the paper to the wood and paper to paper, as well as the small metal embellishments i used Tombow MONO Multi.
the ribbon was secured down with the Tombow Power Tabs, as was the ribbon charm.
* first thing i did was sand the block.
* then i measured and cut the paper.
* use an ink pad or paint and go over all the edges of the wood. since my papers would be black i used black ink, just in case there was a gap in the paper when i got it all glued down the light colored wood wouldn't show through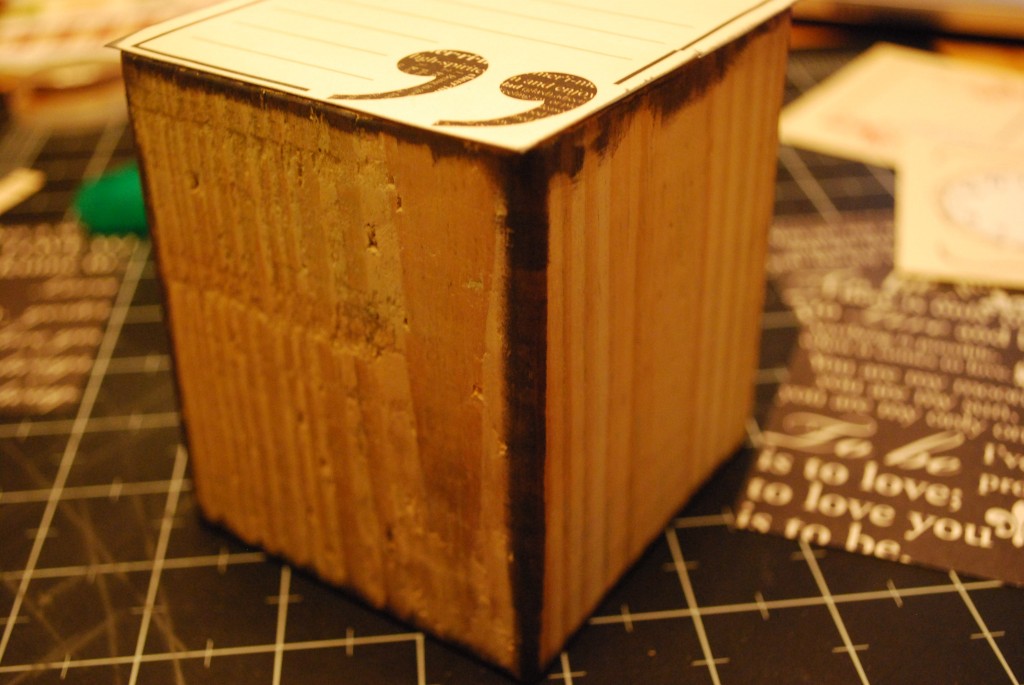 * then adhere the paper using Tombow MONO Multi liquid adhesive
* add pictures using Tombow MONO Multi as well
* add embellishments – ribbons, charms, buttons, etc. with Tombow MONO Multi or Tombow Power Tabs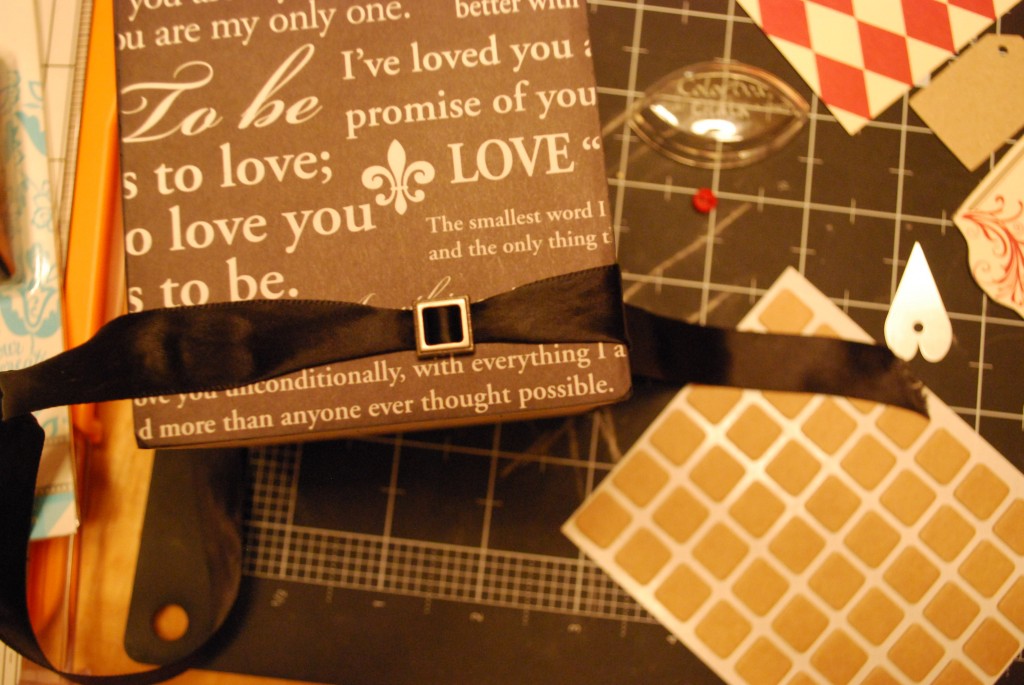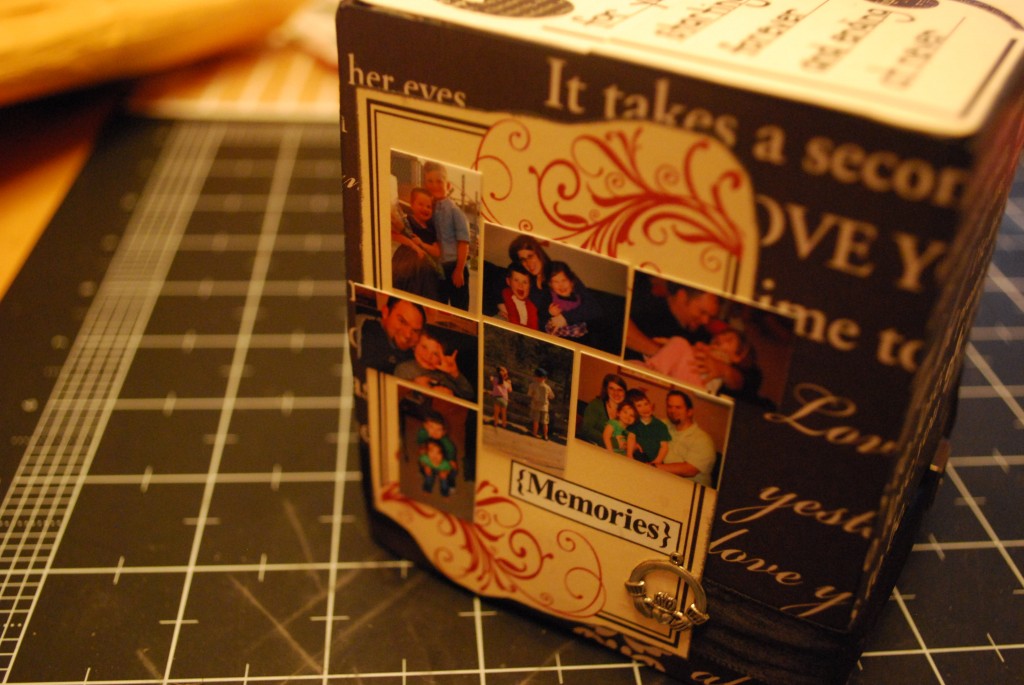 before i cut up the paper i jotted down some of the quotes from the paper that i wanted to remember, or maybe wanted to use.
this is the quote from the top… my love for you is a journey that starts with forever and ends at never