Parchment craft….also known as Pergamano is the art of embellishing parchment paper through the techniques such as embossing, perforating, stippling, cutting and coloring.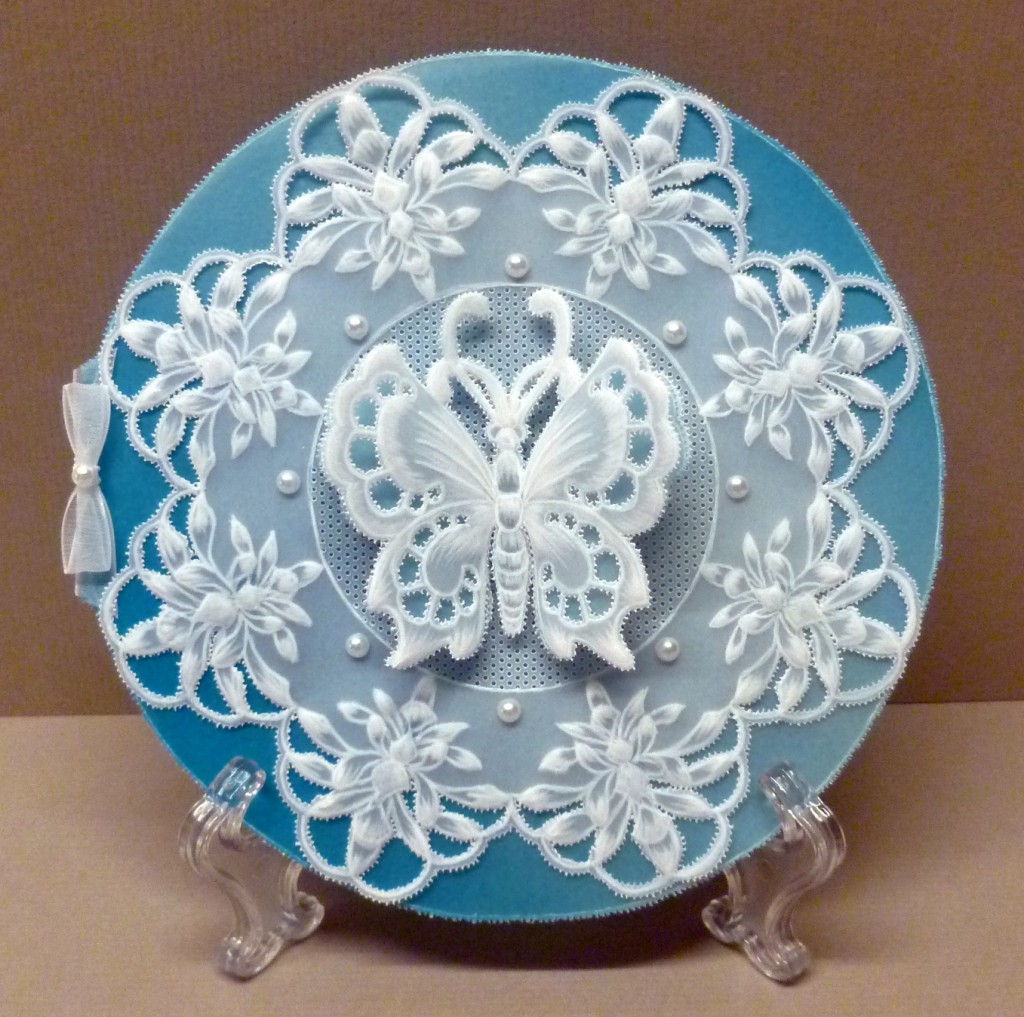 To start I took a piece of parchment paper and placed it onto a pattern. I used painters tape to tape it to the pattern. With a mapping pen and Tinta ink I traced the pattern onto the parchment paper. I used sections of two different patterns and some of my own patterns for this card. Once the pattern is complete I placed the paper with the good side face up onto a piercing grid. With the arrow tool I pieced the holes in the center of the card. I removed the paper from the grid and with the good side face down I placed it onto an embossing pad and with my embossing tools I embossed sections of the pattern. When you emboss the parchment paper it is actually stretching the parchment and it turns the paper white. You can now see the sections that have been embossed. . To cut the sections out of the parchment paper around the outside edges of the card I perforated all the sections I wanted to remove with a 2 split tool and removed the excess parchment paper. This is a very delicate process as now that the parchment is embossed it becomes very fragile.
 I traced the butterfly twice on plain parchment and once on blue parchment. The front butterfly is the only layer of the 3 that has the detail and is embossed and cut out.
 The card itself is made with blue parchment paper. I traced the outside of the card with the Tinta ink and then perforated the edge with the 2 split tool to remove the excess parchment paper.
To put the card together I used Tombow Power tabs. I cut 2 tabs into quarters and placed one quarter of a tab behind the embossed section of each design and centered it onto the blue parchment card. I adhered all 3 layers of the butterfly using Tombow MONO Aqua Liquid Glue along the body sections. The butterfly is adhered to the card with Tombow Power Tabs. The flat back pearls are glued with Tombow MONO Aqua Liquid Glue and the bow is attached to the card with the Power Tabs.
 Before I was introduced to Tombow adhesive products I had to adhere my parchment cards with silicone from a tube. It took a while for the silicone to set up and using regular glue would crinkle the parchment. I was totally amazed when I used the liquid glue and the Power Tabs on my project. Now my cards go together so quickly and with no gooey  mess…. I love it!!!
Here are afew of my tools…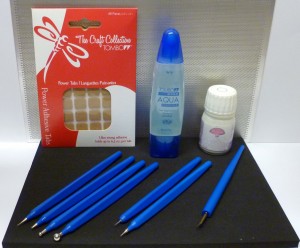 Thanks for stopping by,
Karen