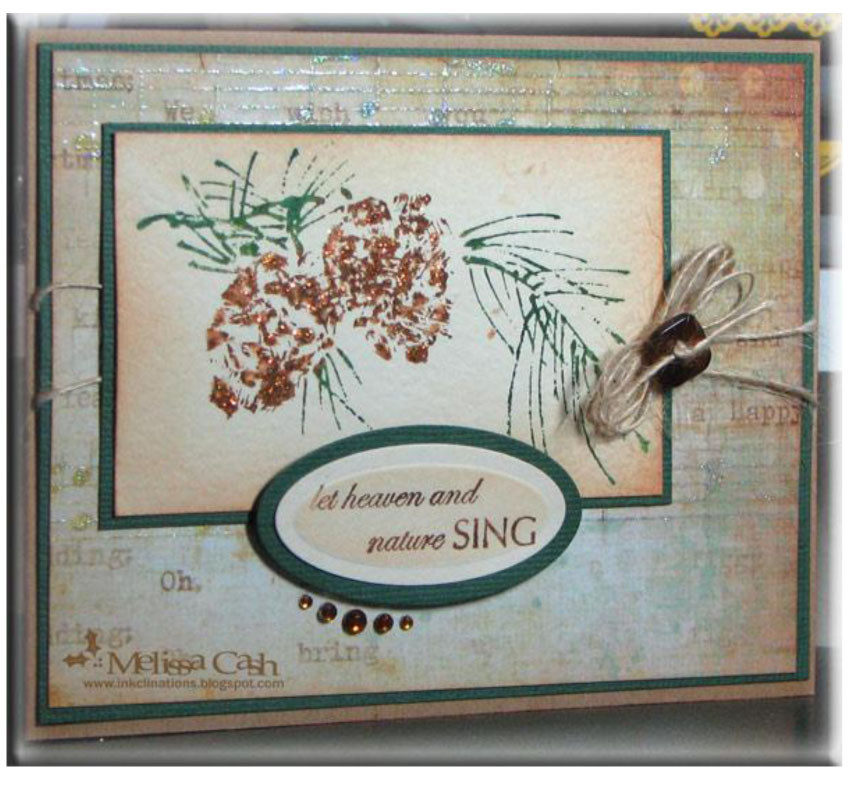 I inked up the stamp with Tombow Dual Brush Pens, spritzed it with a wee bit of water and stamped it onto some Prismatics cardstock. The edges were shaded a bit with Tea Dye Distress ink to soften the hard edge of the tan cardstock. The print paper has a music them and lots of pretty glitter mixed in. It is from a My Minds Eye Glitter paper pad from last year. I don't know if I will ever use it all up, I think there were over 50 sheets in the pad. The sentiment is from Memory Box. This saying is one that I used years ago on a Christmas card (long before there was a stamp for it), I wish I had this stamp then! I layered everything up with some Hunter green cardstock that I have had in my stash for awhile, it could be Bazzil as it has some texture to it. I added a twiney bow and a button and called it good! The bow really isn't wonky, but it sure does look that way in the picture. 🙂 Have a great day!

This card was created using the "Thumping" technique for coloring in the flower. This card is for my pal Sharri Seffens who was the "Blast from the Past" challenge hostess at STV for March, April and May. Each week Sharri would challenge us to use one of Gina's past techniques as our inspiration.

The stamps used are from the GKD Botanicals stamp set. The print papers were from a past GKD Card kit. I used Tombow Dual Brush Pens in a couple of
shades of purple and green for the floral image. The image was cut out with the Spellbinders Petite Oval and Petite Oval Scallop dies. I finished off the card
with some purple pearls and purple grosgrain ribbon. This card has a really masculine feel to it, I don't really have any "old" male friends except for the ones I inherited 23 years ago when DH and I got married! Don't really think any one of them would appreciate the time I put into this card though.
This card was created for the Potluck Friday challenge at Stamp TV. It was really pretty simple to put together. Here are the deets:
1. Fold Chocolate Kiss cardstock in half and run through the Cuttlebug with largest Petite Oval Scallop Nestie.
2. Print Moss Burlap digi paper from freebies section at Stamp TV.
3. Run digi paper through CB with largest die from the small Petite Ovals set.
5. Spritz stamp with fine mist of water and stamp onto Arches 140# coldpress watercolor paper.(Canson 140# coldpress will work good too)
6. Ink sentiment first with Adirondack Espresso ink and then lightly touch to Adirondack Ginger ink to add a bit of red to the espresso
(this combo matches Tombow 969 perfectly), stamp onto image panel.
7. Affix tree panel to digi panel and punch holes on either side for your ribbon.
8. Insert ribbon, tie in knot and affix to Chocolate Kiss card with a  foam tab.
9. Add a little glitter to the tree and a stick pin to the knot.
Here are a couple of others I thouht you might enjoy…

Have fun…Melissa.