Ready for the holidays? Here are a few fun DoodleDabs to add to your cards, envelopes and tags!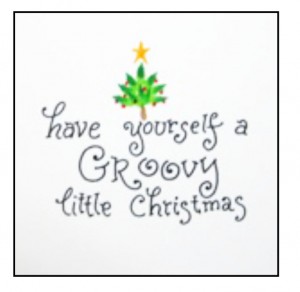 Here's a review of how to make a teardrop stroke and a two-toned teardrop stroke.Teardrop Stroke Using the brush tip, 'dab' onto the paper to make the teardrop stroke. It's that simple!  Make sure to

press down firmly and make large teardrop strokes! 

Brush Blending – For creating two-toned strokes Use a sheet of clear plastic taped to a white piece of paper for your blending palette. To make the two-toned strokes, choose one dark and one light color. Add a few strokes of the darker color onto
the blending palette. Pick up this color with a lighter colored pen by dragging the pen through the color. Make the teardrop stroke and you will have magically created a perfectly blended two-toned mark. You will find you can go far with just one load of color; you do not have to pick up more color for each stroke.
Christmas Tree Tombow Dual Brush Pens: 277 Dark Green, 173 Willow Green, 856 Chinese Red, 985 Chrome YellowWith the fine tip of the Willow Green, draw the tree shape.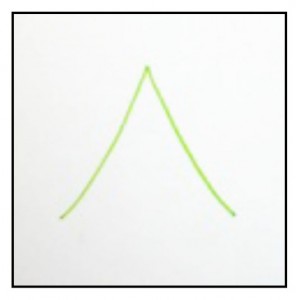 Fill the space with two-toned teardrop strokes using the dark and light greens.   Add the red berry garland and a yellow star using the fine tip.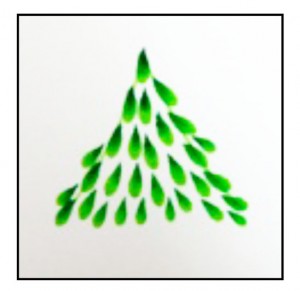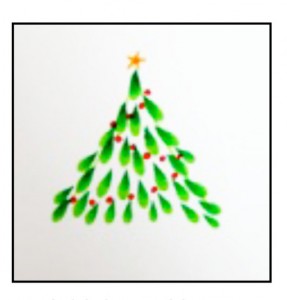 Variation: Tall Trees
Use the same method as the Christmas tree. Add long tree trunks and a few branches lower on the trunk.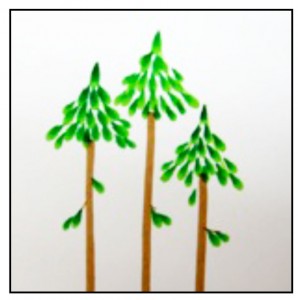 Mini Tree
Tombow Dual Brush Pens – 277 Dark Green, 173 Willow Green, 856 Chinese Red, 985 Chrome Yellow, 977 Saddle Brown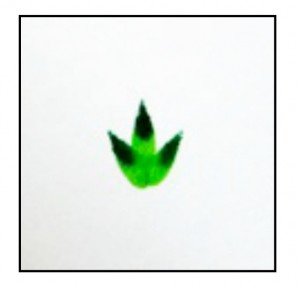 Make a cluster of three teardrop strokes.  Add two more on each side.  Fill in the middle of the tree with three more strokes. With the fine tip, add the ornaments and star. Add a trunk with the brown marker.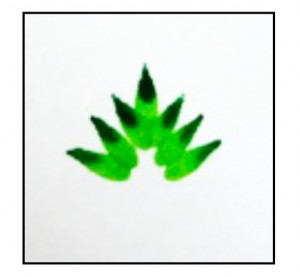 The mini tree is great for accenting lettering, hand drawn or stamped!
Menorah
Tombow Dual Brush Pens – 623Purple sage, 476 Cyan, 553 Mist Purple, 491 Glacier Blue, 856 Chinese Red, 985 Chrome Yellow
Make two toned teardrop strokes using the Cyan and Mist Purple. Make five strokes straight down with two to form the base.  Make four strokes on each side. Add the nine candles using the Purple sage.
Add the curved lines – use the pale blue to first draw these in and then follow the lines with the darker blue.  Add the flames made with two-toned yellow and red teardrop shapes. I make them a little
skewed so it looks like the candles are flickering. Make a tiny wick using the dark blue or black marker.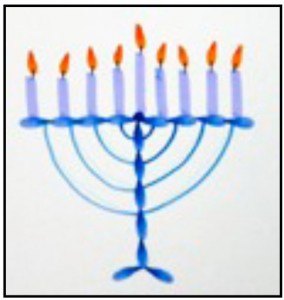 Variation – Kwanzaa Candles
With a few changes you can make the 7-day candles celebrated on Kwanzaa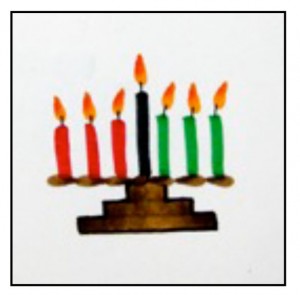 Many thanks to Rick for the Mini Tree and Menorah designs! Watch for more DoodleDabs every month!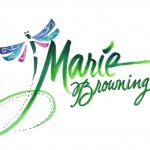 If you enjoyed this post please follow us on   http://www.facebook.com/tombowusa and http://twitter.com/#!/tombowusa