Welcome to the 2nd Annual Handmade Holidays Blog Hop!!!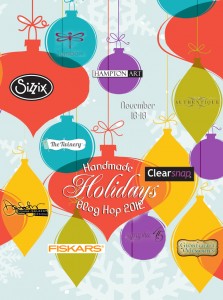 Calling all crafters! We've gathered designers from some of our favorite manufacturers to show you ways to create something from the heart this holiday season. This 3 day Hop includes over 60 stops with inspiration brimming from every corner. Explore all of the thoughtful and frugal handmade gifts you could create for the holidays, all in one place, during our second annual Handmade Holidays Blog Hop!
To sweeten the Hop, we're offering a gift for you! For every comment you leave on the blogs in the Hop, you'll be entered to win a prize pack from one of the participating manufacturer sponsors! Use the Rafflecopter widget on the Clearsnap blog to gain extra entries each day: http://cleasnap.blogspot.com
Visit the list of blogs below and leave a comment on each by Nov 27, 2011 at 11:59 PM PST. Each day we will be sharing a brand new list of blogs with brand new projects for you to explore, be inspired by, and create from!
Clearsnap – http://clearsnap.blogspot.com
Hampton Art – http://blog.hamptonart.com/
Graphic45 – http://g45papers.typepad.com/
Fiskateers – www.fiskateers.com/blog
Donna Salazar Designs – http://donnasalazar.typepad.com/
Tombow USA – http://blog.tombowusa.com/ <<YOU ARE HERE
Authentique Paper http://authentiquepaper.blogspot.com/
The Twinery – http://www.thetwineryblog.com/
Eileen Hull for Sizzix http://eileenhull.blogspot.com/
Globecraft Memories – http://globecraftmemories.blogspot.com
Dana Warren – Hampton Art – http://kraftpaperstamps.blogspot.com/
Stacy Rodriguez – Globecraft Memories – http://stacy-scrappinqueen.blogspot.com/?m=1
Arlene Cuevas – Graphic 45 – http://butterflykisseswithlove.blogspot.com/
Susan Lui – Graphic 45 – http://luv2scrap-pages.blogspot.com/
Ashley Bores – The Twinery – http://www.heartmadelife.com/
Mistra Hoolahan – Donna Salazar Designs – http://mistrabutterfly.blogspot.com
Nina Yang – Hampton Art – http://waffleflower.com/
Angie Blom – Authentique Paper – http://angieblomdesigns.blogspot.com/
Denise Hahn – Clearsnap – http://inmyblueroom.blogspot.com
Stephenie Hamen – Fiskateers – www.mycraftyadventures.com
Debbie Fisher – Tombow – http://debbiedee.blogspot.com/
Guiseppa Gubler – Authentique Paper – http://guiseppagubler.blogspot.com/
Jessica Fick – The Twinery – http://iembellish.blogspot.com/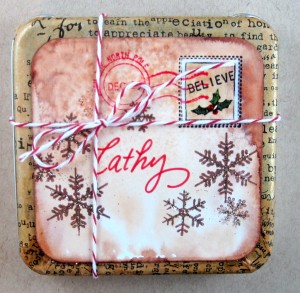 For my handmade holiday project, I made little 'packages tied up with string' for the holiday table. It's tradition in our family to make Christmas Crackers, but we have started to change it up and these little tins from Clearsnap were begging to be decorated and filled with goodies! And no, I don't do the tissue paper hats – why get your hair done up pretty and then cover it with an ugly hat? Now if it was a diamond tiara…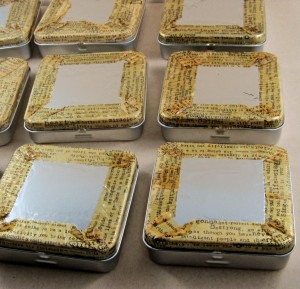 I started by covering the edge of the tin with a strips of printed tissue. I loved how easy and fast it was using MONO Aqua Liquid Glue! The brown tissue shows the tin through the paper and creates a beautiful gold colored boarder.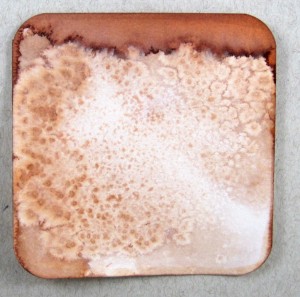 The paper panels were colored using Dual Brush Pens and the salted-splash technique.  It created a nice antiqued panel to stamp and color. To make the background, place the colors onto a plastic palette using the brush tip. I used #977, #947 and #899 colored pens for this project. Spritz with water and then place the paper on top. Pull the paper off and immediately sprinkle with salt. Set aside to dry completely. When dry, brush of the salt to reveal the antiqued surface.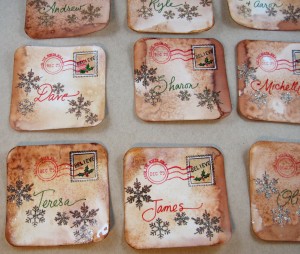 The panels were then stamped and colored. I used the stamp set 'Believe in Christmas' from Hampton Art and colored the postage stamp using the Smooch Pearlized Accent inks from Clearsnap. The names were written on using the fine tip of #856 or #177 Dual Brush Pens.The snowflakes got an extra sparkle by using the Glue Pen and Gold glitter from Clearsnap. They are then adhered to the top of the tin with Power Adhesive.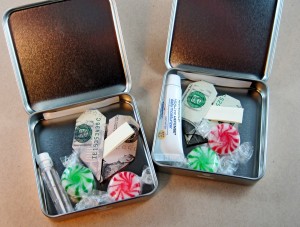 Here's some ideas of what to fill your tins with:
Money ( folded into a origami heart!), a joke or fortune, candy, perfume or cologne samples, lib balm or moisturizer, USB Flash drives (filled with photos from the past year!), key chains, luggage tags, small toys (a hit with little and big kids) and lottery tickets.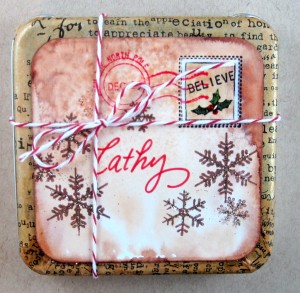 Finish off your tin with twine from the The Twinery and place at each table setting.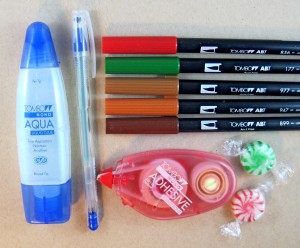 Cheers to creating gifts from the heart this holiday season with quality products!