To get started in creating a pretty Valentine's garland all you need is some beautiful cardstock and the right adhesives!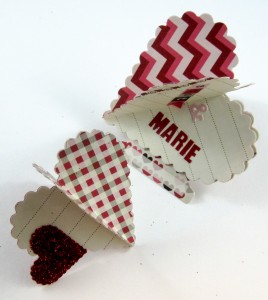 I used the Love Note Collection from Fancy Pants and cut out many scalloped hearts in a variety of sizes with my Big Shot and scalloped heart dies from Spellbinders. I created the three dimensional hearts by choosing four scalloped hearts of the same size, folding in half and gluing them together with MONO Multi Liquid Glue. I used the Love Note Banners and stickers to add extra interest. These hearts are simply strung on a 18″ piece of red 22 gauge wire along with crystal and pink pearl beads. I loved the red and grey colors in this collection from Fancy Pants, fun and fancy at the same time!

The layered hearts are  scalloped hearts cut from the Love Notes cardstock and red glitter paper. They are layered using Foam Tabs to give them dimension. To attach them to the base wire, I used two Power Tabs sandwiched between the wire and the two layered sets of hearts.
The bottom banners are created and attached to the base wire in the same manner as the layered hearts.You can create either long or short garlands to hang about the house for  elegant 'I love you' accents. Hang them from the chandelier, in doorways, windows or anywhere yo want to decorate for the special day. I used a metal embossed cherub to hang my garlands from and it will go on the front door – even if it only reminds the Fed Ex guy or newspaper person to celebrate with their family!
 Thank you Fancy Pants for the wonderful papers to play with! Be sure to visit their blog each day as they are hopping with us.