Still time before Valentines' Day to make a few more cards! Tombow adhesives makes it possible for easy and quick card construction and Quietfire Design makes it lovely with their gorgeous calligraphy stamps.  I am using the beautiful papers from Fancy Pant's Love Note collection with the sophisticated colors of grays, pinks and blacks.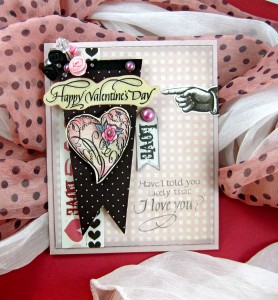 The stamps from Quietfire Design were colored using the Dual Brush Pens. I absolutely  love their calligraphy stamps hand lettered by Suzanne Cannon!
Dual Brush Pen colors to match the Love Note cardstock collection include N95 Cool Gray 1, N65 Cool Gray 5, 761 Carnation,772 Blush, 847 Crimson. I also used the N00 Colorless Blender to blend the colors on the heart.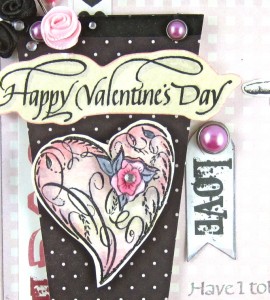 Foam Tabs were used to give the banner and stamped heart dimension. Power Tabs and the Glue Pen were the perfect adhesives for attaching the rose embellishments and small rhinestones. The trinket pins were added simply pushing into the Foam Tabs. The cardstock panels were adhered with the Dot Stamp Runner.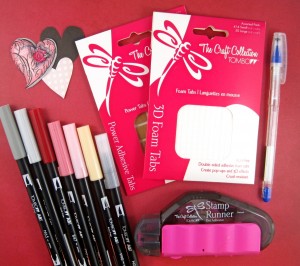 "I love but thee with a love that shall not die 'til the sun grows cold and the stars grow old" William Shakespeare
What's your favorite love quote?
If you enjoyed this post please follow us on