Welcome to the Tombow & Fancy Pants Designs Chalk Hop. I rec'd a lovely package from Fancy Pants Designs and the hardest part was deciding what to make with all the lovely goodies they sent!
For my project, I created this Tea Bag Dispenser using this tutorial here. I am a big tea drinker and have been thinking I should make one of these to hold my tea bags.
I used designer papers & burlap bow from FPD's Burlap & Bouquets Line. The "tea" sticker was created using their Large Chalk Tag and cutting it with one of my Nestibilities Dies and then handwriting "tea" with Tombow's P14 Straw Yellow Irojiten Colored Pencil from their Soft Primary Pencil Set.
Xtreme Adhesive was used to put the box together and adhere the bow to the top of the box lid.
Would you like a chance to win some Tombow and Fancy Pants Designs goodies? Just leave a comment on Tombow and FPD's blog each day this week, as well as "Like" Both TombowUSA and Fancy Pants Designs on Facebook.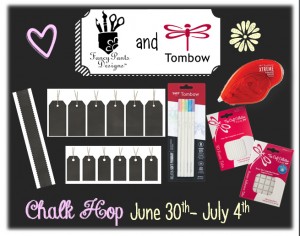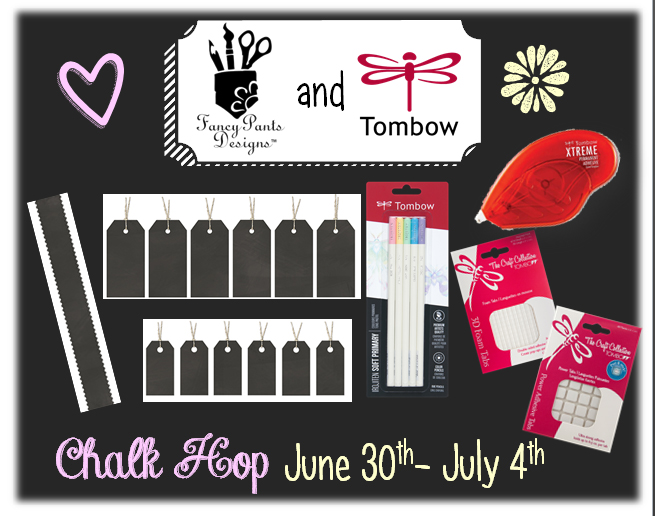 FPD 1 die cut edged chalk tape
FPD Large Chalk Tags
* The chalk tag design may vary from the photo
Tombow Irojiten Soft Primary pencils
There will be a winner on Tombow and FPD's blog—winner to be announced July 7th. This is opened up to Canada/US residents.
Now head on over to Fancy Pants Designs blog to see what their design team created.
Thank you for stopping by,