Hey lovelies. What an exciting week we have for you. Tombow USA has teamed up with Bella blvd to showcase some fun new ideas for you. Today I'm packing it up for a road trip with my family and that means getting the kids organized as well. I plan on creating these fun tubs for each kid to have their road trip activities in along with snacks and games. Today I created these tags to put on the tubs so each kid know where to find their items. Here are my tags: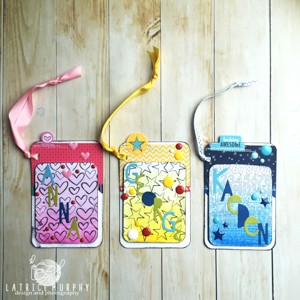 All you need are these items to created the fun ombre tags.
For these tags I used these simple steps to make:
1. Cut three pieces of cardstock down to 4″x6″ and round the corners with a punch. I then inked the edges with black ink.
2. Next choose "Just Add Color" patterned papers from Bella Blvd. Cut them done to 3-1/2″ x 4-1/2″ and round the corners as well. Ink those edges with black.
4. Adhere letter stickers and enamel dots.
5. Next choose other coordinating cardstock. The papers I used were all from my scrap bin. Cut these pieces down to 2-1/2″ x 4″ and adhere to the top of each tag.
6. Lastly put the pieces all together by adhering your "Just Add Color" piece with 
Tombow Foam Tabs
and finishing with some staples or stitching. I did both.
Here are a couple details of the tags all finished up!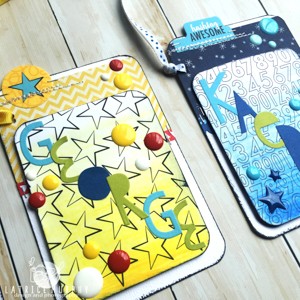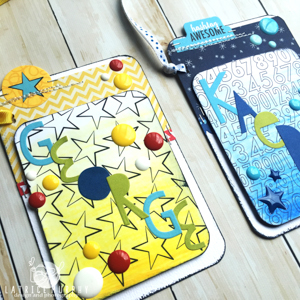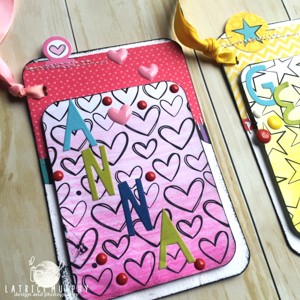 My kids already saw these are were excited to put them on their bins. They only took about 30 minutes to complete and are totally unique. Thanks for stopping by today. More tomorrow and don't forget to check out the Instagram feeds of all the teams involved this week. Tomorrow is PRIZE day!