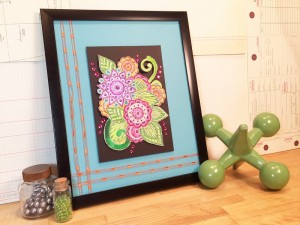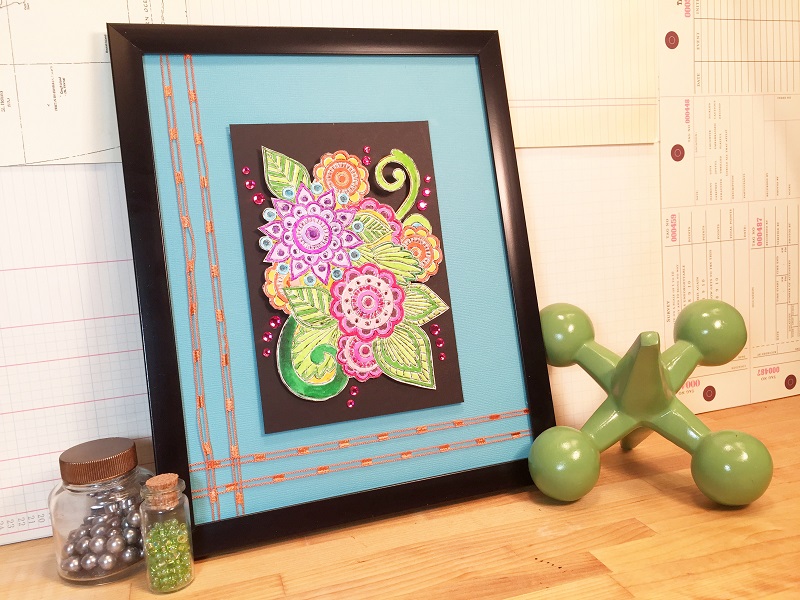 This week on the blog we are being inspired by different decades of art.  As a child of the 60's, I have to say that I love the Pop Art movement.  Artists like Andy Warhol, Roy Lichtenstein and especially Peter Max really defined this era.  The bright colors and dark outlines highlight this look.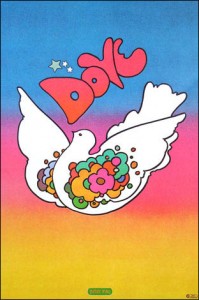 I discovered this embossing folder at my local craft store. The designs and shapes really inspired me and I thought that I would figure out what to do with it later.  Well, later is here!
Start out by trimming 90 lb. watercolor paper to just a bit larger than the embossing folder. Lightly color the inside of the embossing folder with the brush end of the Tombow Dual Brush Pen Black N15.  Be careful to just get ink on the raised areas.  Place the paper in the embossing folder and run through a Big Shot Machine by Sizzix.  Carefully remove the embossed paper and set aside to dry.  Use a baby wipe and old towel to clean off the inside of your embossing folder.  I tried inking both sides of the embossing folder to see which one would work better for my project and decided on the outlined side.
Once the black outline was dry, I gathered the rest of my Tombow Dual Brush Pens and started coloring.  I used a bright color palette featuring Greens 173, 195 and 245.  Purples 665, 636, 603 and 673.  Oranges 925 and 933.  Yellows 025 and 062.  Pinks 757, 772 and 815.  Blues 493 and 452. Coloring calms me and just makes time stand still – I love coloring!  TIP: Be careful coloring in your image as the black outline will bleed into the rest of the colors.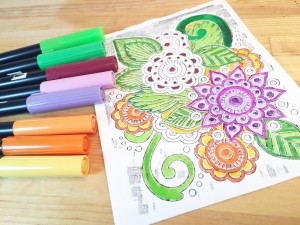 Trim the image with scissors.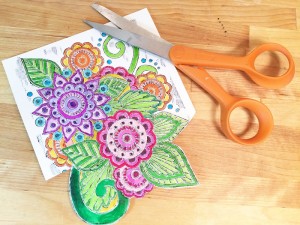 Trim black card stock 4 1/2″ by 6 1/2″.  Trim blue card stock 8″ by 10″ to fit purchased black frame.  Layer blue then black card stock then colored image with Tombow Foam Tape to create dimension (and interest).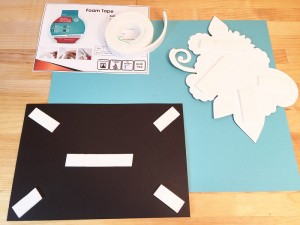 Attach hot pink rhinestones around image on black card stock.  Attach funky orange fibers to bottom and left side of blue card stock with Tombow Xtreme Permanent Adhesive applied along the edges.  TIP:  Remember to snap this adhesive runner off sharply at a 90 degree angle to obtain a clean application.
I have been drawn to the work of Peter Max since I was growing up in the 60's and 70's.  I still have a poster featuring a showing of his work at the Philadelphia Museum of Art.  It was fun to take inspiration from his art and modernize it for some fun home decor that fits into my world today!
Make sure to stop by each day this week to be inspired by art of the different decades AND there is always more creativity over at the Tombow Instagram Page – check it out!
Thanks for stopping by!  -Beth