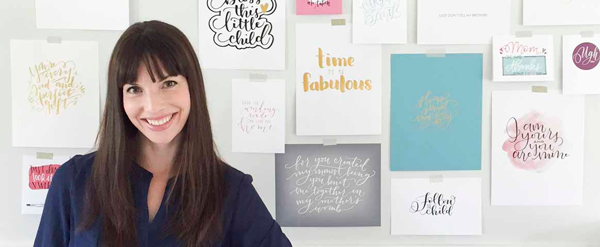 Lettering. We do it even up here in the Great White North. I'm Amanda from Say It Pretty Designs in Vancouver, BC (Find me on the web at
sayitpretty.com
 and on
Instagram @amandaarneill
). I started hand lettering when my second daughter was born and I haven't stopped since. I think my husband likes my lettering because it's one of the cheapest hobbies I've ever started. You can get new supplies for the cost of a few cups of coffee. I can't say that about all of my other endeavors.
Living in Canada, it's harder to get many brush pens in stores up here, so buying my Tombow pens online has been a lifesaver! No, I'm not saying that because Tombow pays me (they don't but I love them anyway), but because they make my favourite pens! I go through
Tombow Fudenosukes
like they're going out of style. I love the feeling of opening a new pen and seeing the crisp black line start to play its way across the page. And then I take my old pen and slam dunk it into the garbage can. (Unfortunately, my one year old has also seen me do this with my pens and she now searches for the house for things to slam into the garbage can, including, but not limited to, the house phone, the remote control, my pens, her water bottle, her sister's Barbie and my cell phone.)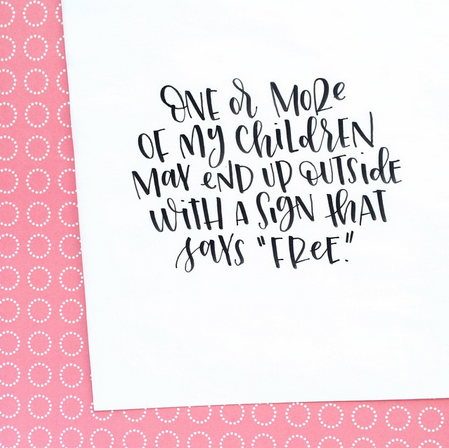 One of the lettering styles that I really enjoy using is a mixed script and print style that uses the letter styles interchangeably. I get lots of people asking if it is a font but, nope, it's just something that flows out of my pen. I don't have a special alphabet that I practice to write this, I just use the letters that I know and mix and match them together, rather than only using one style at a time. I thought I would give you a few tips on how make your own mix and match lettering.
I find the mix and match style is fantastic for letting letters cuddle. That's a weird way to think about it but I always try to have my letters interacting somehow, like fitting together gently as if they are pieces of a puzzle. This is easy with single words but gets more complicated when there are multiple lines of text and they have to fit together top to bottom as well.
I think the best way to explain how to use this lettering style is to work through a piece together. I'm creating a poster for a friend that says Patience, Perspective, Prayer. Because she is awesome and has great taste, she wants them to be written in the playful mixed script style that I love so much.
There are a few things that I keep in mind when I'm writing the letters out:
1. Most of the letters should be approximately the same size as each other. The only letters that should be smaller are usually vowels.
2. If there are two of the same letter (or more), they should each be written in a different style.
3. There should be a random mix of script and printed style letters in roughly equal numbers.
…But most importantly, I approach each piece knowing that there are no hard and fast rules to follow.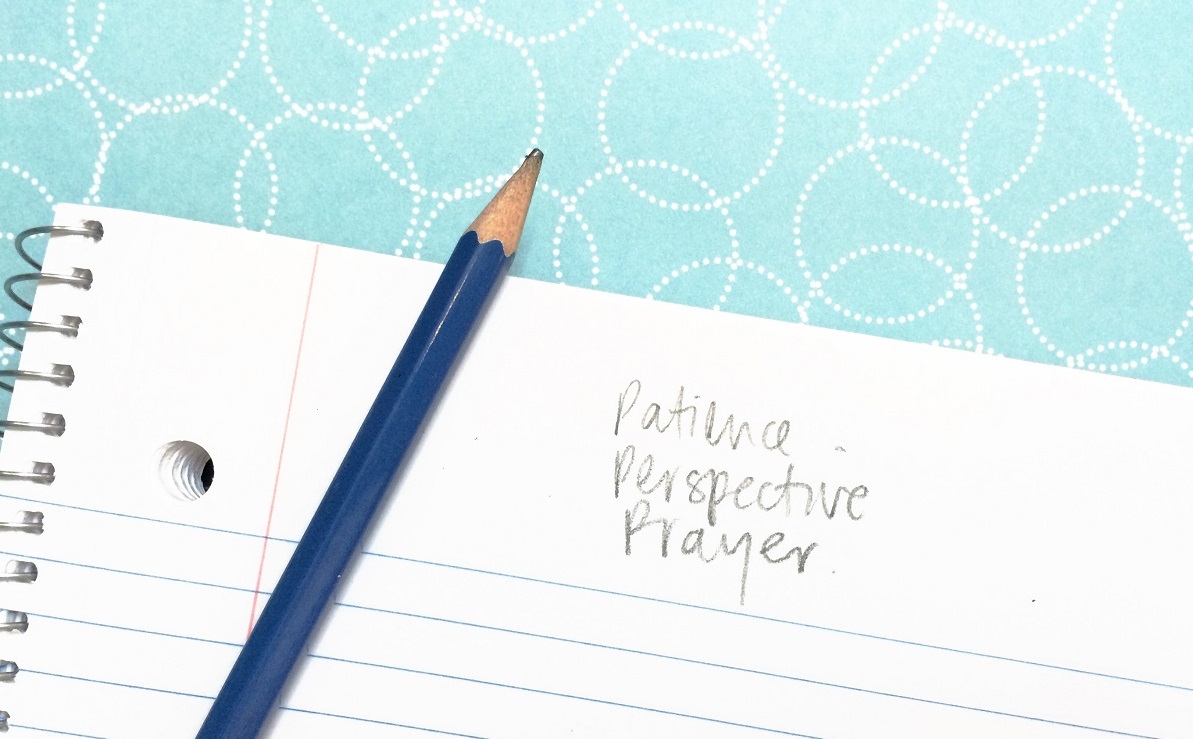 When I start on a piece, I always scribble my words out in pencil at the top of my page and go from there. For pieces with multiple words, I typically start with the middle word and letter out from there. In this case, that means that I'll be starting with the word Perspective. Still working in pencil, I usually write my first word out a few times and see which version I like the best.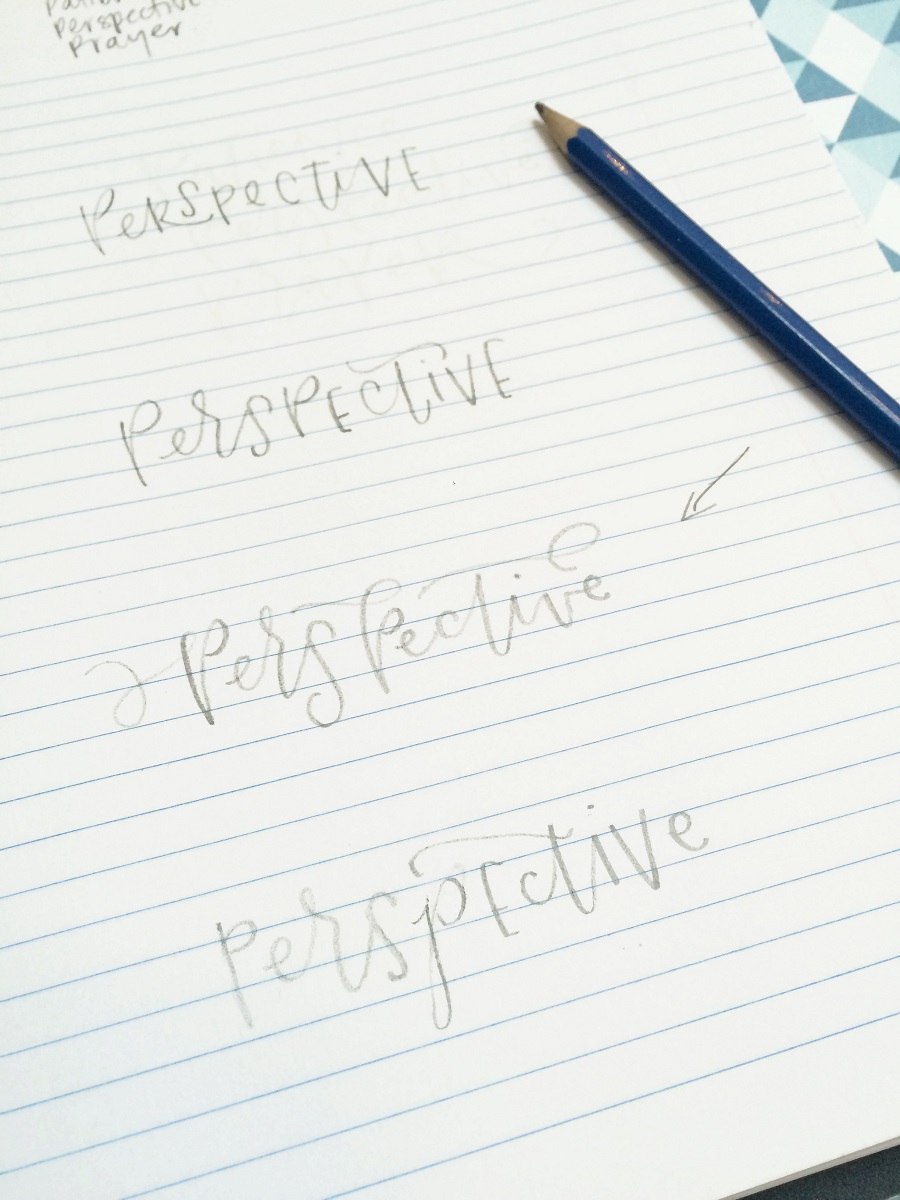 Since this piece has a plethora of Ps, I don't want them all to look the same which means that I'll have to get creative with them. That means I need to use flourishes and changes in size and shape. I don't want to change the angle of the letters too much because that will make them look like they aren't all a part of a cohesive piece.
Once I've picked my starting word, I build off of that, by completing the word (or words) that come before. When I write them in, I make the baselines (or bottoms) of the letters go down into the spaces left in the top of the middle word, while creating a consistent upper limit to the letters. This helps the words look like they are naturally nesting together and creates a pleasing border at the top of the piece.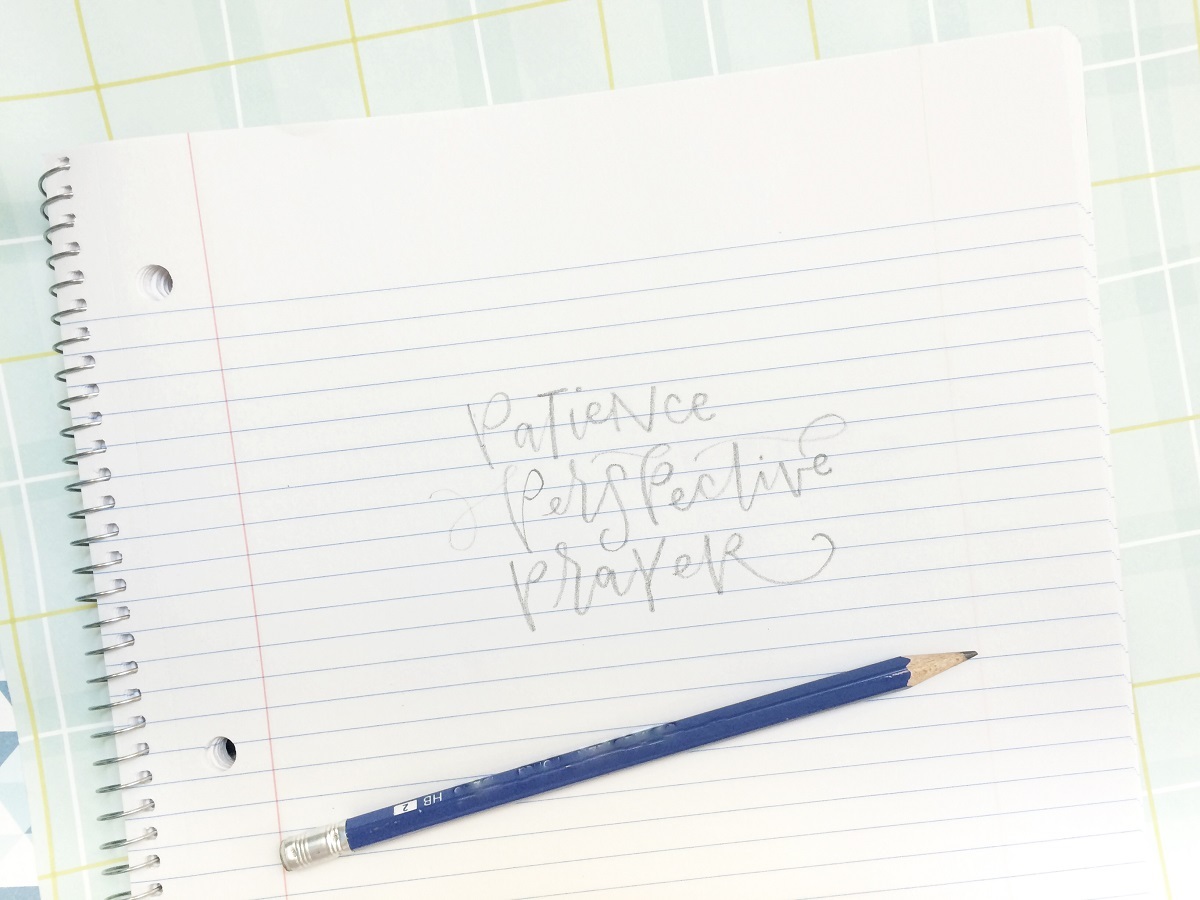 When I add the word (or words) below what I've already done, I make some of the letters float higher to fill in the spaces or I stretch them taller than normal like little letter giraffes. Just like when I did the word above, I'm always trying to create a straight baseline with the bottom word so that it give a generally straight border.
After coming up with a composition that I like, I pull out my tracing paper and my Tombow Fudenosuke and use my brush pen to write the words out. I find that sometimes the composition looks different once I do them with a Tomboow Dual Brush Pen and, before I move onto a final product, I want to make sure that I like the way that it looks in ink. Using my pen once my sketching phase is finished also helps to conserve my ink. With the number of pieces that I do, anytime I can save some ink is fantastic!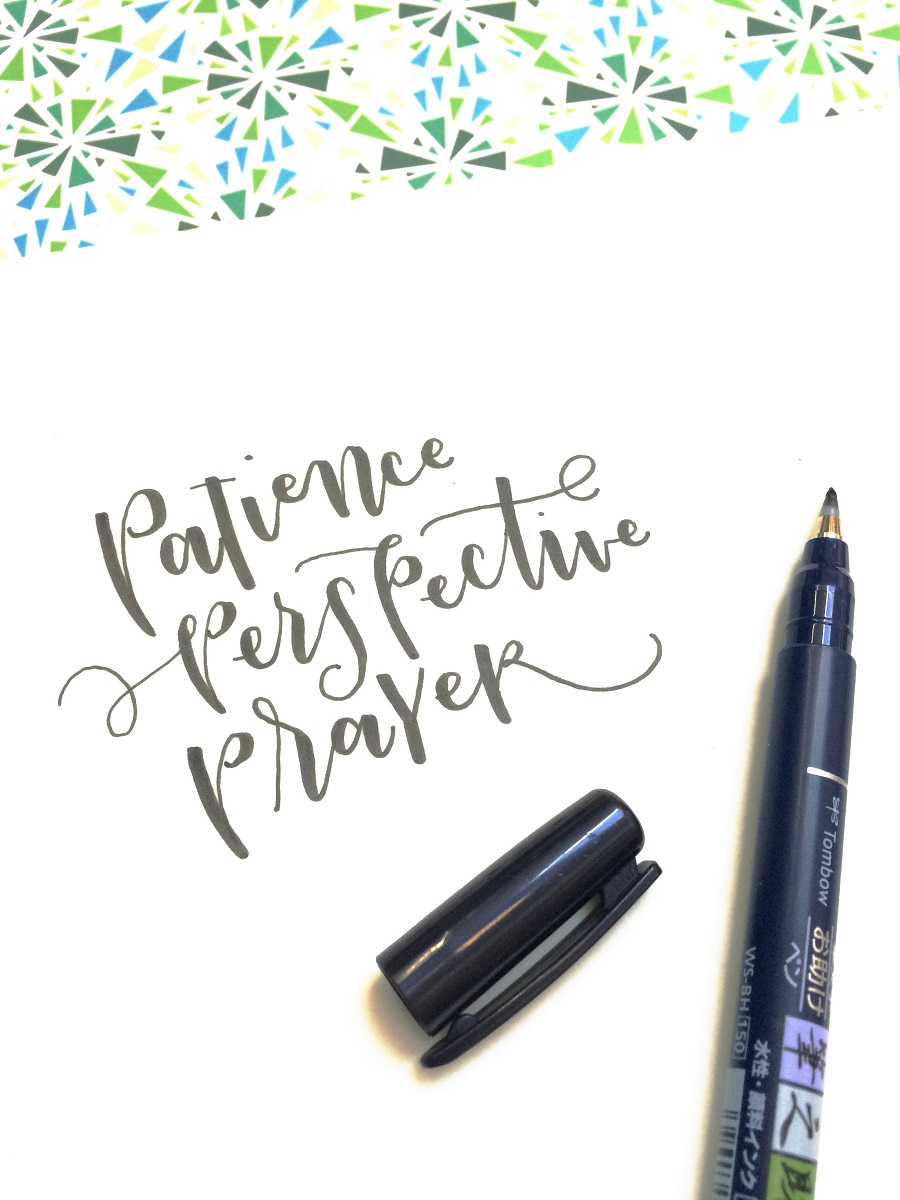 With just a few tweaks, the inked sketch is ready to go! When I scale something up for a poster, I always sketch out my design with a pencil again first. Then I grab my
Tombow Dual Tip Brush Marker
, which is great for large scale pieces, and go over my lightly penciled letters (make sure the pencil is light so that it is not noticeable underneath the marker). If the edges of my letters aren't as crisp as I want them to be, I flip the pen over and use the fine tip to touch up any edges that I'm not happy with. This is perfect for me since I do most of my large scale work sprawled over the floor and getting up to grab another pen simply reeks of effort.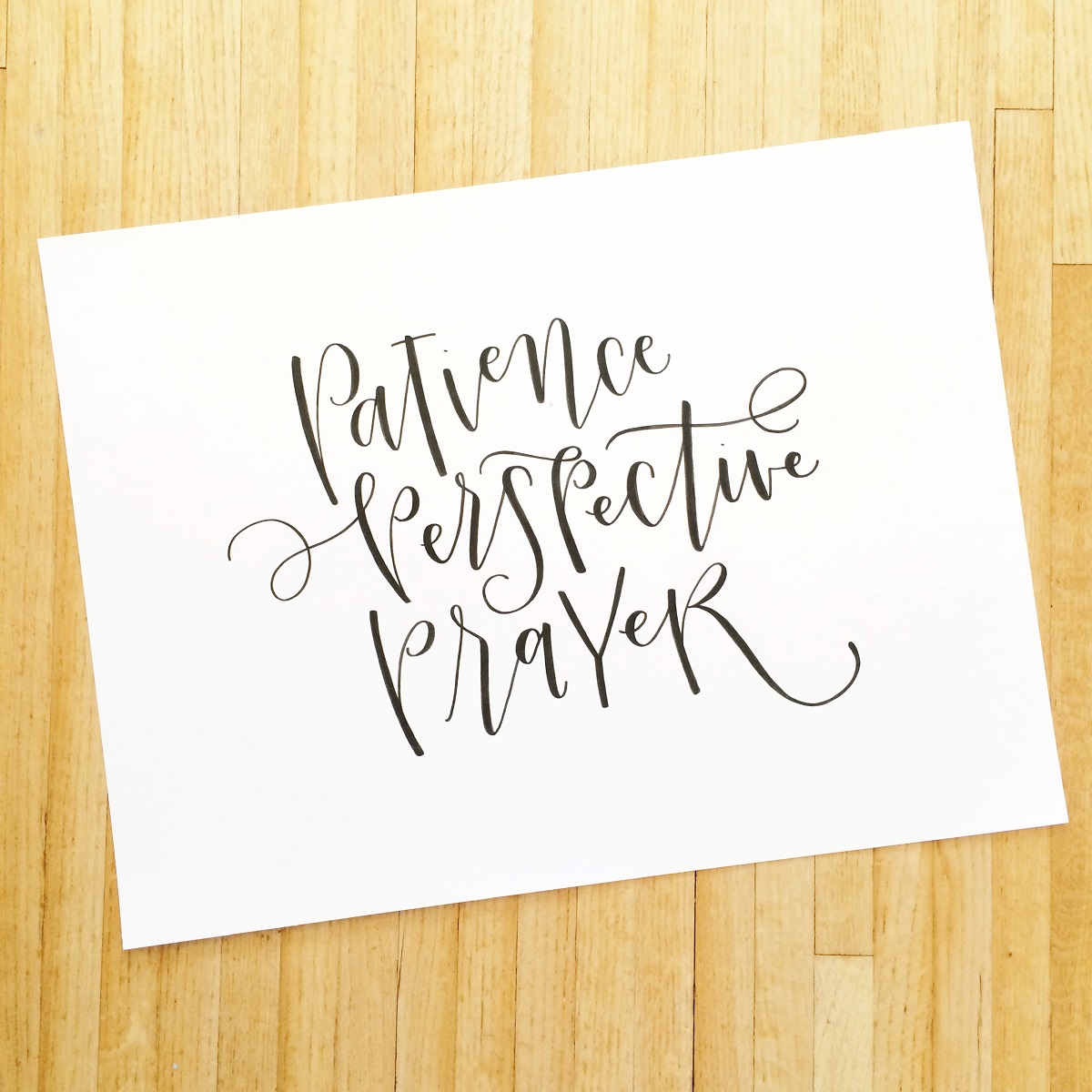 The final product on acid free, archival quality paper with an acid free Tombow pen is something that I know that my friend will cherish for years to come and it will look just as great then as it does now.
If you want to see more of the things that I'm making on a daily basis, you can follow me on Instagram at
@amandaarneill
. (And if I don't mention which pen I have used for a piece I post, it's pretty much guaranteed that it was a Tombow pen!)
If you want to practice what you will be learning this week you need a good kit! How lucky are you we are giving away 2 Amazing Lettering Packages! Use our Rafflecopter and come back everyday for more chances to win this prize!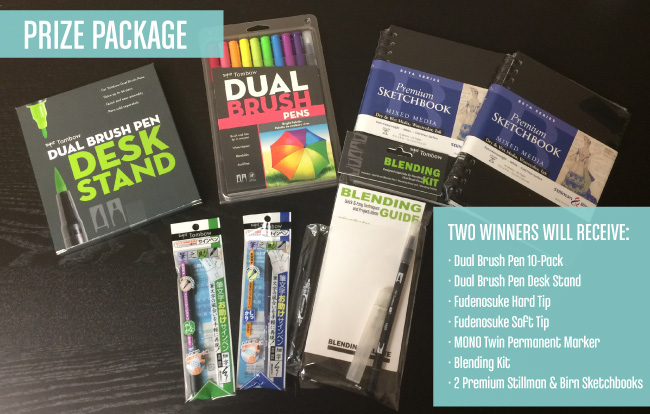 Amanda Arneill is a hand lettering artist who runs Say It Pretty Designs (sayitpretty.com). While she is not chasing her two crazy girls around the park, she is curled up on the couch with her Tombow fudenosuke pens and a pad of paper doodling letters. Her pieces are designed to make you laugh, smile and love your life just the way that it is. Check out her full range of products and custom pieces at sayitpretty.com or follow her on Instagram @amandaarneill.