Hi! Lauren here, and I'm so excited to share 5 fun ways to foil on stationery with Tombow adhesives! Foil is so popular right now, especially in the hand lettering world. I love to use several of my favorite Tombow adhesives to add some shine to any hand lettered quote, card, or envelope with some foil! Be ready for any project that comes your way by preparing a little foil kit in your craft stash.  That way, you will always be ready to add a special touch to any project that needs it!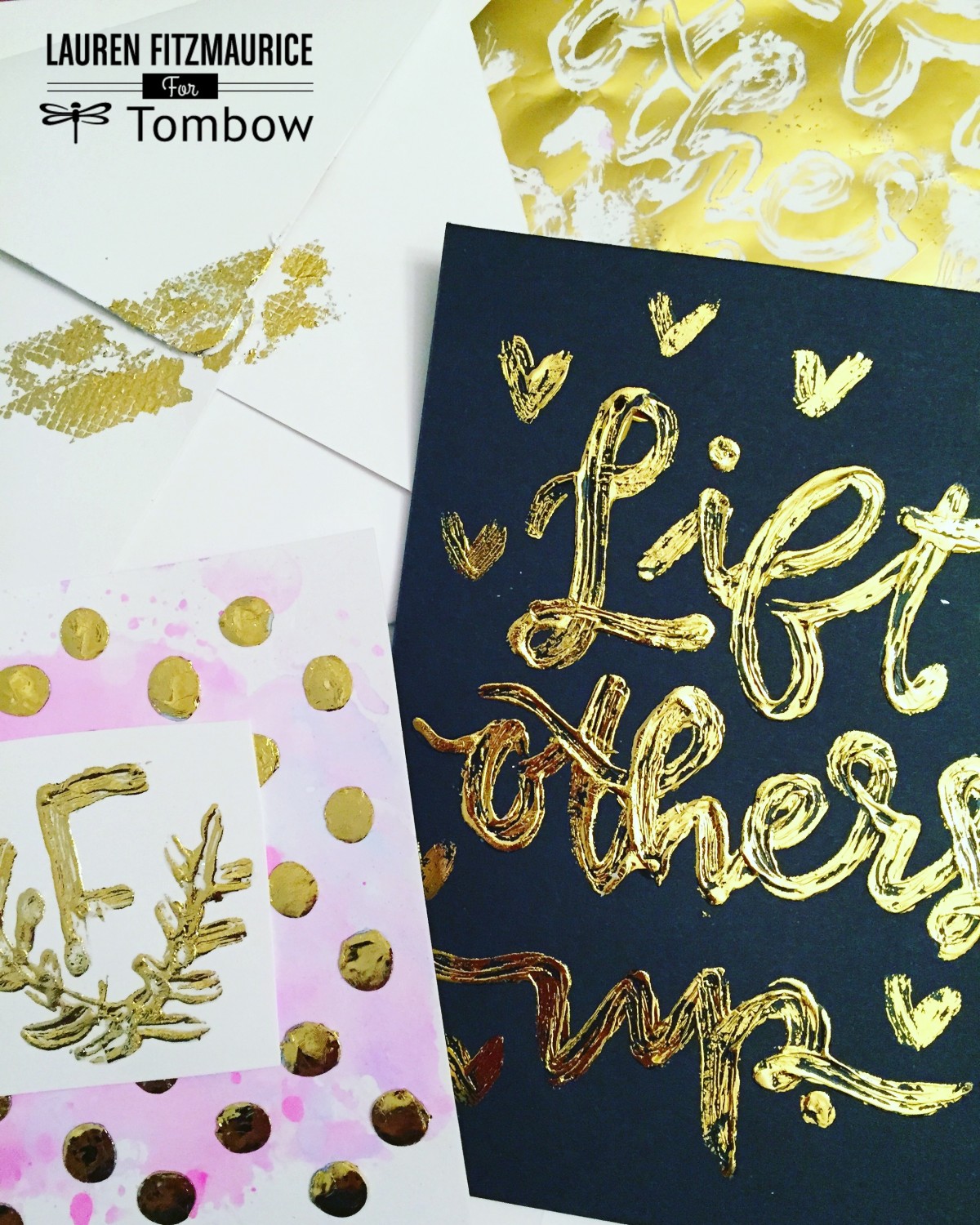 Materials You Need in your Foiling Kit:
Craft foil in your desired color (make sure to get the kind that does not require heat)
Cardstock or Mixed Media Paper
Water color brushes in a variety of sizes

1. Foil a fun hand lettered quote.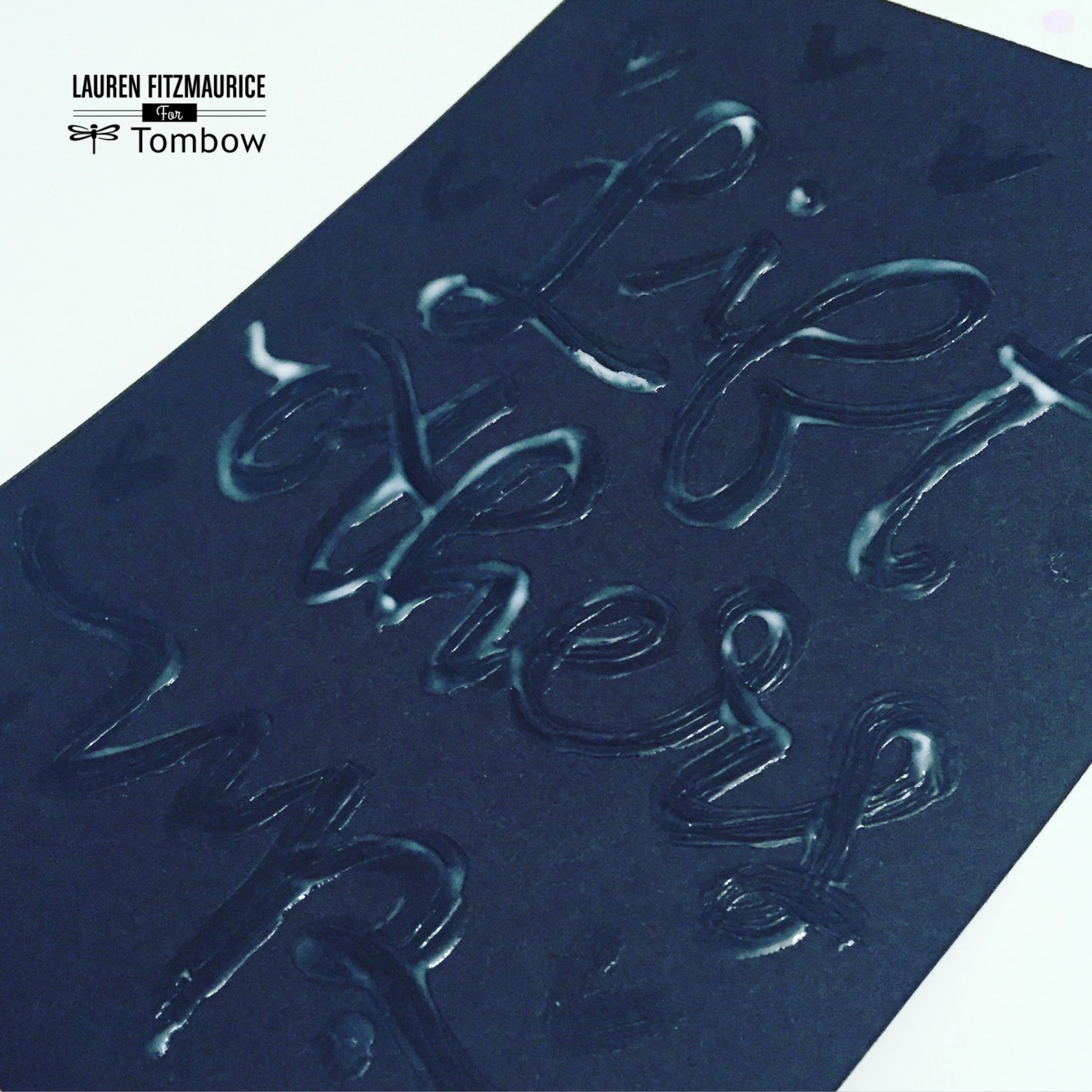 Hand lettering is so popular right now and so is foil, so why not create a beautiful gold piece with some golden words?! Use the fine tip of the Tombow MONO Multi Liquid Glue to letter a fun word, quote or phrase.  I like to then go over the words with a watercolor brush to make a brush stroke effect. It is also fun to add a fun pattern, like I did with the hearts in this piece. The Tombow MONO Multi Liquid Glue works perfectly with foil, because when you let it dry, it has a tacky and removable adhesive effect.  Let the adhesive dry all the way.  The glue will become clearer in color as opposed to how white it will be as you write with it.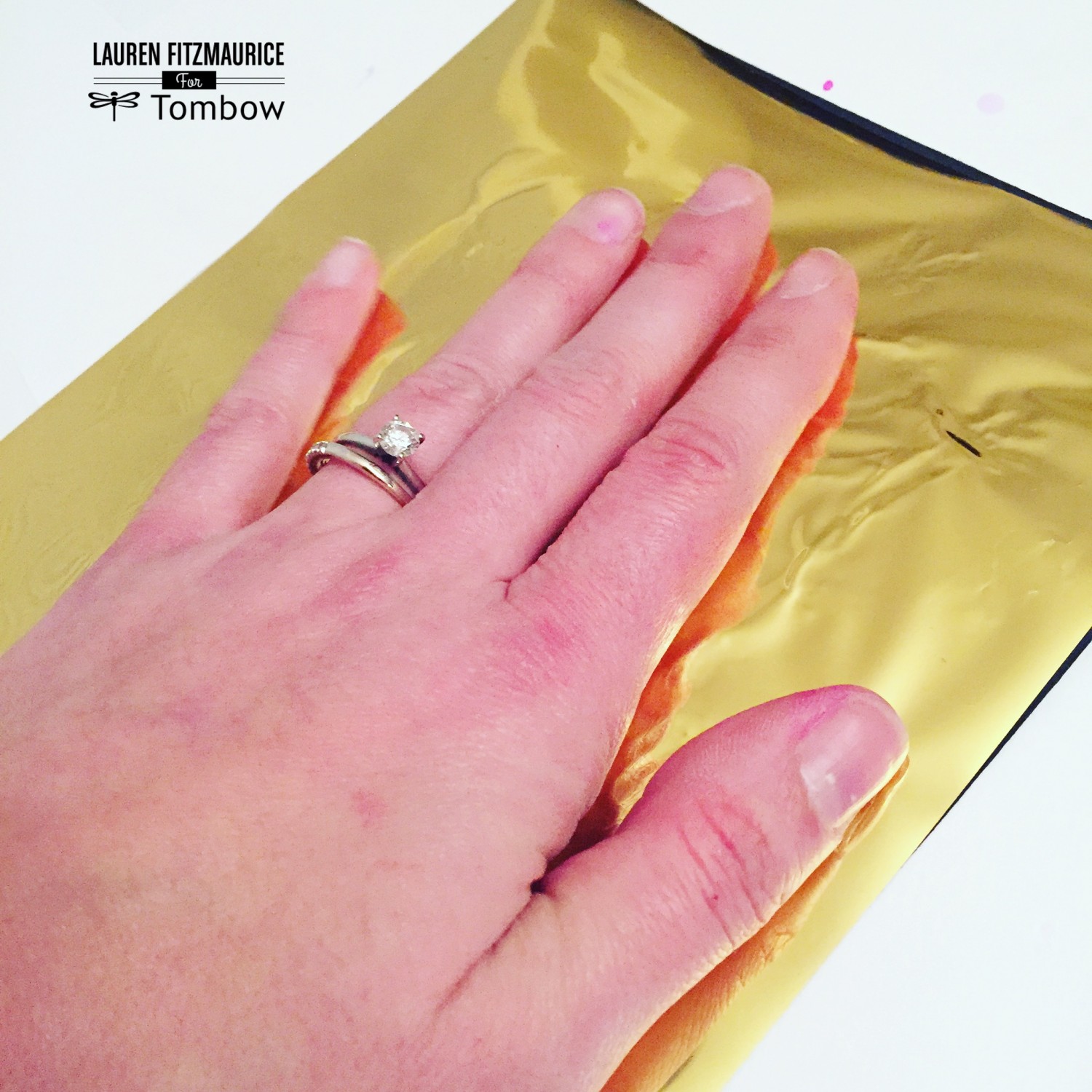 Then carefully apply the foil.  I like to cut a piece that is just the right size so that I can preserve all the foil possible for other projects.  Rub the foil very firmly all across the piece. When you peel the foil off the first time, there may be a few areas that did not get foil on well.  You can put the foil back on it to try to get more coverage. I love how thick, gold, and luxurious the foil looks with the brush lettered effect on the Tombow MONO Multi Liquid Glue.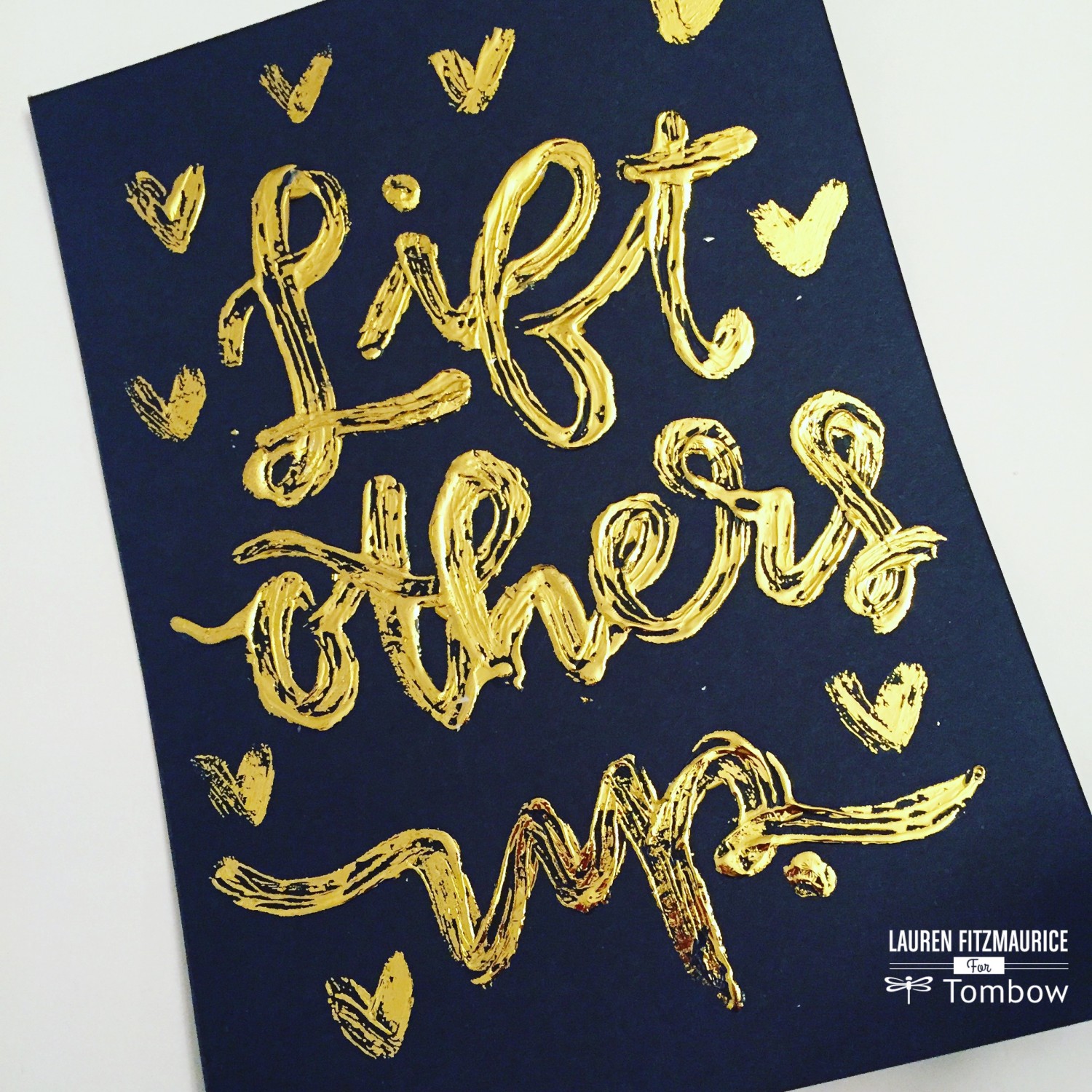 2. Add a fun design or monogram.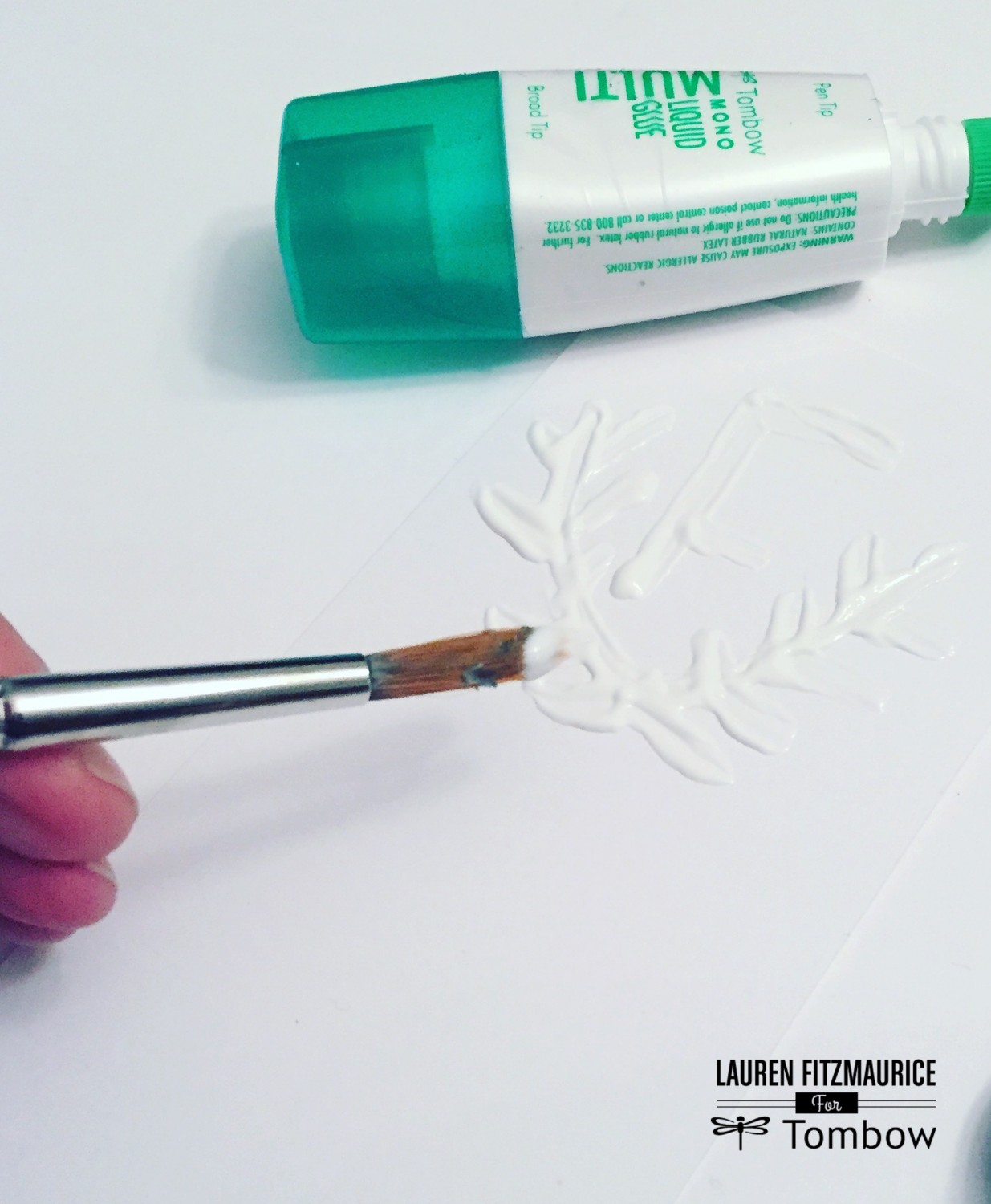 The Tombow MONO Multi Liquid Glue is also wonderful for creating monograms and designs on stationery or cards.  Use the same technique as the handlettered quote.  With monograms I like to use a smaller water color brush to create the brush texture. After letting the piece dry and applying the foil you have a beautiful monogram or design that can be alone or added to a fun patterned card.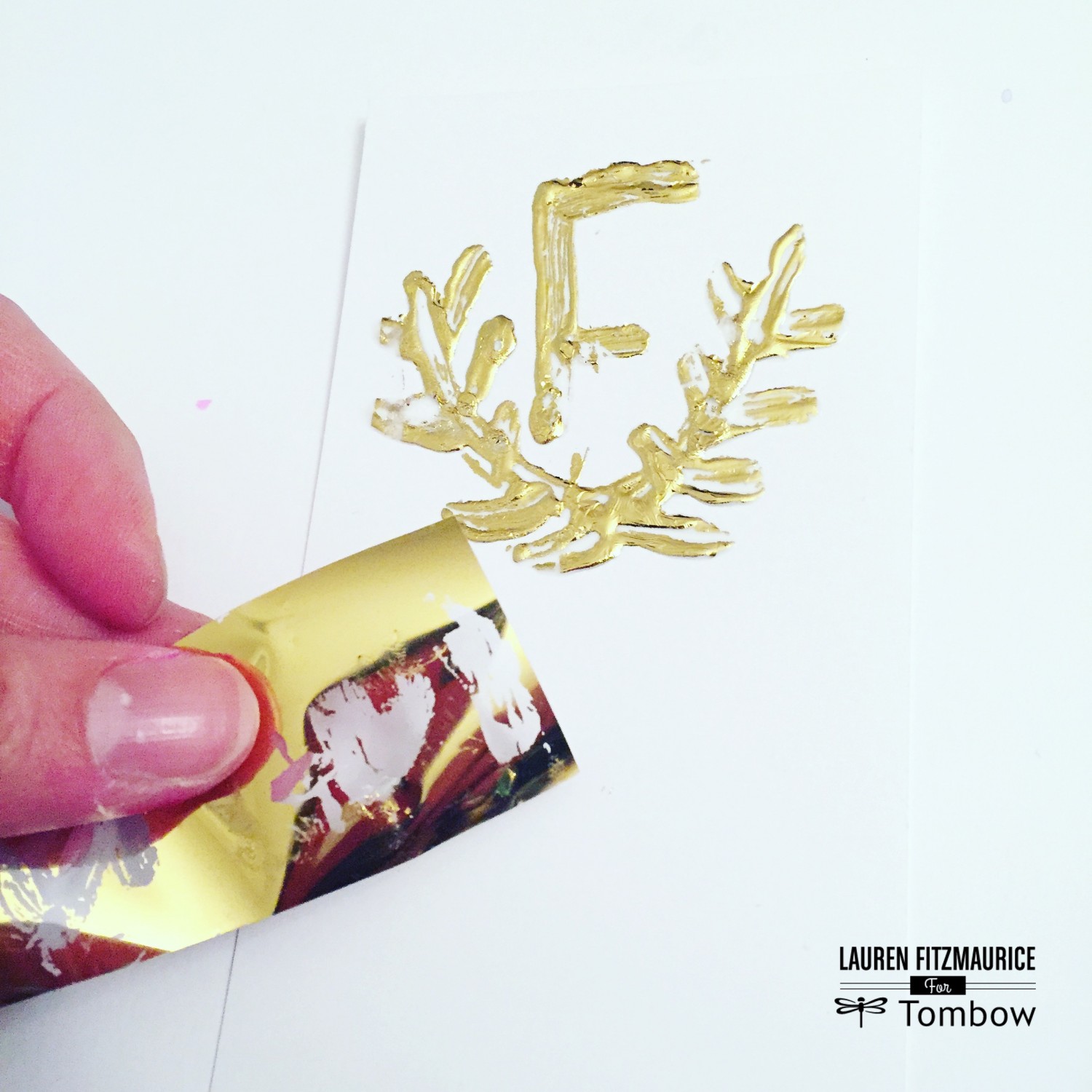 3. Create a fun polka dot pattern.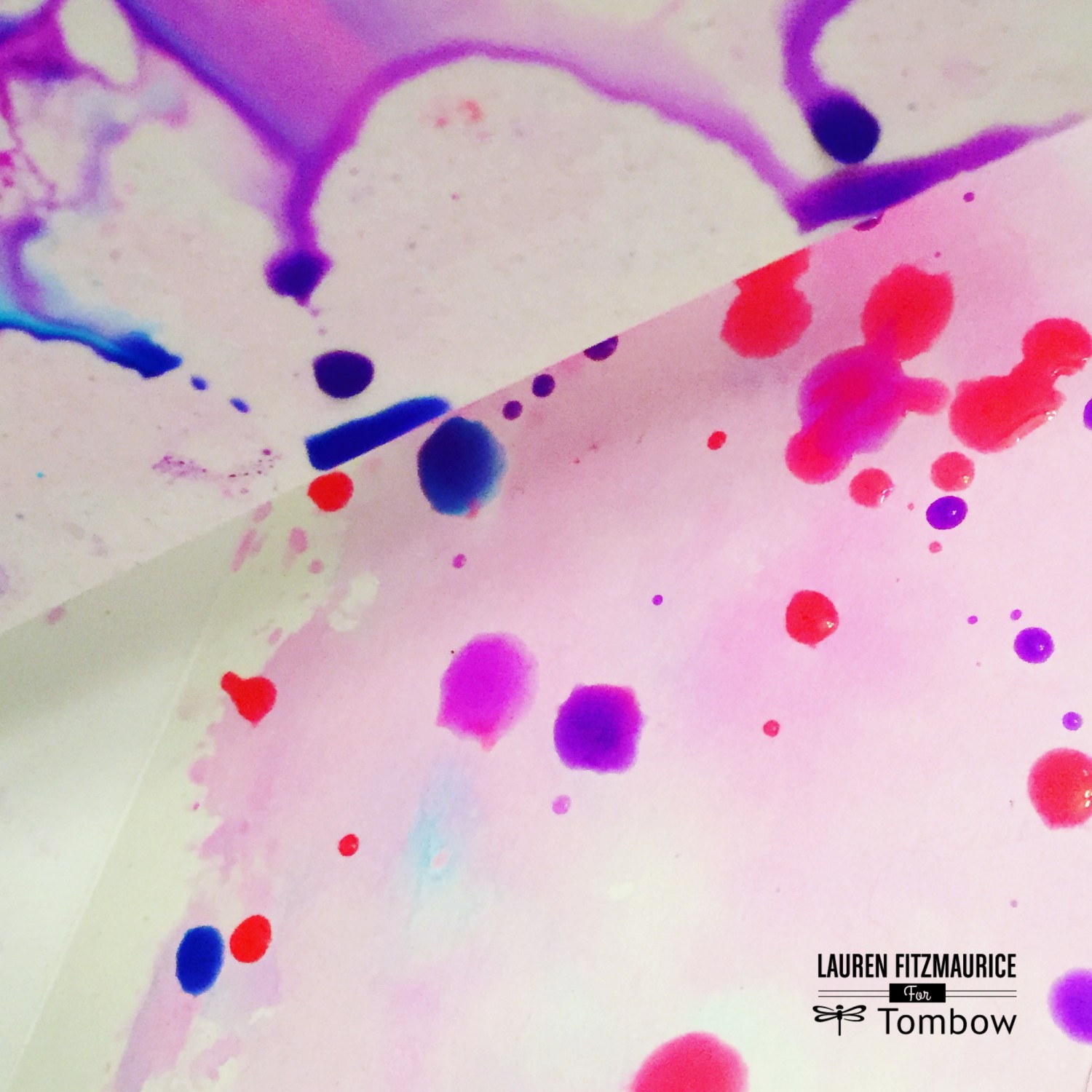 Create a colorful, patterned card with Tombow Adhesive Dots and color splatter from Tombow Dual Brush Pens and the Blending Kit. Using the color splatter technique (click here to see more about this technique), create bright, random color splatters on a piece of mixed media paper using the Blending Kit and Dual Brush Pens.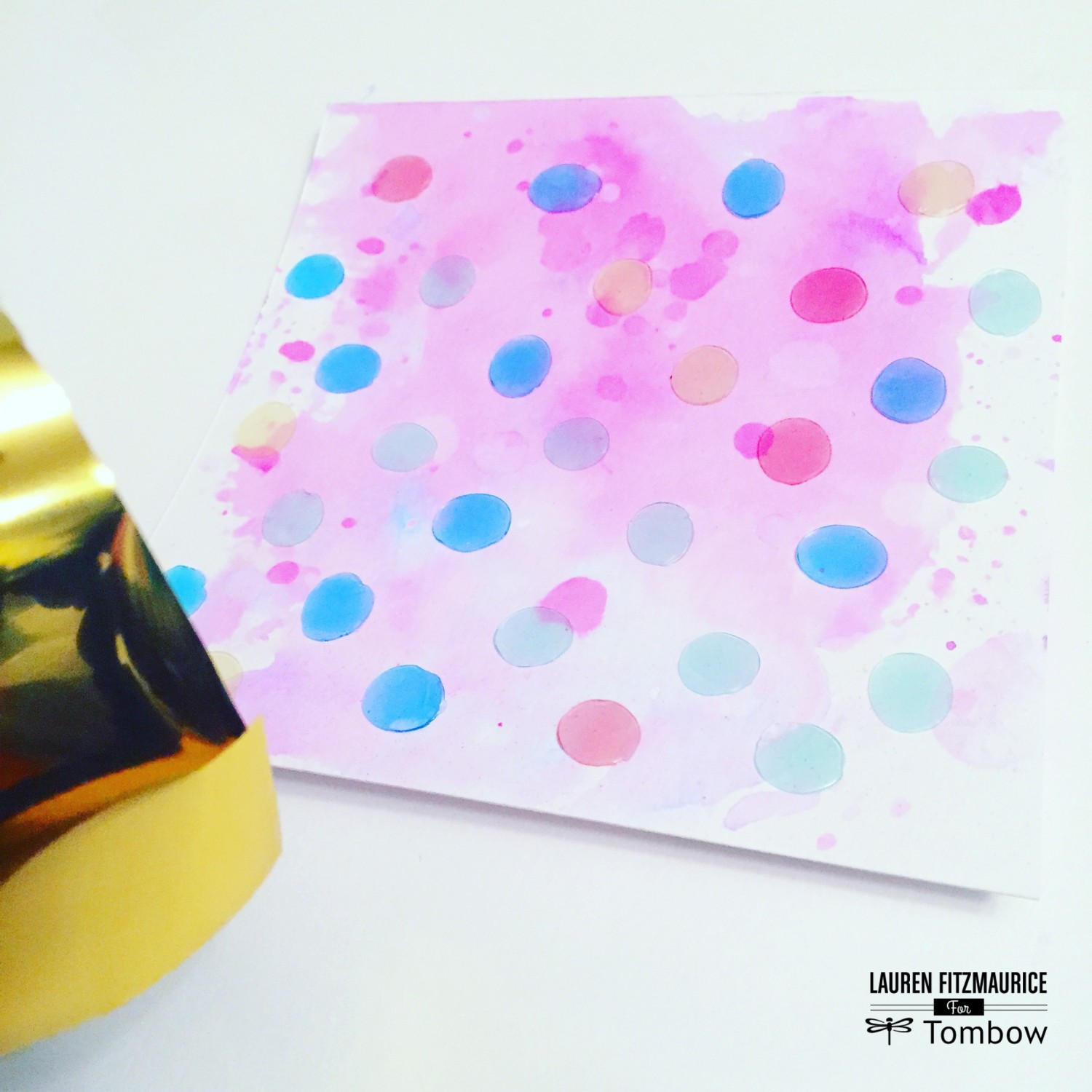 After the color splatter is dry, apply the Tombow Adhesive Dots in a fun pattern.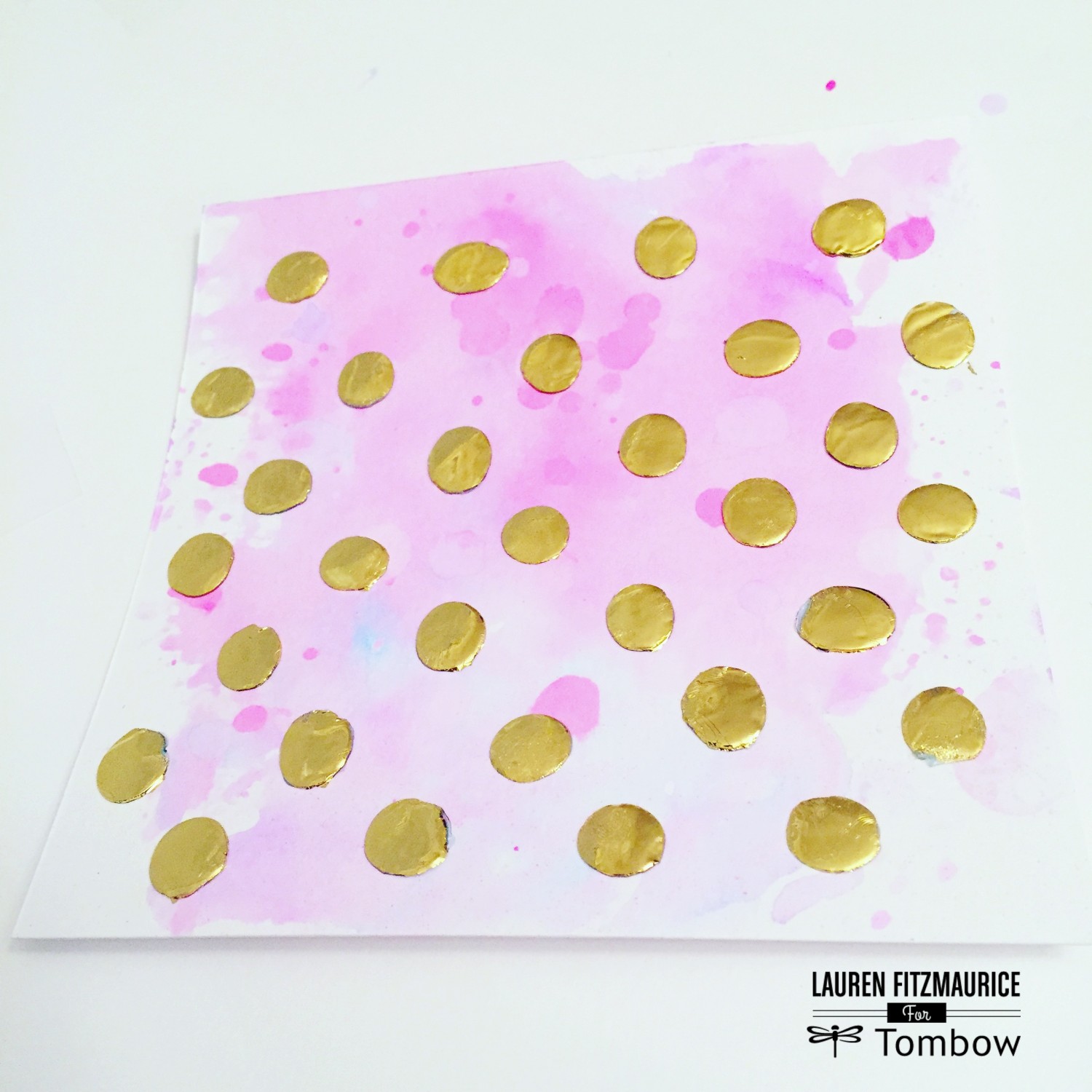 Then foil this piece, pressing firmly on top of the dots and peal off the foil to reveal glorious, gold foil dots that can add a beautiful texture to any piece. Use some Tombow Adhesive Dots to attach the foiled monogram and you have  a fun, hand made card or art that is totally worthy of any frame.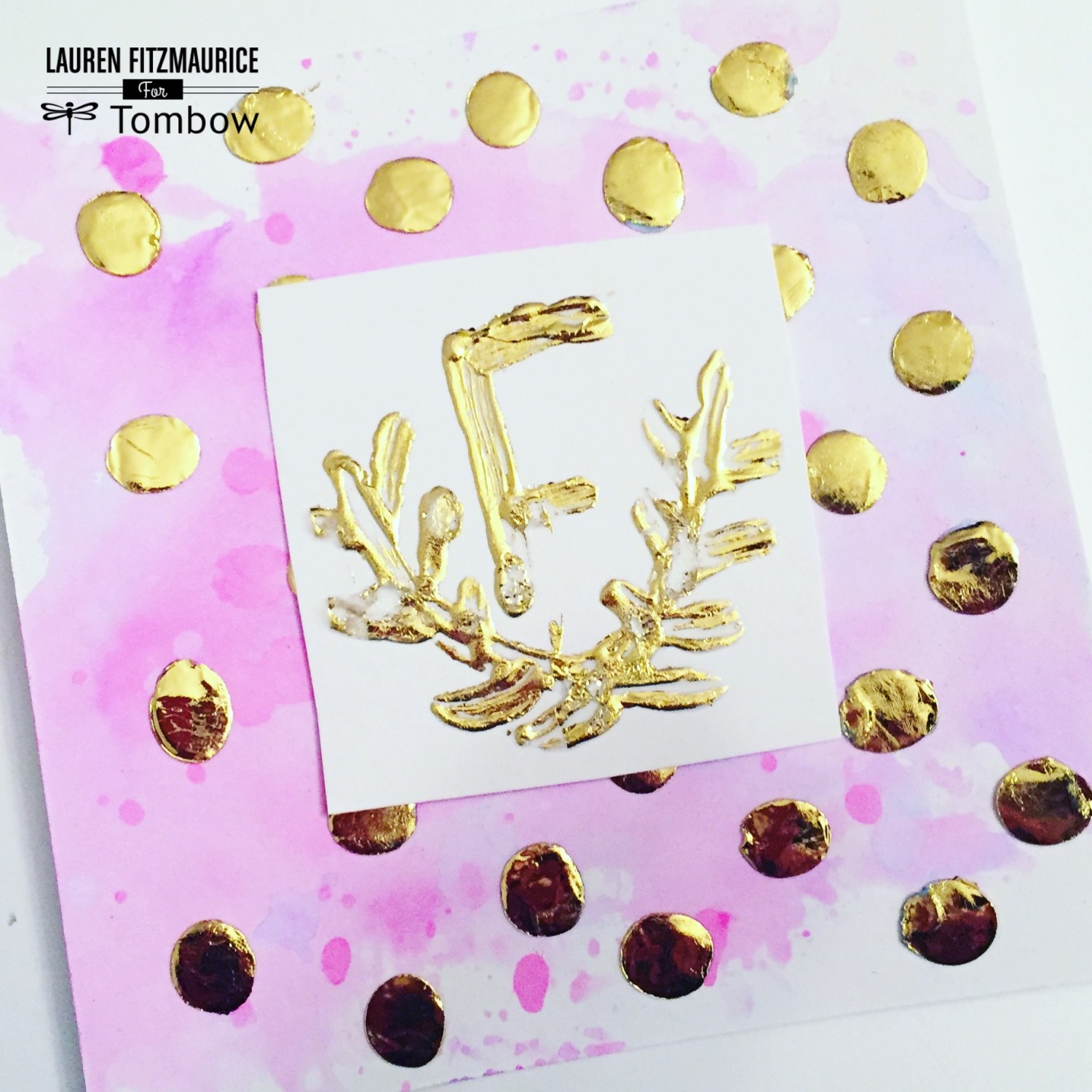 4. Add stripes to the inside of an envelope flap to add a faux liner effect.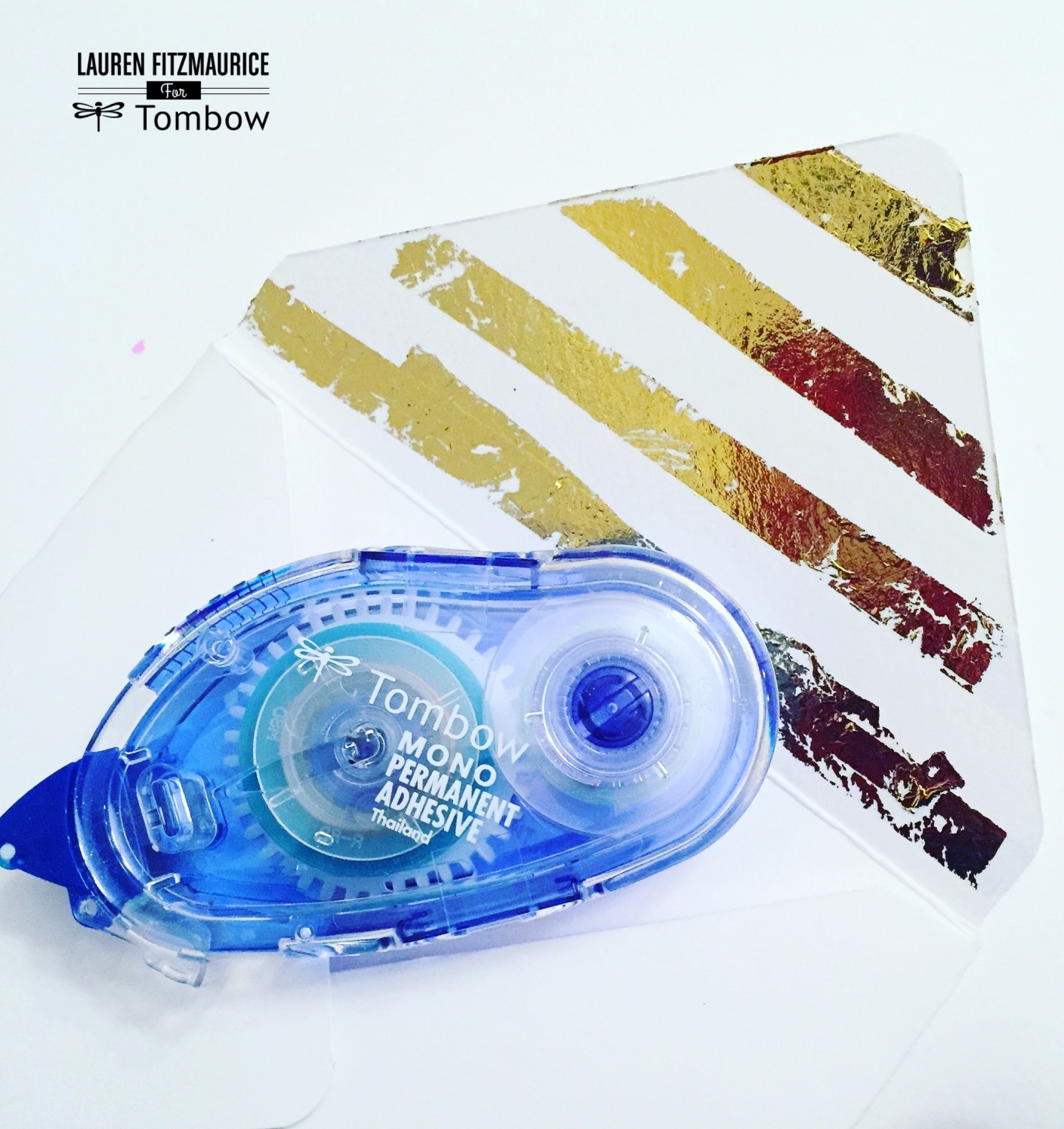 Envelope liners are a luxurious way to make mail look more fancy and less ordinary.  If you are short on time and have a plain envelope, create a stripe pattern of Tombow MONO Permanent Adhesive and foil for a fun, imperfect pattern that really adds that special touch.
5. Create faux washi to seal an envelope.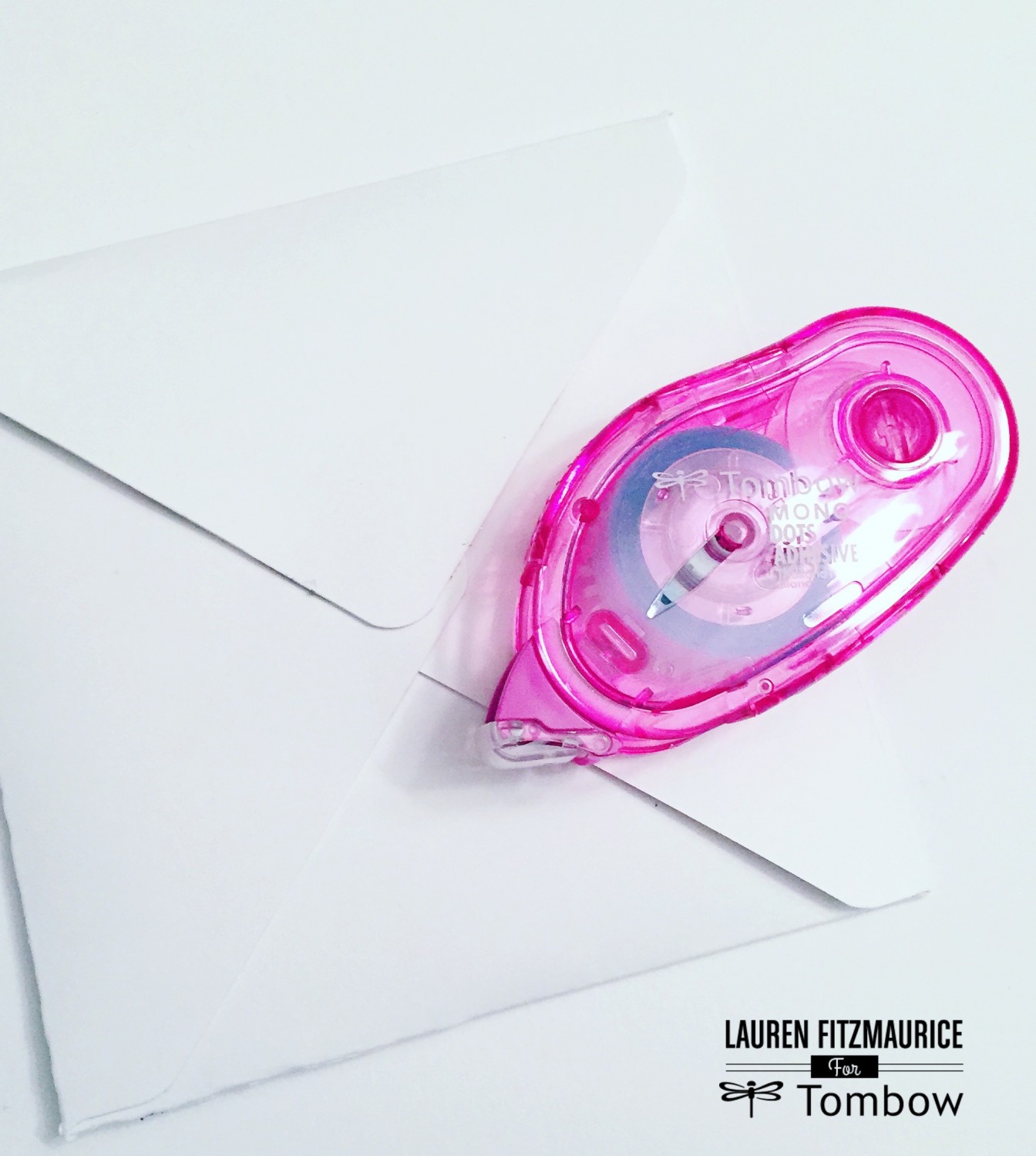 It's a bad day when you run out of your favorite gold washi tape! Use the Tombow MONO Dots Adhesive to create a fun pattern that is a cross between a patterned washi tape and gold leaf.  Envelopes could also be sealed using the Tombow MONO Permanent Adhesive for a solid line or Tombow Adhesive Dots to mimic a wax seal.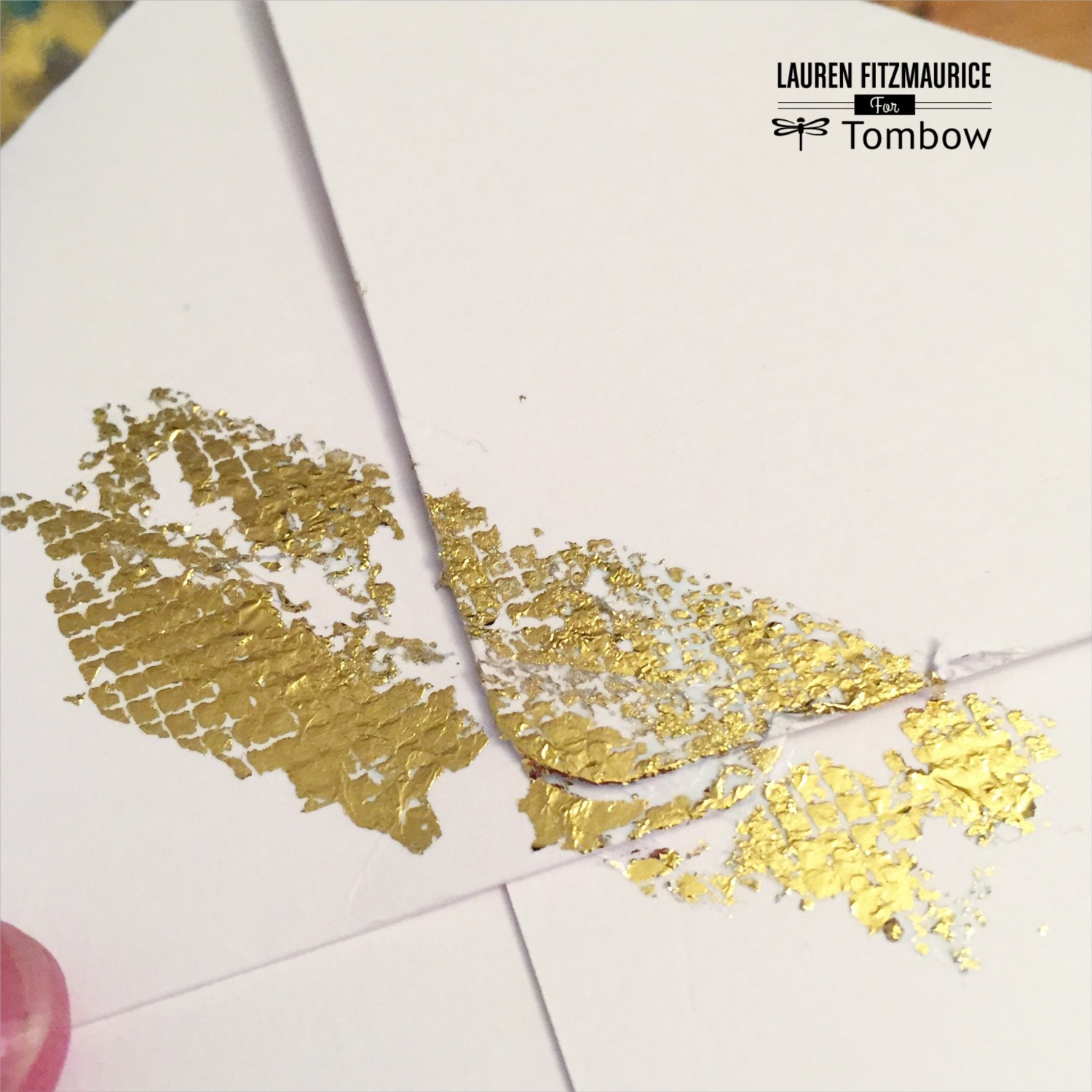 It is so easy to add foil details with Tombow products! To create your own foil kit, make sure you have all of these fabulous adhesives! You never know when you will have some mail that needs a little more happy added to it!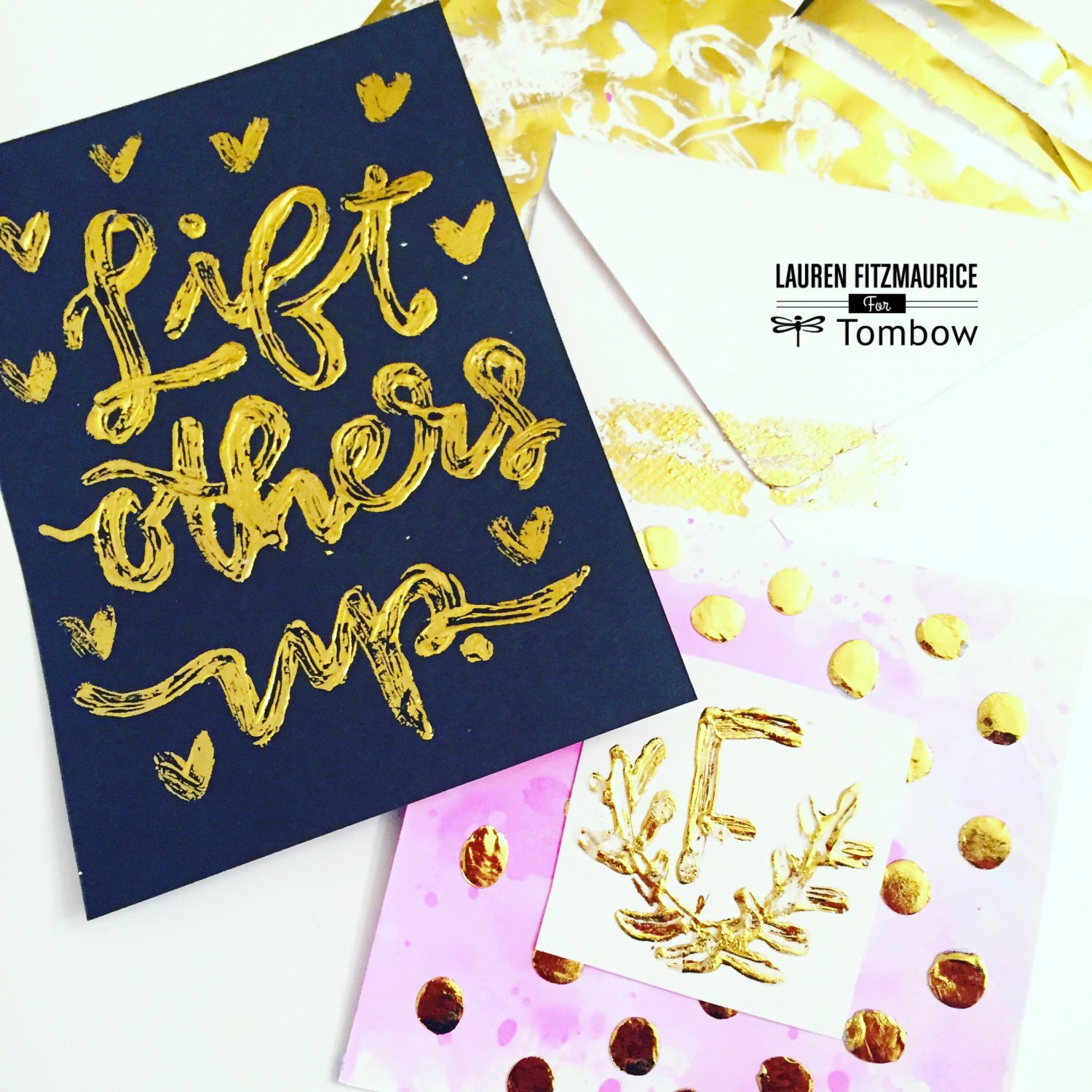 I hope you enjoyed reading this post! For more lettering and crafting inspiration check out @tombowusa on instagram and follow me on instagram @renmadecalligraphy and my blog renmadecalligraphy.com. Join me for the next month on instagram and my blog as I #tombowlikealefty and give fun tips along the way!
Happy Lettering!
Lauren