It can be a crazy task to organize your craft stash.  Today I (Lauren) am going to be sharing how you can use some of my favorite Tombow and Sweet Stamp Shop products to bring some method to the madness that is your work space. This guide will show you how to organize your craft items while also keeping a catalog of what you have.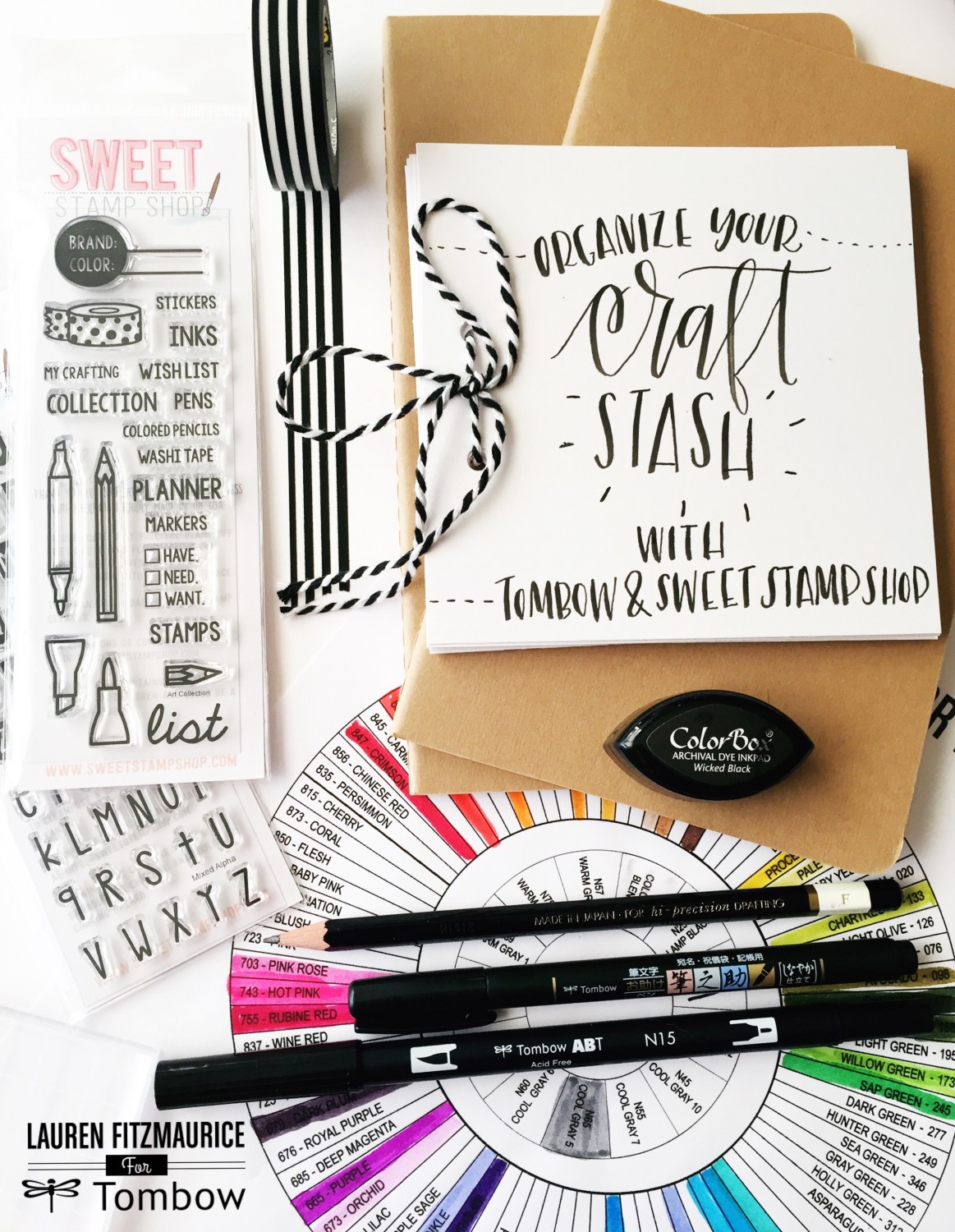 Organize the Mess
We can all agree that having lots of fun craft items in our stash can be awesome, but it isn't so great to have to clean them up after use and almost impossible to keep them organized.  My workspace prior to this post equaled ten piles that looked just like the picture below.  So many amazing products, but they were all mixed together and I could barely tell what I had. Tombow and Sweet Stamp Shop came to the rescue with some amazing items to help me organize this craft madness.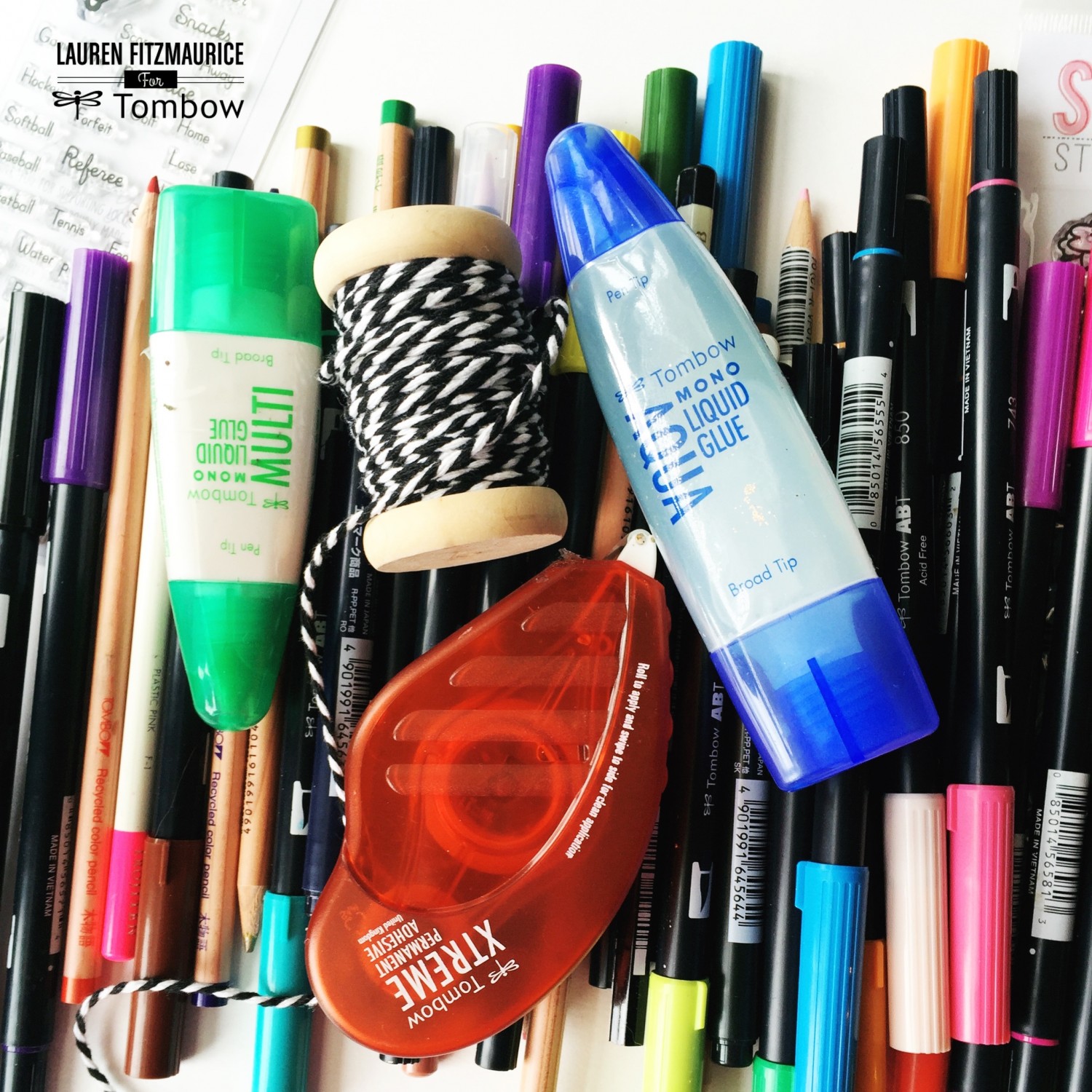 First, before we get into the tutorial, you have to tackle the mess head on and make sure every Dual Brush Pen and adhesive have a home of their own.  The Tombow Storage Tote is the perfect bag to store all of your craft goodies. The inside has removable dividers so that you can separate all of your items and keep them organized.  In the inside I like to keep my adhesives in one compartment, my washi tape, glitter, and foil in the middle, and all of my fun stamps in the other section.  The inside of the top has a big mesh pocket that my tripod fits perfectly in, making it possible for me to do lettering videos wherever I go.  The front pocket is perfect to fit Dual Brush Pens when I'm traveling, but I choose to keep all of my colored pencils in this compartment.  The mesh side pockets are perfect to fit erasers and correction tape.  This bag is super easy to grab and work out of in my workspace or when I'm on the go.  The Dual Brush Pen Desk Stand is also very helpful in organizing your pen collection. To make it easier, I first sort the Dual Brush Pens by their number.  Dual Brush Pens come in shades from 0 all the way to the 900's and the first two numbers tell what color family it is in and the third number alludes to the intensity of the color.After sorting all of the pens, another great tool is the Dual Brush Pen Color Tracker, which is a free printable diagram that you can color in what colors you have in your collection.  I then put the pens in the ten rows in their color families and I'm ready to begin cataloging my craft stash!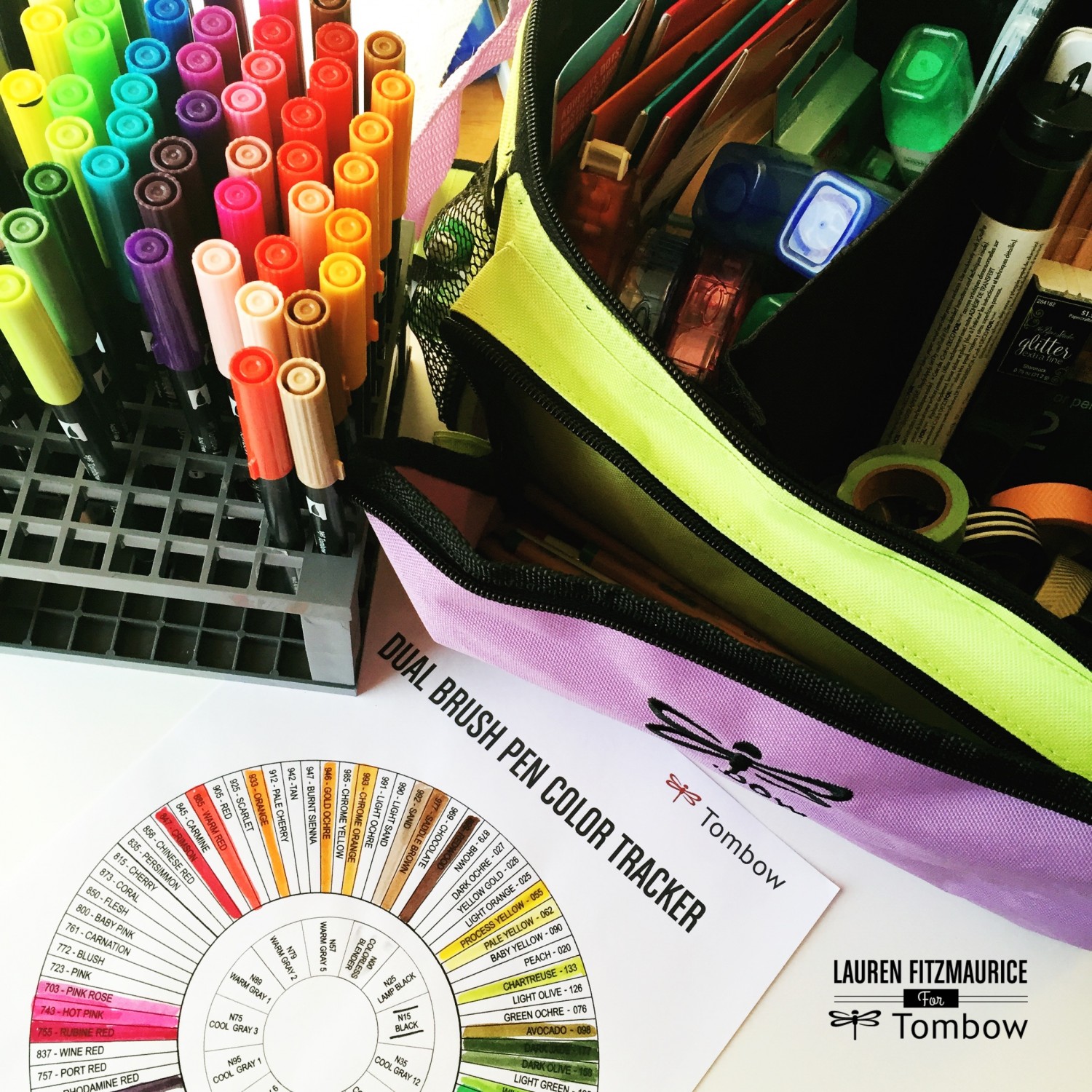 Sweet Stamp Shop stamps are perfect for helping organize your craft stash and your life.  They are small and great for planners, notebooks, and cards. The characters and sentiments on the stamps are so cute and super fun to add to any project.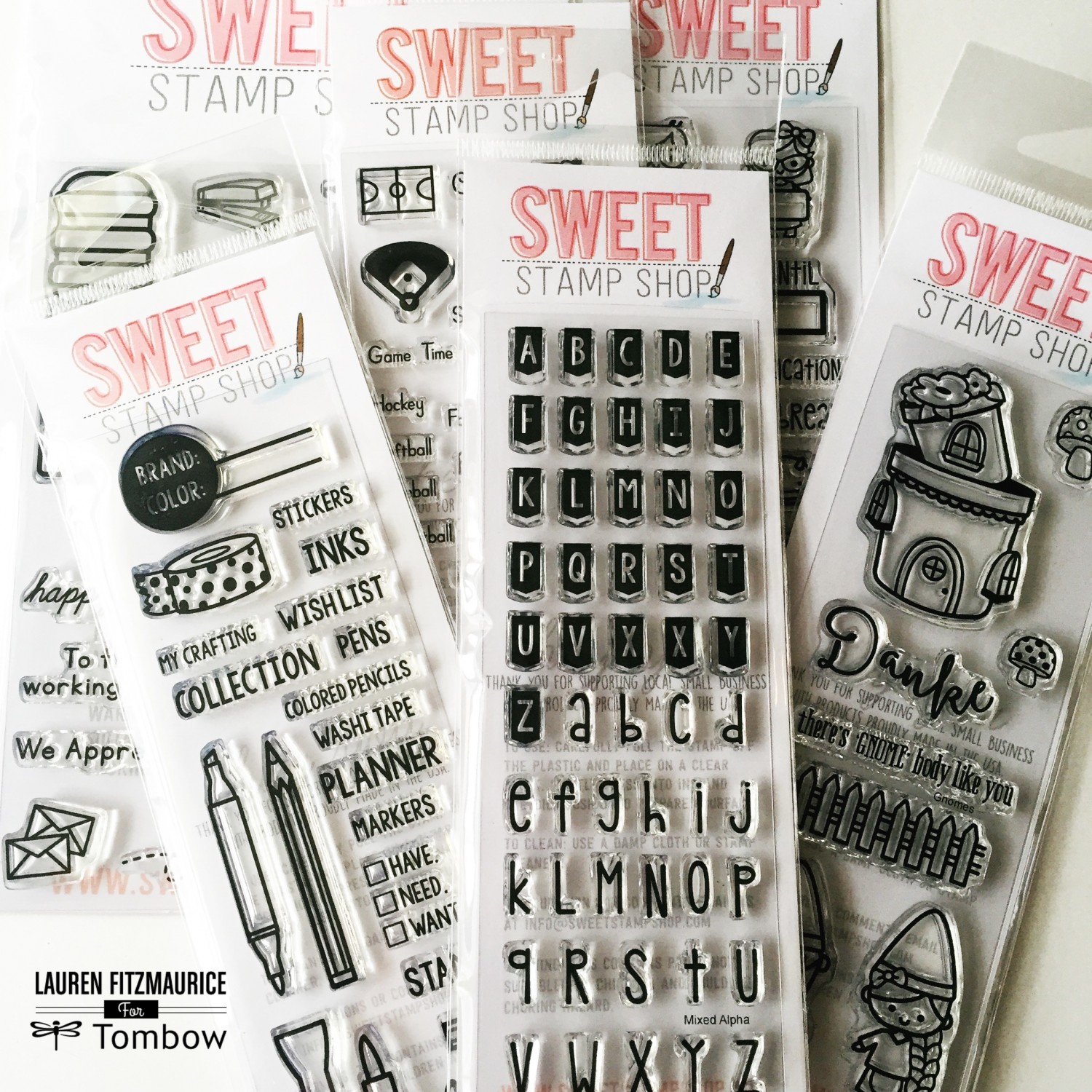 Create a Craft Stash Catalog
For this project, I will show you how to make a personal little craft stash catalog that will help you keep swatches and product information on all of your supplies. It will be quicker to refer to the guide instead of digging in all of your supplies to try to find a color that you aren't sure you have.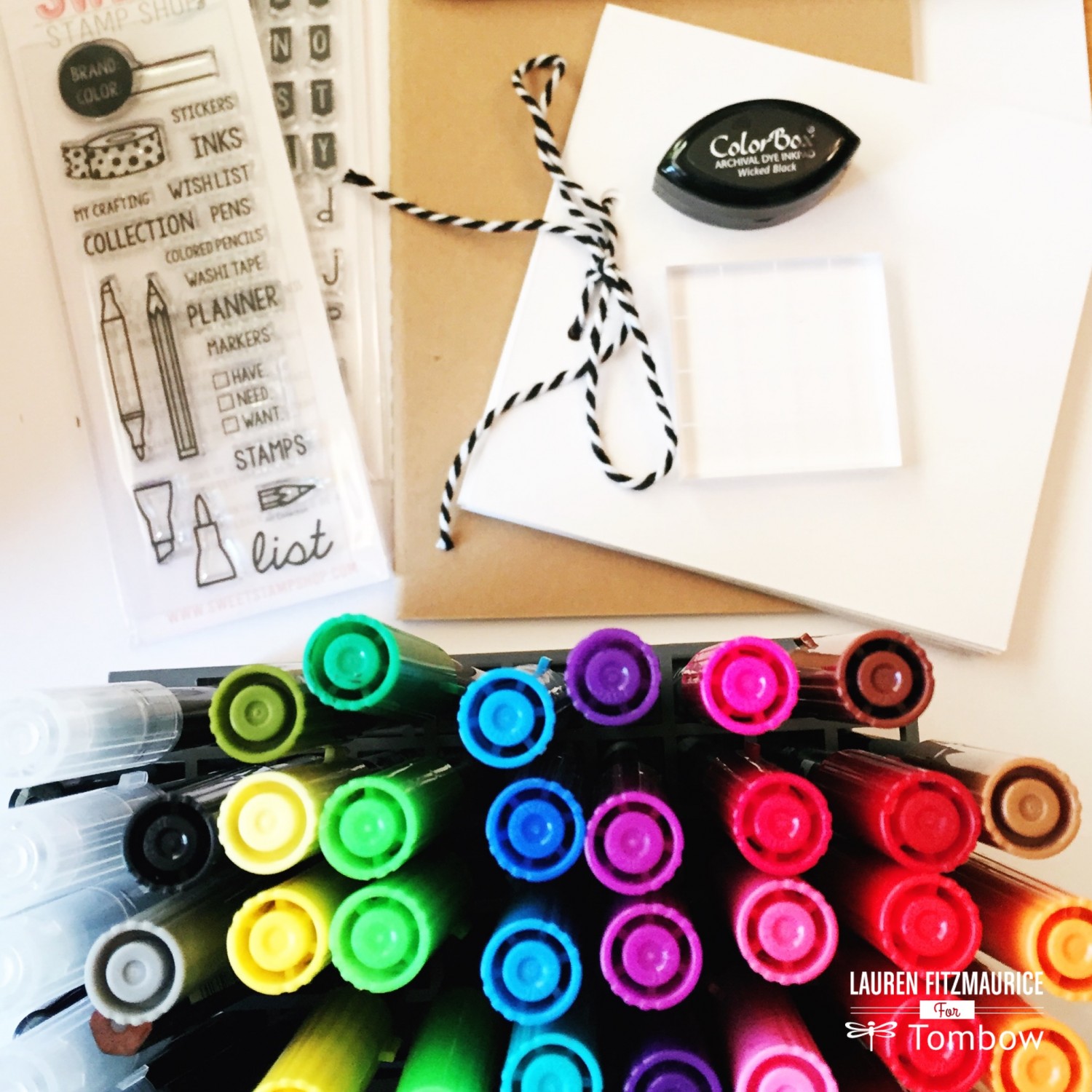 For this project you will need: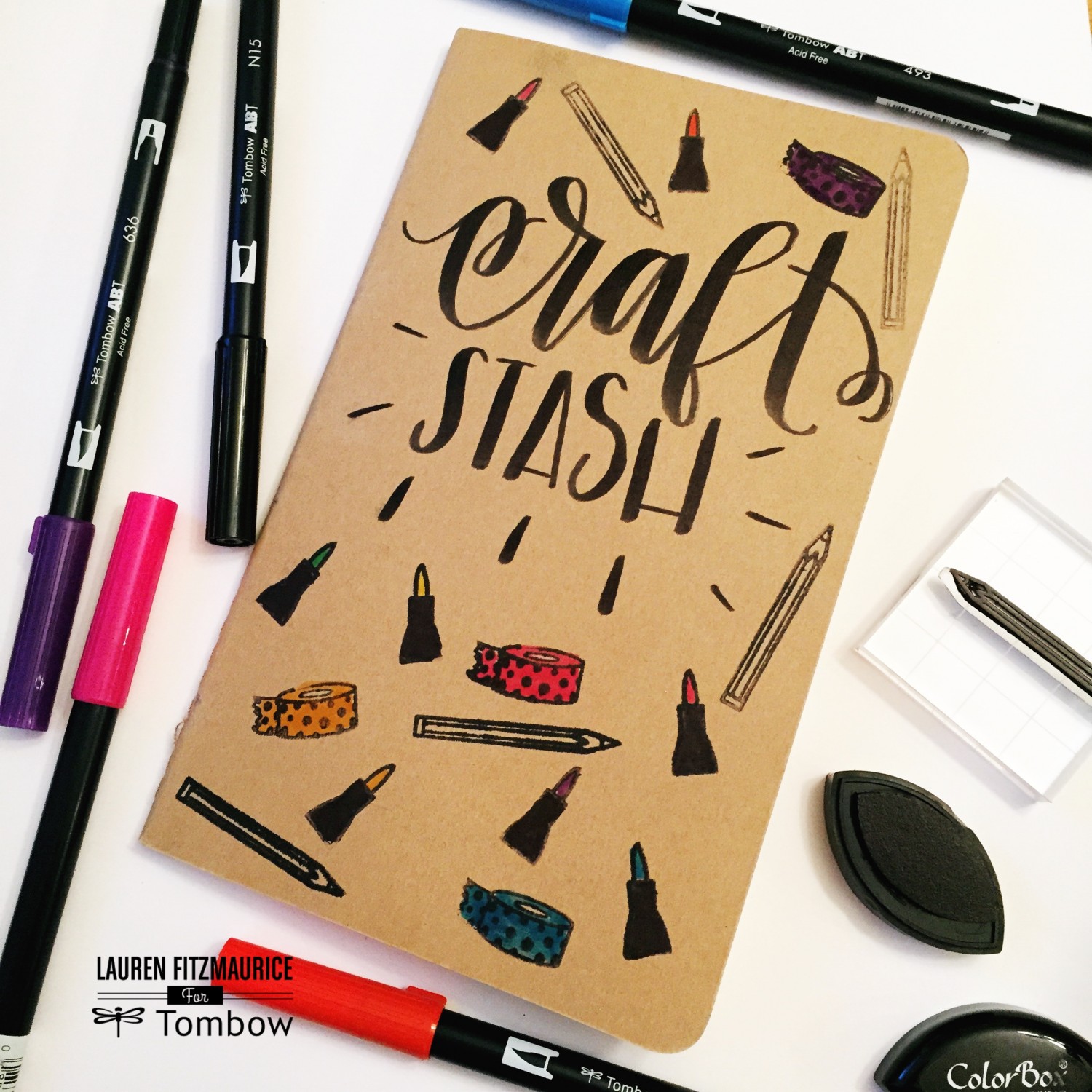 To decorate the cover, I brush lettered "Craft Stash" with a Dual Brush Pen and stamped a variety of stamps from the Art Collection. The dye based ink is perfect for this project, because the stamps can then be colored in with Dual Brush Pens without smearing. Then doing the cover, I had so much fun stamping randomly and giving the lettering character.  PS: How cute are those brush pen tips and washi tapes! Now it's time to fill out the inside pages.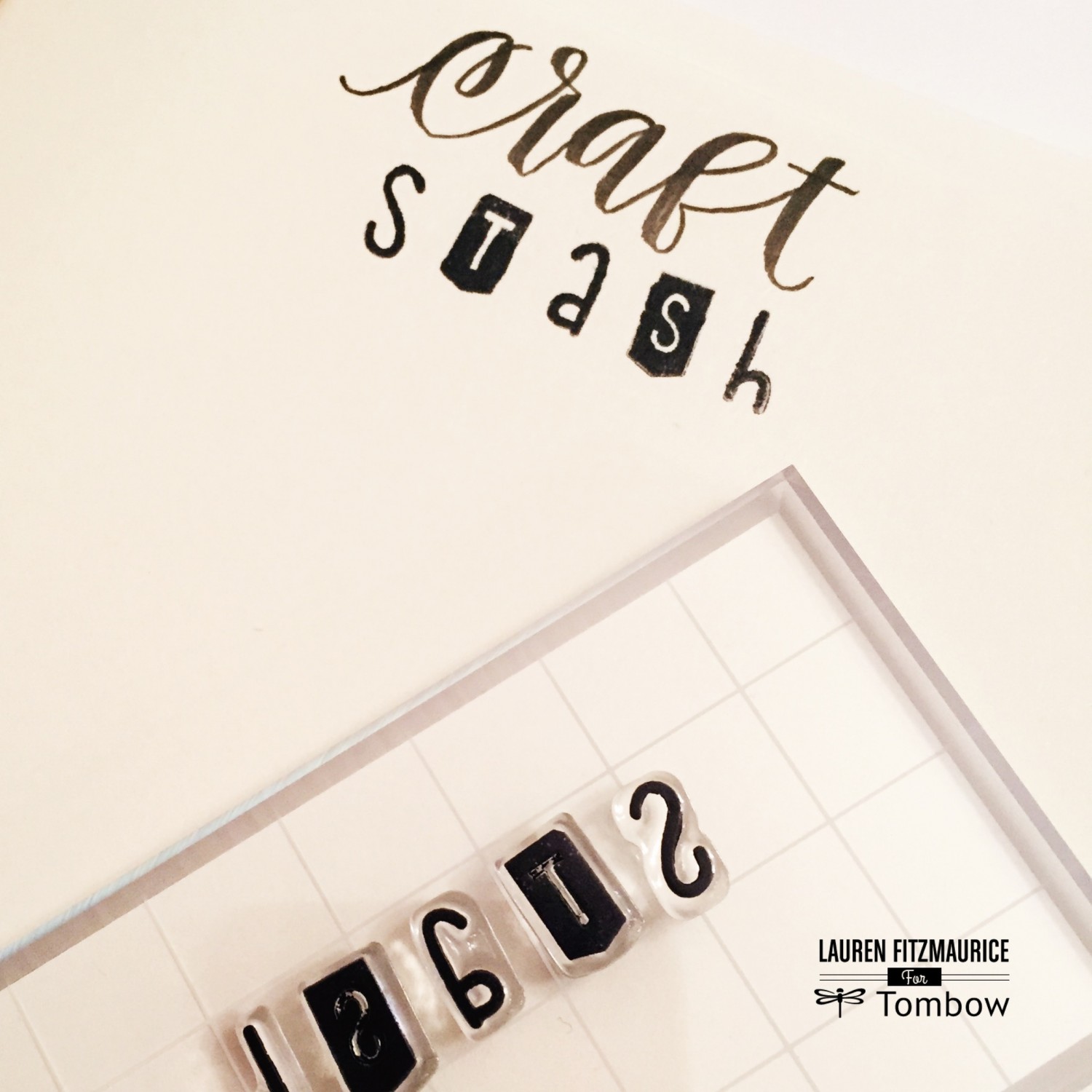 For all of the headings inside my little craft stash catalog, I mixed my brush lettering with the Mixed Alpha stamp set. For the brush lettering I used the Tombow Fudenosuke Soft Tip Brush Pen.  Underneath the brush lettering, I mixed up the different kinds of letters to make a the heading look playful and fun.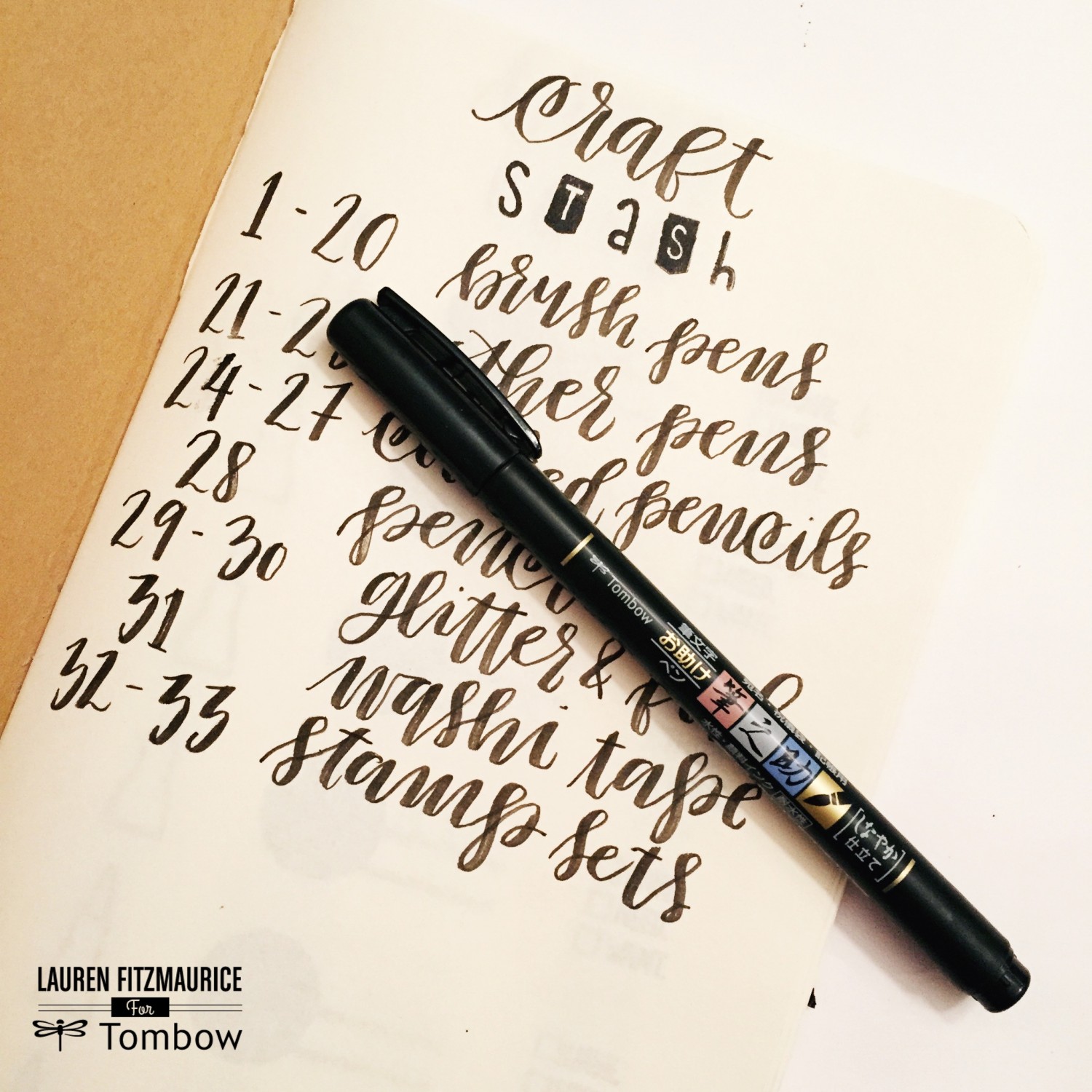 Using the Tombow Fudenosuke Soft Tip Brush Pen, I then made a list of all of the items that I needed to track in the notebook and left space in the left margin for page numbers.  I then numbered all of the pages in my notebook and decided how many pages I needed per item.  Some items got more than others.  For example, I want to keep track of all 96 Dual Brush Pen colors in my notebook to see what I need, want, or already have so I need lots of pages for that section but only one for glitter and foil. After numbering the pages and rationing them out I added each page range beside the item it went with. Then it was time to create the catalog.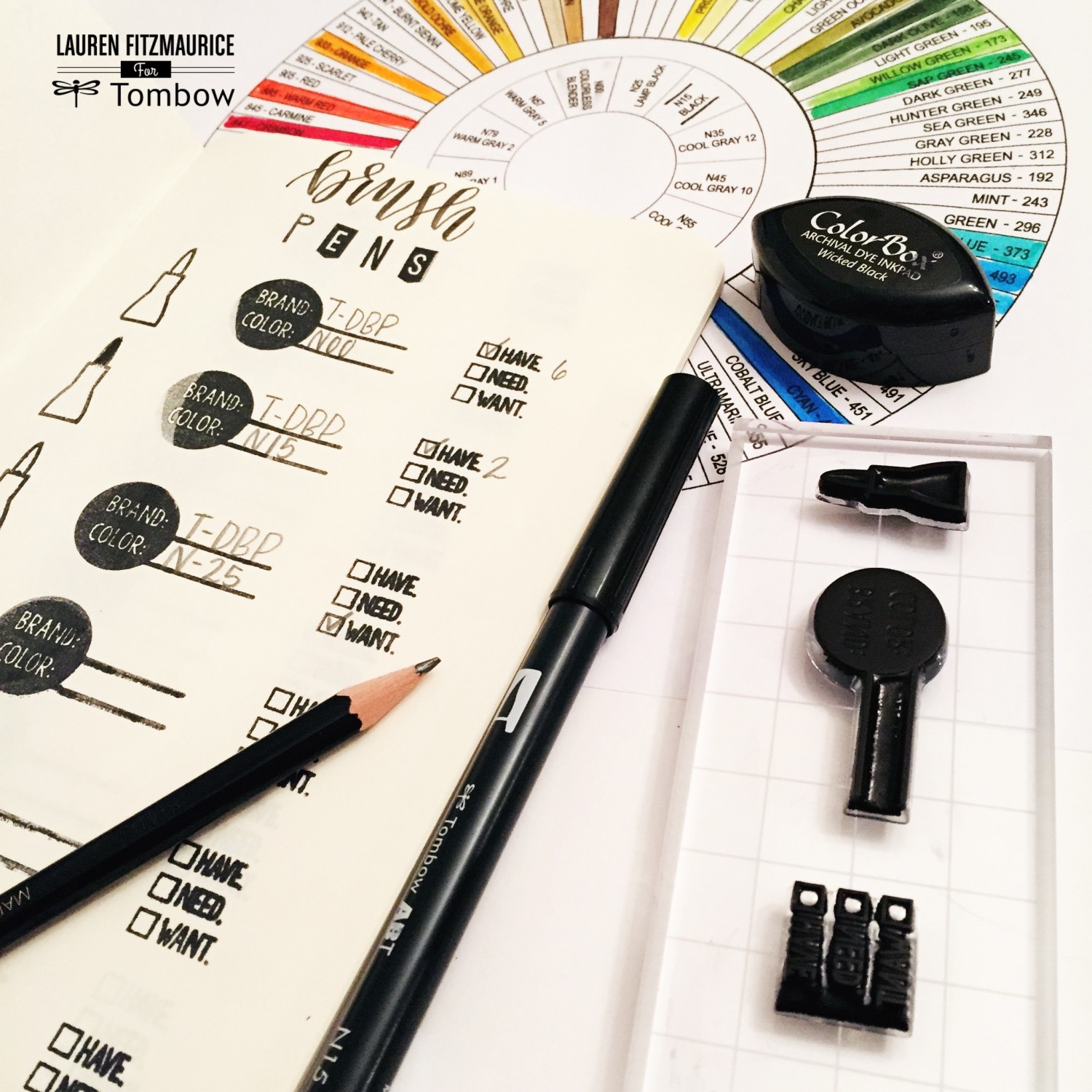 Next, I turned to the first section of the booklet, which was designated for brush pens.  I brush lettered the top of the heading with the Tombow Fudenosuke Soft Tip Brush Pen and stamped the bottom of the heading with Sweet Stamp Shop Mixed Alpha letters and the archival ink pad.  I then used the brush pen tip and several other stamps from the Art Collection to create a running list of all 96 color of Dual Brush Pens available through Tombow.  A few of my stamps didn't turn out perfectly and I LOVED how it added a little imperfect character to the project. After stamping on all 20 pages of this section, I started to fill in the different shades in order by using the Tombow Dual Brush Pen Color Tracker, which showed me what pens I have already, and the color chart, which helped me see which colors I needed to add to the wish list. If I have the pen, I color the brush tip stamp with that color.  I then write the code T-DBP (Tombow Dual Brush Pen) on brand, note the color, check if I had the color, need it, or want it. If I already have it, I also note the number I have so that I don't buy too many duplicates in the future. It is smart to use a pencil for this part so that you can erase and make changes as your collection grows.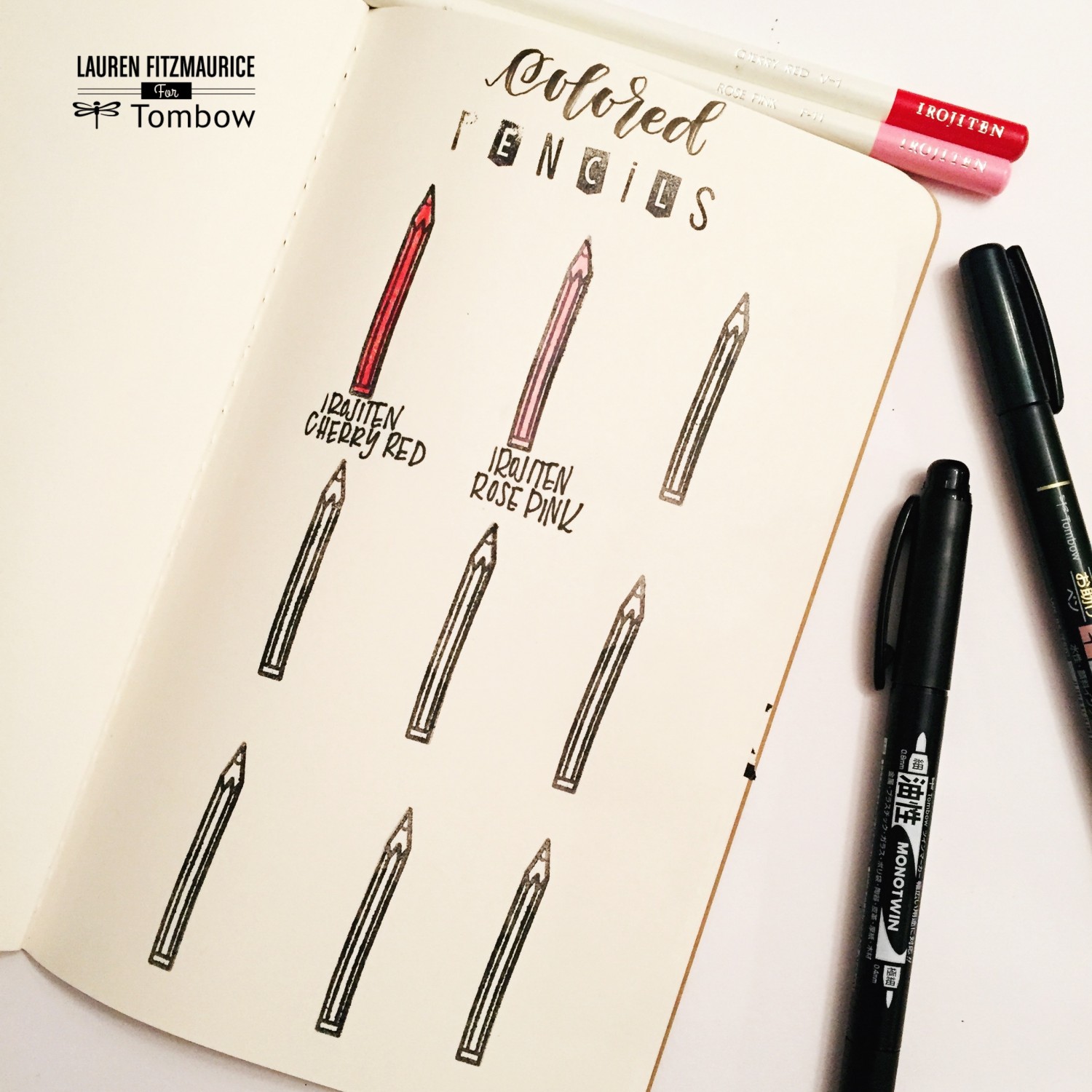 I then continued using the Sweet Stamp Shop Art Collection stamps, Mixed Alpha Stamps, and Fudenosuke Soft Tip Brush Pen to create the layout and headings on each page. The MONO Twin Permanent Marker is perfect to write in details about different items.  On the colored pencils page I stamped separate pencils and colored them with my collection of Irojiten Colored Pencils, labeling the colors underneath.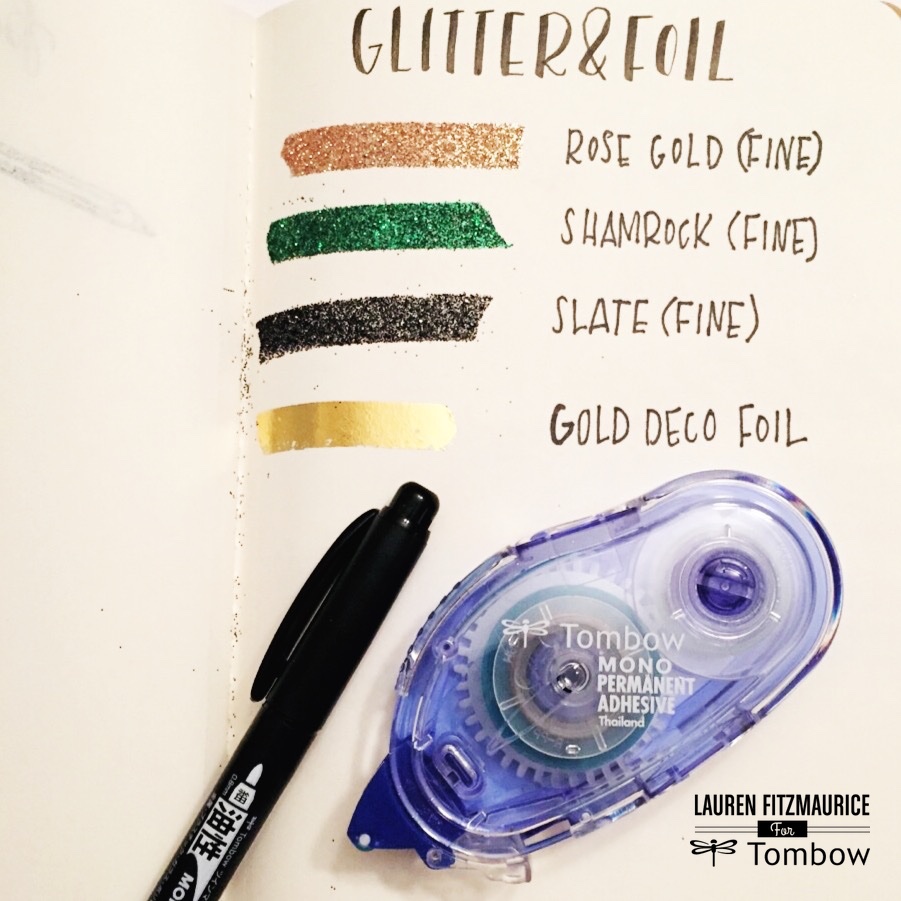 Everyone needs a little sparkle and shine in their life and I added some samples of each of my glitters and foils to the notebook with a little Tombow MONO Permanent Adhesive.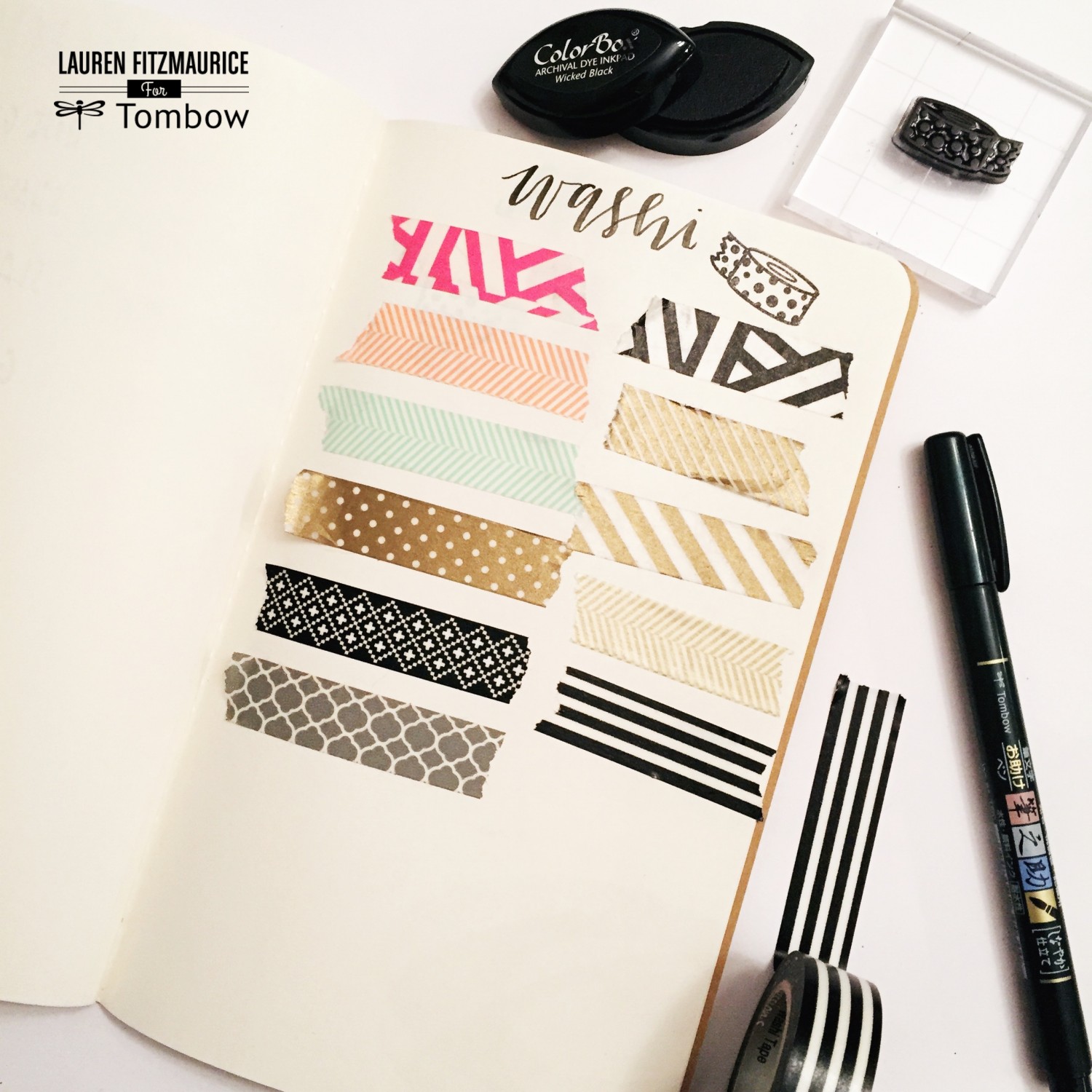 Isn't that washi tape stamp the cutest?! I love washi tape and had a blast adding samples of each roll that I have on this page.  Once I run out of a color it's super easy to remove and add to.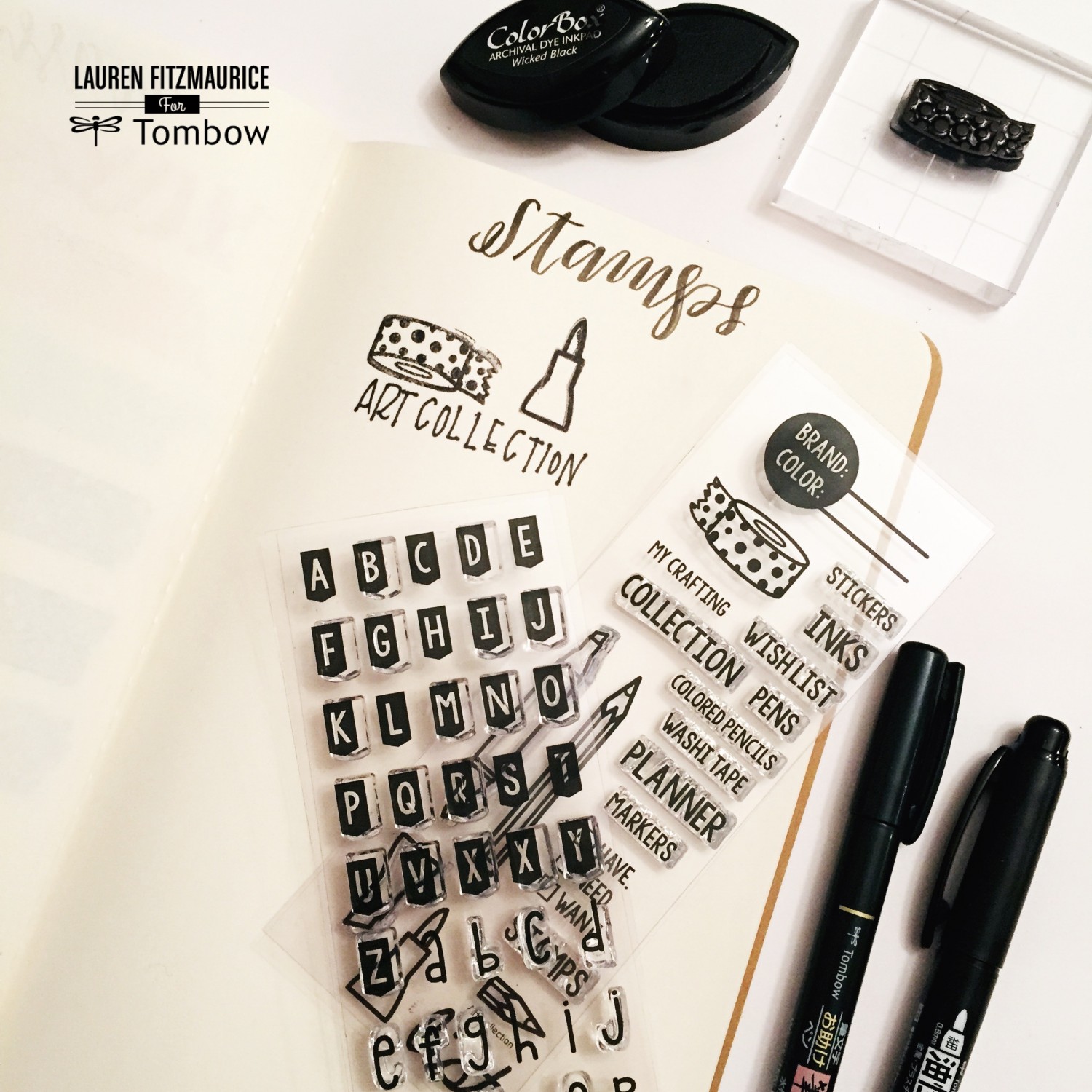 I have recently started a pretty awesome stamp collection.  By adding samples from each collection and the name, it makes it easier to see what stamps I have or need to purchase for a project.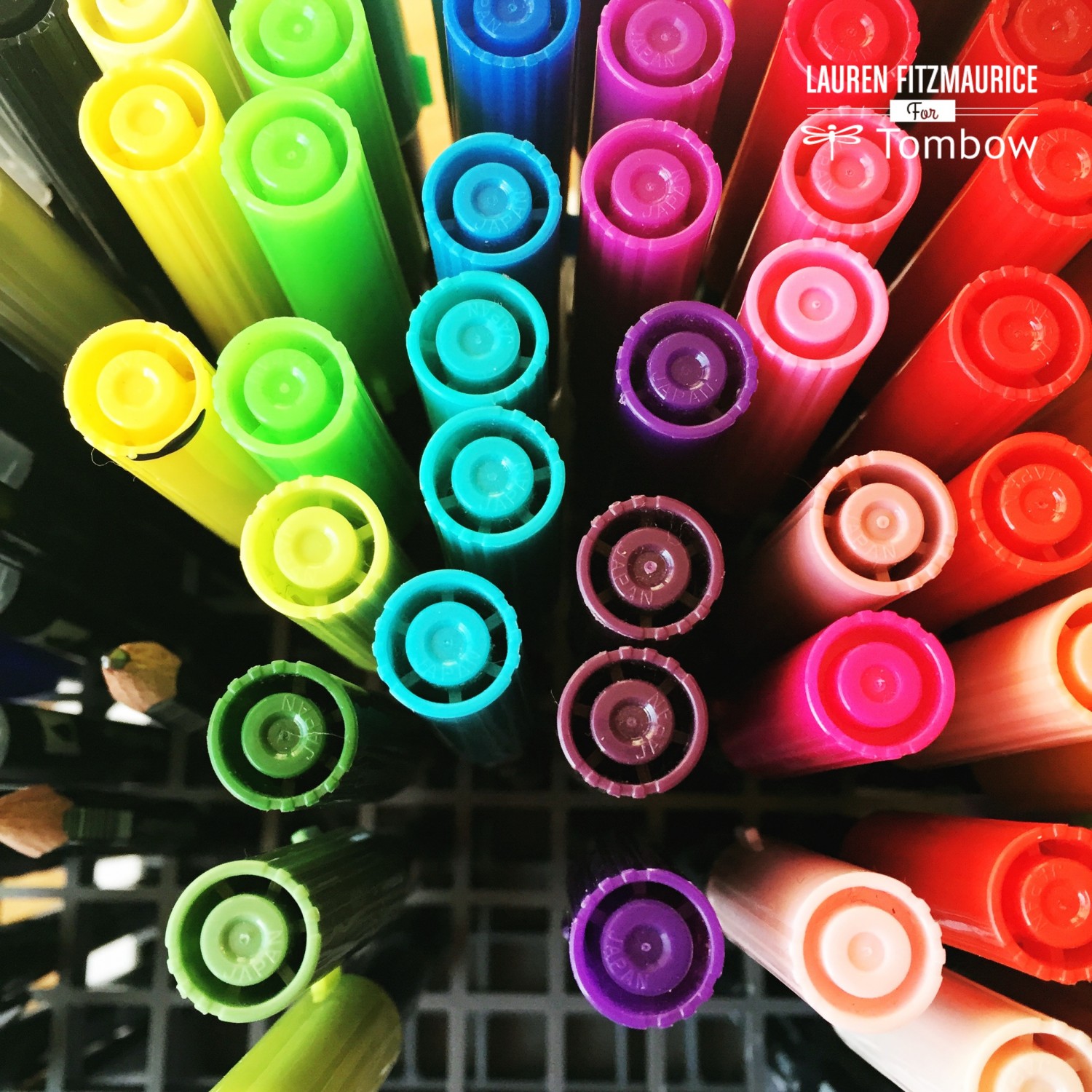 Now all that's left is collecting all of the shades of Dual Brush Pens to fill them in throughout my craft stash catalog! Though this is a rather large project, to catalog and track every item in my craft stash, I know this notebook will be the perfect to stick in my purse and use when shopping for supplies or brainstorming what to put on my next wish list. How will you make and use your craft stash catalog?
I hope you found this tutorial to be helpful in tackling that crazy pile of craft supplies that has taken over your workspace. For more craft inspiration check out the Sweet Stamp Shop Blog, Tombow Instagram, and my Instagram @renmadecalligraphy. Happy Stamping!
#tombowlikealefty
Lauren