Happy Tuesday!  Beth here teach the next Tombow Adhesives 102 class with Freckled Fawn embellishments.  I created this quirky wall hanging that not only describes, but fits my family to a "T"!!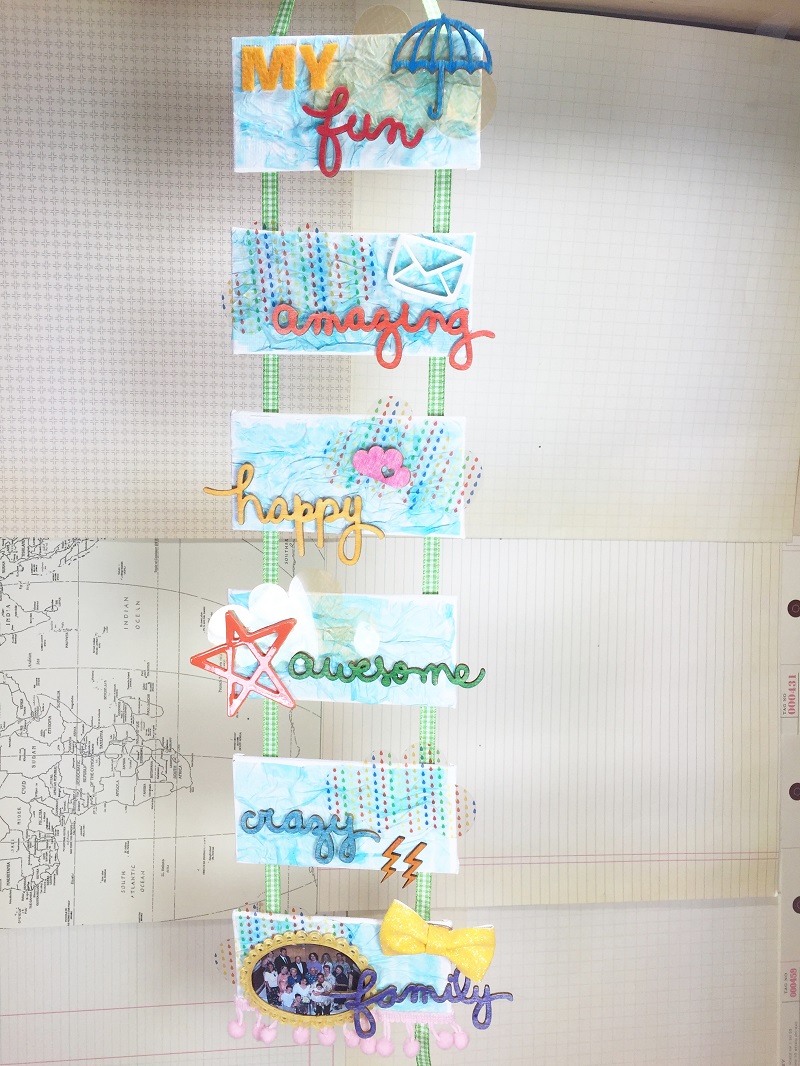 We received patterned plastic zippered pouch with a whole bunch of amazingly cute embellishments!  Freckled Fawn has an Embellishment Kit Club that you can subscribe to!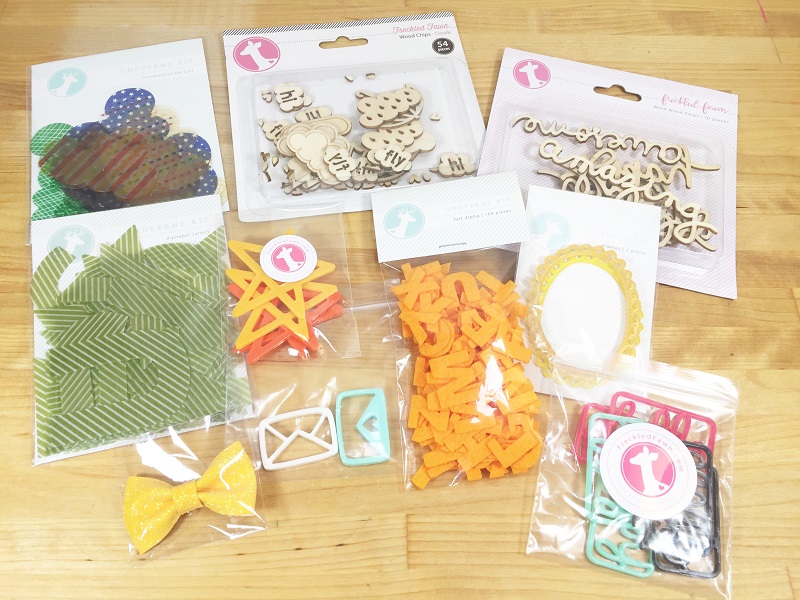 Step One:
Now, I am not a traditional paper crafter, so I grabbed some mini canvas boards from my stash and tried the Tombow MONO Aqua Liquid Glue tissue paper technique to give some texture.  Color white tissue paper with Tombow Dual Brush Pens #451 and #491, then cut out a 1/4″ larger than your surface.  Spread out the Tombow MONO Aqua Liquid Glue on the canvas board with the broad tip, then place crumpled tissue into glue.  Move it around to the edges with your fingers, making sure to leave lots of wrinkles and crinkles.  Let dry.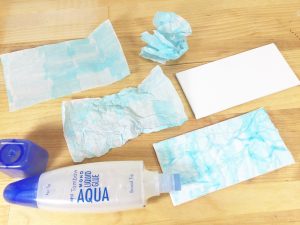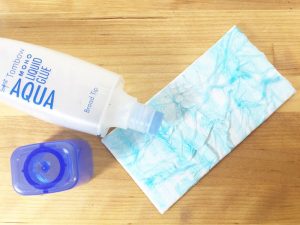 Step Two:
Next, I selected six Word Wood Chips and colored them with rainbow colors of Tombow Dual Brush Pens #856, #925, #025, #245, #476 and #606.  There is no drying time and the colors are so vibrant!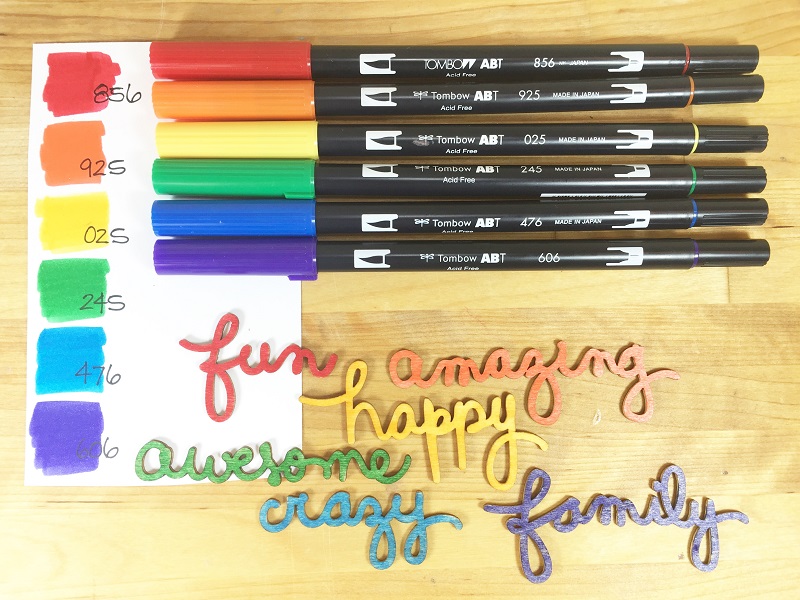 Step Three:
Attach Transparency Die Cuts Clouds with Tombow Xtreme Adhesive Tabs, because they are clear and strong!  Attach Felt Alphas, Wood Chips Clouds, Plastic Stars and Envelop with Tombow MONO Multi Liquid Glue, which gives a strong bond with a pen tip for accuracy!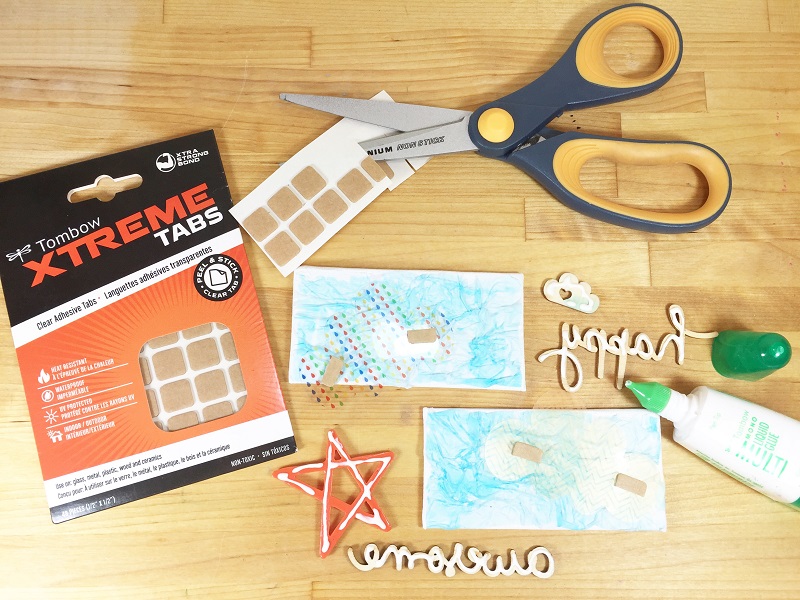 Step Four:
I printed a photo of my fun family on our crazy family cruise, traced around the center of a yellow Frame embellishment and secured it with Tombow MONO Aqua Liquid Glue, since there was paper involved.  I added ball fringe with Tombow MONO Multi Liquid Glue and a sparkly yellow bow with a Tombow Xtreme Adhesive Tab.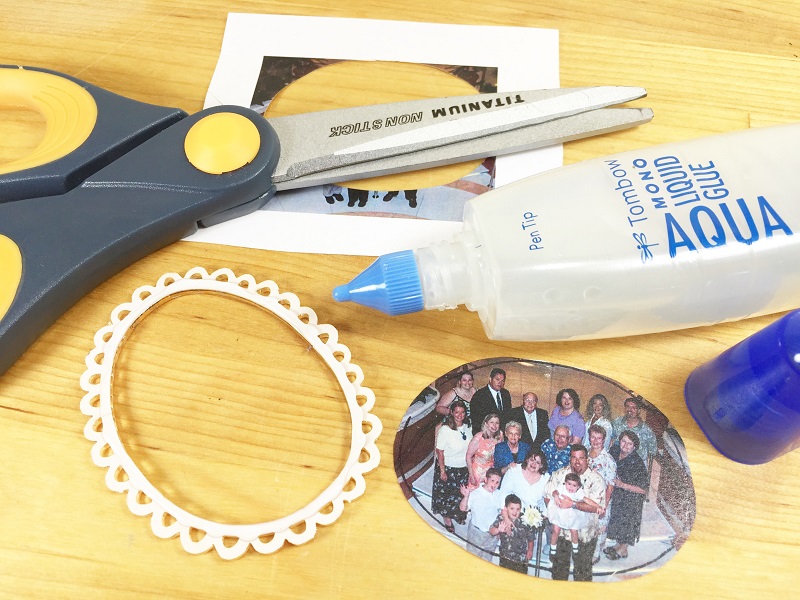 Step Five:
Cut a 48″ length of ribbon and attach each canvas board to the ribbon with Tombow Xtreme AdhesiveTabs.  When just a half a Tab will do, I cut them with scissors right on the backing paper, then peel them off and attach!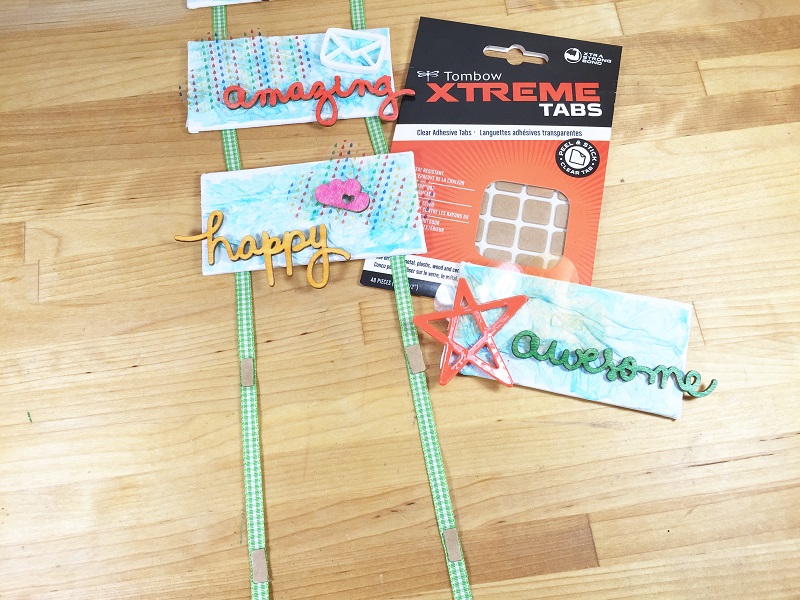 Here are some close up images of my wall hanging.  I hope you will jump right into to your next project by attaching all those wonderful embellishments with your versatile Tombow adhesives!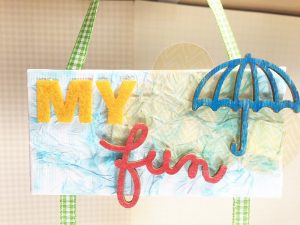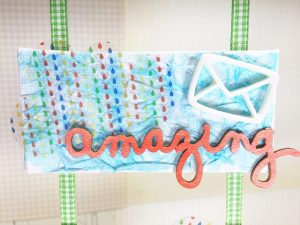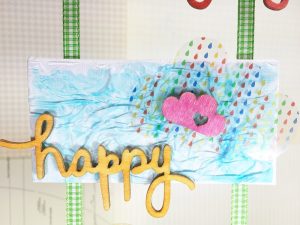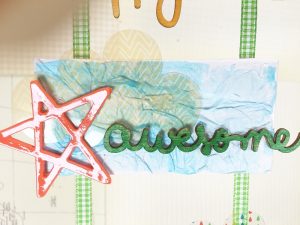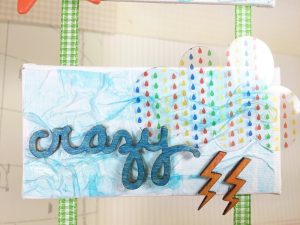 I hope you have enjoyed my Tombow Adhesive lesson today.  The best thing to take away from today is EXPERIMENT!  Tombow Adhesives are so extremely versatile that many of our adhesives work on many different surfaces and embellishments.
Check out Jennie's post HERE to see a complete list of adhesives and embellishments – plus a video – AND stop back by each day this week to learn great adhesive tips from the rest of the Design Team!
And check out the Freckled Fawn BLOG for tons of inspiration!
Thanks for stopping by!  –Beth