Hey there lovelies, it's Lauren again, and I'm so excited to show you 5 fun ways that you can use Tombow USA goodies and a little lettering to create some beautiful and encouraging projects with Felicity Jane products! My favorite thing to do is lift others with letters of encouragement. When I received this beautiful package in the mail, I instantly was inspired by the vibrant colors and fun patterns and know that I wanted to dedicate this post to projects created with the purpose of making other people smile. So grab your cup of coffee and get ready for some easy and creative ways to encourage others through lettering and the amazing goodies offered in a Felicity Jane  September Kit.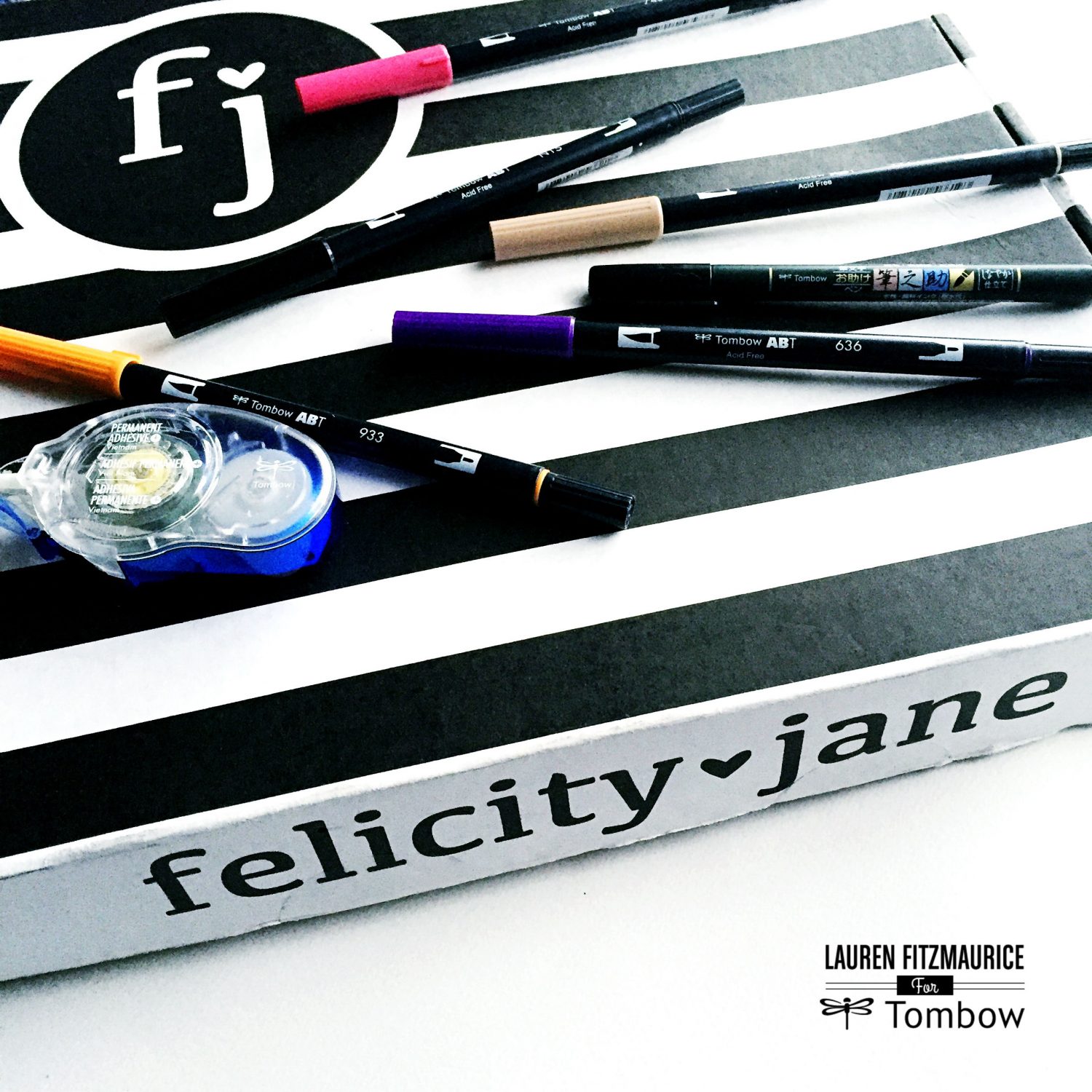 What is Felicity Jane, you ask? It's an amazing company that offers kits each month filled with all kinds of papers, sticker stock, chipboard alphabet letters, and other fun embellishments. The prints and designs are all adorable and extremely bright and bold. I also love the fact that most of the papers are two sided with different patterns on each side and this makes for all kinds of fun project possibilities. I decided to go simple with my two basic Tombow favorites to add some lettering and flair to the projects I was creating: the Tombow Fudenosuke Soft Tip Brush Pen and the Tombow Mono Permanent Adhesive +.

I started playing with all the items that came in the adorable box and came up with some fun and super easy ways to share an encouraging word in a crafty way.
1. RANDOM LOVE LETTER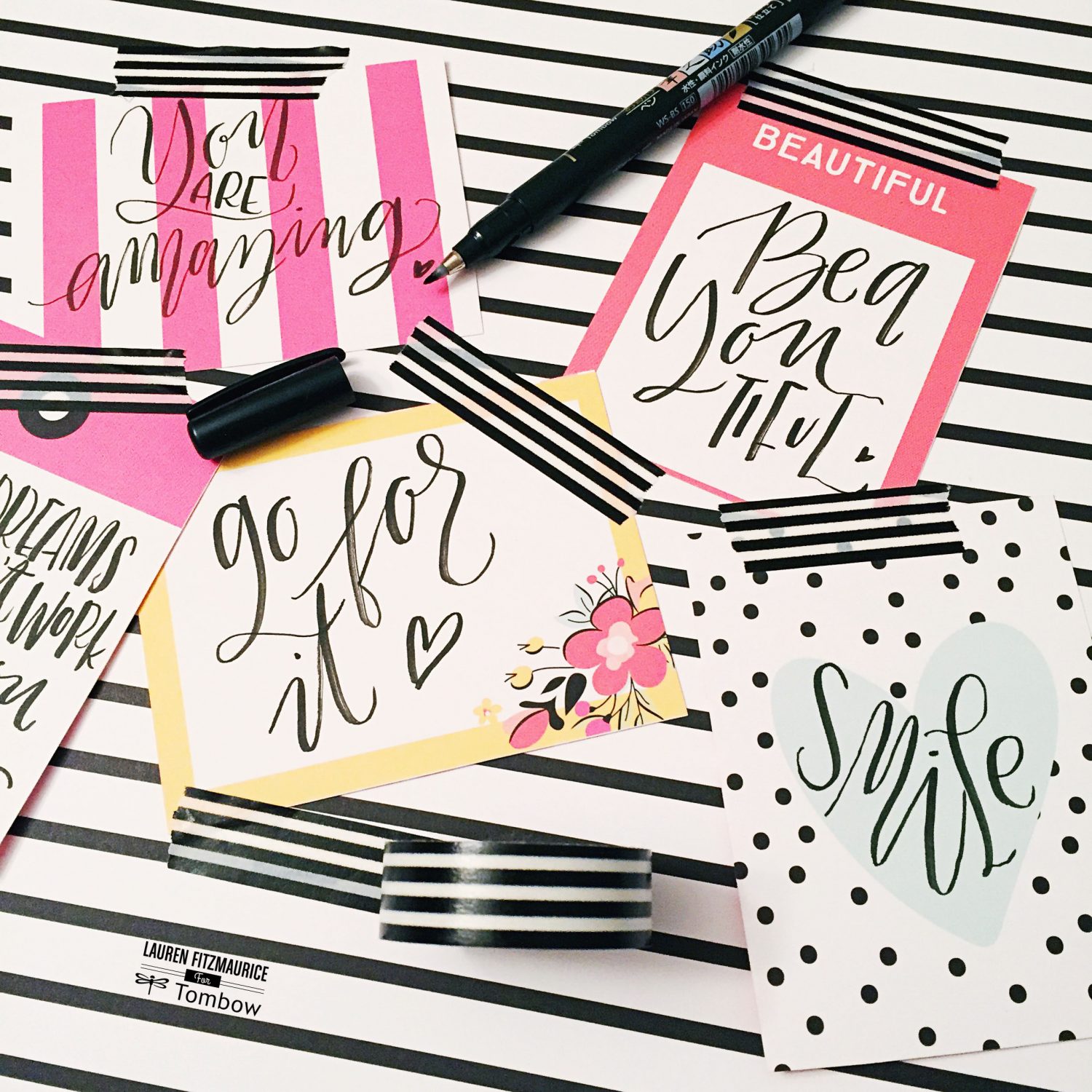 I don't know if you have ever heard of the hashtag #randomloveletter , but a fun and new trend is to leave an encouraging note somewhere in public for others to randomly find. Cut apart the coral dot journaling cards and add a fun message with the Tombow Fudenosuke Soft Tip Brush Pen. On your way out the door, grab a roll of washi tape and make sure that you leave your note in a place where it is sure to brighten someone's day.
2. HAPPY MAIL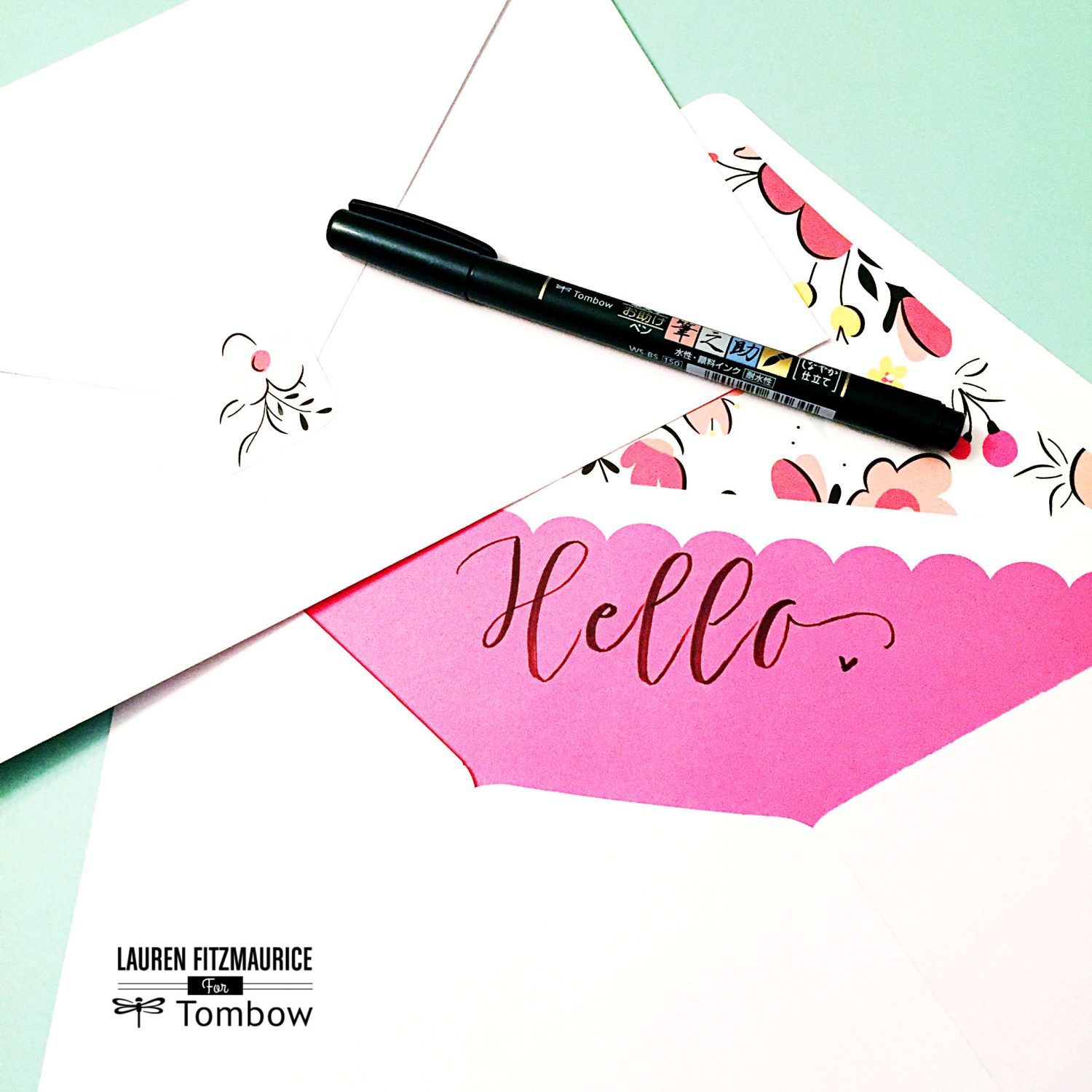 There is just something fun and exciting about getting a piece of snail mail! The tons of fun paper in the Felicity Jane kit was so fun to work with. I took a white envelope and created an liner by cutting the paper to fit inside the flap of the envelope. It is super easy to attach the liner using the very precise Tombow Mono Permanent Adhesive +.  Then a fun note card can be made out of a piece of the colored paper and lettered with the Tombow Fudenosuke Soft Tip Brush Pen. Seal the envelope with a piece of the sticker stock and it is all ready to be addressed and sent to someone special!
3. WOVEN PAPER MAT & LETTERED QUOTE

As I looked through all of the fun patterns I just knew I had to find a unique way to mix them for one of the projects. I instantly started channeling my inner elementary school teacher and immediately thought back to the woven placemats we used to make for holidays out of construction paper.  I created a woven mat to place the lettered artwork on.  First I measured a piece of patterned paper and cut an 8by10.  Folding the 8 by 10 in half vertically, I used a paper trimmer to carefully cut one inch slits on the fold. I then opened the page and began to weave in 1 inch strips of other patterned papers, which I also cut on a paper trimmer. After all of the pieces were woven, I glued the ends down with the Tombow Mono Permanent Adhesive +. I chose two more pieces of patterned paper to layer on top of the woven mat, also attached with Tombow Permanent Adhesive +. A fun lettered phrase with the Tombow Fudenosuke Soft Tip Brush Pen and a large cut out of the sticker stock finished off the piece, which would be perfect to display on a clipboard or gift to a friend in a frame.
4. TAGS WITH A MESSAGE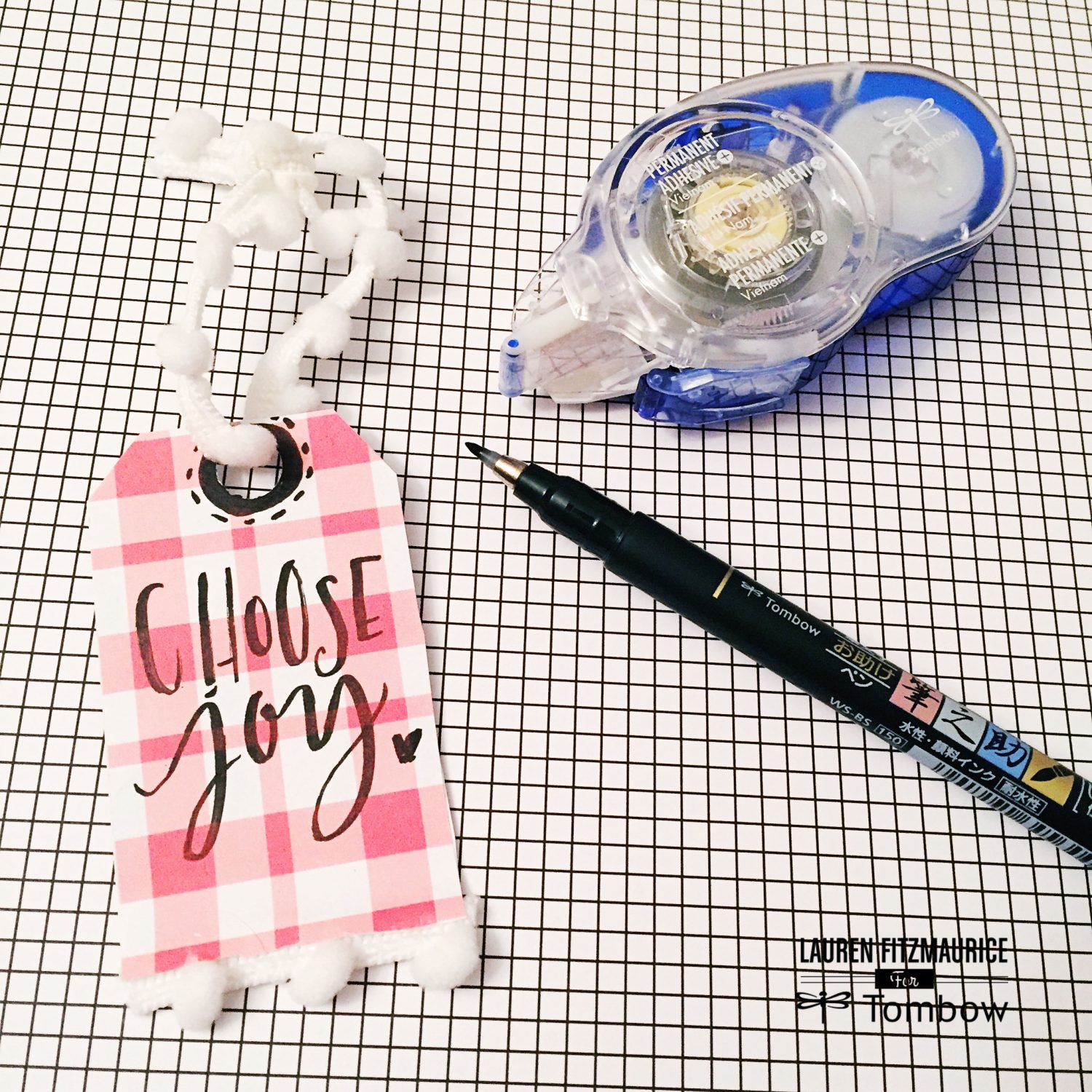 Tags are also a fun way to add a positive message to an item or a gift. Felicity Jane had several tag shapes of the sticker stock in the September Kit.  After cutting around the tag of my choice, I traced around the tag on a scrap piece of the patterned paper and cut this out.  Using a little Tombow Mono Permanent Adhesive +, I glued a little of the white pom pom trim at the bottom and then attached the sticker stock tag on top.  After adding a little lettering with the Tombow Fudenosuke Soft Tip Brush Pen, I attached a little more of the pom pom trim and voila! It was a fun tag that is sure to bring a smile to someone's face.
5. HAND PUNCHED CONFETTI BAGS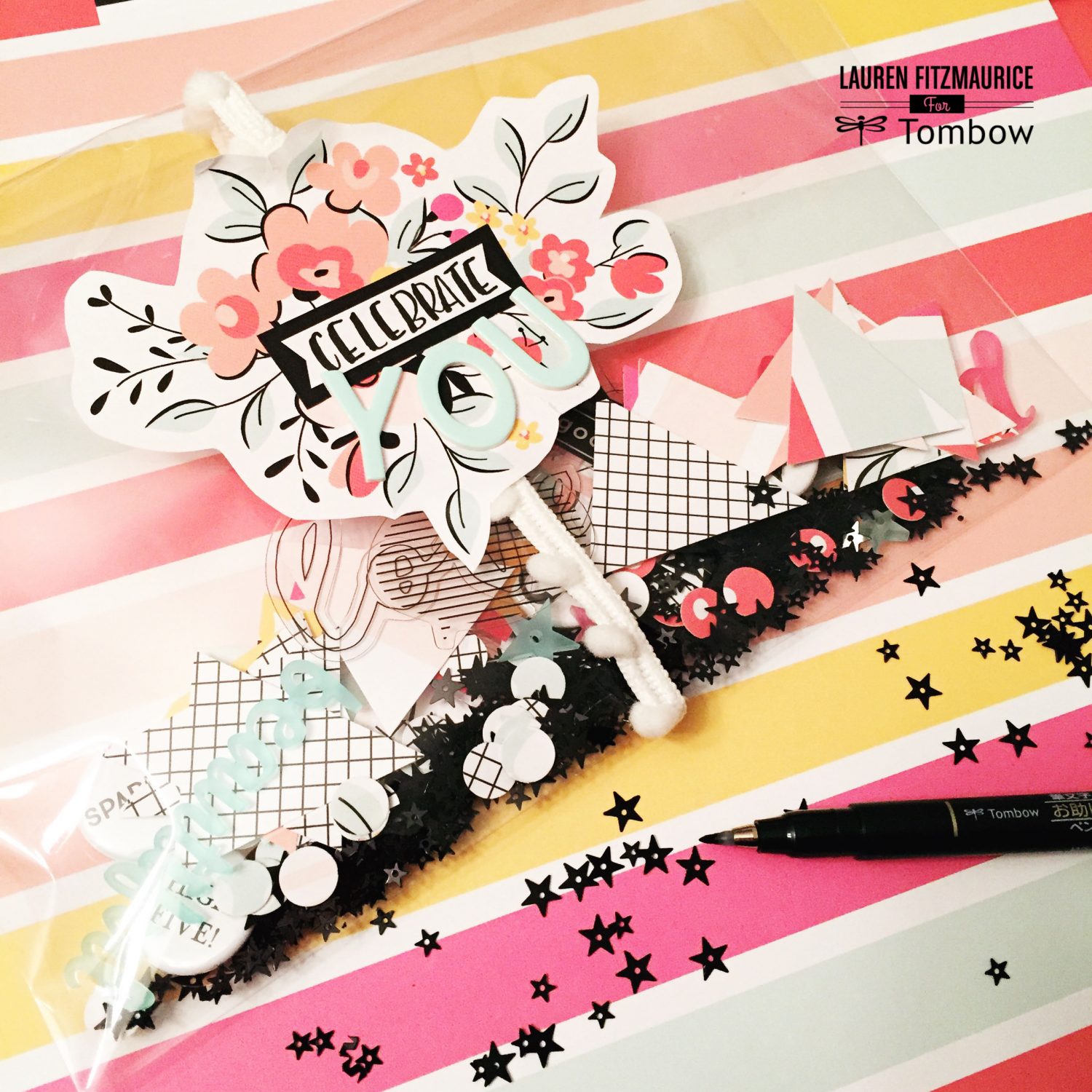 Everyone loves confetti! The Felicity Jane September Kit came with all kinds of fun embellishments, all of which I added to a cellophane pouch. Star sequins, acrylic stars and letters, and patterned paper punched in different shapes made for a fun mix of crafty confetti. I then cut out a few pieces of sticker stock and a segment of the White Pom Pom Trim and added these to help seal the pouch.  To add the final lettered touch, I wrote the word "celebrate" on one of the pieces of sticker stock, and then I added the word "you" in the chip board letters.  This crafty spin on a confetti pouch is perfect to create for an event or to give to a friend to brighten their day.
I hope you enjoyed these 5 easy and fun projects using Felicity Jane and Tombow USA products.  Keep following along on instagram (@renmadecalligraphy , @tombowusa , and @felicityjanestudio. Have a great weekend!!!
Lauren