Hi Tombow friends, it's Dani from @popfizzpaper! Today I'm sharing 10 ways to use the new Tombow TwinTone Dual Tip Markers in your planner! These markers comes with both a bullet and extra-fine tip, making them perfect for writing and planning. They come in 24 fun colors, dry quickly, and don't bleed through most papers. Let me show you 10 fun ways to use them!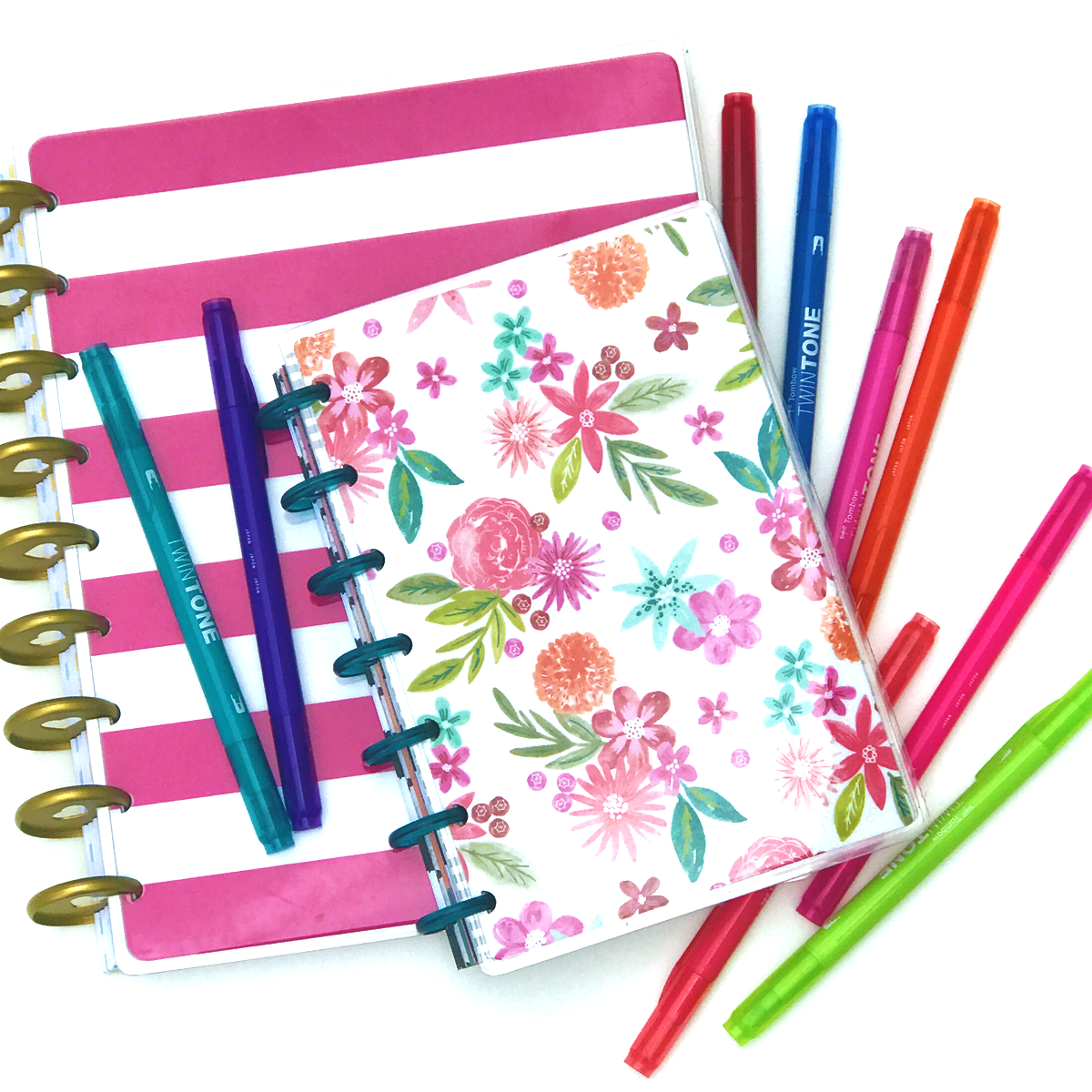 1. QUICK COLOR CODING
Because the Tombow TwinTone Markers come in so many beautiful colors, they are perfect for color coding your planner! All you have to do is assign a color to each category, making tasks and reminders easy to see at a glance. I've been adding a little key to the side of my page until I have all my colors and categories memorized.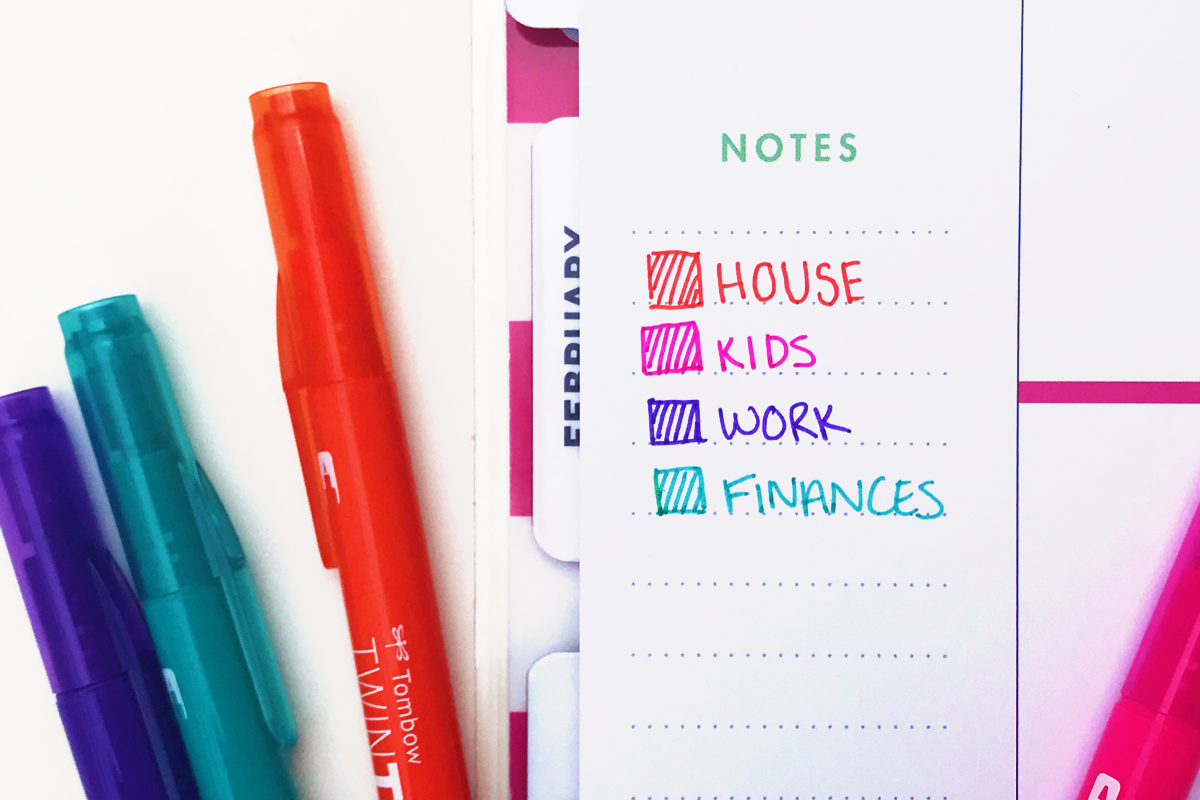 2. WEEKLY TRACKERS
Don't write the same task over and over for each day – it's way more fun to use a tracker instead! It lets you see your progress of daily to-do's and habits in one easy place. Trackers definitely inspire me to stay on top of things, and maybe they will work for you too! And tracking in bright, happy colors? Um, yes please!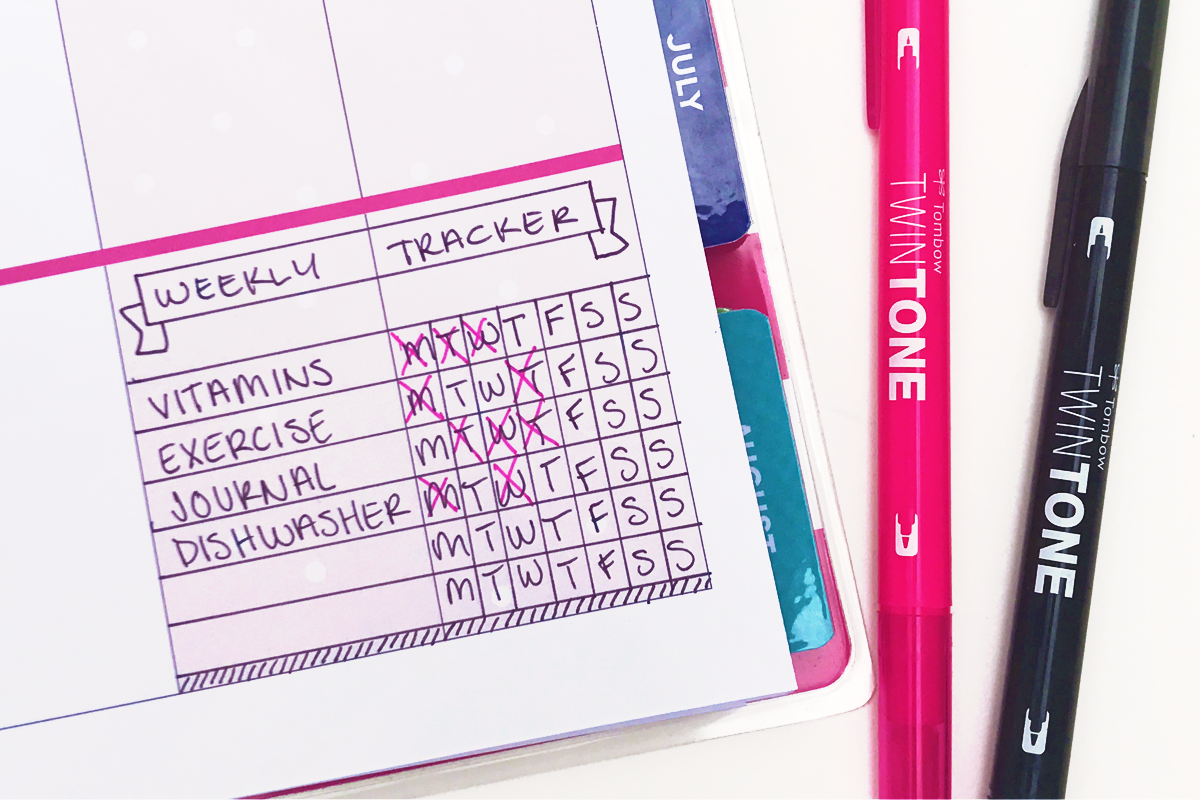 3. JOURNALING SQUARES
If you have some blank space left in your planner at the end of each day, why not add a bit of journaling? The extra-fine tip of the TwinTone markers is perfect for writing! You can also color coordinate your journaling to match your weekly spread. I think journaling in planners is really great. It kinda of turns your planner into a scrapbook that you can look back through later!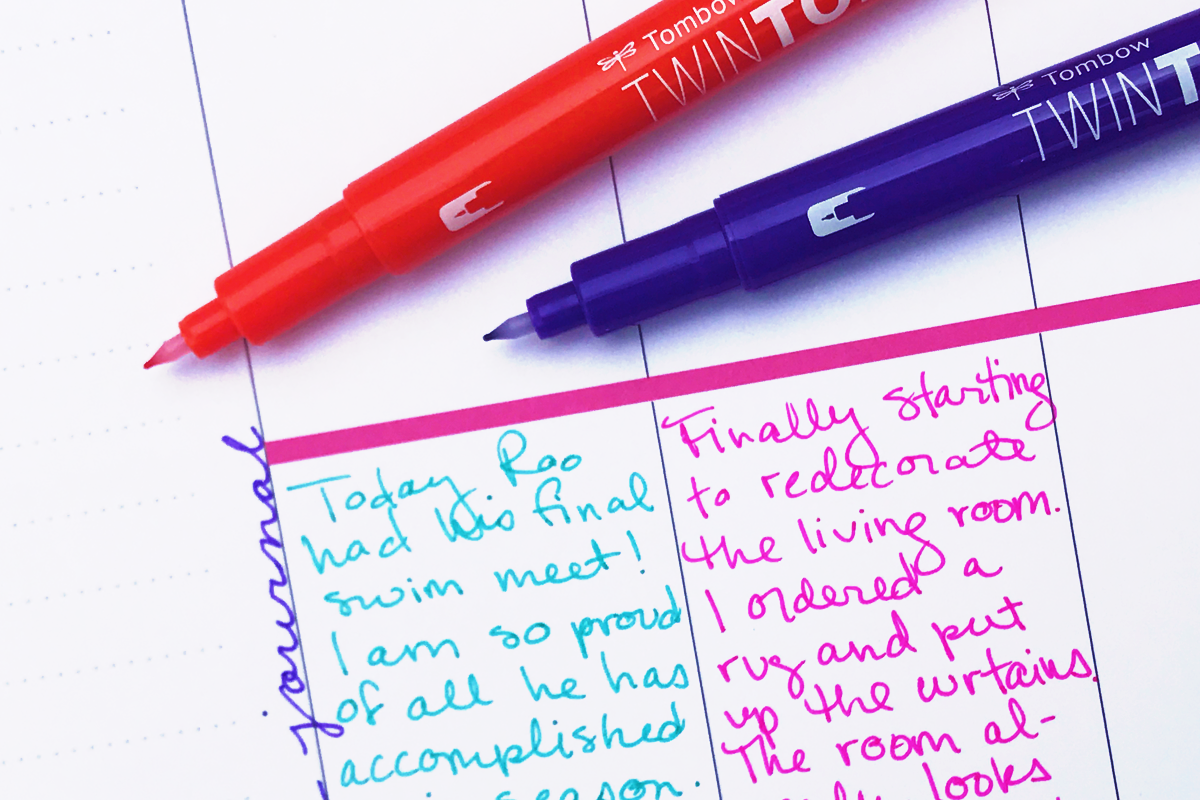 4. CUSTOM BANNERS AND DIVIDERS
Ever have the perfect spread coming together during your weekly planning sesh, but you don't have quite the right banner or divider stickers? Tombow's TwinTone markers to the rescue! Just doodle your own! It's easy and adds a fun, whimsical touch to your planner pages. With 24 colors in both bright and pastel colorways, you're sure to find a color combo that works for your style.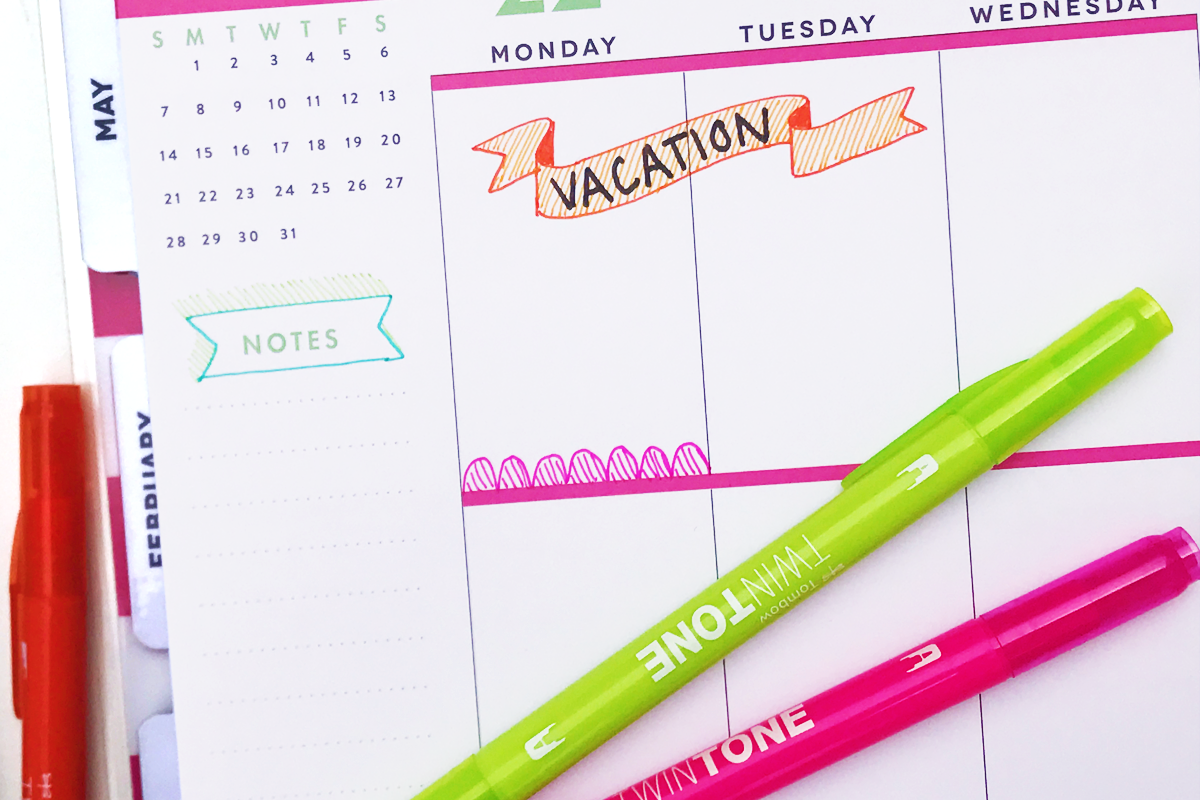 5. EASY CHECKLISTS
You don't have to stop at custom banners and dividers, you can doodle your own checklists too! If you like to plan as you go, this tip is for you. Doodle whatever shape you want in a vertical column to create your own checklist. I like drawing hearts! Again, choose colors that will go with your spread and feel free to make your checklists as long or short as you want. You're in charge and living your best checklist life, am I right?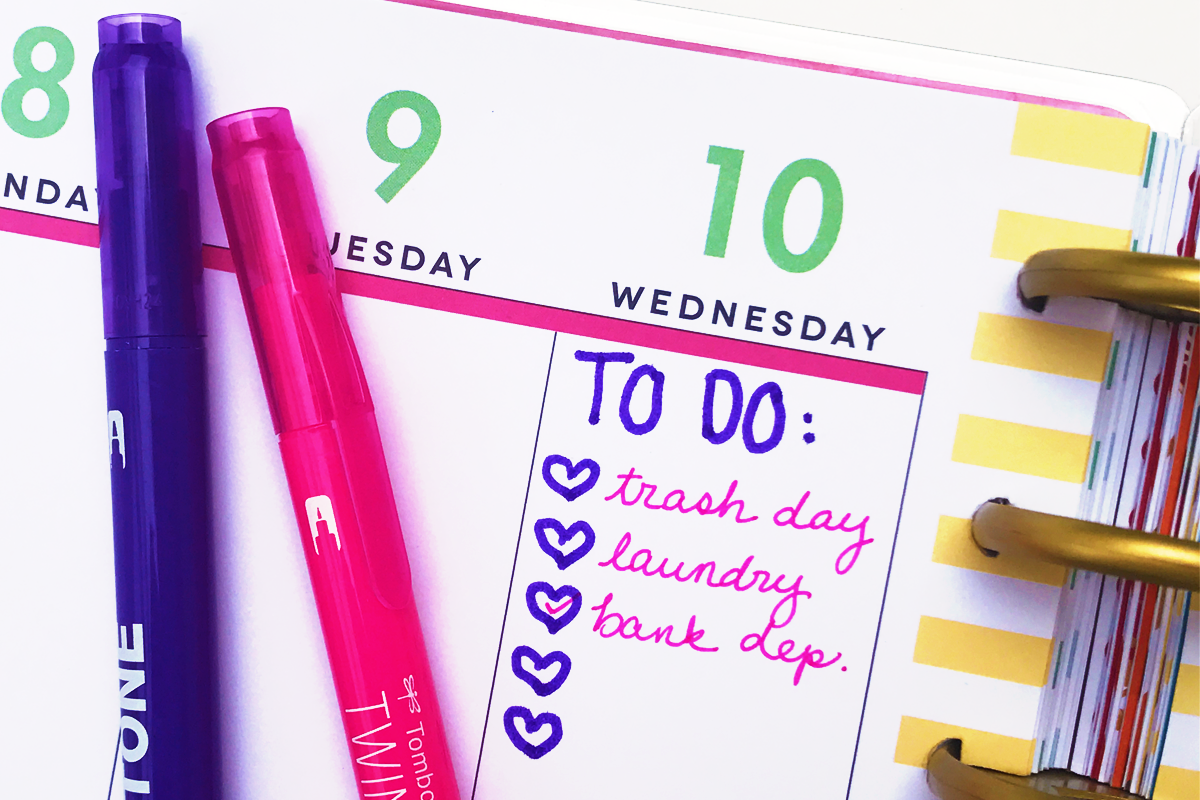 6. FUN LETTERING
Now, I'm definitely still a newbie at lettering, so if I can do this tip, literally anyone can. (Check out Lauren's post for gorgeous lettering inspo!) The dual tips of the TwinTone markers are great for lettering in your planner! My favorite technique at the moment is the one shown below. Use the bullet tip to write the main words of a quote, then write in the filler words of the quote with the extra-fine tip. Add some fun doodle-y bits to your lettering and you're set. This would be a great way to decorate some full boxes in your spread!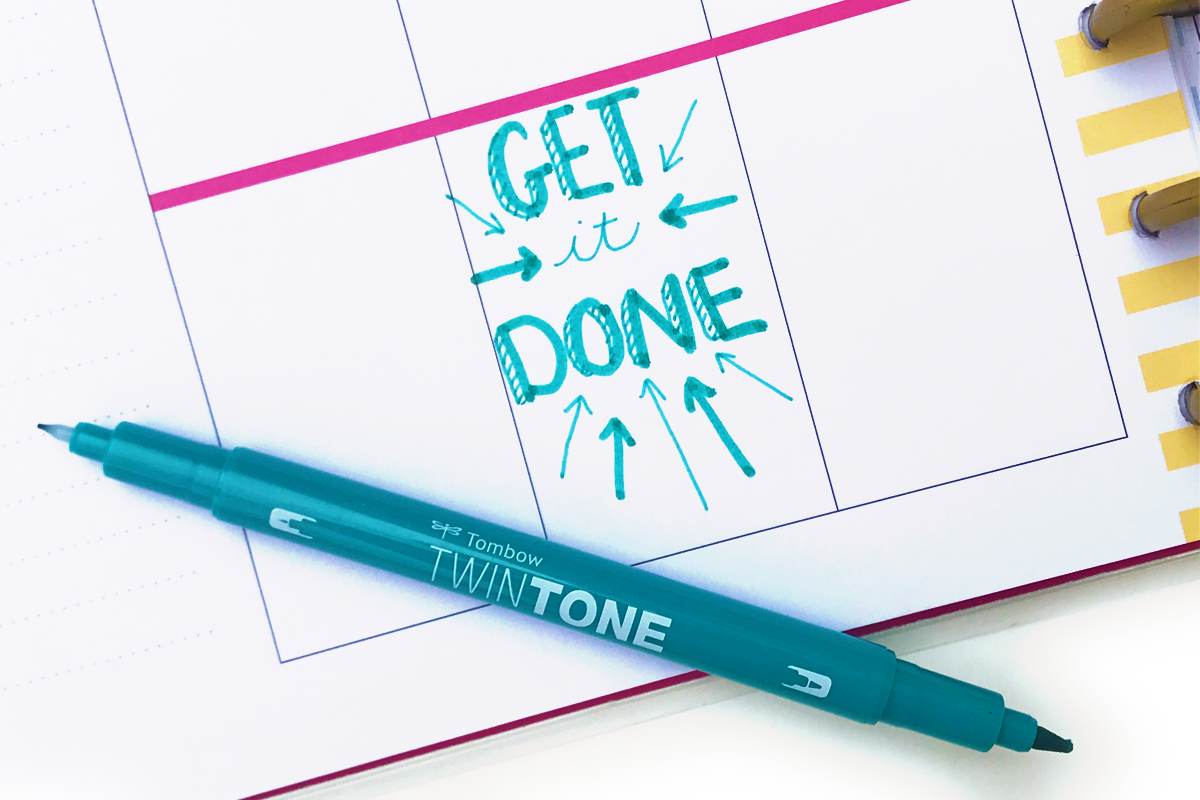 7. DOODLE ICONS
Oh, icons. I have a love/hate relationship with these little guys! Love them because #ohsopractical, but hate because I always run out of the exact ones I need. (Raise your hand if you know my feels!) Lately I've taken to just doodling in the ones I need. I can match them to the colors of my spread and practice my drawing at the same time. Plus it's quicker to draw a cupcake than to rummage through all of my icon stickers just to discover I'm fresh out of the pink ones I'm looking for. Yay for markers making my life easier!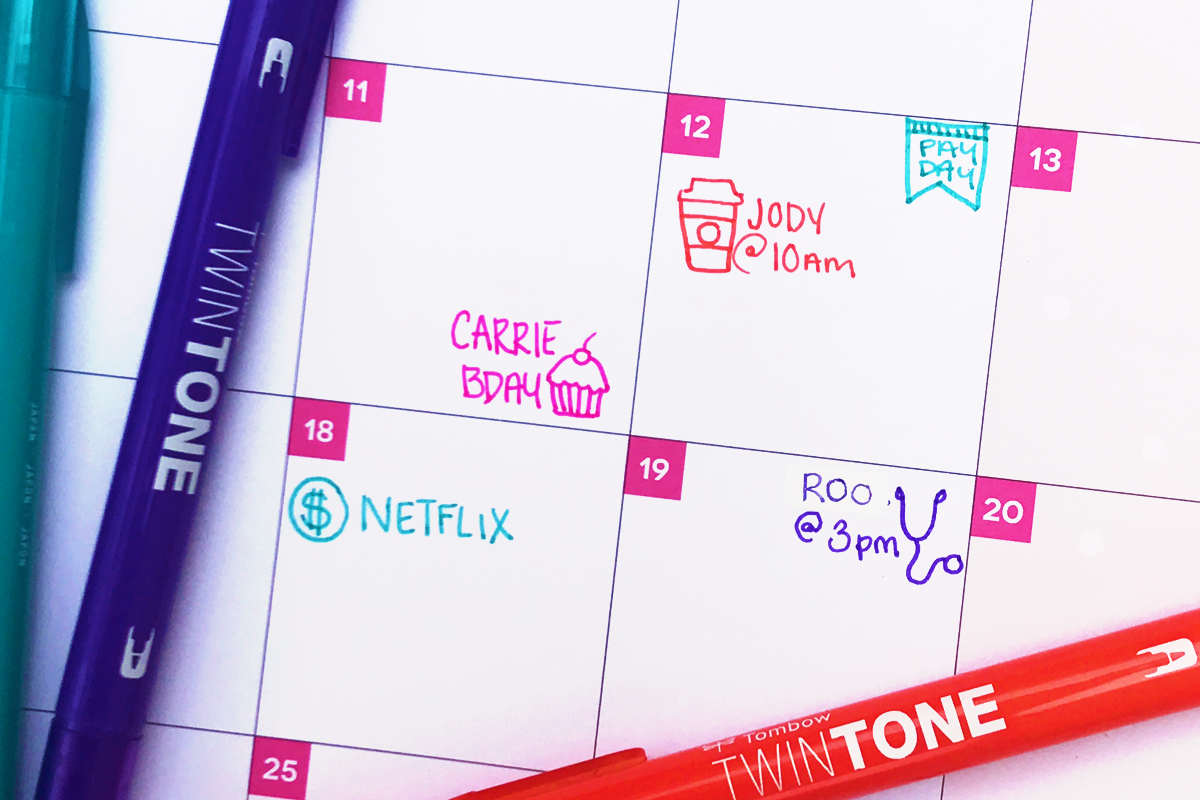 8. MEMORY KEEPING
Do you have a hard time using your monthly pages for planning? Use those pages for memory keeping instead! Use a Tombow MONO Twin Permanent Marker to write in big dates, then grab your TwinTones to draw and color in the squares. My family and I went away for a beach weekend, so I drew in palm trees, a little bit of ocean, and some seagulls to document our trip. It'll be fun to look back through this planner later, see my doodle, and remember all the fun we had.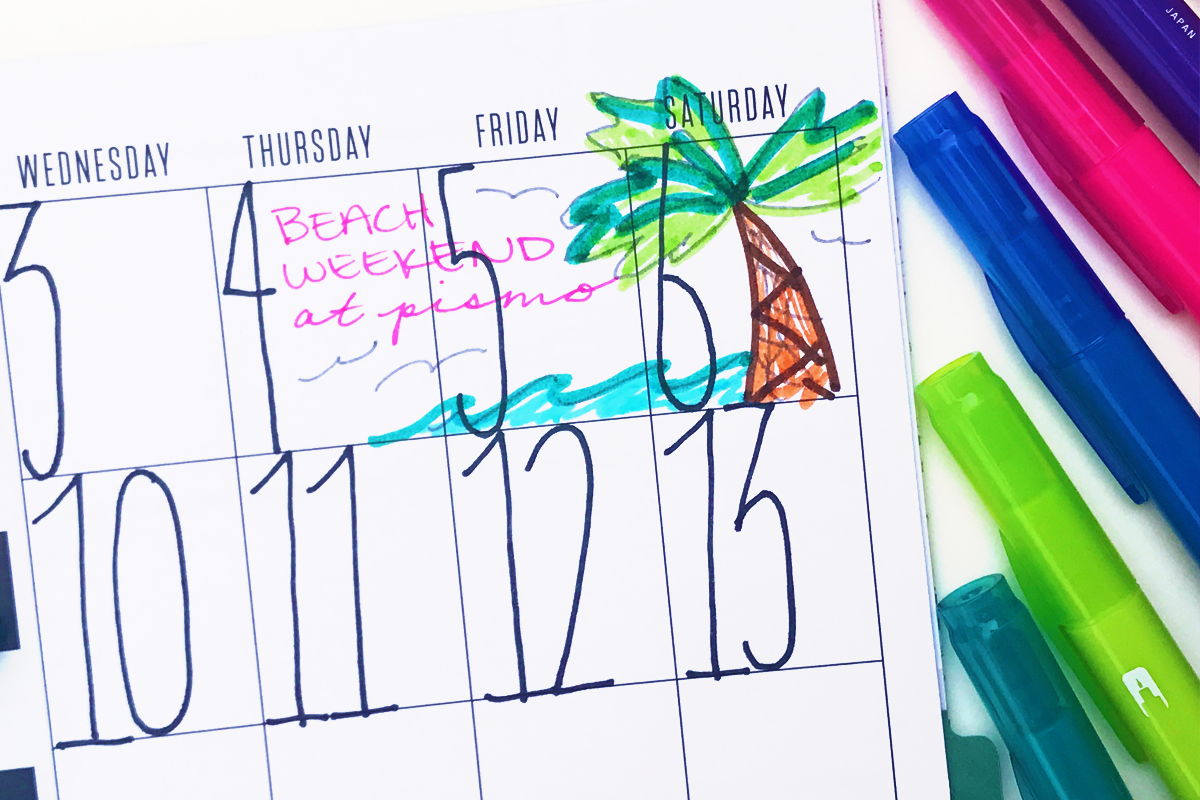 9. NOTES PAGES
Yearly trackers are my favorite way to use my planner note pages, but you can use the back pages of your planner in so many ways! Some other ideas include: favorite quotes in colorful lettering, a book or movie rating page with doodles of your favorites, a vacation savings tracker with a drawings of things you want to do, etc. Use the TwinTone markers to make your notes pages fun and colorful!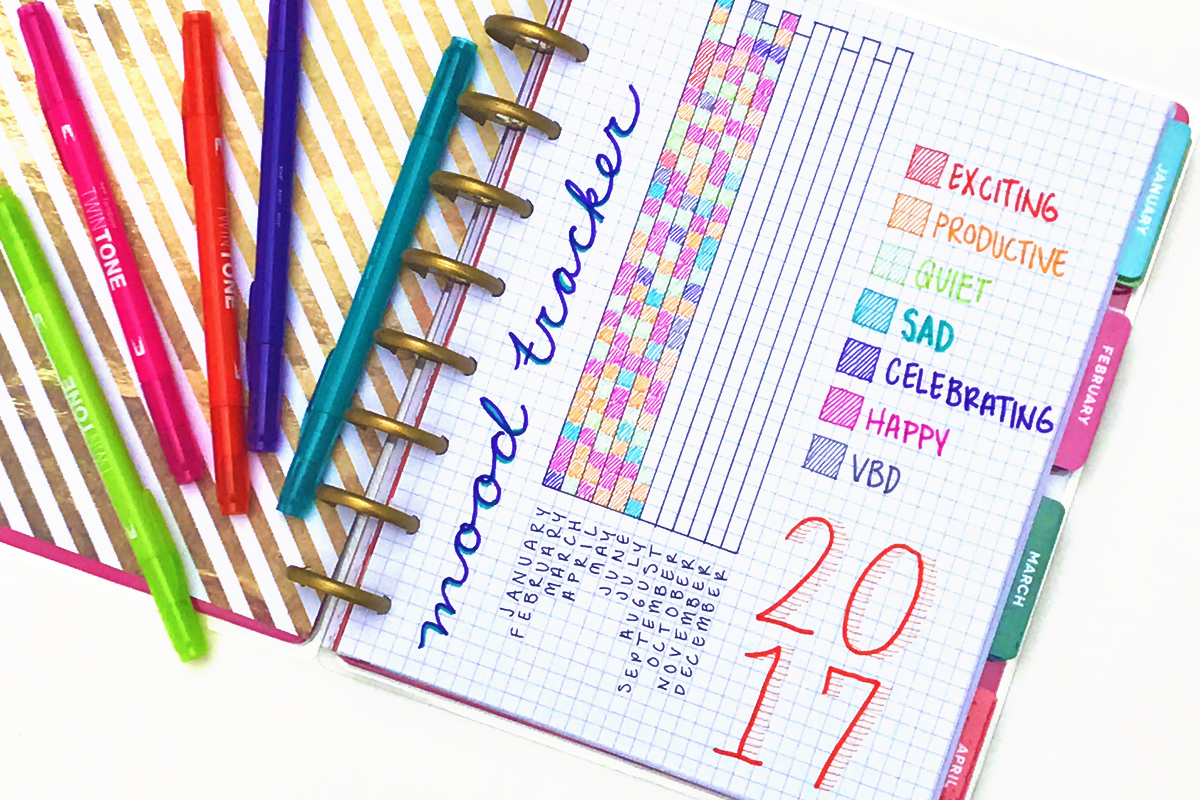 10. COLORFUL PLANNING
An easy way to emphasize important tasks and events is to use the TwinTone broad tip to scribble on your page, then write your task on top in black! It looks like a washi-highlighter combo and adds a fun pop of color to your planner pages. To add even more color to my pages below, I drew colorful hashmarks to divide up the days and tasks and doodled some happy hearts. So fun and colorful, and nothing but TwinTone markers on these pages! Make sure to see this post by Jennie for more colorful planning inspo!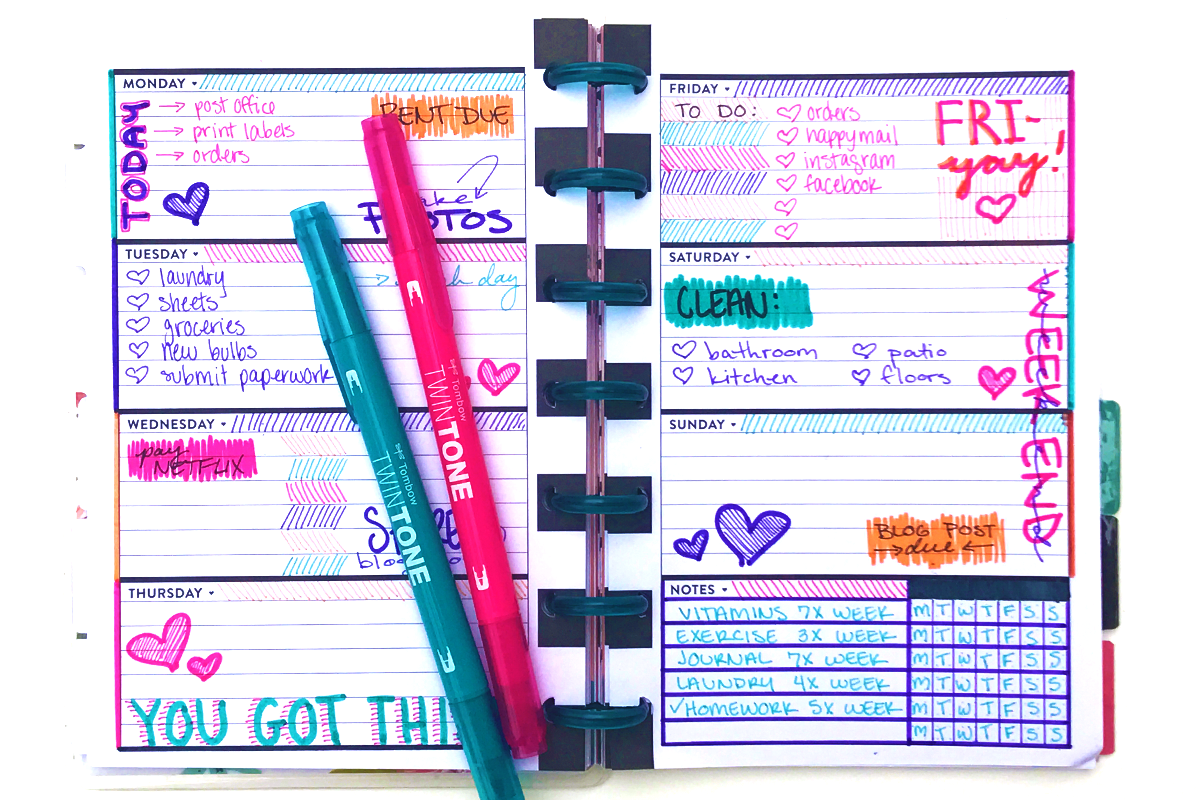 And that is it for today's post! I hope you found some helpful and inspiring ways to add color and functionality to your planner! I love the dual tips of the new Tombow TwinTone Dual Tip Markers and can see them being featured in many more of my planner spreads. Happy planning!