Happy almost Easter!  Beth here on the blog today to share my tutorial on how to marble paper with the Tombow Blending Kit!  Such a quick and easy technique that gives fabulous results every time – I love a foolproof project, especially one that looks so professional!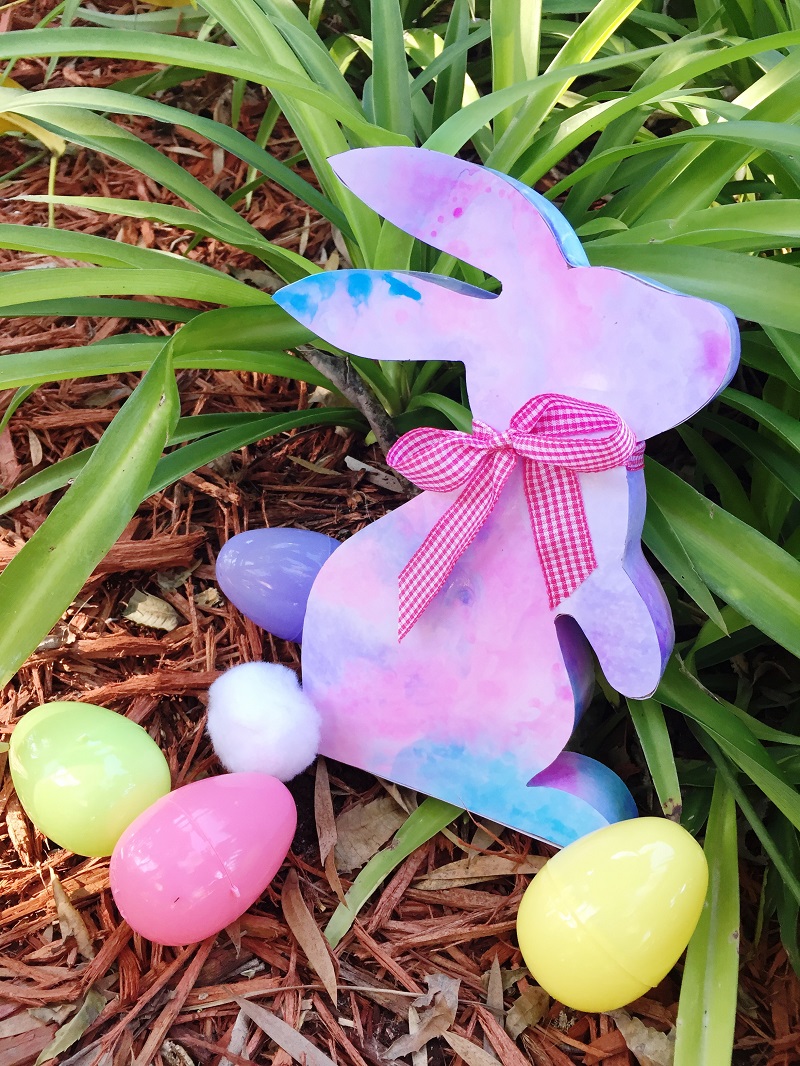 The Tombow Blending Kit includes a Blending Palette, Dual Brush Pen Blender N00, Mister and instruction guide with techniques and project ideas.  It is so versatile!  Stop by the blog each day this week to discover all of the unique ways the design team has dreamed up to highlight the Tombow Blending Kit.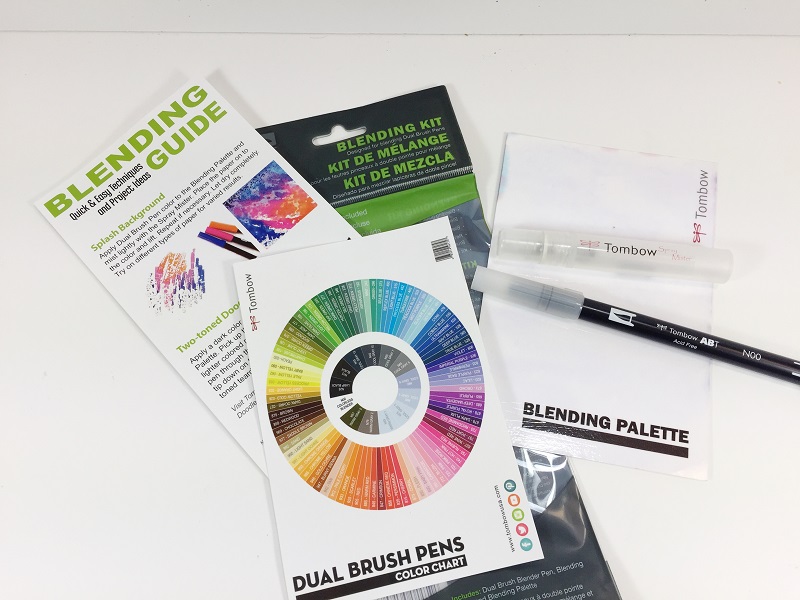 STEP ONE:
Select three colors of Tombow Dual Brush Pens.  I selected 443, 606 and 743 which happens to be one of my favorite color combinations!  Scribble in a random fashion on the Blending Palette making sure to blend and overlap the colors.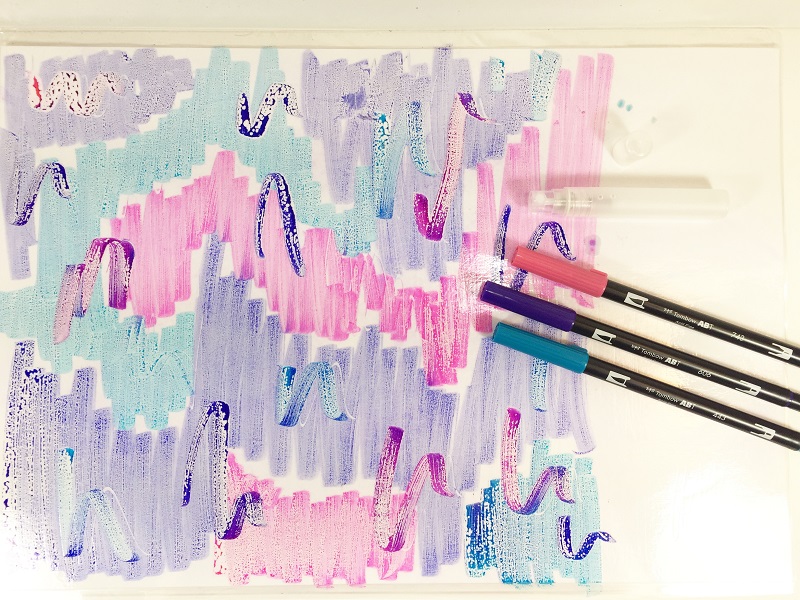 STEP TWO:
Spray the scribbles with the Tombow Mister making sure that the Blending Palette is saturated. Place glossy INKJET photo paper shiny side down into the misted scribbles, twisting and then lifting to reveal the MARBLED MAGIC!  If there are any sections that did not retain color, simply press the blank portions in the residual puddles of delicious color!
STEP THREE:
Repeat as many times as possible – mainly because this is such a FUN technique! The result is different each time.  Experiment with the colors, but make sure to use medium to dark tones to create the deepest and most vibrant marbled papers!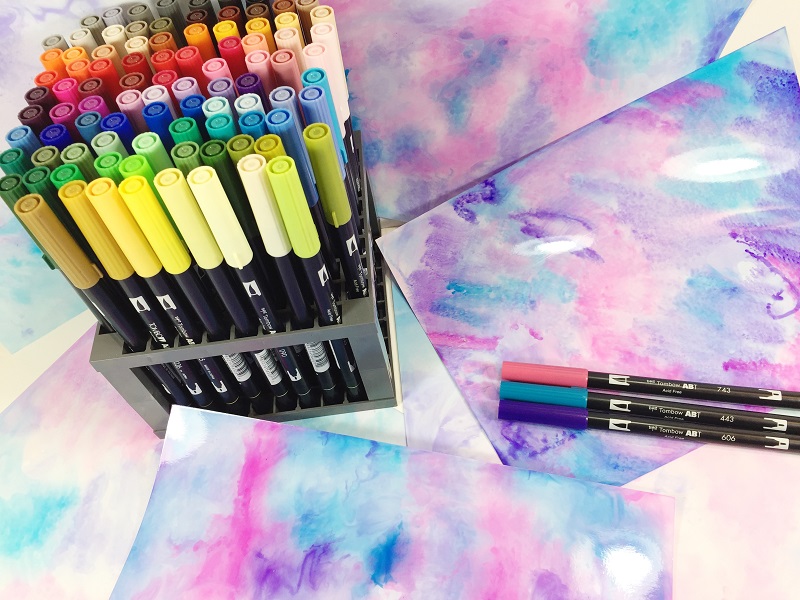 STEP FOUR:
The colors I selected reminded me of Easter, so I grabbed this cute bunny from my stash and decided to jazz him up!  Trace outline of bunny onto plain paper with Tombow MONO Drawing Pencil F.  Cut out with a craft knife on a self healing mat.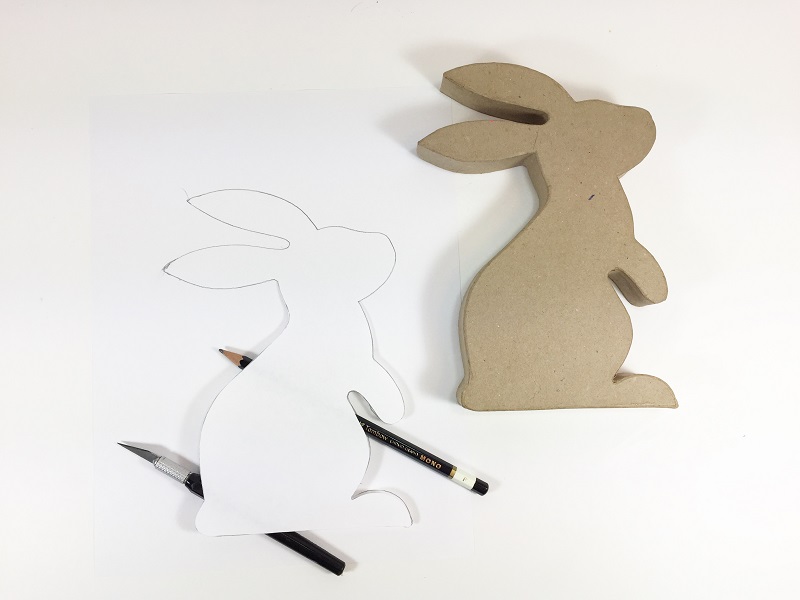 STEP FIVE:
Using the negative image place on marbled paper and move around until you find the perfect combination of colors.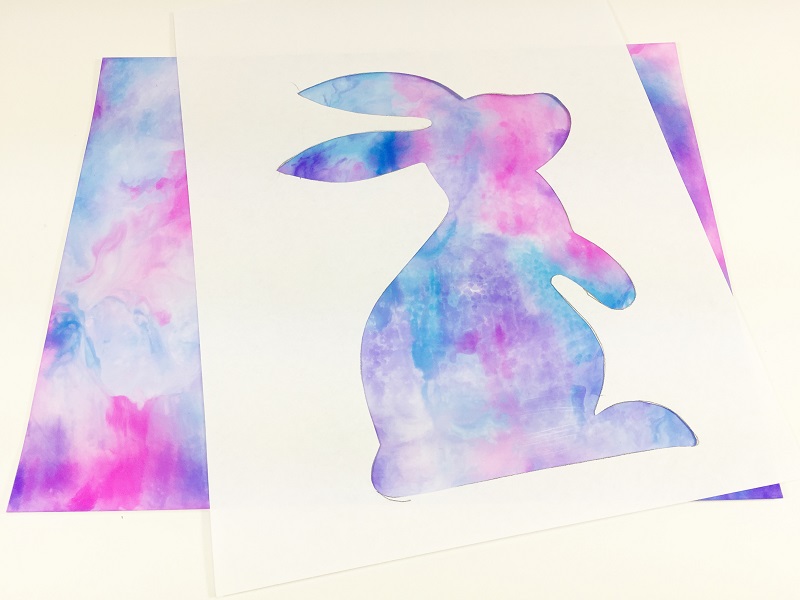 STEP SIX:
WARNING!  This step is what NOT to do with the glossy photo paper! I wanted to temporarily attach the positive bunny image onto the glossy photo paper with Tombow MONO Removable Adhesive.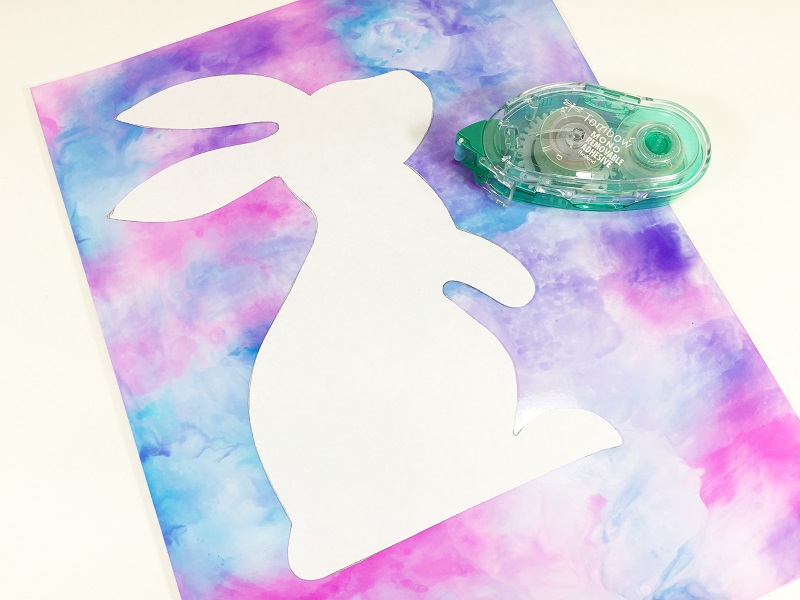 Once I lifted up the pattern, the adhesive that I placed on the pattern stuck to the glossy photo paper – CRAFT FAIL! You can see it in the photo below.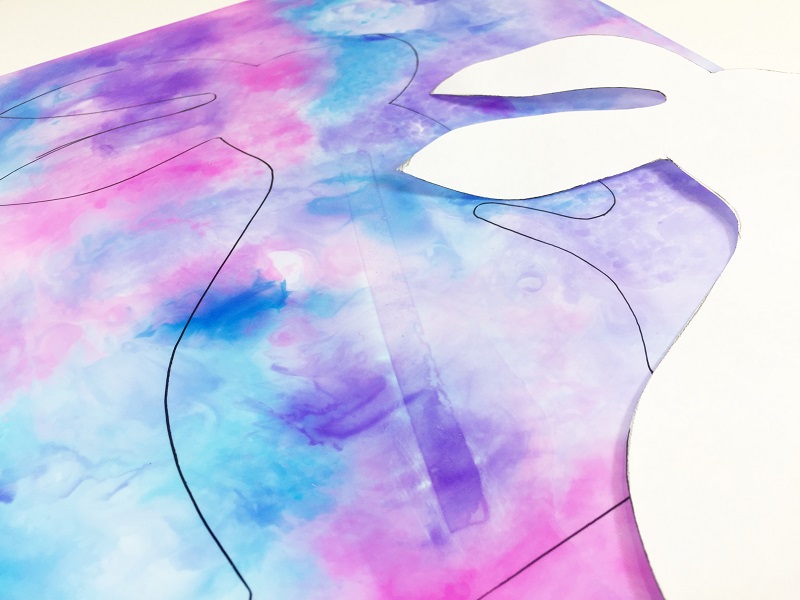 STEP SEVEN:
Hold the positive bunny pattern down on the marbled paper and outline with Tombow MONO Twin Permanent Marker. Cut out with craft knife on a self healing mat, making sure to cut inside the outline.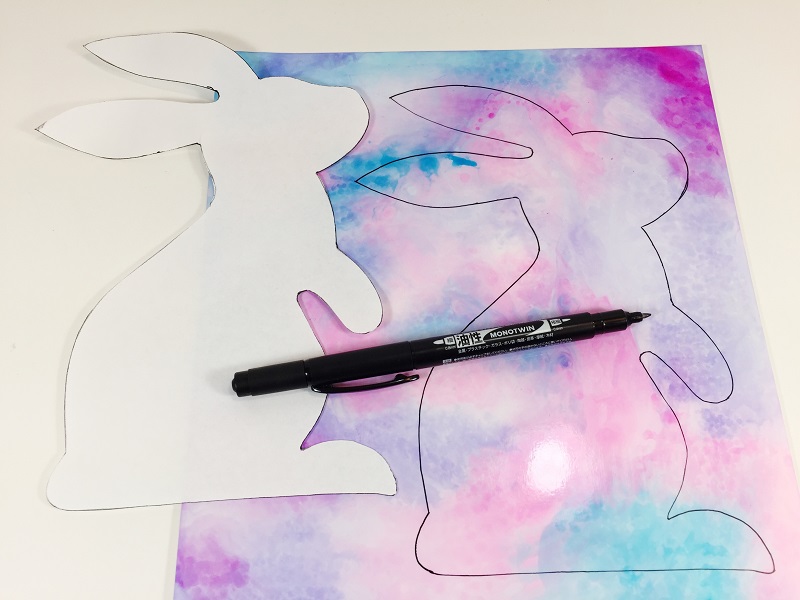 STEP EIGHT:
Measure the edge of the bunny and cut several strips of marbled paper with a paper trimmer. Apply to the edges with Tombow MONO Aqua Liquid Glue. It has a quick grab, then dries tight and clear!  Perfect for all of your paper crafting!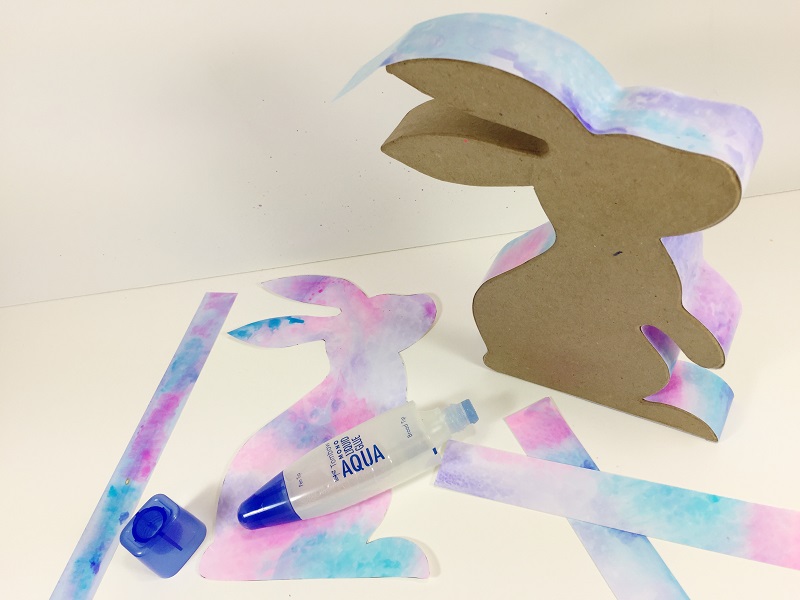 STEP NINE:
Apply bunny outline to base with MONO Aqua Liquid Glue.  Attach large white pom pom to bunny tail and tie pink checked ribbon in a bow around the bunny's neck to finish.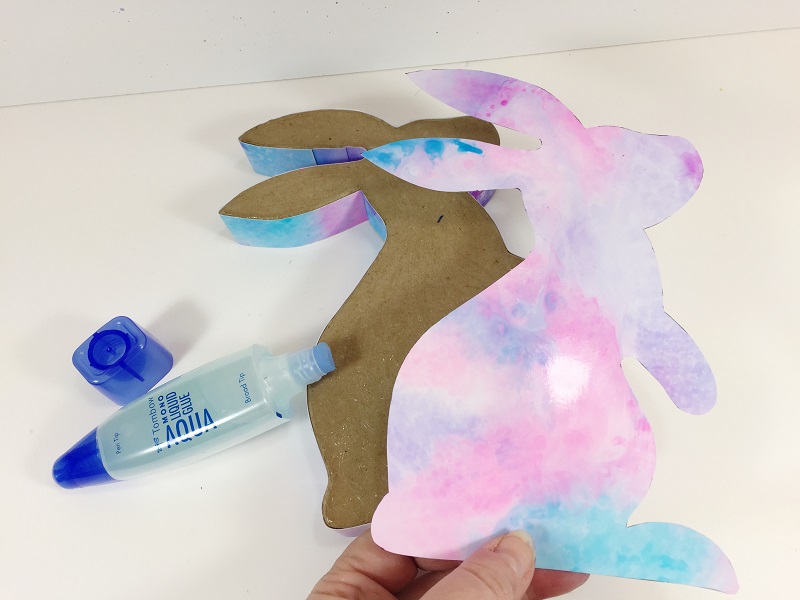 The marbled paper is so versatile, it can be used for three dimensional projects like this one, to make cards, scrapbook layouts or could even by die cut and turned into embellishments.
I HOP, I mean HOPE that you have enjoyed my how to marble paper with the Tombow Blending Kit project today and that you will use this technique in your Easter and Spring projects.  Just tag @TombowUSA or use #TombowUSA when you post on social media!