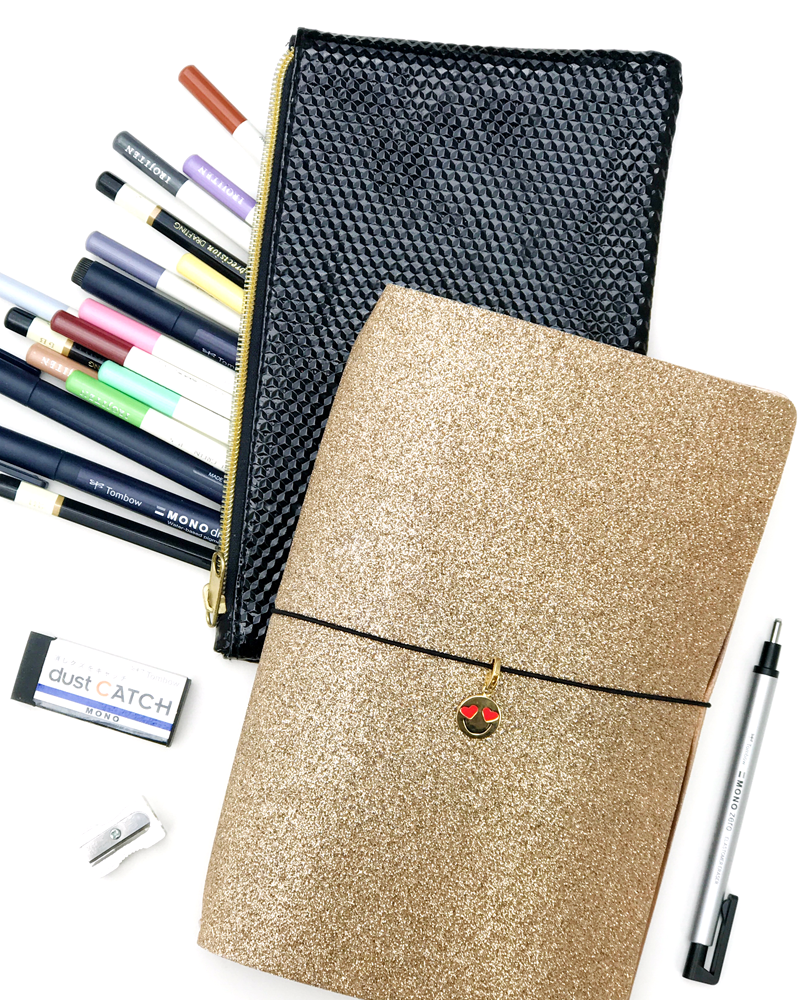 Hey y'all, it's Dani from @popfizzpaper! I'm a big fan of drawing and doodling on the go, so today I'm sharing a peek into my Travel Drawing Kit. Keep reading to see my favorite supplies!
PENCILS
Tombow MONO Drawing Pencils are the best! They have high quality graphite that is sturdy and long-lasting, making them perfect for your travel drawing kit. My favorite pencil grades for on-the-go are the 5B, F, and 2H. I find these three pencils in particular give me enough range to create depth of color and a variety of line weights.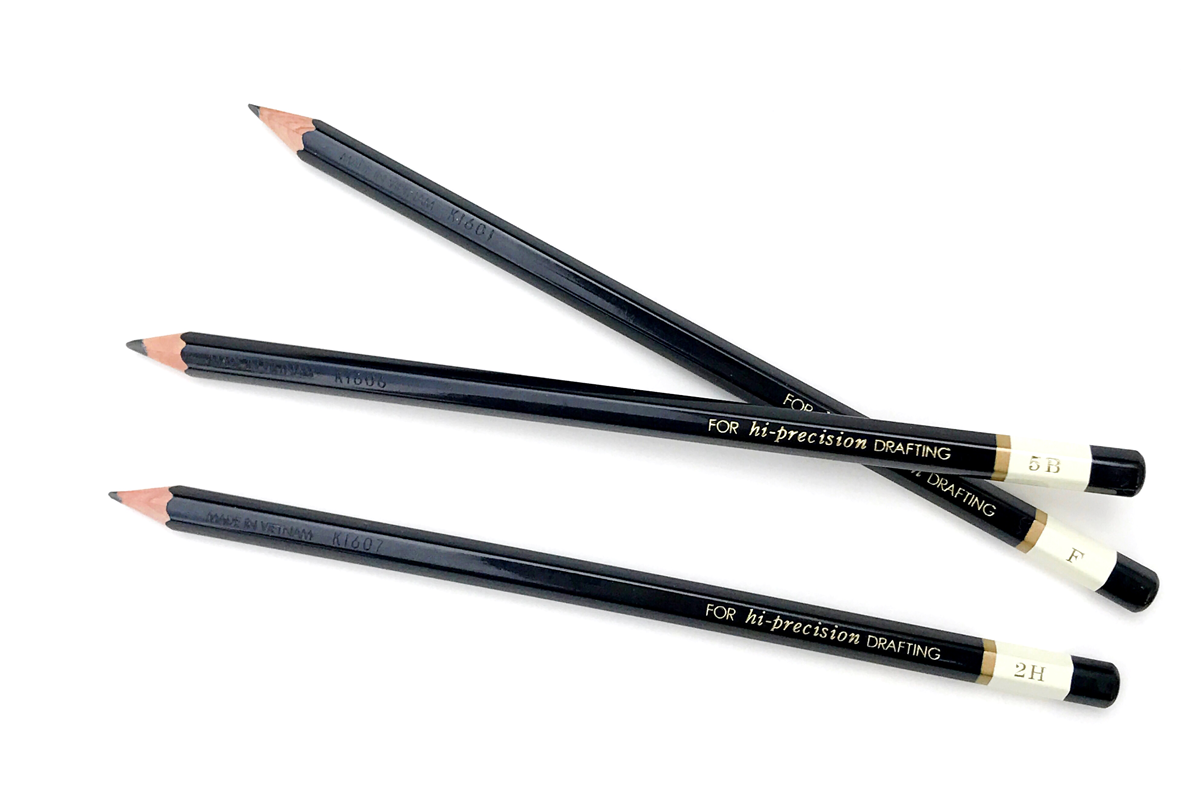 SHARPENER & ERASERS
You can't draw for very long if you have nothing to sharpen your pencils, right? I like to toss the small sharpener that came in the MONO Drawing Pencil Set into my supply pouch. While it's small, it's powerful and gets the job done.
For erasers, I like to have at least two on hand. The Tombow MONO Dust Catch Eraser is a definite favorite! I love that it doesn't leave a mess behind when I (inevitably) make a mistake. It's also a good size while still also being compact, making it perfect for a travel drawing kit.
Another top choice of mine is the Tombow MONO Zero Eraser. It's a refillable precision tip eraser in a pen-style body that is amazing for detailed erasing. I prefer the rectangular tip, but it also comes in a round tip – pick the one you like for your drawing kit (or both!).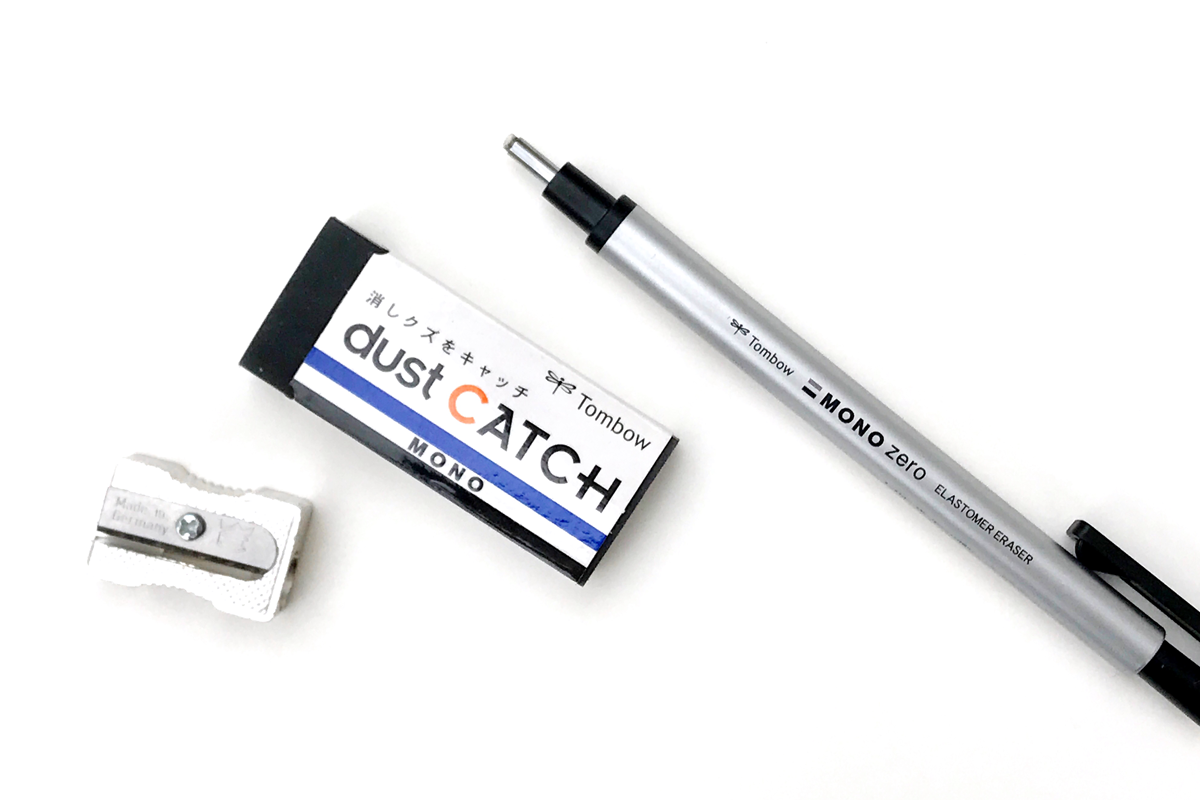 COLORS
While I adore my Tombow Dual Brush Pens, I actually prefer to keep colored pencils in my travel drawing kit. The Tombow Irojiten Adult Coloring Set in Tranquil comes with beautiful colors that are perfect for on-the-go. The pencils themselves are lightweight and the colors blend wonderfully. Their super saturated pigment is so fun to color with! The colors lend themselves perfectly to natural surroundings, which is where I do most of my on-the-go drawing.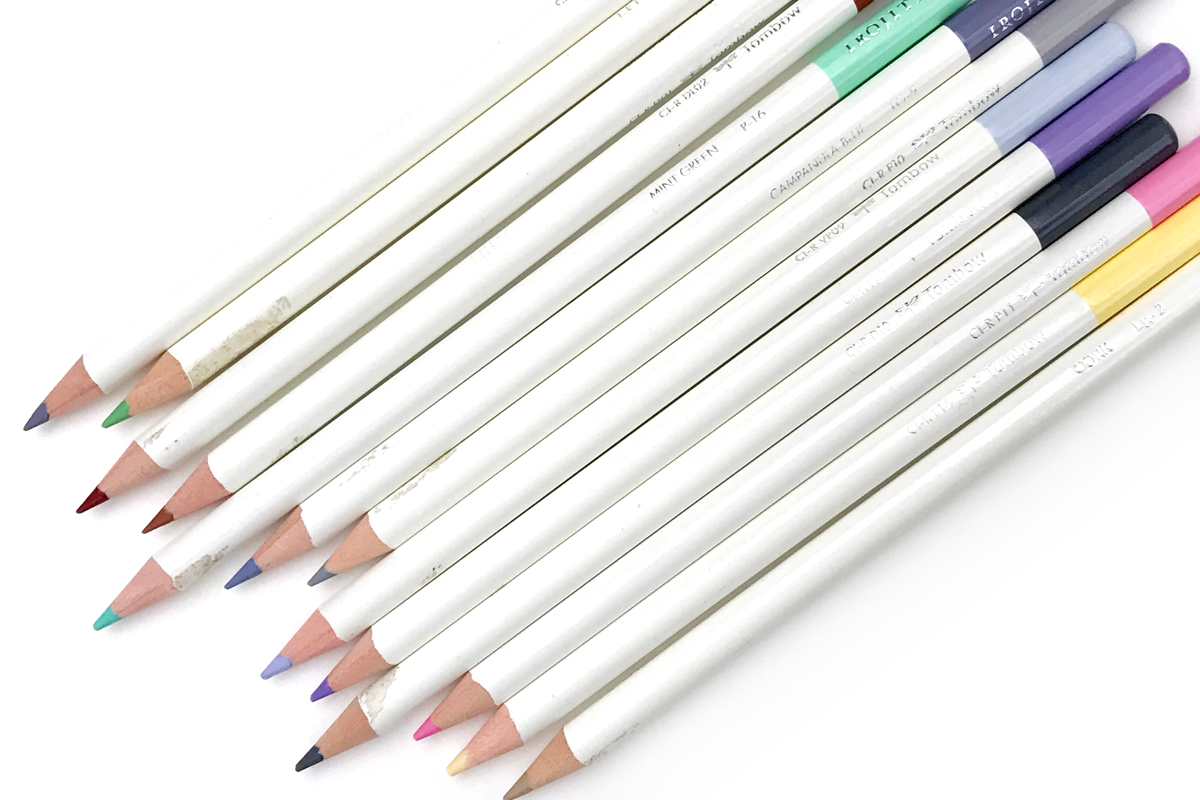 PENS
I am so excited to share with you the newest addition to my travel drawing kit: the new Tombow MONO Drawing Pens! When I draw, I first sketch out my design in pencil, rework it until it's just right, then go over my finalized design with ink pens. I'm always on the lookout for high quality pens in a variety of point sizes to finish my drawings. These MONO Drawing Pens are the perfect solution! I love that they come in 05, 03, and 01 sizes, which are the sizes I always reach for the most. I am so excited that Tombow has created these!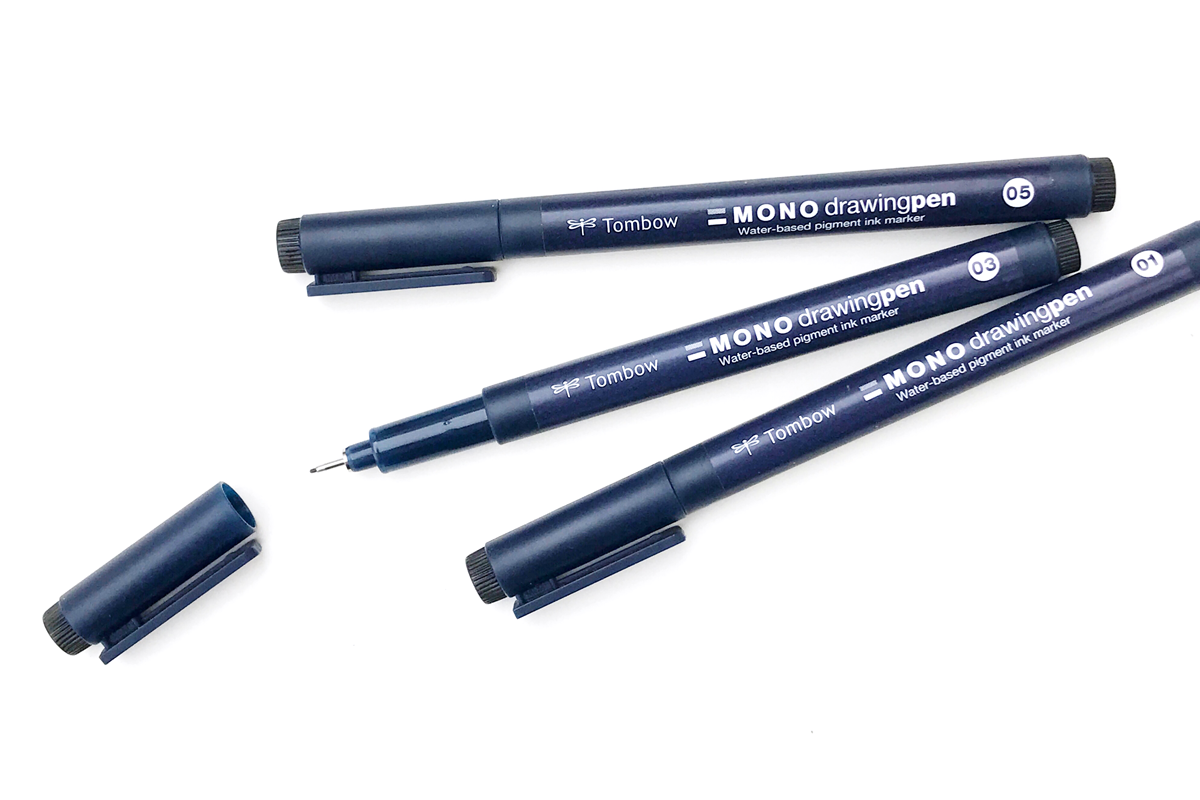 Below I've doodled a quick little flower to give you an idea of how beautifully the MONO Drawing Pens pair with the Irojiten Colored Pencils. With the dark black ink of the pens and the pretty, soft colors of the pencils, you can easily create interesting and dynamic drawings. For me, this means playing around with line weights and colors to create areas of emphasis and fun details in my drawings. These pens are perfect for any artist's travel drawing kit and I can't recommend them enough!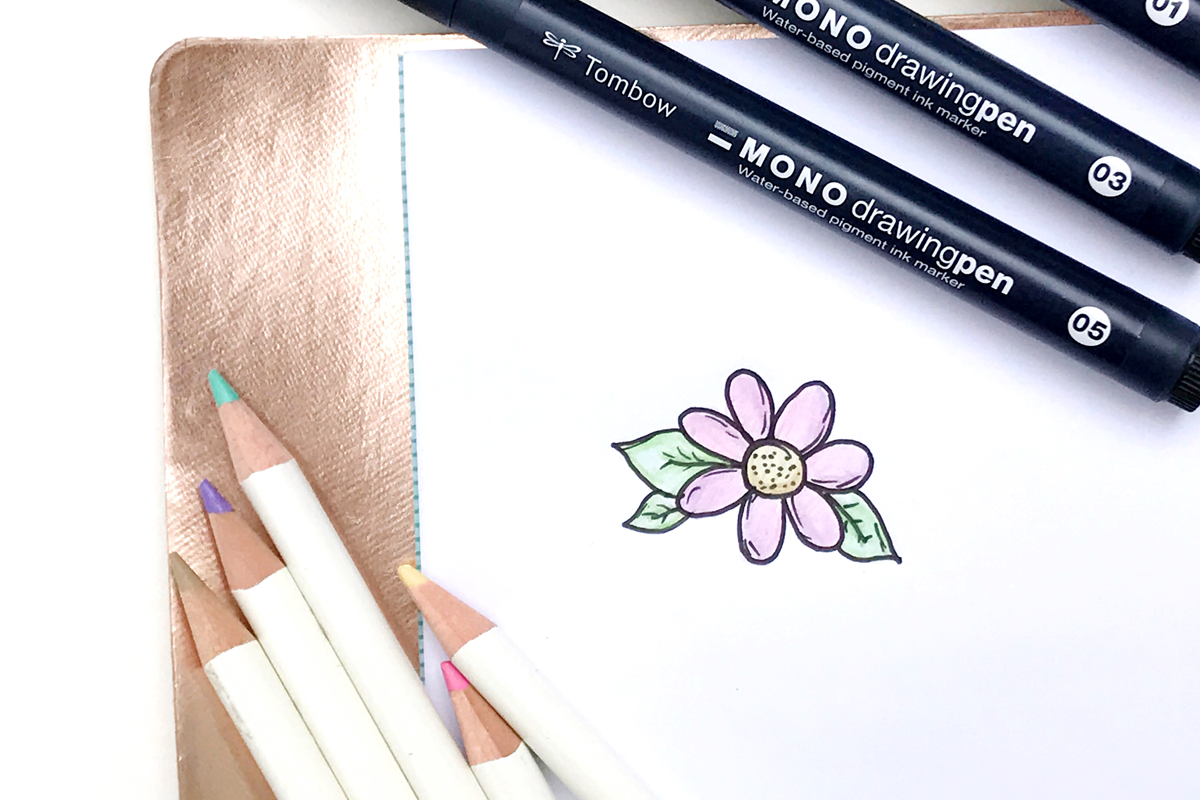 POUCH & NOTEBOOK
I use the black pouch below to hold all of the supplies I love. It was a gift with purchase, but I'm sure you have a small bag or pouch lying around that would work well for holding your own travel drawing kit. I like using this one because it has a long zipper that makes it easy to get everything in and out quickly. My pouch also fits perfectly inside my traveler's notebook, making it super easy to carry around.
My traveler's notebook is one of my favorite things ever! It's gold, it's glittery, it has a heart eye emoji charm. Pretty much if I, Dani, was a traveler's notebook, this would be me. But even more importantly, it holds my on-the-go sketchbooks! I rarely create large drawings, so a travel size notebook is perfect for my needs. I also tend to fill up sketchbooks quickly, so being able to swap out used ones for blank new ones is awesome!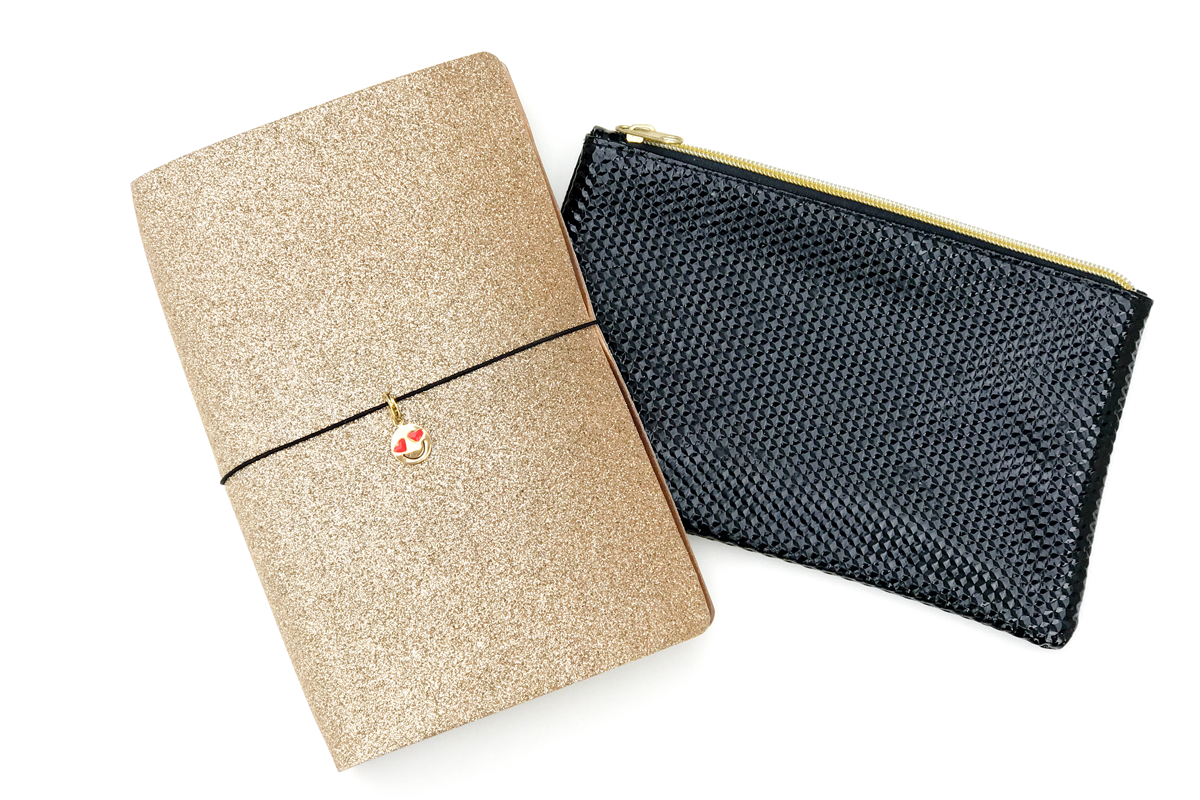 And that is it for today's post! I hope you enjoyed my tips and recommendations for creating your own travel drawing kit. Happy drawing and I'll see you next time, friends!