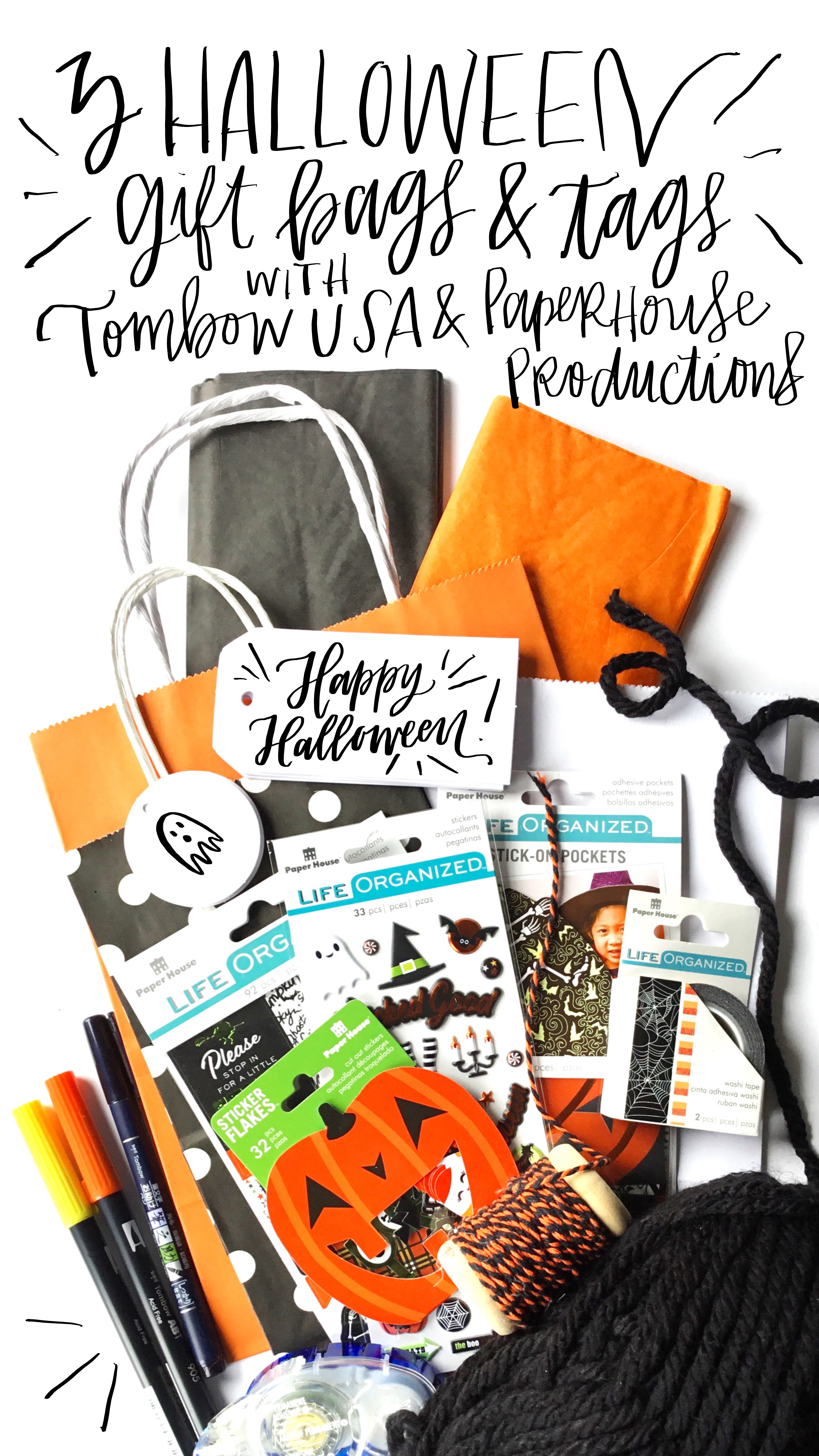 Halloween is almost here and these 3 festive gift bags and tags, made with amazing products from Tombow USA and  Paper House Productions, are perfect to fill with treats for the spooky holiday! Hey, lovelies! It's Lauren Fitzmaurice of Renmade Calligraphy back to share another fun tutorial with you.  This week, the design team is using some fun halloween products sent to us from our friends at Paper House Productions (thanks, guys!). These bags are perfect for any Halloween celebration.
WHAT YOU'LL NEED
Gift bags, tissue paper, paper tags, and twine or yarn
BAG 1: SPOOKY STICKER COLLECTION
Paper House Productions has some fabulous Halloween themed stickers and washi tape that are perfect for collecting all over the side of the bags and tags.  To start, mix some of the Wicked Good 3D Stickers, the Halloween Sticker Flakes, and the Halloween Planner stickers around one side of the bag.  At the top and bottom of the bag, add some layers of Paper House Productions Washi Tape.  Letter a fun phrase on the tag with the Tombow Fudenosuke Hard tip Brush, add some string to the tag and handles and then use Tombow MONO Permanent Adhesive + to add adhesive to attach the tag.  Throw in a complementary color of tissue paper, and you have the fun spooky sticker collection bag!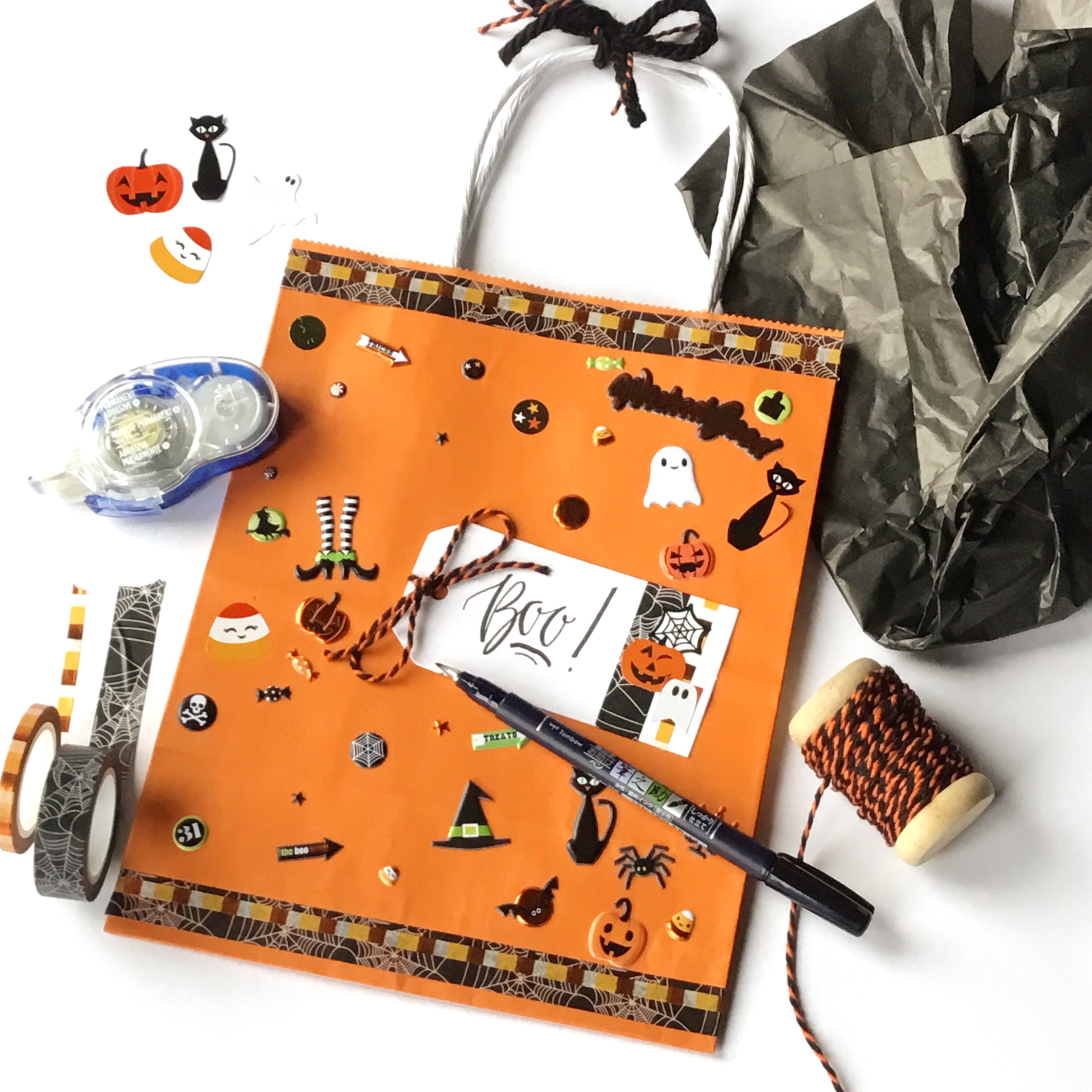 BAG 2: WITCHIN' WASHI
Start with a small treat bag.  Add striped embellishments to the side of the bag using the Halloween Washi Tape and stickers from the Halloween Planner Sticker pack.  At the bottom of the bag, add lettering with orange and yellow Tombow Dual Brush Pens and the Tombow Fudnenosuke Hard Tip Brush Pen. Add a bow of the twine with the Tombow MONO Pemanent Adhesive +.  This bag is perfect to use for small treats.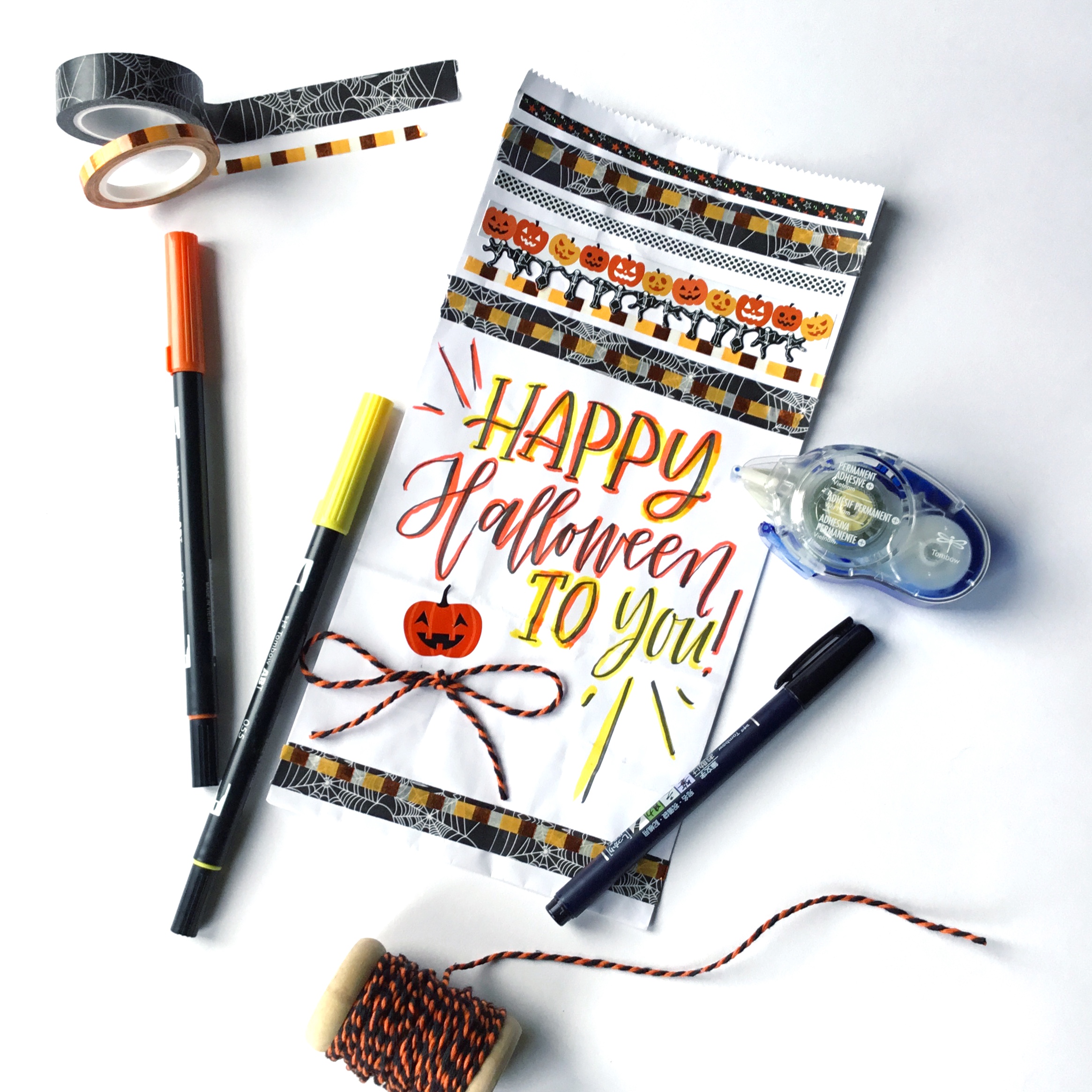 BAG 3: POCKETFUL OF TREATS
Add a Halloween Stick on Pocket to the front of a polka dotted or patterned bag.  Create a lettered tag using Tombow Dual Brush Pens to create a candy corn efffect and the Tombow Fudenosuke Hard TIp Brush Pen to add a pattern to the test.  Use Tombow MONO Permanent Adhesive +. Add fun stickers or candies into the pocket and you have a super fun gift that's sure to bring smiles on the holiday.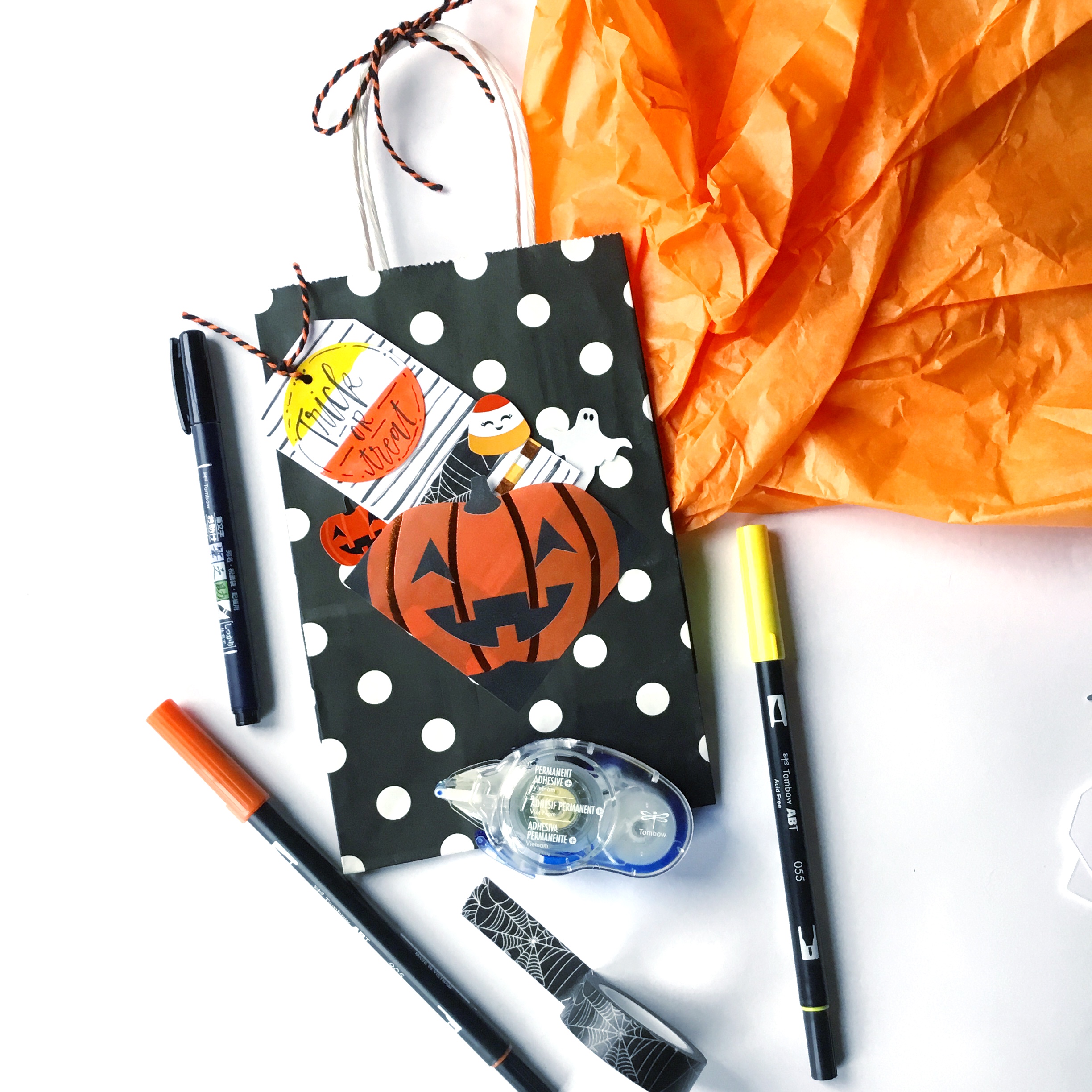 TRICK OR TREAT…. CREATE SOMETHING NEAT!
And there you have it: three fun and simple ways to jazz up some colorful Halloween bags.  There are so many options! How will you create yours? For more information about the fun products used here, check out Tombowusa.com and PaperHouseProductions.com.  Say hello to me over on Instagram at @renmadecalligraphy and for more craft and calligraphy tips and tricks check out renmadecalligraphy.com.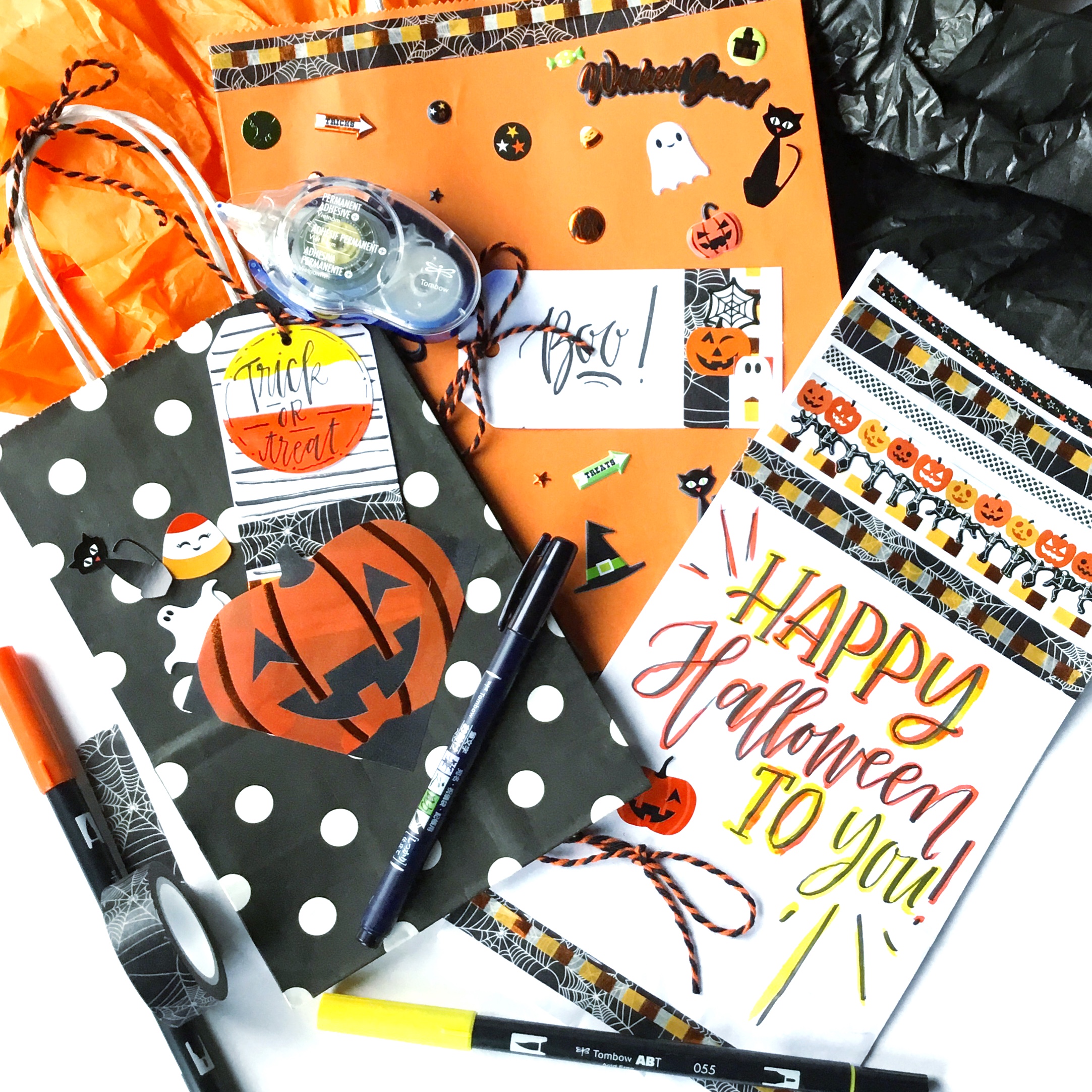 Happy Halloween…almost!