Hello friends, it's Smitha here with a new blog post! It's the month of love and I have 3 quick DIY Mini Valentine Card ideas to share with you today and all of them using glue!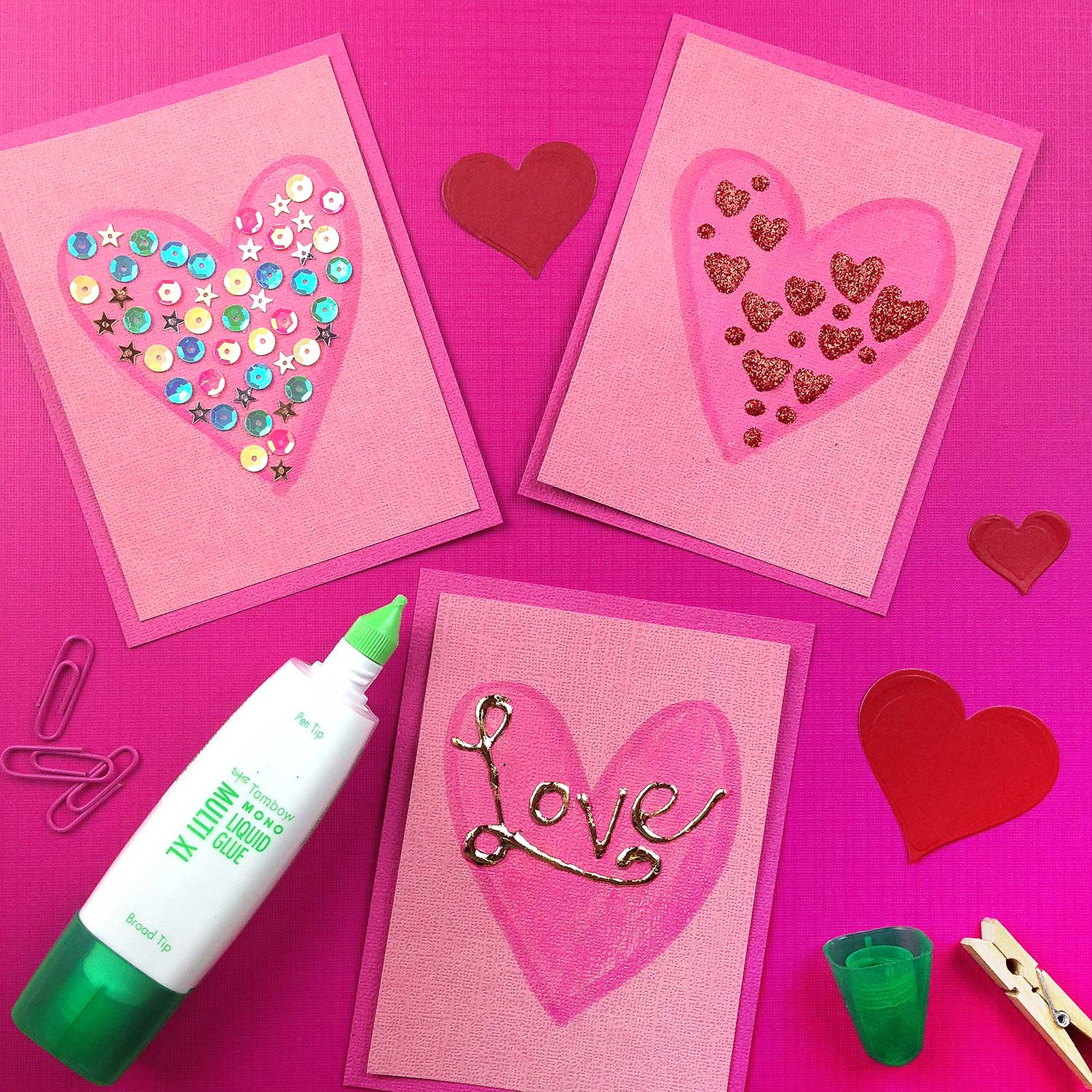 Material list:
Glitter
Sequins
Gold Foil
Cardstock or premade cards
1. Create a Card Using Glitter + Glue
Glitter is one of those craft supplies that we all have a jar of at home. It might be a tiny jar, but it never gets empty. And I am always looking for ways to use some glitter in my crafting! Today I used the MONO Multi XL Liquid gGlue to draw a few tiny hearts within my colored heart. This glue comes with a really nice pen tip that allows for such intricate details. I also added a few dots to fill in my heart. Then I poured my glitter over and tapped the back of the card gently to remove the excess glitter. Simple and easy and it's so much fun playing with glitter!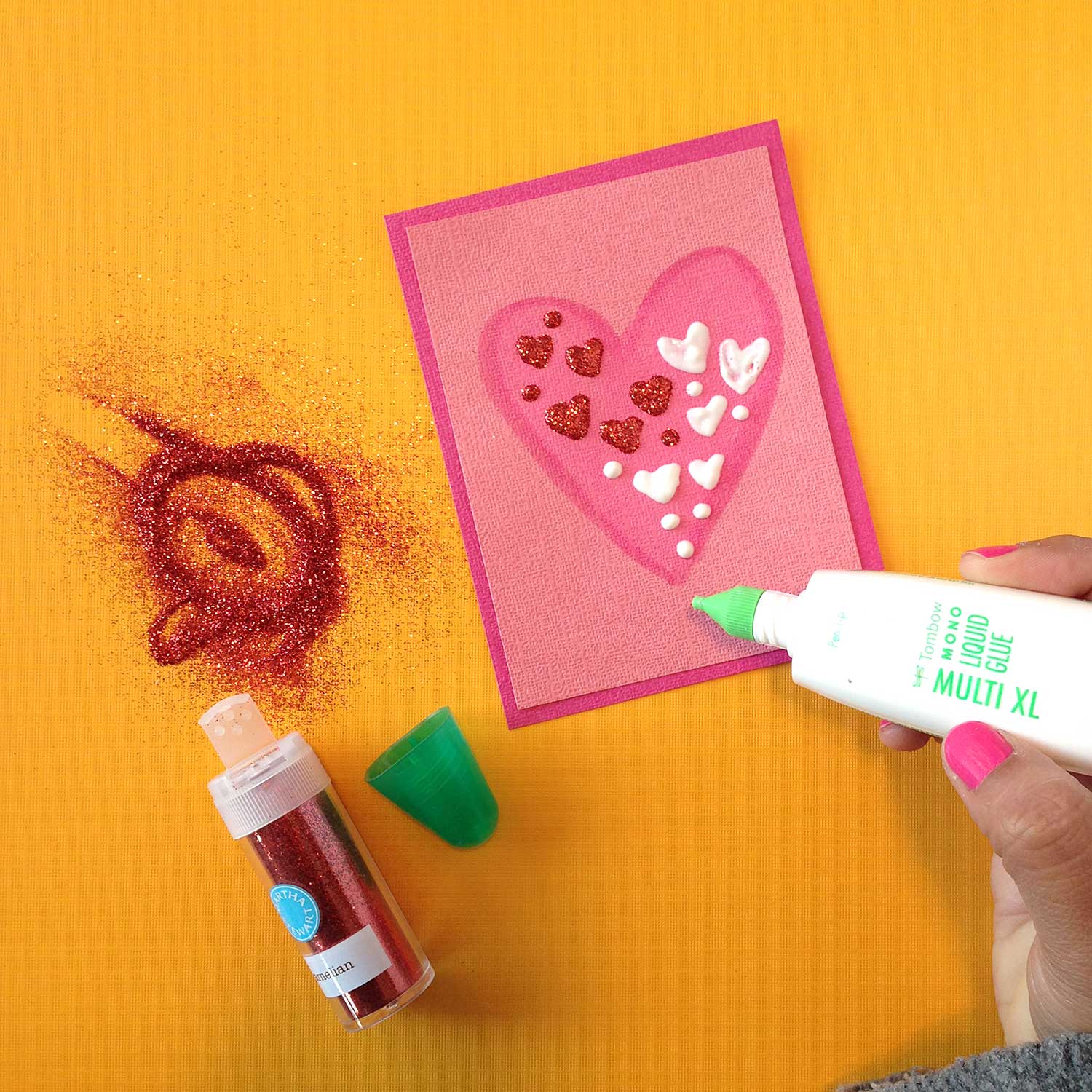 2. Create a Card Using Sequins + Glue
If glitter is too messy for you, sequins are a great way to add that shine and sparkle to your card front. Simply add tiny dots of the MONO Multi XL Liquid Glue to fill in the heart shape and then lay the sequins on top. You really just need the tiniest amount of the glue, you don't want the glue to squirt out from under the sequins. And this glue dries nicely and forms a great bond with the sequins! You can also use this same idea to glue down tiny gems, enamel dots, buttons etc instead of the sequins.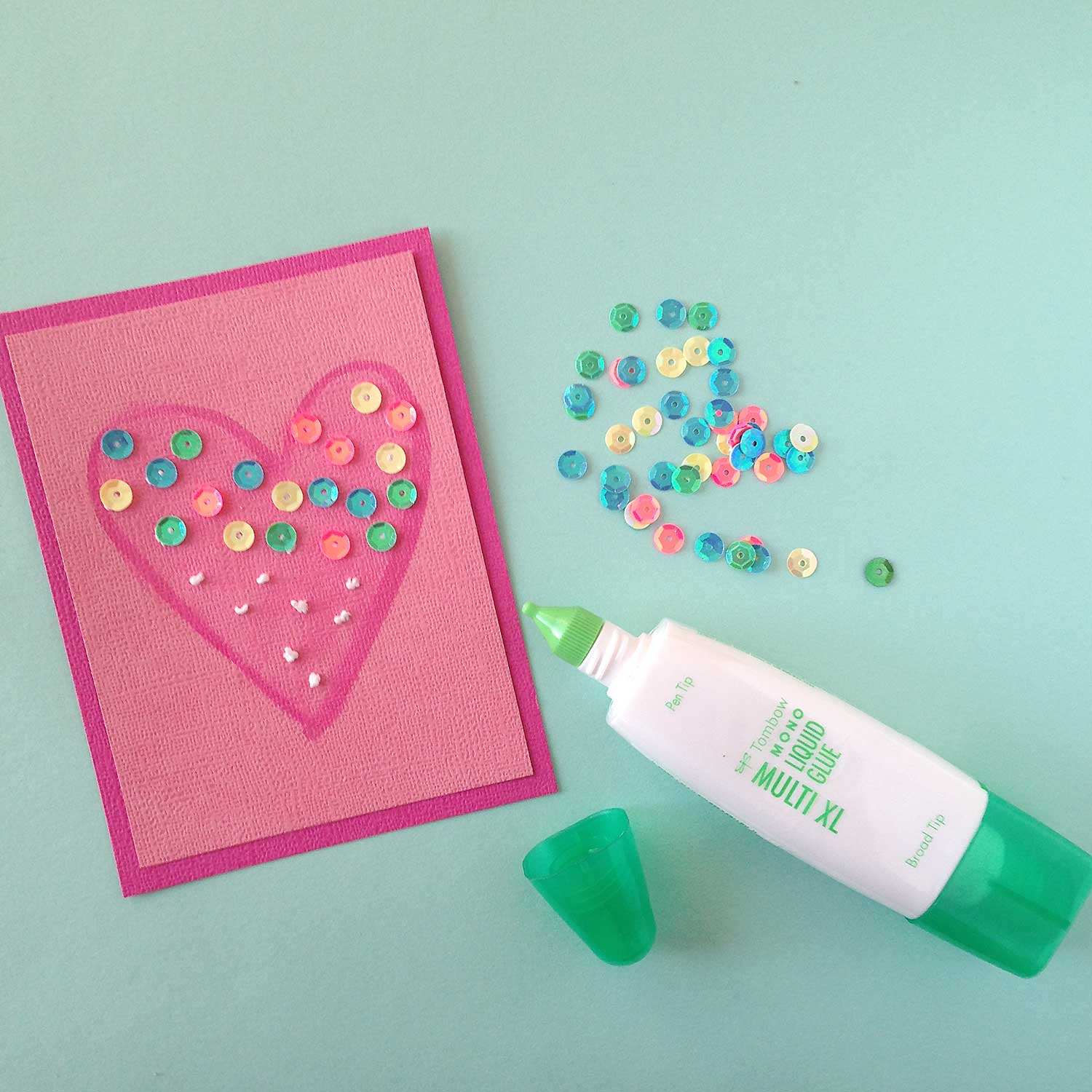 3. Create a Card Using Gold Foil + Glue
This final technique is a favorite of mine! Using the pen tip of the MONO Multi XL Liquid Glue write down a word or initial onto your heart. Simply hold your glue as if it were a pen, apply even pressure and letter slowly. The pen tip makes it really easy to draw and doodle letters! We need the glue to be tacky to the touch before applying the foil. So let the glue dry for about an hour and come back and check to see if the glue is tacky but not dry. Then place a sheet of gold foil on top of the tacky letters and press down firmly. Burnish the foil onto the glue with your finger tips making sure to cover all the area nicely. Peel off the foil sheet to reveal a beautiful lettered word!! This is surely a craft that you will LOVE!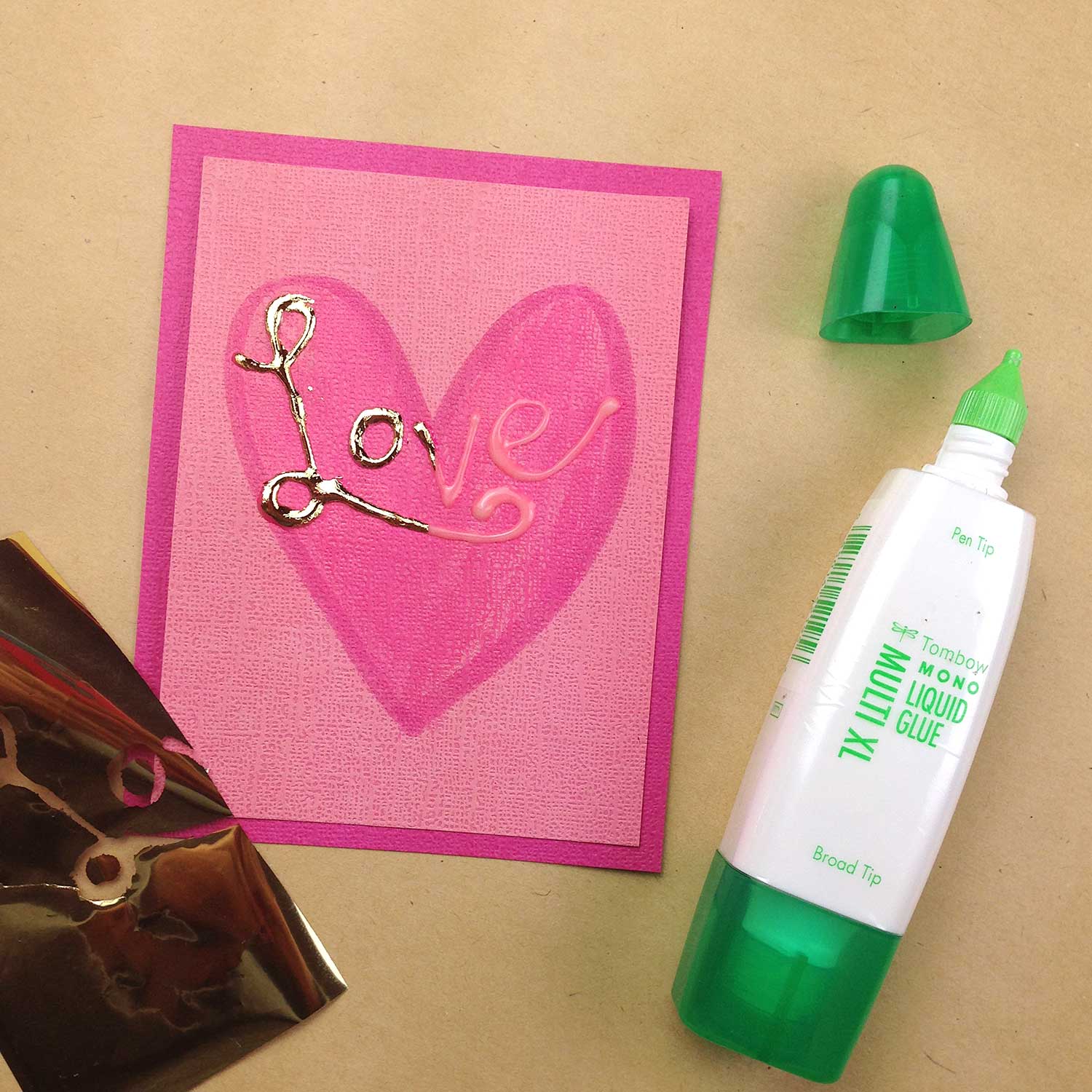 So those were 3 of my ideas for making Mini Valentines. Why Mini you ask? I just feel these Valentines look cuter in the smaller size, that's why! Let me know in the comments below if you agree or not!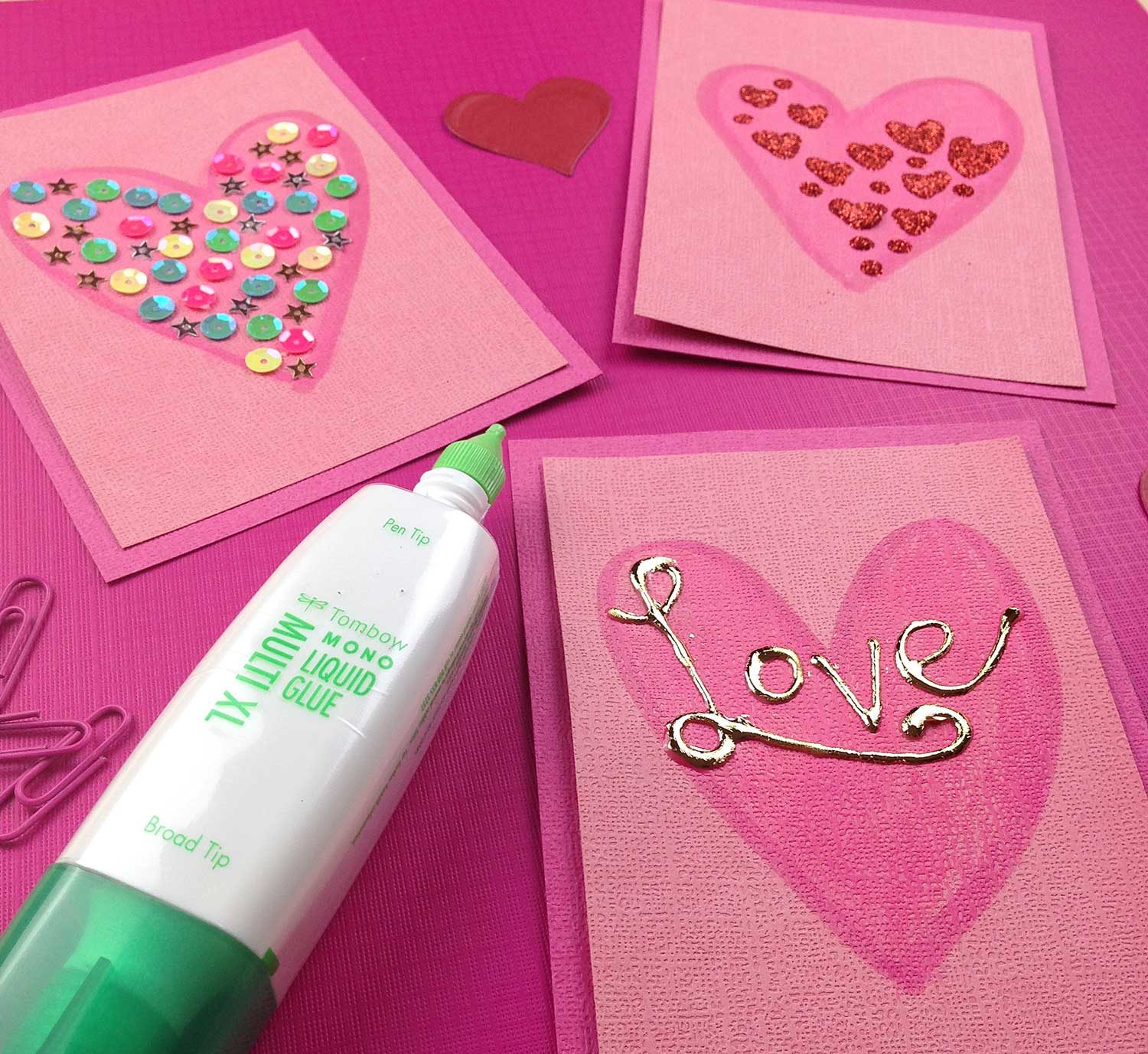 Happy Crafting!
Smitha