Good morning y'all!  Beth here and this week on the blog is all about Pantone's Color of the Year – Ultra Violet!  I'm going to share a tutorial on how to make Ultra Violet Faux Agates on wood slices using Tombow Dual Brush Pens and MONO Aqua Liquid Glue.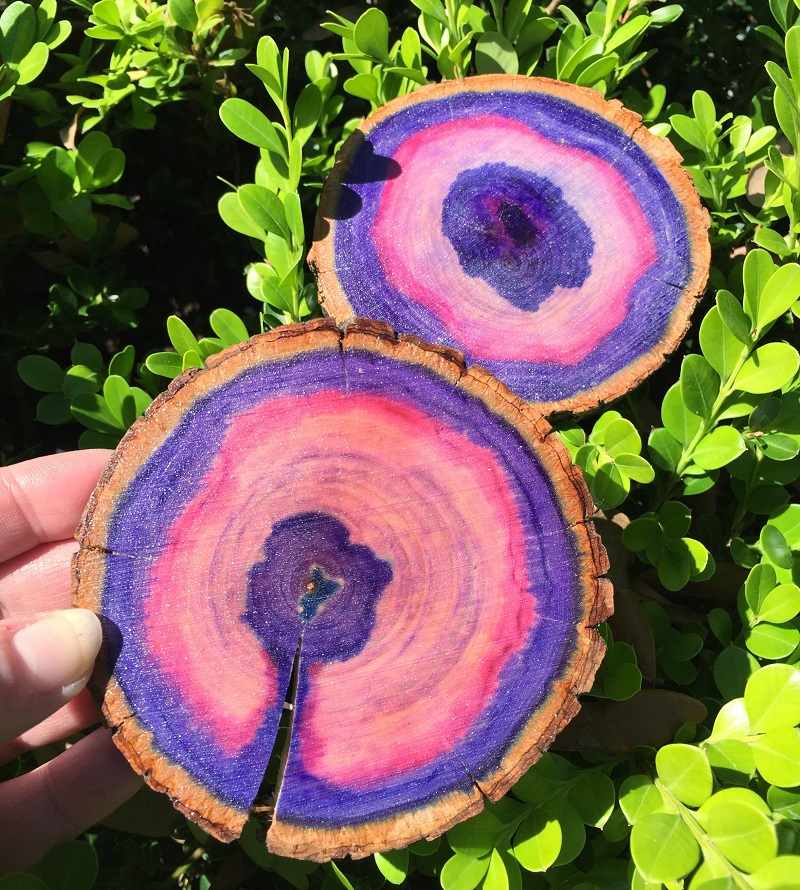 Supplies to Make Ultra Violet Faux Agates:
Tombow Dual Brush Pens 606, 603, 623 and 676
Tombow Mister from the Blending Kit
Walnut Hollow Wooden Slices – 4″
Paper Towels, Water, Scrap of White Cardstock
Step One:
Create a color palette with a scrap of white paper and your Dual Brush Pens.  The Tombow equivalent of Pantone's Ultra Violet is 606 Violet, so I started there and rounded out my palette with 603, 623 and 676.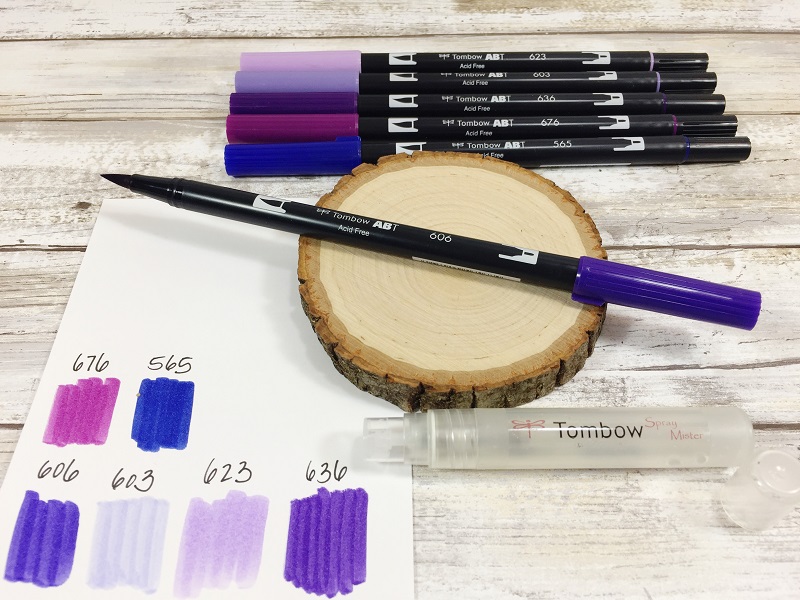 Step Two:
For the first agate I added the rings of color, using the side of the Dual Brush Pens and varying the pressure and layers to create lighter and darker shades of color.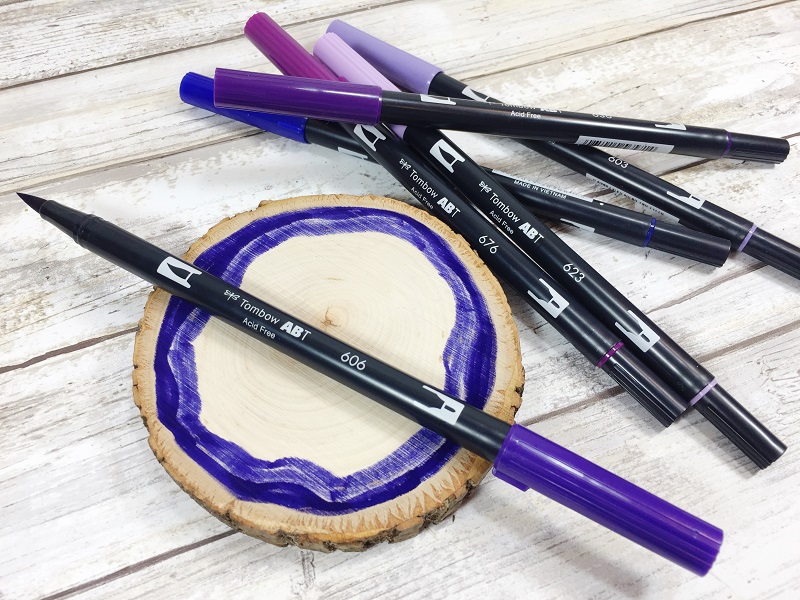 Step Three:
Once all of the rings of color are added, place on paper towel and soak the wood slice with water using the Tombow Mister.  Watch the colors bleed and blend, but only just a bit.  I wasn't entirely pleased with the result, so I created the second agate with a slightly different technique.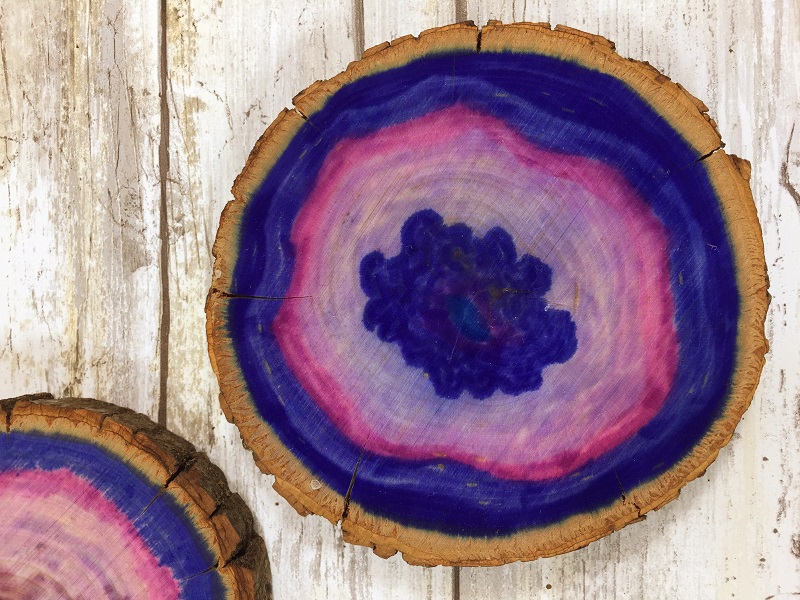 Step Four:
For the second agate, place wood slice on a paper towel and soak completely with the Tombow Mister and then begin to create the rings of color.  Use the edge of the Dual Brush Pen and the light touch.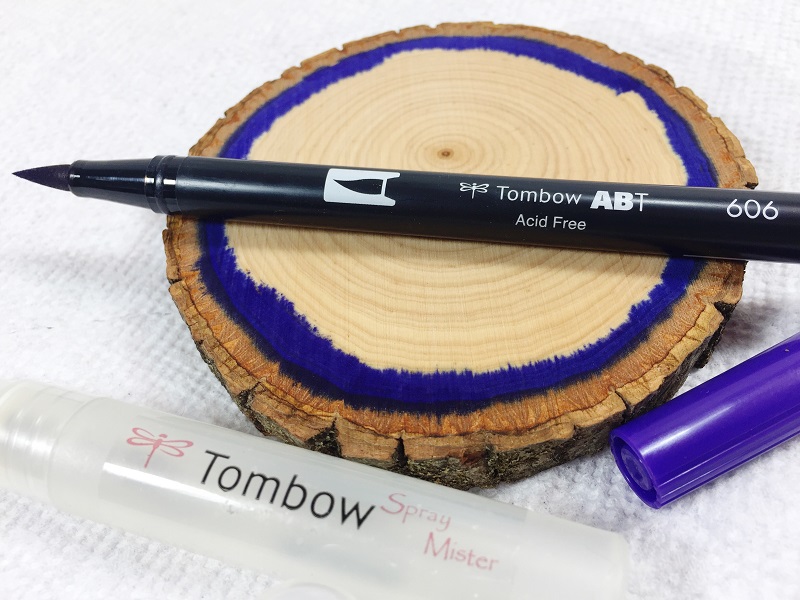 Add additional colors and water as needed to create the blending effect.  I created both patterns using 606 on the outside, then 676, then 623, then 603 and 606 again in the middle.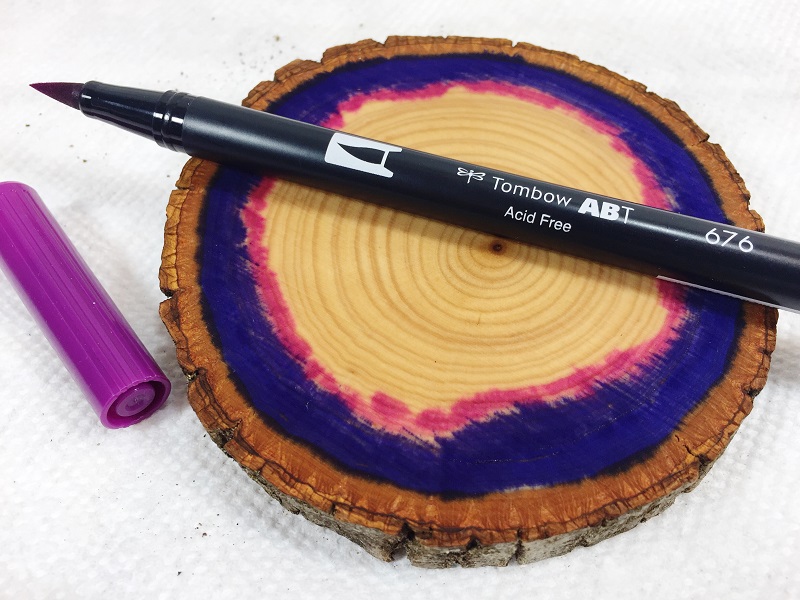 I also tried using the Dual Brush Pen N00 Colorless Blender and baby wipes, but neither worked.  Let your Ultra Violet Faux Agates dry overnight.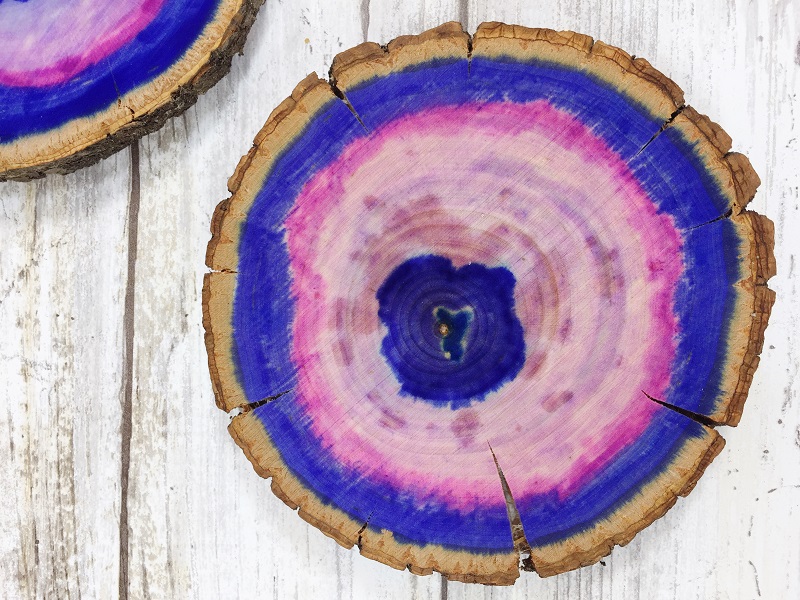 Step Five:
See the crack in the faux agate below?  That happened during the drying process and I love it because it makes the wood slice look even more like an agate!  I just went back in with Dual Brush Pen 606 and some water to create a colored edge.
To create the shiny finish that most agates have, coat with several layers of MONO Aqua Liquid Glue.  Letting the layers dry in between applications.  I just squeezed some out on the wood slice and smoothed it out with my finger.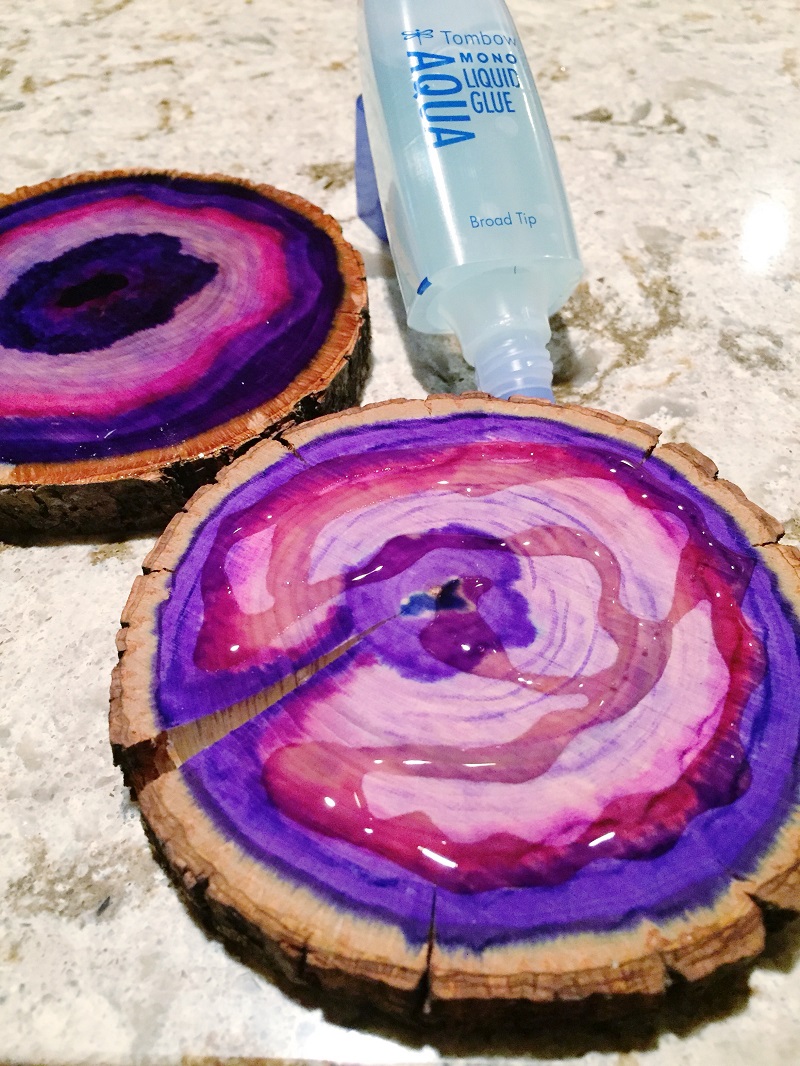 Here is a close up of each Ultra Violet Faux Agate: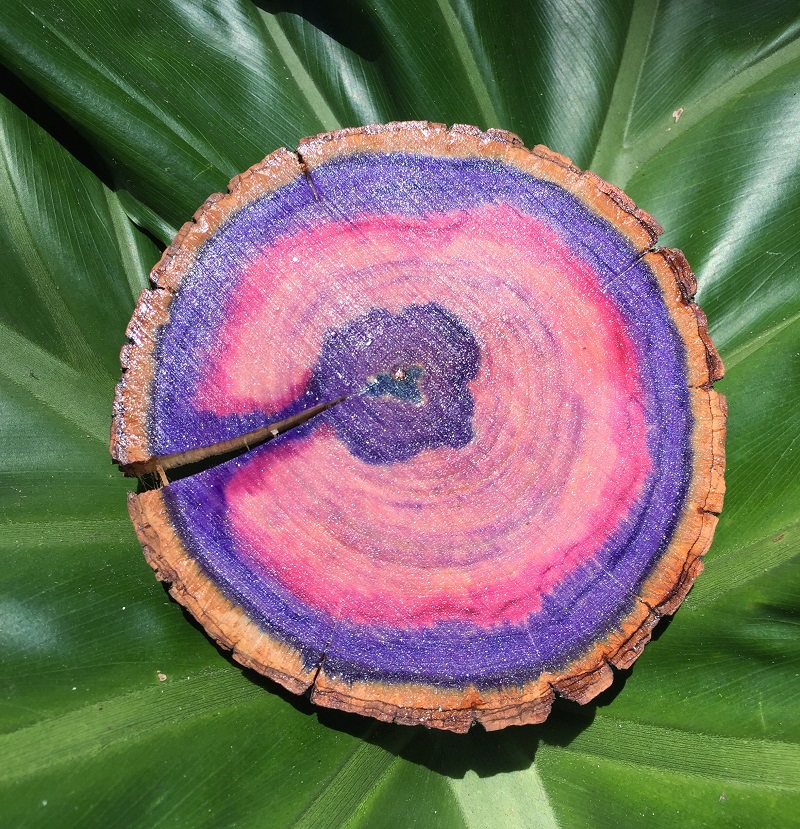 Love, love love the sparkle that came to the surface when the MONO Aqua Liquid Glue dried and I think it has to be the sap in the wood slice.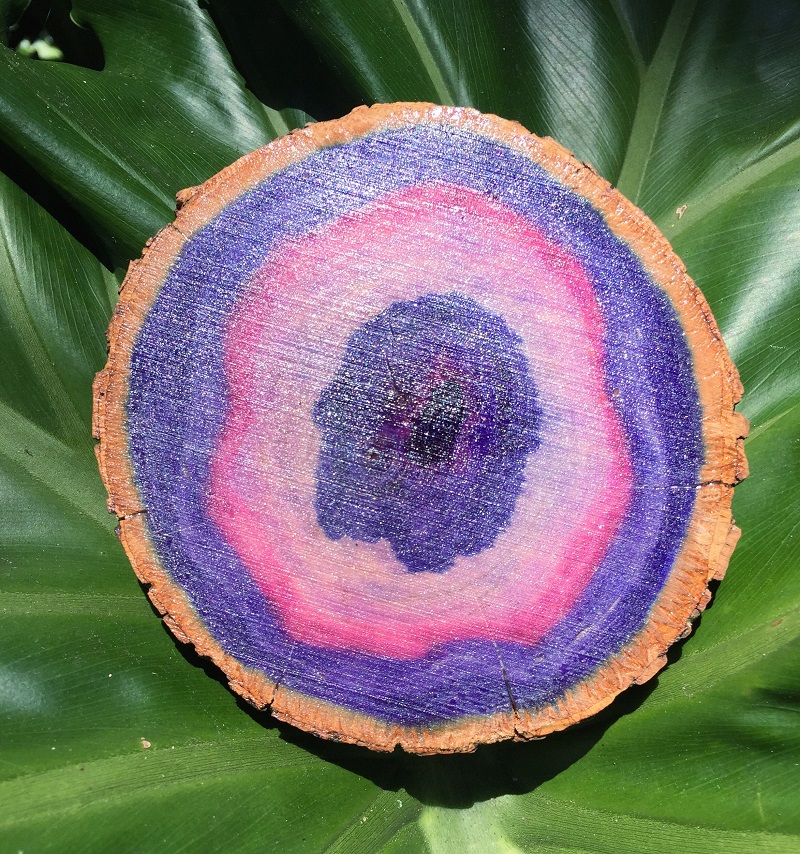 I hope that you have enjoyed my Ultra Violet Faux Agate tutorial today and that you will use my project as a jumping off point to showcase your Tombow creativity!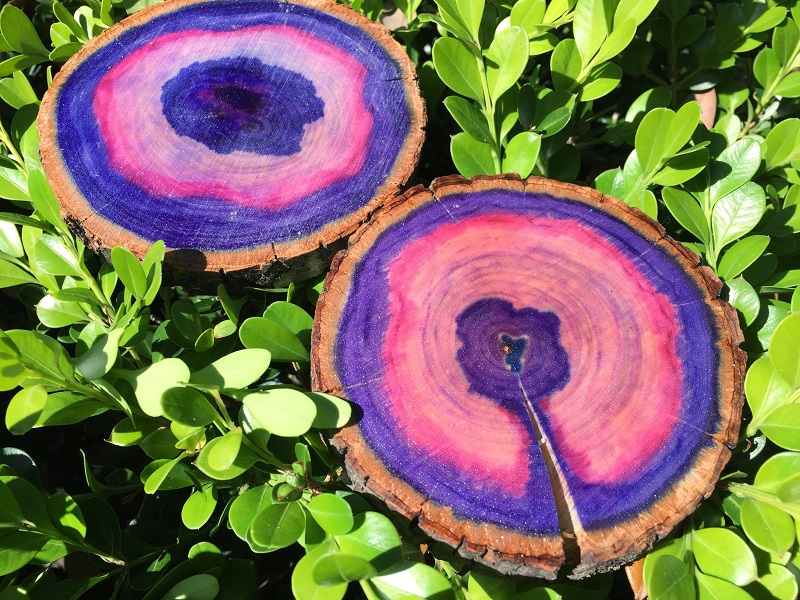 Thanks for stopping by!
Creatively, Beth