Hey Tombow fans! This is Jennie. Every art project, no matter how big or small starts with pencil. I wanted to create an art journaling piece with the Bride of Frankenstein. If you need tips for drawing faces you can read this post by Katie.
To make this project you'll need:
Watercolor Paper (I prefer hot pressed)
Step One:
I like to use the F grade Tombow MONO Drawing Pencil to sketch. Since she is built from more than one person I made the left and right eyes and ears different. The differences don't have to be big. I made the left ear a little bigger and the right eye a little more round. The eyebrows are also different but at the same time they are balanced enough to belong in the same face.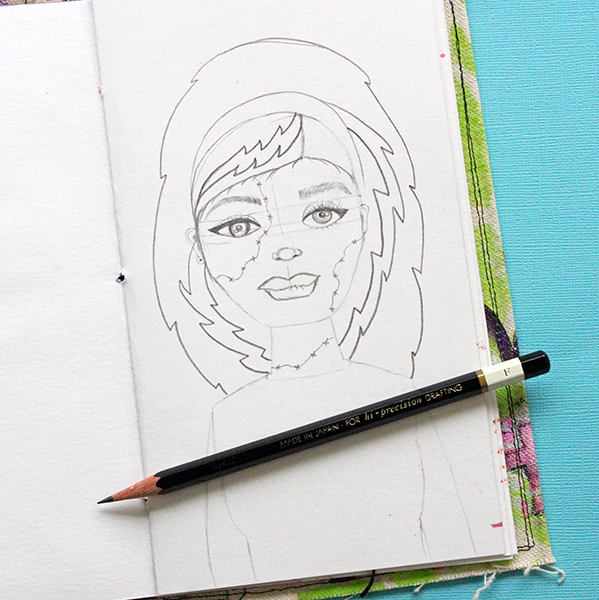 Step Two:
Using the Tombow MONO Drawing Pens outline your drawing. I used the 01 MONO Drawing Pen. It's great for little details like the eyelashes and the eyebrows.
Step Three:
Erase the pencil lines using one of the many erasers Tombow has. This time I used the Tombow MONO Dust Catch Eraser. I love this eraser because the residue sticks to the eraser to avoid making small messes.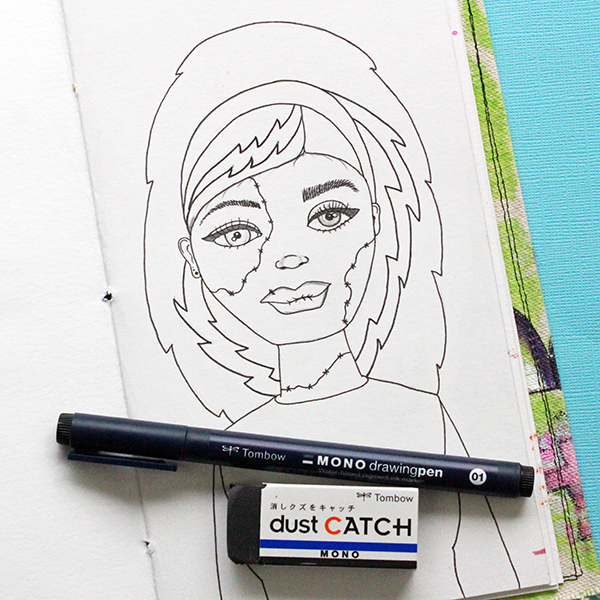 Step Four:
Use the Tombow Dual Brush Pens as watercolors. If you've never used them as watercolor I suggest you play with them a little before working on a project. They are very pigmented. Also, the watercolor paper will play an important role. Some papers absorb the ink faster and it makes it a little bit harder to blend. My favorite one is the Canson Hot Press Watercolor Paper.
Step Five:
Color your background. I scribbled on the paper with the Tombow Dual Brush Pens. Using a flat watercolor brush I blended the background. I also used a few metallic inks to add more layers.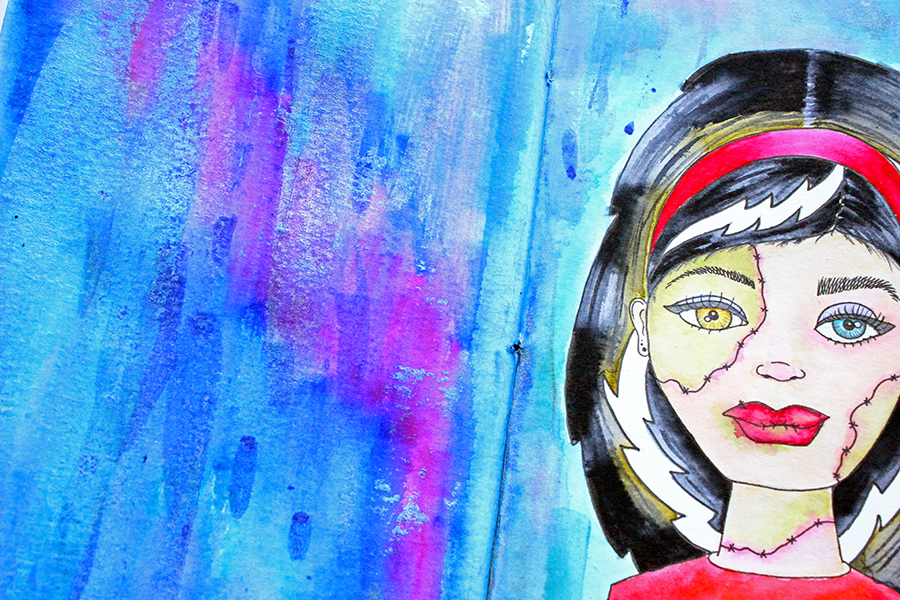 Step Six:
Add lettering with the Tombow Fudenosuke Brush Pen. This is a quote from Mary Shelley's Frankenstein. Fun fact: in the novel, Dr. Frankenstein never makes a companion for the creature. He starts building her and then realizes that maybe have two undead killers is not a good idea.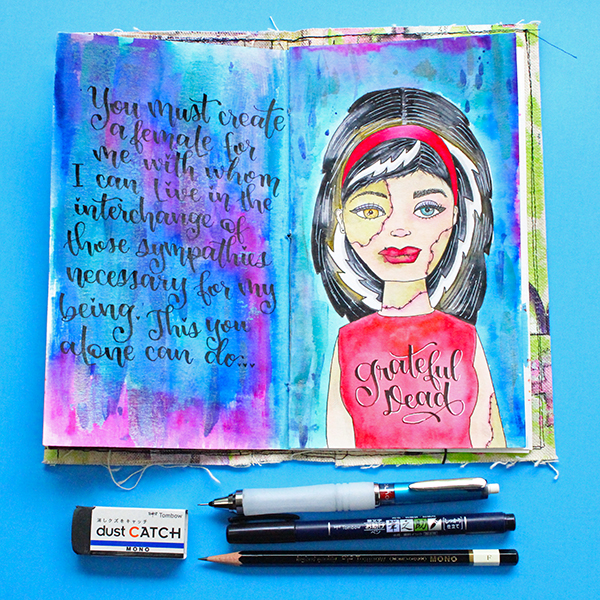 Some parts of her are green because they are supposed to be rotting. I also made her stitches a little bit pink to give the illusion that she was recently sewn. I wanted to create a Rockabilly Hot Topic kind of girl, if that makes sense.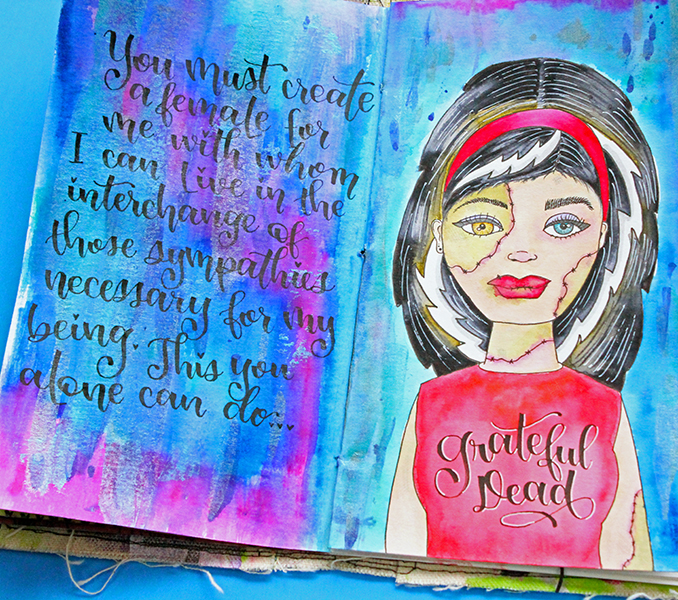 Using the 4H Tombow MONO Drawing Pencil I made small crosshatch lines.  She is meant to look rough around the edges which explains her smeared lipstick and her rotting lips.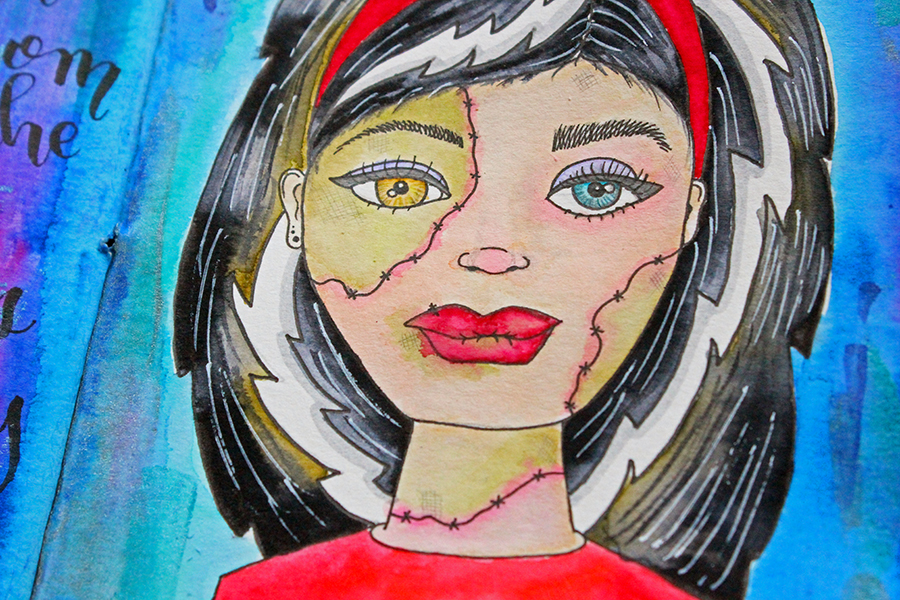 Frankenstein is my favorite book ever! I hope this project inspired you to illustrate a favorite book and look for the extra details that can bring to life your project. Take Care!