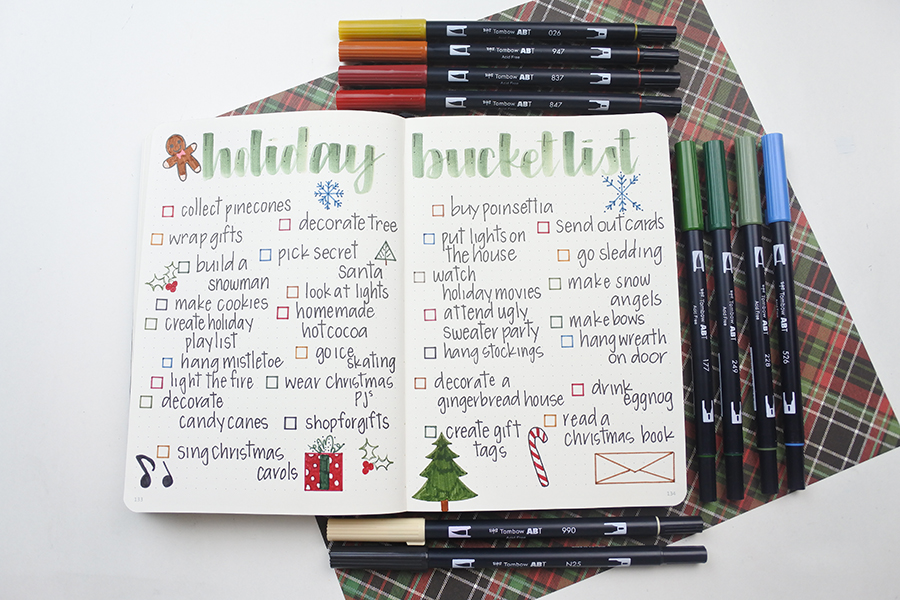 Happy December, it's time for a Holiday Bucket List Journal Layout!  Renee with @thediyday here to share a fun way to document your holiday bucket list in your journals and notebooks.  I just love experiencing all of the festivities that happen during the holidays I don't want to forget to do any of them.  To help me out, I've come up with a holiday bucket list journal layout.  This layout contains 31 activities for my family and I to enjoy during the month of December.  Another fun part of the layout…the satisfaction of checking off a completed square!
Supplies
Dotted Journal
Various Shapes Stencil
Tombow XL Blending Palette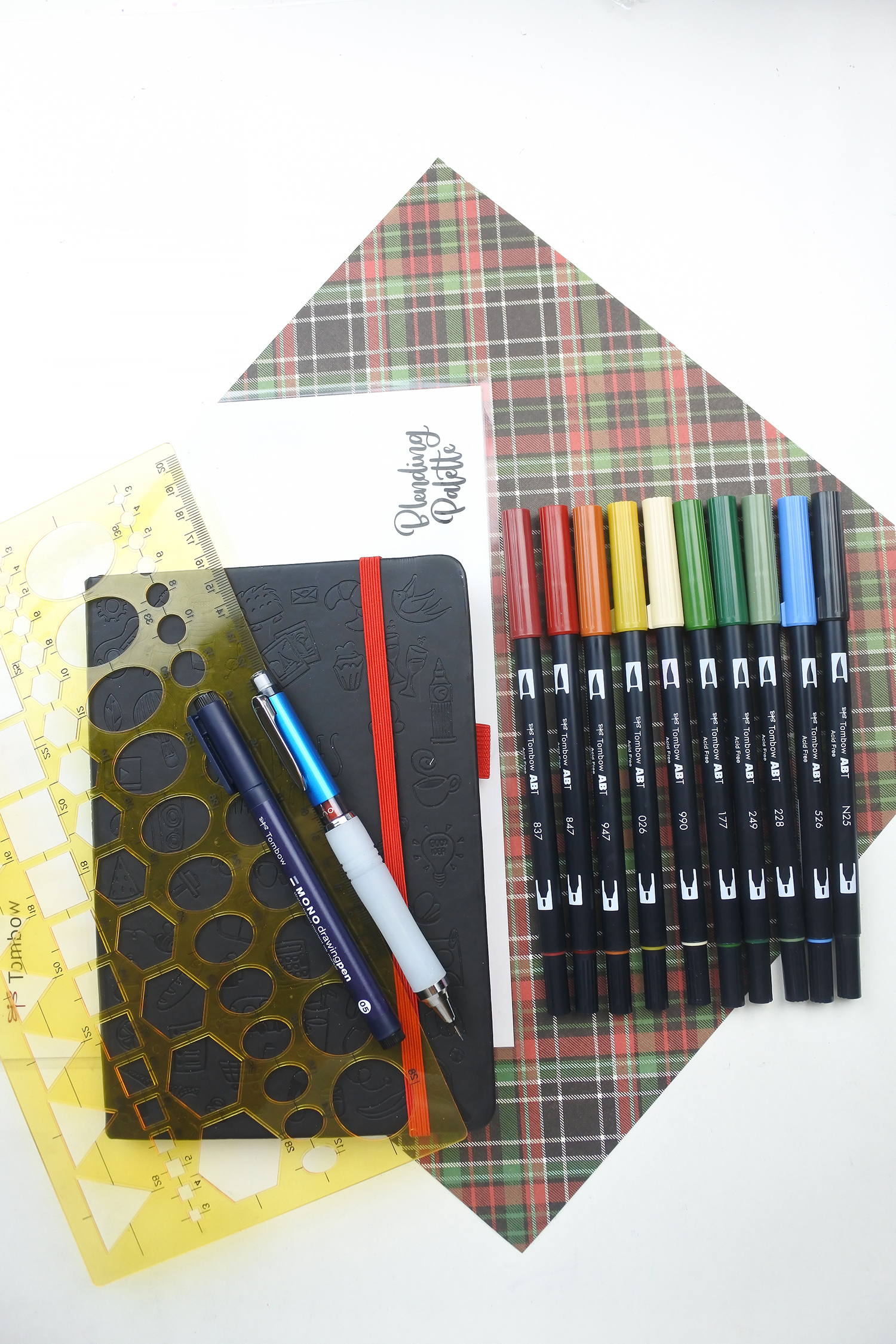 Step One
First, for the header of my notebook layout, I lettered the words "Holiday Bucket List." I achieved this look by blending two brush pens together. With the dark green brush pen (249) from the Tombow Dual Brush Pen Set, Holiday Edition, I colored right onto the Tombow XL Blending Palette. Then, with the cream colored brush pen (990), grabbed some green color off of the palette just by coloring on top of it, transferring the ink.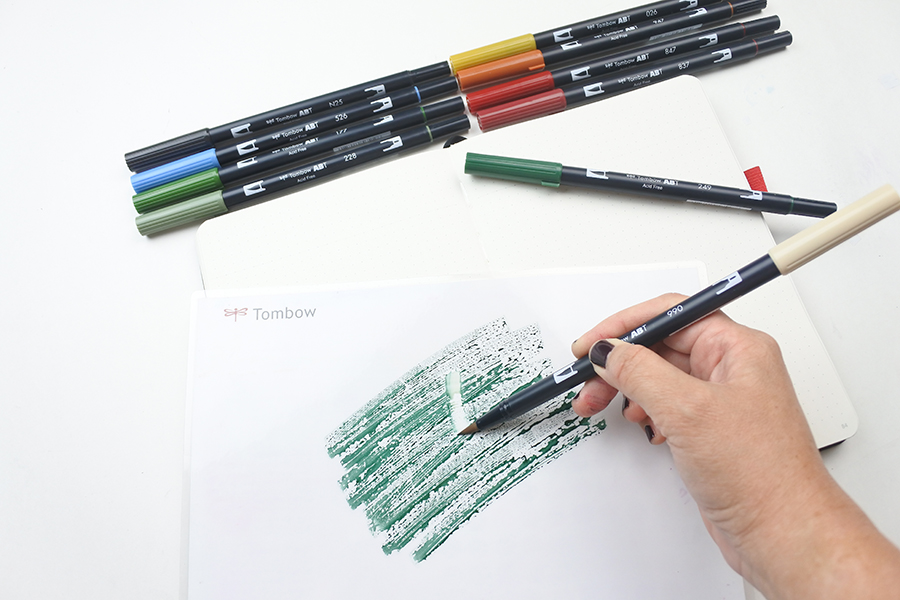 Step Two
Next, with the stencil and the fine tips of the dual brush pens, holiday set, I stenciled 31 squares.  As my family and I complete these events I will use a Tombow Black Drawing Pen to check them off.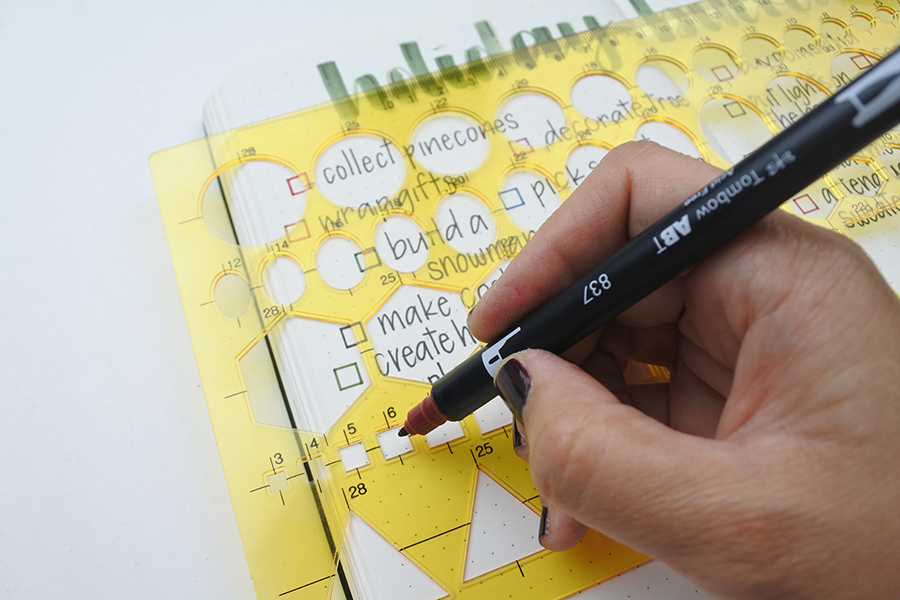 Step Three
Then with the Tombow Mechanical Pencil, I wrote in the various events on my holiday bucket list right next to the squares.  Afterward, I went over the pencil markings with a Tombow MONO Drawing Pen (05).  I did the events in pencil first just so I could erase any mistakes I make.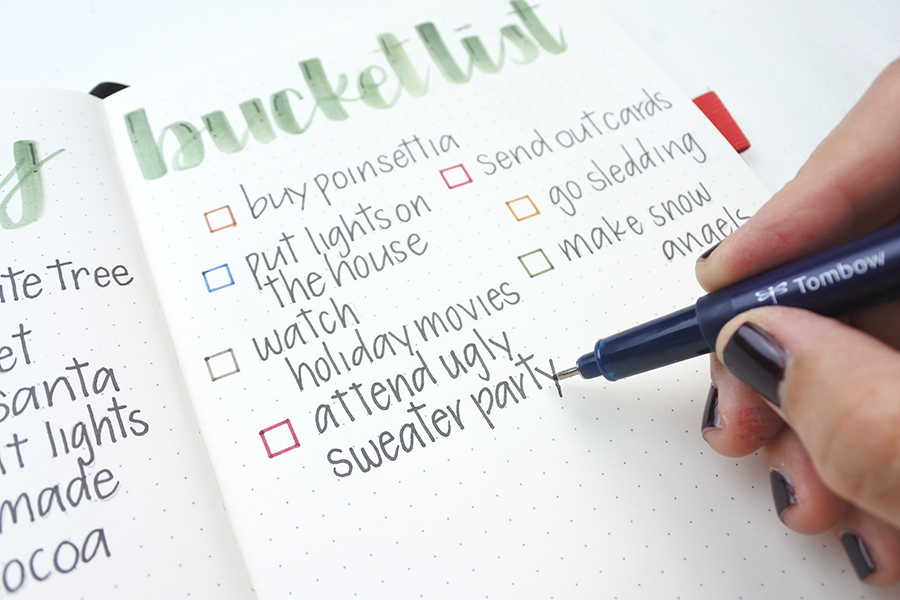 Step Four
Last, if space allows, add some festive doodles. Christmas trees, candy canes, and snowflakes are my favorites.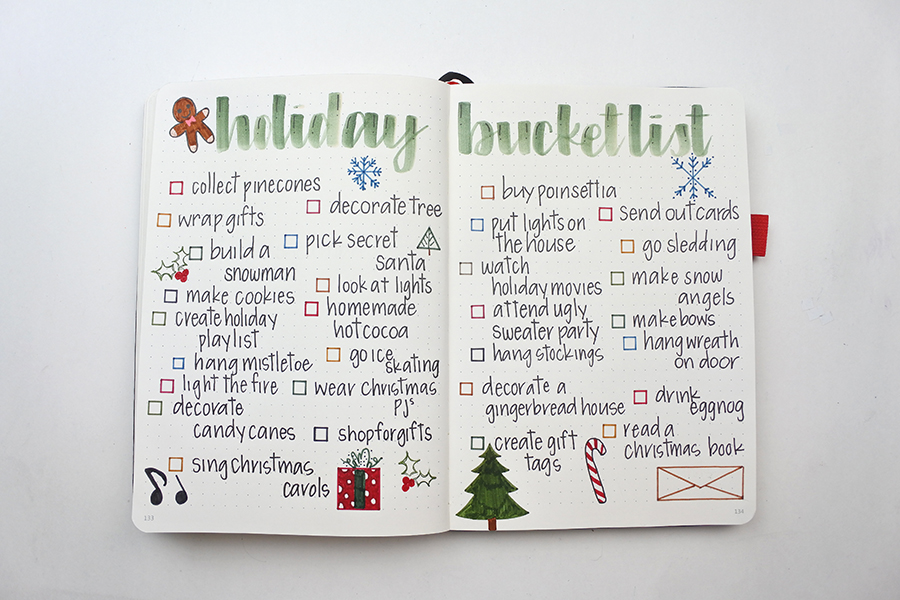 Step Five
Here are some ideas to include on a Holiday Bucket List.
Send out Christmas cards
Decorate Christmas Tree
Create a Holiday Playlist
Put Lights on the House
Look at Christmas Lights
Light the Fire
Read a Christmas Book
Make Bows
Buy a Nutcracker Soldier
Hang Mistletoe
Build a Snowman
Wear Christmas PJs
Decorate a Gingerbread House
Make Homemade Hot Coco
Buy Poinsettia
Create Gift Tags
Make Snow Angels
Hang Wreath on the Door
Make Christmas Cookies
Sing Christmas Carols
Go Shopping for Gifts
Choose Secret Santa
Attend Ugly Christmas Sweater Party
Watch Holiday Movies
Drive to Look at Lights
Wrap Gifts
Visit Santa
Collect Pinecones
Hang Stockings
Go Ice Skating
Drink Eggnog
Decorate Candy Canes
Go Sledding
Write Letters to Santa
Pick out a Christmas Tree
Make Cider
Donate
What is on your holiday bucket list?  Share your layouts on social media and don't forget to tag @tombowusa and @thediyday.  Happy Holidays!