Hey Tombow friends! This is Jennie and today I'm going to share 5 tips to make lists fun! I'll be using a Decomposition Notebook by Michael Roger. I prefer to use Spiral Bound notebooks. I always keep a pocket notebook in my purse for emergencies. Don't forget phones and other devices run out of batteries.
Supplies: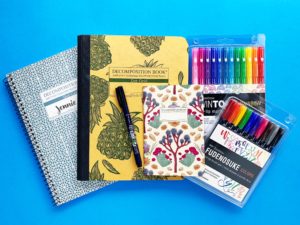 Regular lists can be boring. They can get lost in the shuffle and be easily ignored. These tips are a way to make these lists jump out of the page and demand attention.
Tip #1: Doodles
Start with pencils! Lately I'm in love with the Tombow MONO Graph Mechanical Pencil. But you can also use the Tombow MONO Drawing Pencils. The Tombow blog has a few fun doodle tutorials if you need more ideas! Since this is a bucket list the doodles represent things I want to do this Summer. Keep it simple!
Tip #2: Stamping
If drawing and doodling aren't your favorite things, use stamps. You can also use stamps instead of lettering like I did with the word ZOO. After I stamped the word I outlined it using the Tombow MONO Drawing Pen 01.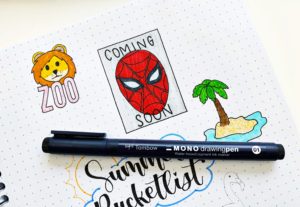 Tip #3: Use Stickers
Use alpha stickers for titles, images for visual representation or just to flourish.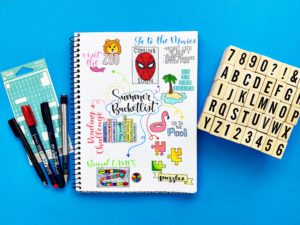 Tip #4: Add Color
Instead of using a list of all black where nothing pops out consider using colors. If you want to do your every day handwriting the Tombow TwinTone Dual Tip Markers are perfect for you! They have 2 different tips which means you can use it for a header or to add smaller notes. It's also a great moment to practice your lettering with the Tombow Fudenosuke Brush Pens in Colors. You can color your doodles with the Tombow Dual Brush Pens.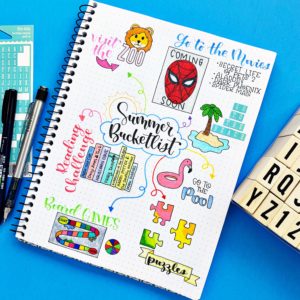 Tip #5: Add Bullet Points
Instead of having lots of smaller lists try adding all of your plans to a big spread. Divide you day, week, month or event by main themes and underneath add bullet points like I did with the movies I want to see this Summer.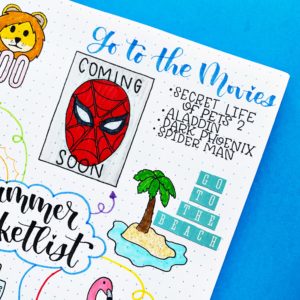 If your plans are bigger and more complicated than mine make your list in a double page spread.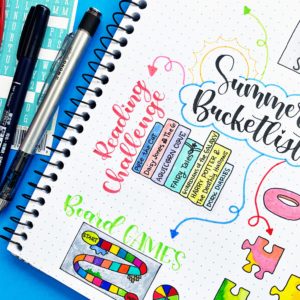 I hope you enjoyed these quick tips! Have a fun Summer! Take Care!