Hey Tombow fans, this is Jennie! Today, I'll show you how to use my 6 favorite Tombow Adhesives for cardmaking. I love making my own cards and my friends enjoy receiving them. You should always have birthday, thank you and hello cards. This week, the Tombow Design Team was inspired by emojis! My main inspiration was fruit emojis. Keep reading to find an easy watermelon tutorial!
Supplies:
Tombow  MONO Adhesive + Permanent
Patterned Paper
Cardstock
Dies and Die Cutting Machine
Embellishments
Punches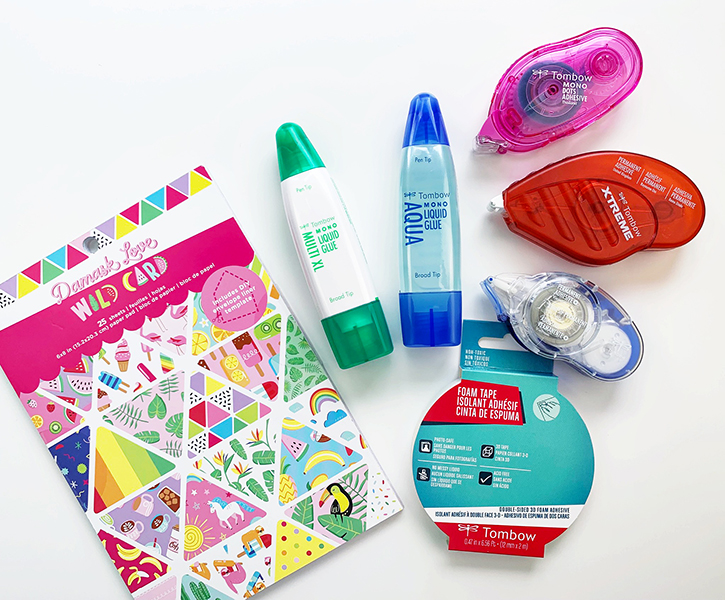 Tombow MONO Adhesive + Permanent:
My number one favorite adhesive for cardmaking is the Tombow MONO Adhesive + Permanent. It's my go-to adhesive for cardstock, patterned paper and paper die cuts.
Layers are one of the things that make cards more detailed. Always choose a cardstock to mat the pattern papers. Choose a mat that will make the pattern paper pop!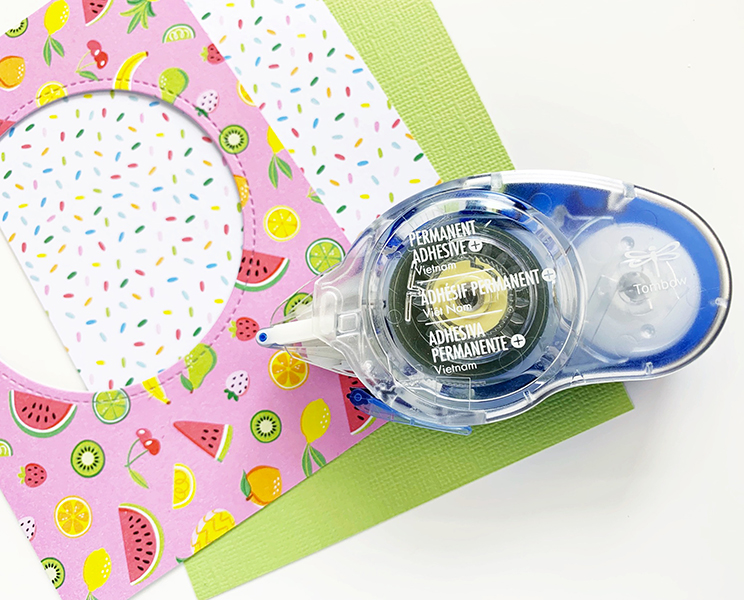 Tombow MONO Dots Adhesive
Sometimes you are not completely sure about your choices. All you need is an adhesive that can give you wiggle room to remove the pieces without damaging the paper. This is where the Tombow MONO Adhesive Dots become my favorite choice. Especially, when your papers have busy patterns or colors that might clash.
Tombow MONO Multi XL Liquid Glue
This adhesive is perfect for embellishments that aren't made of paper, like wood veneers. I also like to use this for my homemade enamel dots. It has a fine tip for tiny embellishments and a broad tip for bigger embellishments.

Tombow Foam Tape
This is the adhesive that brings a card to a new level. I already mentioned that layers are important for cardmaking. You don't need too many as long as a few elements pop up! In this card, I used the circle that I removed from the other card. I used the Tombow Foam Tape to pop this layer.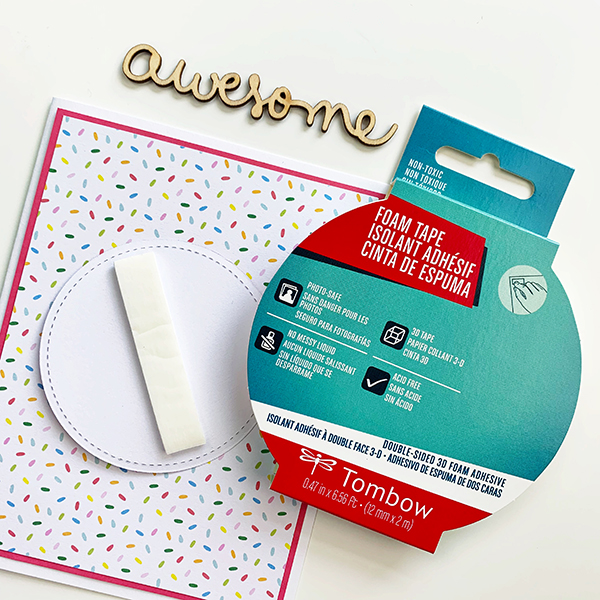 Tombow Xtreme Adhesive
The Tombow Xtreme Adhesive is four times stronger than any of other adhesive. I like to use it for difficult surfaces like really textured papers, acetate, acrylic and even wood! It's my go to choice for adding shaker pockets to my cards. The adhesive is strong enough to hold the page protector.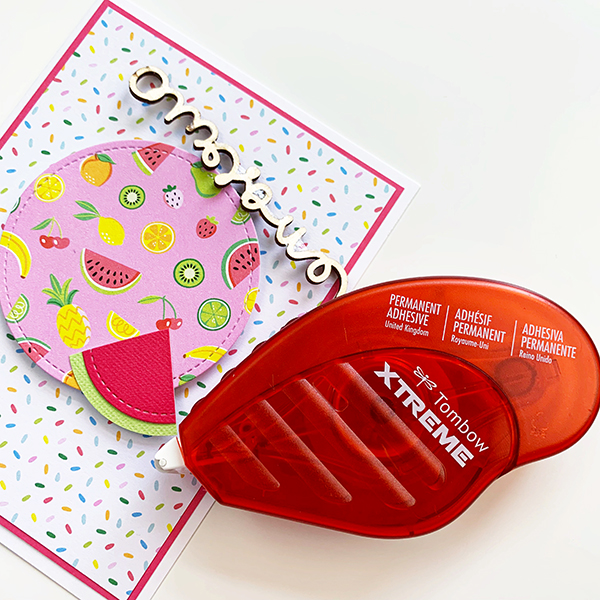 Tombow MONO Aqua Liquid Glue
The Tombow MONO Aqua Liquid Glue is perfect for very small and detailed die cuts. It dries clear and it won't wrinkle the paper. I also like to add small twine bows with this adhesive.
To add little stitching doodles, I used the Tombow MONO Drawing Pen 01 and the Tombow TwinTone Markers.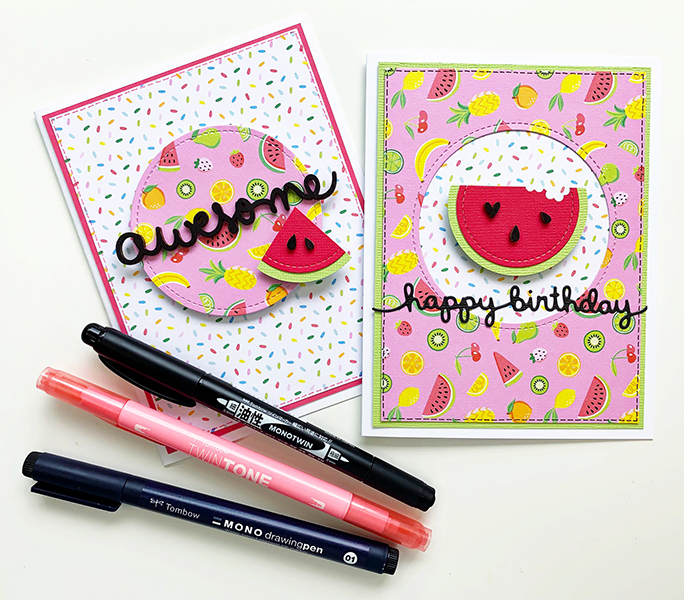 I used circle punches and dies to make these cute watermelons. All you need are two circle dies or punches that are close in size. I used a 2″ punch and 1 1/2 circle die with the Tombow MONO Adhesive + Permanent. I also added a few bites with a tiny scalloped circle punch. The watermelon seeds are wood veneers that I colored with the Tombow MONO Twin Permanent Marker. I used the same technique with the word "awesome".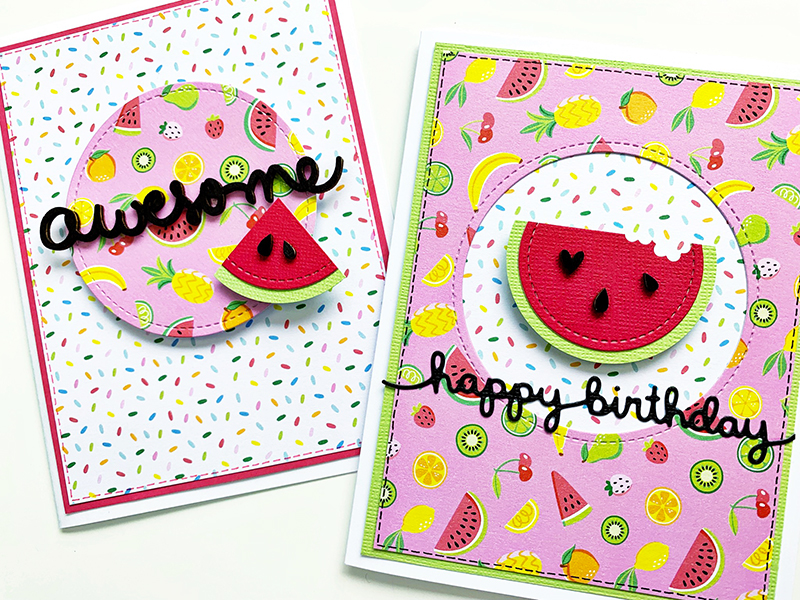 I hope you enjoyed learning about adhesives for cardmaking! Which one was your favorite?
Take Care