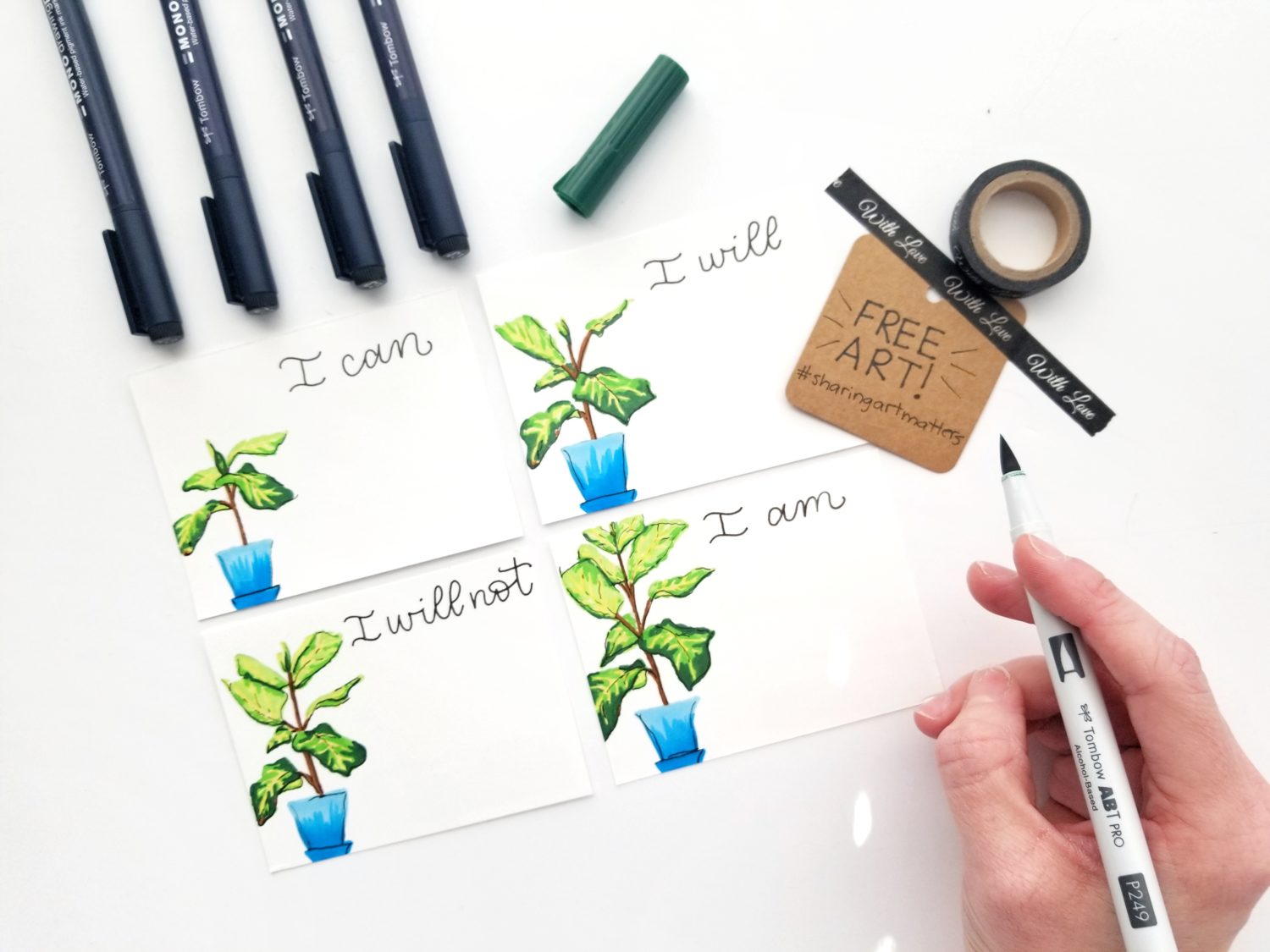 Hi y'all, it's Grace from Grace Anne Studio. I love the #sharingartmatters movement. Tombow believes everyone's talents are unique and that they should be shared. I couldn't agree more! I truly believe that everyone's art is created for a purpose. When we share it with the world, it fulfills that purpose. To learn more about #sharingartmatters, check out the Tombow webpage here. Today, we're going to create a project together. I wanted to make something that both inspires and empowers someone, so we're making mirror affirmation cards for #sharingartmatters!
Supplies: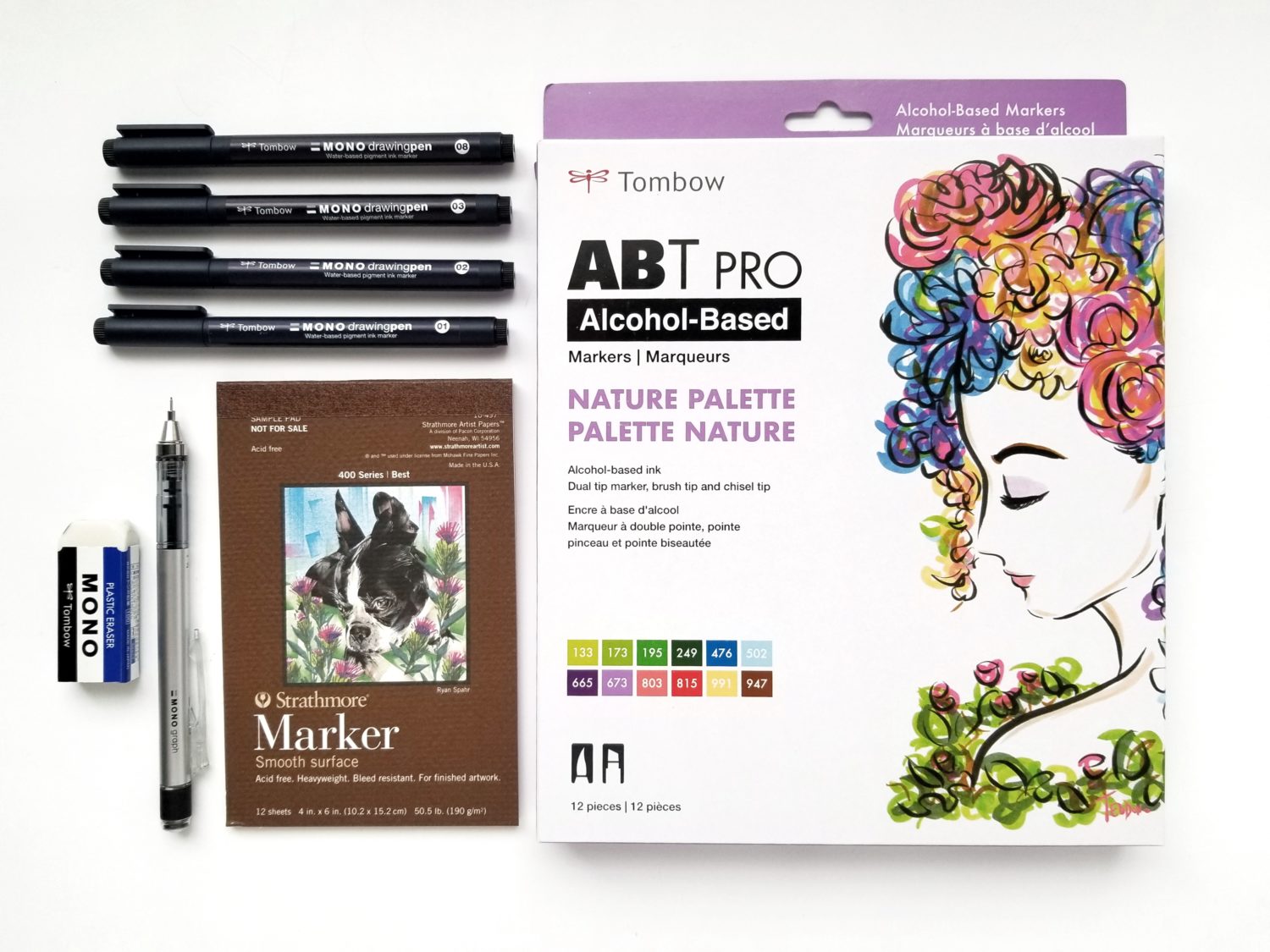 Step 1: Create Art
First, test your supplies. Different materials react differently on different surfaces, so it's important to always test and swatch your products for each project.


Next, use the MONO Graph Mechanical Pencil to sketch out a fiddle-leaf fig on each card. I chose to add a few more leaves to the plant on each card to literally and figuratively represent growth. Then, use the ABT PRO Markers to color the plants. Start with P947, P133 and P993 to add a few brown spots and the veins to each leaf. Next, use P173 to fill in the leaves that will be backlit. Use P195 to fill in the leaves that are facing you. Then, use P195 to add shadows to the backlit leaves and P245 to add shadows to the front facing leaves. Use P947 to fill in the branches. Finally, use P476 and P502 to color the pot and MONO Drawing Pen 01 to add some light line drawing.
Step 1: Use P947, P133, and P993
Step 2: Use P195 and P173
Step 3: Use P195, P245, and P947
Step 4: Use P476, P502, and 01
Repeat for each card until all of the mirror affirmation cards have a fiddle leaf fig on them.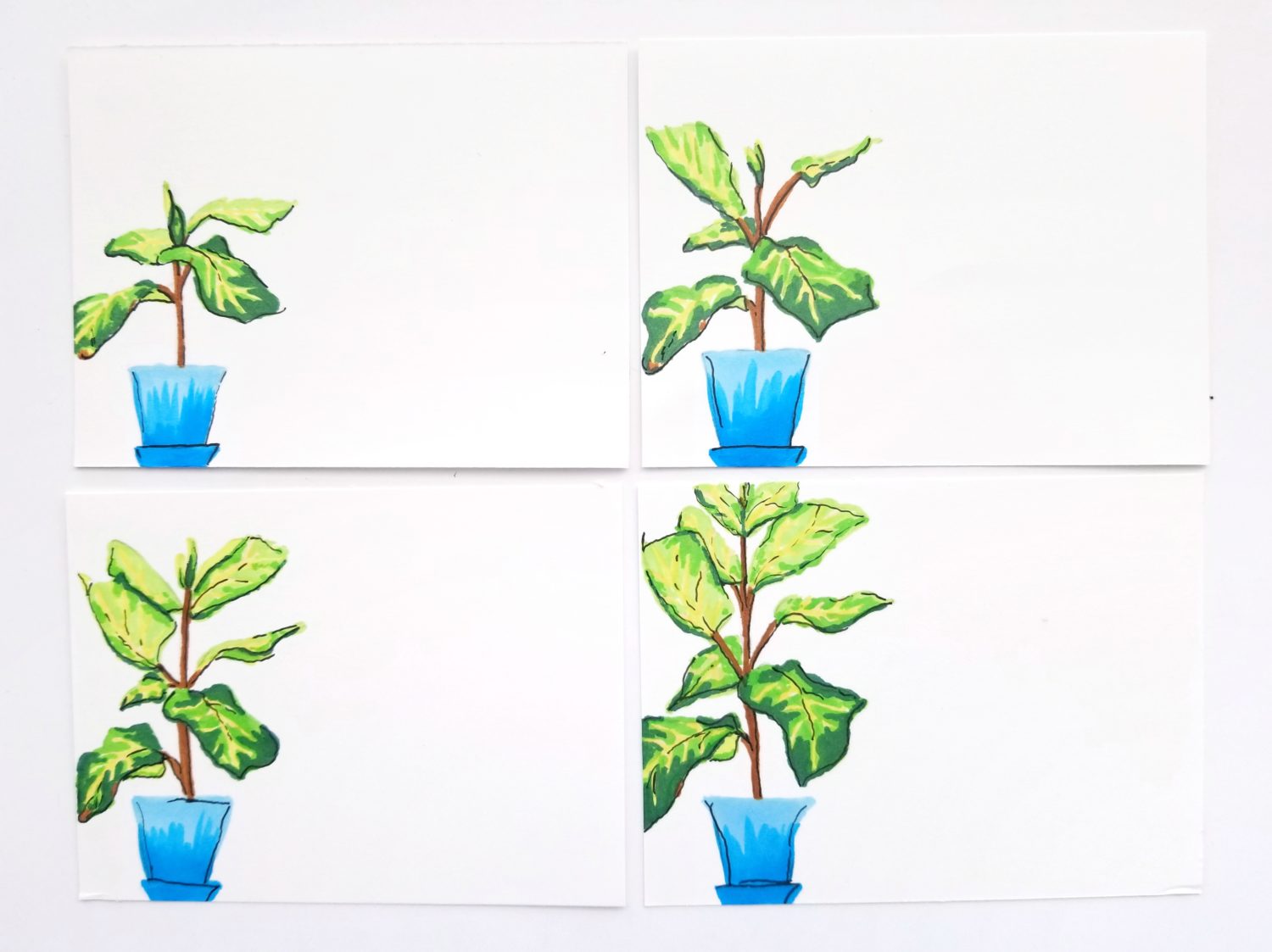 Step 2: Add Statements
Next, use MONO Drawing Pen 08 to write one statement on each card: I can, I will, I will not, and I am. Be sure the lettering is legible and leave room for the recipient to fill it in.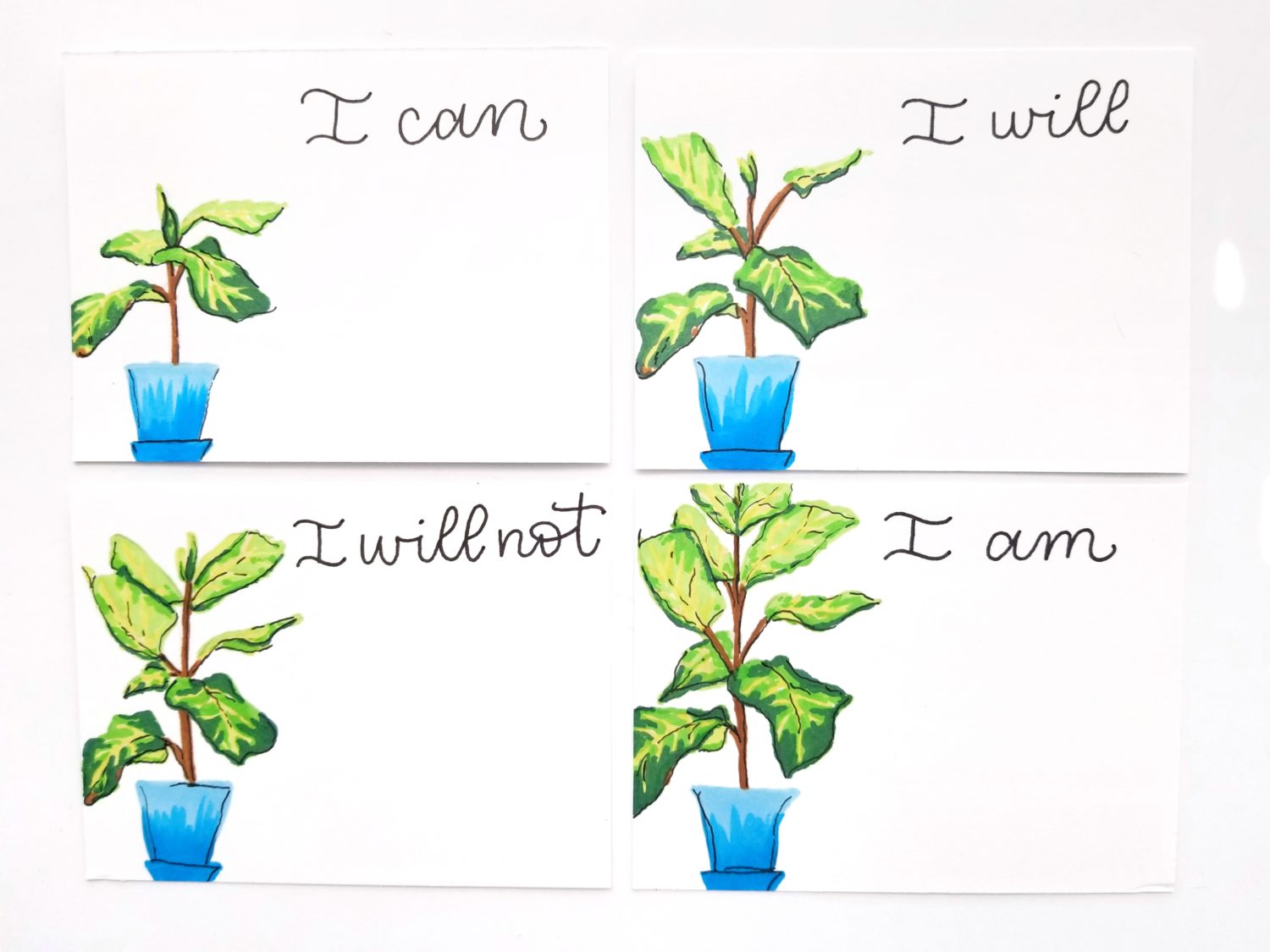 Step 3: Package for #sharingartmatters
To package your art, Tombow created a sticker sheet and an informational insert. To download them, head to the Tombow Sharing Art Matters webpage here. You could also write #sharingartmatters on your art somewhere!
I printed the informational page and included it with my art. I also included a note explaining how to use the cards and some washi tape to make it easy to use!


Step 4: Share Your Art
Lastly, take your art somewhere public and leave it for someone to adopt! I left mine near some faux fiddle leaf plants in my local Target. Take a photo and post it on social media using the #sharingartmatters. Be sure to tag @tombowusa and @graceannestudio so we can see your unique style!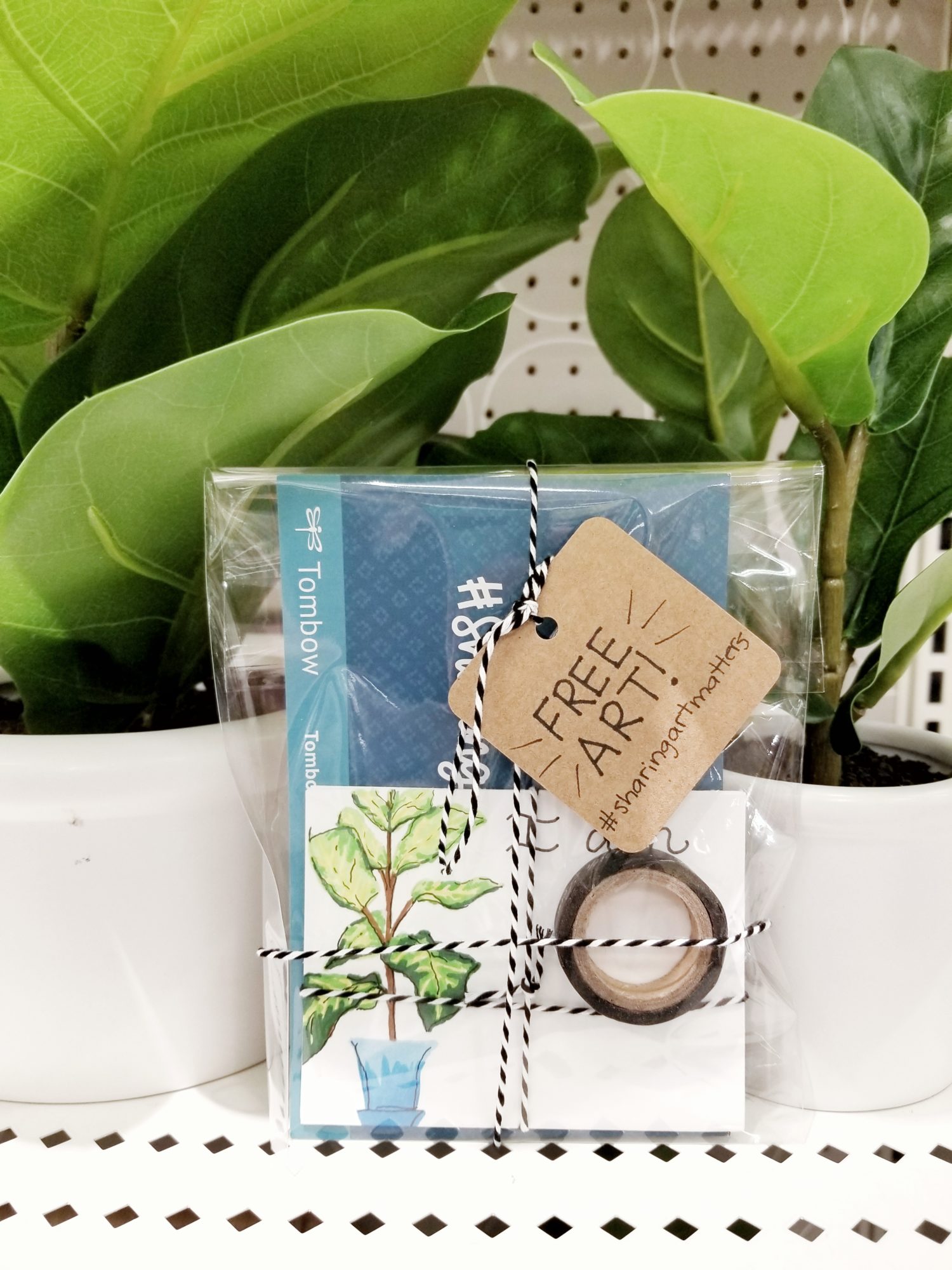 Thank you so much for sharing your art! If you use this tutorial to create mirror affirmation cards for #sharingartmatters (or for yourself!) be sure to tag @tombowusa and @graceannestudio and use #sharingartmatters so we can cheer you on! For more art inspiration, check out the posts below:
Happy creating!
Grace