Hello, it's Jennie! March is National Craft Month! Friends don't let friends craft alone! So, I am going to show you how to make a fun embellishment box for a crafty friend! If you need ideas, here are ten things you can add to the box!
Supplies:
Plastic box (I got this one at Dollar Tree)
Patterned paper
Washi tape
Thread spool
Dies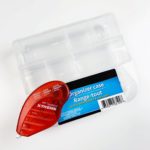 #1 Twine or Ribbon
There are many materials that come in a spool. Perfect for sharing! The first example is twine. Decorate the twine a little with pattern paper and the Tombow Xtreme Adhesive. Other similar idea could be ribbon.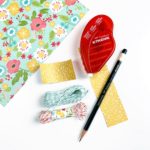 #2 Washi Tape
Washi tape is another easy thing to share! In my case, it has multiplied like bunnies. It makes me feel less guilty when I share. You can wrap it around a thread spool like I did. You can also use a tag or paper scrap.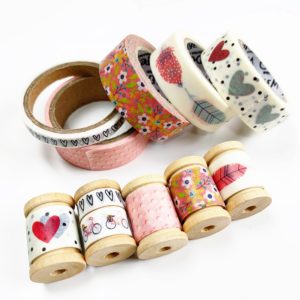 #3 Sequin Mix
You can make you own sequin mix or buy it. I prefer to make my own! I love to add different colors and shapes. I also add little polymer clay shapes! You can see a video of how I make my own HERE.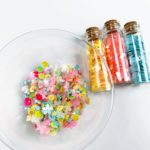 #4 Handmade Embellishments
Take advantage of your dies and die cutting machine! Make a few of them flat but have fun with the rest! Use the Tombow Foam Tape to give more dimension with the layers. I love to use scraps to make my own embellishments. Also, add dimensional or textured embellishments (like buttons) to make them more interesting. The best adhesive for buttons is the Tombow Adhesive Dots.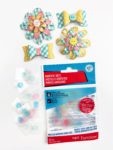 #5 DIY Tiny Bows
Make these tiny bows with just ribbon, the Tombow Xtreme Adhesive and a stapler! I've been making these for years! It was one of my first YouTube videos!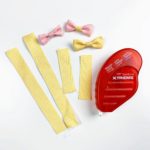 #6 Enamel Dots
Use perler beads to create enamel dots! Line them up in a baking sheet. Make sure you use parchment paper and leave an inch between them. Preheat the oven to 275 degrees and leave them in for 30 minutes. The Perler brand is the one that works best for this! The perfect adhesive for this project is the Tombow MONO Multi Liquid XL Liquid Glue.
#7 Die Cuts
Many crafters have hoarded die cuts that they don't love, so it's a great opportunity to pass them onto friends that might like them!
#8 Pom Poms
I love pom poms, both loose and on trim! The loose pom poms are also great to add to sequin mixes.
#9 Dimensional Embellishments
Dig through your stash and see what wood veneers, acrylic pieces and buttons you can add!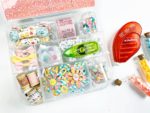 #10 Adhesives!
The Tombow Power Mini Glue Tape fits perfectly in this box! You can also add the very handy Tombow Adhesive Dots!
This could be a cool little box to bring to a crop! My friend Dani from PopFizzPaper made this really cool embellishment box! It's really different from mine! Add your own twist to your creation and have fun with it! Like her, I used the Tombow Xtreme Adhesive to glue the patterned paper on the box. This is the perfect adhesive for plastic and hard surfaces. For the flower, I used the Tombow Foam Tape.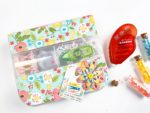 Join the National Craft Month fun! Share what you make with us using the hashtag #tombowusa!