Hi Tombow Friends! This is Jennie Garcia with 5 Tips for Joyful Journaling.
Supplies:
Journal or Sketchbook
Stickers, Photos, Washi Tape, Die Cuts, etc.
Writing instruments to journal or letter
Tip #1: Embrace Imperfections
Sometimes you just need to sit down and start journaling to get the ball rolling. If you worry about having the perfect composition and the perfect lines, you won't feel happy with most of your journaling spreads. When you don't have much time to journal, you don't have time to pull out rulers and stencils to make everything perfect. Joyful journaling is about the feelings and intent, rather than perfect results. It's about documenting happiness and love!
I used the Tombow Dual Brush Pens to create a border around the pages. First, I used the grid paper as a guide to color the lines. Then I drew a green line and using doodle dabs, I added leaves at the top and bottom. To create a doodle dab, you just angle the Tombow Dual Brush Pen and press down on the tip.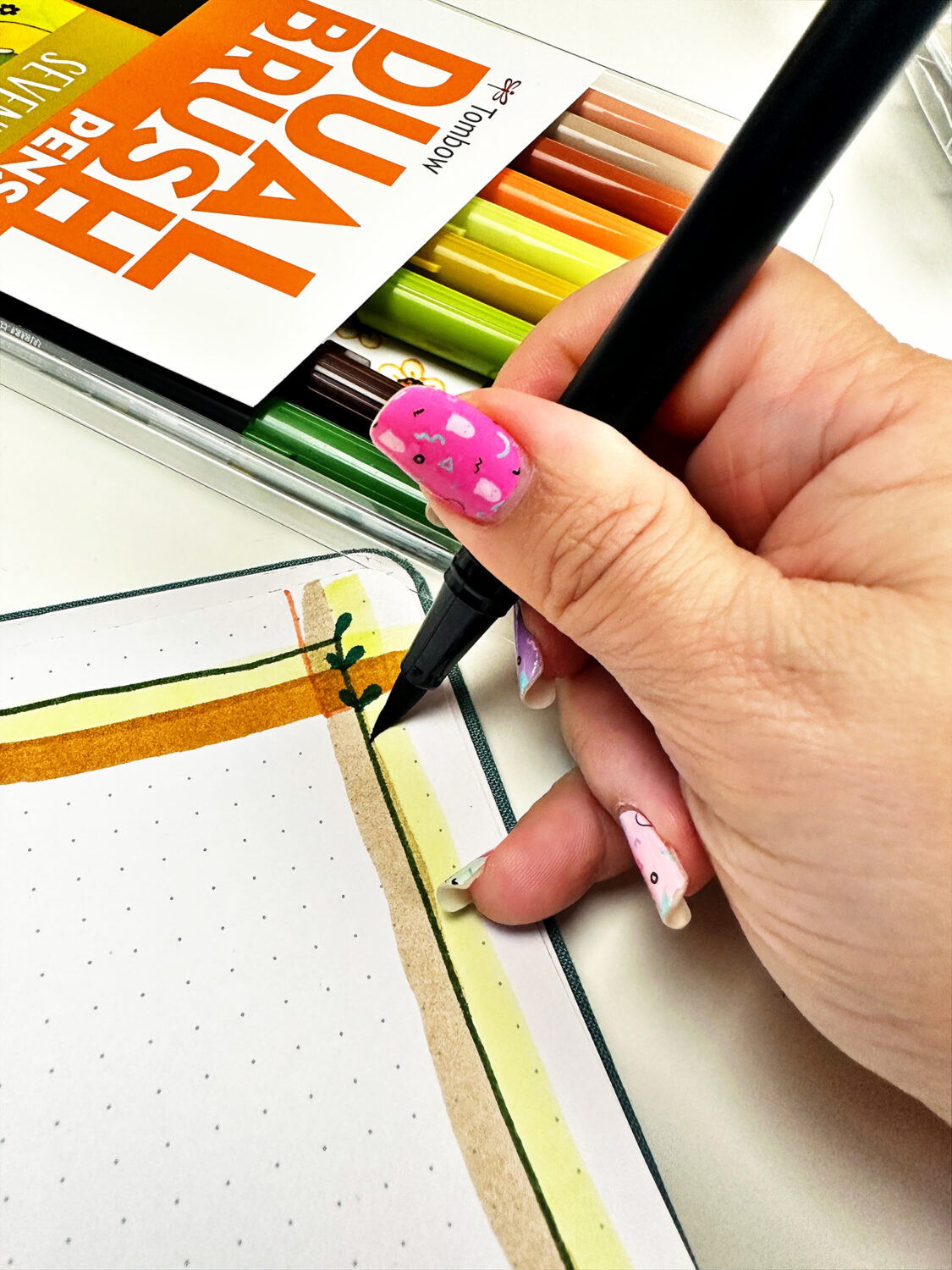 Tip #2: Keep it as simple (or not) as you want:
I tend to overembellish and make my projects complicated. All these little bits make bring me happy. But I also admire simple journaling spreads. It could also depend on what you are journaling about.
This week, I was journaling about the book I was reading so I decided to create a little frame with the Tombow Dual Brush Pens. These pens are amazing for layering different colors! To glue photos and die cuts, I used the Tombow MONO Air Touch Adhesive.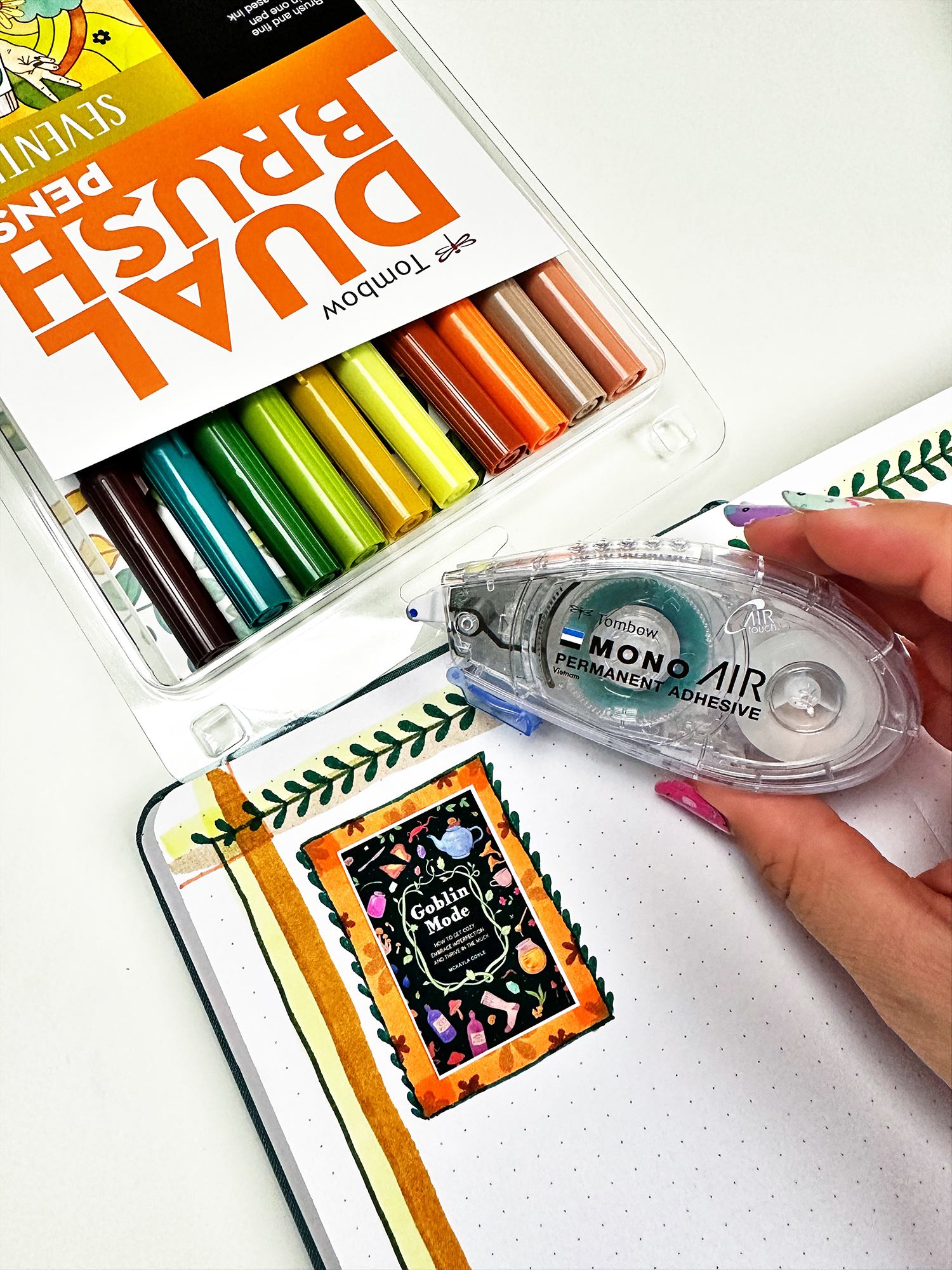 Tip #3: Use the things that you love!
Sometimes we hoard our favorite products for special occasions. Joyful journaling is all about fun so let's use those awesome products! Keep all the things you love in a zipper pouch or an organizer so you are ready to use them when you sit down to journal.  This is also a great technique to take your items on the go! I love stamping and stickers so these items are always on my table.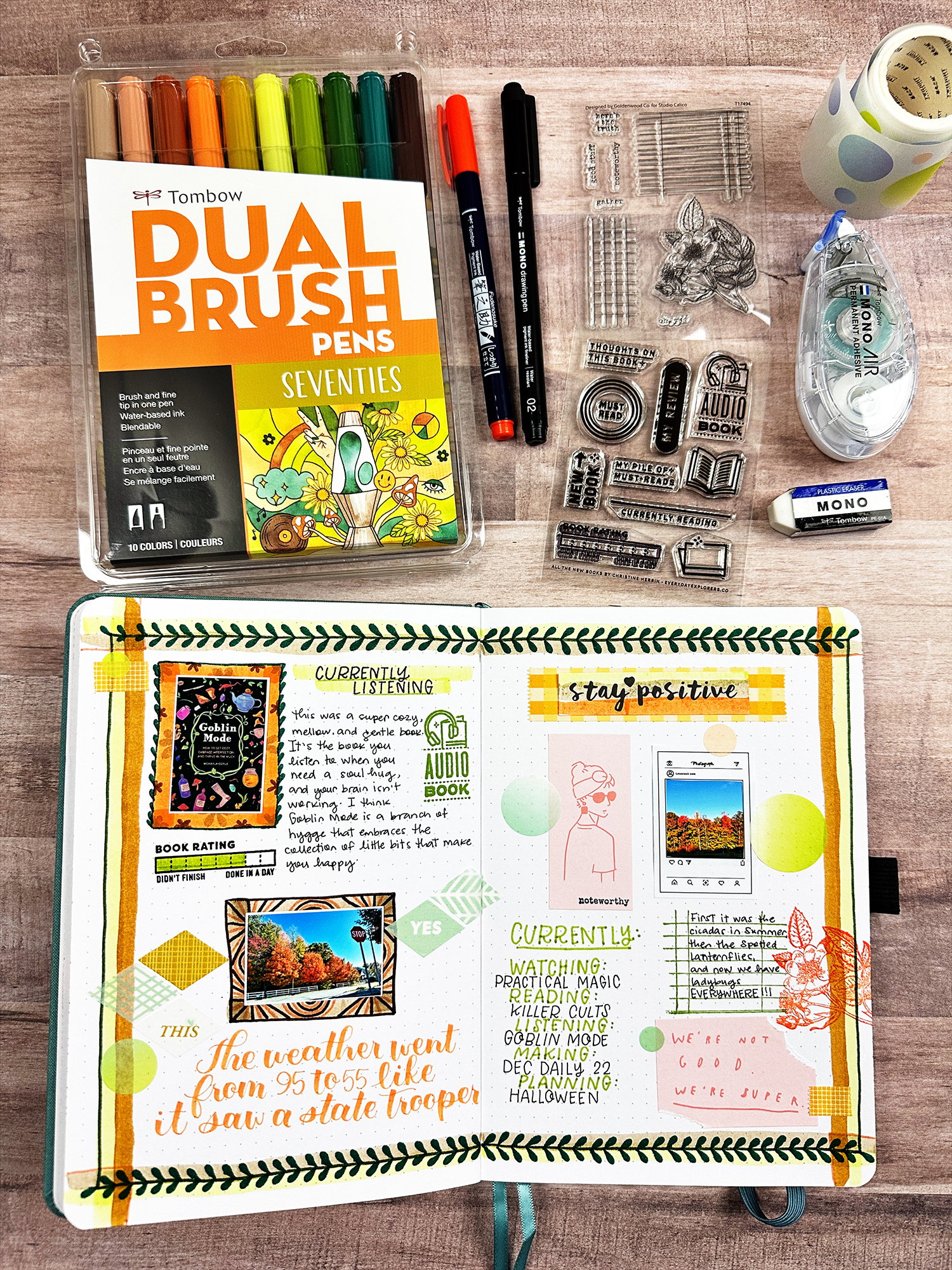 Tip #4: Be honest with yourself and your process.
Sometimes we need to vent and our journal is there to listen. It may not feel joyful while you are journaling, but after venting you will feel better.
To write my journaling, I used the Tombow MONO Drawing Pen.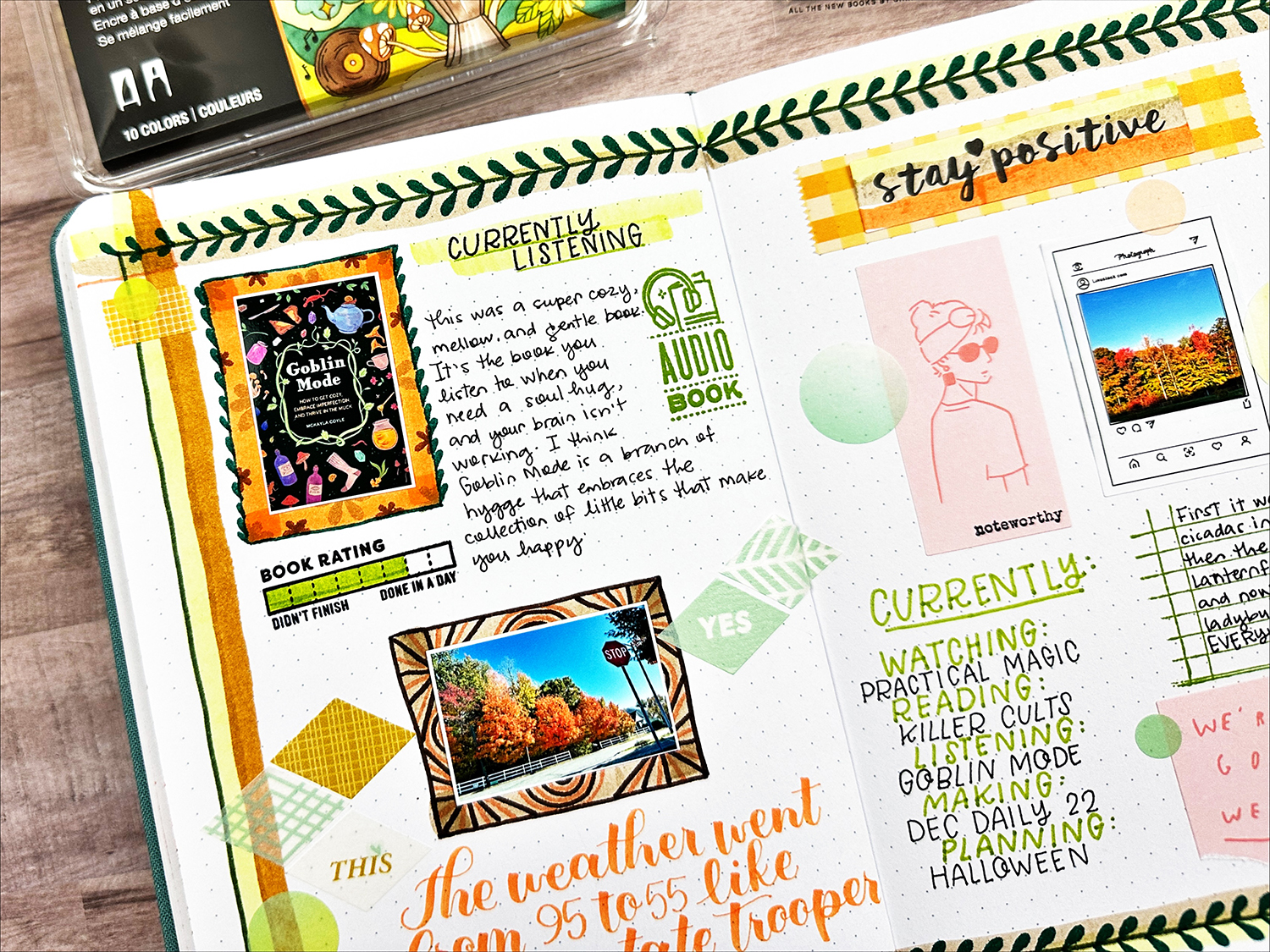 Tip #5: Document your current favorites!
If you are stuck about what to journal, you could talk about the things you are currently loving or consuming. I'm always listening to a podcast or audiobook, reading a book, watching a tv show, or all three. I like to make a list because is fast and easy.
To add the quote, I used the Tombow Fudenosuke Brush Pens. If you are still learning how to letter, your journal is a safe place to practice.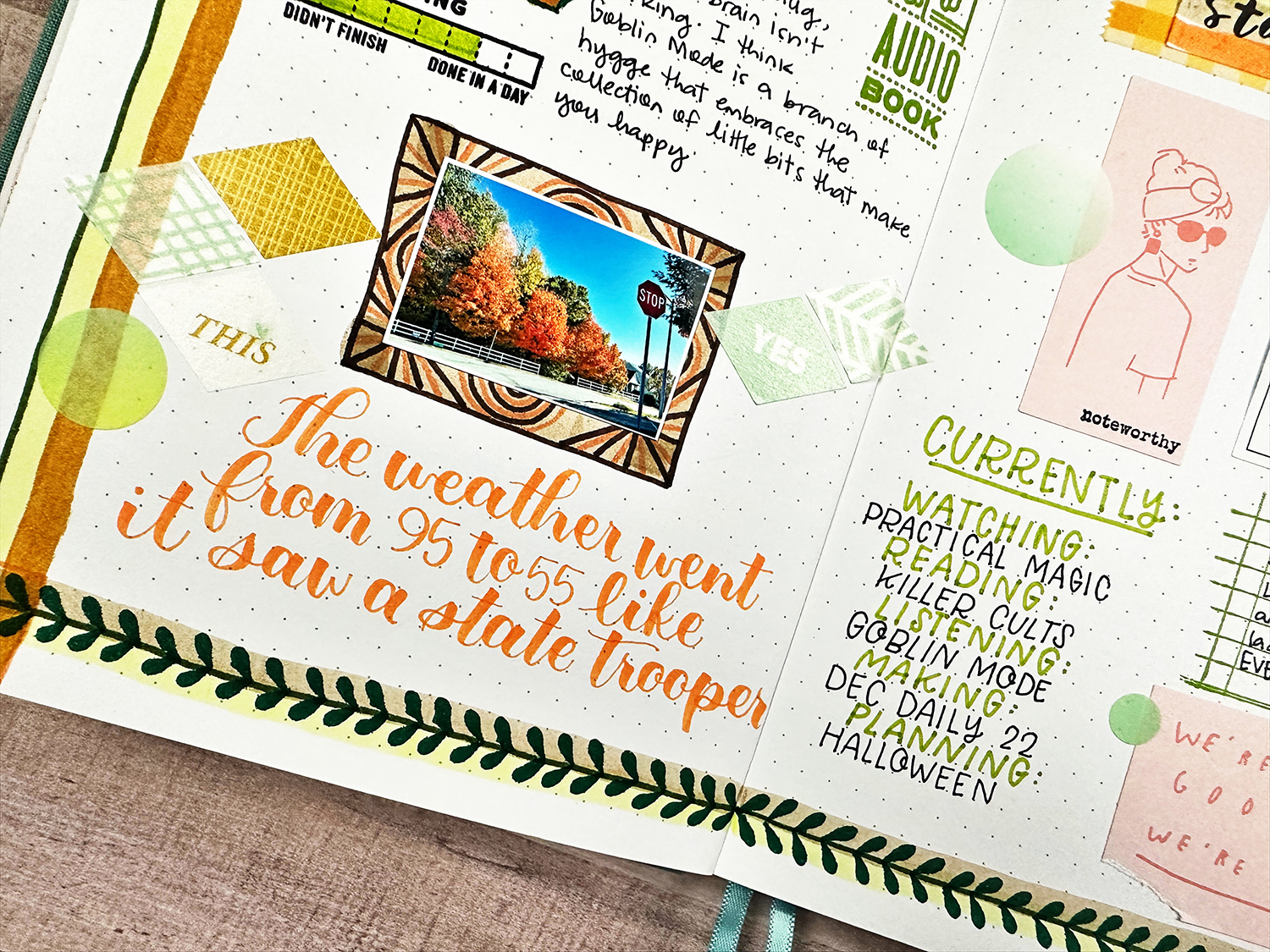 Don't be afraid to break out that new nice journal that you planned to hoard until next year. You don't need a date to begin like a planner. Joyful journaling can start today!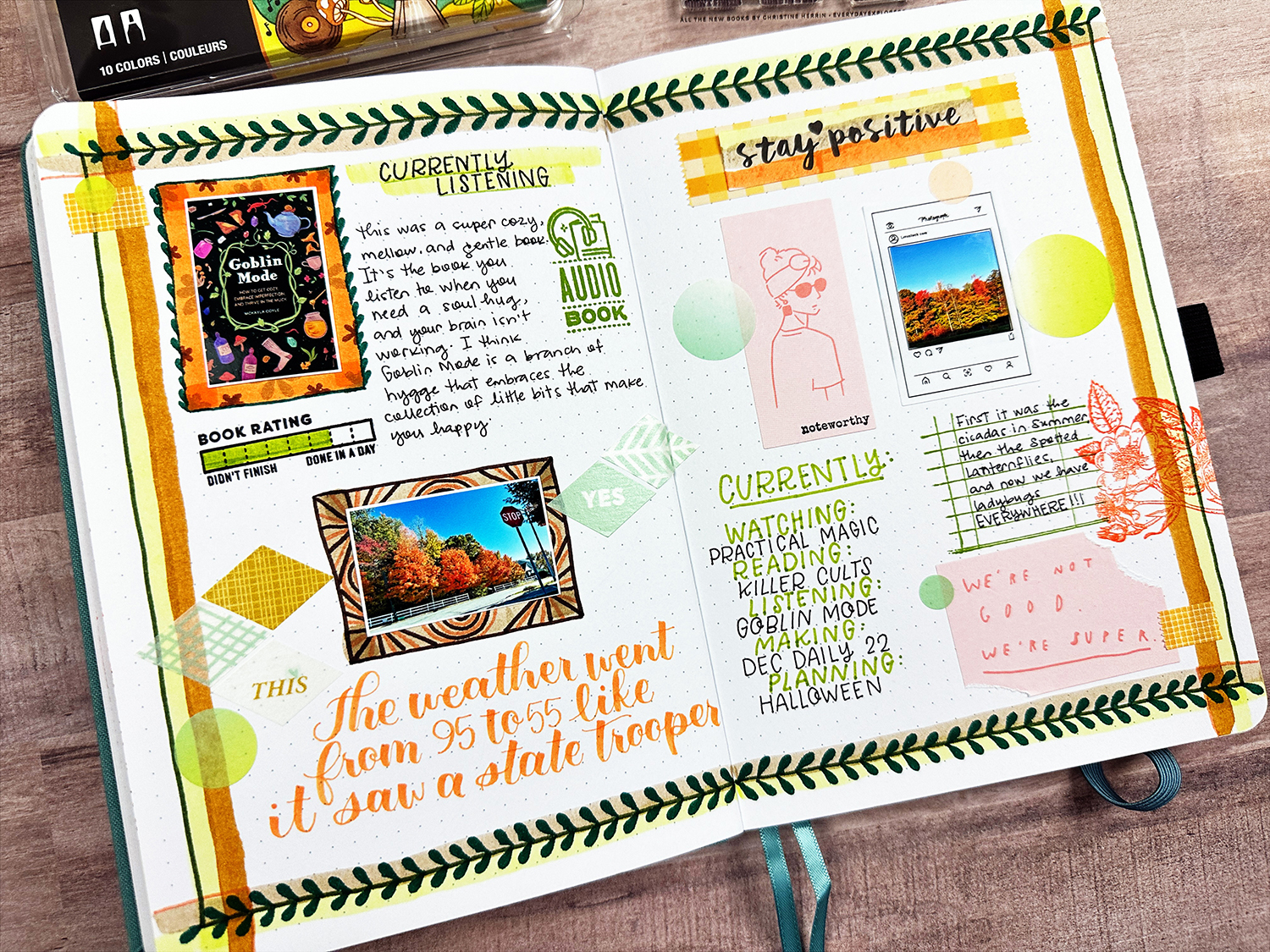 Share your joyful journaling with use tagging @tombowusa on social media and using the hashtag #tombowusa