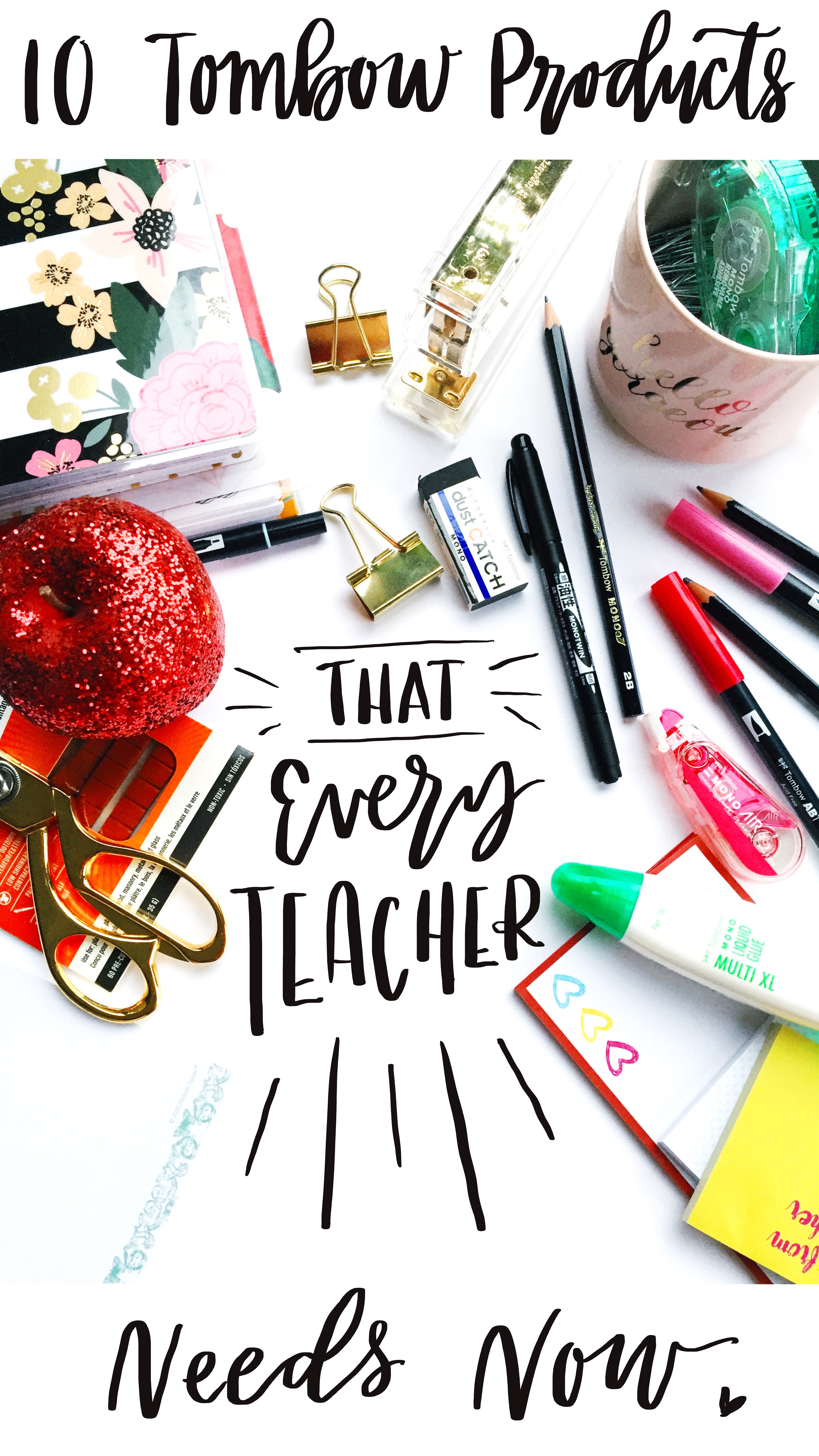 Let's celebrate Teacher Appreciation Week with a fun list of 10 Tombow Products That Every Teacher Needs Now. Hey there, Tombow lovelies! Lauren (@renmadecalligraphy) back again to share tips and tricks using my favorite Tombow USA products. You probably already know that I am obsessed with all things lettering, but you may not know that in my "real life" I am a full-time elementary school teacher. Education means so much to me and I have always been called to teach. Since stumbling upon Tombow products about two years ago, there are some items that I constantly find myself sticking into my school bag or thinking to myself, "oh no… I left that at school again." Tombow products are high quality and so versatile that EVERY teacher needs to know about them… NOW!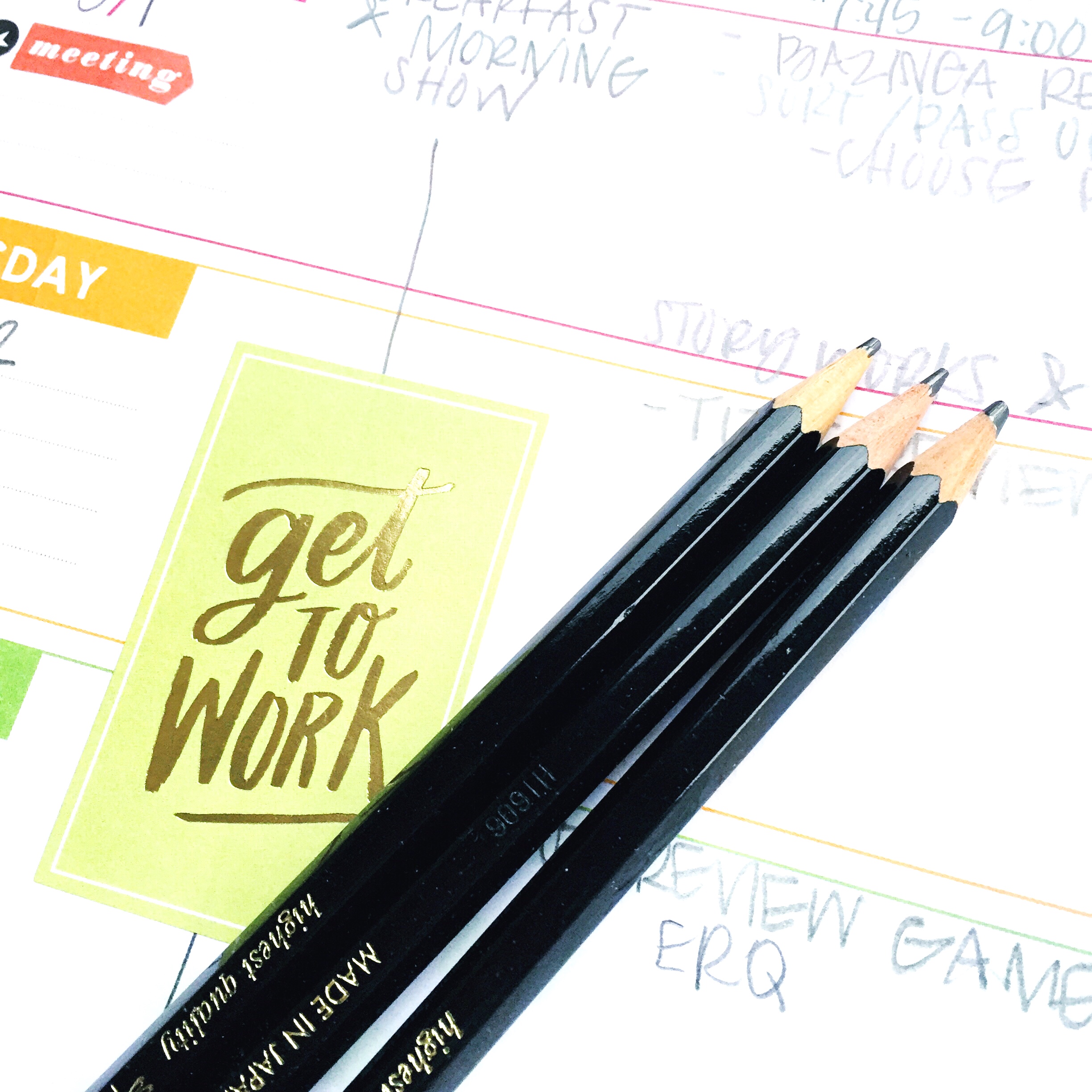 1. TOMBOW MONO DRAWING PENCILS
Every teacher needs a good stash of pencils and Tombow MONO Drawing Pencils are great for stocking up your pencil cup. These pencils are high quality and the black color is perfect to distinguish from those yellow pencils that students always use. I use the Tombow MONO Drawing Pencils to jot down my plans and ideas in my teacher plan book.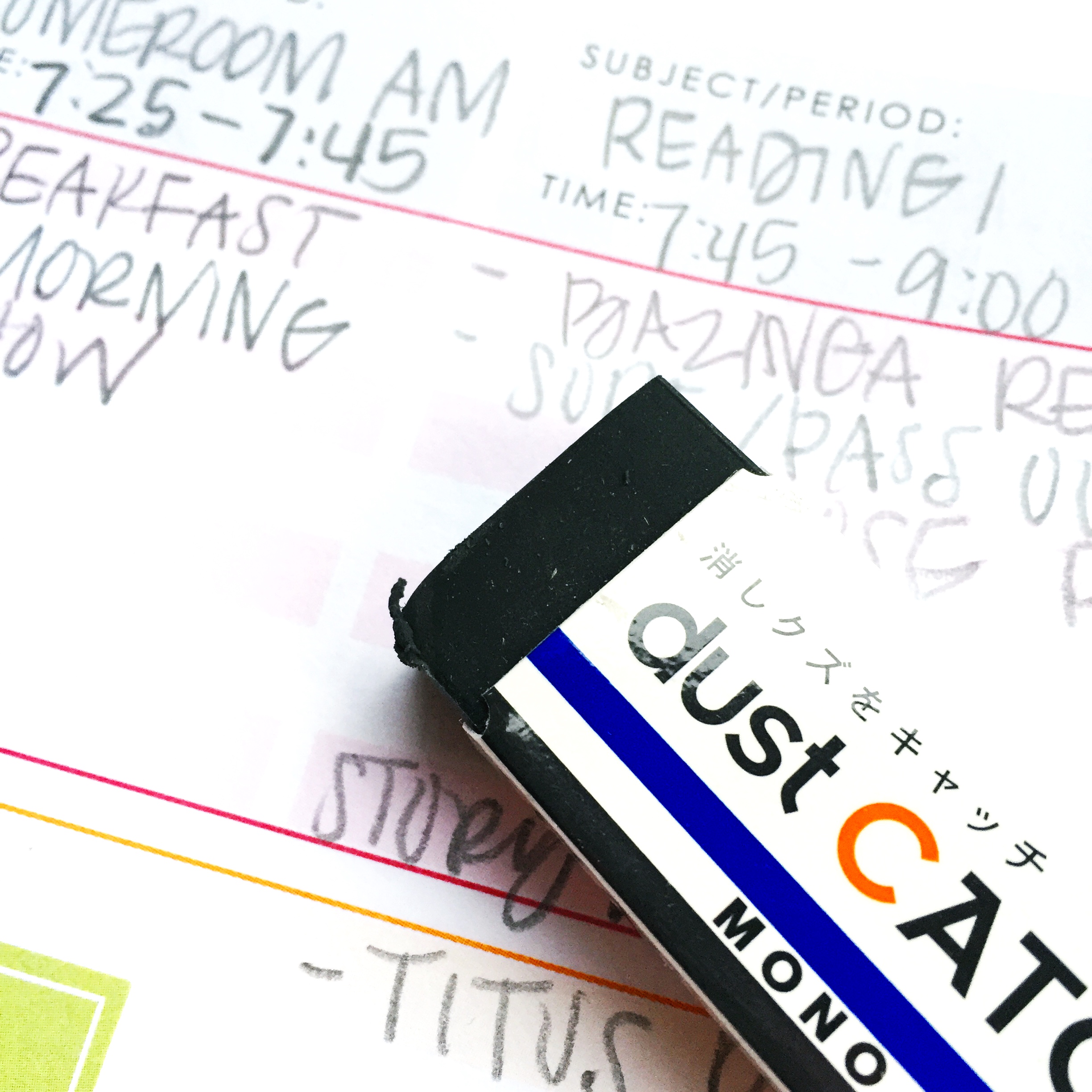 2. TOMBOW MONO DUST CATCH ERASER
After writing down my plans with a Tombow MONO Drawing Pencil, sometimes I need to make some corrections or completely change the next lesson. The Tombow MONO Dust Catch Eraser makes it super easy to stay flexible.  The smooth eraser magically catches its own dust, leaving your workspace neat and allowing the erasing process to be quick and easy.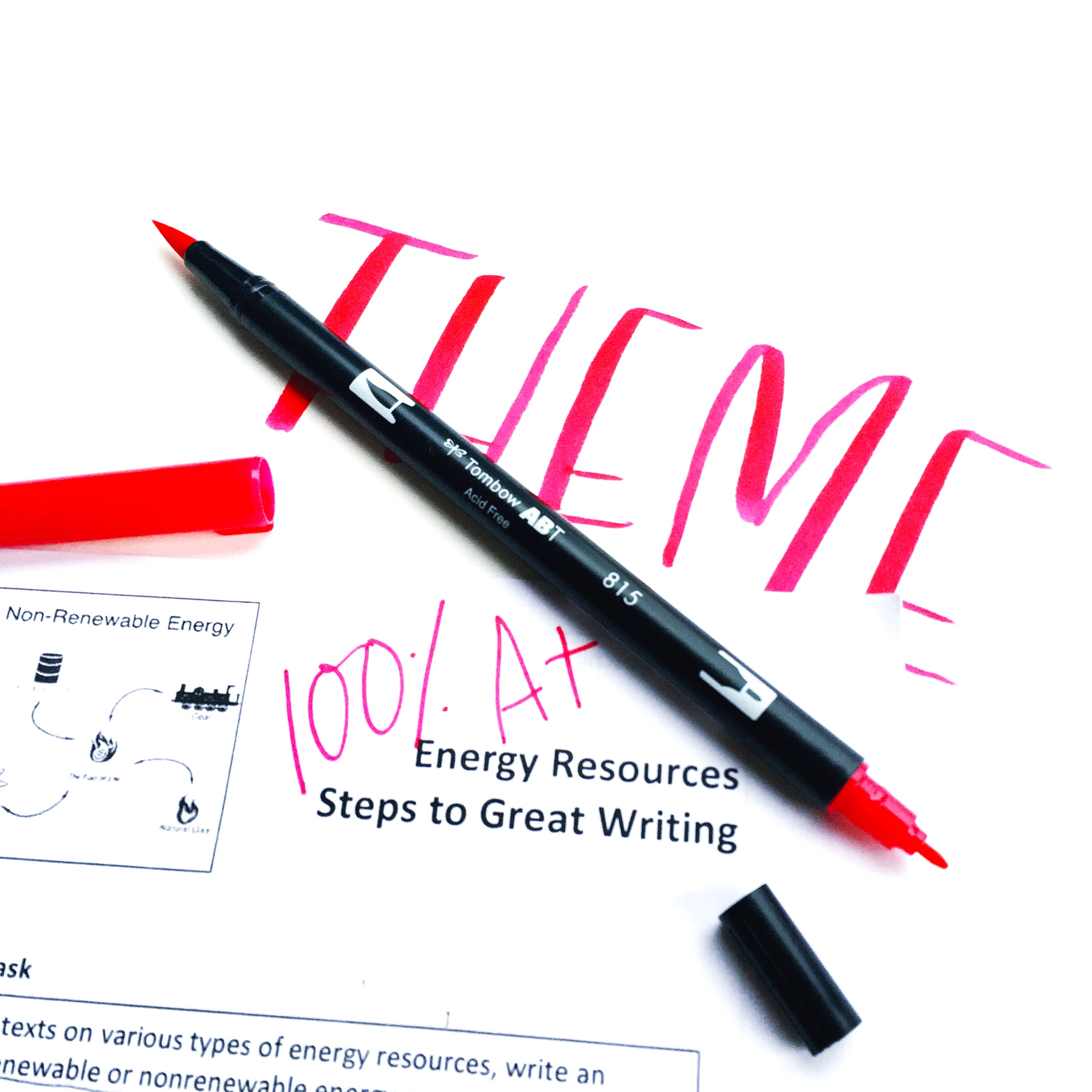 3. TOMBOW DUAL BRUSH PENS
Creating anchor charts and grading papers is much more fun with the vibrant colors of Tombow Dual Brush Pens. These two tip pens offer a fine line and thick brush stroke. Tombow Dual Brush Pens come in 96 different colors and are so easy and fun to use.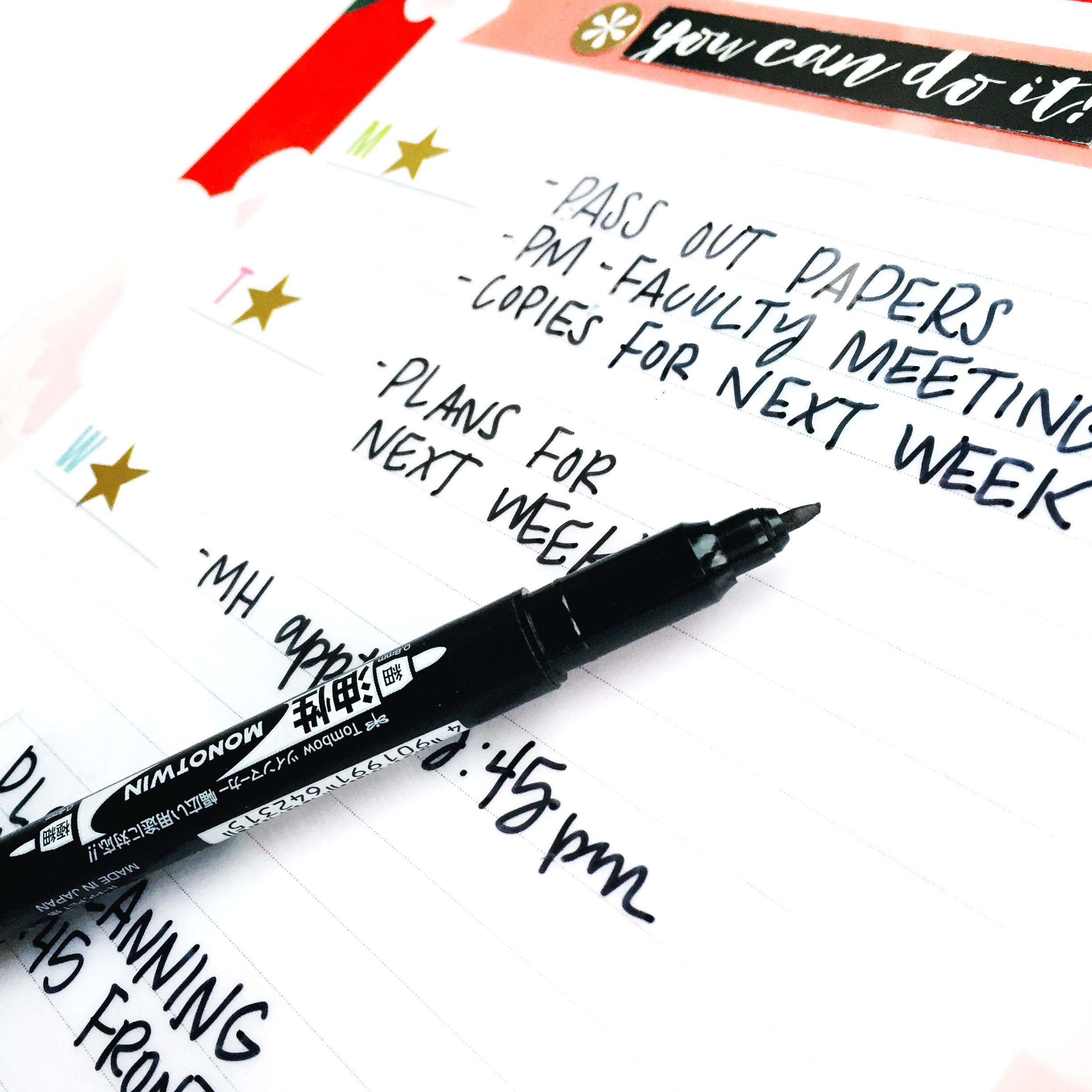 4. TOMBOW MONO TWIN PERMANENT MARKER
The Tombow MONO Twin Permanent Marker is a permanent marker that also comes with two tips: one fine tip and one broad tip.  This marker is perfect for writing on many different surfaces, even slick surfaces, like the inside cover of my plan book.  The ink will stay in place and all I have to do to clean it if I need to make a change is to wipe it with a little fingernail polish remover.  This marker writes on tape, washi tape, printed paper, stickers, plastic, and so much more!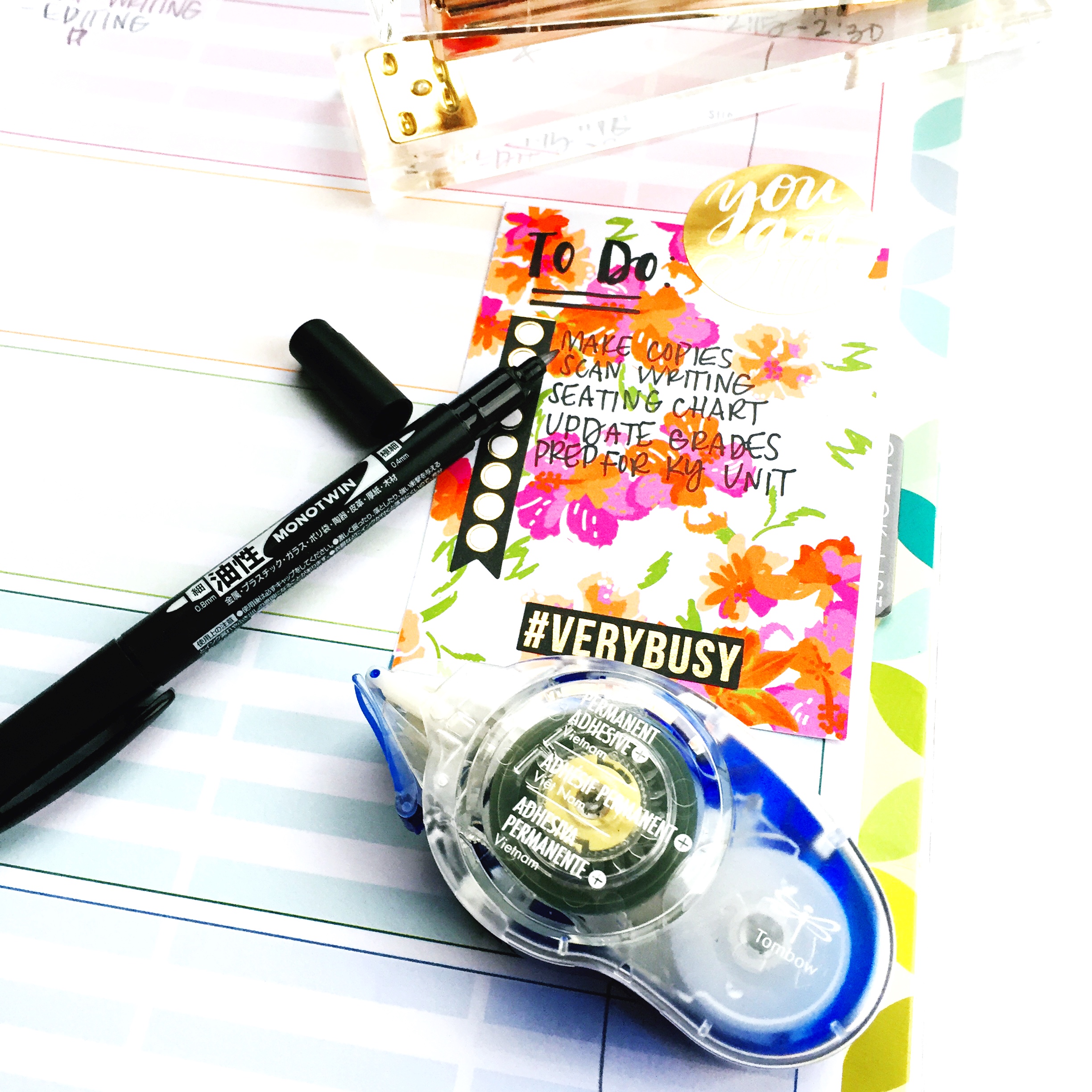 5. TOMBOW MONO PERMANENT ADHESIVE+
Any time that I need to glue a note into my plan book to make sure that it will stay in place, I use the Tombow MONO Permanent Adhesive+. This adhesive tape runner is easy to use, precise, and sticks very well for a lasting bond.  In addition to sticking items into my plan book, I also love to create my project examples using this adhesive because it holds up better than the average glue stick and helps one sample be able to be used by many classes.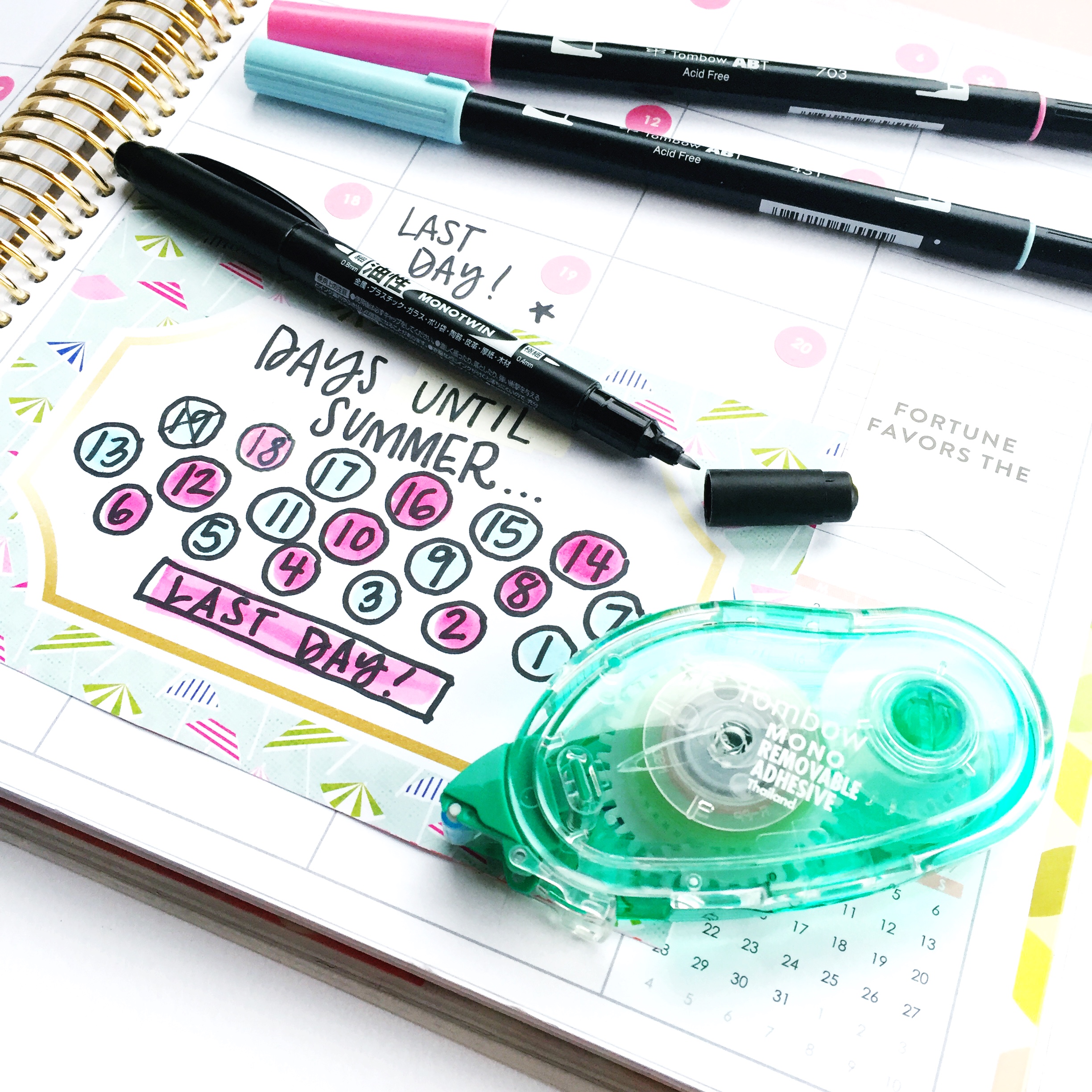 6. TOMBOW MONO REMOVEABLE ADHESIVE
Tombow Removable Adhesive is perfect for attaching a note or reminder that doesn't always need to stay in place. Turn any piece of paper into an instant sticky note with this easy-to-use tape runner!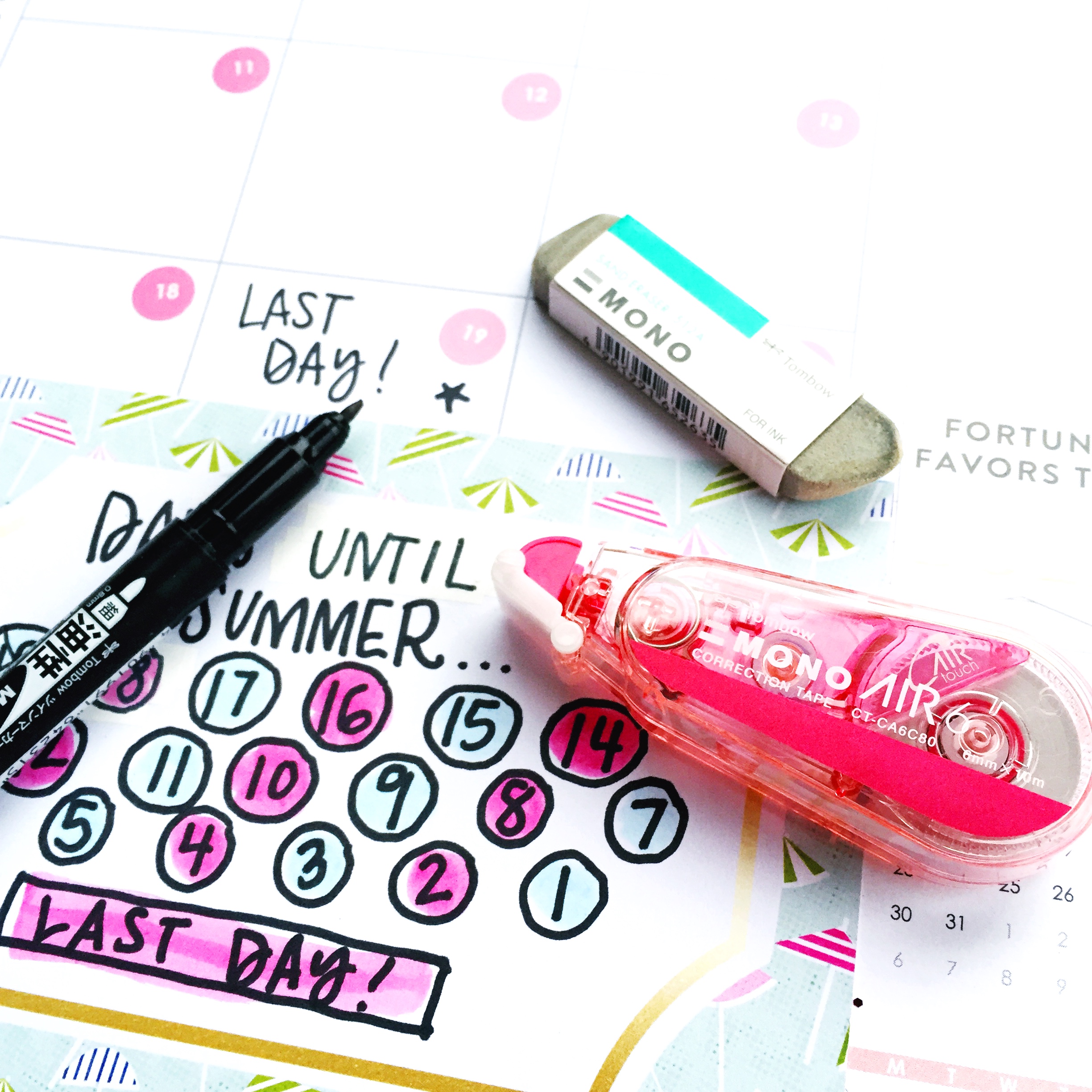 7 & 8. TOMBOW MONO AIR CORRECTION TAPE & TOMBOW MONO SAND ERASER
Teachers often make mistakes and it's so easy to correct them with Tombow's MONO Air Correction Tape and the Tombow MONO Sand Eraser. The correction tape goes on smoothly and can be instantly written on. It's hard to tell in the picture above where I had to use the correction tape, isn't it? Some mistakes are tiny or difficult to cover with correction tape and are perfect to a little action from the MONO Sand Eraser.  This eraser can erase colored pencil and pen ink.  All it takes is a little elbow grease and it works on thicker paper best.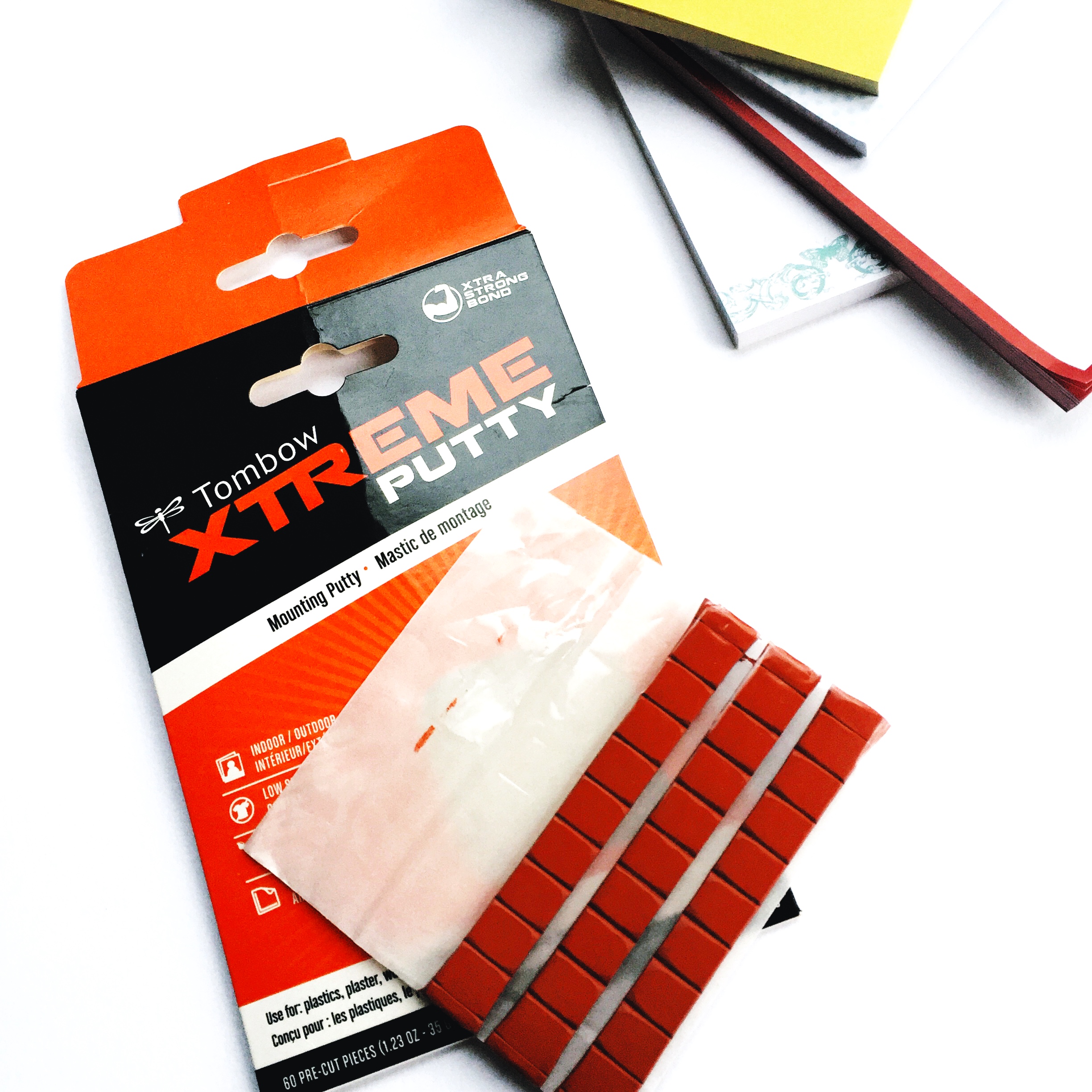 9. TOMBOW XTREME MOUNTING PUTTY
I always have struggled with what to use for hanging anchor charts and posters. Tombow Xtreme Mounting Putty is perfect for hanging up those displays on classroom walls.  Simply tear off a square and place one in each corner, then apply pressure to attach to a surface, such as a wall.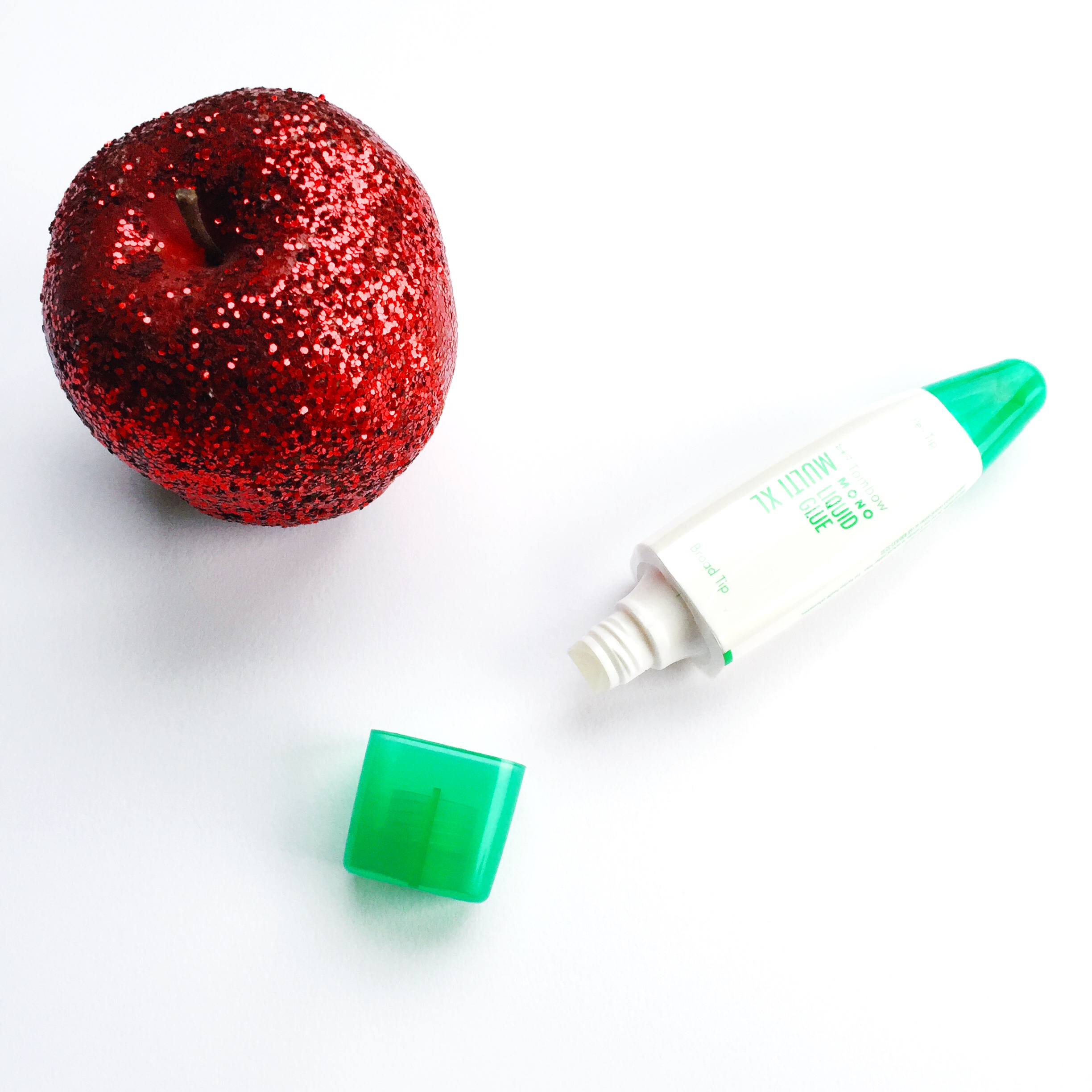 10. TOMBOW MONO MULTI XL LIQUID GLUE
Every teacher loves a little glitter (well at least, this teacher does).  Tombow MONO Multi XL Liquid Glue is perfect for those detailed craft projects involving glitter. This apple was so easy to create after brushing on the glue and applying the glitter!
NOW IT'S TIME TO ADD TO YOUR TEACHING STASH!
Every teacher needs a little more Tombow in their life! These products are the perfect addition to any teacher's desk as they are high quality and easy to use! For more tips and tricks about Tombow USA Products visit me on Instagram @renmadecalligraphy or renmadecalligraphy.com.
Check back all week here on the blog to see how the rest of the Design Team celebrates the Teacher Appreciation Week, Tombow style!
HAPPY TEACHER APPRECIATION!