Hello Creatives!  Beth, here to share a fun project today.  Now y'all know that I am not a traditional scrapbooker, but I love creating unique items, like home decor with scrapbook supplies. I had this wooden frame and acrylic tiles in my stash and decided to upcycle them into a stylish collage frame.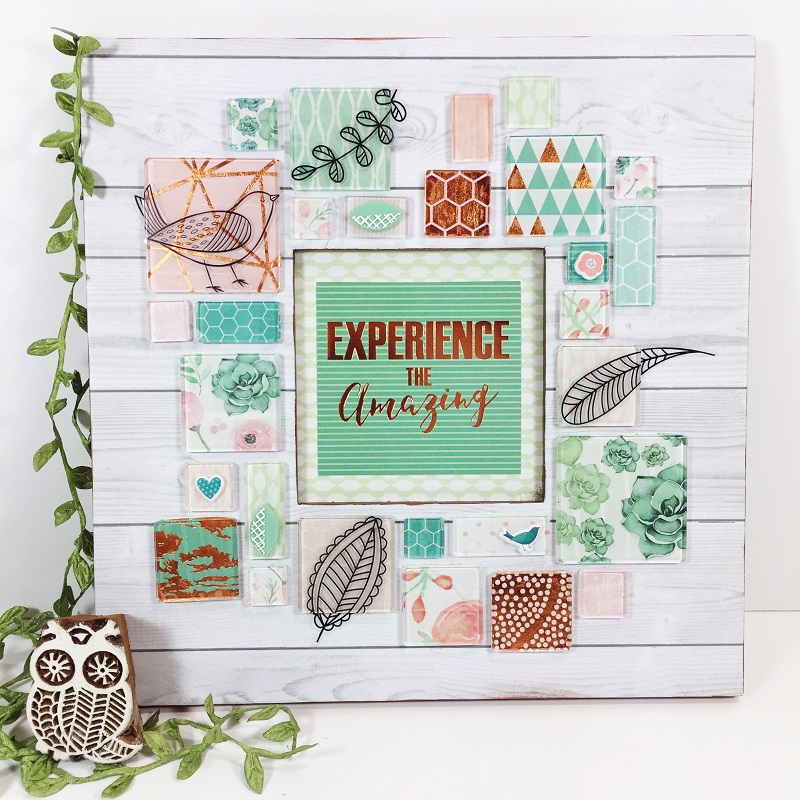 This week the Design Team is celebrating National Scrapbook Day with some of our great partner companies including Papercakes, Amy Tangerine, Paper House, Diecuts With A View and of course, my favorite Tombow USA!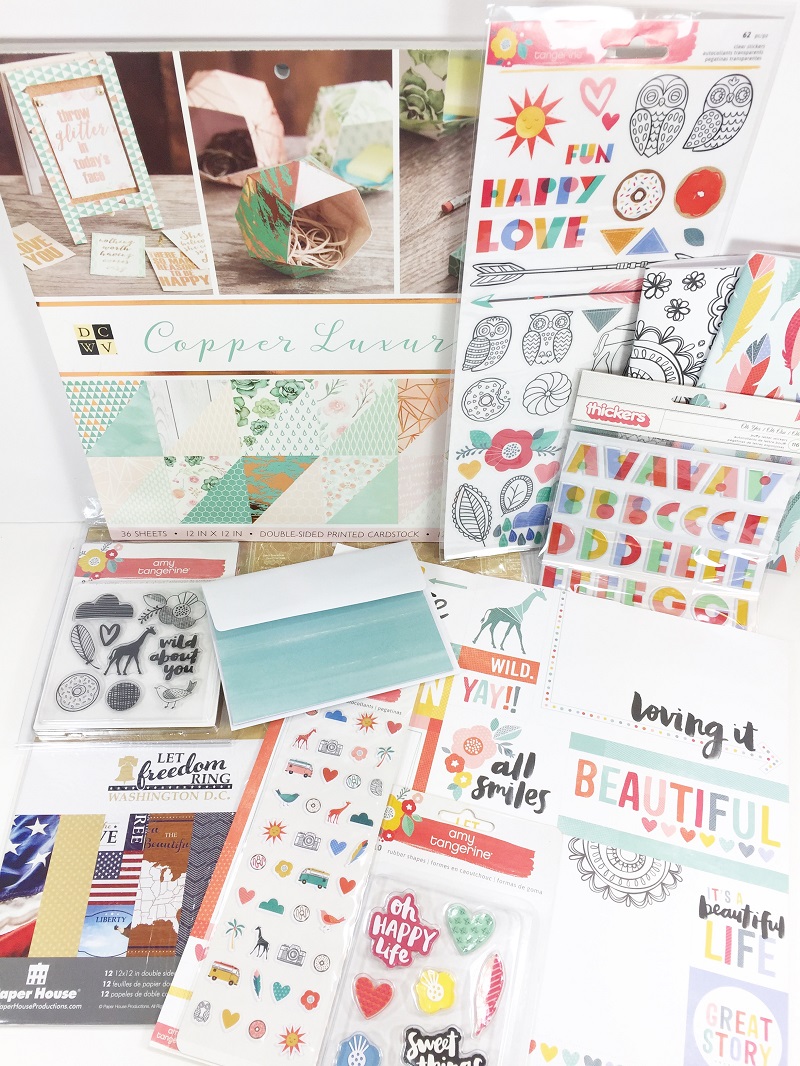 Here's how I made it
STEP ONE:
Apply Tombow MONO Aqua Liquid Glue to the surface of a wooden frame.  I got mine at the craft store. Use the broad tip for an even application.  Attach scrapbook paper from the DCWV Copper Luxury paper stack.  I love the pink, coral and green tones of this paper stack paired with the metallic copper – delicious! Use the broad tip cap to smooth the paper and ensure a good adhesion.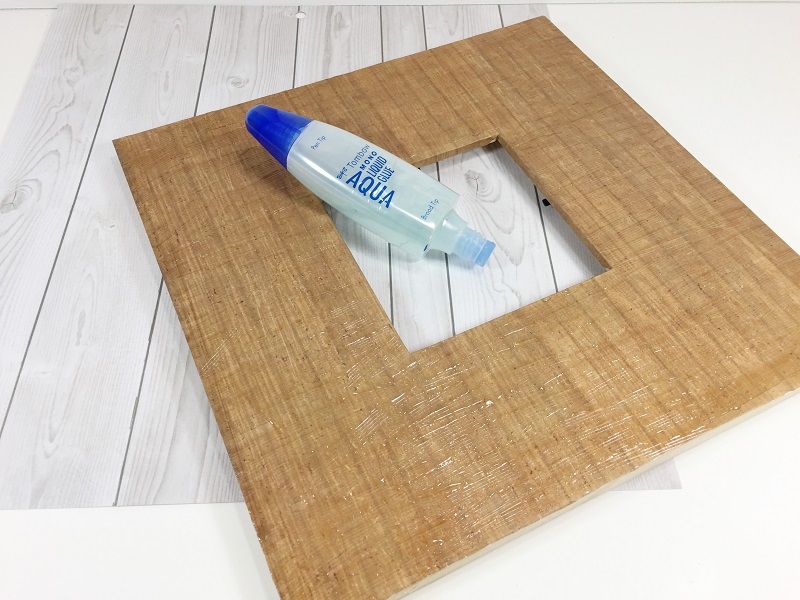 STEP TWO:
Cut and X in the center of the frame and adhere the sections to the inside edges.  Repeat with the outside edges.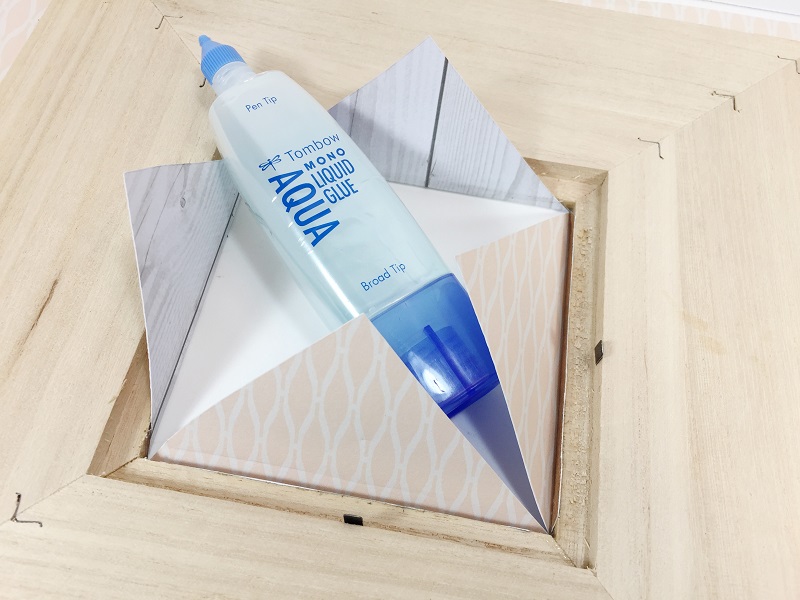 STEP THREE:
Layout clear acrylic tiles around opening of frame until you are pleased with the composition.  TIP: Take a photo of the layout, so you remember the placement.
Apply a variety of scrapbook papers to the tiles with Tombow Xtreme Permanent Adhesive.  Remember to roll the Xtreme to apply then swipe at the right angle to release the adhesive. The Xtreme is clear and 5 times stronger than regular adhesive runners, so it is the perfect choice!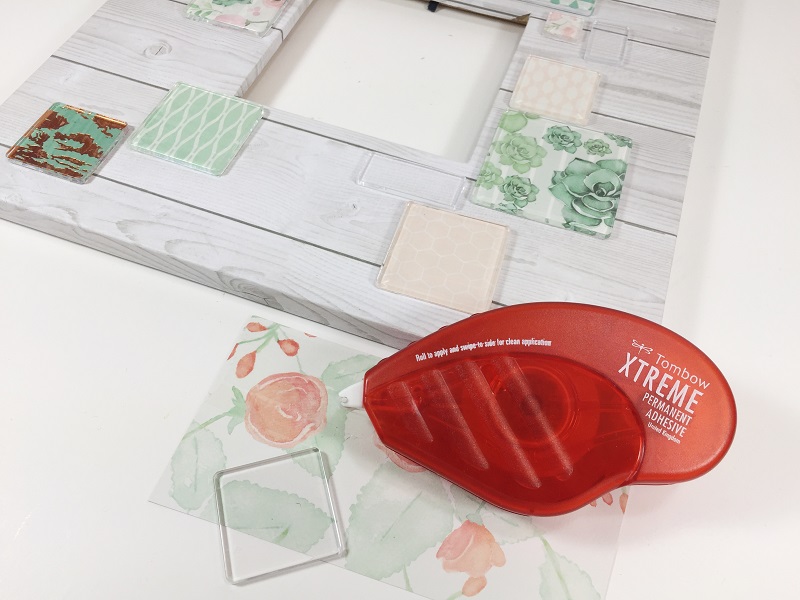 STEP FOUR:
Trim the excess paper with scissors.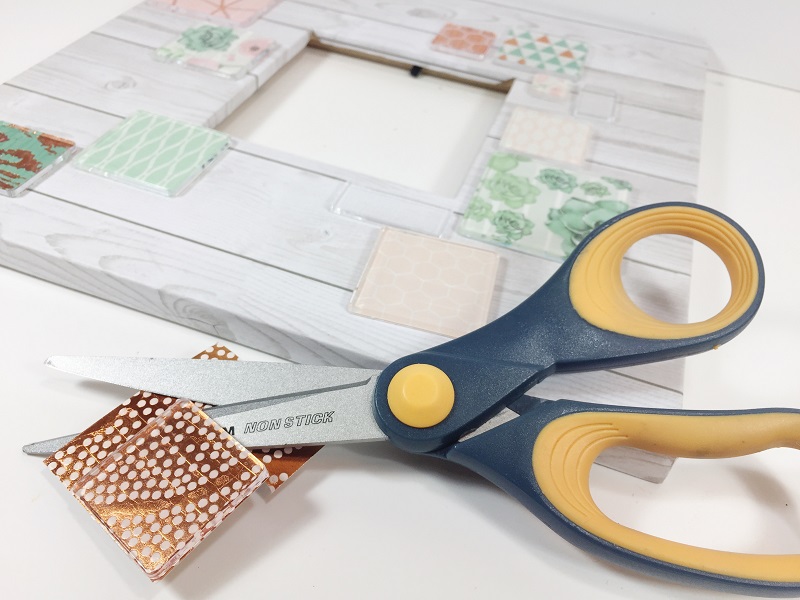 STEP FIVE:
Apply the tiles to the frame with Tombow MONO Aqua Liquid Glue. Use the Pen Tip for this application, as to not use too much glue.  A little goes a long way!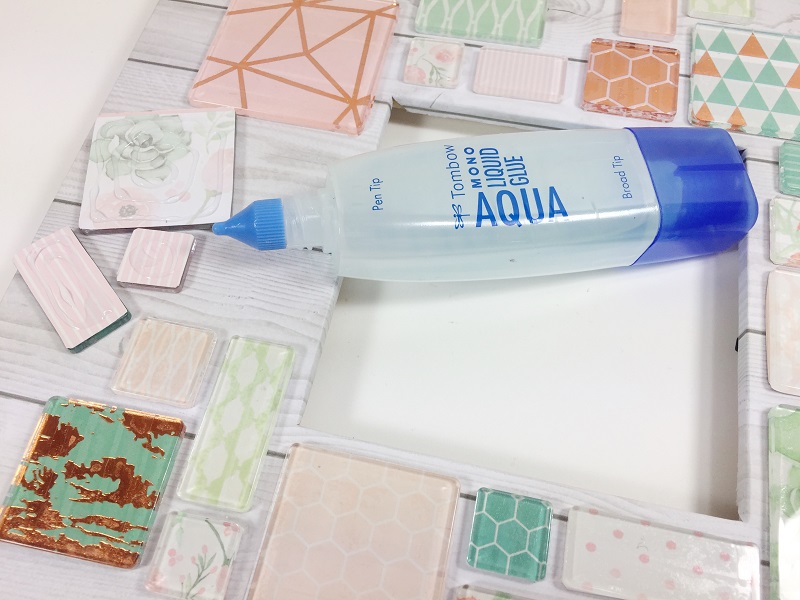 STEP SIX:
Paint the inside and outside edges with Worn Penny Dazzling Metallic paint from DecoArt.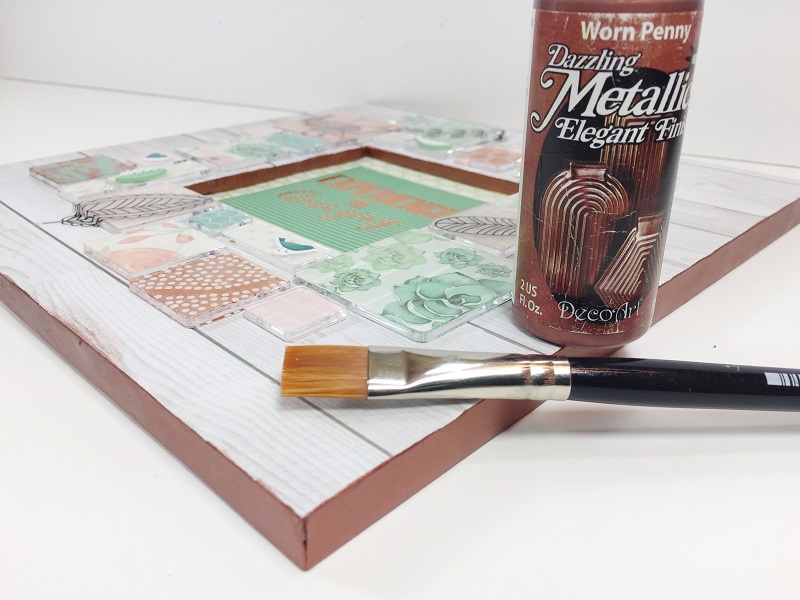 DETAILS:
The final step is to accent the scrapbook paper lined tiles with stickers and embellishments from Amy Tangerine Oh Happy Life collection. The colors blend perfectly and I love how the clear stickers look like doodles – SWOON!
Here are four up close, detailed shots of the frame, tiles, stickers and embellishments.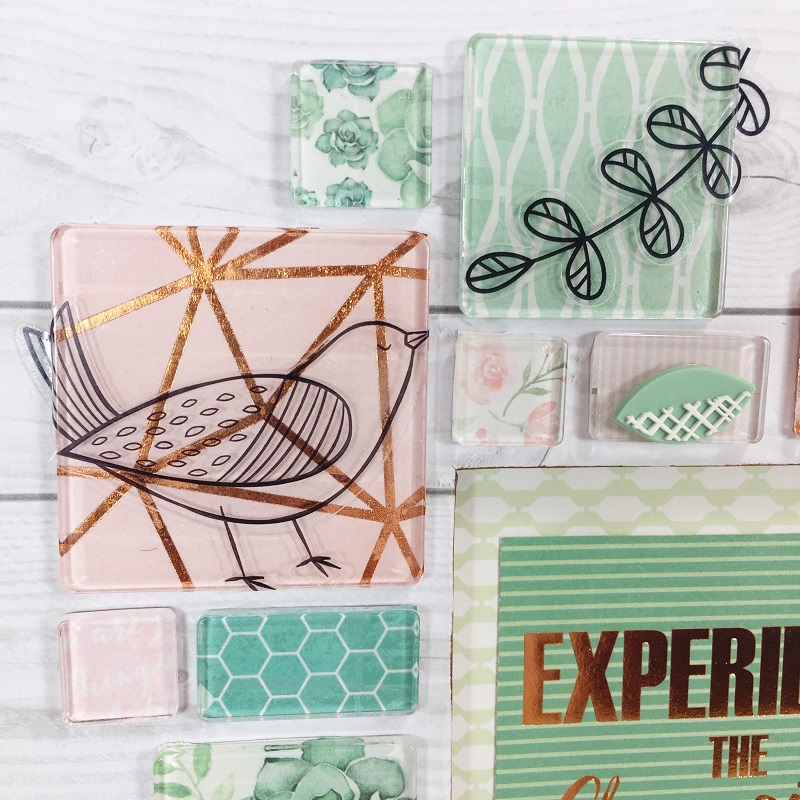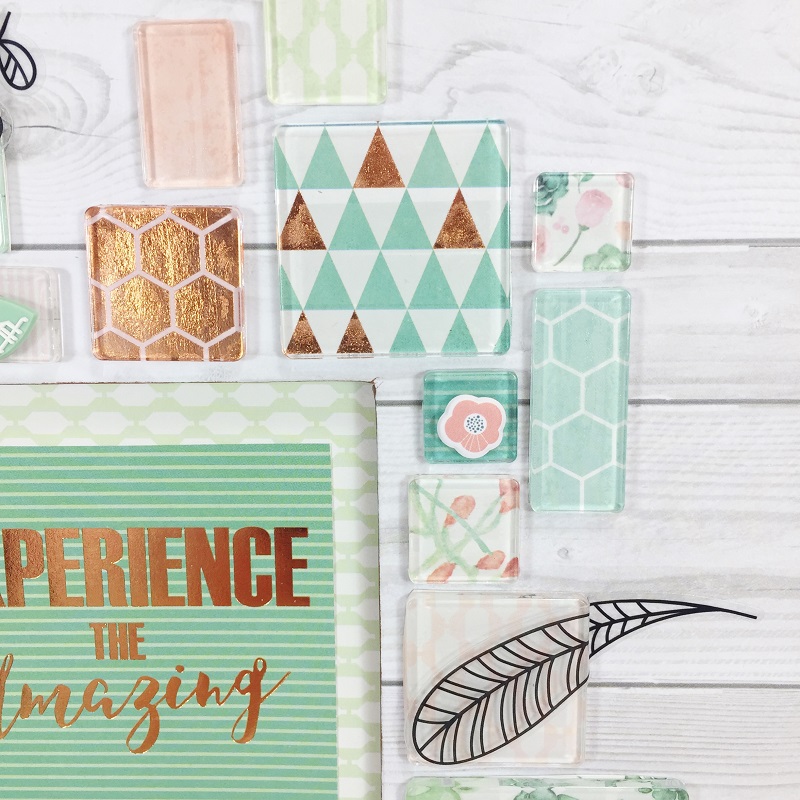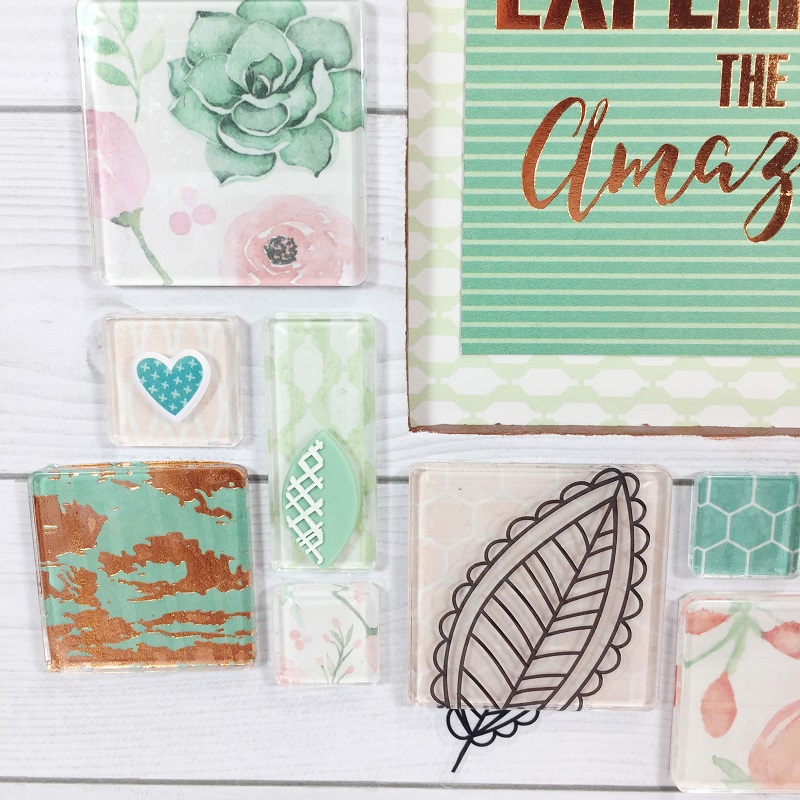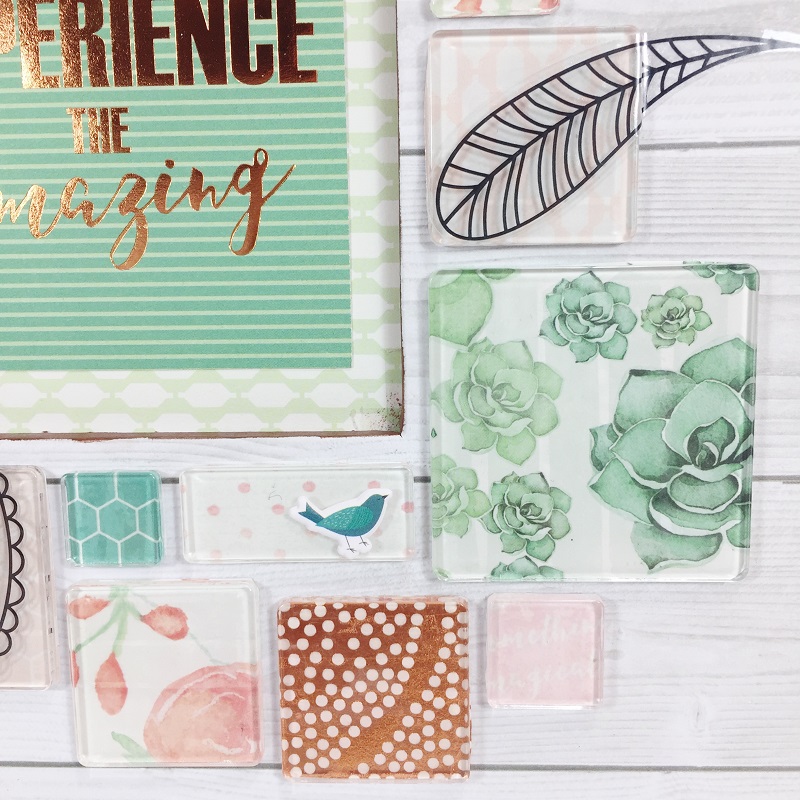 Thanks for stopping by and if you were inspired by my How to Create Home Decor with Scrapbook Supplies project today check out these blog posts Faux Letterpress Home Decor or National Smile Week Home Decor
I hope that you will try to create home decor with scrapbook supplies to celebrate National Scrapbook Day!