Do you love stamping? It's Mandy from @a_heartened_calling and today I'm showing you 3 inspiring ideas to use Tombow Markers with Whimsy Stamps! Whimsy Stamps is a company that has whimsical and adorable stamps and die cut sets, all created by talented illustrators!  Most often you'll see stamps used for card making or scrapbooking, but today I'll show you two other ways you can use these stamps! And since Christmas is almost here, these 3 ideas will be Christmas themed! Let's get started!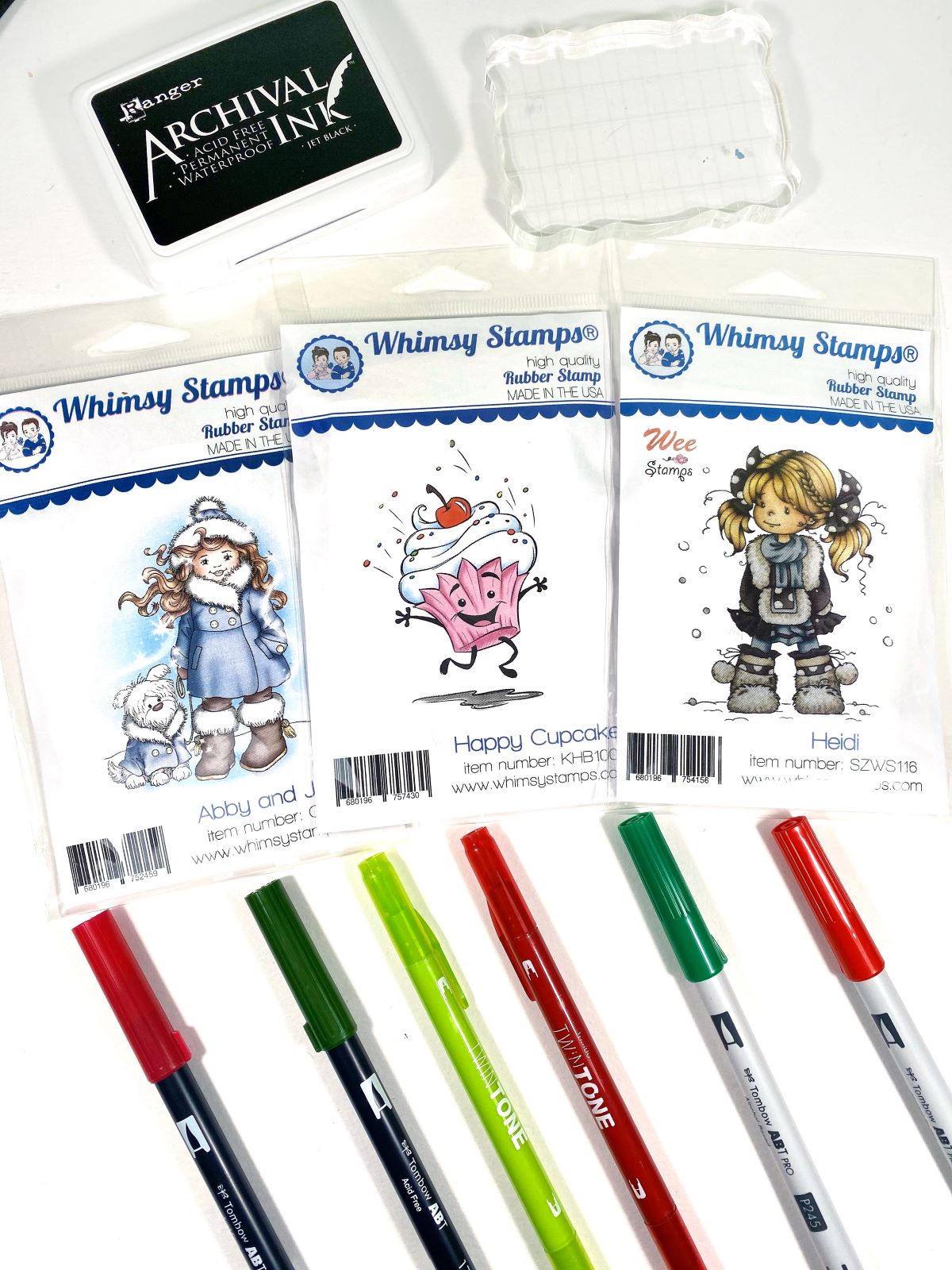 IDEA 1 – Merry Birthday Card
MATERIALS
This is a fun way to celebrate those loved ones whose birthday falls on Christmas. They will for sure chuckle!  To create this project, fold a piece of watercolor paper in half. Apply the Happy Cupcake Stamp to a stamping block and use an archival ink pad to add ink to the stamp. Stamp the image onto the front of your watercolor paper and let dry. Next use the red, green, blue, and black TwinTone Markers to add color to the Blending Palette. Using the Small Water Brush, pick up ink from each color and color in the cupcake. Use the red TwinTone Marker to letter out Merry Birthday and the green TwinTone Marker to add a shadow. Lastly, use the blue TwinTone Marker to draw a few snowflakes.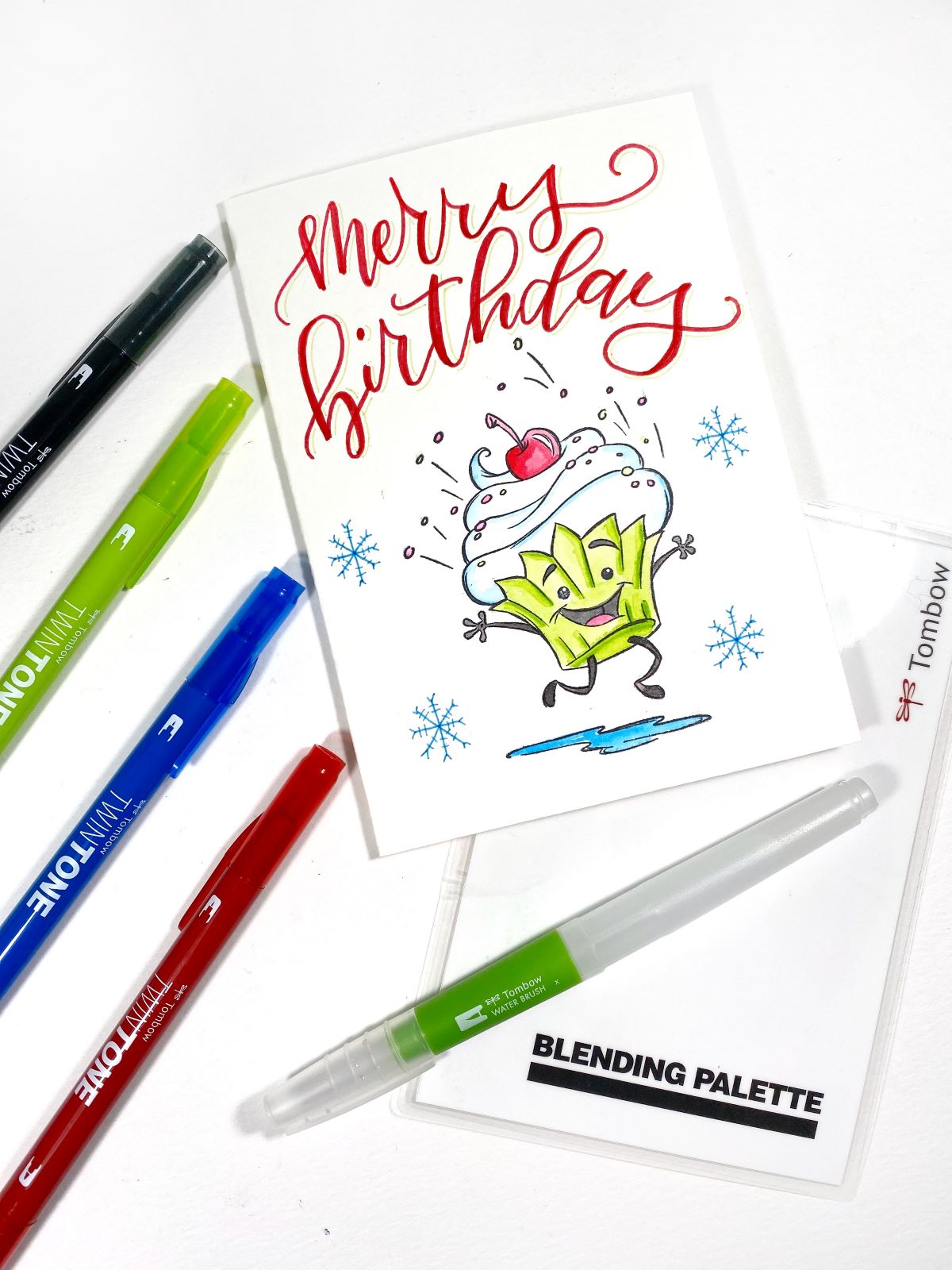 IDEA 2 – Christmas Tracker
MATERIALS
Do you create a budget/tracker for Christmas? Using your bullet journal, you can create a budget page to keep track of how much you've budgeted for each person and how much you've spent. To create this spread, apply the Heidi Rubber Stamp to a stamping block. Then, add ink from an archival ink pad. Stamp the image onto the bottom left corner of your first page. Then with a ruler, create 3 columns for Name, Budget and Spent using the bullet tip of any black Dual Brush Pen. Use any red Dual Brush Pen to letter out Christmas Tracker at the top. Then use your favorite Dual Brush Pens to color in the stamped image and add a little background sky. Lastly, write in the names, and budget amounts with the MONO Drawing Pen 02. Write in your spent amounts as you buy gifts with the MONO Drawing Pen.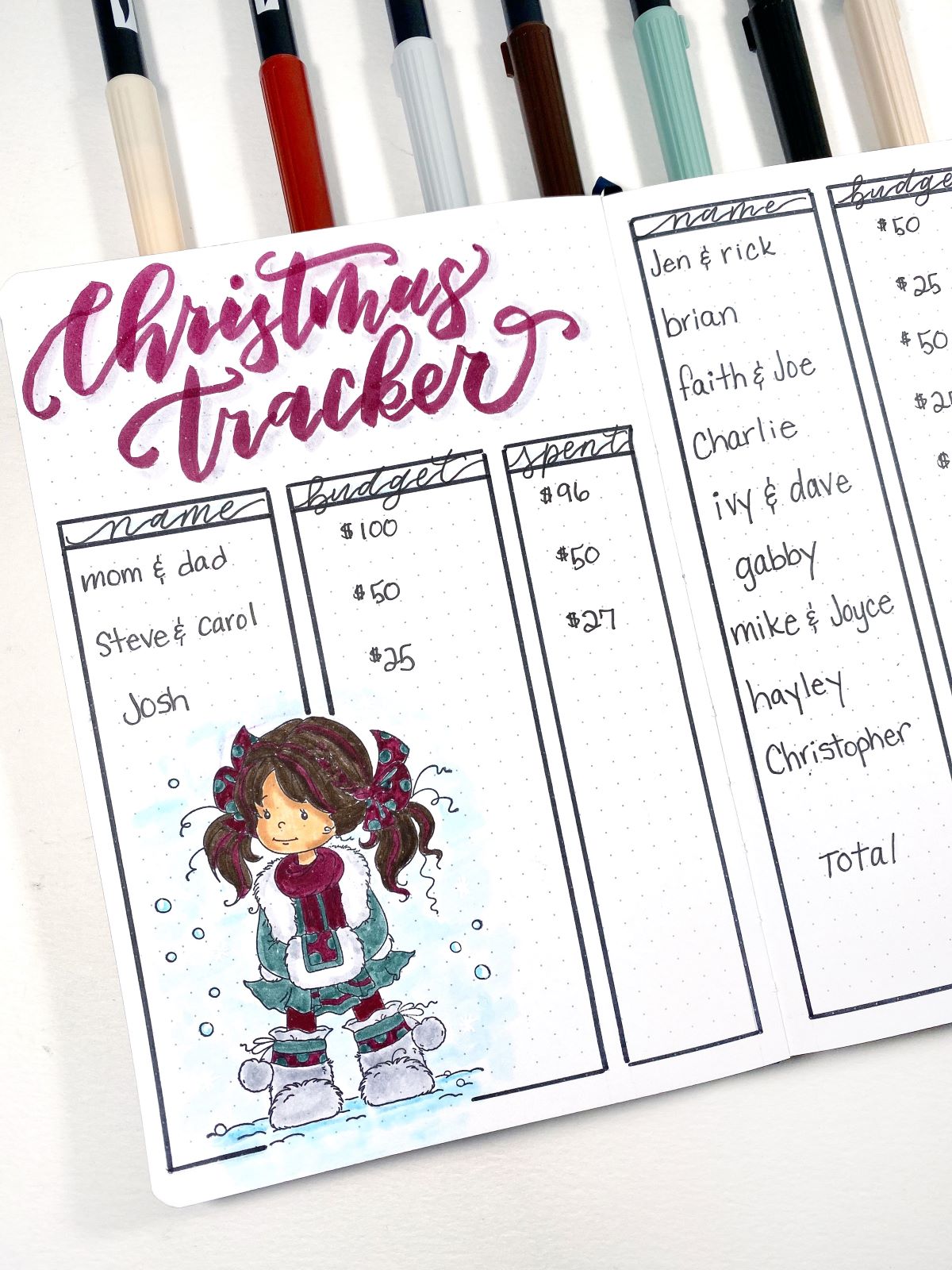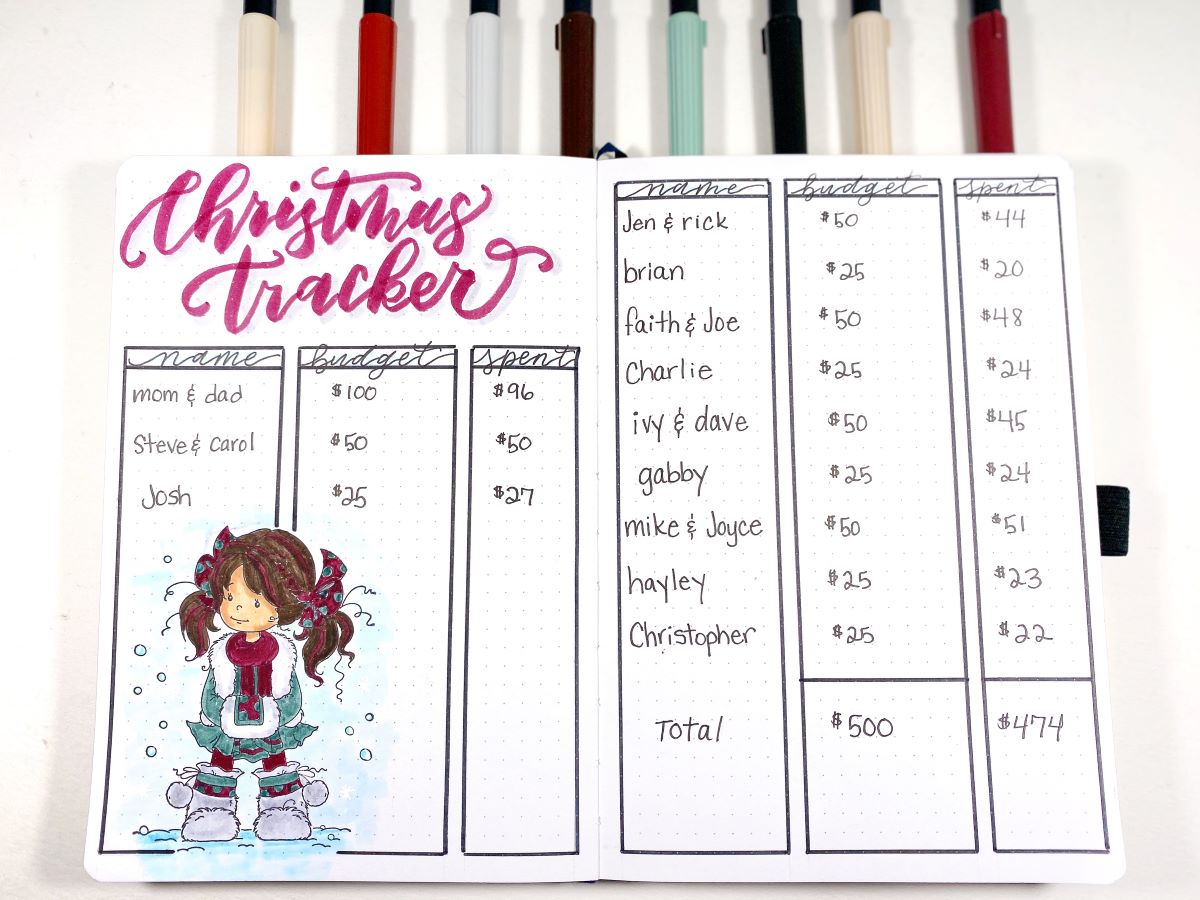 IDEA 3 – Christmas Tags
MATERIALS
If you love creating your own gift tags for Christmas, you'll love creating them with stamps! For this idea, apply the Abby and Jade Rubber Stamp onto a stamping block. Then, add archival ink to the stamp. Stamp the image onto a piece of bristol paper. Then, use your favorite ABT PRO Marker colors to color the image in. When done, cut around the image with scissors in a tag shape.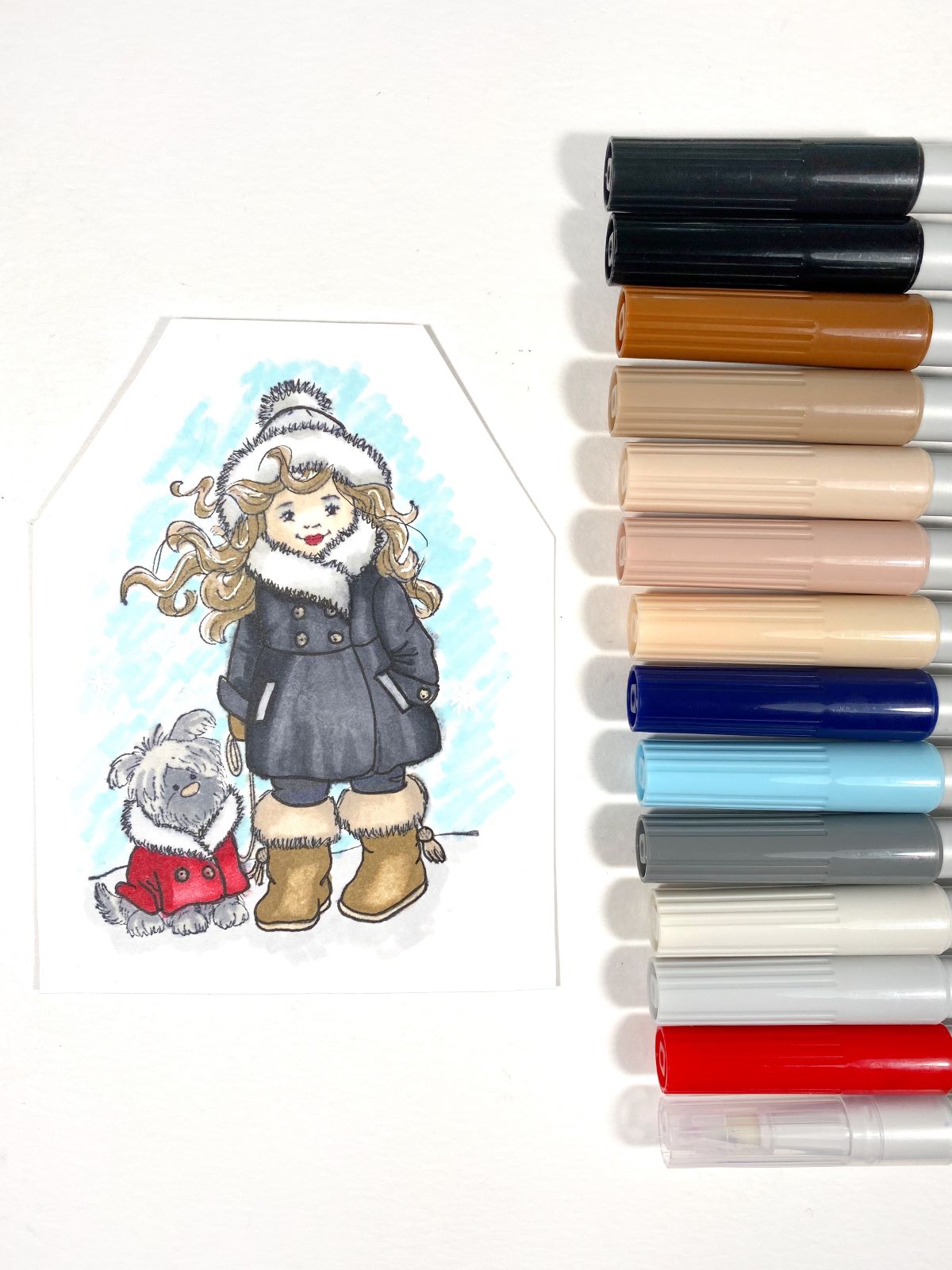 Punch a hole at the top, write the recipient's name on the back and attach it to a gift!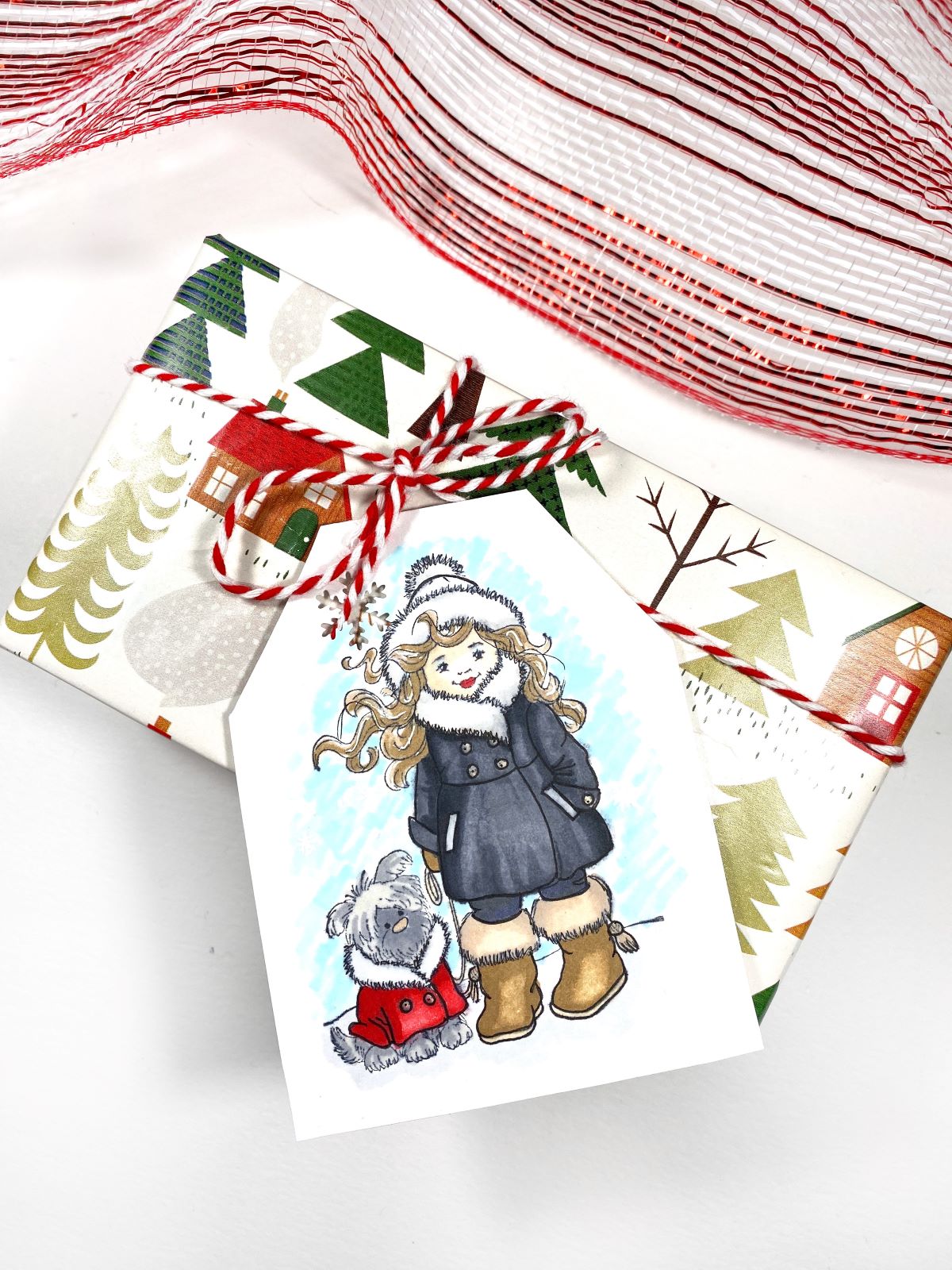 I hope you enjoyed these 3 ways to use Tombow Markers and Whismy Stamps! For more stamp inspiration, visit these posts!
Thanks for following along, Merry Christmas and Happy Holidays!!!
Mandy