Hi friends, Adrienne from @studio80design here to show you two ways you can embellish a clear stamp! I'll be using some great tools from Waffle Flower to create this project. Let's get started!
Materials you'll need:
Embossing ink pad
Gold embossing powder
Heat gun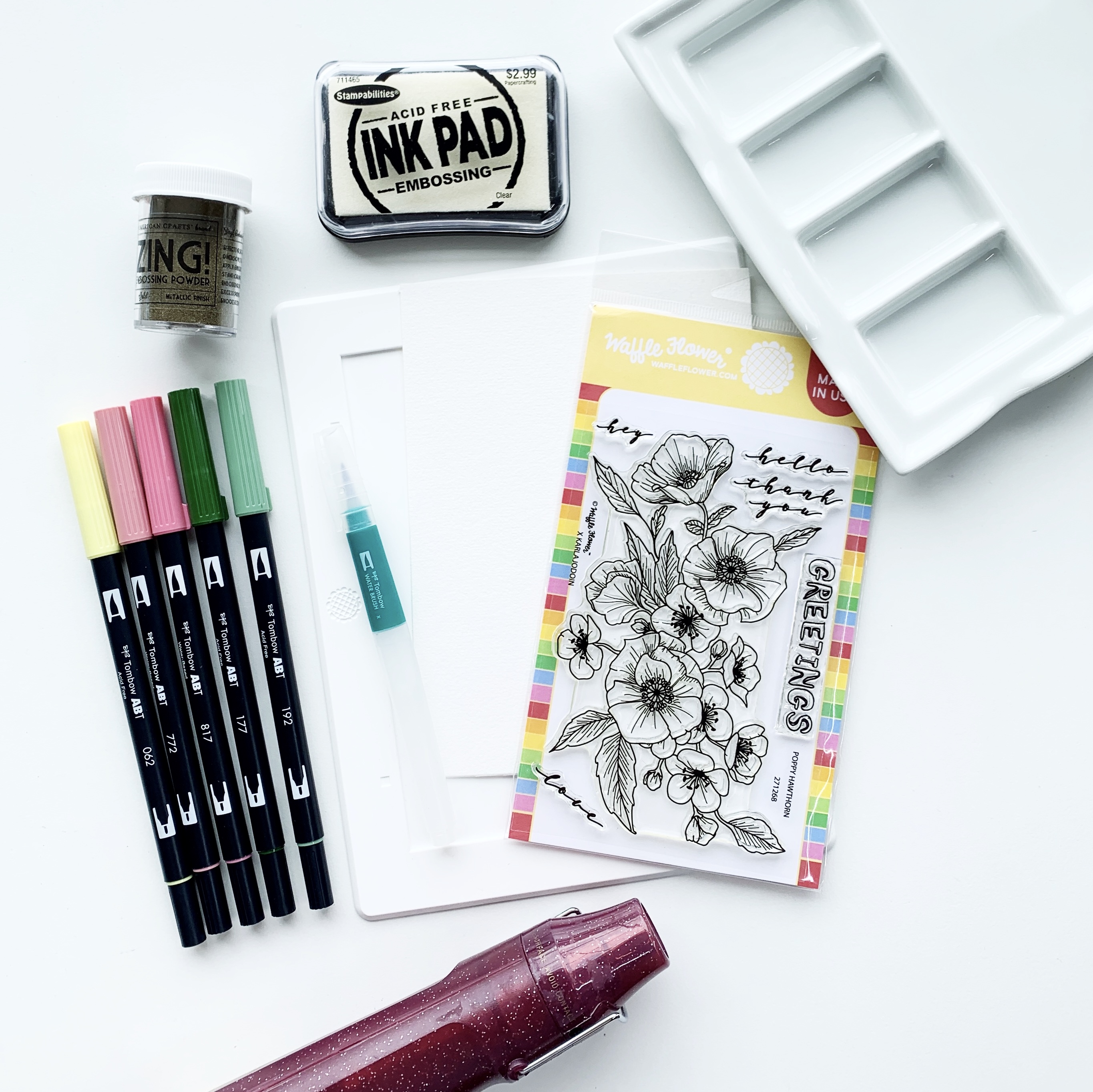 Step 1: Prep your paper
First, place your watercolor paper on the Mini Media Mat to ensure your paper won't slip while you're working! This media mat is heat proof, slip proof and waterproof. These are all great qualities when it comes to creating!
The first way to add embellishment to a clear stamp is to use embossing ink and powder to add a gold 3D effect! Place the Poppy Hawthorne Clear Stamp on a stamping block. I didn't have a stamping block large enough, so I cut a Tombow Dual Brush Pen Palette in half and used that to hold my clear stamp. It worked like a charm! You just need something large enough to hold your stamp in place so it doesn't slide around! Use your embossing ink pad and cover your clear stamp. This is tricky because the ink will come off clear, so make sure you cover the entire stamp!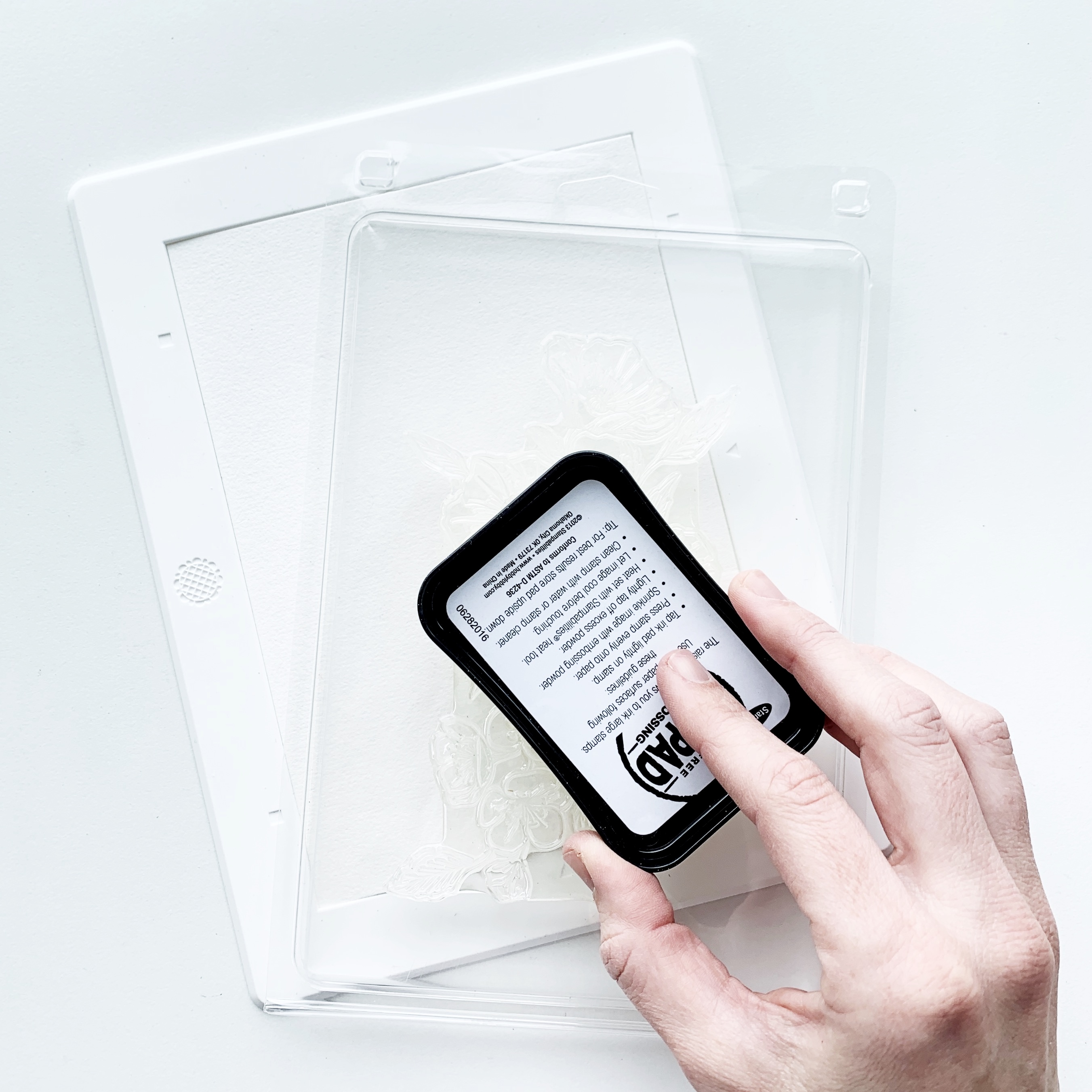 Step 2: Stamp the paper
Next, turn over your clear stamp to transfer the ink onto your watercolor paper. Some watercolor papers have grooves, so make sure you press down the entire stamp so it all transfers onto the paper!
Step 3: Apply embossing powder
Take your embossing powder and sprinkle it across your stamped paper. Then move your paper around so it spreads out. Make sure the entire stamp gets covered in the powder. Then pour the extra powder onto a scrap piece of paper and tap off the rest of the powder. To save the extra powder you can pour it back into the bottle.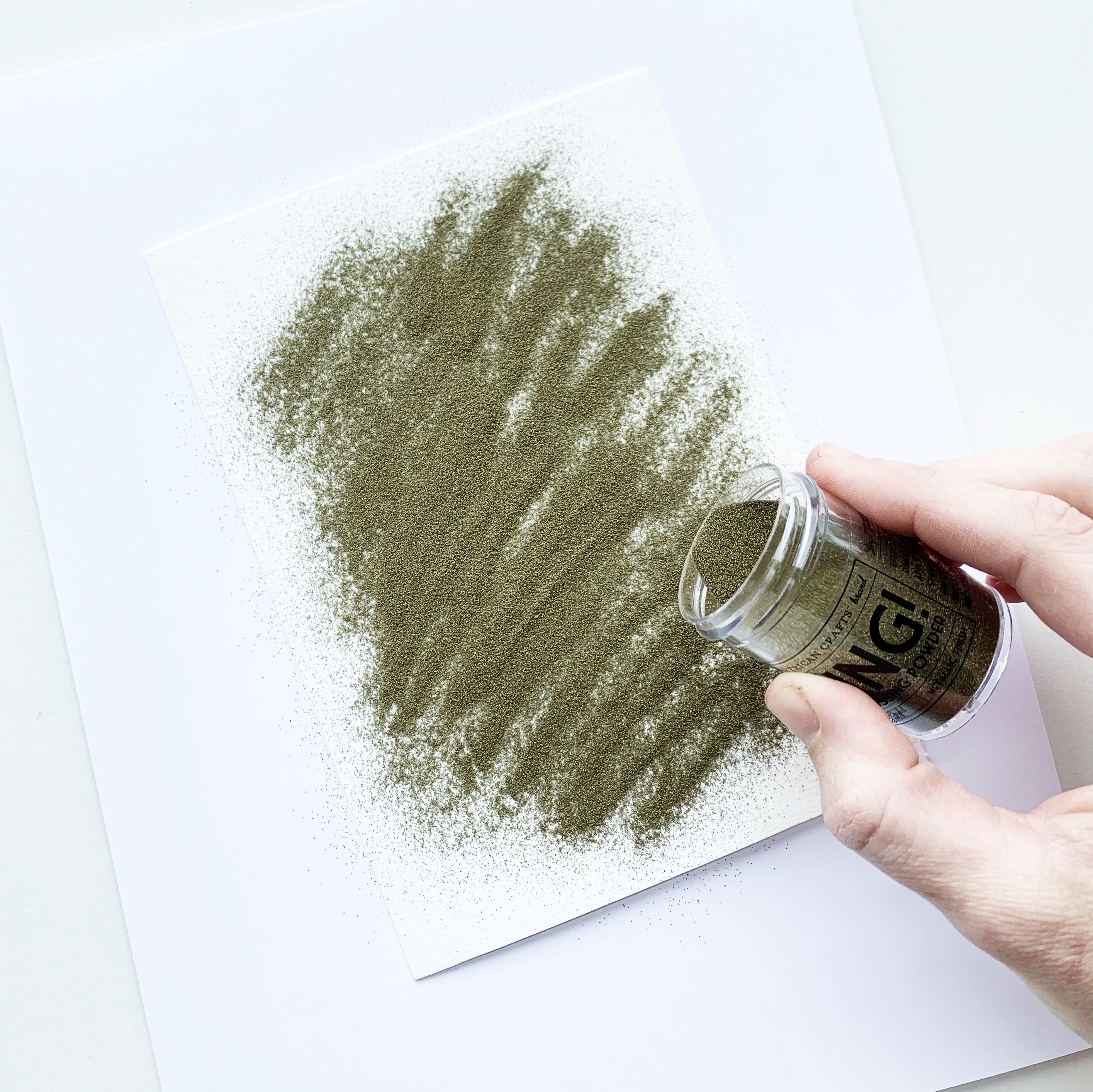 Step 4: Apply heat
Before I apply heat to the embossing powder, I like to use a dry paint brush to wipe off any additional embossing powder from the paper. Once the extra powder is off, use your heat gun to apply heat to your stamped image. Then watch the magic happen as the embossing powder turns solid!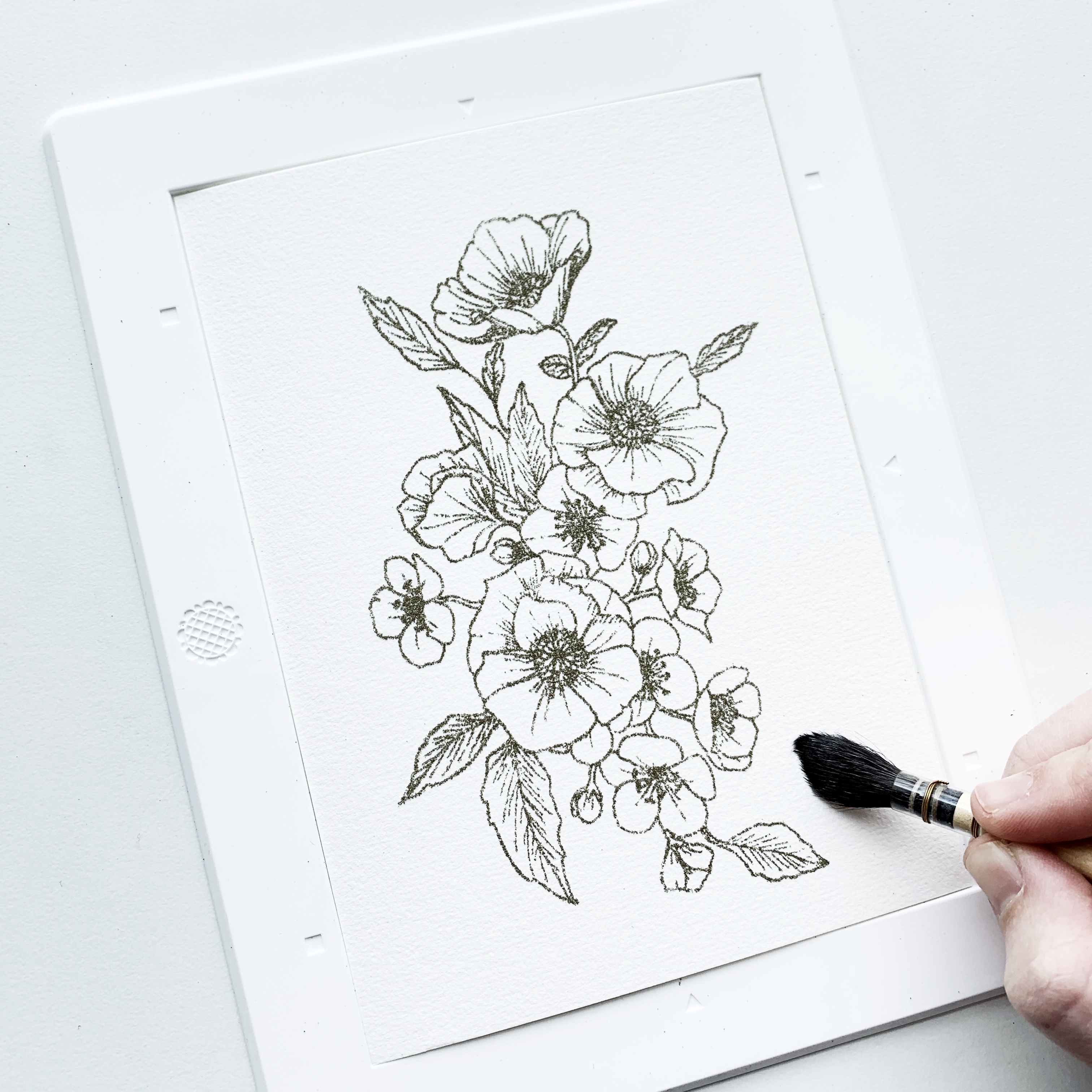 Step 5: Prep watercolor
A second way to add embellishment to your clear stamp is to add watercolor! Take your Tombow Dual Brush Pens in pink, yellow and green shades and scribble the colors into the wells of the 7 Well Rectangular Porcelain Palette. I used colors 062, 772, 817, 177 and 192. I LOVE this palette because it is HUGE! You'll have a lot of room to add and play around with color! Color will come off from your markers and we're going to use these colors to watercolor our embossed stamp!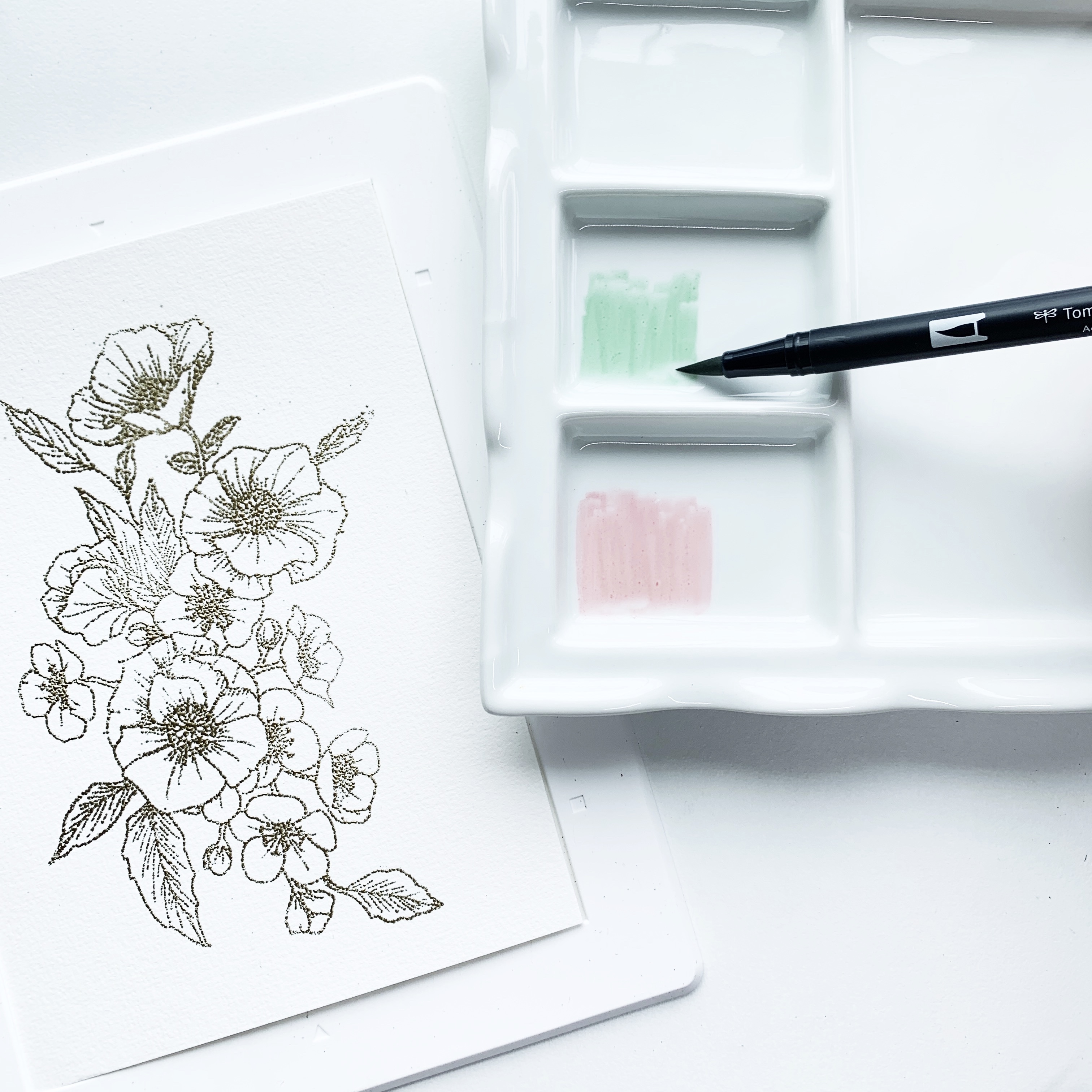 Step 6: Watercolor your stamp
The last step is to add a drop or two into each of the wells to create your watercolors. I used the Tombow Medium Water Brush to do this. Then, I used the watercolor to paint the floral stamp using the Medium Water Brush. Let it completely dry and you can go back again to add small detail lines to the flowers and leaves. You're done!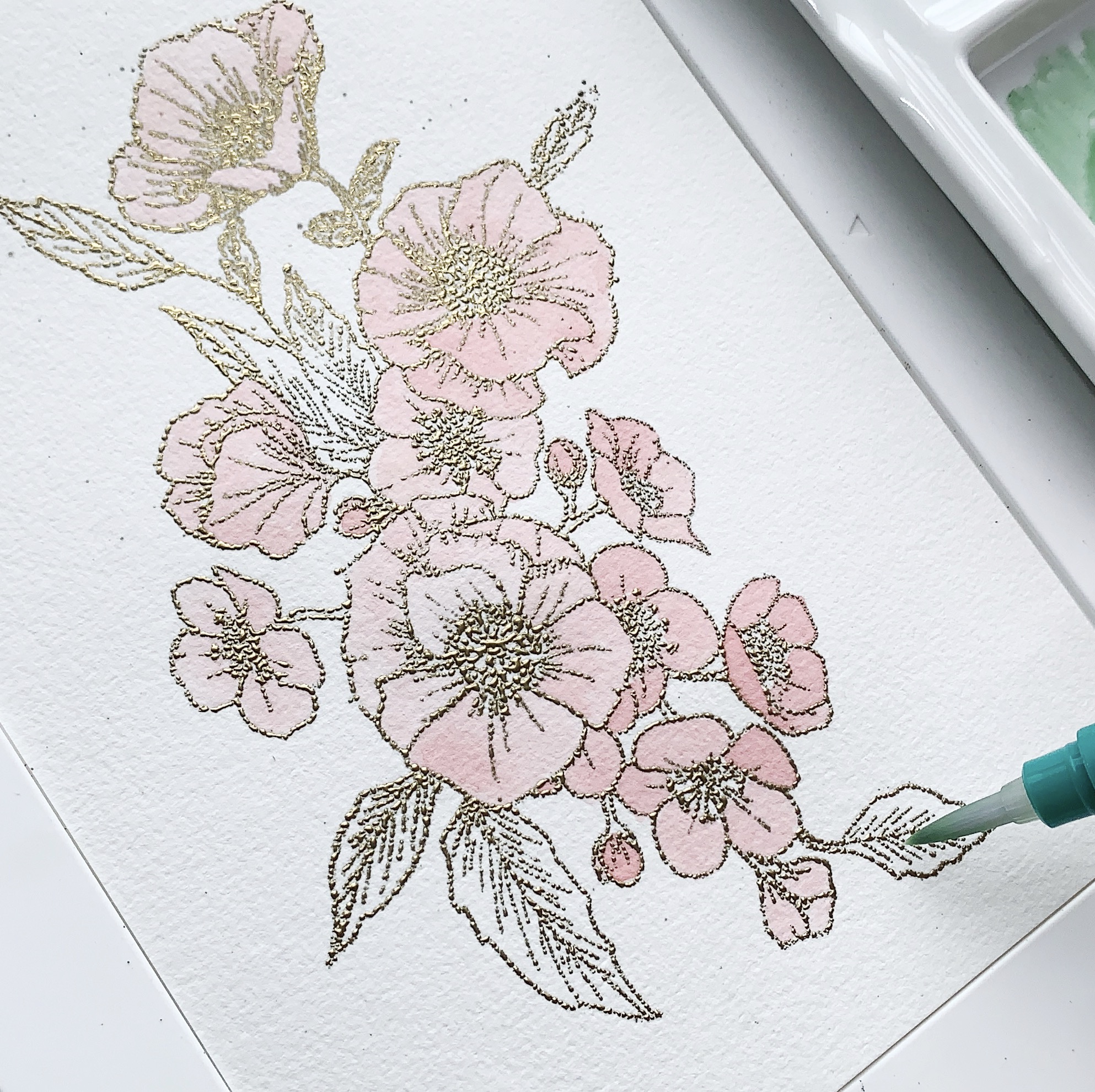 Thank you for visiting today! I hope you found these ways to add embellishment to a clear stamp helpful! For more inspiration, make sure to follow @studio80design!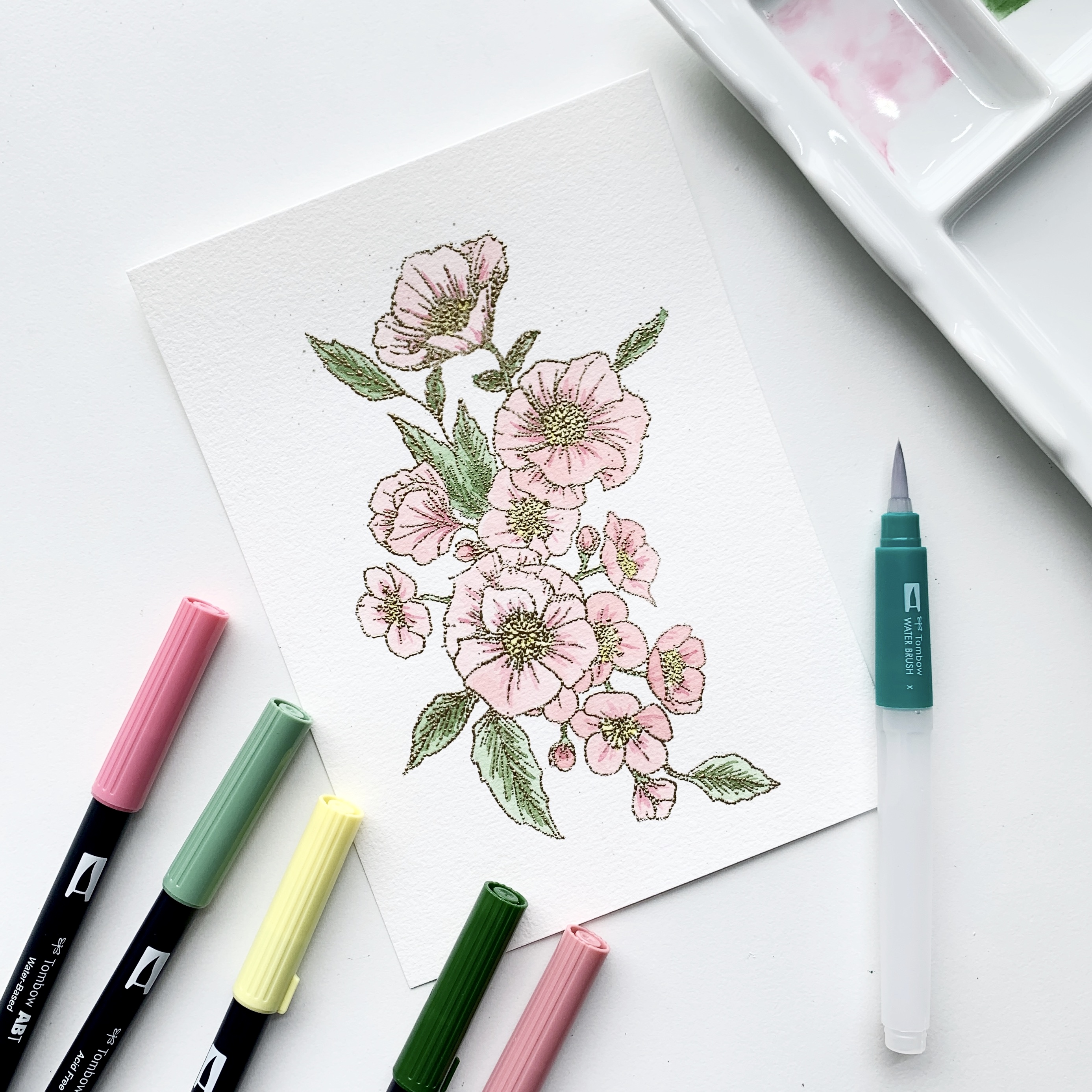 For more stamping projects, check out these posts: