Hello friends, Adrienne from @studio80design here today to show you how you can create a 2020 yearly calendar spread in your bullet journal! The new year is almost here and it's time to start getting ready! I love using my bullet journal to create organizational spreads to keep me focused and organized throughout the year. I also love the flexibility I get when I get to create my own layout! Let's get started!
Materials you'll need: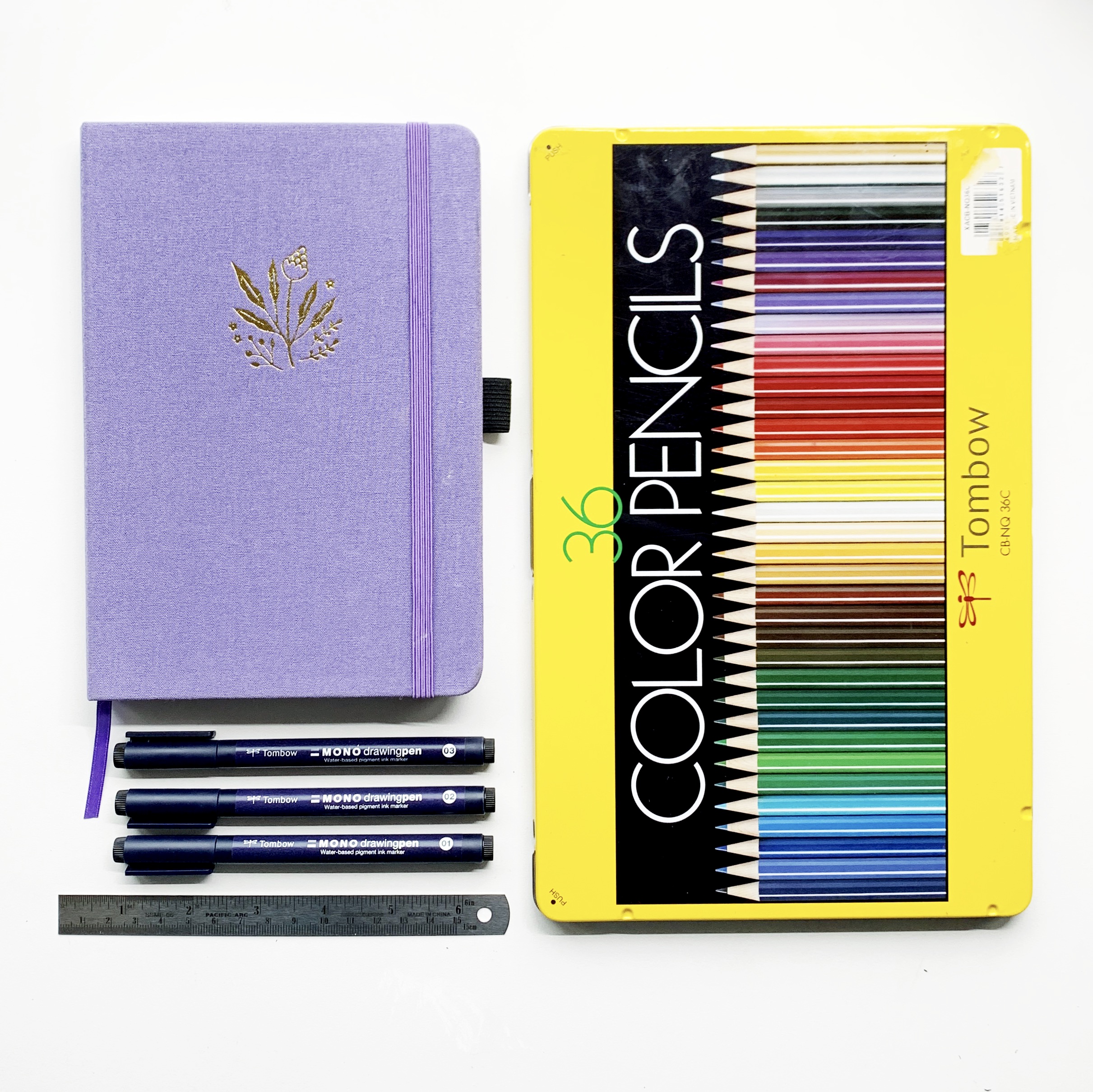 Step 1
First step to creating this 2020 yearly calendar is to section off your page with the twelve months of the year. Create twelve rectangles that are 7×7 rows with the MONO Drawing Pencil. The dot grid notebook really comes in handy because it's easy to create equal squares on your page for those months! Use a pencil to make marks where each square will go. Then, use the Tombow MONO Drawing Pen 03 and a ruler to draw them in! I love using the MONO Drawing Pens in my bullet journal layouts! They now come in six different sizes to give you a variety of thick and thin lines! Erase any extra pencil marks with the MONO Eraser.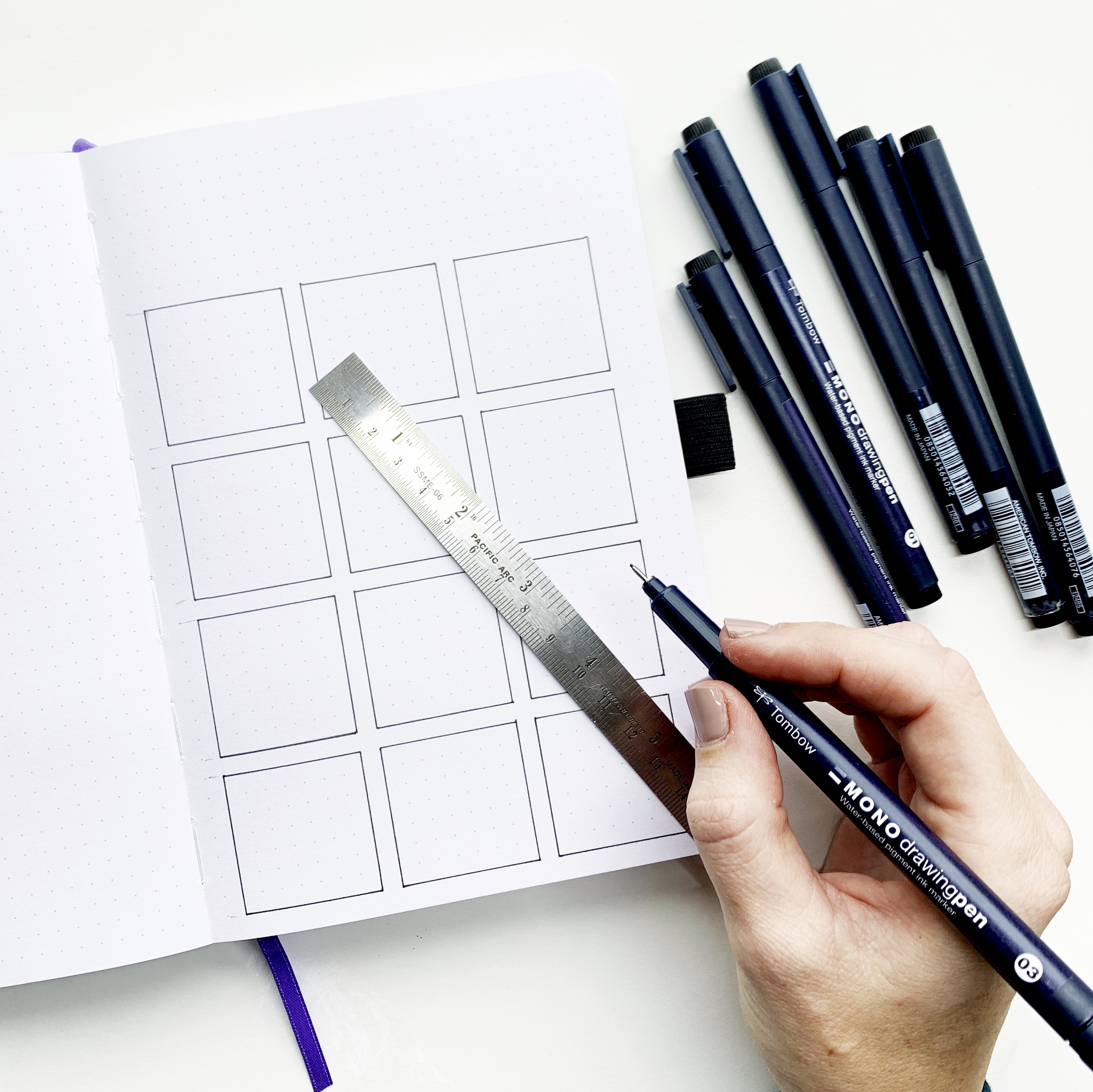 Step 2
Next, write in all the names and dates of each month. This can get tricky because you're dealing with so many numbers, so really make sure you're watching your calendar! I used the MONO Drawing Pen 01 to write in the date numbers and the MONO Drawing Pen 03 to write in the names of the months.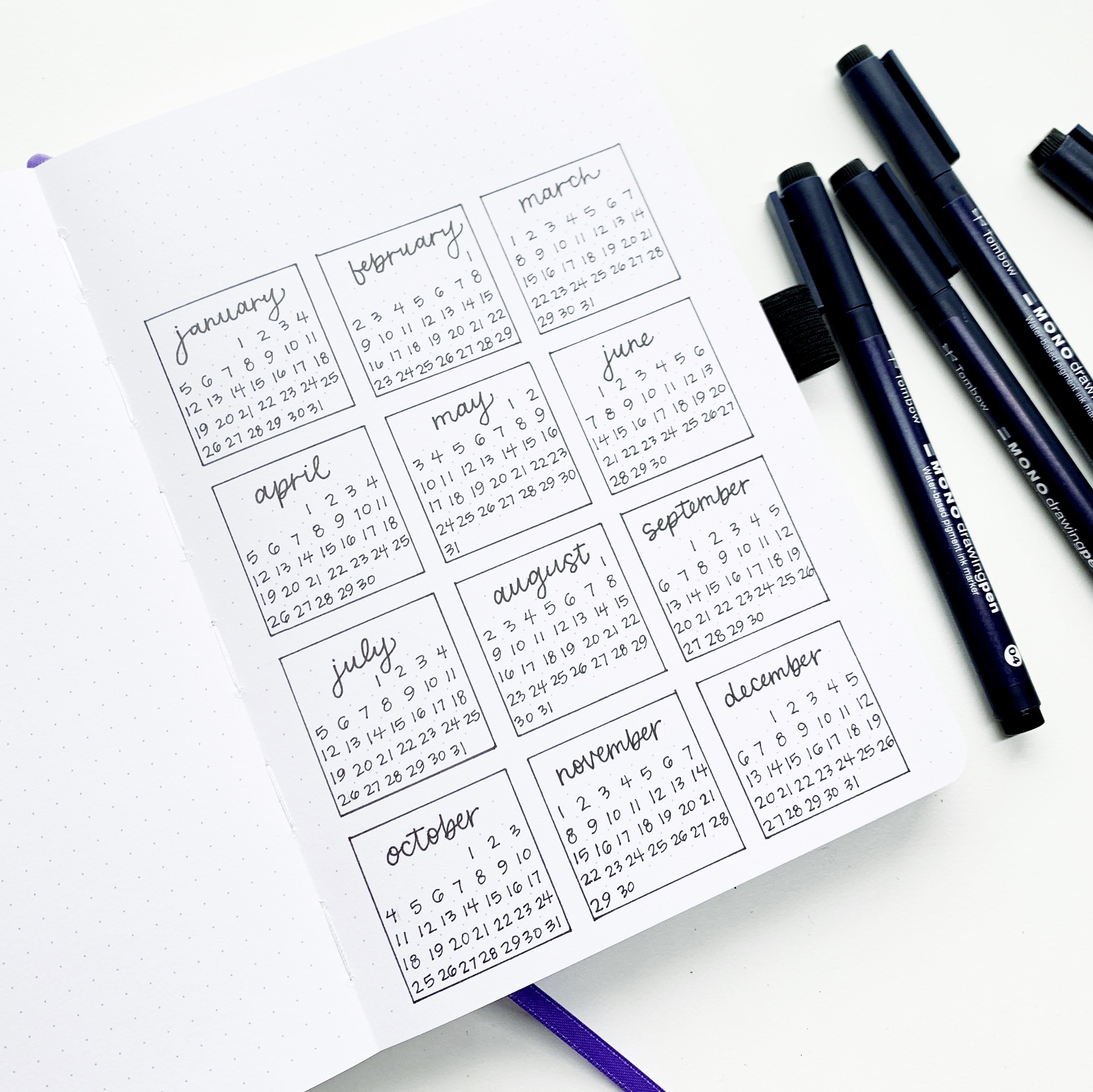 Step 3
Write in "2020" at the top of your page using the Hard Tip Fudenosuke Brush Pen. I also wanted to add some sort of detail to the page, so I drew in a floral rectangle border around 2020. I also added various flowers and leaves in around the page using the MONO Drawing Pen 01.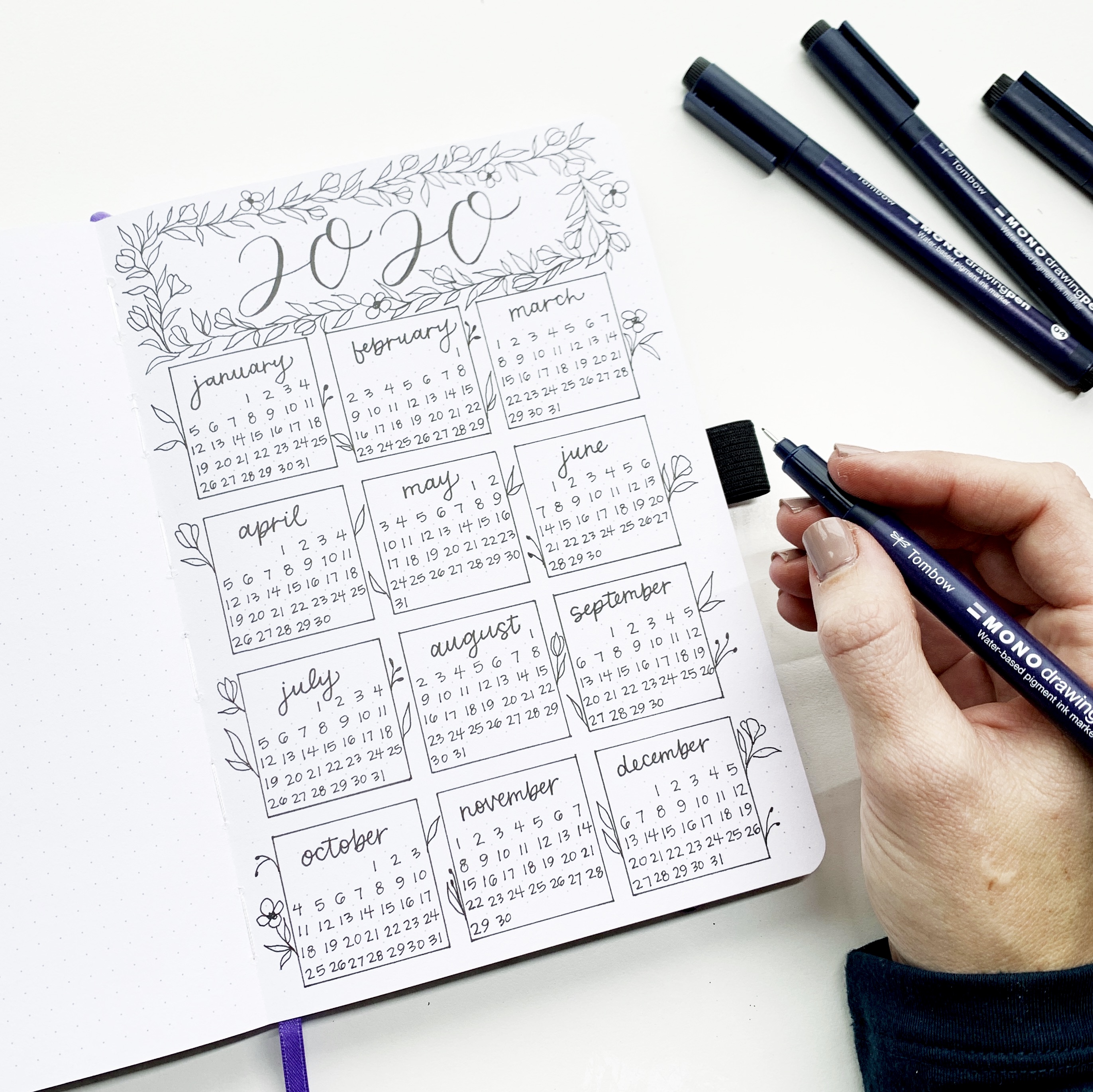 Step 4
The last step is to color in all the leaves and flowers with the 1500 Series Colored Pencils. These colored pencils are so great to work with and for this page. I used different shades of greens and pinks to add color to the page! That's it!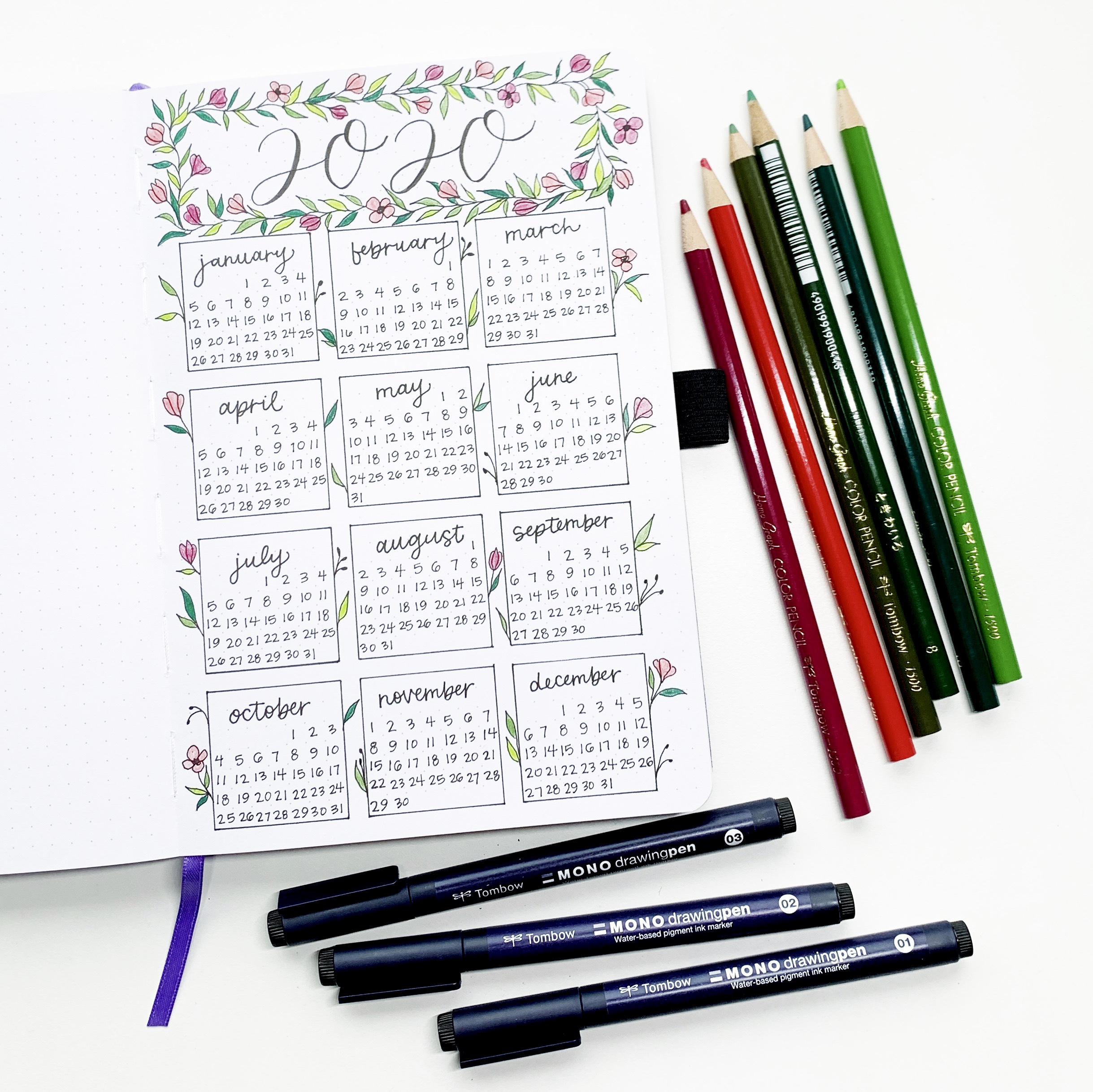 Thank you so much for visiting today. I hope you found this 2020 yearly bullet journal calendar tutorial helpful! For more inspiration like this, make sure to follow @studio80design!
For more bullet journal inspiration, check out these awesome posts: