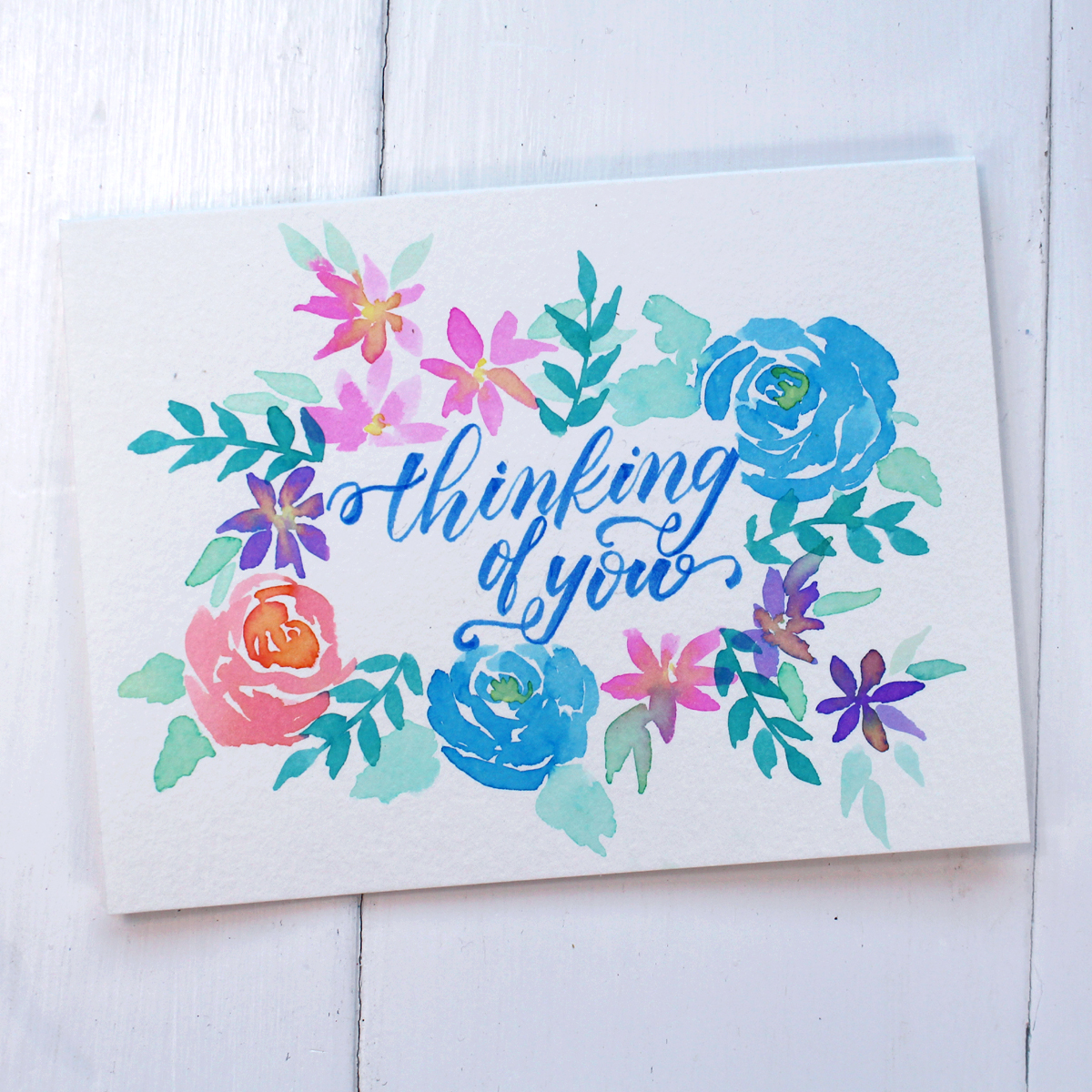 Watercolor Greeting Card: Try it Again Project
Hi Tombow friends, it's Natalie from Doodlecraft sharing a watercolor greeting card.  I am taking an old project and trying it again to see how far I've come. It's a great practice to have milestones to look back on and see where you've been. Enjoy the journey, embrace the process and remember where you began.
This project pictured below was a post I did in December of 2018 when I was a Brand Ambassador for Tombow. I'm so happy to be part of the Design Team now and I'm excited to revisit this project. I still think it turned out great, but I'm excited how much my watercoloring and hand lettering has improved in a year and a half.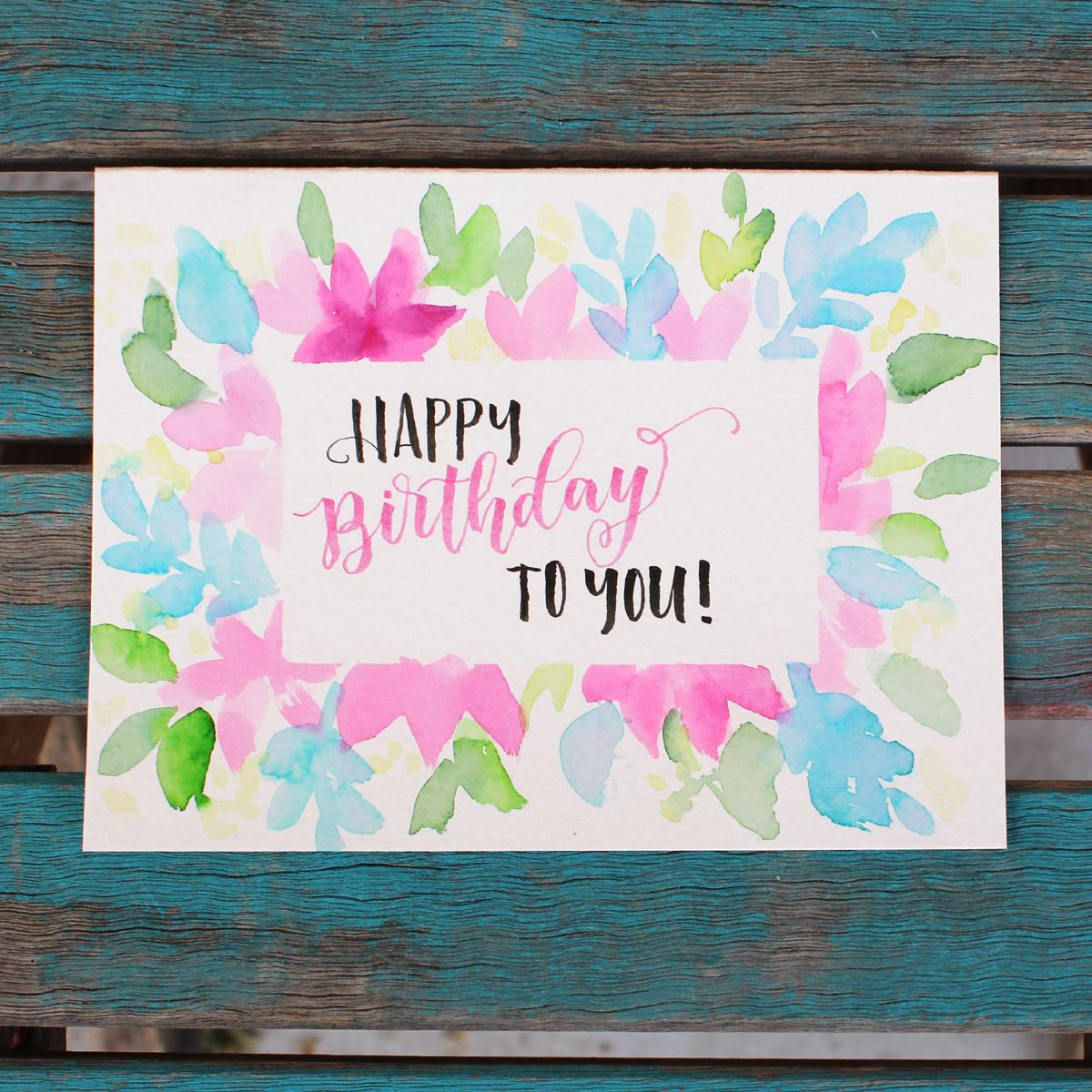 Supplies Needed for Watercolor Flower Greeting Card:
Tombow Dual Brush Pens (I use colors: 055, 725, 905, 535, 296)
Tombow Blue Fudenosuke Brush Pen
Watercolor paper (Card Size 8.5X5.5″)
Scrap Paper (1.5X3″)
Tombow Mechanical Graph Pencil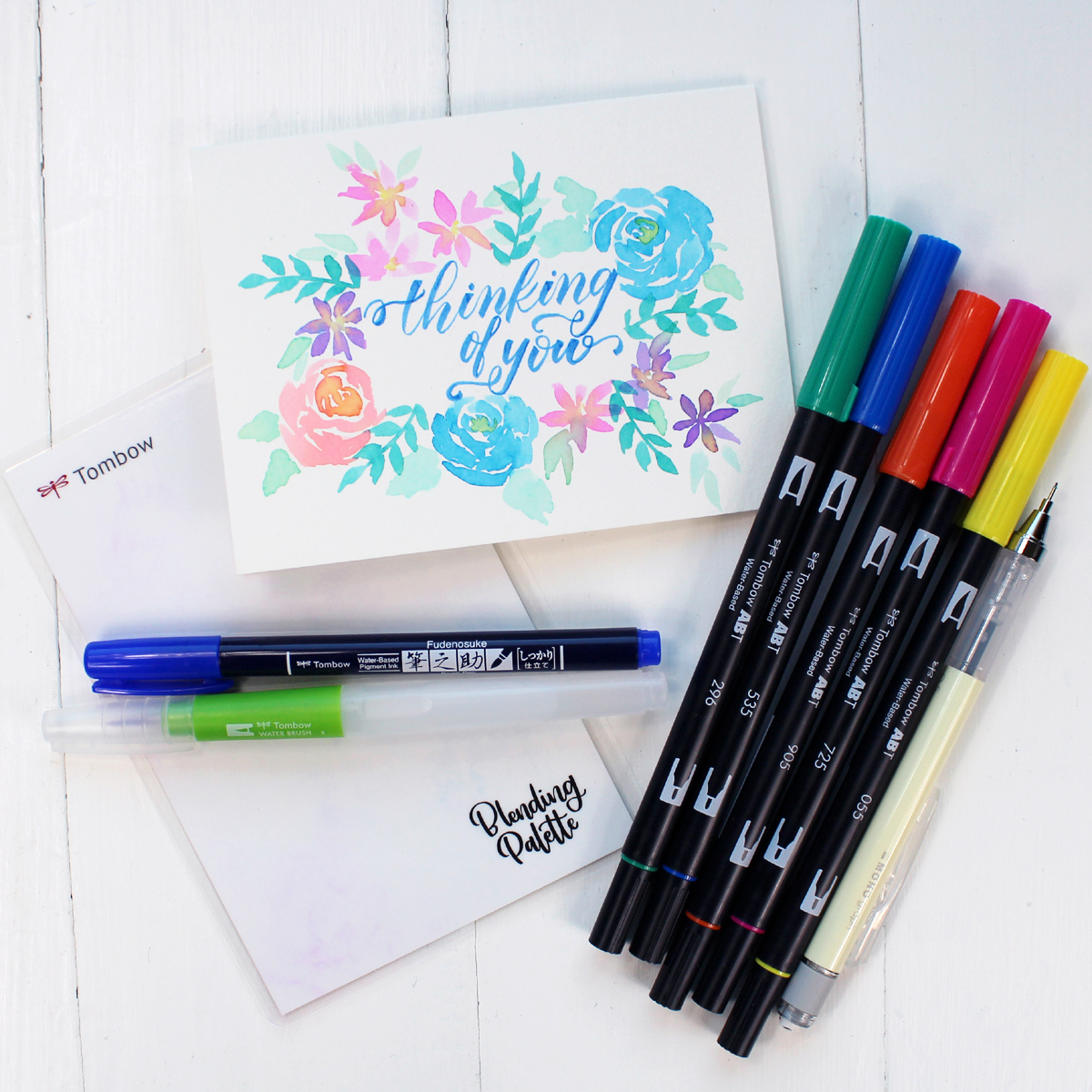 Step 1: Masking off the Card
Begin by taping the scrap paper with the Tombow Removable Adhesive. Then press it on the center of the folded watercolor paper card.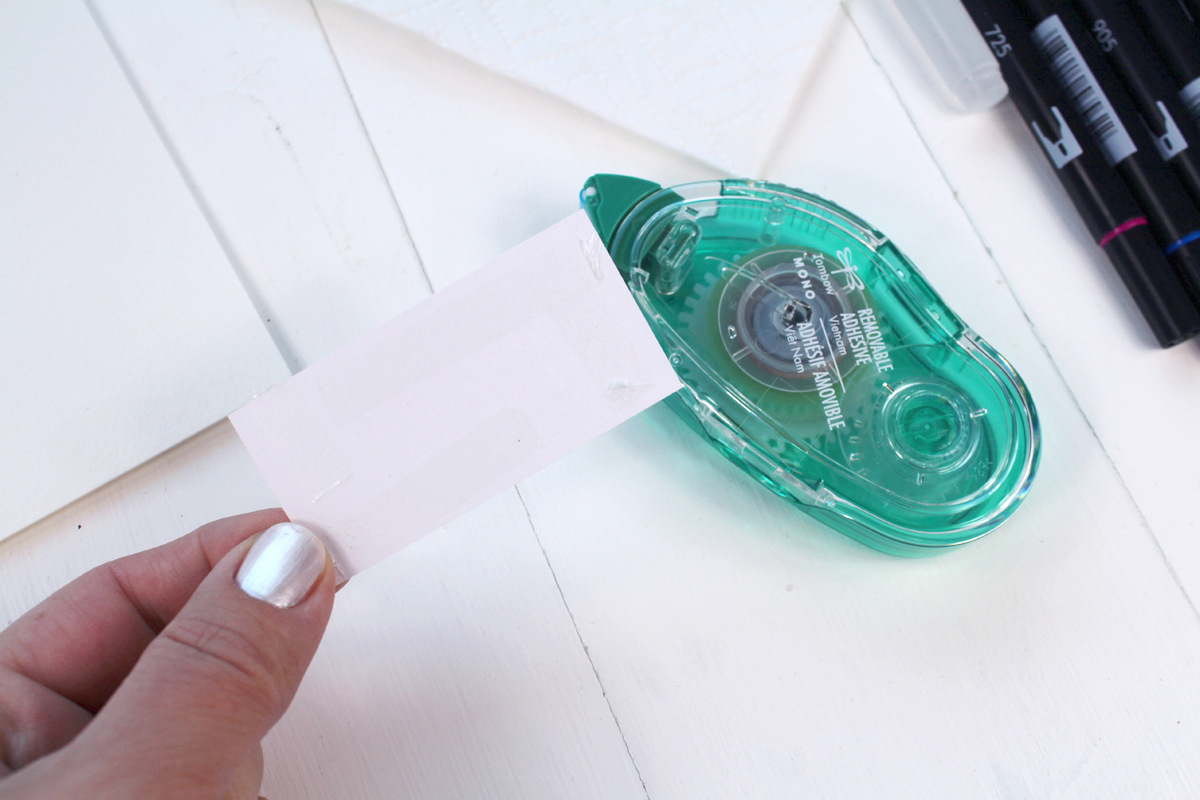 This paper is a mask, so that it makes a frame to paint the flowers around.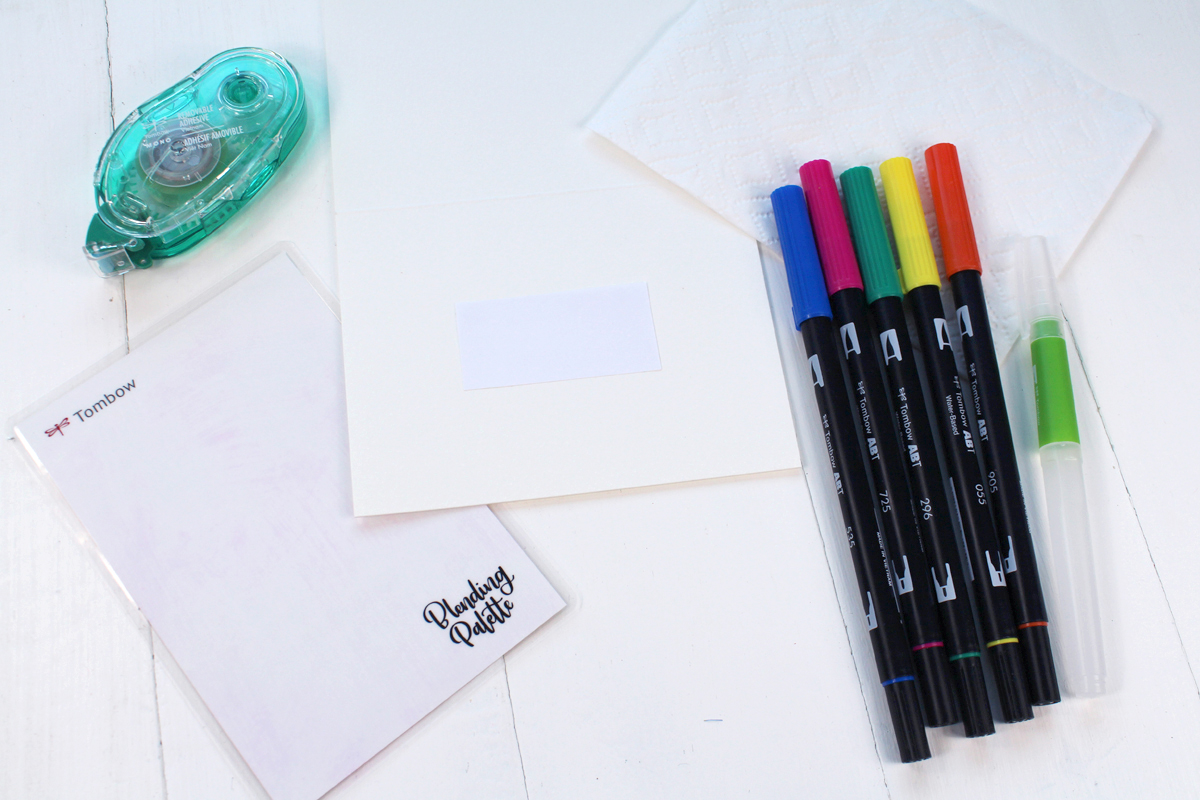 Step 2: Painting Watercolor Flowers on the Card
Next, scribble little piles of color on the Tombow Blending Palette. Fill the Water Brush with water and add 1-2 drops of water to each color. Mix the water in with the ink to make the perfect watercolor. Here's a fun post on some simple watercolor flowers if you need some encouragement.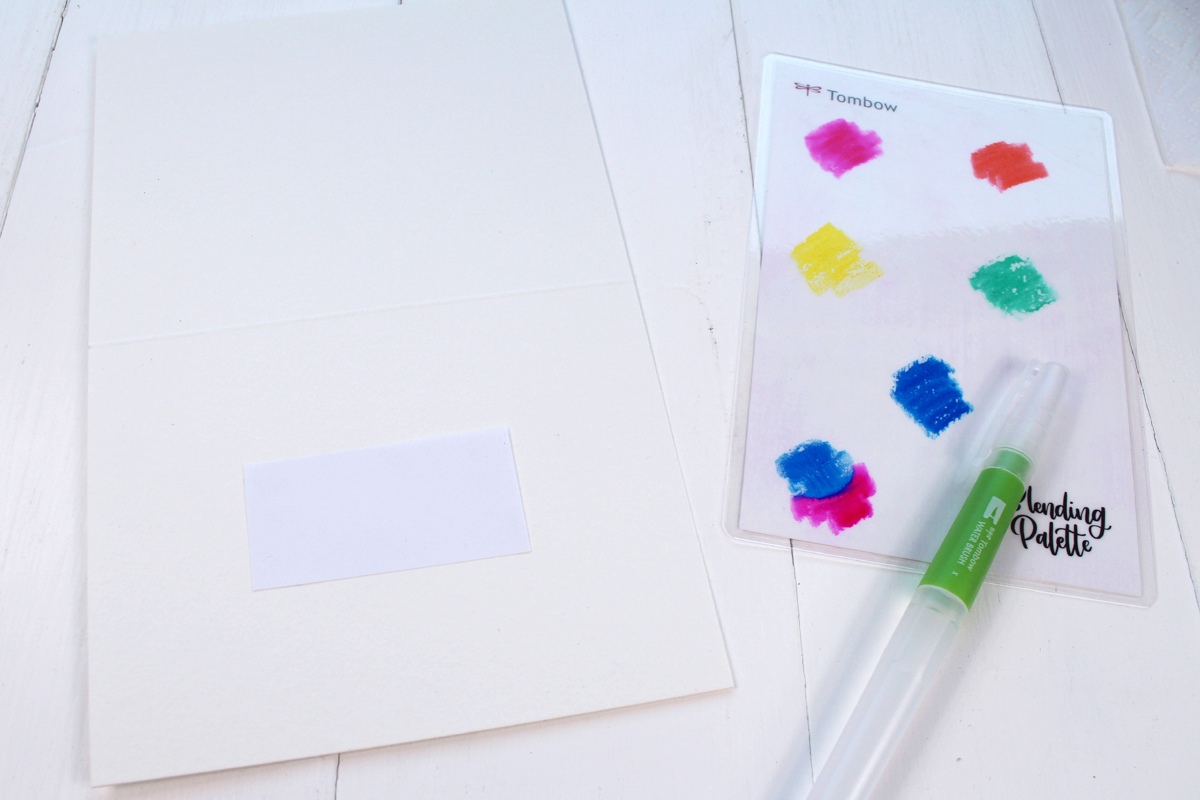 If you want a more vivid color, add more ink. If you want it more muted, then add more water. Use the small water brush to paint flowers all around the masked off paper.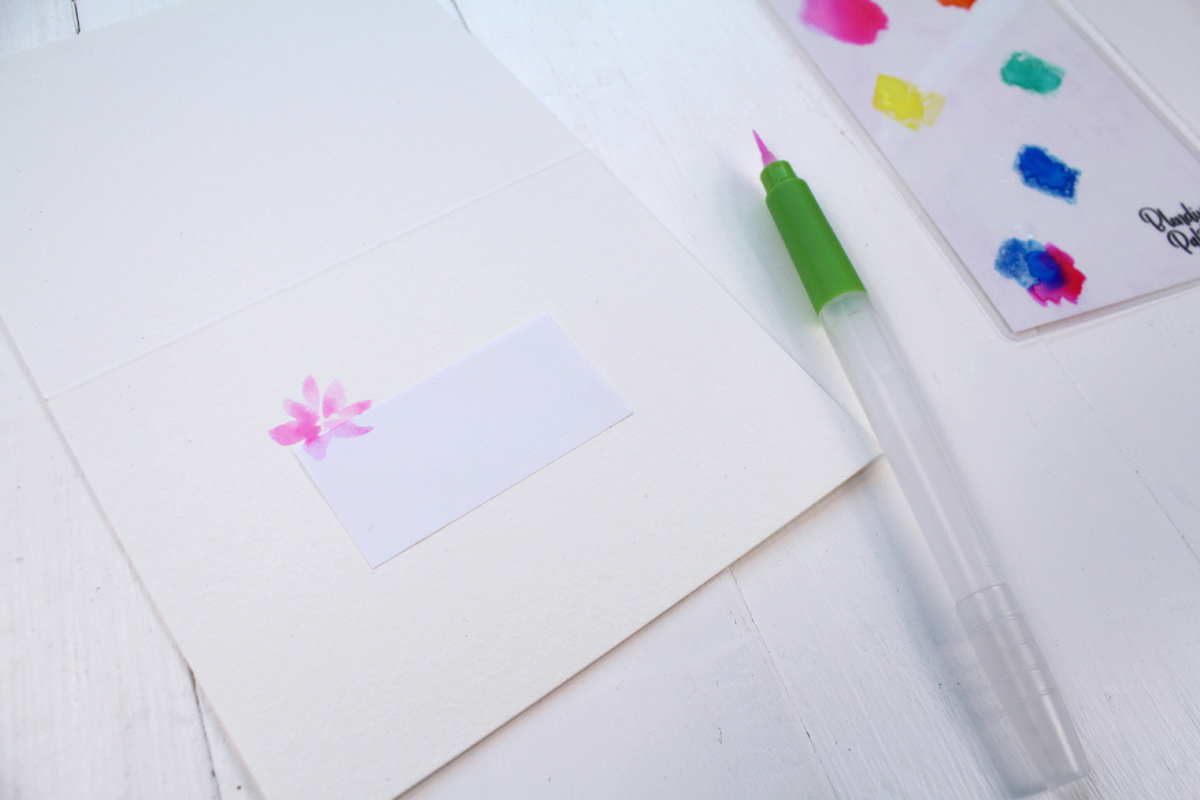 The flowers are fun to paint and work better using more water than you would initially expect. Make the petaled flowers by pressing the brush gently on the paper and increasing the pressure while sliding it to the center and then lifting up. This makes a diamond like shape petal. Repeat the process 6-7 times for each flower. Add some yellow in the centers and let the paint bleed into the petals.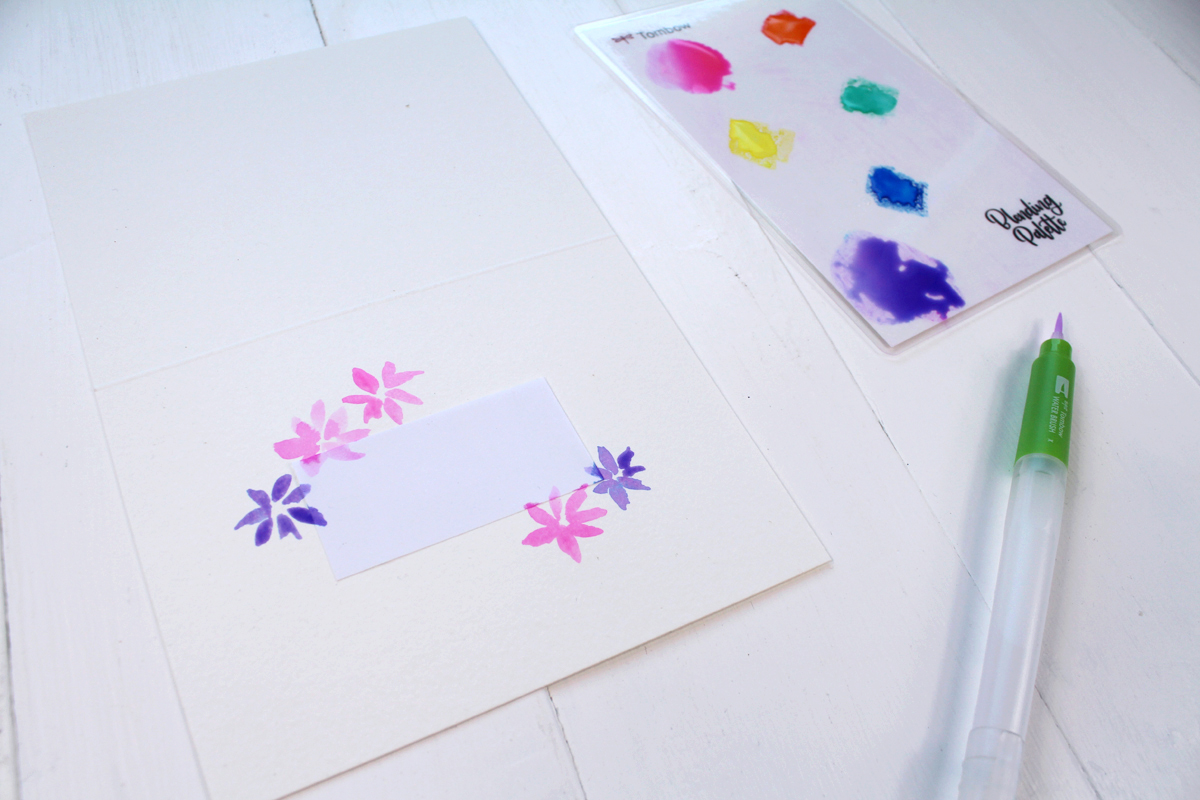 Paint the roses by painting little "c" shapes tightly in the center and getting bigger and bigger as you work your way out. Don't worry about overlapping on the masked off paper.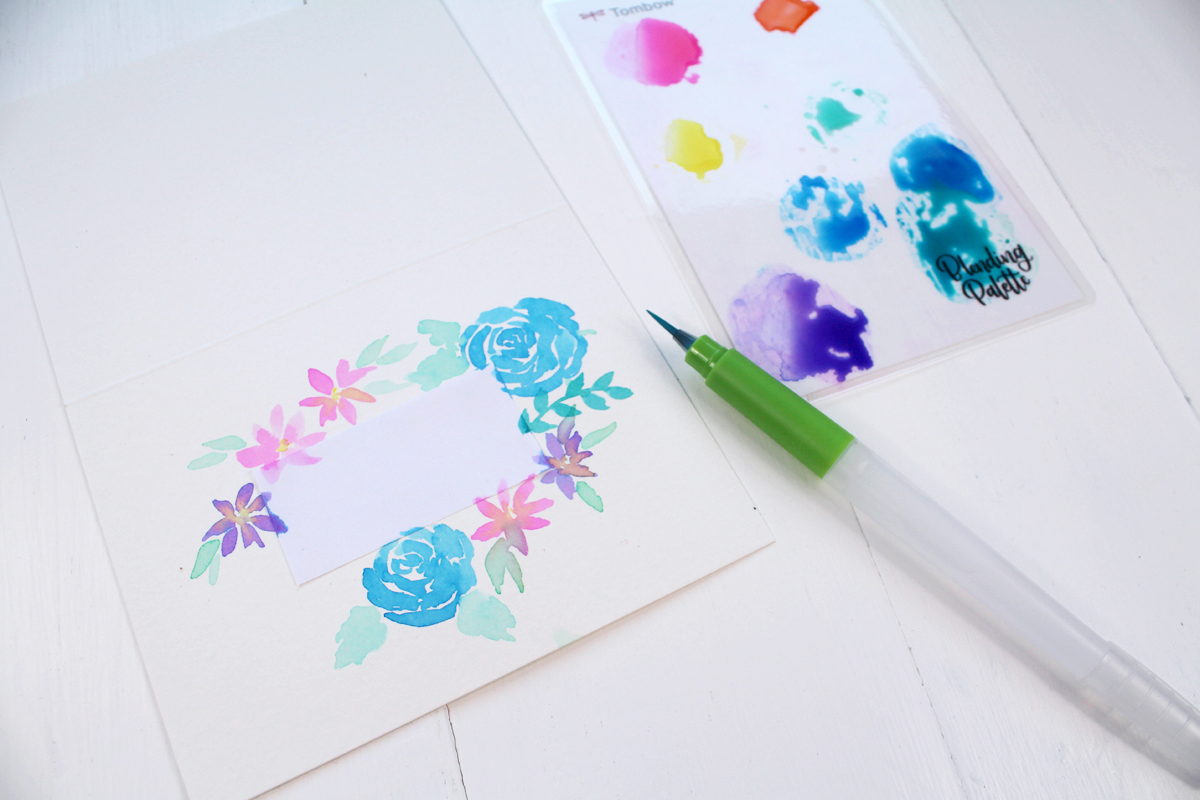 Continue adding flowers and leaves to your hearts content! Remember this fun watercolor card is all about the process. Once you are satisfied with the flowers, let the watercolors dry.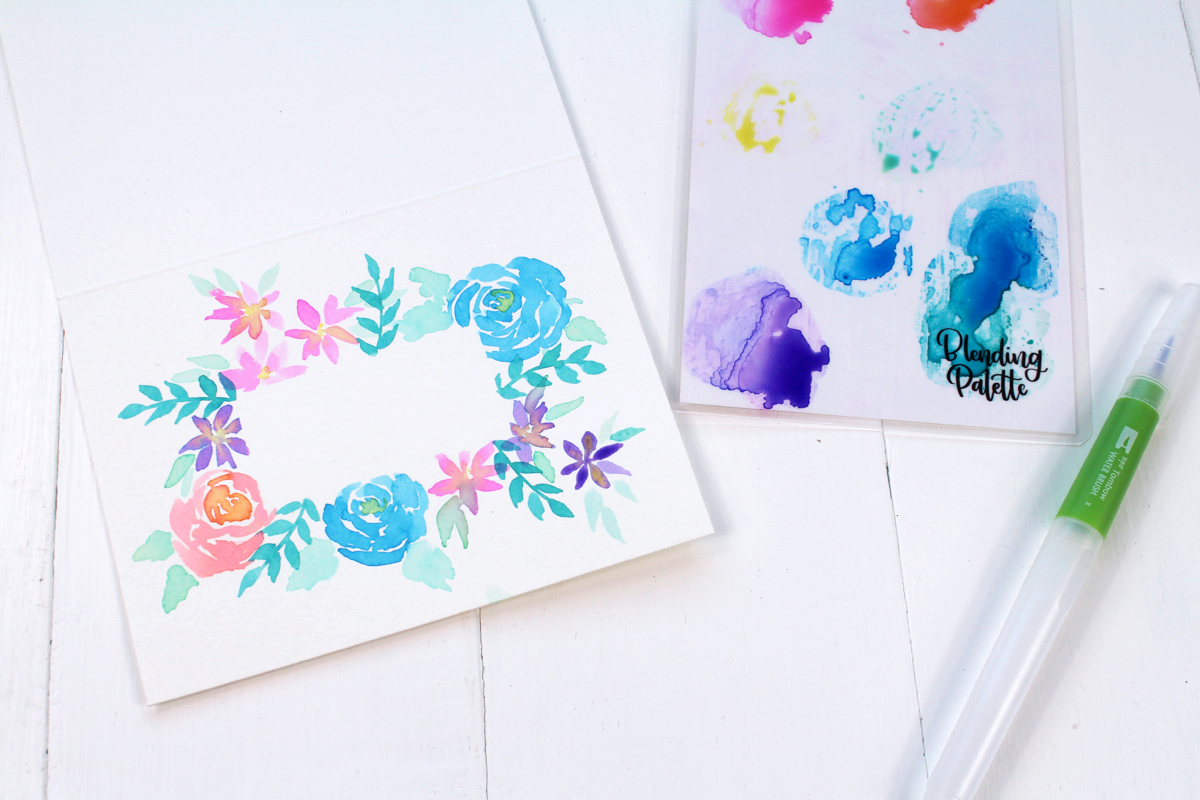 Step 3: Hand Lettering
Next remove the masking and reveal your perfect frame. Use the MONO Graph Mechanical Pencil to lightly pencil in the hand lettering phrase you like. If you are new to hand lettering, check out Tombow's free worksheets for practice.
Then lightly erase the lettering so it is barely visible.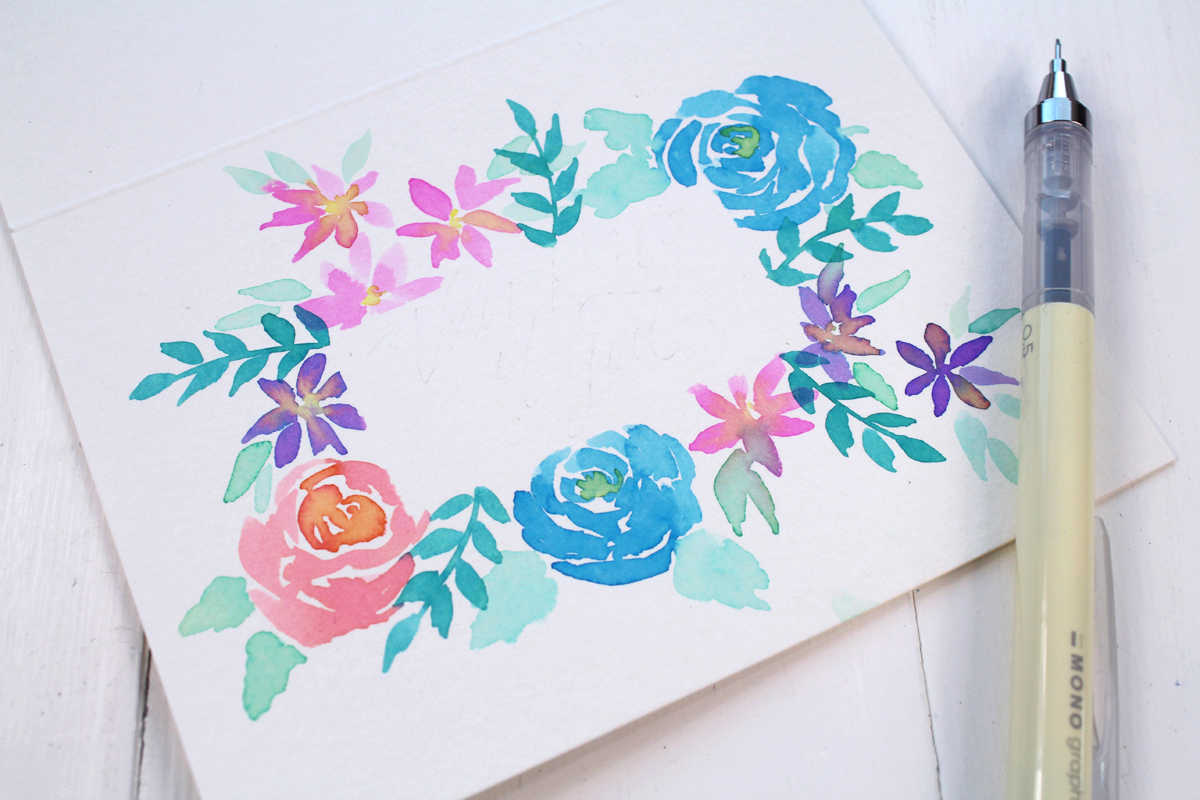 Next, use the Tombow Blue Fudenosuke Brush Pen to hand letter the desired greeting.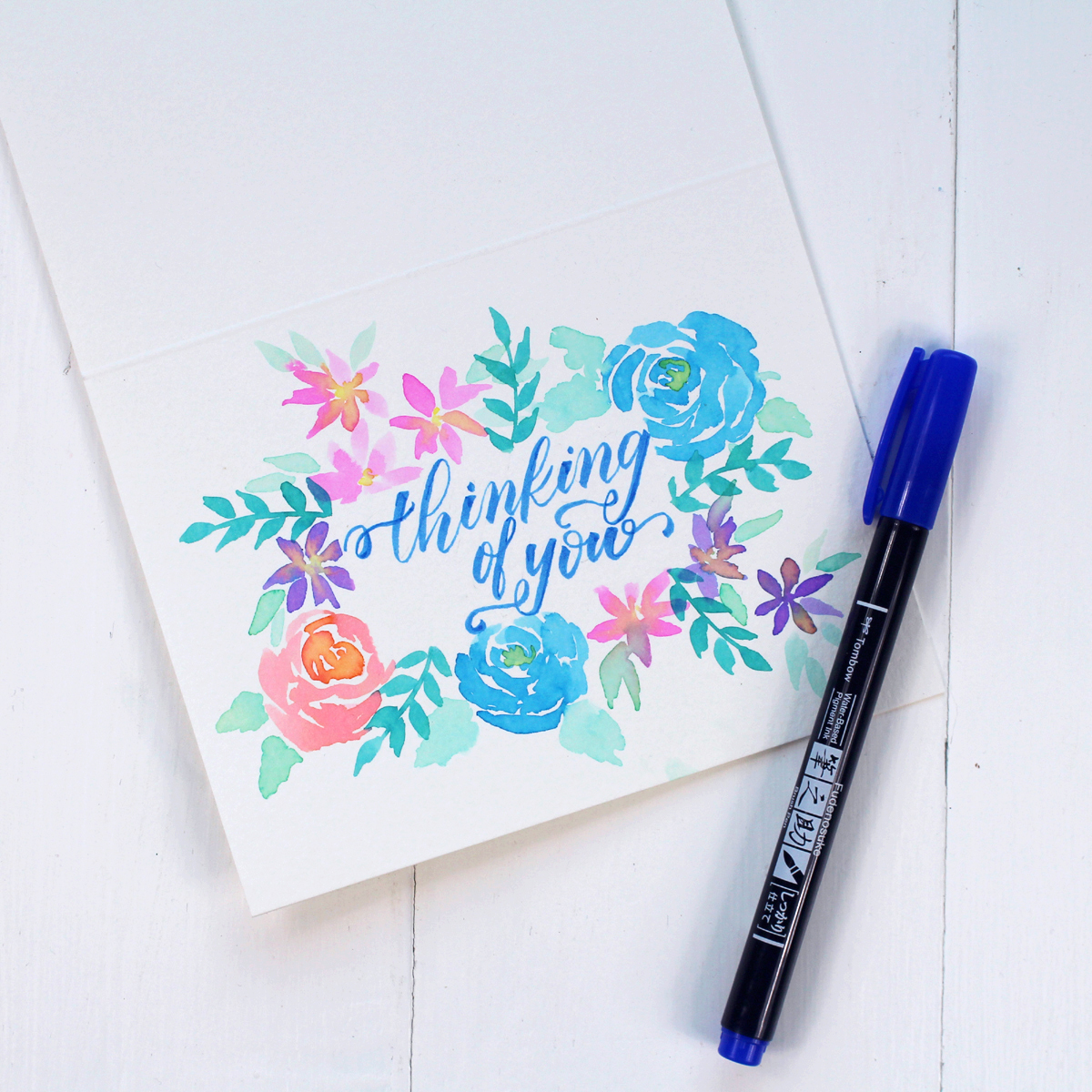 I love the detail of the watercolor flowers on the most recent card! This birthday card is adorable, but I love that I can see my own progress.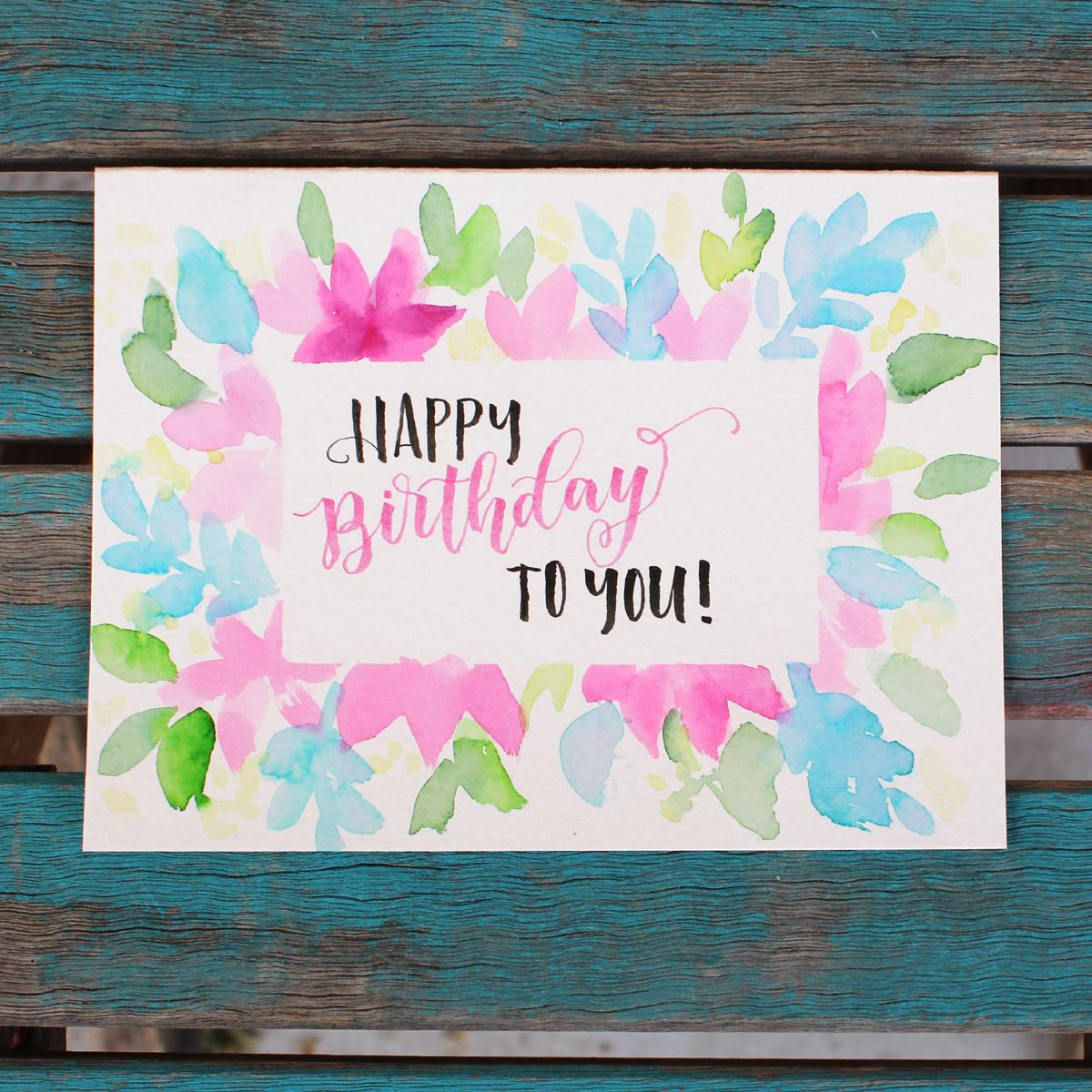 Perfect card for someone that needs a lift during this unique and unusual time.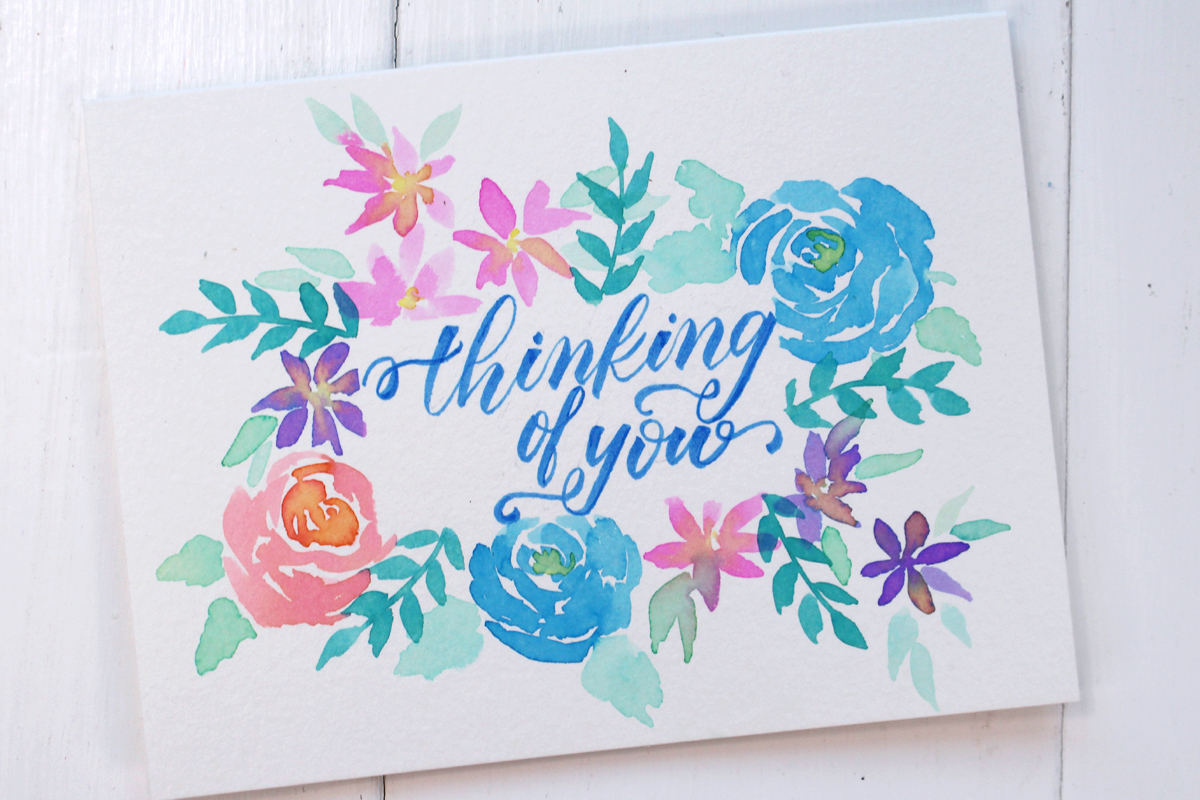 Now gather your supplies and give it a try! Remember to take a picture of your finished project so you can see your progress in the years to come!