This week's Tipnique is all about the wonderful new Fastener Tabs! They are fantastic for use as a closure on any object you want to open over and over again – like this paper wallet to show off your Zentangle tiles! What? You don't know what a Zentangle is? Check out the official Zentangle site!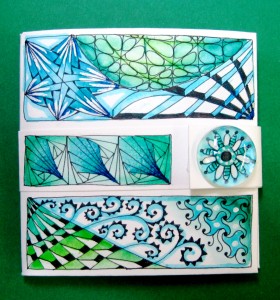 Here is the finished wallet shown closed. The wallet is made with 90 lb. watercolor paper for durability and to be able to tangle and color nicely.  MONO Multi Liquid Glue was used to put it all together. I used Dual Brush Pens and a Glue Pen as a resist to color the tangles. Click here see a video of me demonstrating this color resist method.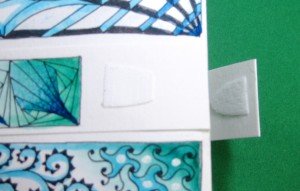 Here is a close-up of the Fastener Tab. I have cut it in half before placing in on the wrap-around band. It is ultra thin – perfect when working with paper items such as cards and packages. The Tabs are long lasting and pre-paired so they are easy to use.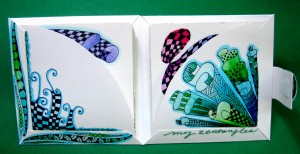 This view shows the inside of the wallet filled with 12 finished tiles. Use the wallet to share your tiles, or as a way to present them as a gift.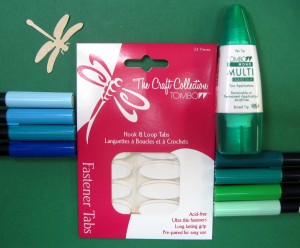 Tangle on! A word of warning: coloring your tangles is very addictive! Join me next week for another Tipnique using Power Tabs.