I have discovered a great source of patterns for drawing with the Irojiten Colored Pencils! Decorative painting books and magazines are great for finding all sorts of beautiful patterns to transfer onto paper and color.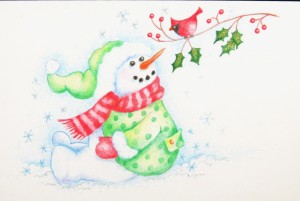 This cute snowman patterns comes from Bev's Johnston's "Starlight Wishes" Book One. Originally designed for decorative painting and to be used with acrylic paints, it works great as patterns for Colored Pencils drawings as well.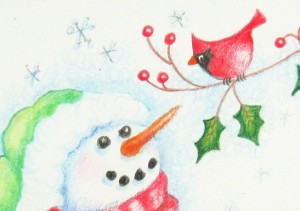 I used blue tracing paper to transfer the design onto smooth, 90 lb. watercolor paper, but you can also use a light box to trace the design with a blue hued Irojiten pencil.You can find all colors of tracing paper at your favorite fine art or craft store, use the color that works best with your drawing and always use a light hand when tracing.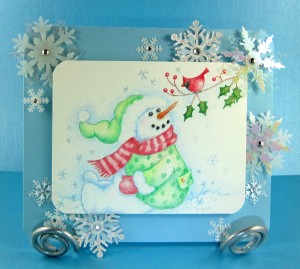 I decided to display the finished drawing and first cropped it to size and trimmed the corners with a corner rounder punch. I use Foam Tabs to mount the drawing on a piece of light blue cardstock and MONO Multi Liquid Glue and Foam Tabs to adhere the snowflakes and rhinestones.
I was happy with the finished results and plan to go through my decorative painting books for even more patterns to use!