So excited to be here on the Tombow Blog sharing my first Design Team project for 2015!
In fact, I was so very excited to be creating my first project, that I forgot to take any step out photos!  (insert OH NO here – accompanied by a slap to the forehead!)
These buttons tins I created with actual vintage buttons that belonged to my Gran, so they are especially near and dear to my heart!  I have placed them on the dresser in my bedroom and every time I see them I think about digging through my Gran's button stash when I was a child!  (Her name was Matilda, so that is why I placed the monogram "M" on the lid!)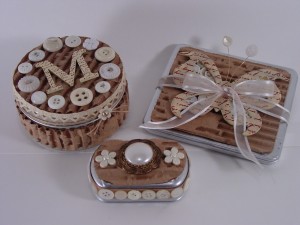 Start with a recycled round tin, CD tin and mini mint tin.  In a well ventilated area, spray paint inside and outside with silver metallic, let dry.  Paint the chipboard letter and butterfly with ivory craft paint, let dry.
Tear the top layer off of a piece of corrugated cardboard, to expose the ribs.  Trace the tin lids  and circumference of the bottoms onto the cardboard, cut out and adhere with Tombow Xtreme Adhesive.  This adhesive has a powerful hold, just remember to snap the adhesive off at a 90 degree angle, after each application.
"Ink" a stamp of vintage hand writing with Tombow Dual Brush Pens  in Chocolate #969 from the Muted Palette set.  Stamp on chipboard letter, repeat and stamp on chipboard butterfly, let dry.  The decorative edge of the large pearl button was bright gold, so I distressed it with the same Chocolate #969 pen, let dry.
Attach buttons, ribbon, twine and lace to tins with Tombow MONO Aqua Liquid Glue, let dry.  Attach chipboard shapes with Tombow Power Tabs.  I like using the Power Tabs to create dimension because they are clear, they will not show through the top or sides of your mixed media projects!
Finish by threading a length of thin wire through 2 pearl buttons with hanks on the back.  Twist to secure, bend in half and attach to under side of butterfly with a Tombow Power Tab.  Tie ribbon and twine in bows.
Fill with memorabilia, gift cards or give as a keepsake gift!
Please visit my Blog and the Tombow FB Page for more inspirational projects!
Thanks for stopping by – Beth