Happy Monday! This is Jennie and this week the Tombow Design Team are sharing projects to show you who they are! I am the scrapbooker and project lifer from the group. In this post I'm offering you tips but I'm also giving you a look into my life!
I know that at the beginning of the year we have lots of goals and expectations about documenting our year. Here I have some tips that always help my pocket pages process!
1. Relax and have fun! It's all about the memories! Whenever my daughters look at the book they remember the moments, they never comment about the products I used or my scrapbooking style.
2. Establish a routine. Every week (mostly Mondays or Tuesdays in the morning while drinking tea) I fix and print my photos. Using my iPhone makes the process so much easier! I do take some of my photos with my camera but it only happens once a month during celebrations or whenever something important happens.
3. Print at home! If you can spend a few extra dollars on something, I suggest a home printer. I have a Canon Pixma that I got on Amazon for $70. Every year Canon has really good photo paper sales and I stock up! That way you don't have to wait for larger quantities to print your photos or you don't have to put on hold your crafting because your photos haven't arrived.
4. Know your go-to photo size. If you are like me, you probably use your phone for most of your photos, which means that most of your photos are 3×4 in portrait or the Insta awesome 4×4. I also like to mix some 4×6 and 3×3 photos. This page protector design (Design F) is my favorite, but I also like to use page protectors with 4×4 pockets depending on the photos I took that week.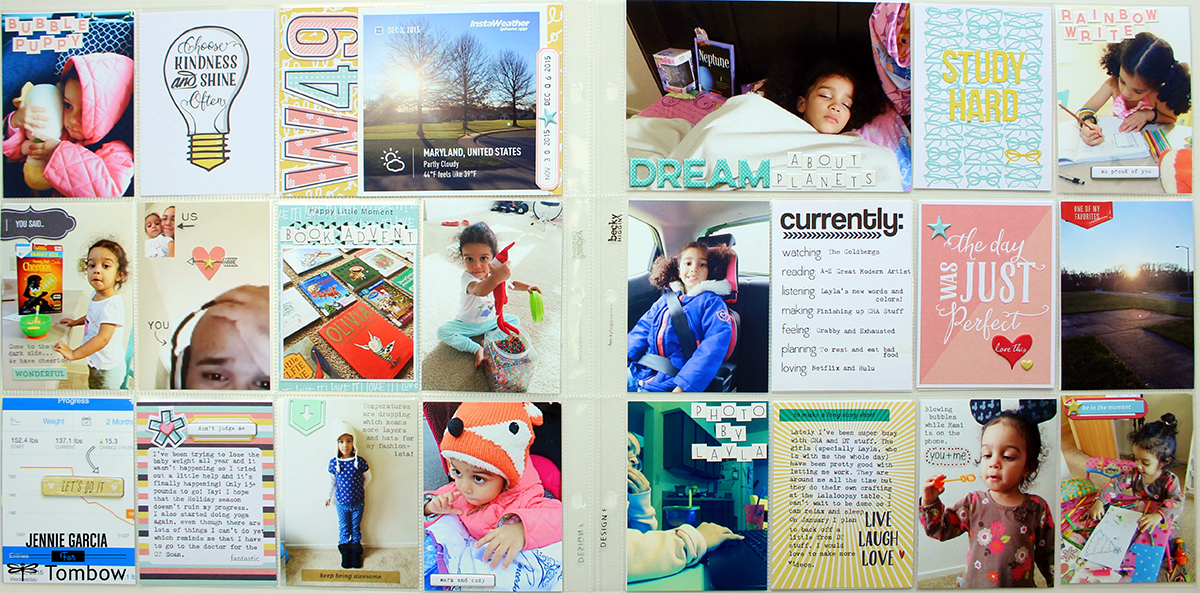 5. Use easy technology! So many apps! Lots of the them are free and some of them are within a decent prize. I fix my photos with PicTapGo but there are lots of other apps like Camera+, PicLab, PS Express, Afterlight, etc. Another practical app is PicStitch or PicFrame if you use Android. This app allows me to put two 3×4 photos on one 4×6 paper. I also can do many types of collages because sometimes you can't pick just one photo! Then there are the fun apps to decorate or add words, like: A Beautiful Mess, Pretty Little Moments, Rhonna Designs App, Real Bokeh, WordSwag, InstaWeather, InstaPlace etc. Finally don't forget to save them with Dropbox, Collect or Amazon Photo if you are an Amazon Prime User.
6. Screenshots! In the digital era, Facebook, funny tweets and texts are part of our daily lives. As an ARMY wife, I often have to Skype with my husband and I always make sure I snap one photo since it's hard to catch him on camera. I also took a screenshot of my weight loss app to celebrate a few pounds off!
7. Little time capsule photo clues. Wait what?! If you take a closer look at the photos you can see little clues of 2015, like my daughter hugging Bubble Guppy. Whenever you see photos of you and a Cabbage Patch you remember they were the craze! Movie of the year? Do you see the cereal box? Star Wars! It's funny how those little details normally escape us but while studying this layout to give you these tips I caught all that. I'm telling you because sometimes we are obsessed with clean, perfect photos and these little messes are evidence that we lived!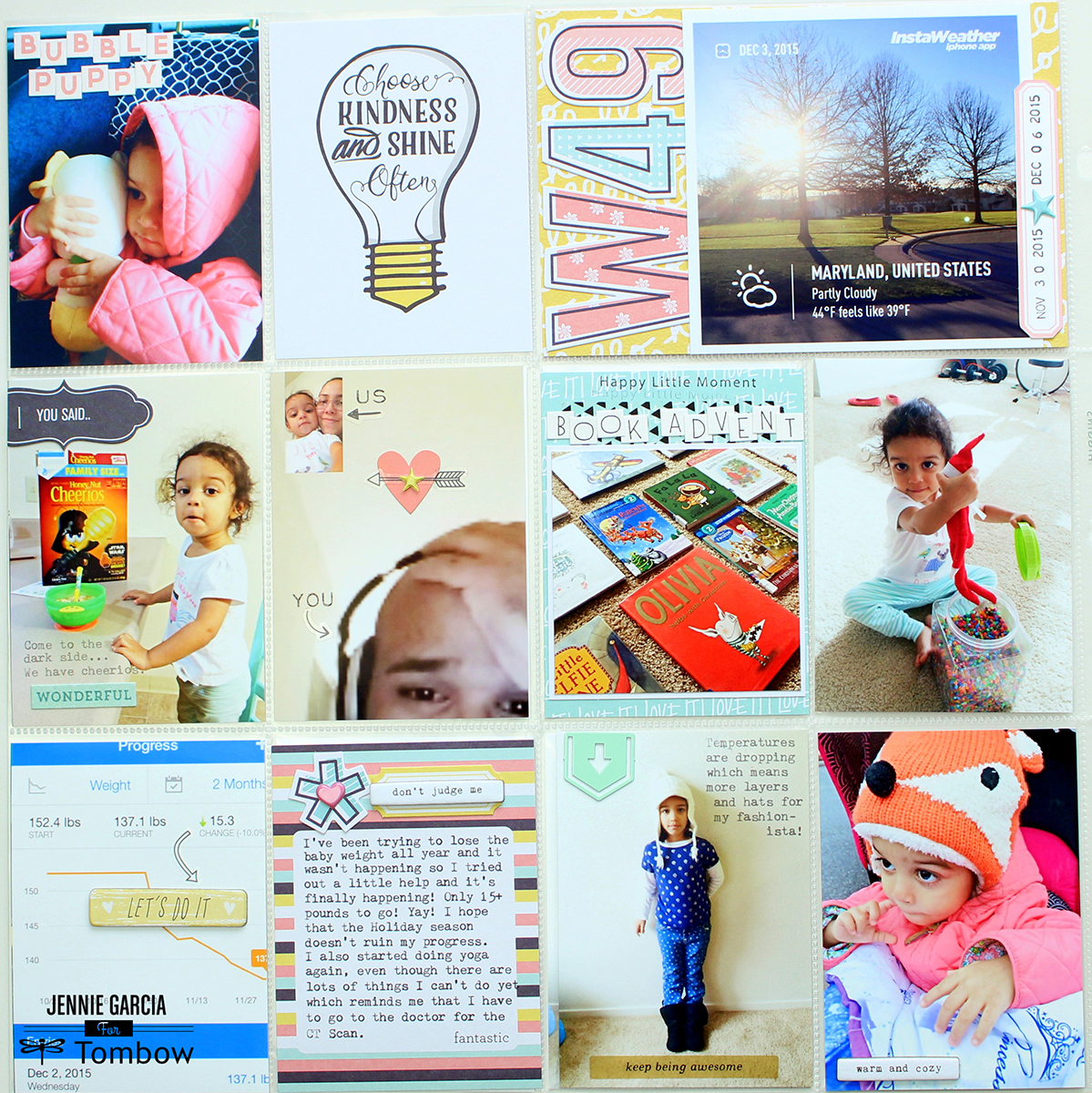 8. Pass the camera! Or let your baby borrow it, that works too! Isn't it amazing how kids can work phones so easily?! My 2-year-old daughter took the bottom photo of me working, and yes, she picked that filter too! It's a good way to see their perspective of the world.
9. Use the space in your photos. Some weeks are so busy that you don't have an extra card for journaling or a title. You can use the space on the wall to type. In this case I used my daughter's blanket to write a title. You might not think is that important but in the future I would like to remember how obsessed my daughter was with books about space. Maybe without the title I would've missed that detail.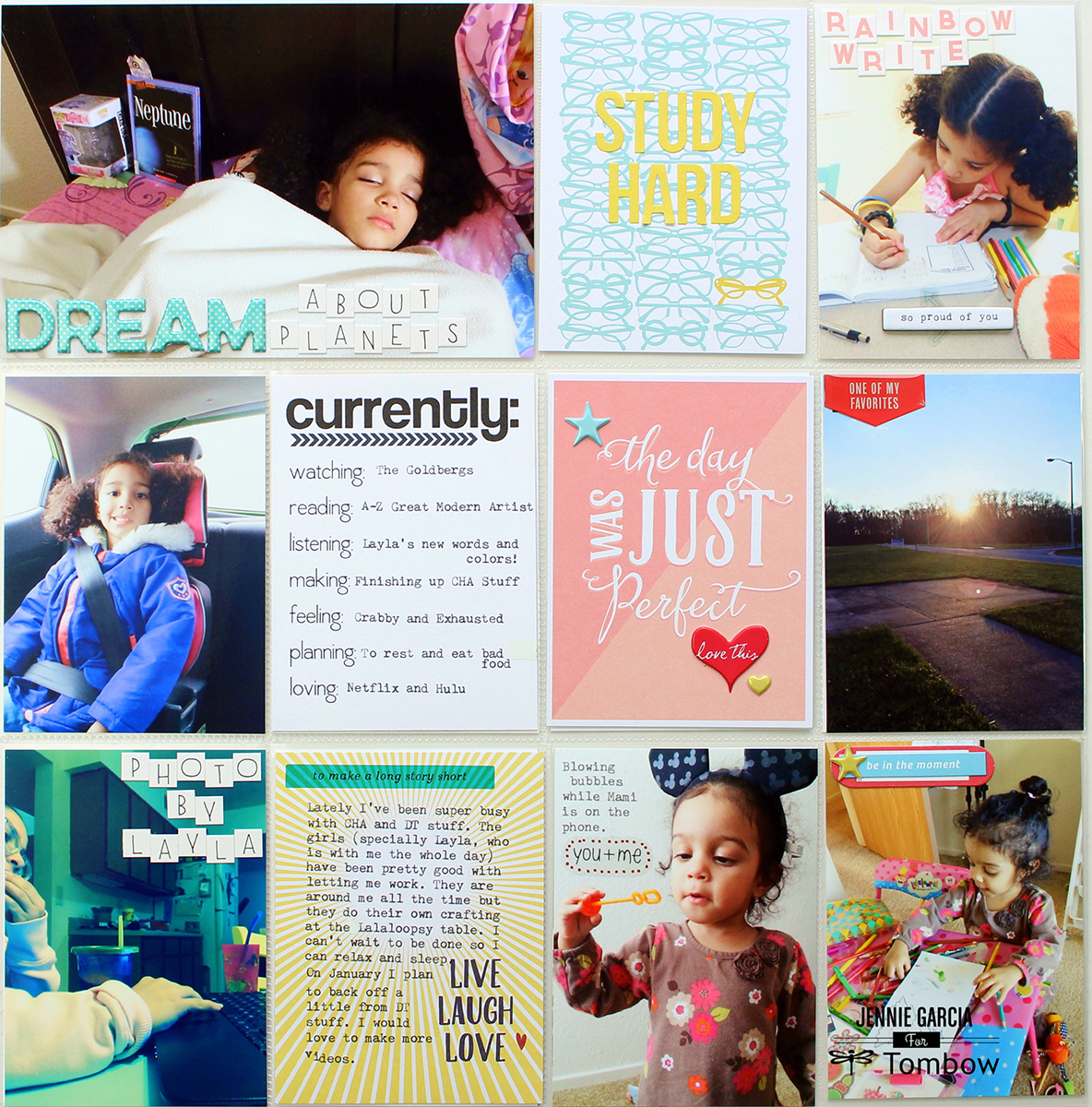 10. Get a roller date stamp! A roller date stamp is something that you will use often and it will save you from having to use alpha stickers to write dates. They are affordable and super easy to use. I also love to use mine directly on photos. When it comes to routines, repeating elements in your layouts will make the process faster. For every weekly date card I stamp the dates on labels.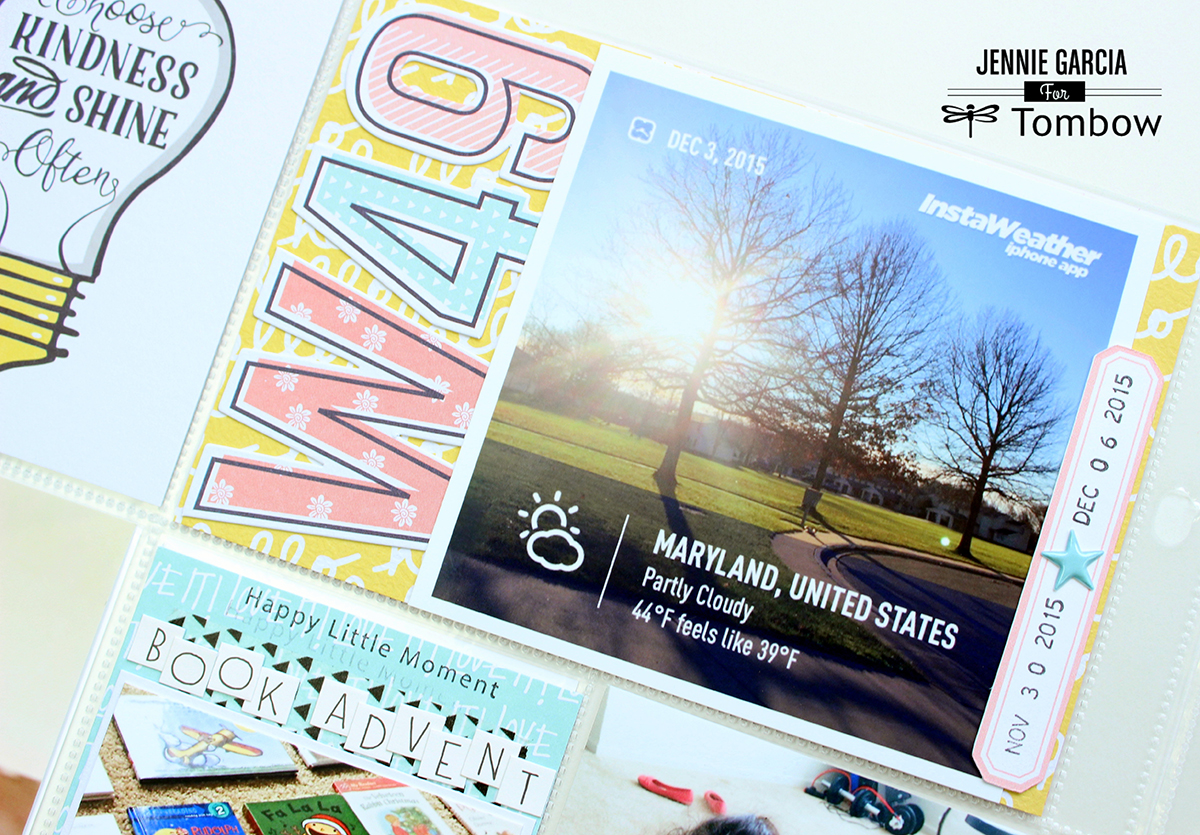 11. Be ready for mistakes! You messed up, the ink smeared and of course typos! My favorite cover ups are: washi tape and alpha or word stickers. I love to type with my typewriter on my photos and when I make a mistake I use the Tombow Sand Eraser! It's amazing for ink smears and erasing typewritten text on glossy photos!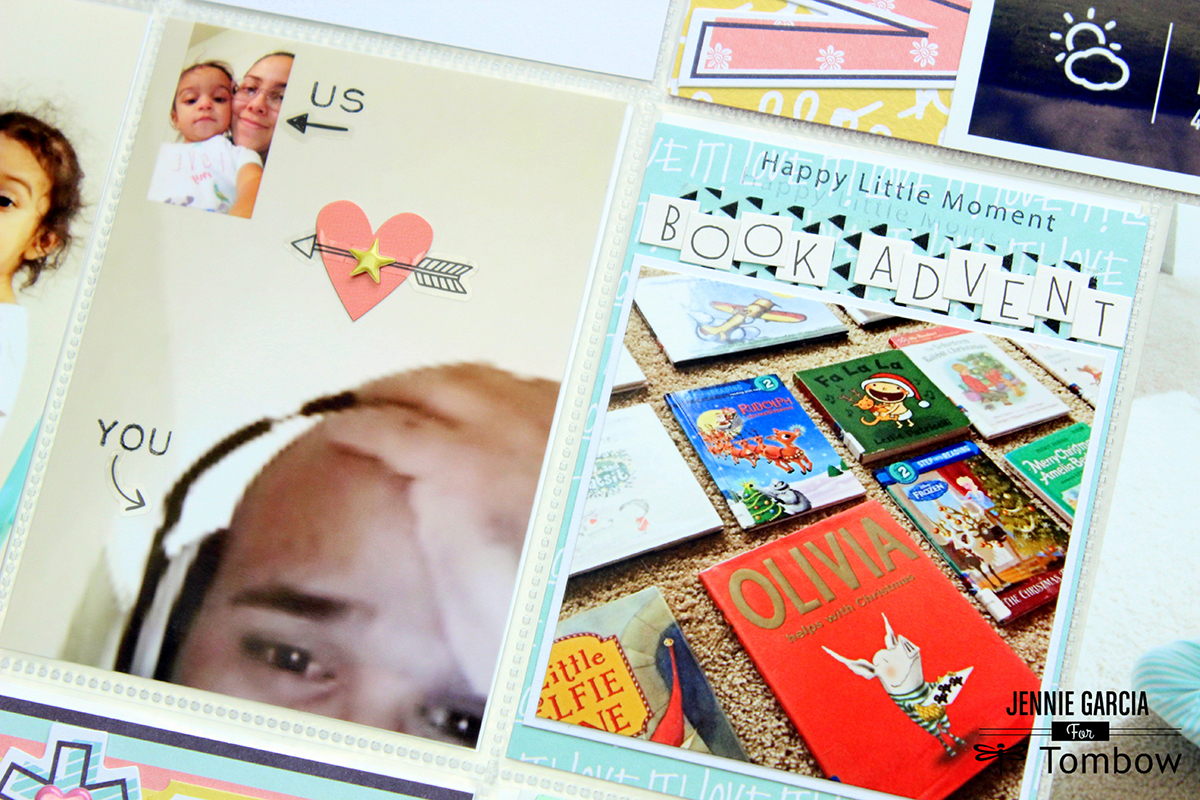 12. Little sprinkles go a long way! If you like embellishing as much as I do, little sprinkles like enamel shapes are a great way to trick in your mind into thinking that you embellished lot.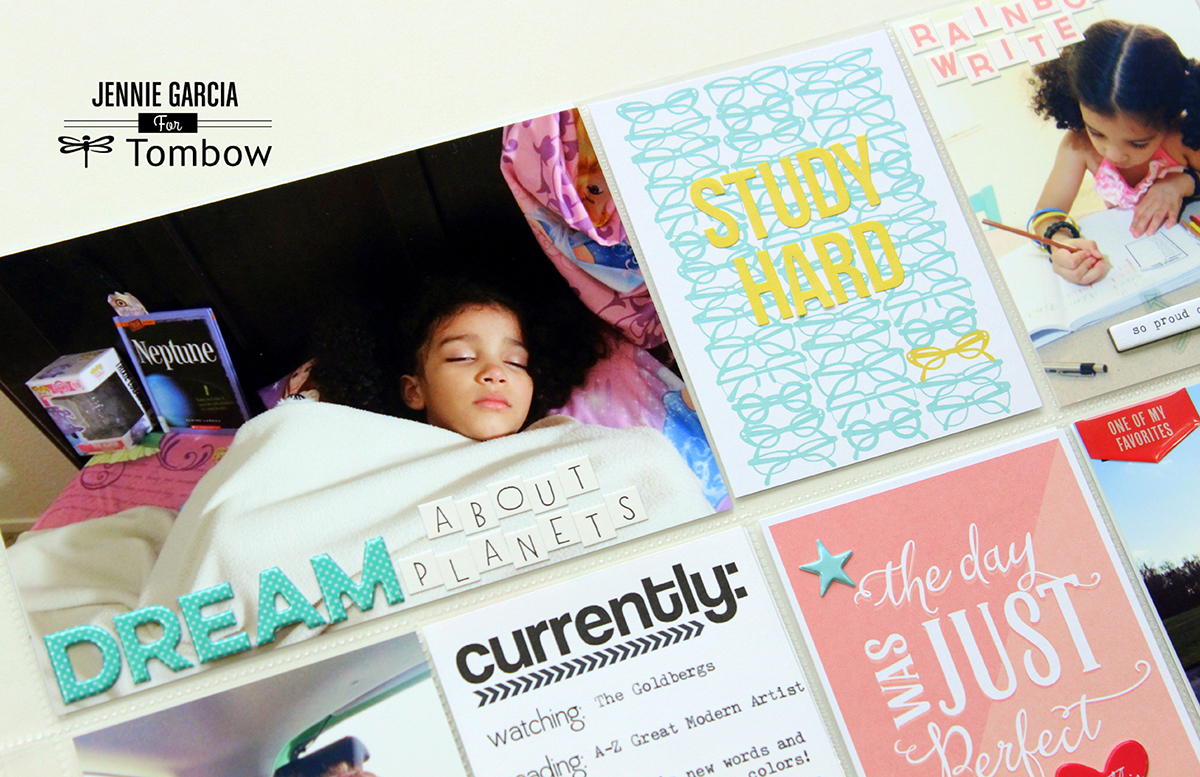 13. Make an appearance! We are always behind the camera and it's all about the kids! But once in a while turn the camera and take a selfie (which I hate, BUT I do enjoy pictures of my mom, even those she doesn't like). I also document my weekly favorites using Rukristin's Currently Journaling Cards.
14. Bounce your letters! It's hard to put every little alpha straight and centered! I use a clear ruler to put some of them nice and centered but bouncing letters on purpose with save you from crooked madness. In a world were you are tempted to buy everything, is there anything you really need those are alpha stickers!
15. You don't need every big kit! I know! So tempting, beautiful and colorful! But unless you want to use the same kit the whole year, the 500 cards are not worth it! Sure you gave some to your friends but half of the rest you kept will stay in your hoarded stash! I like different styles and I get bored easily. Smaller kits like Grab Cards from Fancy Pants Designs or Sn@p Packs from Simple Stories are perfect for me! I can use them in 4-7 spreads, then I'm done and I can move on to use different things.
Here are my tips for easy and meaningful documentation! Which one was your favorite? If you have any other tips I missed or any questions you can leave me a comment and I will get back at you! You can also catch me on Instagram @jenniegarcian for more Pocket Pages this year! I really hope this blog post helps you!
Take Care!