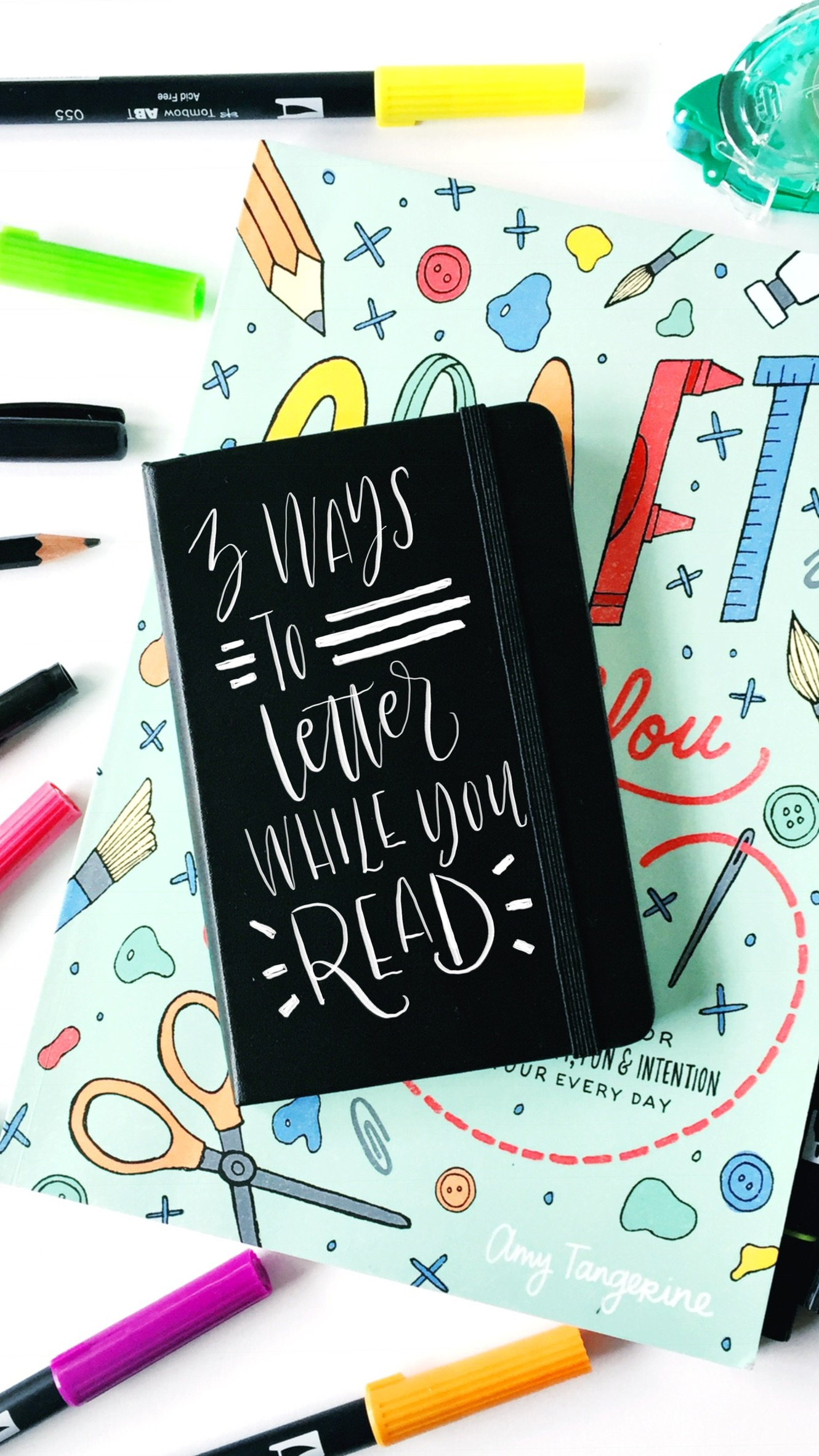 LETTER WHILE YOU READ
There are so many fun and creative ways to letter… why don't you letter while you read?! Hey Lovelies, Lauren here and I'm SO EXCITED to celebrate National Read Across America Day, which is March 2, with a fun tutorial of 3 ways to letter using Tombow USA products, while you are reading your favorite book!
ALL YOU NEED IS AN INSPIRING BOOK AND…
You might be asking … "Why would I letter while I read?"  Well, you probably wouldn't letter with just any book.  What you really, really need is an inspiring book! I have been super inspired by the book, Craft The Life You Love by Amy Tangerine! There is not a page that I turn to that doesn't have a letter-worthy quote on it, and it is the perfect book for any lady striving to live a creative life. This book is also COVERED with brush lettering and has fun margins and empty spaces that are just screaming for a brush pen to dance across  them!
Once you have your book, you also need:
LETTERING SUPPLIES (your choice of…)
PAPER
ADHESIVE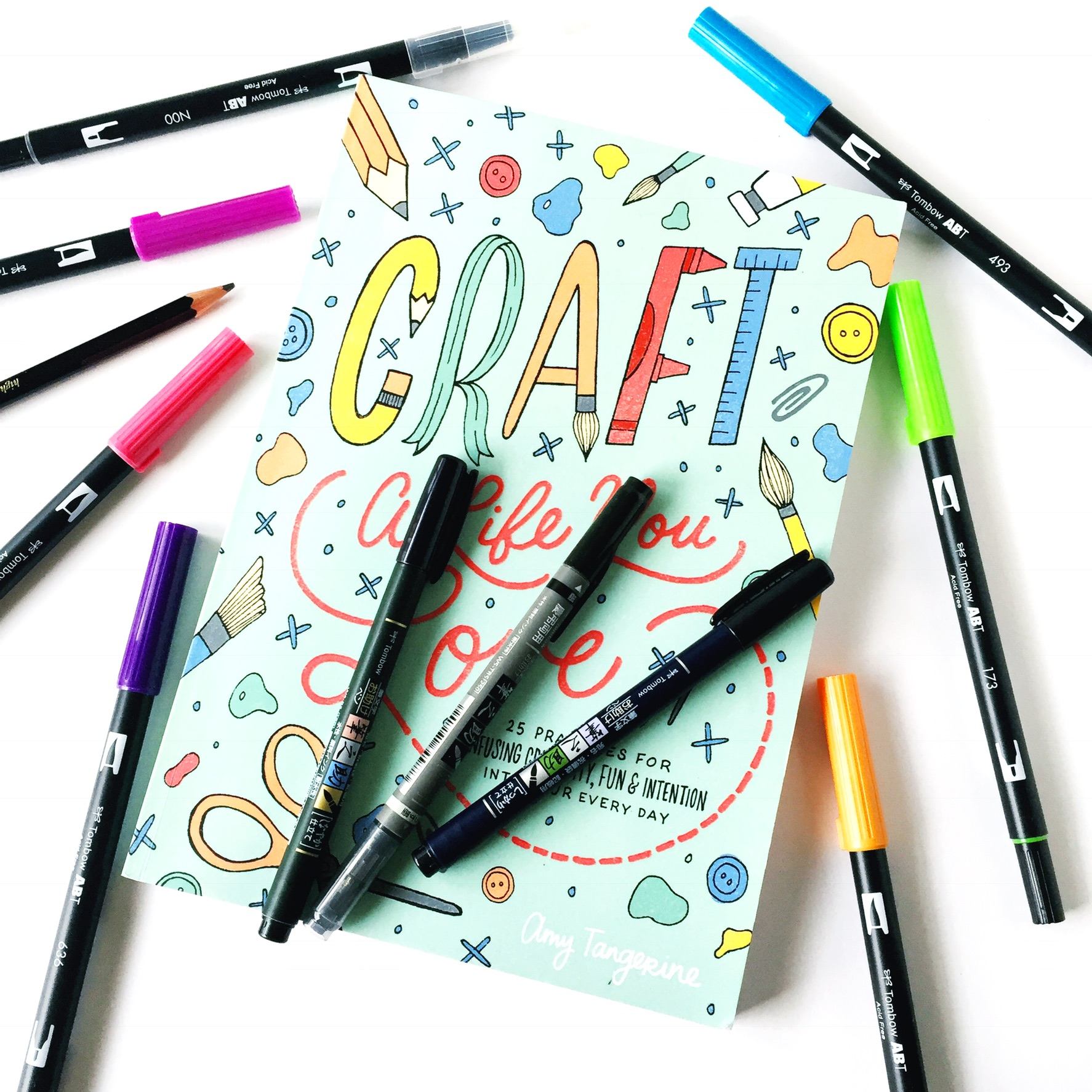 1. LETTER UP THE MARGINS
Have you ever been reading a book and just come across a quote that you are in love with along with the perfect blank space.  Don't fear… make your book truly yours by filling the margins with ideas that you love. All Tombow brush pens write on most pages of normal thickness without bleeding through.  First, letter a quote you don't want to forget in a Fudenosuke Brush Pen.  Especially, the Tombow Fudenosuke Twin Tip is fun to use when doing lettering. Letter the foundation of the letters with the black tip, and then  add a shadow with the lighter gray tip.  Some fun doodles and patterns are fun to cover and fill in with your colorful Tombow Dual Brush Pens.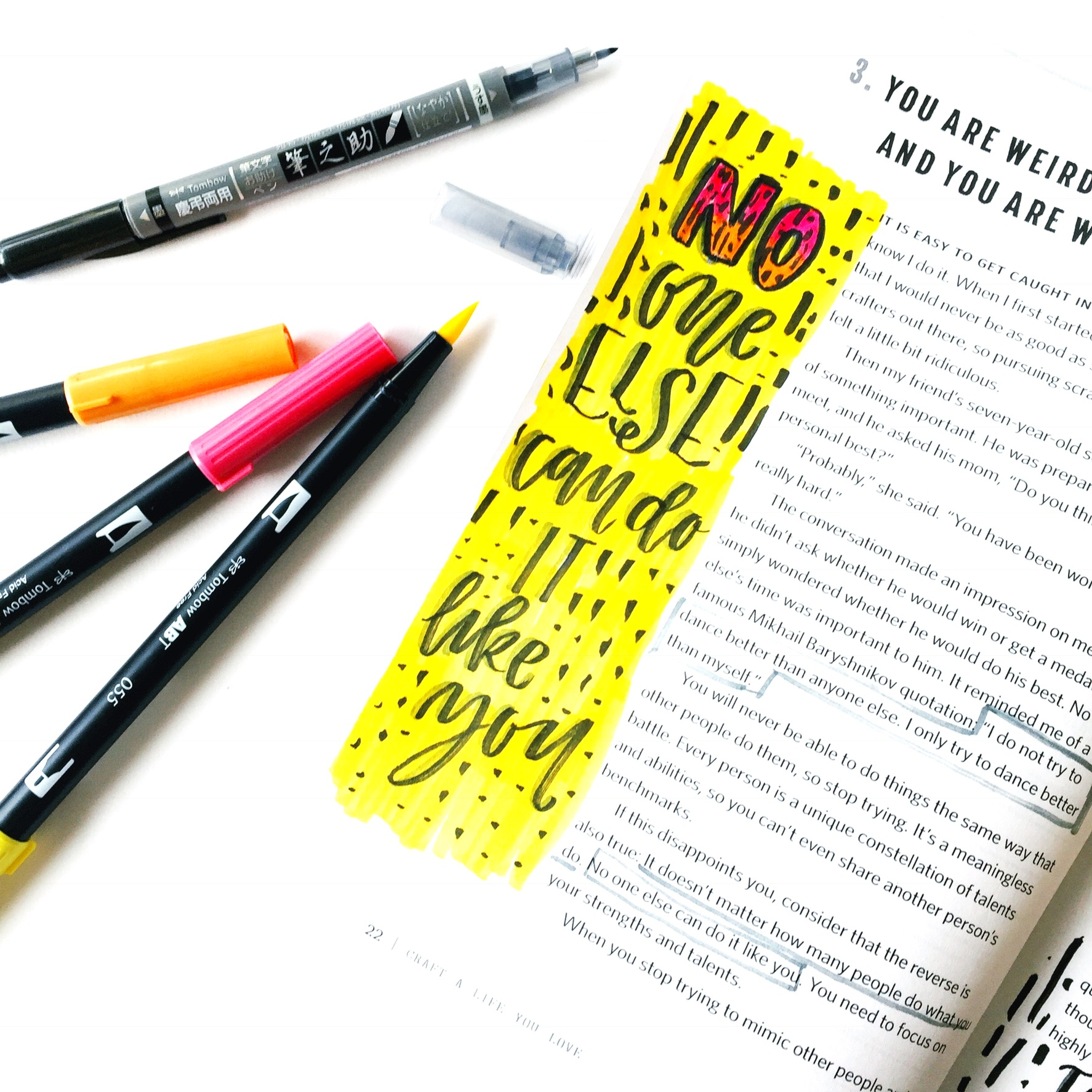 The Tombow Fudenosuke Twin Tip Brush Pen is also super fun to underline and box important text. Don't want to add color? No problem! Both Tombow Fudenosuke Hard Tip and Soft Tip Brush Pens create an amazing calligraphic affect that add character to any page.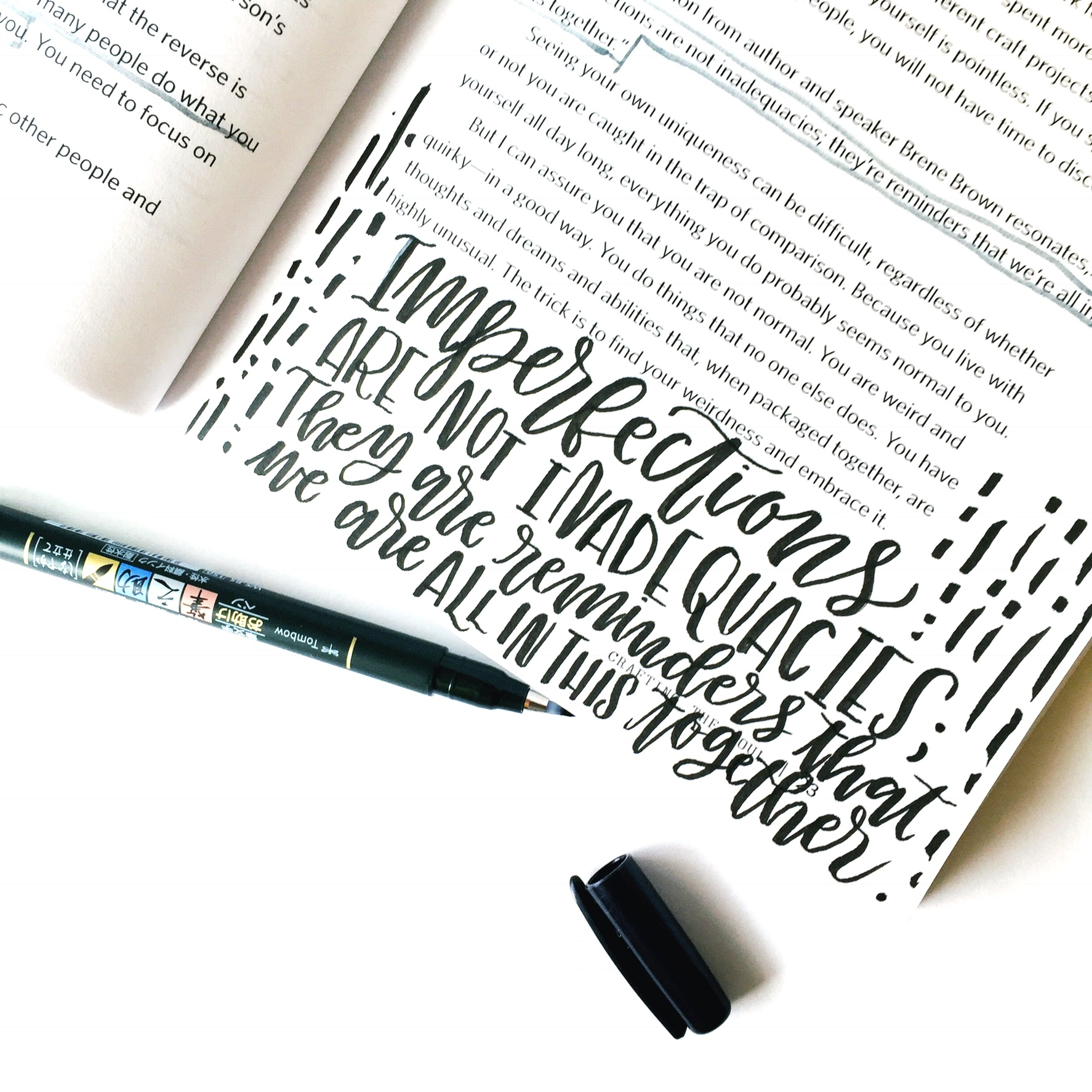 2. COLLECT QUOTES IN A JOURNAL
Maybe your book doesn't have great space in the margins to write, or you want to collect quotes from EVERY book you read and add them into a collection in one journal.  Any small sketchbook is so  fun to add fun letters to, especially with the Tombow MONO Drawing Pencil, Tombow Fudenosuke Hard Tip and Soft Tip Brush Pens, and Tombow Twin Tip Brush Pen.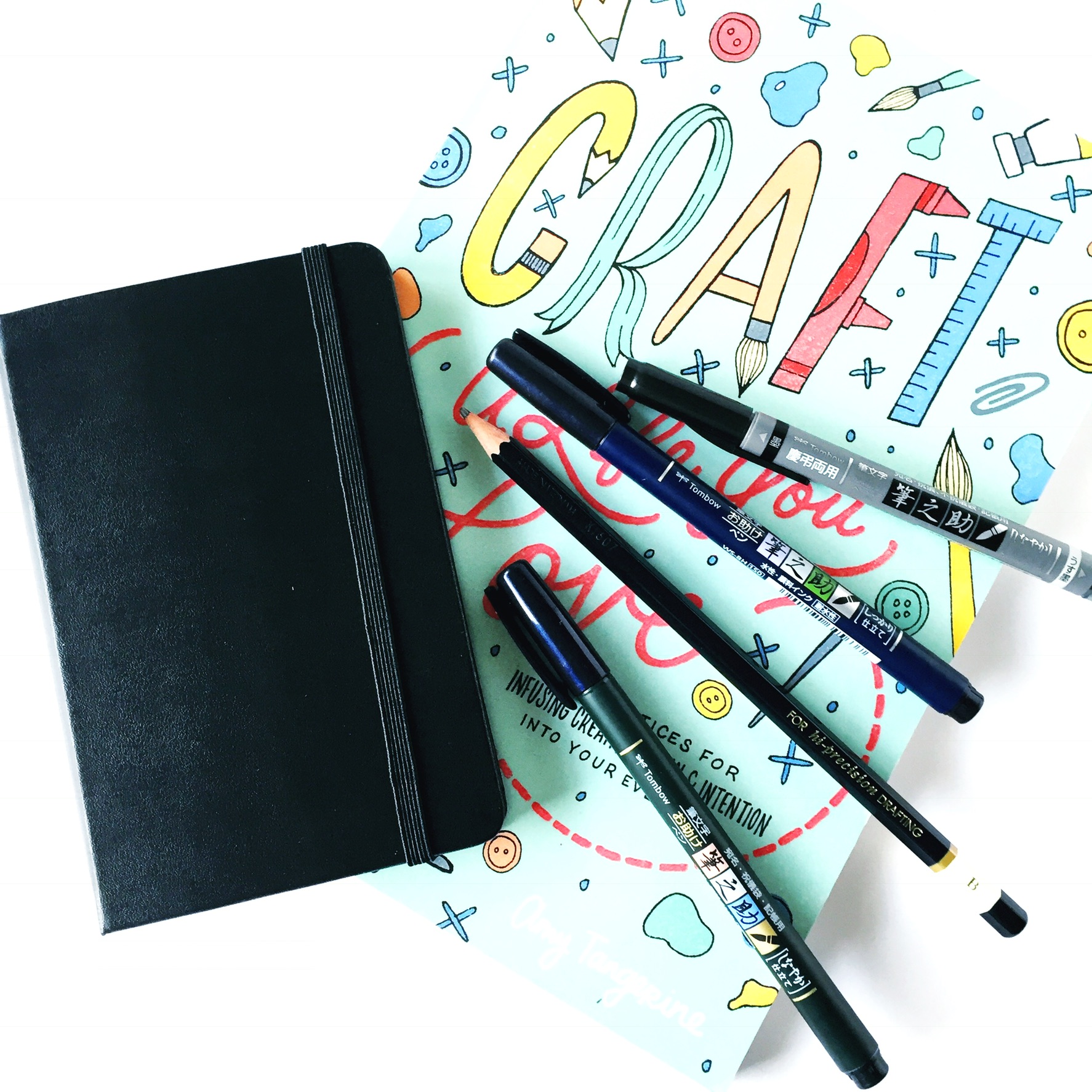 Sketch out your favorite quote with a MONO Drawing Pencil, until you are happy with the design.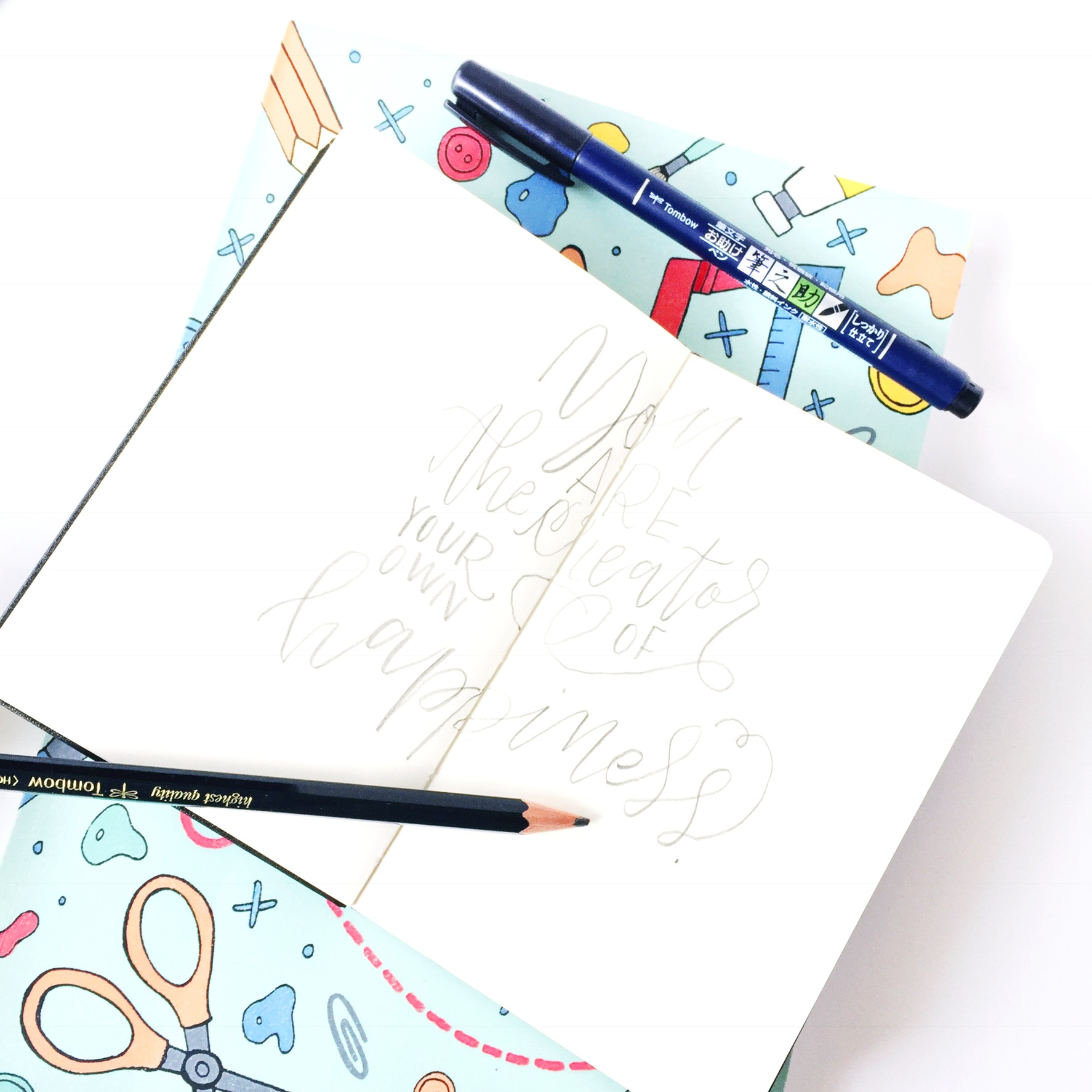 Write over the MONO Drawing Pencil with any Fudenosuke Brush Pen (pictured: Fudenosuke Hard Tip Brush Pen).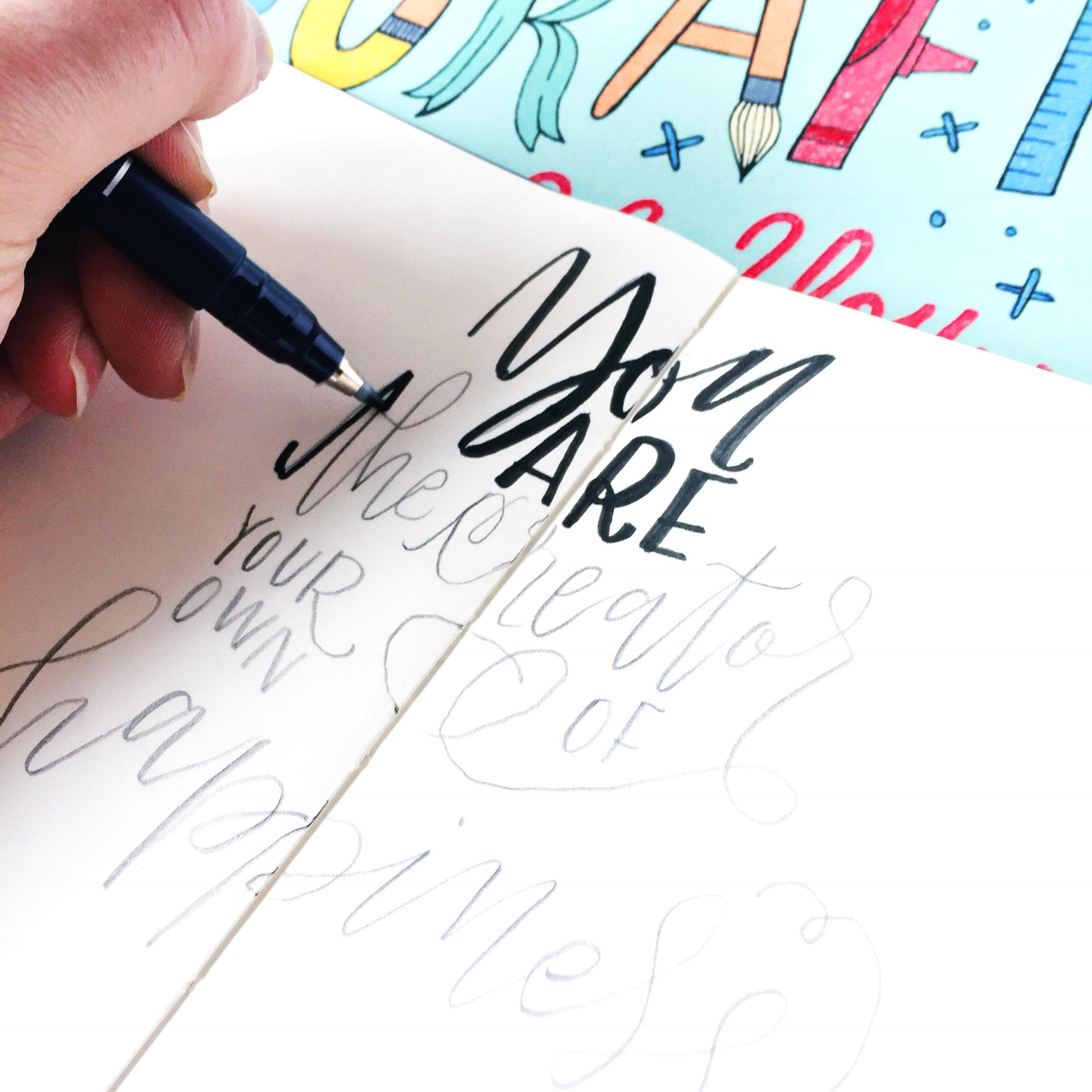 Make sure to make all of the upstrokes and down strokes even by adding to the letters with any Fudenosuke Brush Pen. The contrast between the creamy pages and black ink with the variation in lettering styles will make your lettering journal full of book quotes an inspiring way to practice your lettering.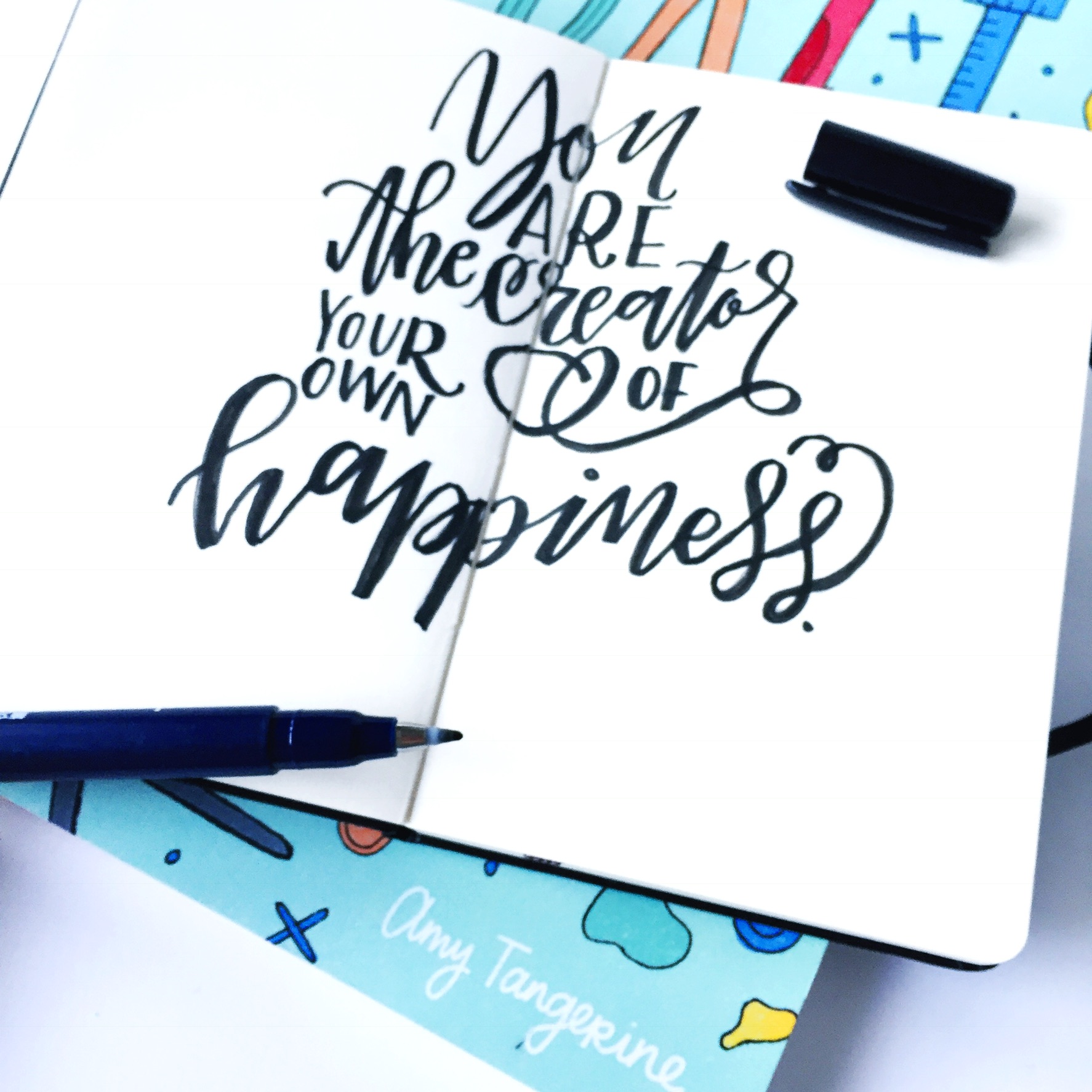 3. MAKE YOUR BOOK MARKS AND STICKY NOTES "SKETCHY"
Sketch notes are HUGE right now and  sketch note book marks and sticky notes are a fun way to keep your spot in your book while taking note of ideas that you love and want to remember. First, cut Mix Media paper in to the desired size… I made a bookmark, sticky notes, and tabs and sized them accordingly. Then use the Fudenosuke Hard Tip, Soft Tip, or Twin Tip Brush Pen to add doodles of the title, ideas you loved, and notes to yourself.  Add a little color with Tombow Dual Brush Pens.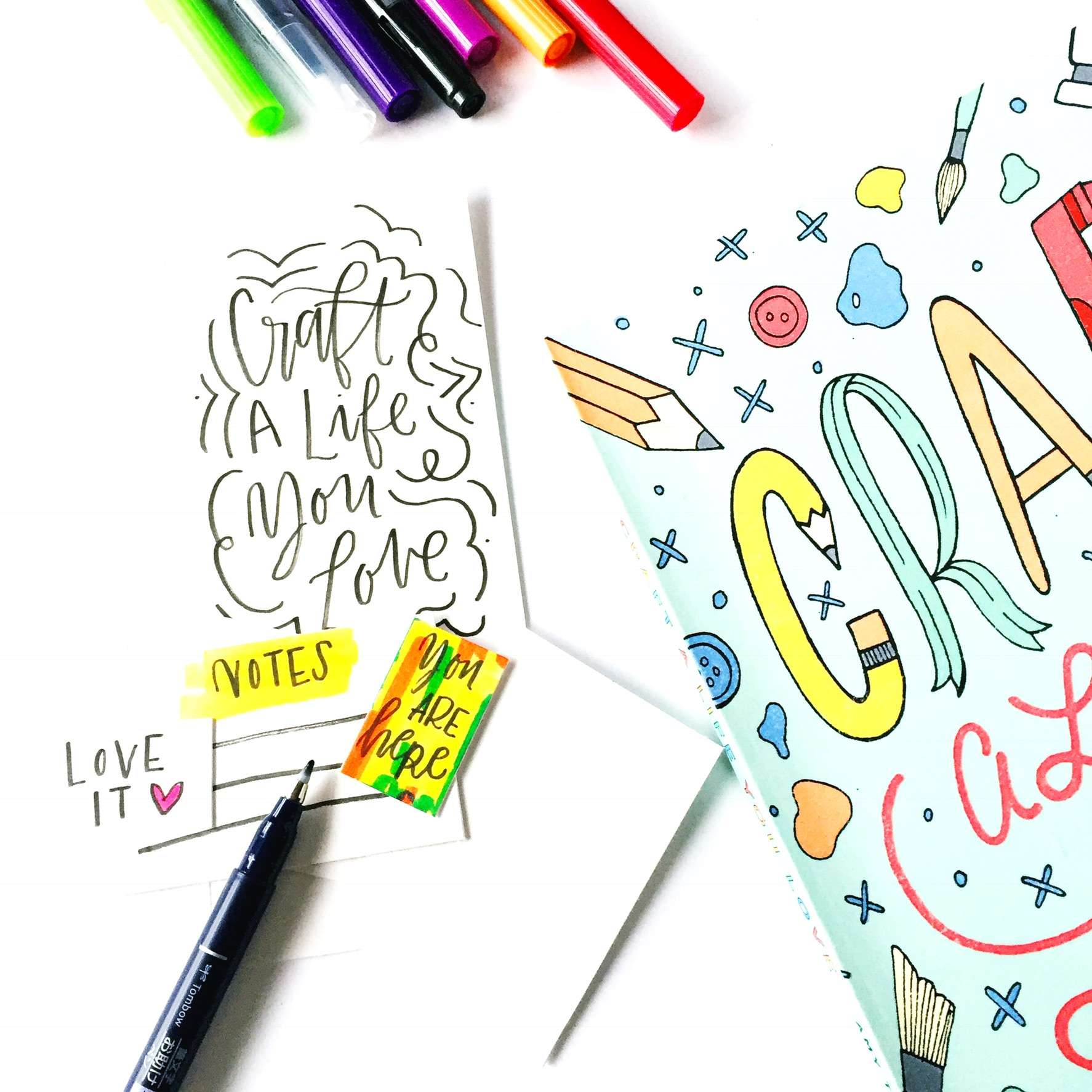 On the front of my sketch note bookmark I added the title of the book, Craft A Life You Love by Amy Tangerine. Then, the back of the bookmark is perfect for adding little quotes or phrases in a fun and creative way.  Sketch notes are such a great way to expand on your lettering style while taking risks and trying new things.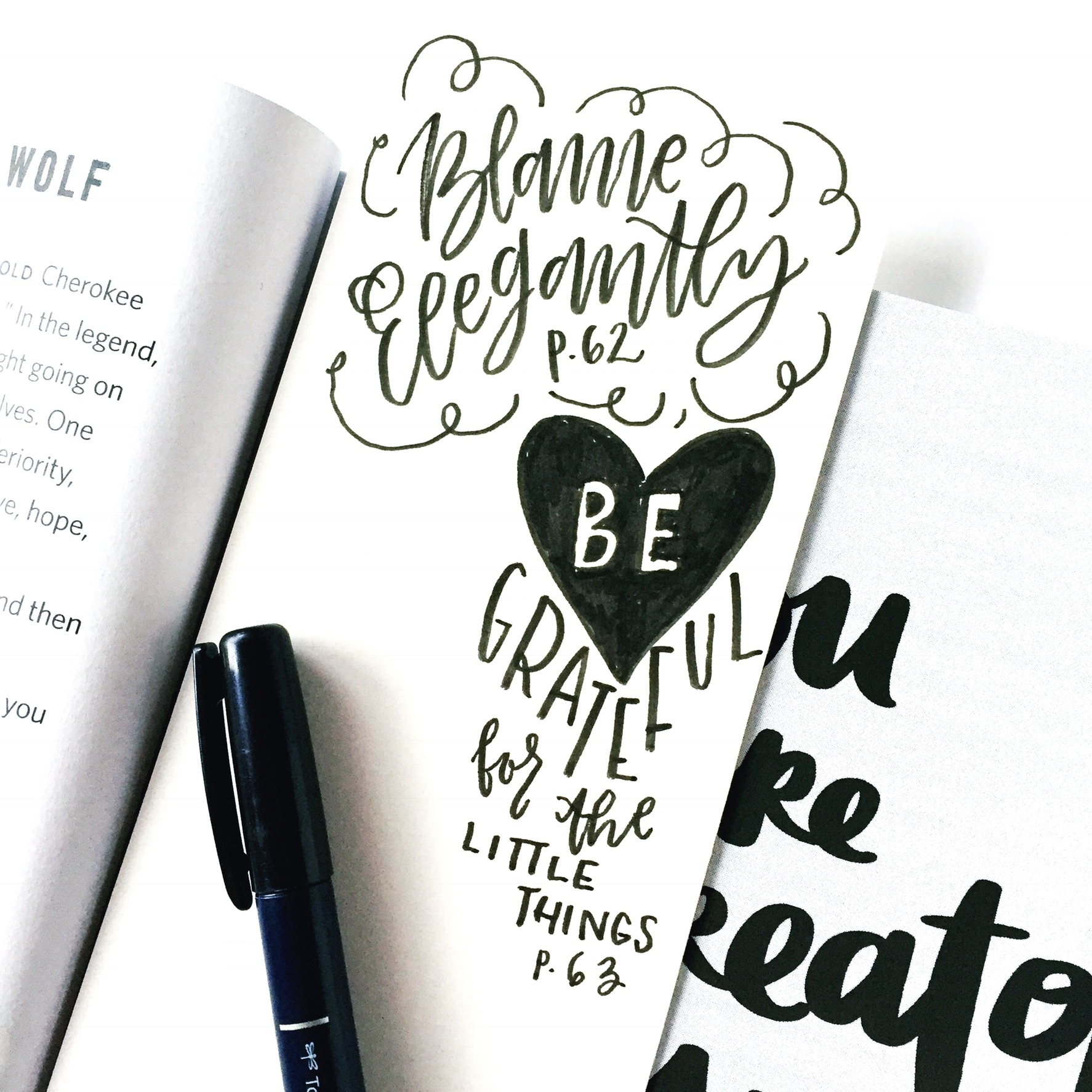 Add the tabs and sticky notes to your book by making them both sticky and removable with Tombow MONO Removable Adhesive.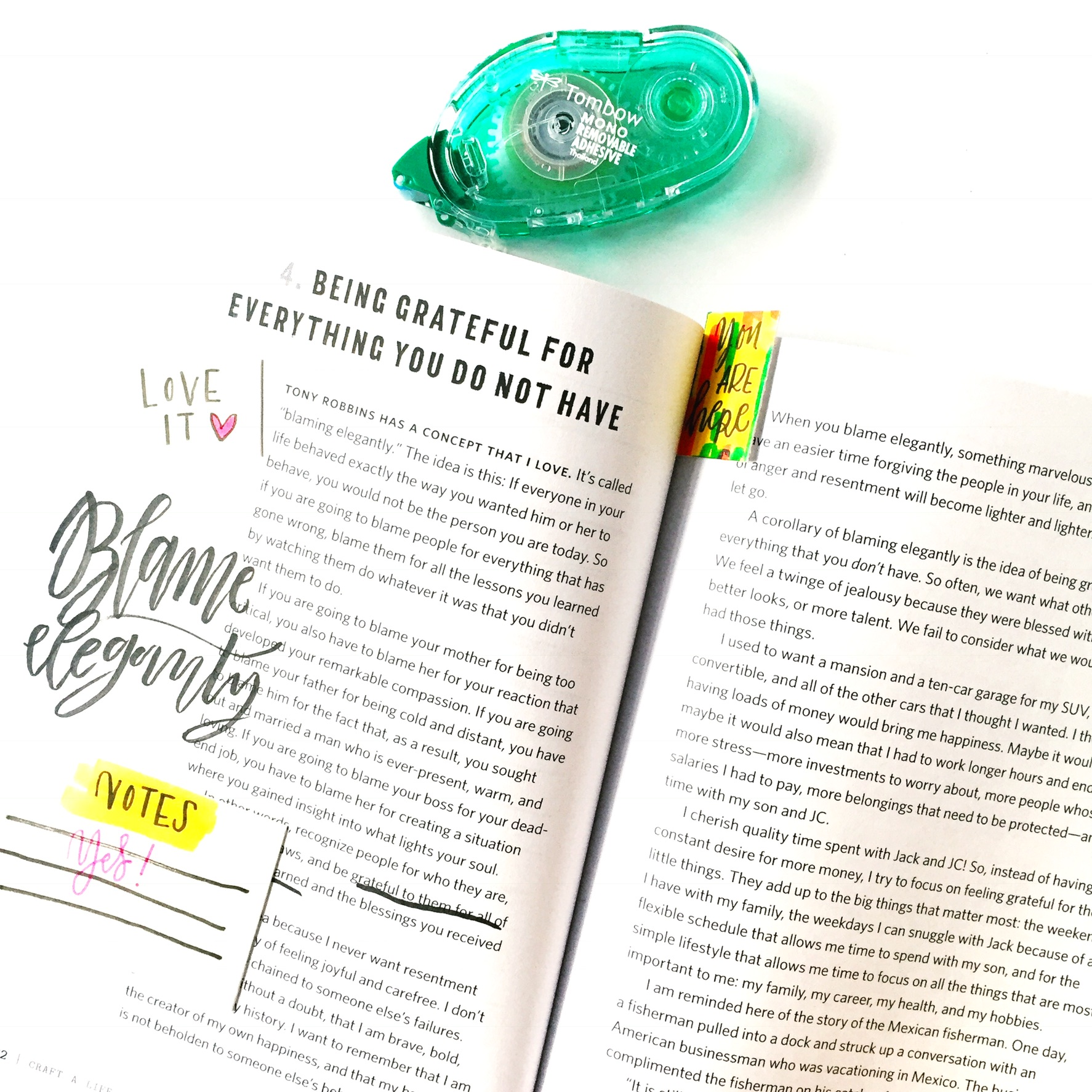 OH THE POSSIBILITIES
The possibilities are truly ENDLESS! So grab a new inspirational book and some brush pens and letter while you read! For more lettering tips, tricks, and inspiration, say hi to me over on Instagram, my blog, or the lettering community I co-created, The Letter Lovelies! As always, find your favorite lettering and craft supplies over on Tombowusa.com.