Hi everyone! Today I'm going to share how to embellish a journal cover with doodling using Tombow's new MONO Drawing Pens! One of my craftiest friends, Eileen Hull, recently sent me a set of her new journal covers, which are a part of her new HeARTfelt collection of dies and texture plates with Sizzix. So, that's what I'll be customizing today!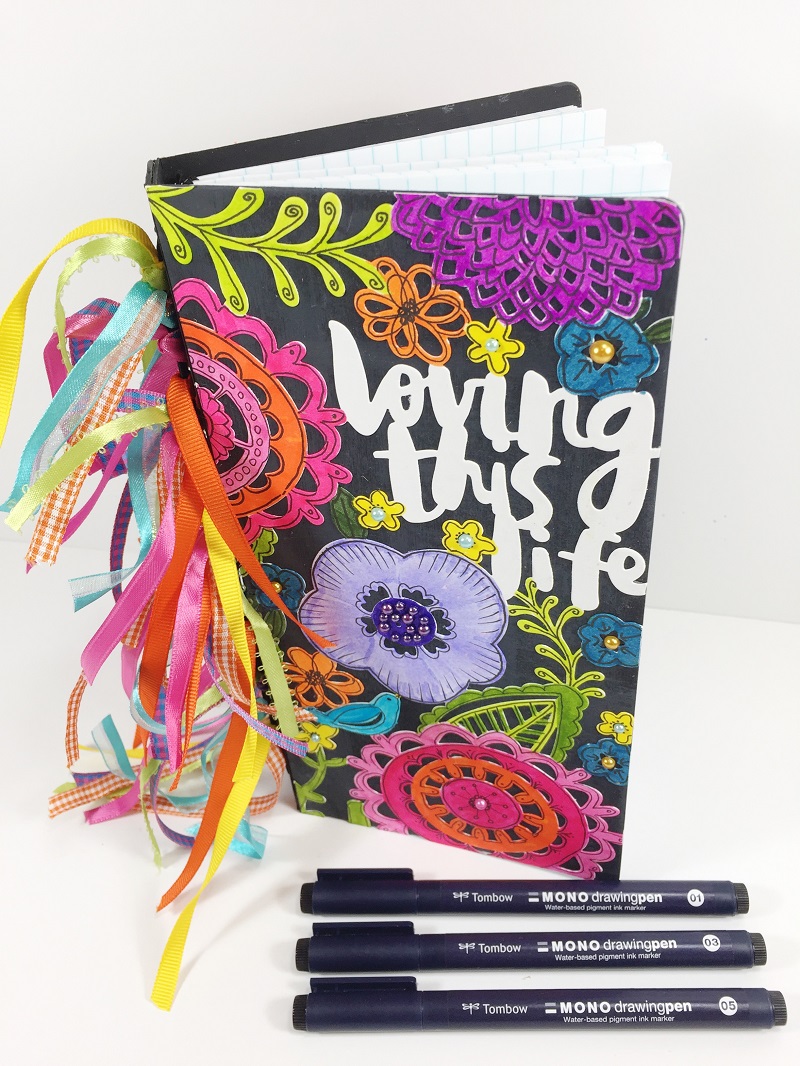 Now the really exciting news that we can finally share is that Tombow has brand new MONO Drawing Pens in widths of 01, 03 and 05, which are PERFECT for doodling and drawing. They glide across the paper like butter!
Below is a sample of each pen.  I just LOVE it when Tombow sends product in an envelope marked TOP SECRET!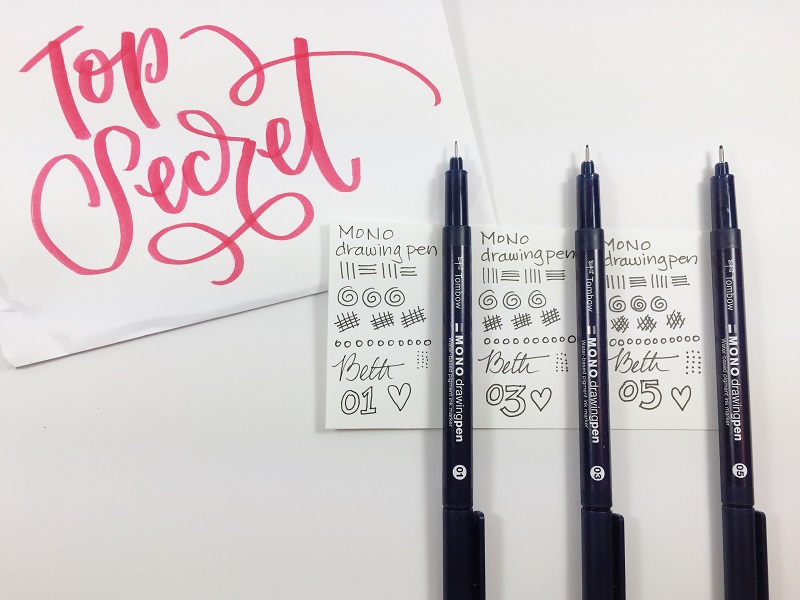 MATERIALS:
HeARTfelt Collection – Sizzix® ScoreBoards™ XL Die – Journal by Eileen Hull™ #661906
Sizzix® Little Sizzles – 6″ x 13″ Mat Board Pack, 6 White Sheets
Sizzix® Big Shot with Multi Purpose Plate and Cutting Pads
Americana Paint by DecoArt Lamp Black and Graphite
Amy Tangerine Oh Happy Life Die cut cardstock: Much Love
Other materials: Pencil, scissors, ruler, waxed paper, elastic cord – black – 48" length, grid paper – 48 sheets, assorted ribbons – 8" lengths, pearls – self-adhesive in assorted colors, paint brush – flat wash ¾", paper trimmer, corner rounder punch, decorative scrapbook paper 12″ by 12″
STEP ONE:
Paint the inside and outside of both covers lamp black, let dry. Dry brush the outside of both covers horizontally and vertically with graphite to resemble linen, let dry.  Measure and cut two pieces of scrapbook paper 4" by 8 ¼" then round the two outside corners. Attach to the inside front and back covers of your journal with Tombow Xtreme Adhesive.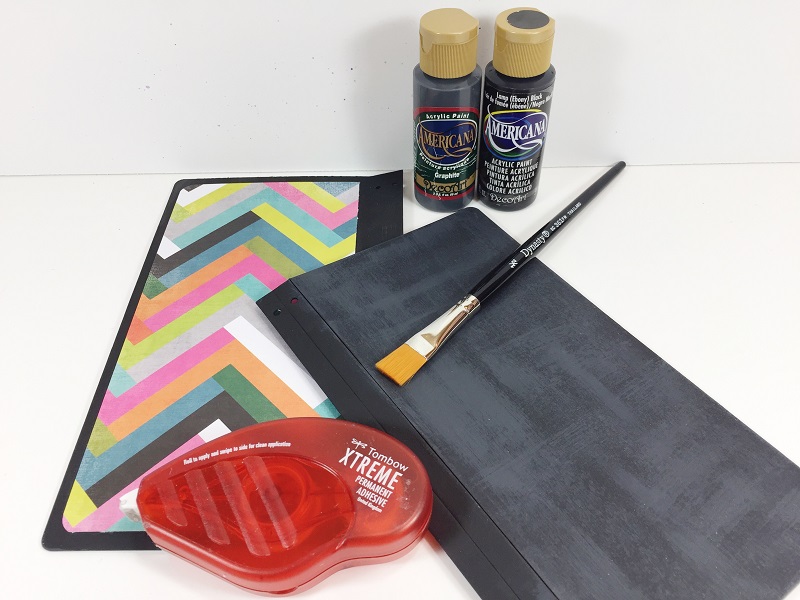 STEP TWO:
Measure two 4 ½" wide by 8 ¾" tall rectangles onto the die cut paper Much Love. Color with a variety of dual brush pens, leaving the words white.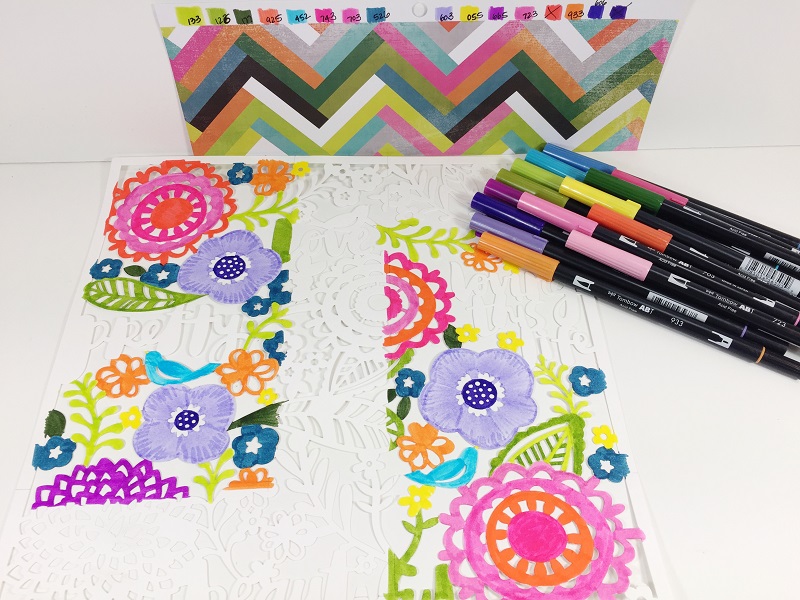 STEP THREE:
Doodle over the hand colored paper with the new MONO Drawing Pens, using the finest tip 01, the medium tip 03 and the bold tip 05 to give depth and dimension to your design.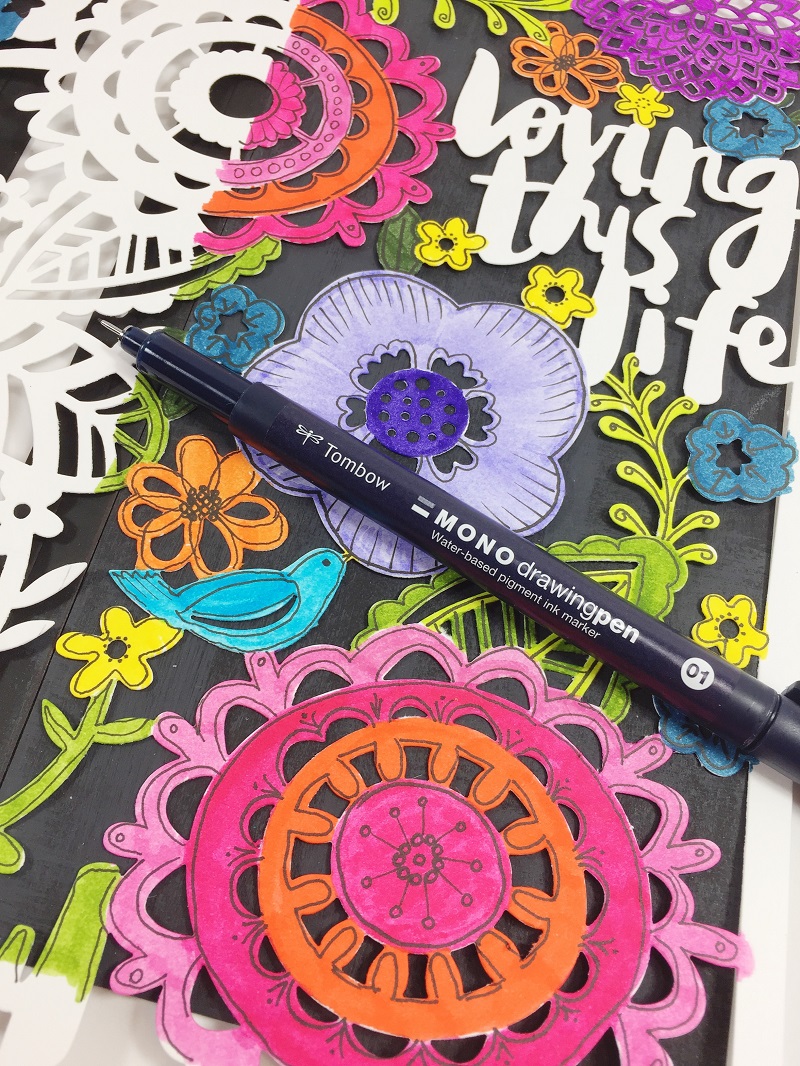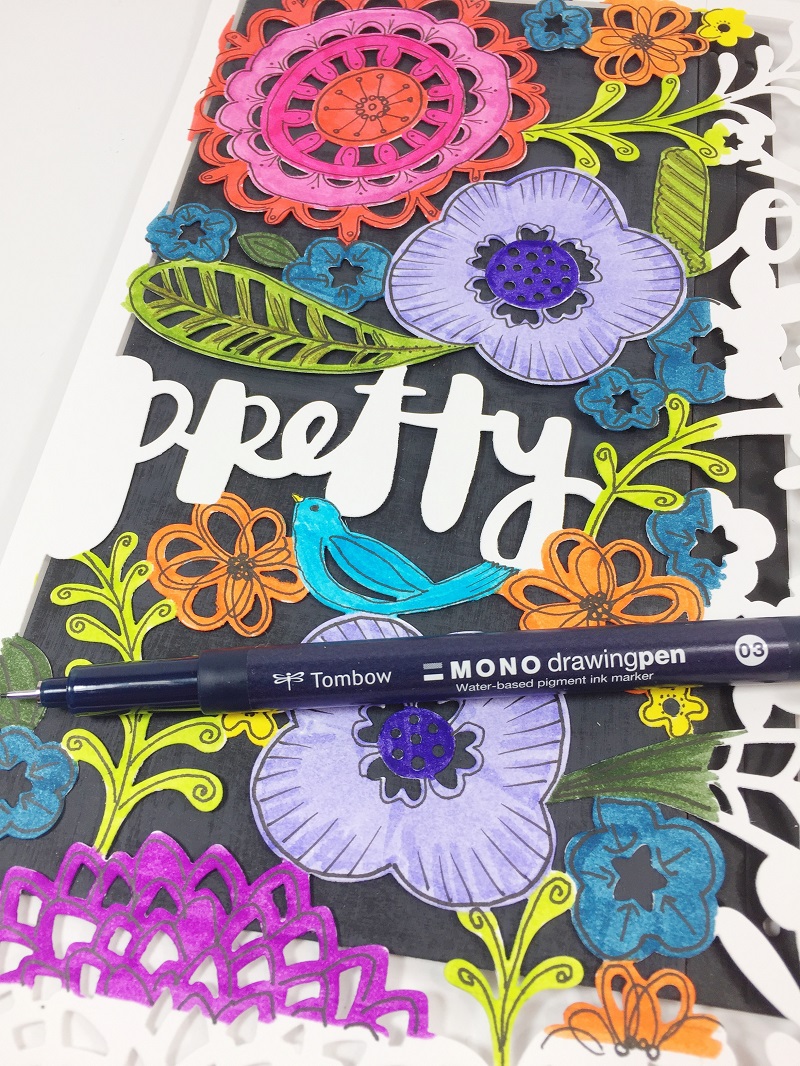 STEP FOUR:
Rough cut colored and doodled rectangles with scissors. Flip over, and on a protected surface apply MONO Aqua Liquid Glue to the back of the first paper rectangle.  Carefully apply to the outside front cover of your journal, layer with waxed paper and press down to adhere.  Gently lift up waxed paper and discard.  Press down in additional areas needed with fingers.  Repeat with outside back cover of journal.  Let glue dry.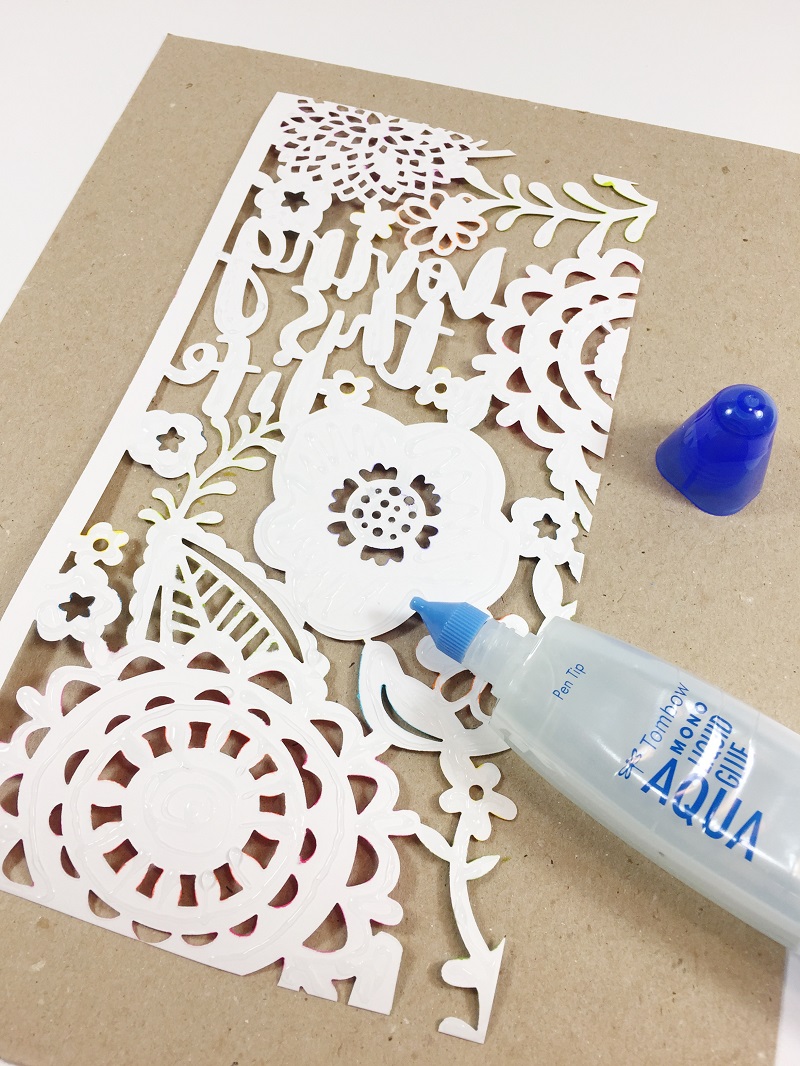 STEP FIVE:
Once dry, trim any excess paper from edges of journal covers with scissors.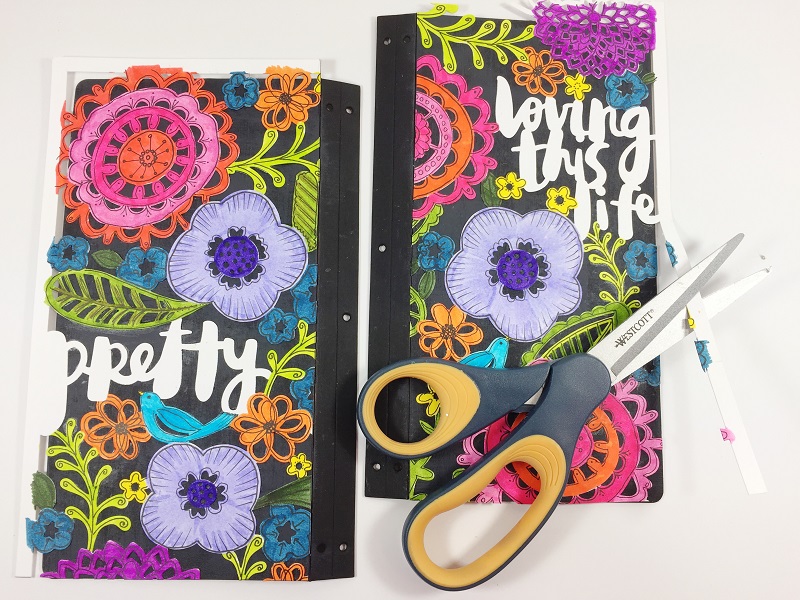 STEP SIX:
Overlap the spine of the front and back journal covers and attach with Tombow Xtreme Adhesive. Make sure to line up the top and bottom sets of holes on the spine.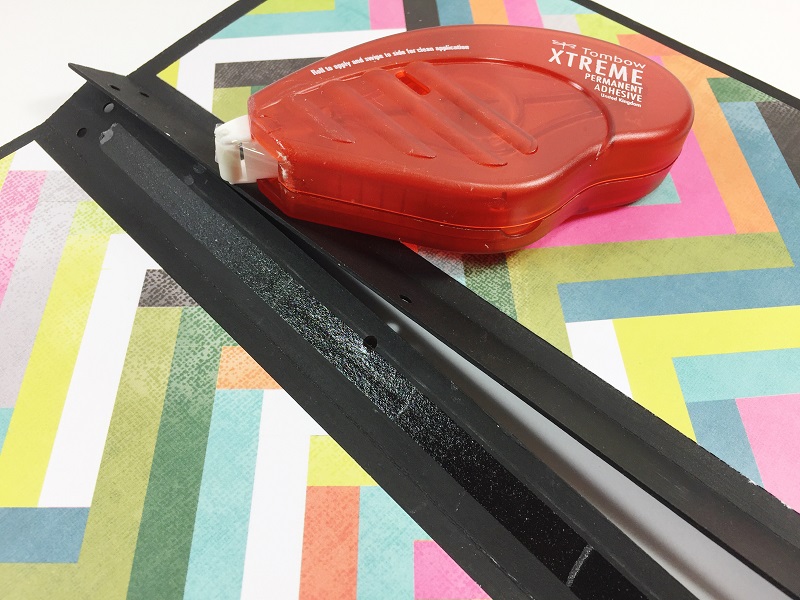 STEP SEVEN:
Thread the elastic through the holes in the spine creating four long loops. Secure both ends of the elastic with knots.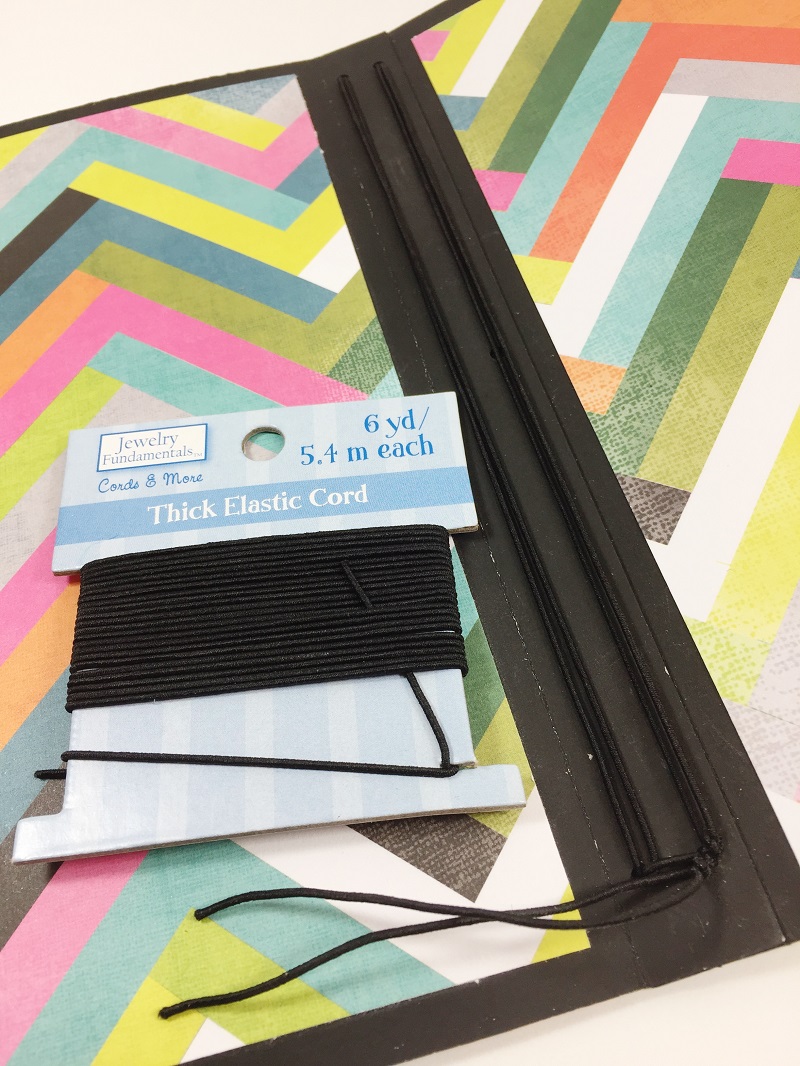 STEP EIGHT:
Measure and cut 48 sheets of grid paper 8 ½" wide by 8" tall. Make four groups of 12 sheets, then fold each group in half to create four signatures 4 ¼" wide by 8" tall.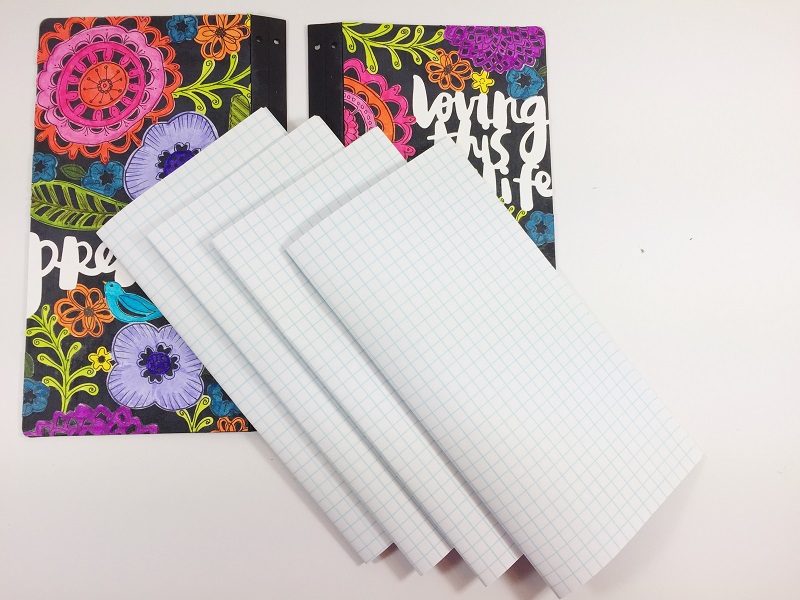 STEP NINE:
Insert each signature through each elastic loop to create the inside pages of your journal.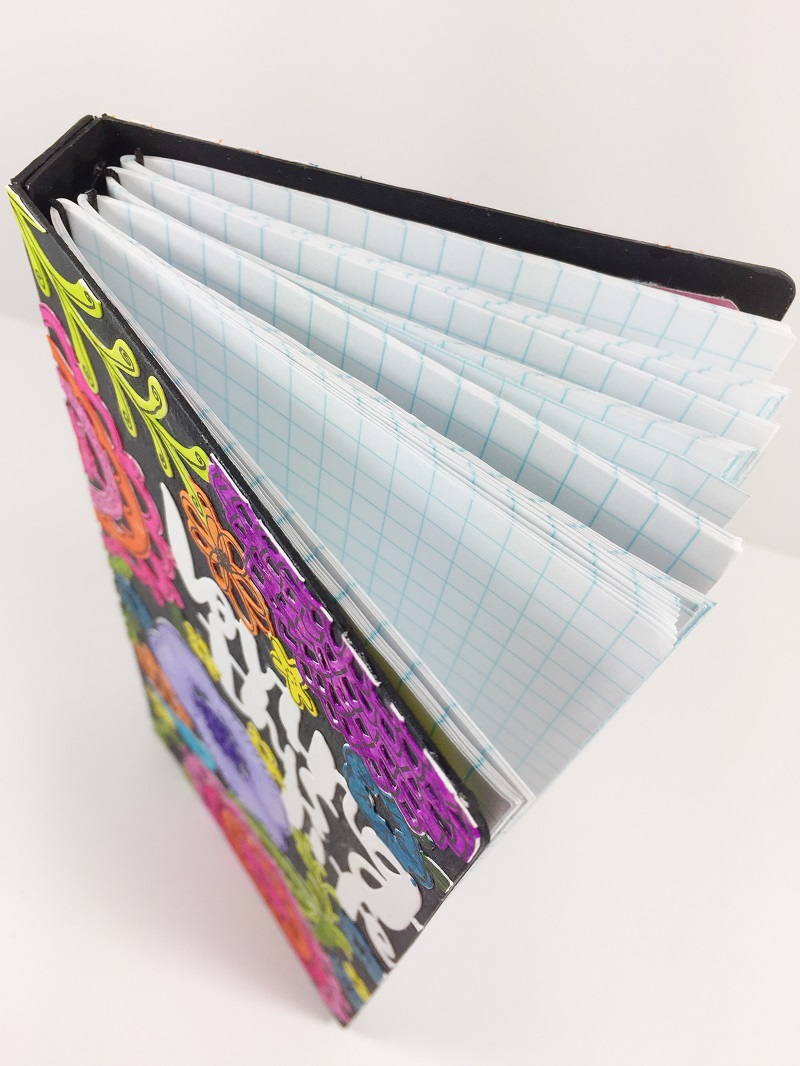 STEP TEN:
Tie assorted ribbons to the elastic along the outside spine of the journal. Embellish the front cover with self-adhesive pearls.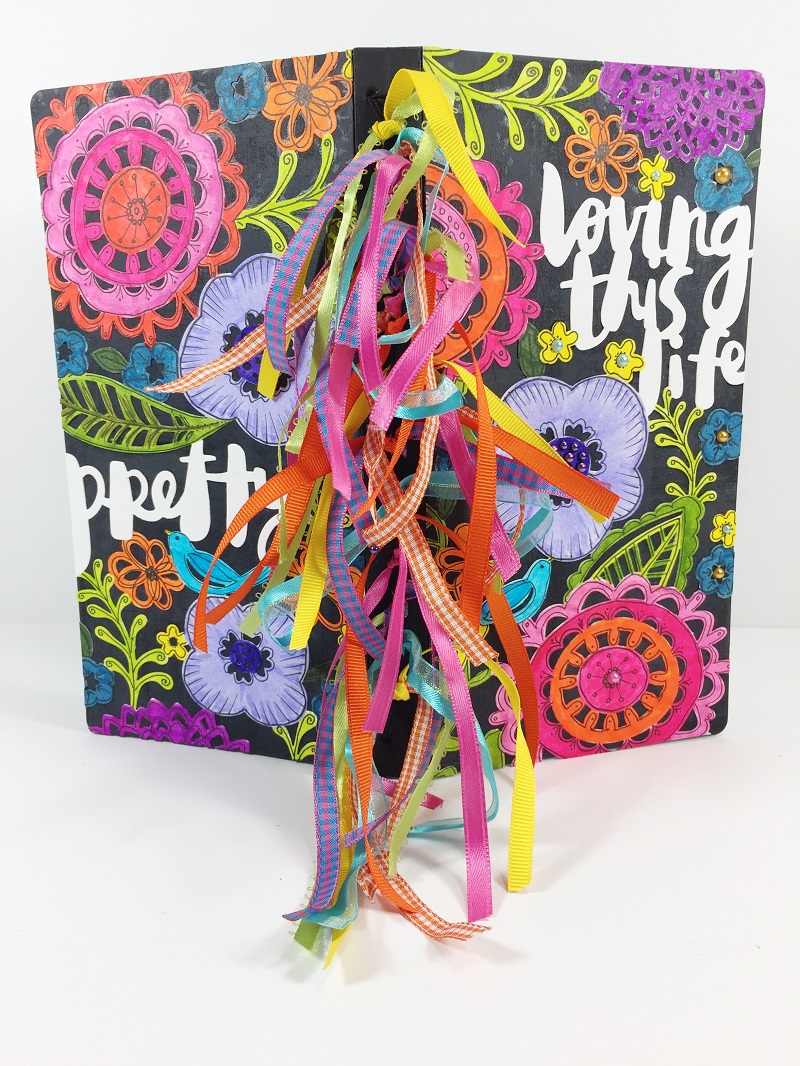 Cut from mat board, these journal covers are perfect for a wide range of mixed media applications such as paint, markers and embellishments.  I am going to use my bright and festive journal cover to record all of my creative ideas an inspiration!
If you enjoyed my project – how to embellish a journal cover with doodling – check out this quote coloring page HERE and this bloom coloring page HERE.
Thanks for stopping by -Beth