Hello and welcome to Day Two of Creative Coloring week!  This week the Tombow Designers will INSPIRE you with their creative coloring and doodling skills!

Each member of the Design Team received three of  Joanne Fink's "Zenspirations" coloring books Inspirations, Flowers and Abstract. Joanne is an amazing artist and a wonderfully inspirational friend!  She says "My coloring books are designed for people to add their own patterns and embellish the illustrations as well as color."  She has two new books coming out in October Birds and Butterflies and Expressions of Faith, which will be available for pre-order on Amazon next month!
I selected the inspirational quote page – "Take a Moment to Breathe" which has been my mantra recently!  The nice thing about coloring is that you instantaneously take a moment to breathe and relax.  I think that it is an automatic response, which I can use ALOT more of in my life!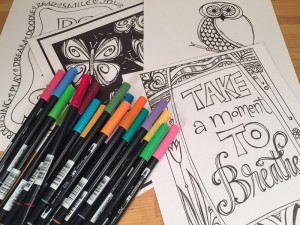 I added additional doodling with my Tombow USA MONO Twin Permanent Marker which is my go to marker when it comes to writing on all types of surfaces – PLUS it is permanent, so it won't bleed or run when I color over it with my Tombow USA Dual Brush Pens – SCORE!
I used several sets of Tombow USA Dual Brush Pens – Bright, Soda Shop and a variety of single pens that I have collected.  I wasn't thrilled with the original choppy look of the light blue background, so I used the Tombow Dual Brush Pen Blender.  The final result has a softer, more water color feeling that I really like!
I love the bright colors that I used and am planning on hanging this is my office to remind me to take a break!  LOL!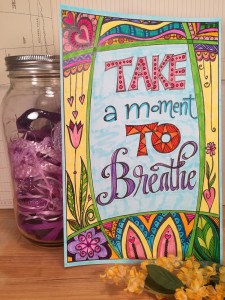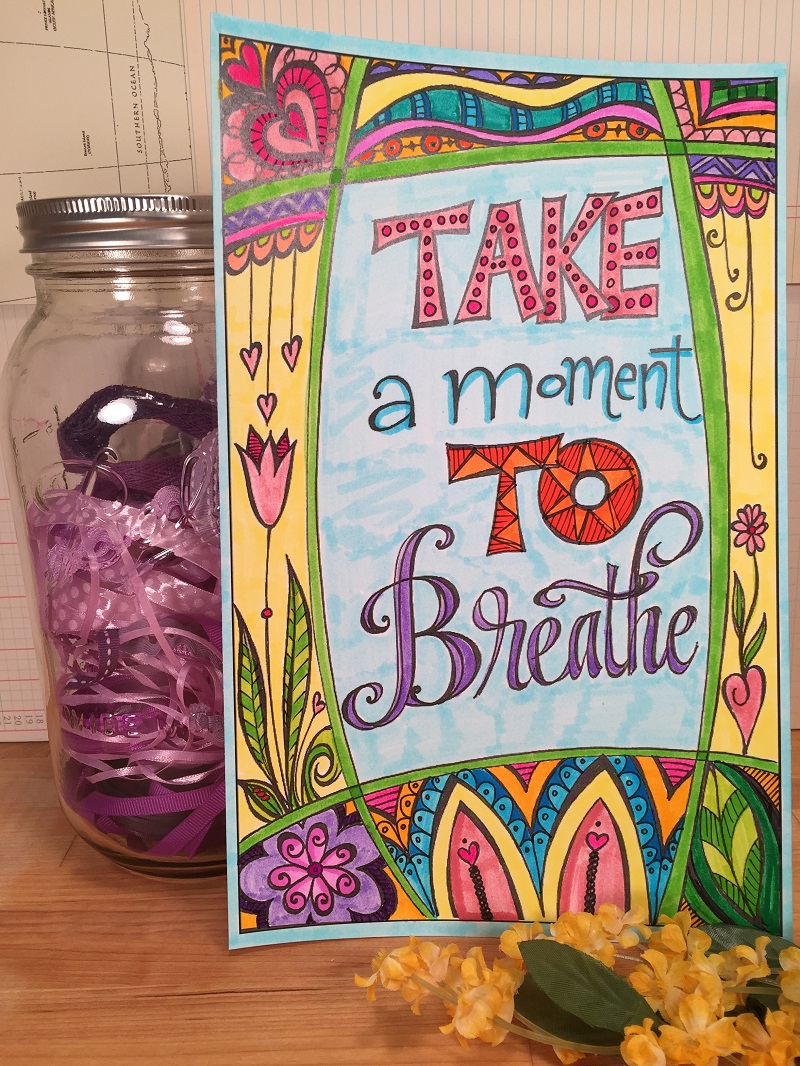 I had way too much fun coloring and doodling this week!  I hope you are inspired to do some creative coloring of your own!  It is very RELAXING and ZEN.  LOL!
A BIG Thank You to Fox Chapel Publishing for sending us these coloring books!!  Fox Chapel Publishing also publishes Tombow's Signature Designer Marie Browning's books?  if you haven't seen Marie's books, click this LINK to check them out!  They are AWESOME and she uses all Tombow USA products in both books!
Be sure to follow Tombow on Instagram at @tombowusa for more creative coloring tips and tricks all week long. There is also time to enter the #tombow10k giveaway on Facebook and Instagram – you could win $300 in Tombow products! Entry requirements are listed on the #tombow10k giveaway image on Tombow's Facebook and Instagram accounts.
Thanks for stopping by! -Beth