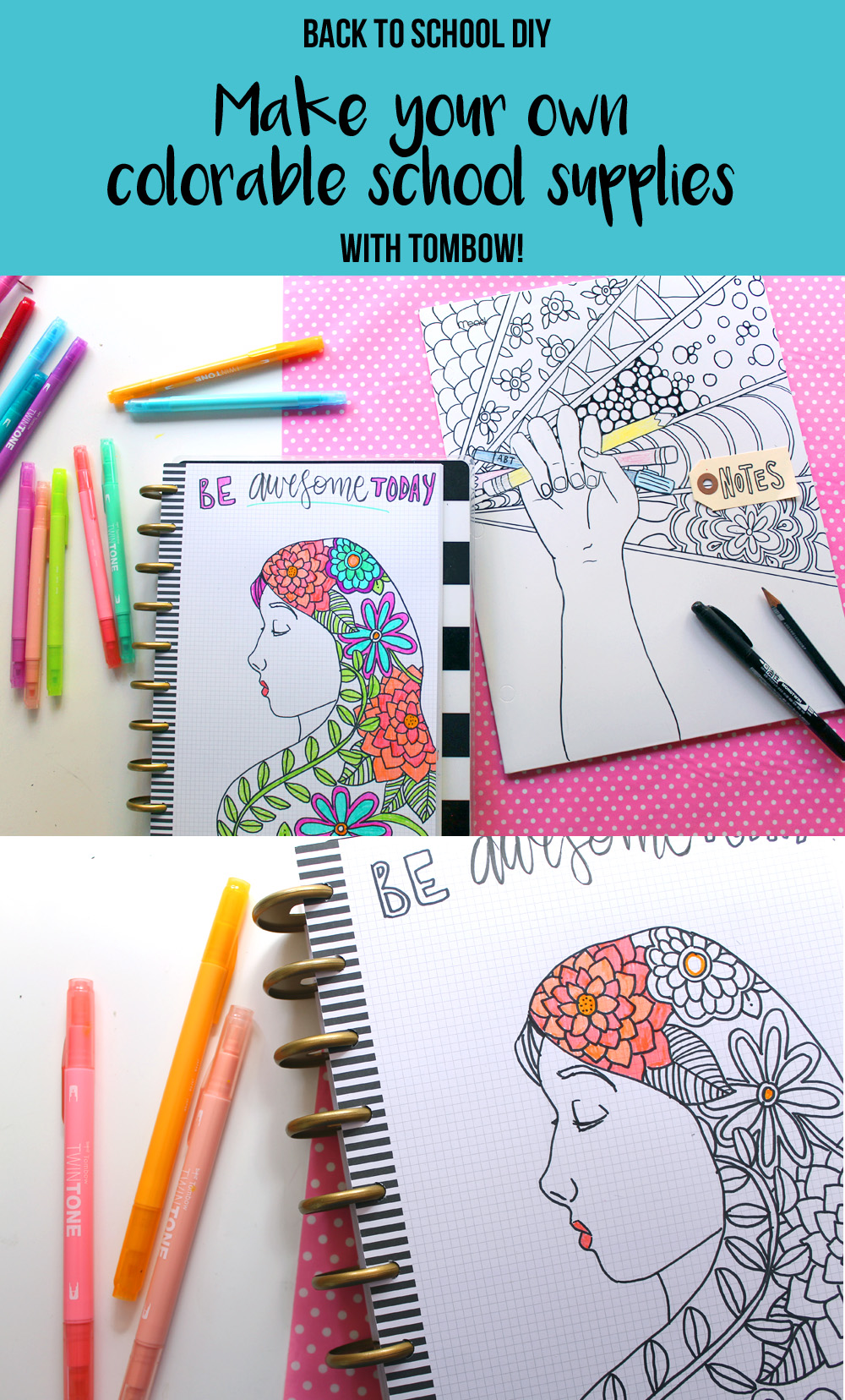 Hello Tombow fans, Katie here and I am excited to be showing you how to design your own coloring page with back to school supplies! I've always loved the "back to school" time of year because it meant I got to go shopping for some new office supplies!
Today I am designing some of my own coloring pages to create colorable supplies, more specifically a file folder and planner page!
Supplies:
How to create a Coloring Page File Folder
Step one:
Start by sketching out your coloring page design onto your white file folder using a B grade MONO Drawing Pencil. I wanted to create a coloring design that went with the school/office supply theme, so I sketched out a hand holding a few pencils, and a Dual Brush Pen! 🙂
Go over your design with the broad tip of the MONO Twin Permanent Marker and erase the pencil lines using the MONO Light Eraser.  You can also use the new MONO Drawing Pens (my go-to pen for sketching!!), however I liked the thicker lines of the MONO Twin Permanent Marker for my coloring page.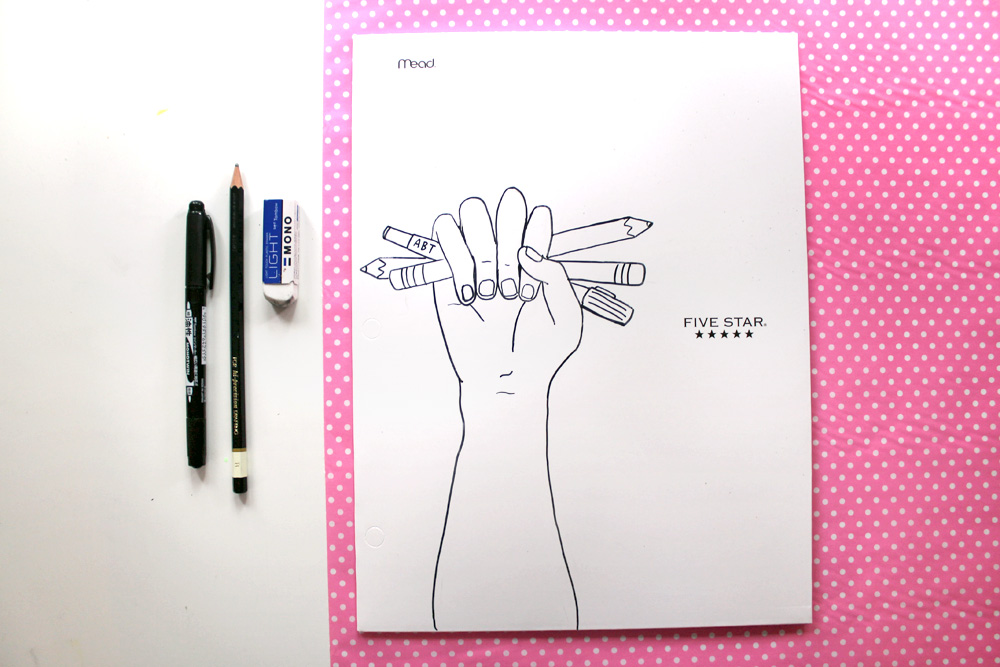 Step two:
Just keep adding to your coloring page! I used the MONO Twin Permanent Marker and a ruler to add lines radiating outward on my folder, and then I filled them in with pattern that I think will be fun to color.
If you're stumped for ideas, try a few Zentangle patterns!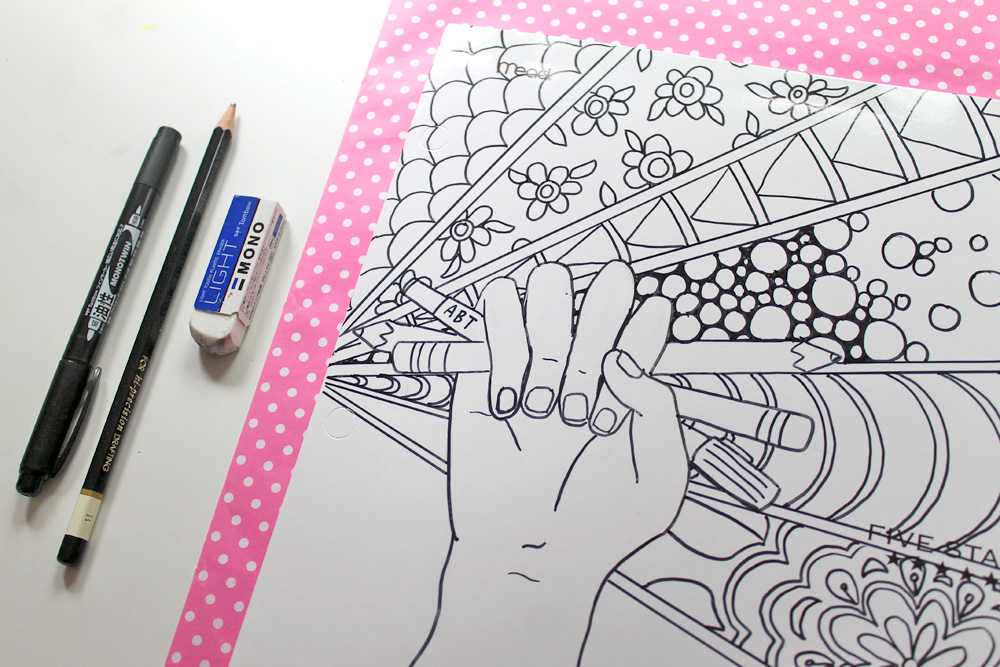 I couldn't find a folder that was completely white, without any logos on it. So to fix this, after I was done designing my coloring page I adhered a label onto the front of my file folder. I used Tombow Xtreme Adhesive to adhere the tag label directly over the logo!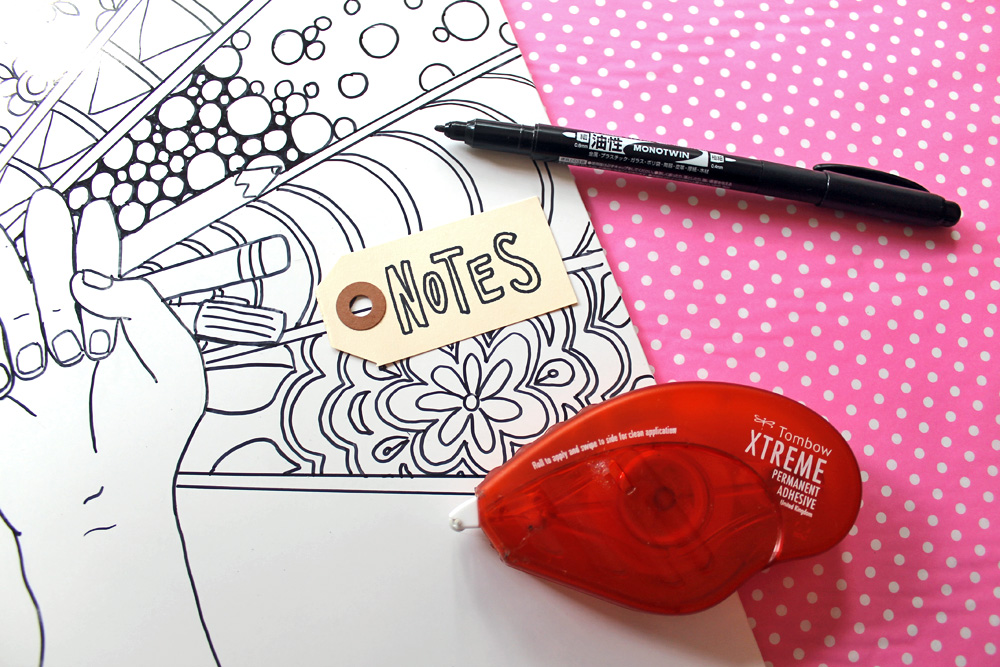 How to create a Coloring Page Planner Page:
This is just as easy and fun to make as creating a colorable file folder! I used a piece of graph paper (already conveniently designed to fit The Happy Planner!) as my base for this page.
I sketched out the profile of a girl using the MONO Twin Permanent Marker, and then I filled her hair in with flower doodles!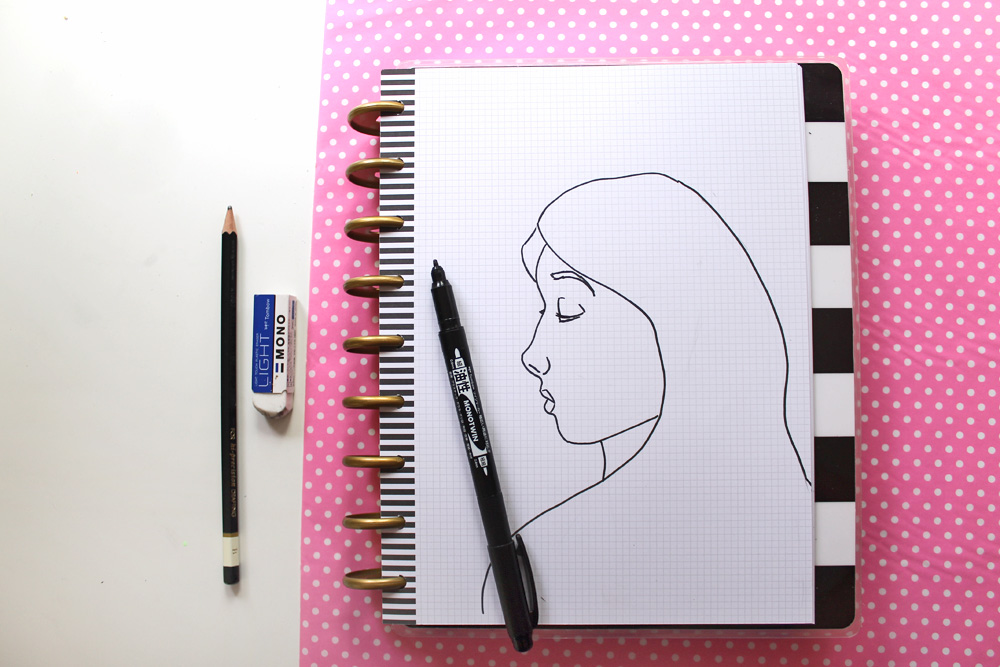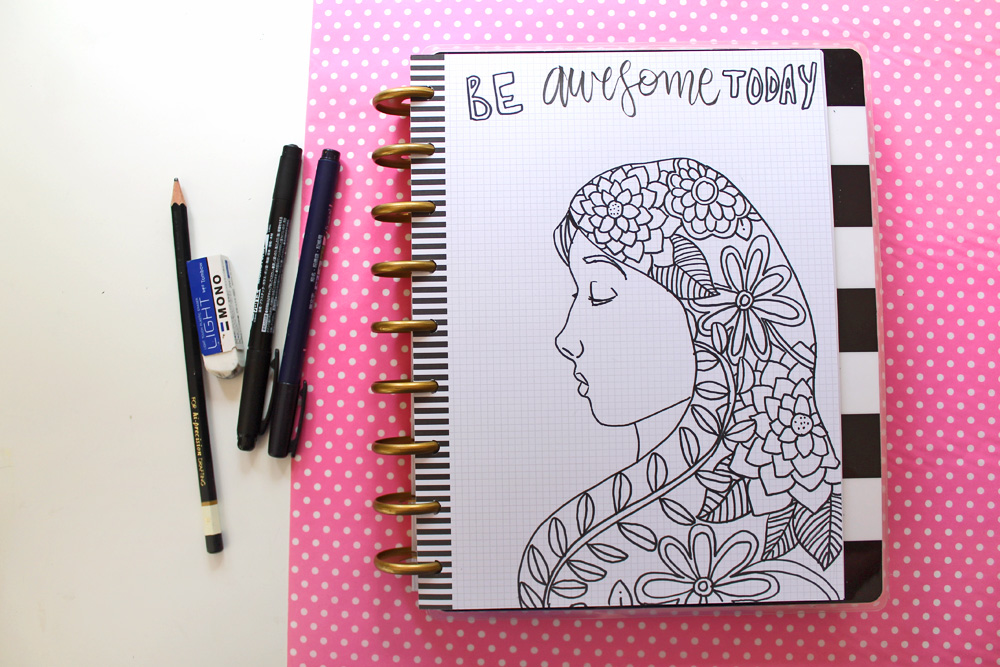 Now I can take my planner with me wherever I go and have a coloring page to color as well! I've found that the new Tombow TwinTone Markers are PERFECT for coloring! The two different sizes of marker tips are really handy for coloring in both larger areas and more detailed designs.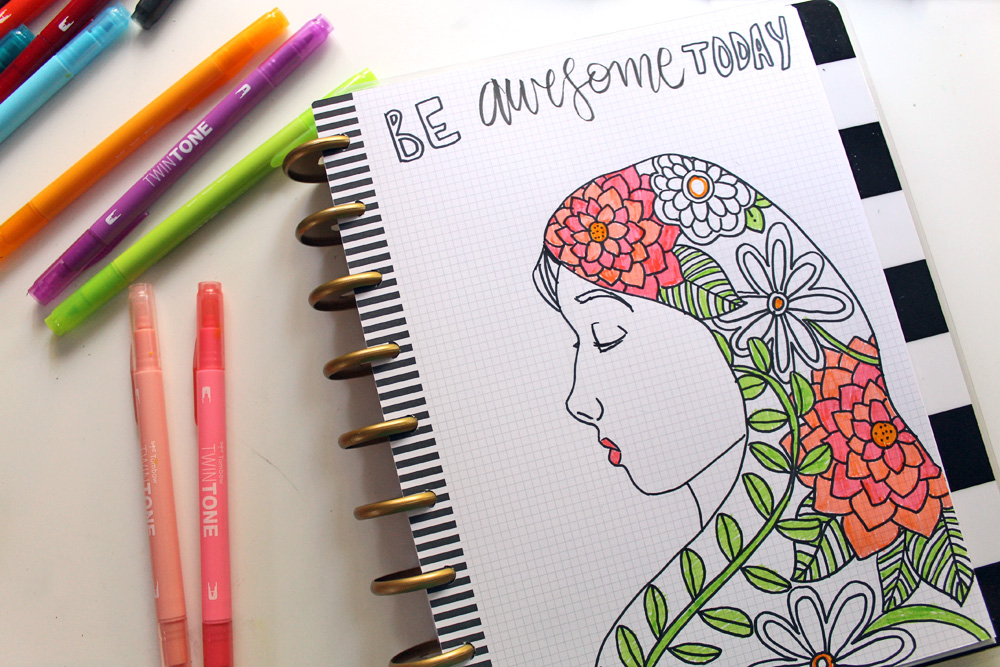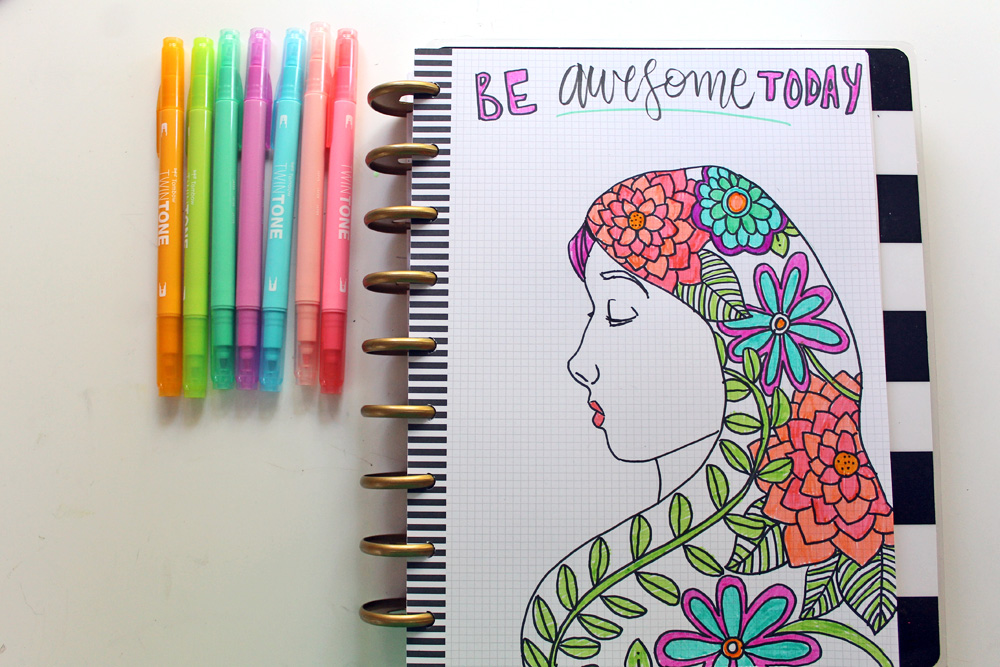 In need of a few coloring tips? Learn how to choose colorful Tombow color combonations with Smitha's post!
I think these colorable back to school supplies are really fun, and I love that they could be made for kids or you could design them with more detailed patterns to use as adult coloring pages!